Elegoo Mars 2 Mono
Elegoo Mars 2 Mono is a printer for all types of users. You can learn from it, build intricate parts to stay budget-friendly.
PROS
Fast printing and less maintenance.
Outstanding prints and ultra-accuracy.
Sturdy build quality.
Multilingual interface.
Good warranty and service.
Product
Specification
Videos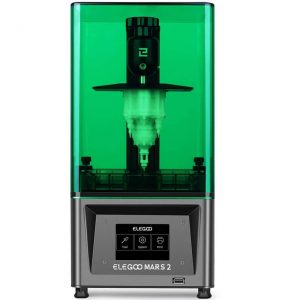 Featuring a 6.08 inch long Monochrome LCD with 2K HD resolution, Elegoo Mars 2 Mono is a resin 3D printer that delivers higher printing efficiency, ...
| | |
| --- | --- |
| Model | Mars 2 Mono |
| Manufacturer | ELEGOO |
| Price Range | $ 199 |
| Country | China |
| Availability | Available |
| Classification | Desktop |
| Technology | LCD |
| Material | Liquid resin |
| OS compatibility | Mac OS, Microsoft Windows |
| Generic material | Yes |
| XY accuracy | 0.05 mm 0.002 in |
| Max. build size | 129 x 80 x 150 mm 5.08 x 3.15 x 5.90 in |
| Max. build volume | 1.55 L |
| Min. layer thickness | 0.01 mm 0 in |
| Dimensions | 200 x 200 x 410 mm 7.87 x 7.87 x 16.14 in |
| Weight | 6.2 kg 13.67 lb |
| Power input | 100-240V 50/60Hz |
| Heated print bed | No |
| Heated build chamber | No |
| Closed frame | Yes |
| Dual extruder | No |
| Independent Dual Extruder | No |
| Full color | No |
| LCD screen | Yes |
| Touchscreen | Yes |
| On-board camera | No |
| Mobile app | No |
| 3D scanners | No |
| CNC mill | No |
| Electronics 3D printing | No |
| Laser engraving | No |
| Conveyor belt | No |
| Air filter | No |
| Pellet extruder | No |
| USB | Yes |
| Wifi | No |
| Bluetooth | No |
| SD card | No |
| Ethernet | No |

Table of Contents
Before coming up with the Mars 2 Pro Mono, Elegoo released its Mars Two Mono 3D printer. Both of these machines are based on mSLA 3D printing technology. However, the Mars Two Mono has its own unique sets of features, different from its successor.
Providing high accuracy and very simple operation, the Mars Two Mono 3D is easier to handle. It has more than enough functionalities that couple together to turn your designs into amazing creations.
With the capability of supporting multiple languages, this machine suits an array of needs and is highly accessible to users from different geographical locations.
Hold on tight while we take you into the details of the Mars Two Mono 3D printer.
Features
There is plenty to admire when it comes to the Mars Two Mono. And, here are some of the key features that stand out and make this printer a desirable choice for users with budget restrictions.
2K Monochrome LCD
The Mars Two Mono 3D printer comes with a masked LCD. The printer's LCD is 6.08 inches long and has a 2K HD resolution. This helps to cure resins almost two times faster than other 3D printers. The resin curing is faster and lasts longer than that of normal RGS LCD 3D printers.
This leads to higher printing efficiency, more stable performances, and lesser maintenance costs. These three criteria offer great ease of use to beginners as well as experts.
The 2K HD LCD monochrome's utilization ensures that you only take two seconds to cure a single layer. This also ensures a longer lifespan and stable performances. Hence, the operation is economically friendly while reducing the cost per print.
Multilingual Interface
Having a touch screen interface is something every 3D printer manufacturer is doing currently. What Elegoo has done is make the display available in more than one language! So users speaking different languages can operate the controls with ease.
The display's backend consists of information in different languages, including Chinese, English, Japanese, Dutch, Korean, French, German, Russian, Italian, Spanish, Turkish, and Portuguese. This makes the printer suitable for worldwide users.
You can run the setup, change the settings, and start working in the language you prefer. You will therefore have no problem setting the designs or operating the prints. It offers you the trendiest features in a widely favored manner.
Replaceable Resin Tank and CNC Machined Aluminum
While printing parts with mSLA 3D printing, you are going to be dealing with liquid resins. Dealing with liquid is a bit of a hassle, especially if your surroundings are full of electrical components. However, Elegoo has taken good care of this scenario.
First of all, the Mars Two Mono comes with a green plastic tank manufactured from special engineering plastics made to protect the environment.
The best part is that you can replace the tank whenever you need it. Not only will this increase the overall life of the resin tank, but it will also assist you when doing continuous 3D printing.
The other feature equally noteworthy is how the Mars Two is made up of CNC machined aluminum. Therefore, it has a very solid build quality. It is a workhorse that gets work done under any scenario.
This also ensures that the printer stays stable during the entire 3D printing process. Hence, the users are able to create precise designs without worrying about the printer's vibrations at faster speeds.
COB UV LED Light Source and Chitubox Slicer
The heart of an mSLA 3D printer is the light source. Because, it specifically, cures the resins.
The Mars Two has put the best-in-class COB light source into place, which provides excellent heat dissipation performance, high luminous maintenance rate, uniform light emission, and leaves no spots on the prints. Recently, it has gone through a fantastic upgrade to ensure that all your prints come out perfect.
For an ideal 3D printing process, you need a user-friendly slicer, and Chitubox is just that. Every Elegoo's mSLA machine is compatible with this application.
Chitubox is updated with the latest eight times anti-aliasing function, which makes it possible to get smoother prints. It allows you to access some of the most advanced features to print even the most complex geometries easily.
Specifications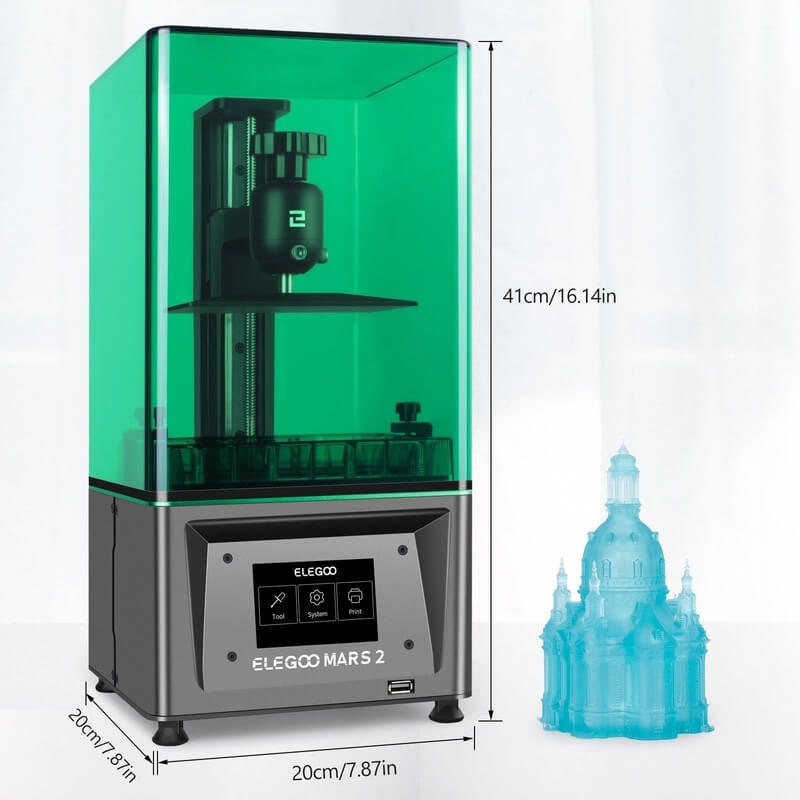 Credit: elegoo.com
The Elegoo Mars Two prints using mSLA 3D printing technology. It is also called the UV photocuring technique for 3D printing parts and functional prototypes of varying geometries. The objects made using this method have layer thickness ranging from 0.01 mm to 0.2 mm.
As far as print speed is concerned, you can start from as low as 30 millimeters per hour and extend up to 50 millimeters per hour.
The Z-axis accuracy offered by Mars Two is 0.00125 mm, whereas the XY resolution is around 0.05 mm. For better results and accurate curing, the printer uses a UV integrated light source with a wavelength of 405 nanometers.
When talking about the maximum build volume of the Mars Two, it is 129 mm * 80 mm * 150 mm. As we mentioned before, Mars Two has a touch screen interface that is multilingual, displaying information in twelve different languages. It is 3.5 inches long.
To transfer sliced files to your printer, you can use a USB cord. The printer weighs 6.2 kilograms. Power requirements of the Mars Two are between 100 to 240 Volts and  50/60 Hz.  Its dimensions are 20 cm * 20 cm * 41 cm.
Price
Elegoo Mars Two is available for $199.
First Impression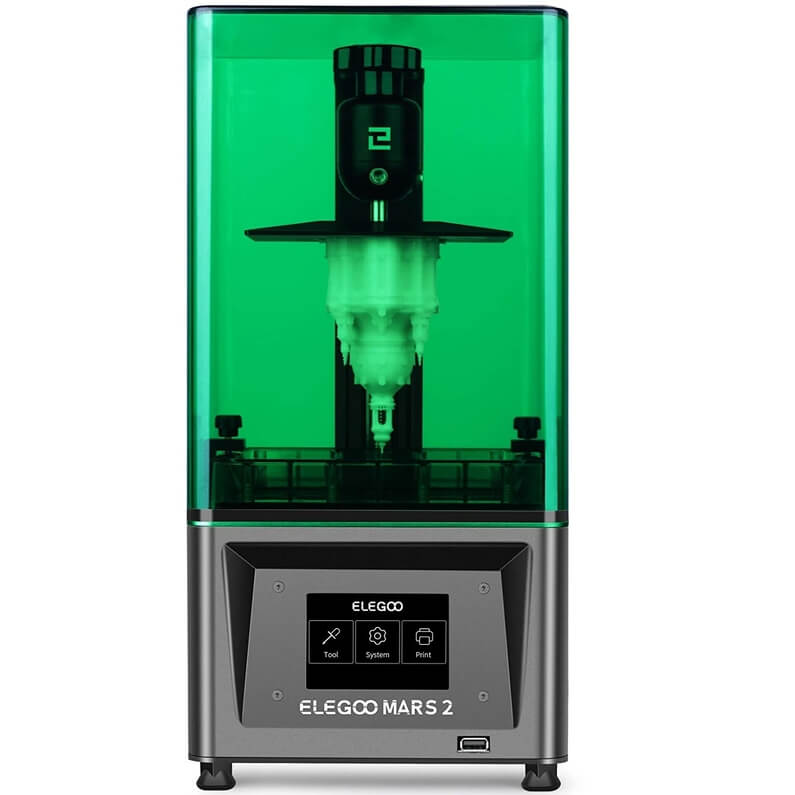 Elegoo Mars Two Mono is a plug and play machine that comes securely snuggled inside its package. Unboxing is simple as each component comes packed separately with proper names to avoid any confusion.
The finished kit of Elegoo Mars Two Mono consists of the following things:
A resin tank
A build platform
A metal scraper
A plastic scraper
A user instruction manual
Three gloves
Ten funnels
One UV adapter
A U Disk with 2GB memory
A pair of backup screws
A measuring cap and
A silicone rubber seal
In short, the printer arrives safely with all the tools needed to complete the setup in the shortest time possible.
Setup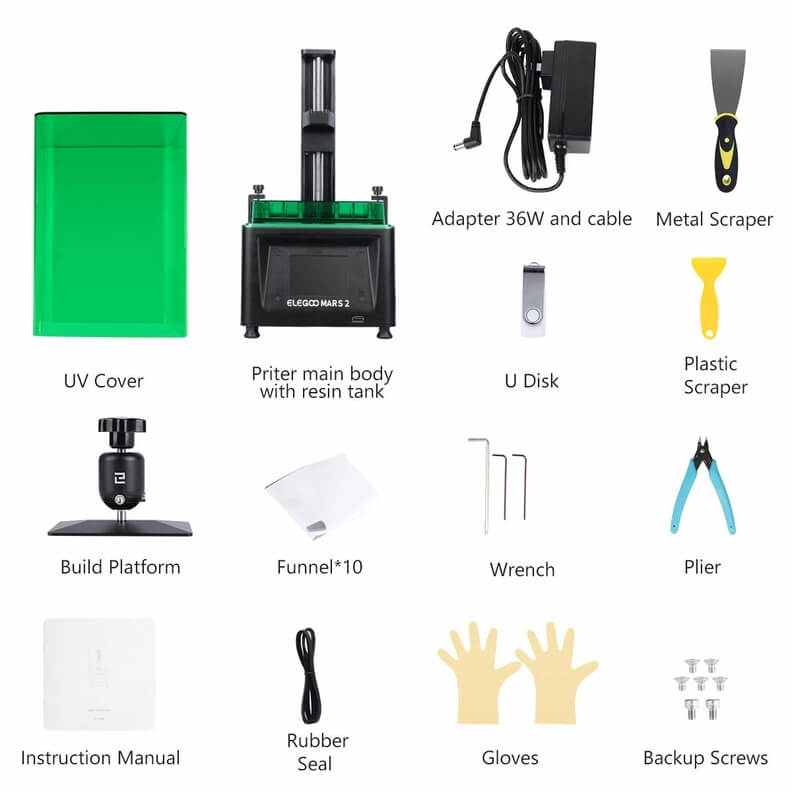 Credit: amazon.com
Setting up Elegoo Mars Two Mono is easy. Unlike the DIY kits that take hours to setup, this printer can start working in a few minutes after unboxing. It has all the necessary tools that users may need for starting the first print.
Though the printer comes completely assembled and has a plug-and-play design, it is advisable to go through the user manual for a hassle-free setup experience. Turn on the printer, prepare the resin tank, calibrate the machine and start working. Can it get any easier than this?
Although being an affordable choice, the printer ensures simple operation. And, in order to make every process easier, the manufacturer includes a detailed manual for the same. So, follow the instructions and complete the setup to start printing right away.
Print Type/Cost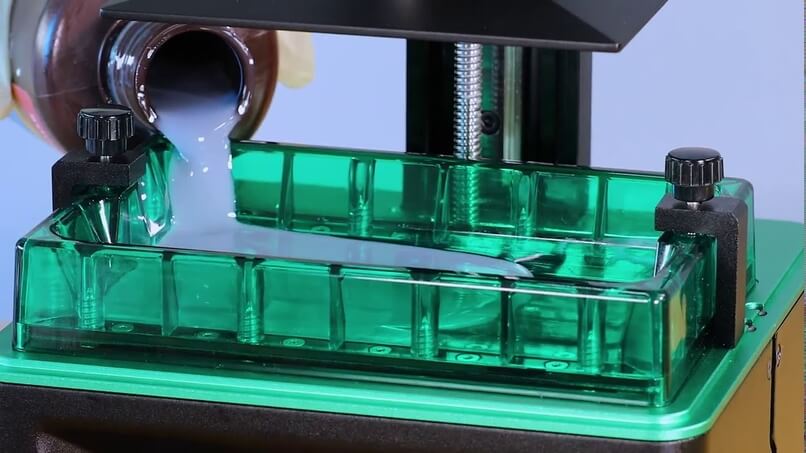 Credit: Big Discounts – Technology Reviews / Youtube
mSLA 3D printing is a variant of SLA 3D printing technology. Hence, it uses a masked LCD to make sure the LED, which is the heart of any SLA 3D printer, functions more efficiently. As the name suggests, LCD is used to mask over the entire 3D printing process in which LED cures the liquid resin.
Point to point curing of different pixels occurs in SLA 3D printing, whereas point to point curing of various voxels occurs in mSLA 3D printing. The difference between pixels and voxels lies in the dimension. Therefore, SLA works in two dimensions, whereas the mSLA in three.
The cost of 3D printing a part generally depends on various factors. These include the geometry of the part, the type of resin, the cost of that resin, the support structure, and more. Usually, the cost per print for SLA models is higher than that of FDM parts.
Print Quality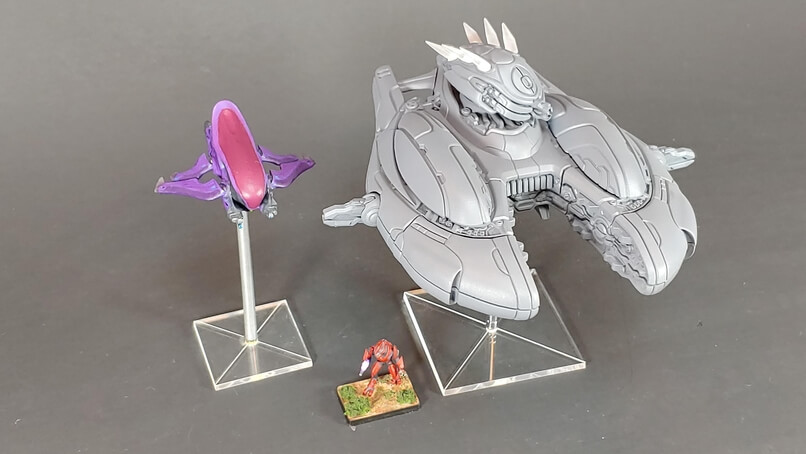 Credit: edd.it
Parts printed using SLA 3D printers are often highly accurate. And, Elegoo Two Mono is no different. You will hardly differentiate one layer from another. This is because the models exhibit isotropic properties. Hence, the printer offers a smoother surface finish, no matter the complexity of the design.
With such high print quality standards, mSLA 3D printers are used in various fields for complex applications. For example, in clinical researches like orthodontics, audiology, and jewelry.
Software
The printer works with Chitubox. This is very user-friendly software. In other words, even beginners can operate it without any hassle.
The easy-to-navigate choices and many quick settings let you complete the setup for designs in no time. Just play around with the controls, and you will be able to use the software in a short time efficiently.
However, this simplicity does not mean that the application is short of features. On the contrary, Chitubox offers advanced functionalities to ensure you obtain the best results. Whether you need to make small or significant changes, you can accomplish these without any issues.
Thanks to the friendly interface and dedicated controls for various tasks that let users complete printing with the highest precision possible at this price tag.
Customer Support
You can find everything you need to know about this 3D printer on the manufacturer's website. If you still need anything else, you can call or email Elegoo.
The technical as well as the sales team is responsible and answers at the earliest. In addition, the support team expertise in offering the best solution to the customers.
Moreover, the company offers a one-year warranty for the printer and six months warranty for its 2K LCD, excluding the FEP film used in it. Offering reliable and trustworthy service to the users.
Parameters Influencing Buying Decision
When deciding to purchase a 3D Printer, one must go through its various features and utilities. Ensuring that you have done your research, helps in identifying the right reasons for getting a 3D printer for your specific needs. And, if you are planning to buy Elegoo Mars Two Mono, do not forget to review these parameters for making the right choice.
3D Printer Cost: Getting an mSLA 3D printer at such a low cost is not very usual. It costs $230. Hence, it's very affordable, not only for enthusiasts but learners and home users.
3D Printer Quality: Being an mSLA 3D printer, it offers highly accurate parts. With a precise and powerful light source, coupled with its sturdy body, printed parts come out clean, no matter the complexity of the design.
3D Print Speed: Although a little slow, the print quality makes up for the extra time spent printing the parts.
3D Printer Capability: The Mars Two is capable of providing the most amazing print quality. However, you cannot expect it to perform as professional printers do. Designed for makers, the 3D printer can produce end parts as well as prototypes.
3D Printer Practicality: The printer is very simple to use and a friendly choice for beginners, enthusiasts, hobbyists, and those wanting to learn about 3D Printing.
3D Printer User Expectations: The printer not only manages to surpass beginners' expectations but also intermediates and experts.
The Verdict
In a nutshell, the Mars Two is a printer for all types of users. You can learn from it, build intricate parts to stay budget-friendly. You only need to compromise on its small build volume and slower print speed. But the print results and affordable cost could turn out to be the worthy trade-offs for the same.