Creality CR-100
Based on the simplest 3D printing technology available in the market, the printer is safe and will work towards enhancing beginners' and kid's vision. It will work in the most positive manner to teach children and beginners an important lesson "creation of imaginary concepts is possible via simple mechanisms."
PROS
Automatic bed leveling.
Simple to use touchpad.
Compact in size.
Enclosed print chamber.
Removable magnetic bed.
Quiet in operation.
CONS
Does not offer a heated print bed.
Small build volume.
No in-built camera.
No filament run-out sensor or print recovery.
Product
Specification
Videos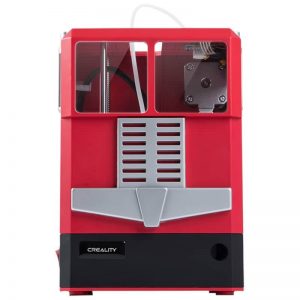 Starring a tiny yet interactive and fun design, Creality 3D CR-100 is meant for expanding your kid's interest while exploring a more fantasy world of ...
| | |
| --- | --- |
| Model | CR-100 |
| Manufacturer | Creality |
| Price Range | $ 159 |
| Release date | 2019 |
| Country | China |
| Availability | Available |
| Classification | Desktop |
| Technology | Extrusion (FFF- FDM…) |
| Material | PLA |
| Filament diameter | 1.75 mm0.07 in |
| OS compatibility | Linux, Mac OS, Microsoft Windows |
| Generic material | Yes |
| XY accuracy | 0.011 mm 0 in |
| Max. build size | 100 × 100 × 80 mm 3.94 × 3.94 × 3.15 in |
| Max. build volume | 0.80 L |
| Max. print speed | 180 mm 7.09 in /s |
| Min. layer thickness | 0.1 mm 0.004 in |
| Dimensions | 241 x 183 x 255 mm 9.49 x 7.2 x 10.04 in |
| Weight | 2.8 kg 6.17 lb |
| Nozzle diameter(s) | 0.4 mm0.02 in |
| Power input | Input: AC 110-240V, output: 12V |
| Heated print bed | No |
| Heated build chamber | No |
| Automatic calibration | No |
| Closed frame | Yes |
| Dual extruder | No |
| Independent Dual Extruder | No |
| Full color | No |
| LCD screen | No |
| Touchscreen | No |
| On-board camera | No |
| Mobile app | No |
| 3D scanners | No |
| CNC mill | No |
| Electronics 3D printing | No |
| Laser engraving | No |
| Conveyor belt | No |
| Air filter | No |
| Pellet extruder | No |
| USB | No |
| Wifi | No |
| Bluetooth | No |
| SD card | Yes |
| Ethernet | No |

Table of Contents
CR-100 is a perfect example of how manufacturers like Creality are making 3D printing accessible for kids. And why not? Now that 3D printing is available to almost every class of adults, it's time to go one step forward.
With the expert opinions terming 3D printing as "the technology of the future" it makes perfect sense to prepare the kids for something that awaits their way.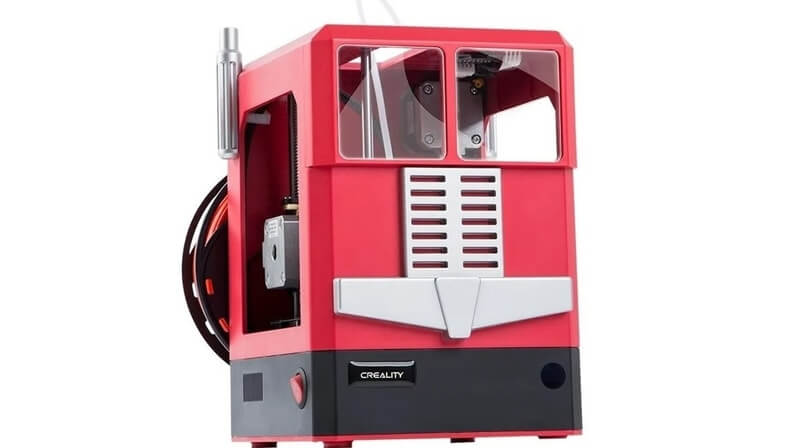 Priced under $200, CR-100 has a fun design that the kids would love to play! Moreover, the printer has simple-to-use features like automatic bed leveling and a touchpad. A combination of these facets would teach every child the manufacturing mechanism of objects around them.
So, whether CR-100 is worth investing in for your kid, or does it lack some qualities? Well, let's find out by studying different elements of this kid-friendly 3D printer.
Features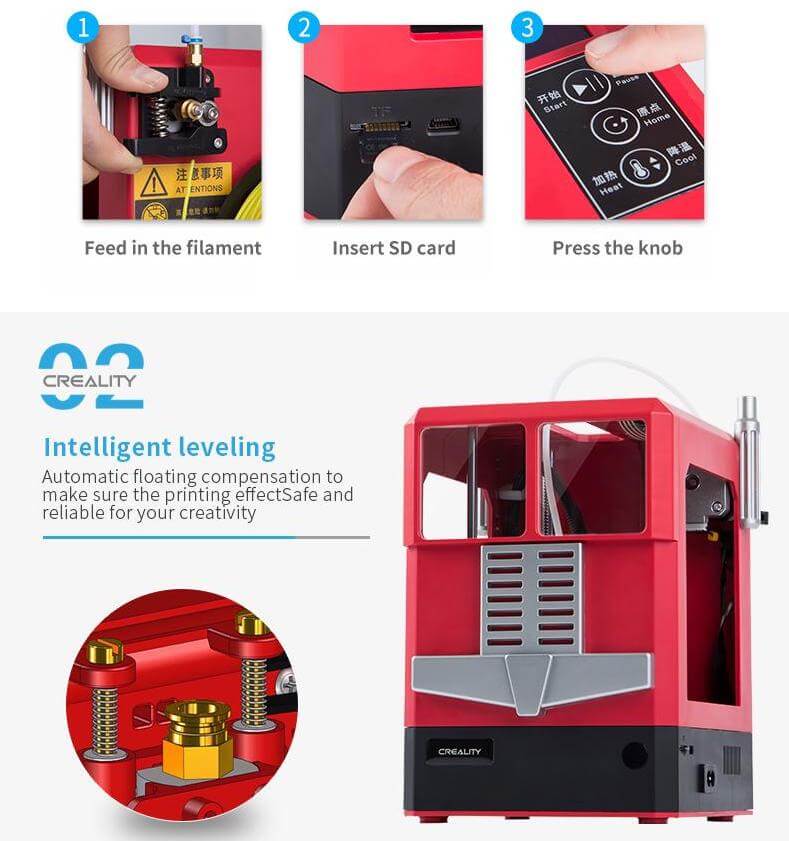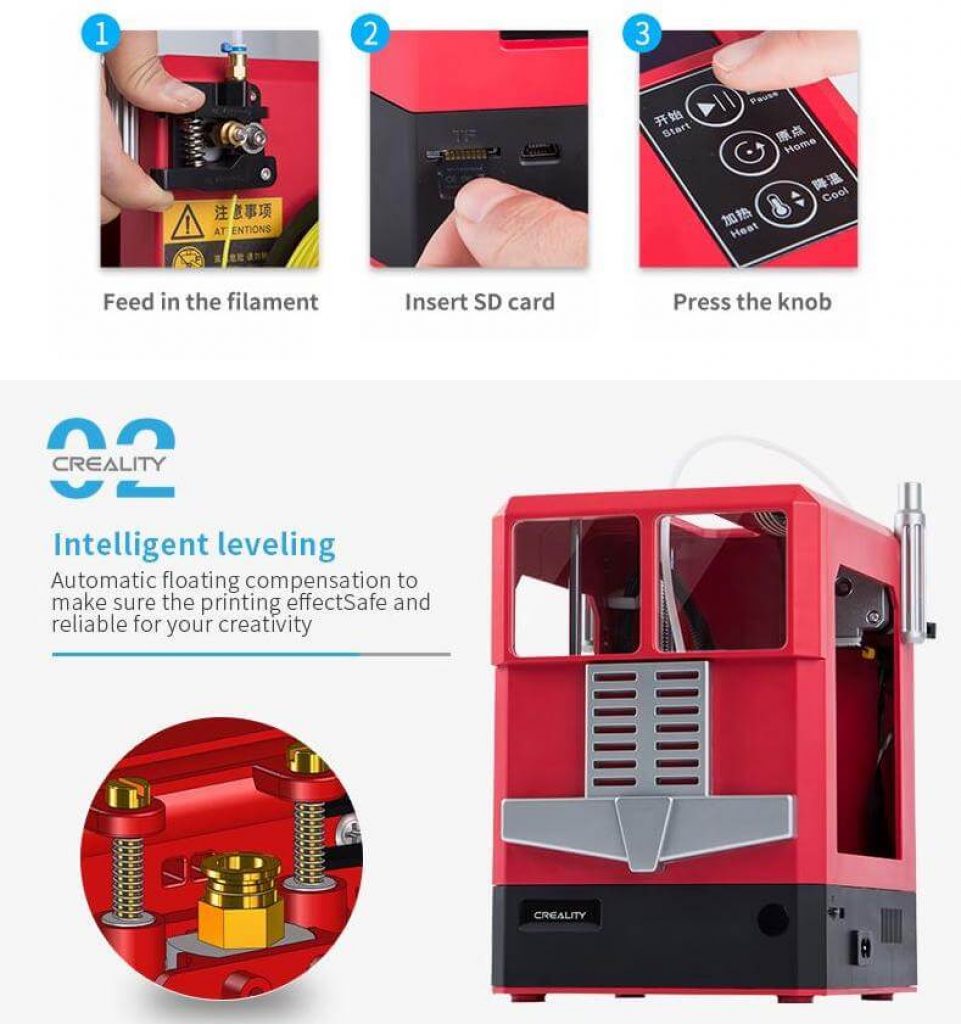 Credit: top3dshop.com
There are many 3D printers that cater to the niche which CR-100 does. To exactly differentiate what the printer offers differently from its competitors, we'd have to go through and understand its features.
Automatic Bed Leveling
This feature is not only child-specific, but it's also beginner-specific. Instead of confusing the beginners or kids, the automatic leveling helps get the settings right every time. Bed leveling has to do with the height between the nozzle and print bed. Different geometries need different types of leveling. And in case your printer has a facet such as this one, the task becomes easy. Otherwise, manual bed leveling requires adjusting screws present on the body of the printer – a complex procedure to carry out.
Automatic bed leveling is going to save its user from the trouble of doing all that. To adjust the print bed and nozzle, give a gentle tap on the touchpad. Also, in general, CR-100 is plug and play type printer which is again beneficial for beginners and kids.
Straightforward touchpad
Keeping in mind the curiosity that a kid has after seeing a machine, Creality has tried to keep it simple.
Even the creation of a simple toy can mean a challenging task for a 10-year-old. And for assisting the child, the printer manufacturer has done an excellent job by placing an easy-to-use touchpad.
However, please do not misunderstand this as something that CR-100 cannot go into customizations as its competitors can.
The Touchpad of the Printer Has Three Buttons
For starting the printer and pausing the prints.
To go back to the main menu.
For controlling the temperature.
The funny side to such an aiding touchpad is the user might grow to be a "simple solution demanding one." So, be ready to hear questions from your kid as," Dad, why can't I load filament spools by pressing a button on the touchpad?"
Secured
CR-100 does not host any exposed wire cables like other open 3D printers. In addition to it, there is almost zero possibility for the user to burn their hands on its nozzle because that part is hardly accessible due to the printer's small print chamber!
Creality has put in place a flame retardant fuselage – a rare to find electrical component. Overall, CR-100 is safer than printers such as Ender 3 or other printers that do not have an enclosed print chamber.
Closely Packed
CR-100 has physical dimensions 241 mm * 183 mm * 255 mm, from which 100 mm * 100 mm * 80 mm is what it offers as the maximum build volume.
Meaning that you'll easily be able to accommodate the printer in any corner of even the smallest room. Having stated so; this build volume is enough for kids to print their toys or other objects to play with.
It's also easy to transport CR-100 from one place to the other in your home. Such flexibility is hard to find in printers available at an equivalent or maybe a little more costly than this printer.
Beware of such marketing. Because by choosing them, you may get high build volumes but end up losing the flexibility CR-100 offers.
Additionally, the lesser the print size of a printer, the lesser users need to wait for its prints.
Removable Magnetic Bed and Quiet in Operation
A removable magnetic bed is another feature that increases the overall score of CR-100's flexibility. Because of this, it will be easy for kids to remove and pop off printed objects easily.
A magnetic bed snaps on and off the build plate and only with a gentle bend releases the printed part. Although not being a heated bed, it works efficiently enough.
Creality has made use of standard German bearings that are known to provide noise-free 3D printing. Having that in place, gives an assurance of printing parts and functional prototypes at very low decibels.
So, your room's environment would not be interrupted much because of the presence of this machine.
Fun Appearance
CR-100 looks like a truck that kids generally like playing with. It doesn't typically look like other machines used for manufacturing. Moreover, the printer is available in four color variants i.e. Red, yellow, orange, and blue. Also, it has a punchy design that will strike out to kids at the very first glance.
Because of being more exciting in looks than other printers, it won't give children even the slightest idea of the technicality. The printer manufacturer has worked on CR-100's design aspect, and that's paying off certainly!
Specifications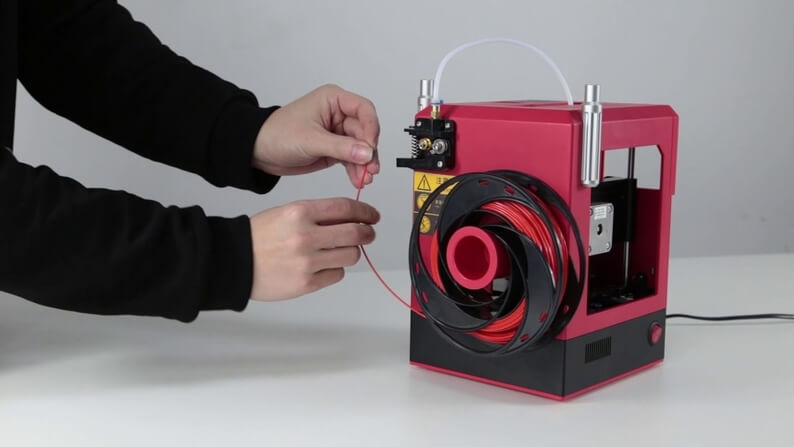 Credit: top3dshop.com
CR-100 prints using FDM i.e., Fused Deposition Modeling 3D printing technology – the synonym of simplicity in 3D printing! The printer is a plug-and-play type, so all the user needs to do is unwrap it, give it some power consumption, and start 3D printing.
Its setup would not take much time. The machine's mechanical arrangement is Cartesian type, which implies that two pillars support the enclosed print chamber's print bed that helps it to move.
100 mm * 100 mm * 80 mm is the maximum volume that operators can build with CR-100. The printer has a single extruder, and its nozzle size is 0.4 mm.
The extruder can withstand high temperatures in the range of 250 degrees Celsius. Although the printer does not feature a heated bed, printing with the most popular 3D printer filaments requiring higher glass transition might not be a problem.
As mentioned above, kids can automatically level CR-100's bed. Moreover, the print bed is magnetic and removable, meaning that there will be fewer chances to damage the printed parts.
Also, because the printer hosts a touchpad, the user's overall interaction with the printer will be fun and engaging. There are two modes to set up a connection with the printer:
a) Via a TF card
b) Via SD card.
In terms of 3D printer filaments, CR-100 offers printing with PLA only. But that's the case with most kid-friendly 3D printers in the same price range.
The filament diameter should be 1.75 mm, and Creality hasn't kept any restrictions on choosing third-party filaments.
The outer dimension of CR-100 is 241 mm * 183 mm * 255 mm, and it weighs 2.8 kilograms. In a nutshell, the printer is easily transportable.
Price
At the time of writing this article, Creality CR-100 costs $159.99.
First Impression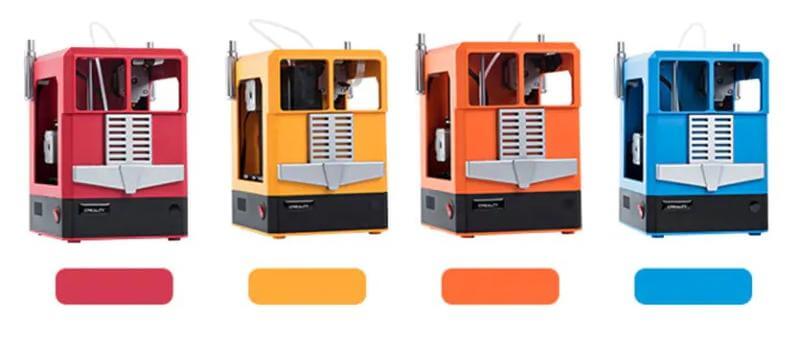 Do not be surprised if your kids mistake Creality CR-100 for a giant play truck. The two square-shaped transparent windows look exactly like the headlights of a truck. Below the windows is a spring-shaped design.
The right side of the machine allows for a complete peek into the inner mechanism of it. Users can do complete monitoring of the 3D printing process from the side window.
Also, the packaging comes in safe boxes with proper care taken to secure every component of the printer. With easy access to the parts after unboxing, it takes just a matter of time to place your machine at your desired workstation.
Print Type/Cost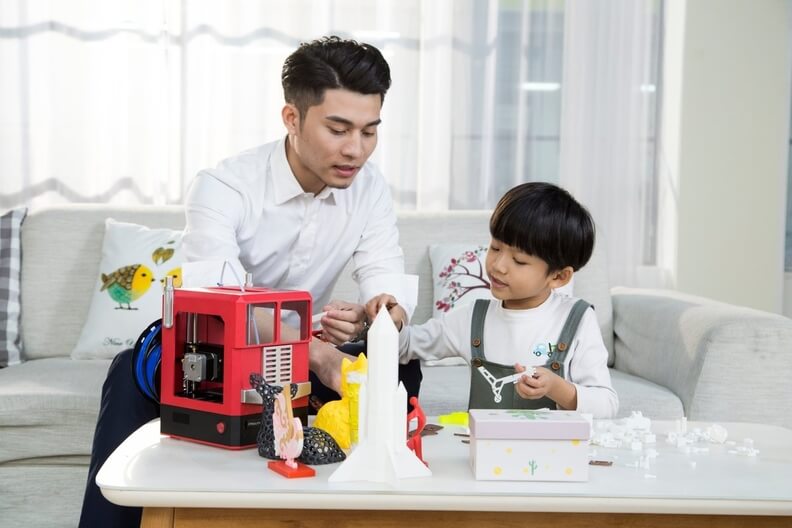 Credit: twimg.com
FDM 3D printing process starts with the loading of a solid filament spool in the printer's spool holder. The construction of a basic FDM 3D printer is such that there is a connection between the spool holder and the extruder. The latter accomplishes the task of raising the temperature of the filament material till it reaches the glass transition.
Till the completion of the heating process, the print head with nozzle system reaches near the print bed. The movement happens according to fed geometry via a 3D model.
After the conversion of the solid filament into liquid, it's allowed to flow through the nozzle. The deposition happens on the print bed layer by layer until the part is 3D printed.
Generally, the cost of printing per part via FDM 3D printing technology is lower compared to other methods. However, it depends on various factors such as the geometry of the part, the filament used for manufacturing it, cost of that filament, support structures, amount of infill, electricity, and more.
Any change in even one of the parameters may result in a different cost for the same design.
Print Quality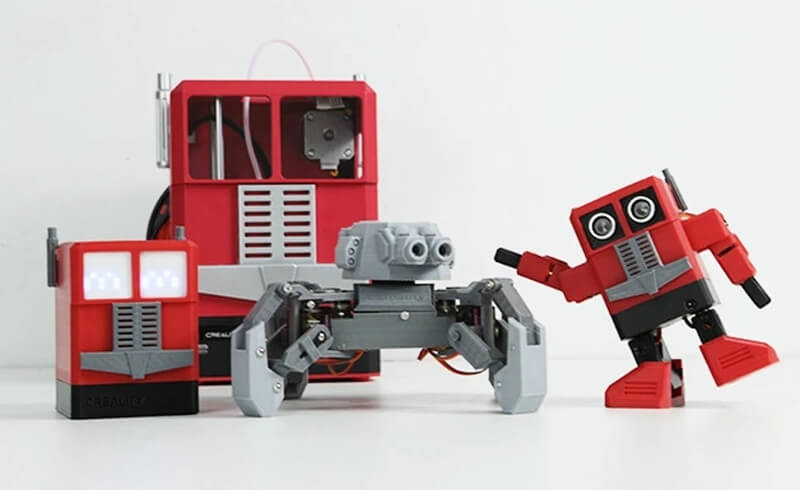 Credit: Creality
Real shots of printed objects such as Aircraft, storage box, castle, garage kit, vase, and bear speak of the excellent surface finish CR-100 is capable of delivering.
Manufacturing even complex toys that can be great fun to play with is possible using the 3D printer. Two-legged-dustbins is an ideal example of how Creality's machine can closely depict creative imaginations into reality.
CR-100 can give an output of layer thickness ranging between 0.1 to 0.4 mm. This result is commendable knowing the fact that this is an entry-level 3D printer.
Software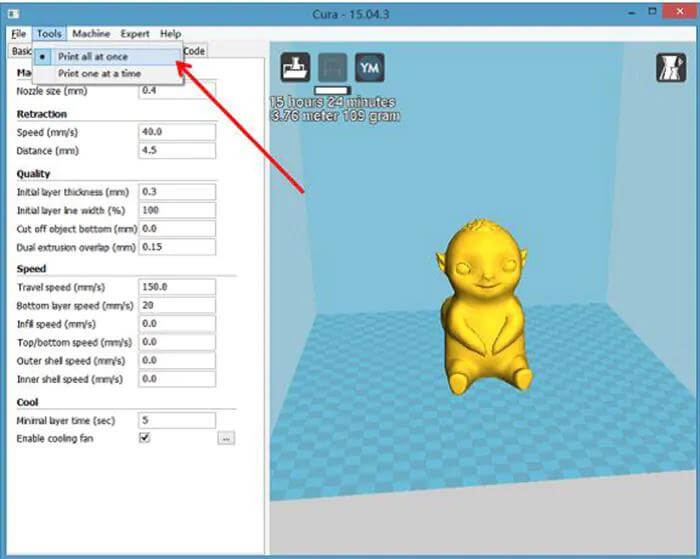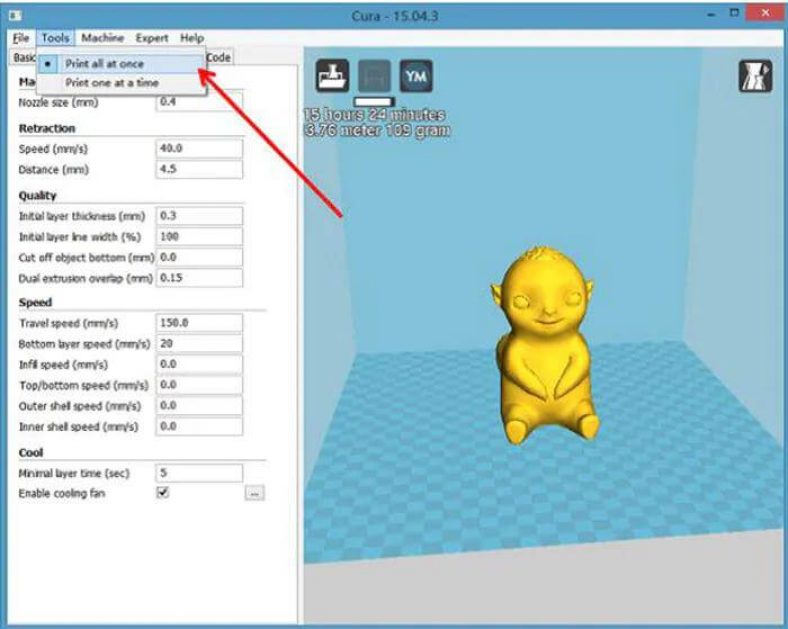 Credit: top3dshop.com
Creality recommends three software with CR-100.
Cura
Repetier Host
Simplify 3D
All of which are known in the field for producing user-friendly and seamless modeling.
Customer Support
There are separate email-ids mentioned on Creality's website for help with the product, complaints, and comments.
Apart from that, one can also fill the form available online with their message and wait to be contacted by the printer manufacturer. However, no phone number will connect you with Creality's technical team.
Parameters Influencing Buying Decision
There are six chief factors that "to-be-users" of CR-100 must take into account.
3D Printer Cost: Considering the features, CR-100 offers, $159.99 is an affordable price.
3D Print Speed: Average.
3D Print Quality: The printer manages to give out a print quality that printers of a higher budget are able to deliver.
3D Printer Capability: CR-100 is capable of producing parts and functional prototypes with PLA 3D printer filament only.
3D Printer Practicality: When in operation, the printer produces negligible noise.
3D Printer User Expectations: The complete marketing of Creality CR-100 is kid-centered. So, if you are a concerned parent who wishes to prepare kids for the future, the printer will stand upon your expectations. It's a great tool to be introduced to anyone unknown to 3D printing. For beginners, the machine will help them learn the basics in a very simple manner.
The Verdict
Based on the simplest 3D printing technology available in the market, CR-100 has a touchpad with which its users can control it. Bed leveling of the printer is automatic, and the slicing software is supportive and nontechnical.
Also, the machine is compact and yet manages to deliver like other robust ones. A printer is a learning tool for all those who wish to start their journey with 3D printing technology.
Having stated so, CR-100's small build volume, enclosed print chamber, average quality are some subtleties that will be worth considering.
Above all, the printer is safe and will work towards enhancing beginners' and kid's vision. It will work in the most positive manner to teach children and beginners an important lesson "creation of imaginary concepts is possible via simple mechanisms."