Envision TEC Perfactory P4K Series
Envision Tec Perfactory P4K Series delivers parts with an excellent surface finish in minimal printing time. If designing smaller geometries with intricacies is your goal, these printers are definitely worth your go-to.
PROS
Offers you printing with a lot of printing materials.
You can print with four different build sizes and four different voxel preferences using P4K Series.
The quality of parts manufactured using the printers is excellent.
CONS
The build size of parts and functional prototypes is very small.
Product
Specification
Videos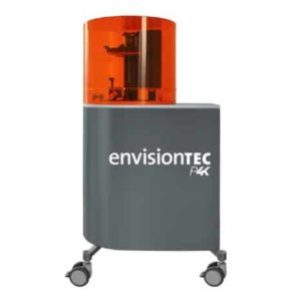 Using artificial intelligence for pixel tuning, Envision TEC Perfactory P4K Series is are a collection of production-grade resin 3D printers ...
| | |
| --- | --- |
| Model | Perfactory P4K |
| Manufacturer | EnvisionTEC |
| Price Range | $ 10000 – $ 50000 |
| Release date | 2018 |
| Country | United States |
| Availability | Available |
| Classification | Professional |
| Technology | Resin (SLA- DLP…) |
| Material | Liquid resin |
| OS compatibility | Microsoft Windows |
| XY accuracy | 0.062 mm0.002 in |
| Max. build size | 160 × 100 × 220 mm6.3 × 3.94 × 8.66 in |
| Max. build volume | 3.52 L |
| Min. layer thickness | 0.03 mm0.001 in |
| Dimensions | 73 × 48 × 135 mm2.87 × 1.89 × 5.31 in |
| Power input | 100-120V | 5.4 Amp; 220-240V | 2.4 Amp |
| Heated print bed | No |
| Heated build chamber | No |
| Automatic calibration | No |
| Closed frame | Yes |
| Dual extruder | No |
| Independent Dual Extruder | No |
| Full color | No |
| LCD screen | No |
| Touchscreen | No |
| On-board camera | No |
| Mobile app | No |
| 3D scanners | No |
| CNC mill | No |
| Electronics 3D printing | No |
| Laser engraving | No |
| Conveyor belt | No |
| Air filter | No |
| Pellet extruder | No |
| USB | Yes |
| Wifi | No |
| Bluetooth | No |
| SD card | No |
| Ethernet | No |

Table of Contents
There are four printers that fall under P4K Series: P4K 35, P4K 62, P4K 75, and P4K 90. All these machines are made to impress and come with various advanced features for making your production runs an easy routine.
So, here is an in-depth review of Envision TEC Prefactory P4K series. Read the complete article to understand why these printers are best suited for your applications and needs.
Features
Perfactory P4K Series utilizes a true 4K pixel projector with UV optics that delivers the highest accuracy coupled with high finished product functionality. Let's look at the amazing features of this outstanding series of DLP 3D printers.
Economic material Use With No Vat
This is a rare feature that you will hardly get to see in any DLP 3D printers of the same price range as Envision TEC Perfactory P4K Series is.
Considering the environment and eco-friendliness factor in mind, the printer manufacturer Envision TEC has made sure that the material you use for 3D printing, is made of no vat.
Vat resins typically are known to be poisonous. And therefore, when dealing with them, you need to be 100 percent sure of their harmful effects. All the materials that these printers under P4K Series do not make use of vat, thereby making them eco-friendly in use.
Minimized Components Making the System User-Serviceable
Often you would encounter DLP 3D printers that make use of many components just to enhance the overall quality of a part or functional prototype. But with increased components, the overall serviceability of the printing system increases which leads to a lot of maintenance for any user.
Envision TEC has made Perfactory P4K Series with a vision that you face the minimum hassle and for a long time your printing system remains exactly how it is. And for this, the design team of Envision TEC has engineered Perfactory P4K Series with a minimalistic approach.
Every component from which the printer is made is multifunctional. The overall count of components used for making this printer is lesser than the count of components in other 3D printers.
So, in the long run, you will have to clean, manage and service lesser components. Yet you can achieve the same functionality that other 3D printers making use of the higher number of components provide.
Designed to Run in 24*7 Work Environment
In terms of functioning capacity, the printer is no less than a beast. It is designed by Envision Tec's technical team to run in all day long work environment.
Being a 3D printer that's able to produce build volumes of smaller parts, it is no less than an industrial 3D printer working day in day out.
Its capacity can easily be compared to any industrial 3D printer which is available at a price range way higher than that of this 3D printer.
Delivered with all Relevant Software to Enable Automatic Support Generation and Perfect Model Production
The software that P4K Series is compatible with gives the printer complete automatic support for generating dimensionally accurate parts or functional prototypes. Such software is very non-technical in use and even lets the first-time user get a complete hold of it.
Moreover, the tools that are present in the software let you completely customize an object according to your vision.
The software has advanced tools like automatic support generation and perfect model production which takes care of the minute level intricacies that are present and part of any kind of small part production. So, playing with Envision Tec Perfactory P4K Series is very easy.
Material Changeover Can be Done Quickly and Easily
The resins used for the production of parts and functional prototypes can be easily changed from one to the other. Regardless of whether you are changing the same resin because of its completion or changing one resin to the other because of material change.
The construction and complete arrangement around the resin feedstock are such that allow you to not waste and increase your overall print time because of changing the resin material.
Resin being a liquid substance, it cannot be changed quickly and easily without any hassle, but the Envision Tec has taken the correct amount of care by keeping the construction highly modern and functional. So, you are benefitted with the ease in use of the same.
Specifications
There are four different build envelopes available under P4K Series which are:
P4K 35: 90 mm * 56 mm * 180 mm
P4K 62: 160 mm * 100 mm * 180 mm
P4K 75: 192 mm * 120 mm * 180 mm
P4K 90: 233 mm * 141.5 mm * 180 mm
They offer a voxel size of 35, 62, 75, 90 micrometers respectively. The dynamic voxel resolution in the Z-axis ranges from 25 to 150 micrometers. The projector resolution of Envision TEC's P4K Series is 2560 * 1600 WQXGA.
All the printers under P4K Series utilize a true 4K projector with UV optics tuned to 385 nanometers wavelength.
They deliver the highest accuracy as they are coupled with the highest finished product functionality because they utilize Artificial Intelligence in pixel tuning for delivering high-quality surface finishes.
The data handling is done via STL format files. The printer has a warranty of one year included at the time of purchase.
Perfactory P4K series offers two different footprints: 73 mm * 48 mm * 135 mm and 73 mm * 48 mm * 160 mm. The LED used in these printers outperforms the original P4 UHP light source in cost savings and has an estimated life expectancy of 20,000 hours.
Price
To know the exact price of these P4K series 3D printers, you must contact the manufacturer for the same.
First Impression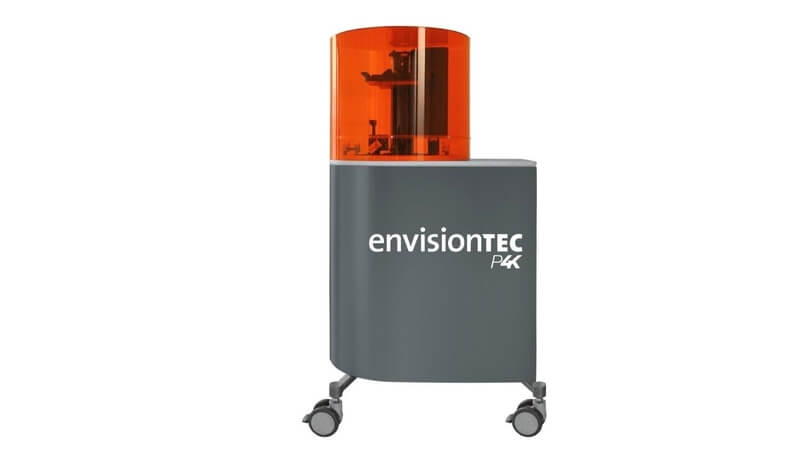 The first glance over these printers will let you know that they are definitely different from other 3D printers that you must have seen by now. Making use of curvy edges instead of sharp ones, the manufacturer has come up with a unique design.
The print chamber is fixed on the platform kind of a structure that can be taken from one place to the other via a wheel-driven base.
This print chamber has neon-type transparent material which makes monitoring of the 3D printing process happening inside the print chamber possible.
When talking about the construction of this 3D printer, it is just like any other DLP 3D printer. I.e., the bottom of the frame consists of Projector, which emits a Light beam or matrix onto the resin vat thereby focusing the image on the build plate.
Setup
The printer is completely ready to 3D print when you receive it. All you need to do is read the manual before starting your 3D prints. This is so that you can get comfortable with various parts of the printer and understand their functionality.
Print Type/Cost
DLP stands for Digital Light Processing, it is a type of vat polymerization 3D printing technologies, the other example being SLA 3D printing.
Here, unlike an FDM 3D printer, a liquid photopolymer resin is cured or solidified under a light source. The only difference between SLA and DLP is the use of the light source used for curing the part or functional prototype.
SLA 3D printers use lasers combined with galvanometers for curing the resin, whereas DLP 3D printers make use of a Digital Light Projector Screen. And this gives an inherent benefit to the latter of time. DLP 3D printers cure faster than SLA 3D printers.
Machines based on SLA technology have to individually cure the resin using a point-to-point technique. On the other hand, the DLP projector screen flashes a complete image at once. Thereby, curing all the points of the layer at once.
A result of this is increased speed. DLP is a digital technology wherein the 2D image that is projected is made up of pixels. So, when they are translated into 3D, they become voxels.
The light source of a DLP 3D printer is an LED screen, meaning a digital micromirror device that is the heart of every DLP chipset.
Every DMD used in a 3D printer contains hundreds of thousands or sometimes even millions of small micrometers that direct the light and create a pattern of a layer onto the bottom of the resin tank.
Print Quality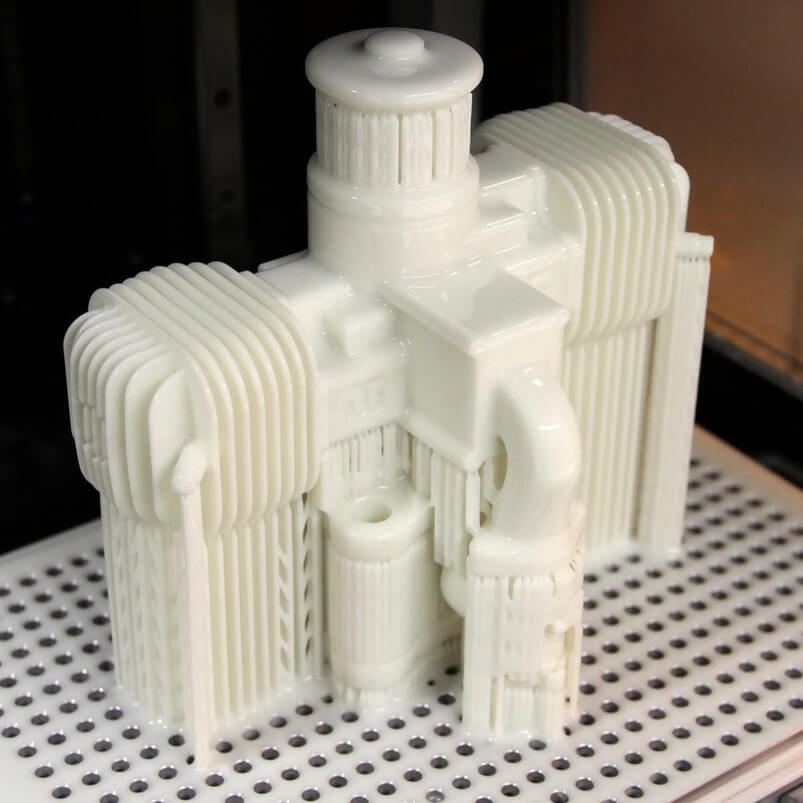 Credit: envisiontec.com
Print Quality of Envision Tec Perfactory P4K Series is done by getting a check of voxel sizes. For four different 3D printers, the native pixel size XY has different voxel sizes.
P4K 35 has 35 micrometers.
P4K 62 has 62 micrometers.
P4K 75 has 75 micrometers.
P4K 90 has 90 micrometers.
It is obvious that the more the number of pixels, the detailed the quality of your print. And the dynamic voxel resolution range in the Z-axis is from 25 to 150 micrometers depending on the material that you use for the 3D printing part or functional prototype using Perfactory P4K Series.
It is to be noted that the company gives you enormous options in terms of materials for 3D printing an object on the printers.
It starts from ABS Flex White, E-Glass 2.0, ABS High Impact, E-ABS Tough, EC500, EC3000, E-Guard, E-Partial, and many more.
Parts made from these materials find their use in industries such as Aerospace, Entertainment, Automotive, Jewelry, Hearing Aid, Consumer Goods, Education, Medical Devices, Manufacturing, and Orthodontics.
Software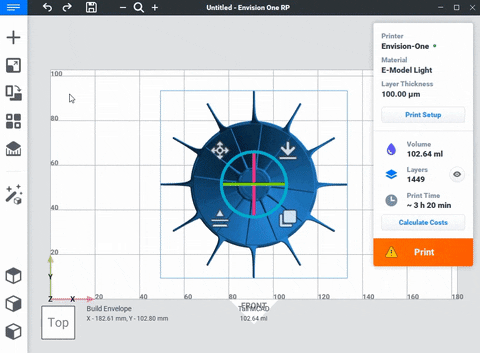 Credit: envisiontec.com
All the printers of Perfacotry P4K Series make use of Envision One RP software. It translated 3D models into printable files for the 3D printer.
You can design your model in standard CAD software, then import the STL files into Envision One RP Software.
You can then prepare your model for printing with one click of a button, upload it to your printer and let the Envision cDLM do the rest.
Customer Support
You have multiple options of support with Envision TEC. There is access to Support Center online, you can request assistance with their printers.
Apart from this, you can gain access to the white papers, live training, and renew the license from time to time.
The company's technical team offers world-class support to all its customers via email and phone.
Parameters Influencing Buying Decision
The most important points that are worth having a glance at while buying the 3D printer are mentioned below.
3D Printer Cost: You will have to request a quote to Envision Tec for knowing the price of Perfactory P4K Series printers.
3D Printer Quality: All the parts or functional prototypes manufactured with the printers have a dynamic voxel resolution ranging from 25 to 150 micrometers.
3D Print Speed: Being a DLP 3D printer, Perfactory P4K Series has a higher print speed than other SLA 3D printers.
3D Printer Capability: All the printers under Perfactory P4K Series have the capability of 3D printing a lot of materials as mentioned above.
3D Printer Practicality: The printer utilizes Artificial Intelligence in pixel tuning to deliver finished product functionality.
3D Printer User Expectations: The printers stand upon the expectations of intermediates and experts in the field of 3D printing.
The Verdict
Envision Tec Perfactory P4K Series delivers parts with an excellent surface finish in minimal printing time. It's equipped with best-in-class UV optics tuned to 385 nanometres wavelength. If designing smaller geometries with intricacies is your goal, these printers are definitely worth your go-to.