PROS
Auto Calibration
All the printers are capable of upgrading themselves to dual extrusion.
Pro L is capable of building parts and prototypes with huge built volumes.
CONS
Occupies larger space
Not suitable for home users and very expensive
Table of Contents
The Pro series by Felix printers consists of five products. Namely, Pro 2, Pro3 and Pro 3 Touch, Pro L and Pro XL. The first three are beginner grade printers, while the other two are industrial grade printers.
Netherlands based manufacturer Felix printers launched Pro L and Pro XL in the professional market. These printers boast of their large build volumes, dual extruders, and no power detection for avoiding failure in prints.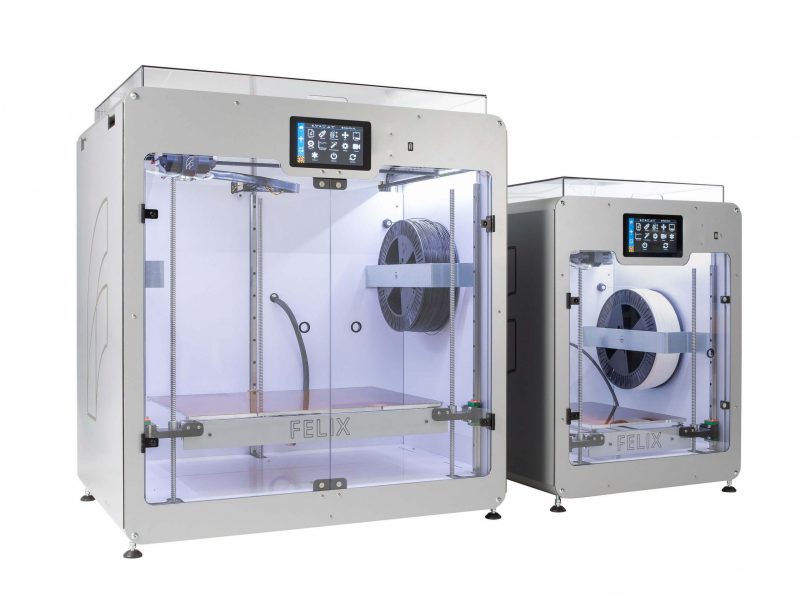 How about exploring some more details about the Pro L series through this Felix Pro L series review?
Pro L, as mentioned before, is for industries and large-scale production. The specs of these machines are impressive. Pro L can work with a wider selection of filaments like PLA, ABS, PETG, PVA, FLEX, Carbon Fiber, Nylon, Glass, and Wood II.
Felix printers is a company that's known in the field of additive manufacturing for quality and reliability. Perhaps, it's because of this reason that they have engineered these printers with print chambers in enclosed warm zones and cold zones.
The warm zones in the printers support consistent temperature control during the build. This feature is completely important when printing materials with a high shrinkage factor such as ABS, carbon fiber, or Nylon.
Whilst the cool zone brings the printer's electronics to a temperature range in which the printer is assured, not to get overheated.
Although there is no doubt about the print quality of machines built by any of the Felix printers, the company started by building industrial-grade printers before desktop printers. So, in this article, we would be reviewing much of the former and little about the latter.
Features
Both Pro L series has been designed by Felix printers in such a way that they are easily portable. In a way that they don't prove to be a headache for anyone who wishes to transport it from one place to the other.
Pro L can be transported through a normal door opening that measures as small as 900 mm. To look more into such amazing features by the machine, let's read below.
Intelligent Dual Extruders
The dual extruders of the machine, Pro L are integrated with a special mechanism that ensures the operation of print heads symbiotically.
In other words, when the dual nozzles are printing they remain at different print levels, which eliminates any risk of collision and reduces the chances of print failure.
In addition to this, if one nozzle is in use, the other will automatically rotate away from the print so there isn't any chance of interference.
Felix printers are perhaps the only company to provide dual extruders within the printers that are of low range. In Pro 2, Pro 3 too, the company offers you dual extruders.
Whilst in the Tec series, Felix printers leave the decision to be made on the part of the user as, whether to use dual extruders or single.
Enclosed Body
Unlike the Tec series and Pro 2 and Pro 3, the Pro L printers have an enclosed body design. This is very useful while printing with some materials such as ABS and PLA.
A large volume of parts and prototypes cannot be printed, without an enclosed body. Because in an open body there the effect of atmospheric temperature is a downside that has to be faced.
Whilst if the body is closed, the temperature can be controlled in a much faster fashion than, otherwise.
The design of Pro 2, Pro 3, and Pro L and XL are considered to be rigid. These frames enable high precision prints that are built from a custom-designed anodized aluminum extruded profile from the 6000 series.
This is the same aluminum that is used in aerospace and military designs. Felix printers say about this on its website about how they use powder-coated steel frame parts to construct the frame in the as rigid manner as much as possible.
The frame is a part of exterior design which makes the complete design as efficient as possible.
Automatic Calibration
The start of every perfect print is calibration. If the calibration is perfect, the final print is guaranteed to come out perfectly.
Complete calibration is ensuring an accurate measurement between the print head and print surface, in which the print surface should be completely aligned.
As well as, when the printer has dual heads, the height difference between them needs to be proper. The last thing to check is the distance between nozzles in the XY plane.
It often happens that manual calibration cannot produce the dimensional accuracy and hence automatic calibration is very useful to have.
Felix printers have this feature, not just in its industrial-grade printers, but also in Pro 2 and Pro 3 which are desktop printers primarily targeted towards hobbyists and small businesses.
Removable Build Plates
This is a feature that's available in Pro 2 and Pro 3 as well. The same is carried with Pro L as well. Felix Printers realizes the problem with non-removable build plates. Especially during post-processing of a part or functional prototype.
It so happens that with desktop printers, the parts that are printed get stuck over the build plate. In such a case, if the build plate is removable and flexible like it is in Pro 2 and Pro 3, the part gets damaged while removing it from the build plate.
These build plates are flexible because one can bend it. So, they are named Flexplate by the company. Although being flexible, they can withstand temperatures such as 270 degrees
Celsius while the printing process is started. This is a feature that sets apart Felix printers from other companies who offer desktop printers in the same price range.
Specifications
Pro L series has a build volume of 300 mm * 400 mm * 400 mm. The filament materials that you can print using these printers are PLA, ABS, PETG, PVA, Flex, Carbon Fiber, Nylon, Glass, and Wood II.
Nozzle diameters that can be used in these printers vary from 0.35 mm to 0.9 mm. The print speed offered by these printers is 100 mm per second and the layer thickness range offered is from 0.05 mm to 0.35 mm.
The maximum temperature that the nozzle can withstand is up to 275 degrees Celsius. The heating bed of these printers is constructed of solid cast and milled high precision aluminum.
Both the printers have a 7-inch touch screen from which they can be operated. The menu structure of this touch screen is intuitive and is available in English, German, Dutch, Spanish and other languages. These printers operate under noise levels of 40 DBA.
Price
Starting from Pro 2, it's priced at $2,475 whereas Pro 3 comes at $3103. Pro L is priced in the market at $10,650 and Pro XL is priced at $18,316. One can tell the difference at which printers are primarily targeted by seeing the price of them.
Unlike Pro 2 and Pro 3 which are targeted for small businesses, academic institutions, professional designers, and engineers, Pro L along with Pro XL is targeted primarily towards industrial manufacturers that build parts and functional prototypes that are used in aerospace, medical, automotive, and dentistry, etc.
First Impression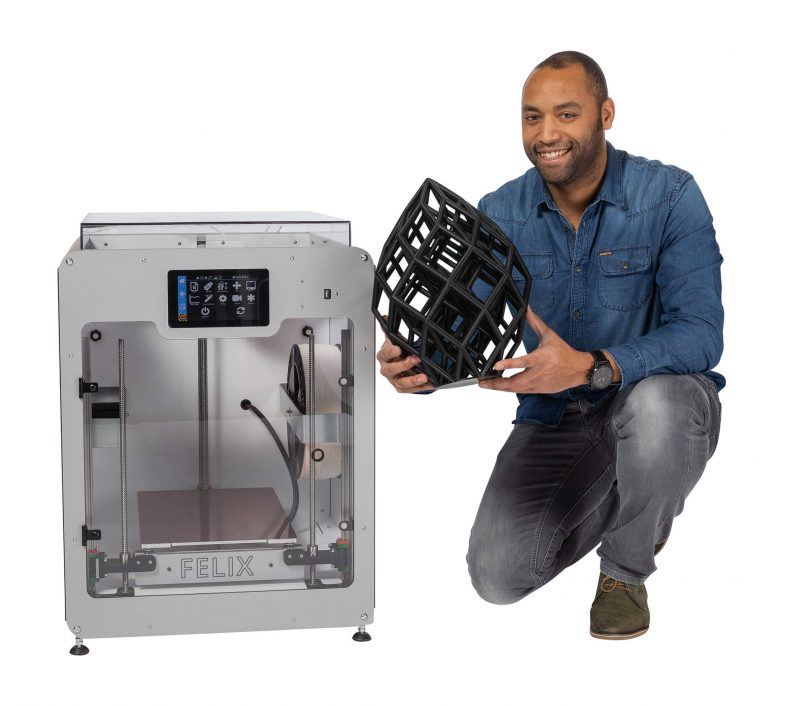 Be it any of the printer that you choose in the pro series, it has an option to come fully-assembled. This is to ease the use of all the printers and allow the customers to start printing as soon as they unbox the printer.
Pro L comes with tweezers, USB cable, USB stick, LAN cable, filament spool holders, spool of PLA filament, and a Quickstart manual.
If you inform Felix printer about your requirement to get any part in extra, they do so. So, in that case, you might have an extruder that comes separate with the pack and you would have to fix that up. Pro L has everything in-build.
Setup
Because all the Pro L series 3D printers have an option to come self-assembled, all you have to do is plug and start the printing. However, if you need any help in setting up any of the Pro series' printers, the Felix Printers team is ready 24*7 via email, phone, or Skype.
Printing Type/Cost
Of course, the printing cost for industrial printer Pro L will be greater than the desktop printers because of the greater consumption of electricity as well as materials.
All of these printers are based on FDM technology wherein the deposition of materials is done layer by layer and then the complete layer is solidified.
So regardless of the printer that you are printing with, the cost is going to depend on the material that you are using for filling of the filament.
It is also based on the temperature that the print head can withstand and how easily parts and prototypes can be cooled. The cost of Pro L is also more because they come with coolers for expediting the cooling process.
Print Quality
Because all the printers in pro series have a dual extrusion system and auto-calibration, they can produce complex parts and functional prototypes with high dimensional accuracy.
And it is for this reason that the application of these printers is seen in industries that demand parts and prototypes that have a higher amount of accuracy in measurements such as aerospace, dentistry, medical, automotive, and even jewelry.
Software
Almost every printer by Felix printers is kept open-sourced. The company has given full freedom in the hands of the user to use the software he/she wishes too. Check out the best 3D slicing Softwares of this year here.
One can also use Repetier, which is the company's standard software for slicing of parts and prototypes. The very popular Simplify 3D is also completely compatible with the Pro series by Felix printers.
For those who wish to operate these printers by computer, will need Windows 7 and above versions of the operating system. The printers are also compatible with Mac OS and Linux.
Customer Service
Felix printers offer a 12-month warranty on all parts that can wear out, apart from hot-ends. There is a lifetime technical support offered by the company on all the printers via email, phone, or Skype.
The named earned by Felix is because of the online and offline support that it provides to its customer ensuring that every part of the printer works according to its user's expectations.
Extended online support includes knowledgebase of the company, manuals, tips, and tricks to get the most out of Pro L and Pro XL.
Parameters Influencing Buying Decision
Your buying decision should be based on parameters such as the cost of the printer, its quality, speed, capability, practicality, and your expectations. Let's look at each one of those for Pro Series of Felix Printers.
3D Printer Cost: The overall cost of Pro L series printers is justified. After using any of these printers you can say that the company knew the 3D printing market and its users that it primarily targets.
3D Print Quality: Felix Printers is known to provide excellent print quality because of which its parts and prototypes are used in various industries.
3D Print Speed: The printer offers amazing speed. However, a lot will depend on the complexity of your parts, infill percentage, and various other variants.
3D Printer Capability: Pro L series printers are capable to print complex geometries with dimensional accuracy.
3D Printer Practicality: The Pro L series by Felix is designed as industrial-grade printers. Hence, it helps manufacturers to build in bulk amounts and suitable for large industries.
3D Printer User Expectations: Felix printer has gained a name in the 3D market by satisfying user expectations and it still intends to grow more in that area.
The Verdict
By going through the Felix Pro L series review, you must have got an idea that it is not for fun. It's expensive and is made to work along with large-scale production.