FELIX Pro 3 3D Printer
Felix Pro 3 is a machine that can be set up quickly and has an automated motorized calibration of the print bed. Print heads of this machine can have a quick transition between them.
PROS
Comes with swappable print heads.
Has a dual extruding system.
Parts and prototypes of larger volumes can be printed using Felix Pro 3.
Accommodates a touch screen on its top for monitoring and controlling.
It comes with multiple options to connect.
CONS
The printer has an open body because of which temperature stability is an issue.
The safety of parts, while they are in the printing process, is also an issue.
Product
Specification
Videos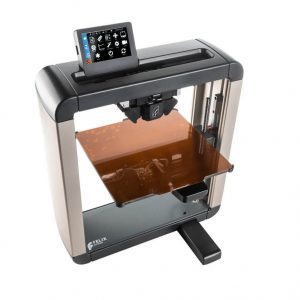 An intuitive, intelligent, and easy to set up, Felix Pro 3 can be your manufacturing tool at every stage of product development. It can be helpful ...
| | |
| --- | --- |
| Model | FELIX Pro 3 |
| Manufacturer | FELIXprinters |
| Price Range | $3099 |
| Availability | Available |
| Classification | Desktop |
| Technology | Extrusion (FFF- FDM…) |
| Material | ABS, Other plastics, PLA |
| Filament diameter | 1.75 mm 0.07 in |
| OS compatibility | Linux, Mac OS, Microsoft Windows |
| Generic material | Yes |
| Max. build size | 235 x 244 x 235 mm 9.25 x 9.60 x 9.25 in |
| Max. build volume | 13.47 L |
| Max. print speed | 18 mm 0.70 in /s |
| Min. layer thickness | 0.25 mm0.01 in |
| Dimensions | 430 × 390 × 550 mm 16.93 × 15.35 × 21.65 in |
| Weight | 11.5 kg 25.35 lb |
| Nozzle diameter(s) | 0.35 mm 0.01 in |
| Heated print bed | Yes |
| Heated build chamber | No |
| Automatic calibration | Yes |
| Closed frame | No |
| Dual extruder | Yes |
| Independent Dual Extruder | No |
| Full color | No |
| LCD screen | Yes |
| Touchscreen | Yes |
| On-board camera | No |
| Mobile app | No |
| 3D scanners | No |
| CNC mill | No |
| Electronics 3D printing | No |
| Laser engraving | No |
| Conveyor belt | No |
| Air filter | No |
| Pellet extruder | No |
| USB | Yes |
| Wifi | Yes |
| Bluetooth | No |
| SD card | Yes |
| Ethernet | Yes |

Table of Contents
Felix Printers is a Netherlands based desktop 3D printer manufacturing company and this is the latest printer designed for maximizing productivity and efficiency.
The successor of Felix Pro 2, Pro 3 is built to offer the highest possible price/performance ratio in its range of printers. Felix Pro 3 ensures minimum downtime and optimal performance with high-quality parts. Read the Felix Pro 3 review to find out more about the machine.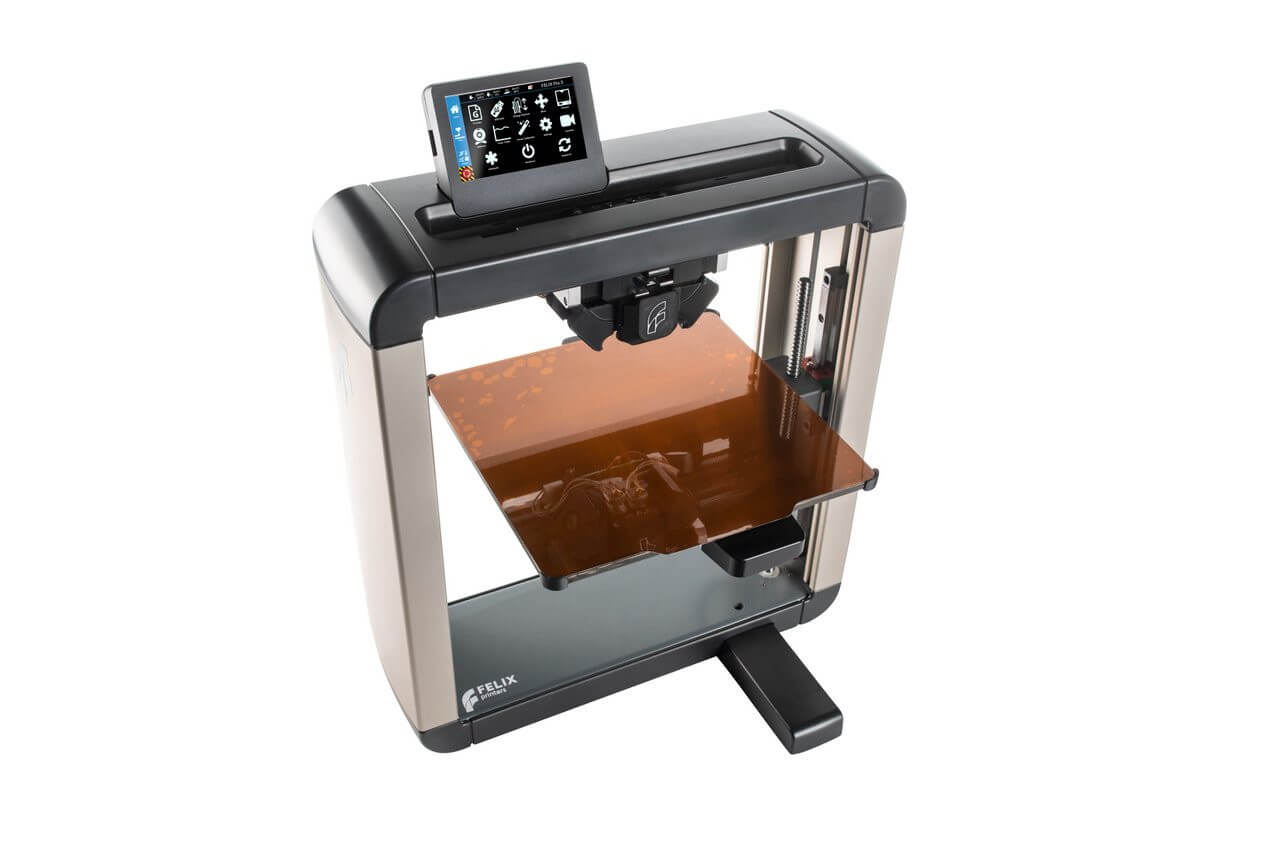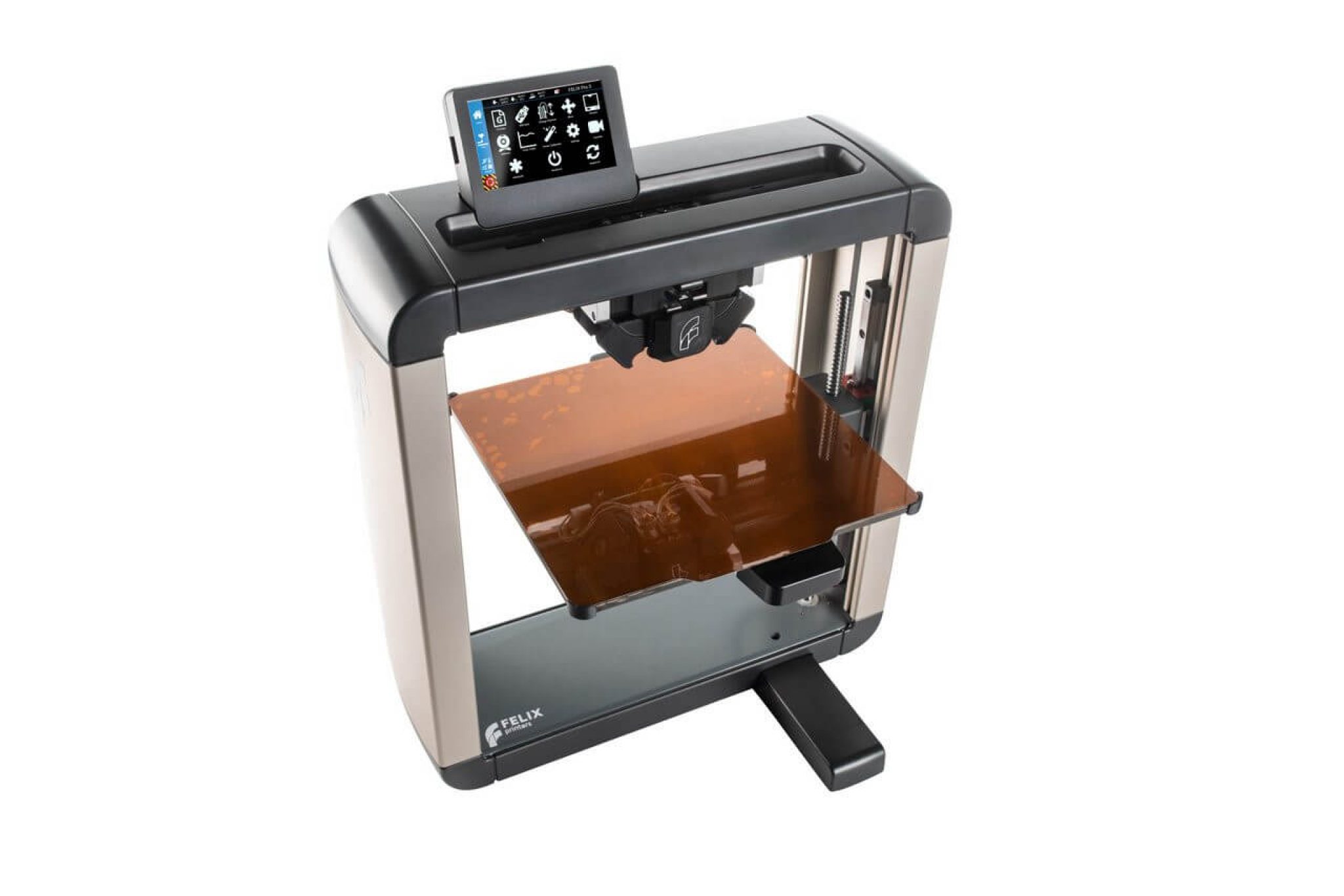 Felix printers released its range of professional desktop 3D printers in 2015 with Felix Pro 1. Learning from which Pro 2 offered a design that laid emphasis on ease-of-use and was also awarded 3D printing industry awards as best "personal 3D printer of the year in FFF/FDM," range.
When the company announced Pro 3 in 2018, it was to show in front of the additive manufacturing world that Felix was also capable of producing machines apart from industrial ones.
Pro 3 and its advanced version, Pro 3 Touch claim a quick setup and automated motorized calibration of the print bed.
In the words of Guillaume Feliksal, the founder and director of Felix printers," Pro 3 has been developed to integrate seamlessly into industrial workflows, whether it's an office, a workshop or factory environment."
Features
Felix Pro 3 is a machine that can be set up quickly and has an automated motorized calibration of the print bed. Print heads of this machine can have a quick transition between them.
The print heads can be swapped and a faster rotation between them can be achieved with Pro 3's dual head configuration. Both these print heads can heat up and cool down quickly even while constant extrusion is going on.
These characteristics of the printer ensure that there is a good amount of accuracy present in the parts and functional prototypes.
To look in a little more depth, let's go through the list of features one by one.
Automatic Motorized Calibration: Manual calibration demands a lot of accuracies, which is not possible to achieve in a limited amount of time without experienced hands-on print. In such times, if you have automatic motorized calibration, it becomes a lot easier to print faster in a lesser amount of time. Pro 3 comes with an innovative probe sensor that is integrated into the print head and the motorized bed.
With Pro 3 a proper calibration is ensured. However, there should be an accurate measurement between the print head and the print surface. Read more about the importance of 3D printing calibration here.
The print surface should be properly aligned as per the part or functional prototypes that are to be printed. There should a height difference between print-head nozzles if the printer has a dual-head like Pro 3.
And the distance between nozzles in the XY plane should also be proper as demanded in the output.
Coming with features, Pro 3 ensures the consumers get the maximum amount of layer resolution in the final print with maximum detailing.
Flexplate Of The Printer Enables Easy Removal Of Object: This facility comes into play especially while printing with large objects. The adhesion of object and print-head is a large issue when it comes to changing the material of print. When you want to remove the object from the print bed, the object can be damaged because of lesser space availability inside the machine.
Pro 3 comes with this unique feature of removing the complete plate for removing the printed object over it. However, one needs to wait, until the plate is completely cooled.
Although, the cooling of the plate doesn't take much time as it does in an enclosed body because Pro 3 has an open body.
With Flexplate solution, one can easily remove the object, which helps in the handling of prints. The printer also allows you to use different plates for different situations and materials.
Hot-ends Can Be Quickly Swapped: Changing of print-heads is a huge issue especially in desktop printers of the price range that Pro 3 belongs to. Keeping this in mind Felix printers have made sure that with Pro 3 changing of print heads is easier than ever. Claims are that it just takes 10 seconds to change an extruder, before, after, or in between the prints.
Because of this, you don't need to pay for the regular maintenance of a single extruder. It also allows you to quickly switch from one material to the other.
And of course, you can use different nozzle sizes for which better suits your project. When Pro 3 came in the market, this feature was appreciated a lot by the designers, engineers associated with additive manufacturing all over the world.
Powerful Touchscreen Interface: This new touch screen embedded with a print server gives Pro 3 superpowers like remote print file monitoring, multi-user environment, and print file-management from the screen itself. To mention its ability in one sentence, the company claims that it can control up to 10 different printers and create a print farm of its own.
The touch screen is intuitive and contains all the functions that are required with video tutorials to get you started. You can conveniently manage projects which involve multiple users via the intuitive web interface. Pro 3's touchscreen module also creates a rendered image of the print- file which can be seen on the frontend of the screen.
You can upload your firmware, update your details online and decentralize your computer by also allowing other computers to do intensive tasks.
Specifications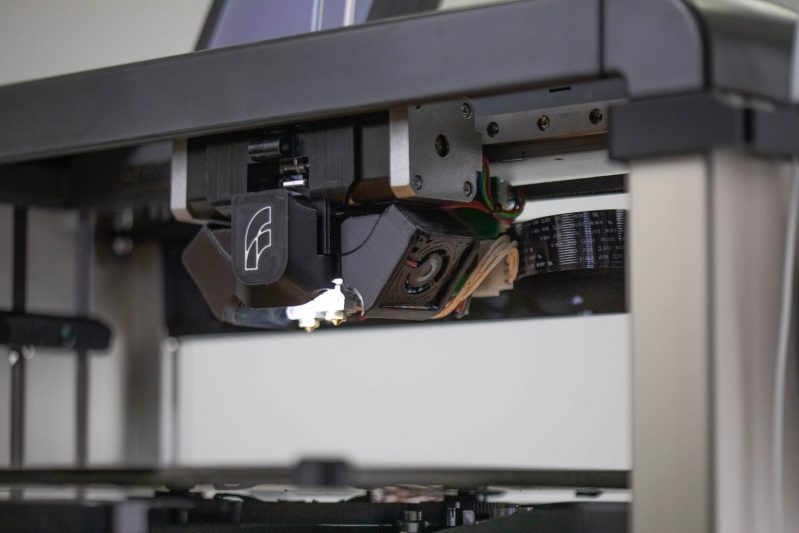 Pro 3 has a build volume of 235 mm * 244 mm * 235 mm and is based on FFF 3D printing technology. It has a lower layer resolution of 250 microns whereas higher and extreme resolutions of 100 and 50 microns respectively.
The printer comes with swappable build plates that are magnetic and can withstand temperatures up to 105 degrees Celsius.
The build speed of this printer with a 0.35 mm nozzle is up to 18mm per second. You can also print with nozzles having a diameter of 0.5 and 0.7 mm.
Pro 3 has an intuitive dual-head nozzle system which means that even when you are printing with only one nozzle, the other nozzle with taking part in the printing process, increasing the overall speed of the printing part or prototype.
Pro 3 has an XY resolution of 1.6 microns and a Z resolution of 0.15 microns. The nozzle of this printer can withstand temperatures up to 275 degrees Celsius and takes 30 seconds to be heated up.
The build plate of this printer can be heated in 1.5 minutes and the printing process sound levels of Pro 3 is 34 DBA.
Price
The Felix Pro 3 is priced in the market at $3717 approximately. Specifically designed as a desktop printer, Pro 3 is excellent in terms of the value it offers amongst printer priced similar.
Small businesses, academic institutions, and professionals like design engineers in the field of additive manufacturing can test the industrial-grade experience by spending price as much as a desktop printer.
Felix has already earned a lot of names in the world of additive manufacturing by its industrial-grade 3D printers. With Pro series being a success they are also gaining the tag of a trustworthy company in the manufacturing of desktop printers.
First Impressions
Felix Pro 3 has an open body due to achieving the melting temperature is an issue sometimes. It comes in an easy packaging and comes self-assembled. Although, there are some parts that come inside Pro 3's packaging.
Along with the printer one can find changeable metal hot-ends that are accompanied to expedite the printing process. Pro 3 has highly accurate sensors, smoother print results, optimized filament feed, and advanced filament detection.
Knowing that the first layer of 3D printing is extremely important, Felix printers have this auto-calibration feature which lets you achieve an accuracy level like no other.
Setup
Pro 3 comes fully assembled and therefore is a plug and play machine. The guidance needed for how to swap the print heads and the hot ends is given by the company's support team over the phone as well as with guidelines written on the company's website.
For post-processing and cleaning of the nozzle, there is a manual of Felix that comes along with the printer. This manual explains with you in a stepwise fashion.
By following the steps you can easily clean the printer. Also, the touchscreen interface of Felix Pro 3 comes with symbols about which tutorials are available in video format, on the screen itself.
Print Type/Cost
Felix Pro 3 is an FDM 3D printer that uses PLA, PETG, ABS-X, PVA and any other filaments that has melting point under 275 degree Celsius to print parts and functional prototypes.
The cost of printing your 3D part depends on the material that you wish to print with. Also, other factors matter such as layer height, complexity, etc.
Pro 3 comes with dual extruders, so one can simultaneously print two parts at the same time. The layer inside the extruder will melt according to the design provided in the printer and then it will solidify.
The build plate of the printer, will, till then move to another layer and the process would be repeated for the complete part.
Print Quality
As far as FDM 3D printing technology is concerned, Pro 3 is one of the best printers that come in the range of desktop printers.
Due to dual extruders, swappable print-heads, and automatic calibration, you can achieve layer height resolution with utmost precision using Pro 3. Complex parts and functional prototypes can be printed easily and faster using Pro 3.
Software
Makers of these printers have kept it open-sourced, so, you can run Felix Pro 3 with any software. However, Repetier which is the host of software for Felix printers is also very compatible.
Even if a non-tech person uses this software, he/she too would be able to easily slice his/her files using it. Simplify 3D is another software that is also compatible with Pro 3 so slicing with this printer is not that difficult.
Pro 3 is compatible with Windows 7 and above versions, Mac and Linux operating systems.
Customer Service
Felix is one of the most renowned names in the field of additive manufacturing. One particular thing to note about this Dutch manufacturer is that, before manufacturing desktop printers, it had already earned its name in industrial-grade printers by providing their service and support.
Industrial-grade printers have more complex parts in the machine than desktop printers. So if a company is good at providing support in their industrial-grade printers, it can obviously provide excellent customer service in desktop-grade printers.
One can completely rely on the company's manual for setting up the printer, call the executive for more telephonic help and if needed they also provide video assistance.
Parameters Influencing the Buying Decision
Let's look at the cost, quality, and capability of Felix Pro 3 to decide where the money that one has to spend on it, is worth or not.
3D Printer Cost: Dekstop printers also come in the range that is cheaper than this one. But they do not have as many as features as Pro 3 does. So the cost is justified.
3D Print Quality: Dual extruders, swappable print heads, and auto-calibration enables you to achieve precision like in no other printer priced at the same range.
3D Print speed: The 3D printer offers competitive print speed.
3D Print Capability: Pro 3 can print complex designs without much effort.
3D Printer Practicality: Made to impress, you can utilize the 3D printer for various applications. It can create prototypes as well as end products.
3D Printer User expectations: It does cater to the expectations of the users quite well.
The Verdict
Overall the printer is an exception to its competitors in terms of the features that it offers. Felix Pro 3 should be your go-to if you run a small business or planning to buy a 3D printer for satisfying your curiosity while ready to spend extra bucks for that.
The Felix Pro 3 review outlines the perks that you would get through this machine which aren't available with its counterparts at this price range. It's your turn to decide now. Overall, the printer is worth your attention definitely if you have that kind of budget.