Table of Contents
Creality 3D, known for its quality desktop 3D printers and high market share in the 3D printing industry, has launched a revolutionary Infinite-Z 3D Printer – 3DPrintMill on Kickstarter on Nov. 19th, 2020.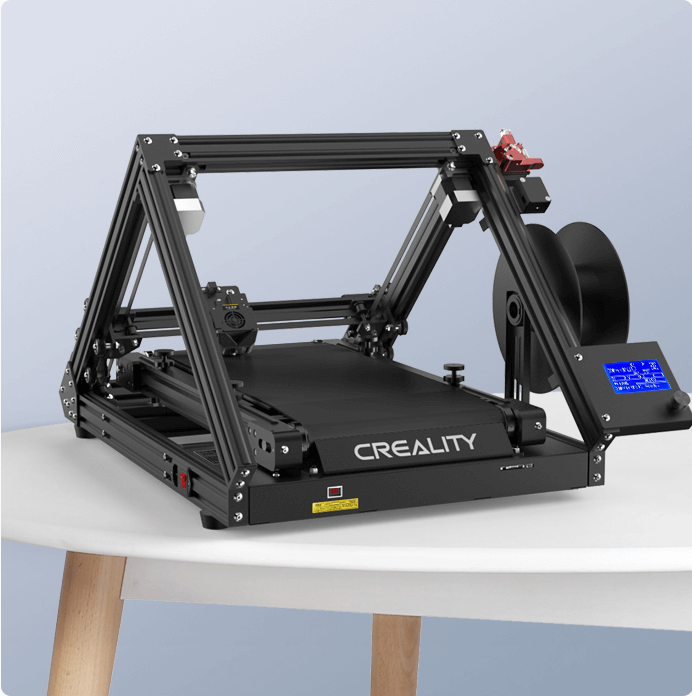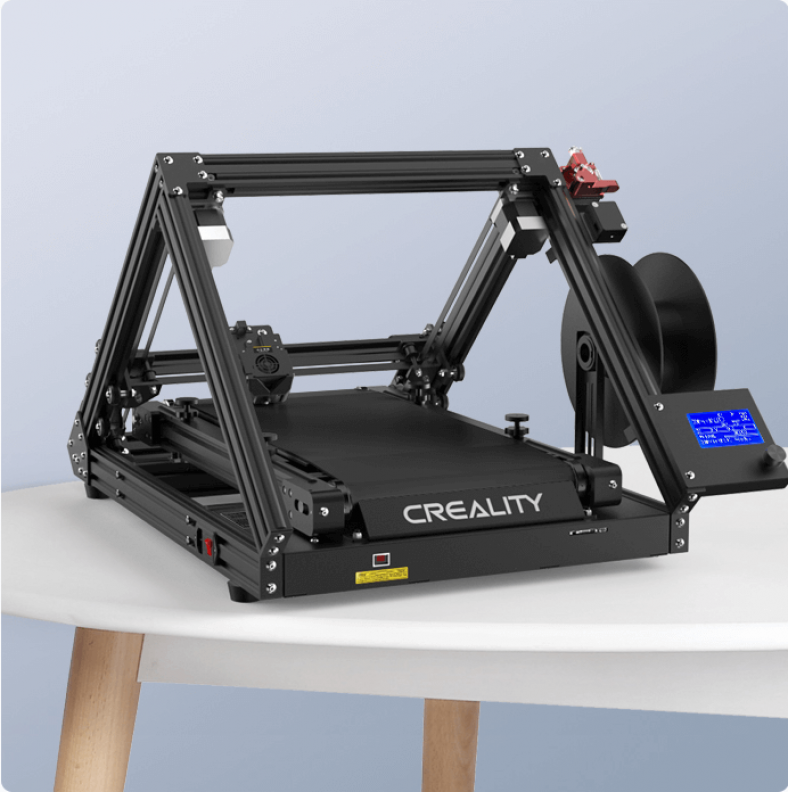 What is an Infinite-Z 3D Printer?

Simply put, the 3DPrintMill is a cross between a traditional 3D printer and a conveyer belt. This means two things:
Continuous, unattended part printing. Parts are 3D printed, the heated belt advances, and the parts detach themselves and fall into a bin. No more constantly prying pieces off a heated bed and starting the print process again.
The 3DPrintMill can turn an entire 1, 5, or 10-kilogram roll of plastic filament into dimensionally accurate plastic parts with no human supervision
Extremely long (theoretically "infinite" along the Z-axis) 3D prints. By tilting the hotend 45 degrees, the back of the printed object advances out of the 3D printer- while the front is still being printed inside the printer.
The longest print out of the 3DPrintMill to date is a 20 foot/6 meter long bar- all one piece, produced by a machine only 66cm long.
Features of 3DPrintMill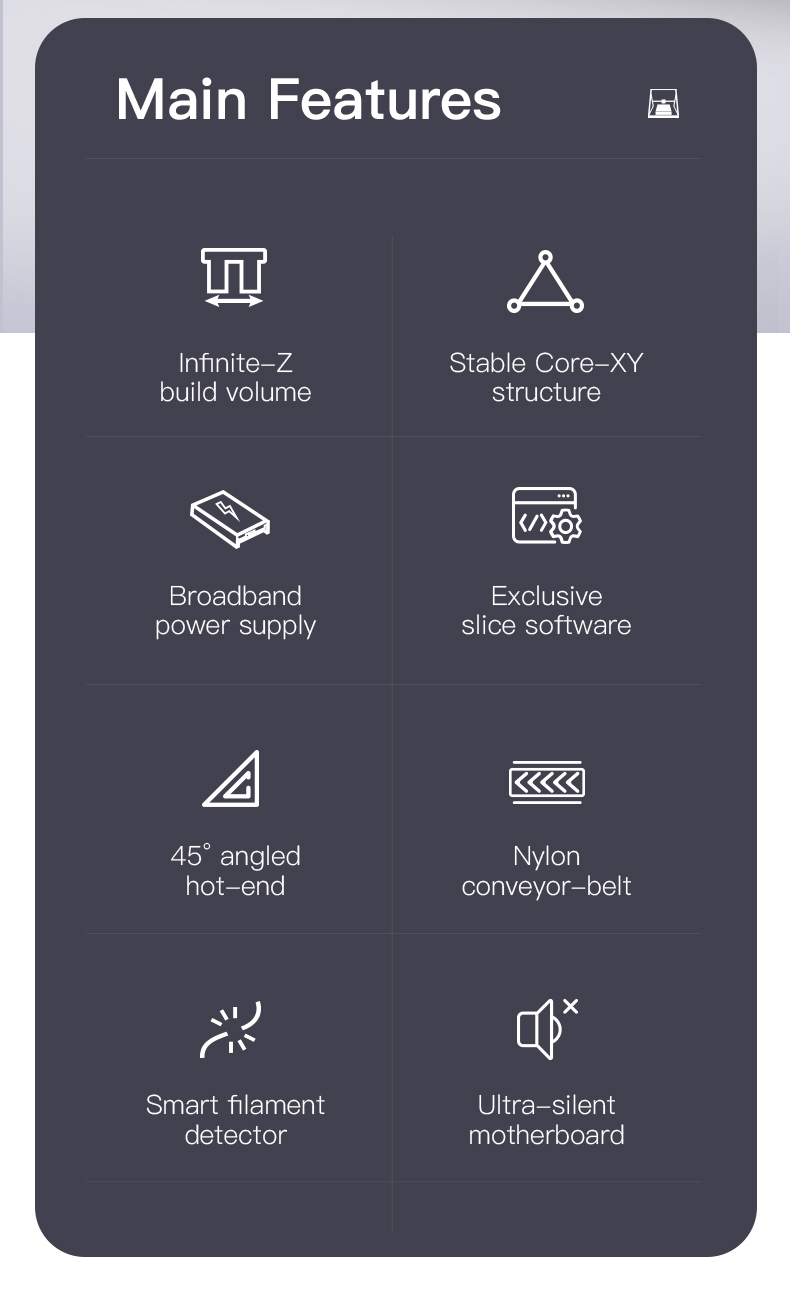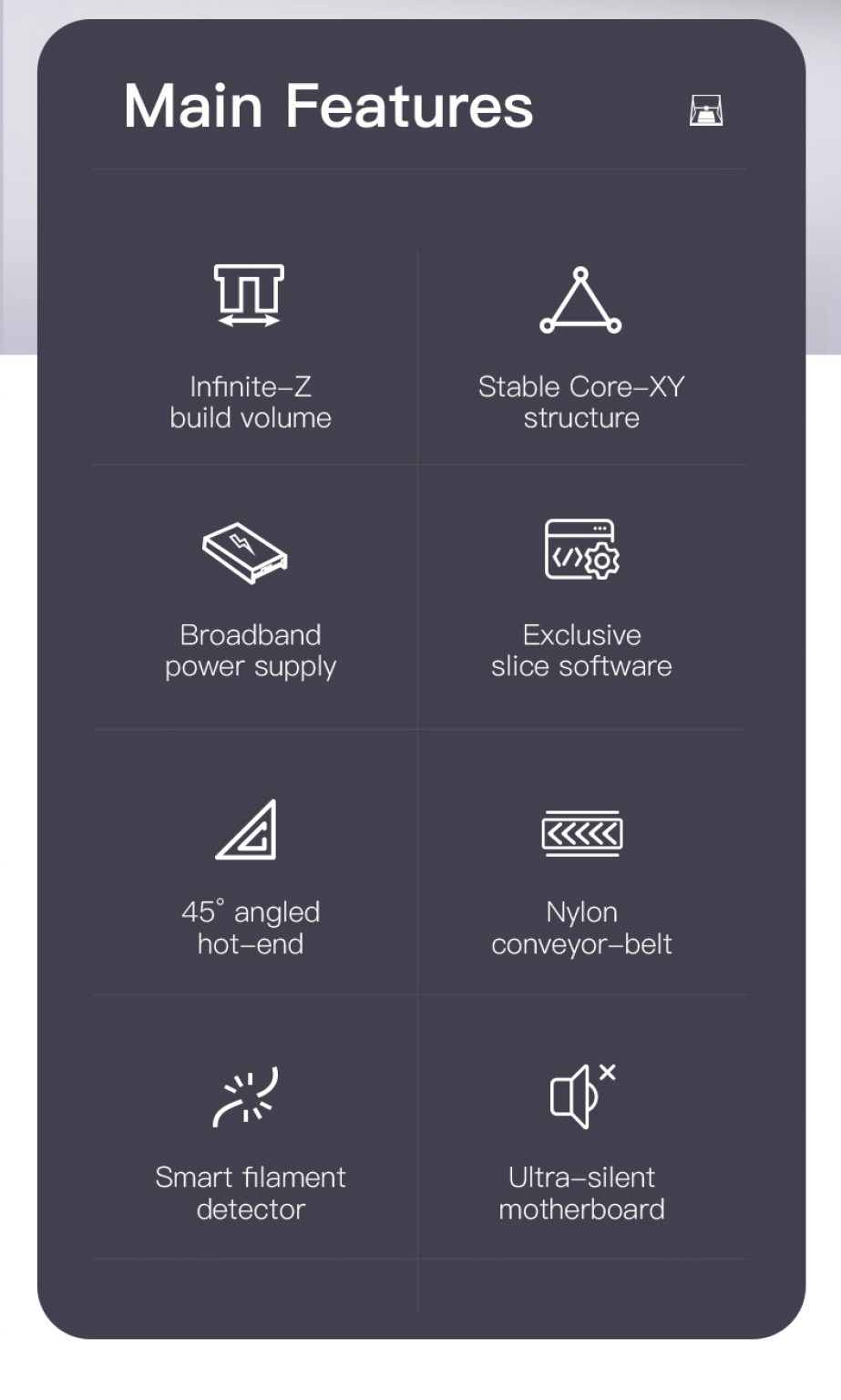 45° angled hotend which allows longer prints than ever. Maximum build length is no longer a barrier. The hot end is also adjustable to 15°, 25°, and 35° through accessories.
Conveyor belt which will synergize with the 45° angled hotend to deliver endless printing. The printed model will eventually roll off the belt.
Users can leave the printer unattended until it finishes printing. All the prints can be retrieved from the collection area at the end.
32-bit silent motherboard to create a desirable printing experience.  Users will no longer need to find an alternative way to eliminate the noise of the motor.
Filament runout sensor. It is an essential component for endless or multiple identical prints. It will pause the print if it runs out of filament or breakage of filament to avoid possible print failure.
Branded 350-watt power supply. It is capable of providing enough energy to the heat bed. The heat bed is located by the back portion of the belt near the hotend.
The model will cool down as it slowly moves away from the heated area and then detaches from the belt to the collection area.
The unique triangular structure of the 3DPrintMill results in strength and superb rigidity that's perfectly balanced. The moving belt enables the possibility of either mass production of an identical item or prints that will usually be out of the boundary of the build plate.
The triangular framework of 3DPrintMill is built with a Core-XY structure that results in precision, speed, and stability.
Creality will provide a special version of the slicer which is required to accommodate the unique structure of this printer. It allows users to select numbers of copies for a single model or utilize the infinite Z-axis to create a long print.

Campaign Details
This campaign was launched on Kickstarter at 12 P.M. Nov 19th (GMT +8), the 3DPrintMill is available for order from Nov 19th to Dec 19th on Kickstarter, for delivery in March 2021.
The regular retail price of 3DPrintMill is tagged at $999. The flash sale can seize the opportunity to save up to $461. The super early bird also can save up to $411. The earlier you participate, the more benefits you get.
Special price per piece:
Flash Sale Price at $538
Super Early Bird Price at $588
Early Bird Price at $688
Kickstarter Special Price at $738
Special Pack Price for Multi-pieces:
2 pieces for $1363
3 pieces for $1998
3DPrintMill is the best affordable Infinite-Z 3D printer ever. Similar belt printers currently on the market are designed for industrial purposes and cost around 10000 EUR.
3DPrintMill will be affordable with roughly 1/10 of our competitor's price. In addition, you can save up to 50% if you purchase from the Kickstarter platform. It will not be available elsewhere until Creality's Kickstarter campaign has fulfilled all the backer's orders.
How could Creality develop such an interesting machine and offer it at such a low cost?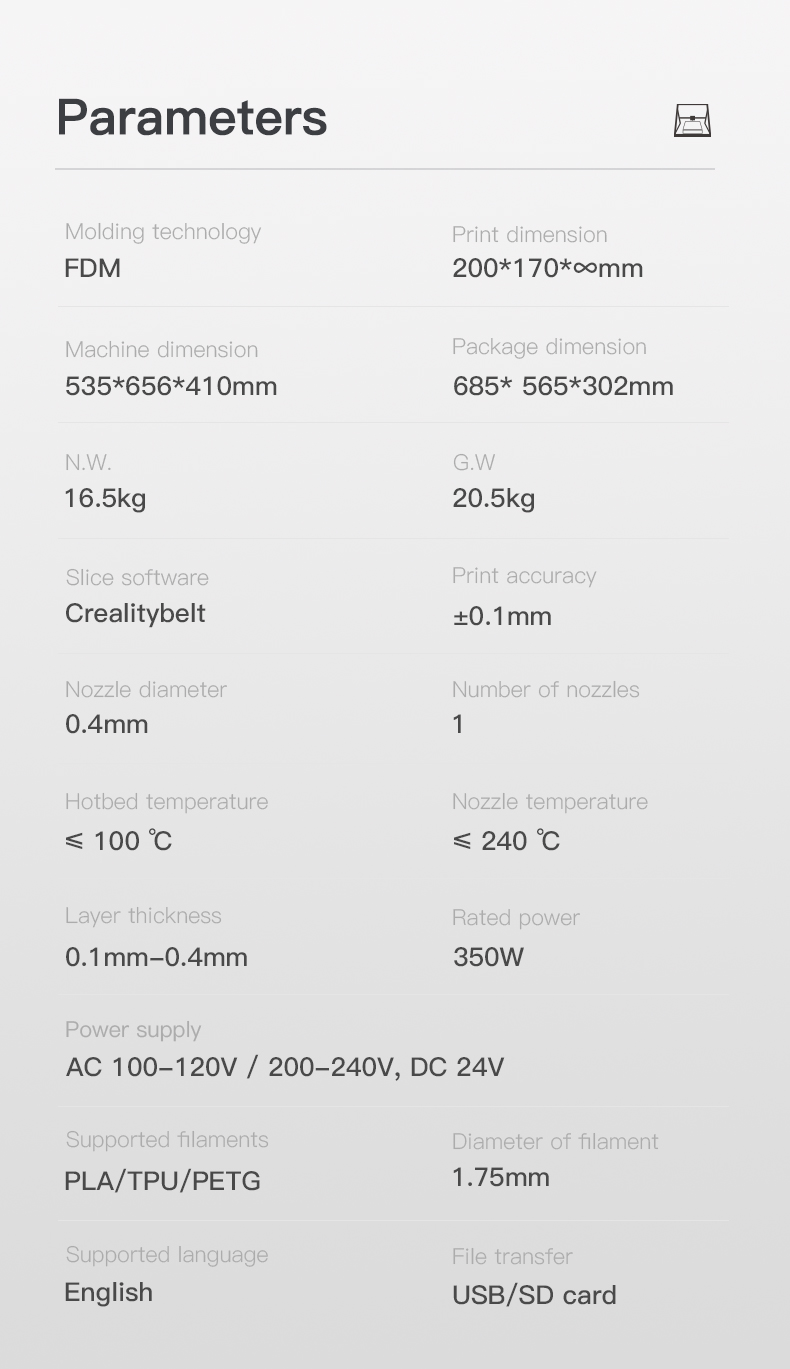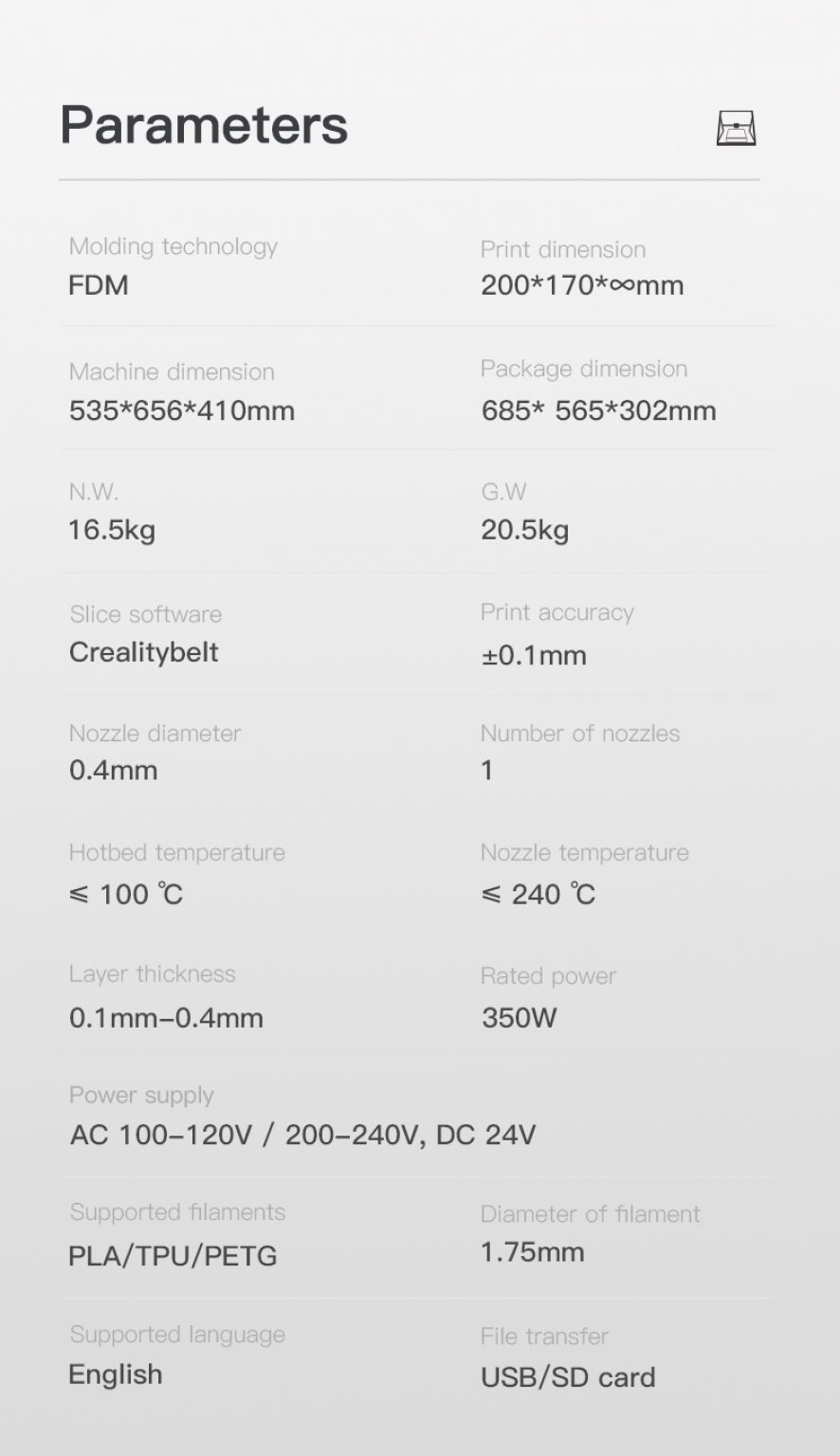 Creality is inspired by an open-source design and worked with those who developed it. By combining these ideas together with our hardware team over the past several months, we have been able to create a configuration that both performs and carries a low cost.
Creality launch this product at such an affordable price for the following reasons: Creality is a manufacturer and distributor, there is no middleman.
Our products are popularized by word of mouth which saves a lot from advertising. We are grateful to all Creality users. We want to repay our users with this innovative and revolutionary product with the best affordable price on Creality's 6 years anniversary.
About Creality 3D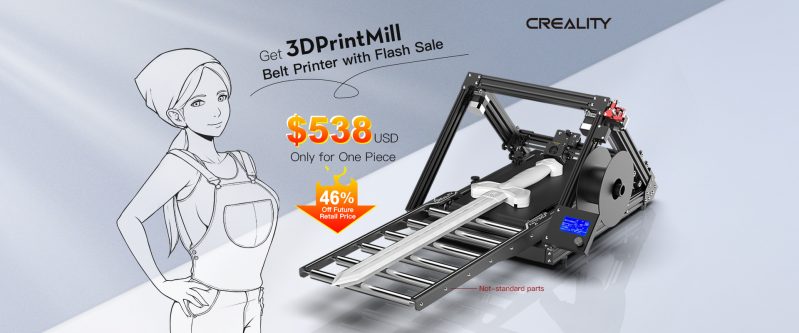 Since our establishment in 2014, Creality 3D has quickly grown to become a well-known and trusted name in the 3D printing community.
Headquartered in Shenzhen, Creality 3D has branches in Beijing, Shanghai, and Wuhan, containing R&D, manufacturing, and after-sales service divisions.
With a total area of 30,000㎡ of factory and research space, a team of over 1,000 employees, and sales of over half a million 3D printers a year, our ability to meet production deadlines is assured.
Creality 3D prides itself on its large-scale R&D center- 3D printing laboratories and the Creality Research Institute. It was this commitment to innovation- to building on and refining Open Source designs that lead to the creation of the 3DPrintMill.
With the spirit of a preacher, let thousands of families enjoy the convenience brought by technology, it's the mission of Creality.
3DPrintMill is such a high-performance 3D printer for continuous printing and batch production to achieve your micro-factory, which is really providing easy 3D printing solutions with great affordability.
SOURCE CREALITY