Natural Robotics VIT
Natural Robotics VIT has been designed and manufactured in Barcelona. And it aims to reinvent the Selective Laser Sintering for individual use and small-scale productions.
PROS
Fast printing with dimensional accuracy.
A considerable amount of build volume.
Stable printing.
CONS
The printer has an enclosed design due to which the post-processing of parts is an issue.
Product
Specification
Videos

VIT SLS is a desktop SLS 3D printer from Natural Robotics. The printer uses SLS Selective laser sintering technology and is capable of creating the ...
| | |
| --- | --- |
| Model | VIT SLS |
| Manufacturer | Natural Robotics |
| Price Range | $ 12100 |
| Release date | 2017 |
| Country | Spain |
| Availability | Available |
| Classification | Professional |
| Technology | Powder (SLS- SLM…) |
| OS compatibility | Linux, Mac OS, Microsoft Windows |
| Generic material | Yes |
| Max. build size | 250 × 250 × 300 mm9.84 × 9.84 × 11.81 in |
| Max. build volume | 18.75 L |
| Min. layer thickness | 0.05 mm0.002 in |
| Dimensions | 800 × 600 × 950 mm31.5 × 23.62 × 37.4 in |
| Weight | 150 kg330.69 lb |
| Heated print bed | No |
| Heated build chamber | No |
| Automatic calibration | No |
| Closed frame | Yes |
| Dual extruder | No |
| Independent Dual Extruder | No |
| Full color | No |
| LCD screen | No |
| Touchscreen | Yes |
| On-board camera | No |
| Mobile app | No |
| 3D scanners | No |
| CNC mill | No |
| Electronics 3D printing | No |
| Laser engraving | No |
| Conveyor belt | No |
| Air filter | No |
| Pellet extruder | No |
| USB | Yes |
| Wifi | Yes |
| Bluetooth | No |
| SD card | No |
| Ethernet | Yes |

Table of Contents
VIT SLS is the 3D printer that is manufactured by Natural Robotics which is a company based in Barcelona. This printer was presented for the first time as the first low-cost Selective Laser Sintering (SLS) printer on October 24th, 2017.
The platform where it was presented was Kickstarter. The aim of the manufacturer here was to make high-quality additive manufacturing technologies available to all businesses who cannot afford to spend as much as industrial grade manufacturers demanded from them.
With this aim in mind, the Catalan start-up began a few years before 2017 and developed FDM printers.
It is in the latter part of the time that they realized SLS's importance. Keeping this knowledge, they created their newest printer, aiming to affect businesses across the world.
This SLS printer is designed for 3D printing with types of polymer powders, at an affordable price like never before. VIT SLS is capable of producing prototypes and short runs, that have great quality and definition.
The printer has been designed and manufactured in Barcelona. And it aims to reinvent the Selective Laser Sintering for individual use and small-scale productions.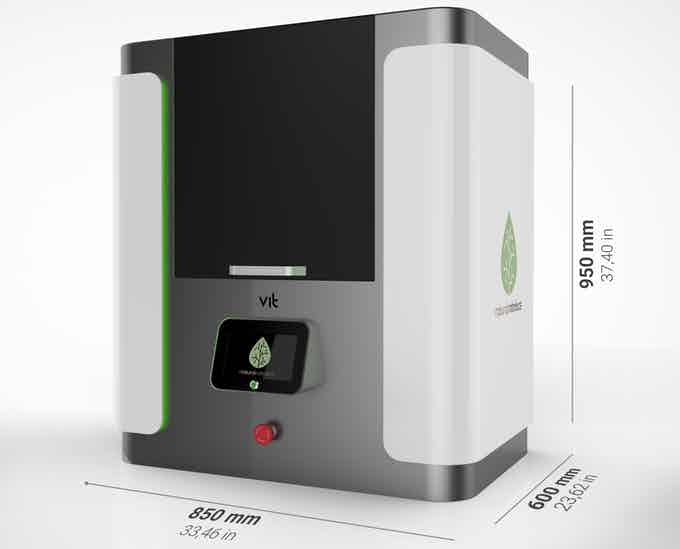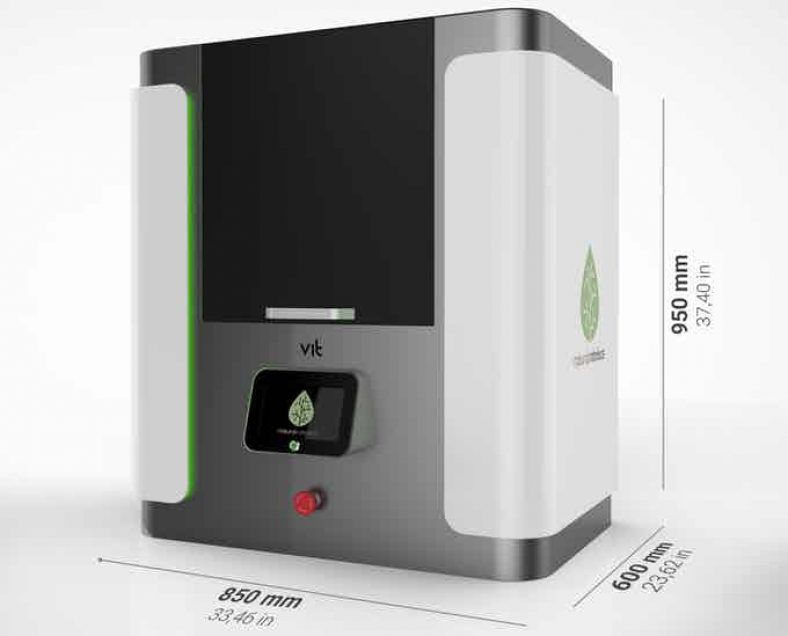 Credit: kickstarter.com
The manufacturer claims to have manufactured this printer after analyzing the main problems that arose in the 3D printing market. These were problems for the users of this technology.
The company has detected the needs and set out to find solutions for every one of them by giving the different products out of which VIT SLS is one of them.
In this article, you'll get to know about the features, specifications, print quality, and many such aspects in detail. So, let's get started.
Features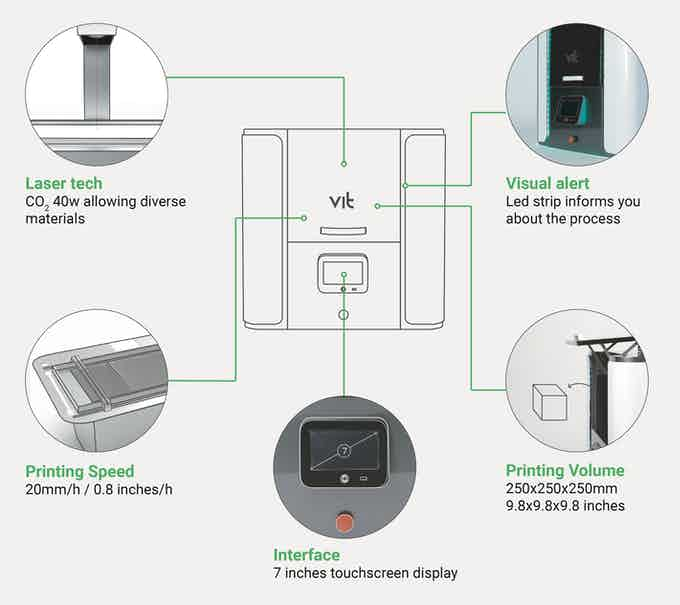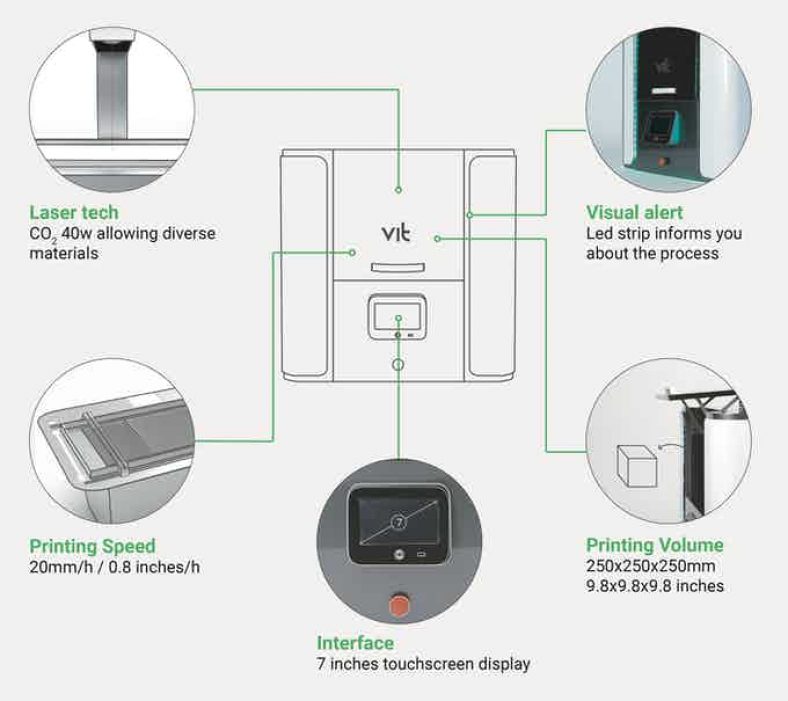 Credit: kickstarter.com
The VIT SLS is a desktop 3D printer that is based on SLS 3D printing technology. At the time when it came into existence is was the first printer that offered users to print using SLS 3D printing technology as a desktop printer.
Until then it was common for desktop 3D printers to use FDM technology, but not SLS. So, it was a breakthrough desktop 3D printer and above it, it had some breakthrough features about which you would learn in this section.
But before that, a general differentiation between both technologies would let you understand how this printer was a breakthrough printer.
With the invention of SLS 3D printing technology, the news in the market was that SLS generally offers more accuracy in detailing of complex geometries compared to FDM 3D printing.
So, until this printer came into being, in the market, there were parts and functional prototypes available that were made using SLS 3D printing.
But these were made from industrial 3D printers. So, to standby in this competition, being a small business owner was no chance.
And after this invention and a bunch of others like this, small business owners stood some chance with which they could also offer the accuracy in parts and functional prototypes that their client demanded, which was more than offered by FDM 3D printers.
Now, jumping on to the features of this printer.
Commendable Print Speed
The general conception of any 3D printer that offers good print quality is that it would compromise on the print speed. This is the stereotype that is present in the market.
So much so that a printer that offers both is almost a myth. When this printer came into the market, the general print speed of printers that printed with FDM 3D printing was 50 mm per hour. And the quality was average, but not like that of SLS 3D printers.
This printer claimed to offer a print speed of 20 mm per hour. So arguably FDM 3D printer users had to compromise 30 mm per hour for using this printer, but at the cost of the same, they would obtain intricate detailing in parts and functional prototypes.
So, it was a balance that this printer offered, which also made it a breakthrough printer.
And in a way it took the market to a stir with this balance which was so unique in its sense that users, on one hand, did not have to compromise on the speed for nothing, the got the quality at the cost of a considerable amount of compromise in the print speed.
Standalone 3D printing
This feature was again something that made this printer stand out from many others on the list. At that time, almost all the printers that were desktop 3D printers and based on FDM 3D printing technology required a computer to operate with.
Otherwise, manual operation or an alternative to computer operating the printer wasn't available in the market.
In those times, there was this printer that offered users comfort, allowing them to operate even without a computer. Users who didn't know much about computers and still wanted to do business in 3D printing were considered by the manufacturers of this printer.
And this made the printer a warmly greeted printer by all sorts of users, including the ones who knew how to operate, the other ones, and the one in the middle.
Of course, the printer can get connected with wi-fi and allow users to operate with that too. But it doesn't impose any sort of restriction.
So, if you are someone who does not know how to operate 3D printers with computers, you could still do the same work as the one who knows to operate it using computers.
7-inch touch screen user interface
Having a touch screen interface was getting common in times when this printer came into being. So, the manufacturers of this printer took into mind the latest trend and avoided being traditional about the user interface offering in their printer.
They did not offer the button interface that was traditional and old. Instead, this modern user interface was chosen by the manufacturers.
Of course, we all are familiar with the comfortability that any touch screen device offers. We love it so much that every smartphone nowadays comes with one.
Also, it's a huge touchscreen interface for the price range and desktop printer category that this printer is classified into. Most of the 3D printers of those times, if you see, would have a touch screen interface but not this huge.
To have a huge touch screen interface is to be able to operate multiple things from a single screen with convenience. You also need to remember less.
Specifications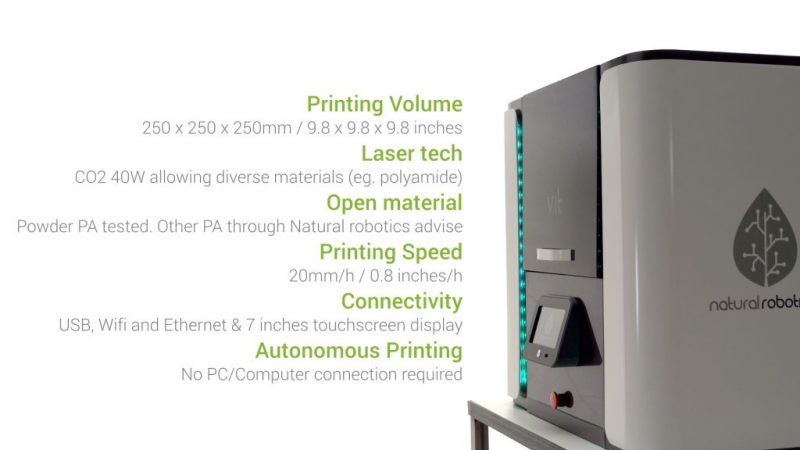 Credit:kickstarter.com
Because this printer works on a selective laser sintering system, the printer boasts its ability to 3D print objects without the need for supports.
Material needed for printing i.e. the powdered polymer is kept in the feedstock which also facilitates the packing of multiple parts in a single print bed. Not only that, but it also allows a percentage of unused material to be recycled for future jobs.
The maximum print volume is 250 mm x 250 mm x 250mm. VIT SLS operates using a CO2 40W laser and 3D prints at a maximum speed of 20mm per hour.
Using this printer, jobs can be started without the need for a computer connection. Although the machine also offers printing with USB, Wi-Fi, and Ethernet connectivity as a backup.
The interface that is used in this printer is 7 inches long touch screen display. The dimensions of this printer are 800 mm * 600 mm * 950 mm.
Price
The printer is priced at $12,900 as mentioned on the manufacturer's website.
First Impressions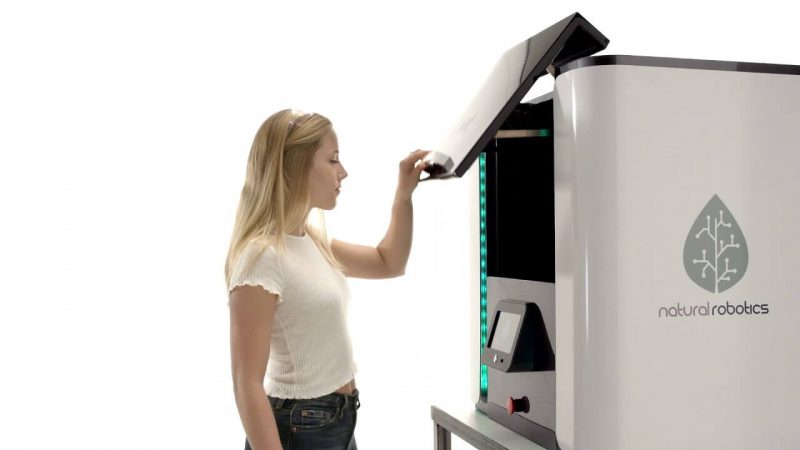 Credit: 3dnatives.com
The 3D printer is rectangular. The front view of the printer has two major portions, the upper portion and the lower one.
The former has a black colored translucent glass, while the latter has a touchscreen beneath which is one red-colored button. The VIT's logo is printed on the upper portions.
The sides of the printer are silver colored. There is a white handle in the upper portion of the printer through which it can be opened. And materials can be fed in it, or print head adjustments can be made.
Besides the touchscreen, there is a USB port with which also you can connect with the printer.
Setup
The printer comes completely assembled, you do not need to calibrate the print bed or join some screws for fixing the print bed. When you open the upper portion you can see the print bed.
All you need for setting up the printer is to read the manual that comes with the printer and see some videos if necessary. You can also contact the manufacturer if you need any assistance.
The printer needs to be placed on a table that has a little more dimensions than what the printer has.
Printing Type/Cost
Because this printer uses SLS printing technology the printing cost of this printer has to be more than any FDM based 3D printer. In return for this cost what the printer offers is a high-quality production of parts and functional prototypes.
SLS technology uses Laser as the source which will solidify the liquid resin. The work that is done by the filament in FDM is done by resin in SLS 3D printing.
Whilst the work done by heating is done by lasers. Although, both in SLS and in FDM the printing is done layer by layer so the first layer deposition pretty much holds the result of the coming layers in terms of quality.
Print Quality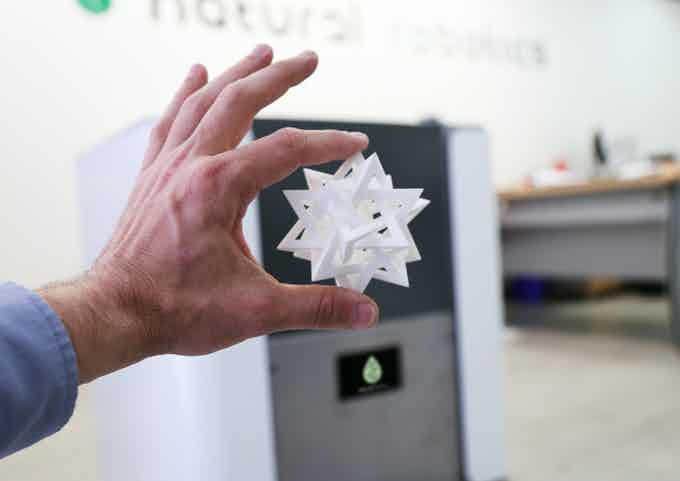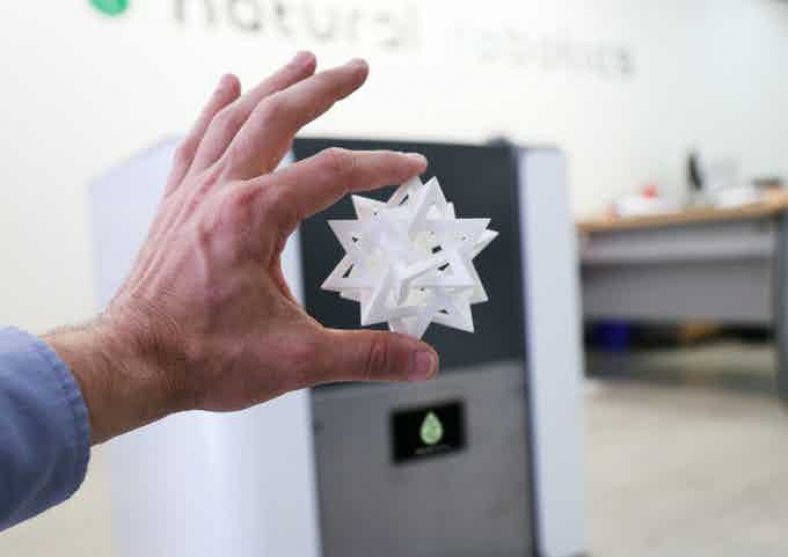 Credit: kickstarter.com
As mentioned many times in this article, this printer's print quality is very more than even industrial level FDM 3D printers, just because of the use of laser in curing the material that is used for 3D printing.
You will see the difference when you print the first layer of any part or functional prototype using FDM and the same using SLS.
Also when the part is completely manufactured, the printer ensures that there are no layers visible on it and if they are, their amount is minimal.
Software™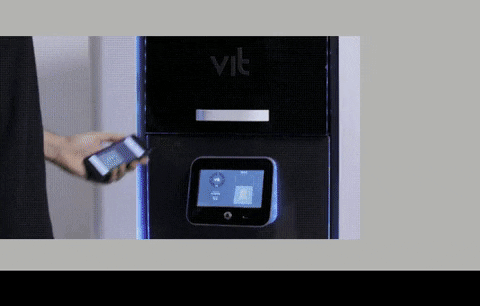 The manufacturers of this printer have kept a local software compatible with this printer as per the website of this manufacturer. If that is so, the printer does not allow you to print with open-sourced software.
This is not that good because then if you are a regular 3D printing technology user, you need to learn that software specifically and it might not have the same settings as the software that you know.
Customer Service
Not only does Natural Robotics offer technical assistance for the printers they manufacture but also for other brands.
There is this option of services on their website on clicking on which you can opt for multi-brand technical assistance if you wish to. Isn't that great? For VIT, you have a warranty which is mentioned on the company's website.
Apart from that, you can call the company's phone number that is provided online, you can even fill the contact form or contact via email. If need be the company's agents would also help you out via Skype.
Parameters Influencing Buying Decision
Below mentioned are some of the factors in brief that would let you determine whether you should or should not buy this printer.
3D Printer Cost: The price at which it started selling in the market was justified.
3D Print Quality: Being an SLS printer, it can offer the quality that even most FDM industrial printers fail to offer.
3D Print Speed: Industry standard.
3D Printer Capability: The printer offers printing with third party resins also.
3D Printer Practicality: VIT SLS has applications in various fields.
3D Printer User Expectations: Small business owners' expectations is something the printer satisfies the most.
Verdict
For all those who want a higher quality of 3D print than FDM printers by spending a reasonable amount, this printer is your go-to.