Creality CR-10S Pro
This 3D printer is a great companion for both beginners as well as experienced makers. With a very affordable rate for all those who love quality over anything else.
PROS
The printer has a single-point fix in time, easy leveling with auxiliary leveling modes.
CR-10S Pro uses an imported blue Teflon tube, with high-temperature resistance that makes the feeding soother and improves the printing quality.
The double gear extrusion mechanism of this printer has a large extrusion to make sure that the feeding takes place smoothly.
CONS
The extruder is awkwardly placed.
Product
Specification
Videos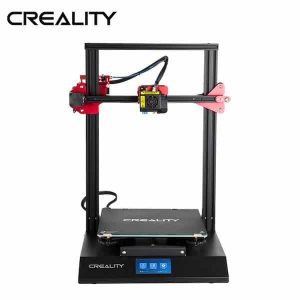 Wish to get home a sturdy 3D printer that offers great reliability? Check out this option, Creality CR-10S Pro, a 3D printer boasting a lot of ...
| | |
| --- | --- |
| Model | CR-10S Pro (Kit) |
| Manufacturer | Creality |
| Price Range | $ 596 |
| Release date | 2018 |
| Country | China |
| Availability | Available |
| Classification | DIY/Kit |
| Technology | Extrusion (FFF- FDM…) |
| Material | ABS, Other plastics, PLA |
| Filament diameter | 1.75 mm 0.07 in |
| OS compatibility | Linux, Mac OS, Microsoft Windows |
| Generic material | Yes |
| XY accuracy | 0.01 mm 0 in |
| Max. build size | 300 × 300 × 400 mm 11.81 × 11.81 × 15.75 in |
| Max. build volume | 36.00 L |
| Max. print speed | 180 mm 7.09 in /s |
| Min. layer thickness | 0.1 mm 0.004 in |
| Dimensions | 490 × 550 × 650 mm 19.29 × 21.65 × 25.59 in |
| Weight | 13.1 kg 28.88 lb |
| Nozzle diameter(s) | 0.4 mm 0.02 in |
| Power input | 100 – 240 V / ~3A / 50 – 60 Hz / |
| Heated print bed | Yes |
| Heated build chamber | No |
| Automatic calibration | No |
| Closed frame | No |
| Dual extruder | No |
| Independent Dual Extruder | No |
| Full color | No |
| LCD screen | No |
| Touchscreen | Yes |
| On-board camera | No |
| Mobile app | No |
| 3D scanners | No |
| CNC mill | No |
| Electronics 3D printing | No |
| Laser engraving | No |
| Conveyor belt | No |
| Air filter | No |
| Pellet extruder | No |
| USB | Yes |
| Wifi | No |
| Bluetooth | No |
| SD card | Yes |
| Ethernet | No |

Table of Contents
CR-10S Pro was in follow-up to the CR-10S which came out a few years ago and was a huge success because it offered big build volume for an affordable price.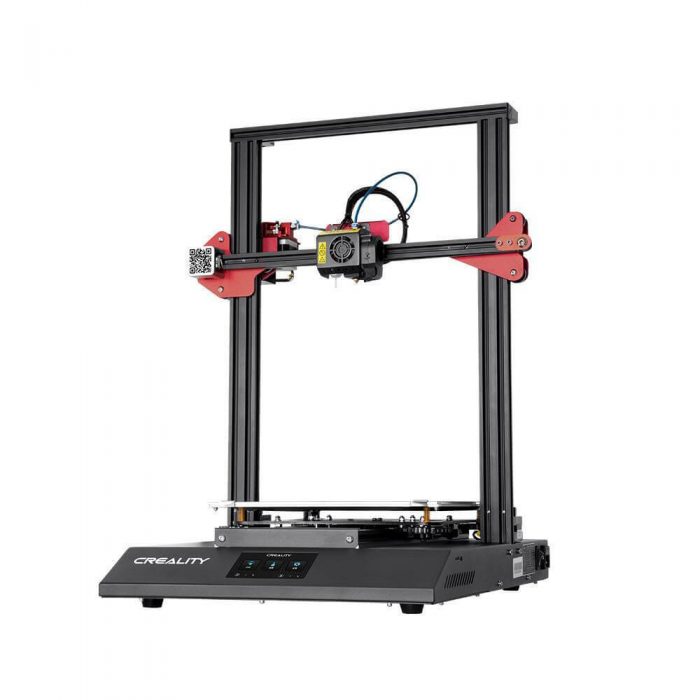 After this printer, the manufacturer didn't stop iterating this model. It came up with the CR-10 V2, CR-10 Max, CR-10 S5, and lastly the CR-10 Mini. The attempt of this manufacturer seems to cover almost every, and any range that a consumer of 3D printing technology can demand.
CR-10S Pro is a printer that is meant to give its users the taste of technology by charging them the lowest one can. Let's look at the features of this machine to know it is a little more depth.
Features
Now that you know that this printer is a successor of an already successful printer, you'd expect this printer to come up with some of the most intriguing features. This printer doesn't disappoint you! Don't believe us? Check the list for yourself.
A Different Touchscreen Interface and Facilitation of Users Who Intend to Buy CR-10S Pro With Enclosure
A touchscreen interface in 3D printers is now very common to have. With a little more progress in technology, it wouldn't be hard to have a world wherein all the 3D printers have this feature.
However, CR-10S Pro's touch screen is different than its predecessor. CR-10 used to have a power and control button which was black. That button now comes integrated with the touch screen interface. Moreover, CR-10 Pro's touch screen interface is a little more compact than its predecessor.
Those of you, who intend to buy this printer with its enclosure, won't be able to control this printer from the display without opening it.
Another way to control and operate with this printer is to connect Raspberry Pi with the Octoprint server. Doing this allows you to remote control the printer via Wi-fi.
Manual Bed Leveling That can be Automatic or Manual as per your desire
If you want to manually level the bed, CR-10S Pro would assist you in doing so. In addition to that, if you wish the printer to do it on its own, it would do so. What better genie could you get yourself for producing 3D parts and functional prototypes than CR-10S Pro?
Getting assistance essentially means that you need not get special Gcode files because the touchscreen interface can enable you to do so. All you have to do is press on those five buttons which are displayed to you.
For positioning the hot end in one corner, you need to select one from 2, 3, 4, or 5. While, if you need the hot end in the center, you can do that by selecting number 1.
Speaking about automatic bed leveling, CR-10S Pro is equipped with a proximity sensor. There is an option on the touch screen interface of this 3D printer to "Check level."
By clicking on this option, the hot end will position at sixteen different points of the print bed and perform level operations, automatically.
A Better Version of Extruder
CR-10S Pro uses the Bowden extruder that is all aluminum, with double gears and an adjustable tensioner. The action of this extruder is similar to the pricy Bondtech BMG extruder.
The improvement from previous versions is that it handles better more filaments, including flex. The Bowden tube of this extruder is high-quality Capricorn PTFE, which withstands 300 degrees Celsius.
This means that the CR-10S Pro is capable of printing Carbon, Nylon, PC ABS, and other composite filaments requiring more than 250 degrees Celsius.
Power Supply Like No Other and Newer Control Electronics on-board
The first power supply is 24 Volt and not 12 Volt, which was the case with previous models. This results in an improved heating of the heated bed and the hot end.
This power supply is made by Mean Well i.e. a high-quality Chinese brand for power supplies. All the connections inside this power supply are solid and well isolated.
The heated bed MOSFET is the second power supply, which is 40 A and assures reliable control with a good margin if decided to upgrade to a more powerful hotbed.
The third power supply is the control board, which is also a new design version 2.4. The Control board is integrated with new stepper drivers that provide better stepper control, low noise level, and higher accuracy.
The complete power and control box now has enough room for user-added options. For example, it is possible to install power relays in CR-10S Pro that can automatically shut down or power on the printer from Octoprint.
New Motherboard and Filament Detection
The mainboard of CR-10S Pro is an upgraded version of CR-10, it has increased stability and reliability. There is also an imported Teflon tube for better feeding filament due to its high lubricity and temperature resistance.
CR-10S Pro features a filament detection that alerts and pauses print whenever the printer runs out of filament.
Double Gear Extrusion Mechanism and Resume Print Function
The extrusion mechanism of this printer is dual gear-like. It's fed in the extruder, possibly resulting in a more reliable and stronger filament feeding.
CR-10S also had this feature i.e. to resume print in case of the power cut. This feature is extremely useful, using which printer remembers where you were lastly when the power went off and allows you to start from the same point.
Manufacturers that do not offer the same feature in their printers are often subjected to complaints. Thankfully that is not the case with this manufacturer and its printers.
Specifications
CR-10S Pro is based on Fused Deposition Melting and comes partially assembled. The mechanical arrangement in this printer is the standard Cartesian XY-head arrangement.
The build volume of this printer is 300 mm * 300 mm * 400 mm. The nozzle size of this printer is 0.4 mm and the maximum hot-end temperature is 260 degrees Celsius.
While the maximum heated bed temperature is 110 degrees Celsius. The print bed material of CR-10S Pro is Steel and the frame material is Aluminum. You can connect with this printer using an SD card and a USB stick.
The diameter of filament that can be used in this printer is 1.75 mm. Creality allows you to print with third-party filaments. You can print with this printer using materials like PLA, ABS, PETG, and Flexibles.
The dimension of this printer is 550 mm * 490 mm *650 mm, whereas the weight of this printer is 13.7 kg.
Price
CR-10S Pro is priced at $539 on the manufacturer's website.
First Impression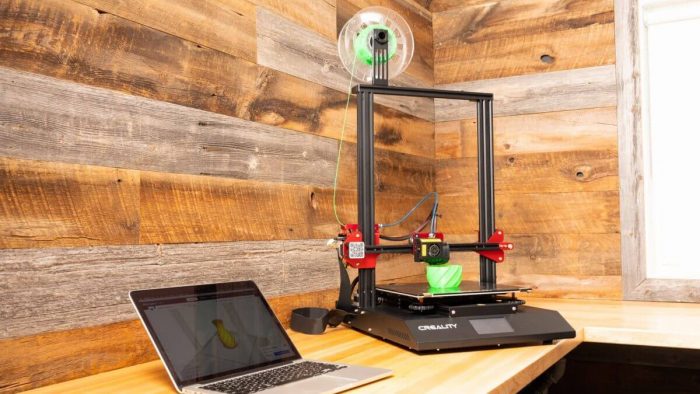 Credit: techgearlab.com
The new Creality CR-10s Pro comes well packaged in a box. Although the printer is sold as a DIY kit, the DIY part consists of screwing the gantry frame to the base frame and plug few connectors.
Apart from this, everything else comes preassembled. The base frame of this printer contains all the electronics, the power supply, the display, and the heated bed. The gantry frame of the CR-10s Pro has the same as its predecessor i.e. extrusions for the sides and on 2020 extrusion on top.
Setup
Some steps are recommended to set CR-10S Pro up. We'd like to inform you that, the printer is in no way ready to print just by bolting on its vertical assembly.
It is only after a couple of hours of basic adjustment and checking of the factory assembly, that the printer does successfully print. The points that we suggest you check are mentioned below:
Even before hurrying up to attach the vertical assembly to the base, you must pay attention to two collision hazards: Firstly, in the shipping mode, the Z-axis is in a very low position, which will cause the hot end to gouge the bed, and secondly, the relatively fragile connectors on the Z-axis motors could collide with the bed.
Check the rollers and rails for, not just one, but all 3 axes, and adjust for smooth motion with no play. All three axes need attention in some units.
Ensure that all screws and nuts are present in the kit.
Have on hand some wood blocks which can be helpful while resting the chassis or frame when you tip it on the back or side. This is done to avoid crushing electrical cables or resting weight on structures like the bed etc.
Printing Type/Cost
This printer is based on FDM technology where printing happens layer after layer. CR-10S Pro is said to be the best printer in terms of quality and build volume that it offers when compared to FDM printers in the same price range.
The overall printing cost of this printer is justified, bearing the fact the materials that the printer offers printing with.
Print Quality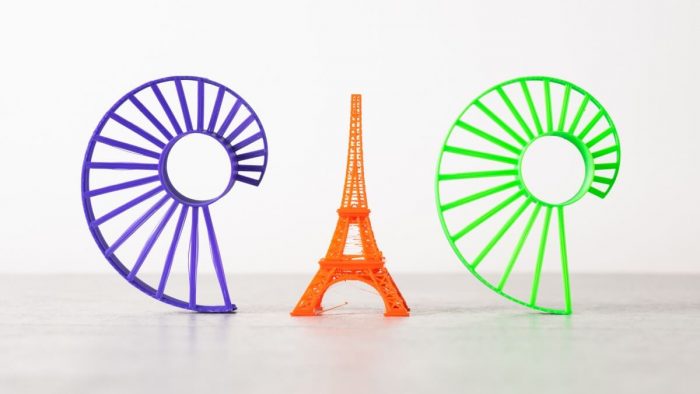 Credit: techgearlab.com
The Creality CR-10S Pro does a great job while printing with the PLA version. It creates a very smooth hull and handling the difficult geometry with accuracy. However, the lettering on the first layer is a bit distorted.
The ABS version has reported to not come out as well as PLA, because of enough layer separation that the roof like parts of the tugboat is easily detached.
In the printing of bridges, the Creality CR-10S Pro does a fantastic job. But the printer fails to impress with its ABS version or either Eiffel Tower.
The ABS bridging test reports of all sorts of warping and layer separation, while the PLA Eiffel Tower lost the detailing it should have and had tons of strings. Overall, the print quality of CR-10S Pro is above average seeing the competitor's quality in the same price range.
Software
The recommended software of this printer is Cura, Simplify 3D, Repetier Host, and Creality Slicer. The operating system of the computer that you can use to connect this printer with are Windows, Mac, and Linux. The file types that you can slice with are STL, OBJ, and AMF.
Customer Service
You can connect to the support team of this printer using Skype, email, and contact form on the website. The company is known to offer decent customer support.
Parameters Influencing Buying Decision
A quick check to the parameters that you have already read in this article, briefly.
3D Printer cost: $549, is a cost in which medium-ranged FDM printers are available, so is CR-10S Pro.
3D Print quality: Seeing the cost, the quality is just fine.
3D Print speed: The print speed of this printer is the industry standard of any printer in the same price range.
3D Printer capability: Despite being affordable, the printer allows you to print with various materials.
3D Printer Practicality: It is better than its predecessor with an improved list of features.
3D Printer User expectations: Beginners and experienced hobbyists would be satisfied with the expectations that they carry for the printer.
The Verdict
As far as the consensus among reviewers in the industry is concerned, the CR-10S Pro is a fantastic printer. The print quality of this FDM printer is set it apart as one of the best FDM printers on the market right now.
All that this printer requires is a bit of testing and trial and error to get to a particular point. If you are willing to do that, then we thoroughly recommend the CR-10S Pro to you.
This printer provides superior printing quality and unmatched printing volume for its price tag. CR-10S Pro is easy to assemble and perfect for beginners.
However, its ease of use is something that will also please the more advanced hobbyists. Either you are a lover of fine-tuning your 3d printer and installing mods or 3rd party products, Creality CR-10S Pro offers upgrades like no other.