Micromake L2
Micromake L2 is a bliss for anyone looking for a budget-friendly DLP 3d printer for making high-quality parts.
PROS
Users can connect and exchange files using a USB as well as a Wi-fi connection.
A 4.3-inch-long touch screen interface lets operators interact with the printer in an easy manner.
The built-in UV curing lamp ensures high-quality 3D printing of parts and functional prototypes.
The usual curing time of L2 ranges anywhere between 21 to 15 seconds.
The printer comes with a special sealant that isolates the fumes and vapors.
CONS
L2's printing process becomes a little complicated to understand for first-time users who have no exposure to 3D printing at all.
Table of Contents
L2 is a desktop resin 3D printer by the manufacturer Micromake. The machine is shipped to its users in a pre-built condition, therefore, letting users get to printing their first part or functional prototypes within minutes.
While a noteworthy metal body ensures a high-quality build quality alongside the 2K 2560 * 1600 LCD screen which guarantees a commendable printing accuracy.
The printer is equipped with an auto-leveling as well as stop and start feature that improves the first layer deposition and decreases the overall print failures.
L2 comes with an integrated UV light module that enables post-curing right after 3D printing an object. This characteristic makes it stand out among other 3D printers in the same price range.
But how reliable is L2 compared to its competitors when seen from the price at which it is available concerning the functionalities it offers? We can only find out after having a look at it in-depth. So, let's get started.
Features
L2 hosts a wear-resistant resin tank as well as a rotating build platform, both of which have been designed for saving the resin that is usually wasted in other resin 3D printers. Also, the printer houses an LCD touch screen interface that offers a user-friendly experience to operators.
Another important feature of the printer is its compatibility with built-in software that streamlines the entire slicing process by letting users print almost any geometry in a fast and efficient manner.
Not only is the printer successfully used for prototyping but also for small-scale manufacturing such as printing jewelry, miniatures, and upgraded functional parts. Below mentioned and explained are some of the very eccentric features of L2.
Multiple Modes of Connecting
Often affordable resin 3D printers offer only a single mode of connecting with the printers. This does allow the users for the necessary amount of flexibility which is essential. Note that the file transferring phase is an important one as it indicates the start of any 3D printing process.
By providing two modes of connection i.e., 1) USB, 2) Wi-fi, Micromake has the work of exchanging files on the printer much easier. With the second option, it is even possible to exchange files even without being physically around the printer.
4.3-inch-long LCD Touch Screen Interface
The body of L2 is embedded with a considerably long touch screen interface that allows users to make amends in typical print settings, as well as permitting them to start, stop or pause the 3D printing process at any moment of time.
Not only does the touch screen interface decrease the manual work but also reduces the human intervention, which increases the overall efficiency of the entire 3D printing process.
Most importantly, it is a blissful toy for users who have no experience of interacting with a 3D printer. It helps them get a hold of the printer within almost negligible time.
Built-in UV Curing Lamp
The most important aspect of any resin 3D printer is the UV curing lamp source because the entire print quality of parts depends on the way the liquid resin would be cured. With a built-in UV curing lamp, the printer manufacturer has freed users of the hassle of arranging the source with the resin material which would have been the scenario otherwise.
Also, this ensures that more part of the resin is going to be exposed to the UV curing lamp which would mean very less uneven curing and a high surface finish.
Moreover, this enables post-curing just after 3D printing an object which assures users of high-quality part creation even when making an object with small geometry with intricacies.
Considerable Build Volume
Being a desktop resin 3D printer, a fascinating feature that makes L2 stand out from other printers in the same price range is its build volume.
L2 offers a maximum build volume of 190 mm * 120 mm * 225 mm is enough for creating many parts and functional prototypes in one go. This includes objects that cannot be created otherwise in one shot on other resin 3D printers.
Auto-leveling
Leveling of the print bed is perhaps the most significant part of any 3D printing process. Users can get an assurance to build a part exactly how it is in their design by getting the leveling right. Therefore, it is very important to ensure that the leveling is right which is not always possible if the operators are inexperienced.
But, Micromake has put in place an automatic leveling system in L2 that enables users to level the print bed of it with a single touch. Thereby not compromising on the print quality at all!
2K LCD Screen
SLA and DLP 3D printers are almost similar if the latter does not have an LCD screen. Because of the presence of LCD screens in DLP 3D printers, they cure the resins faster than SLA 3D printers while maintaining the print quality.
L2 is equipped with a 2K LCD screen that exposes the resin to the curing source. This LCD screen has a resolution of 2560 * 1600 which not only ensures high stability but also printing accuracy.
Stop and Start Automatically During an Electricity Outage
L2 is equipped with a unique stop and start feature that saves all the progress in work made at the time of electricity downtime. Because of which when the power resumes users can start from the exact same point where they left before.
Shipping to Printing Within Minutes
L2 is shipped in a pre-built condition so users do not need to go through any sort of setup procedure like typical DIY kits by referring through any sort of manual or video tutorials.
Simply, place it on the dedicated table and connect it to the power source to initiate the touch screen interface's setup after which you are ready to go.
Specifications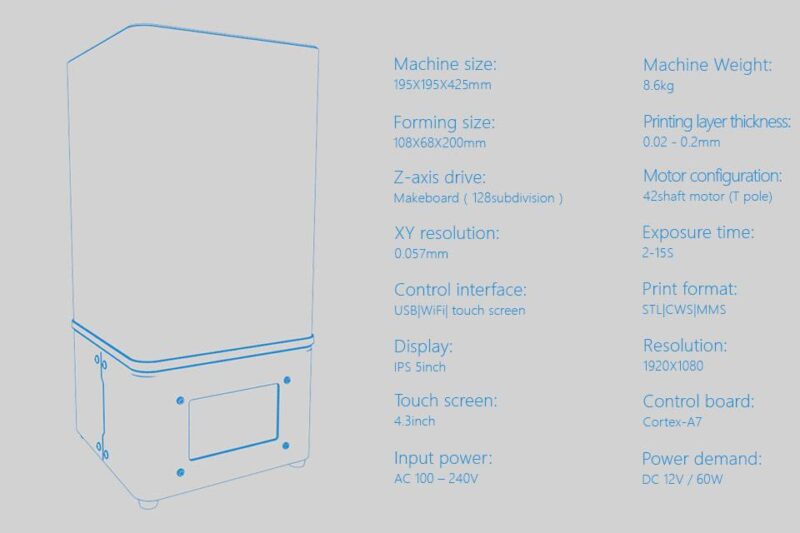 Credit: makerfun3d
Micromake L2 is based on DLP 3D printing technology. It allows users to print parts and functional prototypes with a maximum build volume of 190 mm * 120 mm * 225 mm and a layer height ranging from 20 to 200 microns.
Various types of resin materials are cured using a UV light source of 405 nanometers to transform into typical geometries.
To ease the interaction procedure of users, the printer is equipped with a 4.3-inch touch screen interface that allows users to easily control various functions as well as alter some basic print settings.
The frame of the machine is made from aluminum which ensures that it does not vibrate even while printing parts with considerable build volume.
L2 is delivered in a pre-assembled condition which makes it easy to start with printing in a few minutes. The printer weighs 15 kilograms and can be easily transported from one place to the other without much effort.
Price
Micromake L2 is available for $525.
First Impression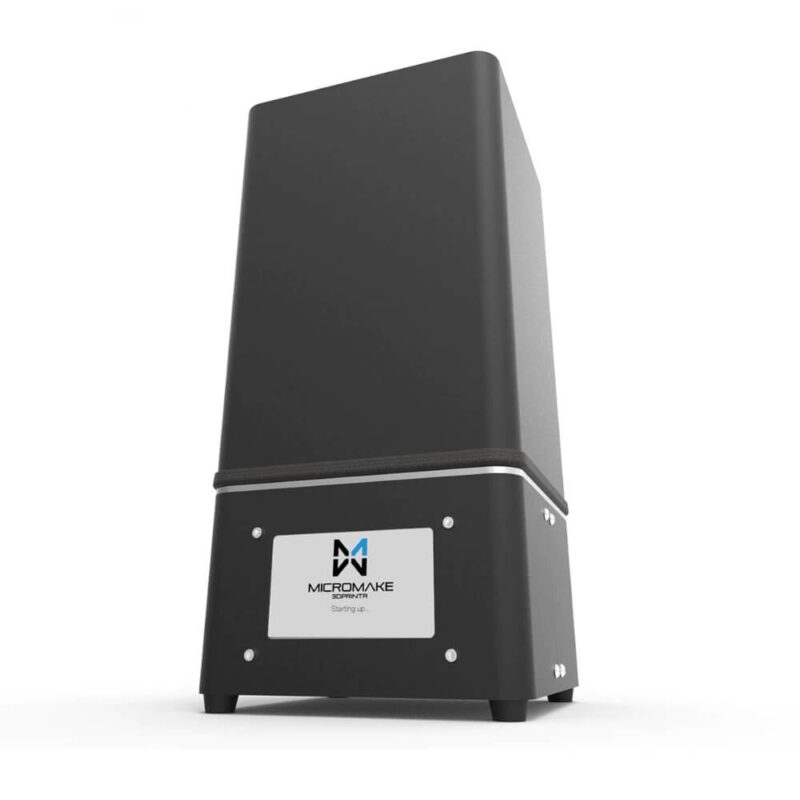 Like many other 3D printers, L2 is available in black color with a red-tinted colored transparent cover that is present over the print chamber. A touch screen interface is present right near the bottom of the machine.
The print chamber is visible from outside with naked eyes allowing users to monitor the 3D printing process and stop or pause at appropriate times as well as conditions.
The stylish look of the machine makes it ideal for dentistry, rapid prototyping industrial manufacturing, medicine, jewelry, and much more. Along with the printer, below mentioned are the components that also come along:
4GB USB Flash Drive (incl. Manual, test models, slicing software)
Power supply
Pliers
Gloves
Breathing mask
Syringe
Scraper
Without the print chamber's cover, the printer manages to attract eyes because of the neat Aluminum frame bolted at various places.
The built-in UV curing lamp is present at the bottom compartment of the printer. Whereas, a print head moves up and down with the help of the spring that is attached to the linear rails that stand tall.
Setup
As mentioned above, L2 comes completely assembled. It's a plug-and-play device. So, all the users need to do is place it on the table that they've decided for the printer and give it a power source. And just after initiating the touch screen interface's setup process, you are all set to start the 3D printing process.
Print Type/Cost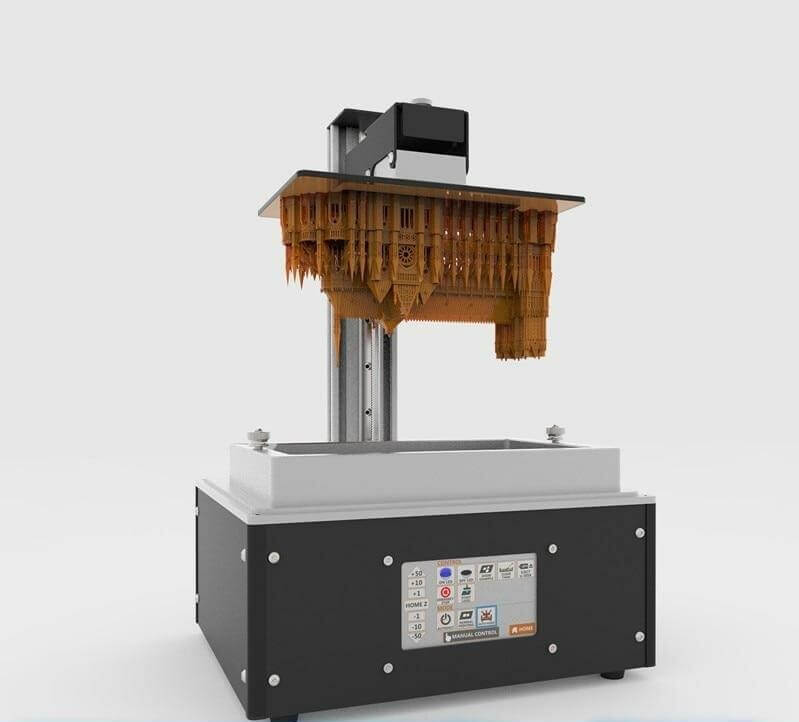 Credit: top3dshop
DLP 3D printing technology is a typical variant of vat polymerization which exposes the resin to the curing source, not by some sort of selective method.
But, by using an LCD screen. So, a large part of the resin that has been laid on the print bed is exposed to the UV light of a high wavelength in one go.
This enables users to cure the complete layer in one shot. Such an arrangement decreases the printing time without reducing the print quality.
Normally the cost of 3D printing a part or functional prototypes using DLP 3D printers depends on various factors starting from the print geometry, the wavelength of UV light, the type of resin, its cost, and support structures, etc.
Print Quality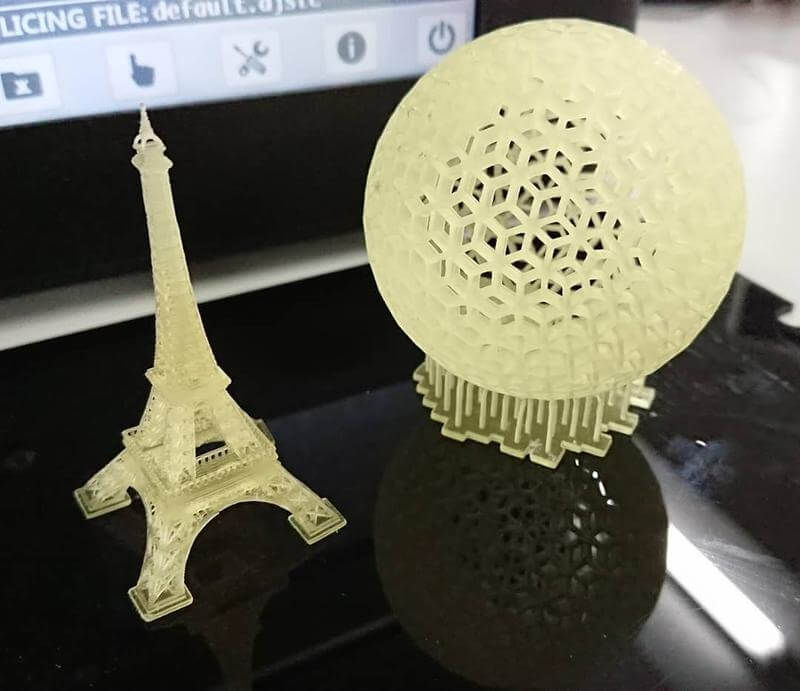 Credit: top3dshop
L2 is capable of achieving a print quality with a layer height as small as 25 microns. This enables users to produce parts and functional prototypes with smoother exterior surfaces.
A high-resolution 8.9-inch LCD screen ensures that accurate results with excellent detailing and surface finish are delivered. Moreover, the 74-micron XY axis accuracy makes for commendable print quality as well as repeatability.
Software
Credit: top3dshop
L2 Control Center runs on a Linux operating system. It is a built-in slice engine for users of L2 that can directly slice as well as print STL files without needing any third-party software.
L2 is backed by an additional program called the Creation workshop which offers some extremely convenient features that make the design work of users easy.
Customer Support
Micromake offers a one-year warranty on L2. Its customer service team can be reached out via call or email 24 hours for five business working days. Users can also use the material that is available online and get required assistance regarding any of the issues that they are facing.
Parameters Influencing Buying Decision
Below mentioned are some of the key factors that are essential to know before buying L2.
3D Printer Cost: L2 falls in the range of desktop 3D printers. Being available at under $500, it can easily compete with any FDM or SLA 3D printer in the same price range.
3D Print Speed: Speed is a primary differentiating factor between SLA and DLP 3D printers with the latter winning over the former. L2 is a DLP 3D printer that prints with blistering fast print speeds.
3D Print Quality: Although printing with a commendable print speed, L2 manages to get the same print quality that SLA 3D printers do. So, dimensionally accurate prints even while printing small objects with intricacies.
3D Printer Capability: Users would love to work with L2 as it is compatible with most resins available in the market.
3D Printer Practicality: When in operation, L2 has enough user-friendly features like automatic bed leveling, touch screen interface, a stop-start feature that makes the work of the user a little less effort consuming.
3D Printer User Expectations: Intermediate users who are exposed to the basics of 3D printing will find joy while working with the printer because L2 delivers the quality they need with a handsome build envelope.
The Verdict
Overall, L2 is one of those rarely available affordable desktop resin 3D printers with an amazing set of features like it comes pre-built, integrated UV light module, and has a highly stable frame.
Specifically designed for users who cannot afford to spend more for achieving the quality that DLP 3D printers generally cost, L2 is bliss for anyone looking for a budget-friendly option for making high-quality parts and functional prototypes.