Modix Big 60 V3
Modix Big 60 V3 offers a lot in terms of convenience to its users and that's the top-most reason why it stands out among other printers available in the same price range.
PROS
Dual-zone heater.
Pei print surface offering higher bed adhesion.
Automatic leveling system.
Print resume function.
High-quality electronics.
Considerable build volume.
Enclosed print chamber.
CONS
Because it comes as a DIY kit, its setup takes a lot of time.
Table of Contents
Enhanced with 10 percent more build volume than its predecessor, Big 60 V3 is a large volume professional 3D printer manufactured by Modix – a printer manufacturer based in Israel. The machine also stars a Duet 2 Wi-fi 32 bit controller instead of the 8-Bit MKS Gen 1.4. Moreover, a RepRap firmware from Duet 3D replaces the Marlin firmware.
Also, the printer is armed with a direct-drive E3D Titan Aero extruder that takes care of the filament spool you are looking to print with. A seven-inch-long touch screen interface facilitates the user's interaction with Big 60 V3. Apart from this too, the printer has undergone many more upgrades ranging from its motion rails, ball screws, to the drivers and the wires.
In addition to the modifications, there are also some striking new features that the Big 60 V3 hosts. So, let's get started with further ado and get to know the printer in-depth.
Features
Chiefly, Modix Big-60 Version 3 offers ease of assembly and the readiness to updates that might come in the future! Additionally, the machine features a dual direct drive improving the accuracy of its secondary print head.
Also, the printer is equipped with a better extrusion mechanism. A PEI print surface provides better adhesion as well as the removal of 3D printed objects.
The big-60 V3 is loaded with many such features that make it stand out from other printers in the same price range. Let's explore them one by one.
Large Build Volume
Big 60 V3 offers a maximum build volume of 600 mm * 600 mm * 600 mm. This allows users to print huge parts and functional prototypes in one go. It also means that you'd not have to assemble an object in different parts and then put it into the application. Any part that has a build volume smaller than the one mentioned above can be printed singularly.
This reduces the risk of part failure when they are put into actual application. As an object built in one-go possesses more strength.
Ameliorated Design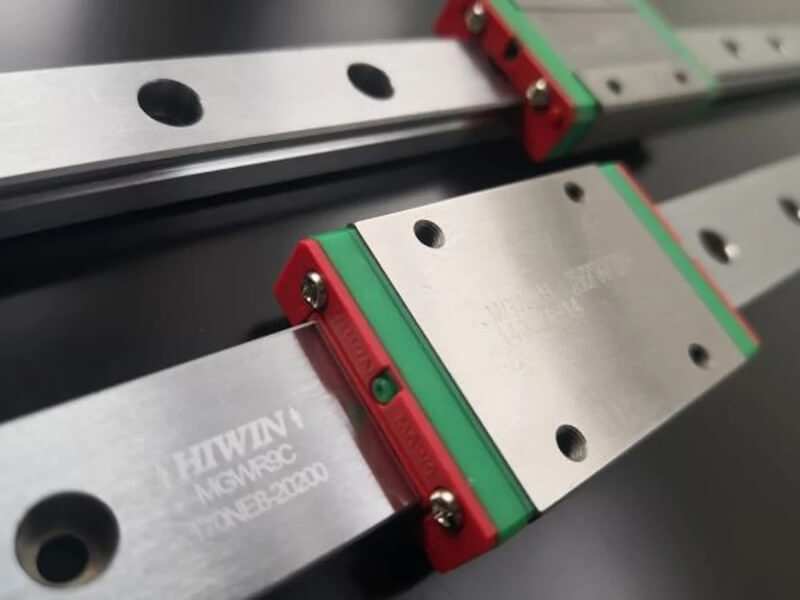 Credit: Modix
The printer is delivered to you in a particular black + red-colored design. It has a sturdy chassis with a frame of 40 mm * 40 mm manufactured using T-slot Aluminum profiles paired with powder-coated laser-cut aluminum brackets and joints.
Providing a wider rail and carriage are its Hiwin MGM motion rails that offer more accuracy and smoother operation than the MGN rails that were used in Big 60 V2. The machine also houses four ball-screws on its Z-axis, each of which has a precision lead screw that permits movement along the print bed at a 0.5-micron layer height.
The print head's wiring of Big 60 V3 and its drag chain rests on its Y-axis. Moreover, the printer is equipped with professional signal cables made from the reputed German company named IGUS. An optional enclosure made from 3 mm Aluminum composite panels and polycarbonate sheets strengthens the printer's print chamber's doors.
Apart from providing strength, these materials also offer a good amount of thermal and noise insulation which ensures the perfect maintenance of even temperature. Its aluminum casing can be drilled for fitting any sort of custom fixtures, while the lid allows easy access to the printer's print bed.
Efficient Extruder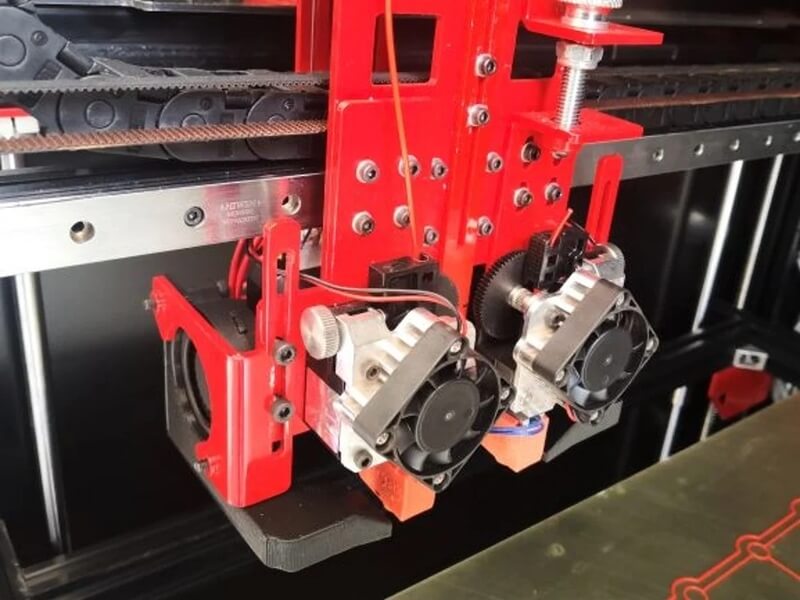 Credit: Modix
Big 60 V3 features an E3D Aero direct extruder accompanied with a V6 Volcano hot end that lets you swap nozzles of different diameters for managing the flow rate. The extrusion system of the printer is very flexible. It gives users an option to increase the temperature its thermistor can withstand i.e. from 285 degrees Celsius to 500 degrees Celsius.
Because of such a characteristic, users can print with industrial-grade materials requiring a higher glass transition temperature. The printer is compatible with PLA, PETG, PVA, ABS, ASA, PC, Nylon, TPU, carbon composite, and other rarely available 3D printer filaments. Stating different nozzle diameters, the printer can print with 0.4 mm, 0.6 mm, 0.8 mm, 1 mm, and even 1.2 mm nozzles.
Double Heat Zones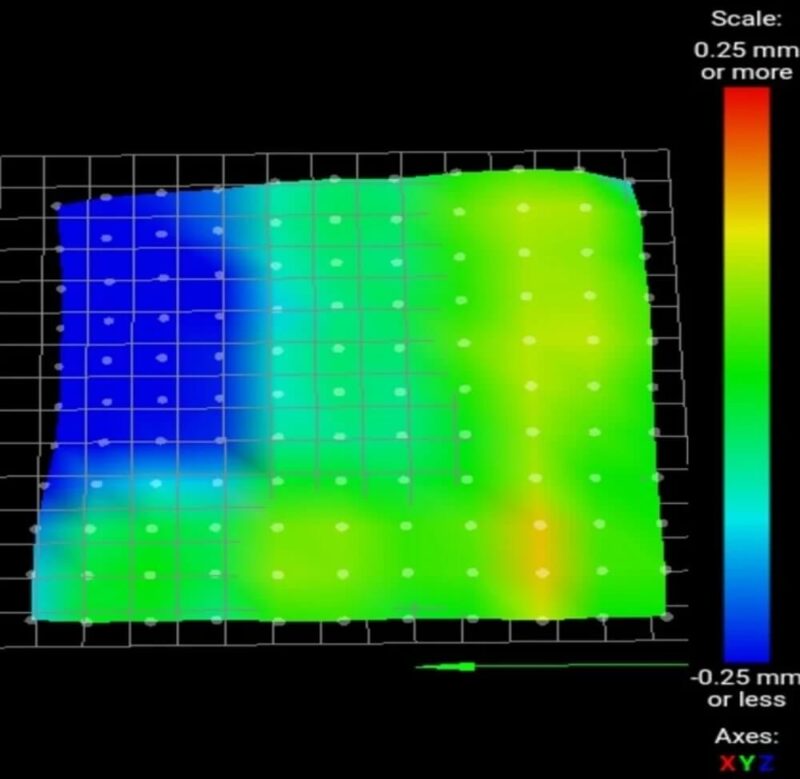 Credit: Modix
Although the printer's biggest plus is its capability to print huge parts, it is also fit for smaller print jobs thanks to the dual heat zones put in place by Modix. The inner zones measuring 200 mm * 200 mm are capable of producing parts with a small build volume of better quality in lesser power consumption.
Automatic Bed Leveling
Like its predecessor, the Big 60 V3 provides a completely automatic bed leveling. The whole system makes use of 100 probing points. Also, there has been an improvement over the standard nine-point probing system that was also a part of Version one. So, the printer will set up faster and you'd be able to produce more accurate first layer prints with less effort.
Touch Screen Interface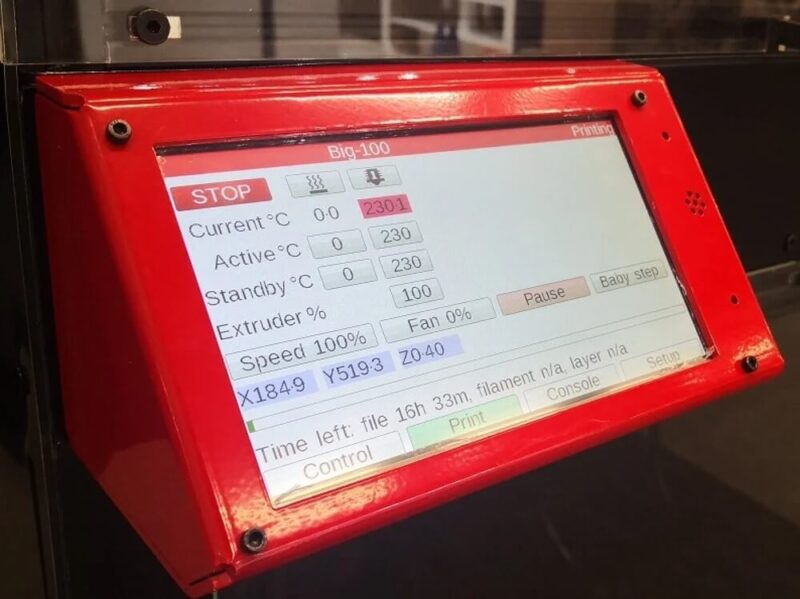 Credit: Modix
An updated seven-inch-long touch screen interface lets users control and monitors various functions on the printer. For easing your operation, the interface displays data in real-time thereby enabling you to make immediate decisions with ease. Moreover, using the Wi-fi module option users can remotely operate the printer with a PC or even a mobile phone.
Easy Assembly
Coming as a DIY kit, the Big 60 V3 is redesigned from the scratch for an easier as well as faster assembly. The printer manufacturer has included in it, symmetrical parts, with smaller brackets and an easy to assemble print head.
Overall, assembling the printer to start 3D printing with it won't take much time thanks to a simplified user manual that comes along. Also, users can watch more than 80 videos that contain the stepwise assembling procedure.
32-bit Electronics Board
Big 60 V3 is delivered to you with a Duet3D 32-bit electronics board that offers features such as a resume print function that stores all your print progress in case of a power outage and lets you resume from the exact point that you left before. Moreover, this component also makes the overall movement of the print head relatively smoother.
Specifications
Modix Big 60 V3 prints using FDM 3D printing technology. It comes in a DIY kit that needs assembly before starting to print with the printer.
The machine is compatible with 3D printer filaments such as PLA, PETG, PVA, ABS, ASA, PC, Nylon, TPU, Woodfil, Carbon composite, and third-party filaments 1.75 mm in diameter. It offers a maximum build volume of 600 mm * 600 mm * 660 mm and a layer thickness ranging from 40 to 800 microns.
The printer provides an XYZ accuracy of 4 microns * 10 microns * 0.5 microns. It features an optional closed print chamber with a direct feeder system. A heated bed made of a PEI surface is capable of withstanding high temperatures.
The bed leveling of Big 60 V3 is automatic and happens at a single click from its seven-inch-long LCD interface. The machine can be connected using various options such as an SD card, USB cable, and Wi-fi.
Price
Modix Big 60 V3 is available for $3700.
First Impression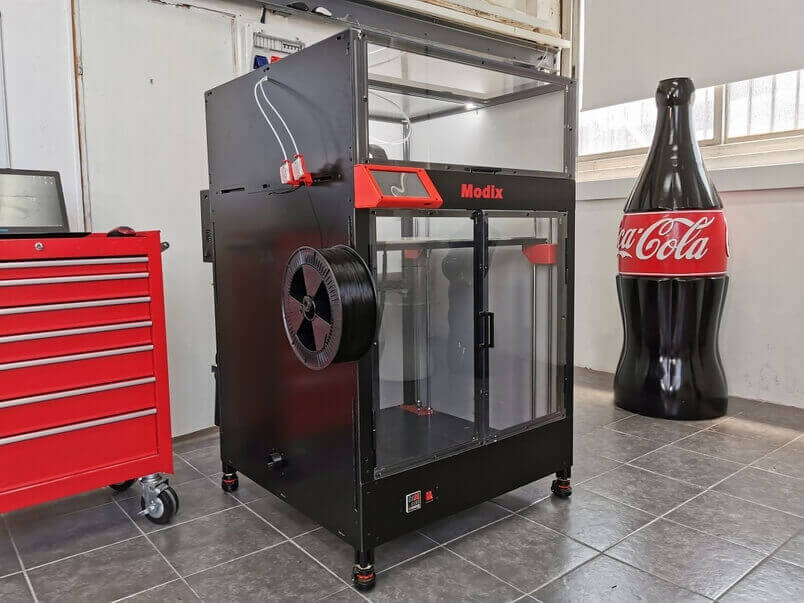 The printer arrives at your place in a huge box with all the components safely packed inside to withstand any uncertainties that can take place when it's in transit. When assembled, it looks typically like a small cage with a touch screen interface at top-left, when viewed from the front.
Setup
Setting up the printer will take around 45 minutes of your time as it arrives in a DIY kit. Thanks to the instruction manual and the videos that contain information about how to assemble the machine part by part.
Print Type/Cost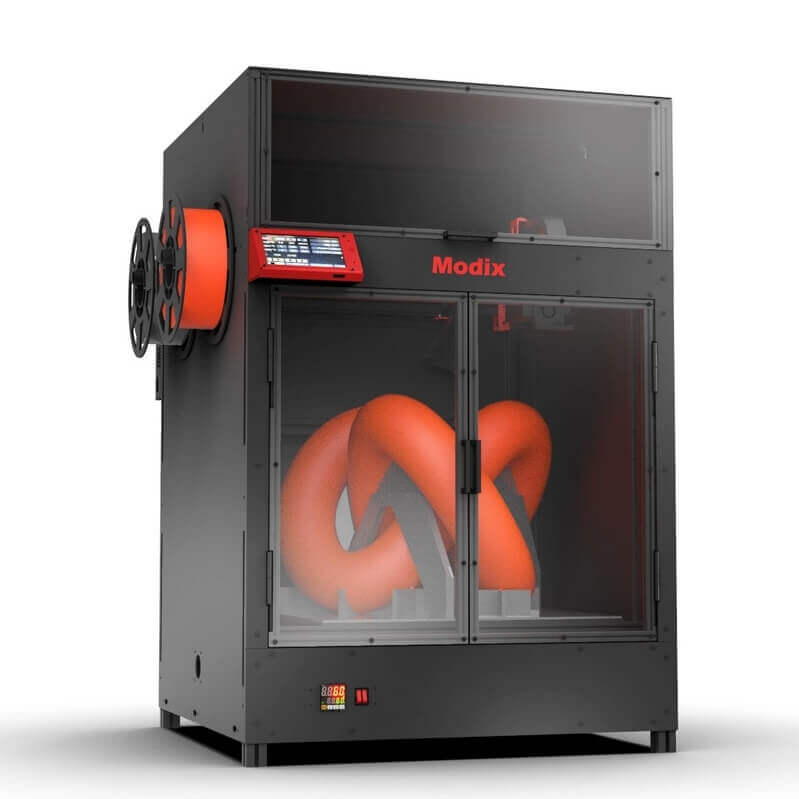 FDM 3D printing technology is the simplest option compared to all other 3D printing technologies, especially for beginners. It starts by heating a filament spool inside the extruder to a point where the material's glass transition temperature is crossed.
Once that is done, the melted filament is allowed to flow through its nozzle system for depositing a layer. This process continues until the complete part is printed.
The cost of 3D printing a single part using FDM 3D printing technology is cheaper than others because there is no separate fusing source at use. However, there are many factors on which the cost depends, like, 3D printer filament with which you are manufacturing the part, the object's geometry, use of support structures if/any, and a lot more.
Print Quality
Big 60 V3 is able to manage excellent surface quality over parts and functional prototypes. Objects with layer thickness varying from 40 to 800 microns can be printed using the printer. It is able to deliver an XYZ precision of 4, 10.5, and 0.5 microns respectively, which is commendable for any FDM 3D printer available in the same price range.
Software
The printer manufacturer recommends three of the topmost open-source software with Big 60 V3. They are:
All of them offer ease of use and make the work of managing various tasks on the printer flexible.
Customer Support
Modix offers lots of videos online regarding the assembling of the printer. Apart from that, in case if you have a problem troubleshooting, you can contact the company via call or email. Their highly trained technical team will be able to help you out easily.
Parameters Influencing Buying Decision
Below mentioned are the key factors about Big 60 V3.
3D Printer Cost: Although not highly affordable, the cost is relatively budget-friendly. You'd rarely come across a 3D printer that offers such a high build volume with lots of amazing features under $4000.
3D Print Speed: Average.
3D Print Quality: The printer manages to print decent-quality parts and functional prototypes. Especially because of the dual heat chamber, the printer successfully prints small objects with dimensional accuracy.
3D Printer Capability: Big 60 V3 is compatible with lots of 3D printer filaments because of which you'd ever had a sort of design freedom to make parts with all the available materials in the market. Also noteworthy is the automatic bed leveling feature that takes care of maintaining the accuracy while printing part's first layer.
3D Printer Practicality: Professional designers and manufacturers will experience the ease of printing with the machine. Its LCD screen display, improved design, fresh extruder that's capable of reaching extremely high temperatures, and easy assembly will make things hassle-free for the printer's owners.
3D Printer User Expectations: Big 60 V3 streamlines the workflow by offering to print with the simplest 3D printing technology and yet delivering good quality prints. An enclosed print chamber with a PEI print surface easily manages the thermal conditions inside and provides sufficient bed adhesion respectively.
The Verdict
Big 60 V3 successfully establishes itself as an upgrade to V2. Apart from hosting improved features like bigger build volume, more efficient controller, a modified firmware, touch screen interface, a direct drive extruder, and a lot more. The printer also offers some nuanced features that are hard to find in printers of the same price range.
A classic example of this is the dual heat chamber that makes it possible for the user to print small parts with dimensional accuracy.
Moreover, Modix has kept it straightforward for users by providing an automatic bed leveling system, resume print function, compatibility with multiple filaments, and nozzles providing sufficient materials and flow rates to experiment with. Although the printer arrives at you as a DIY kit and is time-consuming, it's not too painstaking. Thanks to the instruction manual and the videos that are available online.
Overall, the machine offers a lot in terms of convenience to its users and that's the top-most reason why it stands out among other printers available in the same price range.