Printrbot Metal Plus
The design of Metal Plus works wonders for producing a phenomenal outcome. It lets the printer stay stable during the prints and produce dimensionally accurate parts.
PROS
The printer has an easy setup, great style, and stability.
It is an extremely filament friendly printer.
Metal Plus comes in a laser-cut wood frame housing powder-coated metal.
The machine is equipped with a ceramic Ubis hot end, an Aluminum extruder, and a heated bed.
CONS
Being an open-frame 3D printer, heating and cooling of filaments and 3D printed parts will be difficult.
Compared to desktop printers with the enclosed print chamber, Metal plus is a little unsafe for home use.
Product
Specification
Videos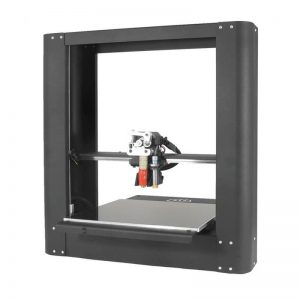 The Printrbot Metal Plus comes as a fully assembled machine. Based on Fused Filament Fabrication technology, the printer comes with a metal frame. It ...
| | |
| --- | --- |
| Model | Metal PLUS |
| Manufacturer | PrintrBot |
| Price Range | $1,299.95 |
| Country | USA |
| Availability | Available |
| Classification | Professional |
| Technology | Extrusion (FFF- FDM…) |
| Material | ABS, Other plastics, PLA |
| Filament diameter | 1.75 mm 0.07 in |
| OS compatibility | Linux, Mac OS, Microsoft Windows |
| Generic material | Yes |
| Max. build size | 254 x 254 x 254 mm 10 x 10 x 10 in |
| Max. build volume | 16.39 L |
| Min. layer thickness | 0.1 mm 0.004 in |
| Max. print speed | 80 mm 3.15 in /s |
| Heated print bed | Yes |
| Heated build chamber | No |
| Automatic calibration | Yes |
| Closed frame | No |
| Dual extruder | No |
| Independent Dual Extruder | No |
| Full color | No |
| LCD screen | No |
| Touchscreen | No |
| On-board camera | No |
| Mobile app | No |
| 3D scanners | No |
| CNC mill | No |
| Electronics 3D printing | No |
| Laser engraving | No |
| Conveyor belt | No |
| Air filter | No |
| Pellet extruder | No |
| USB | Yes |
| Wifi | No |
| Bluetooth | No |
| SD card | Yes |
| Ethernet | No |

Table of Contents
Featuring a rock-solid, all-metal frame, Metal Plus is exactly how its name suggests it to be. It has a sleek design and precise construction. When it comes to making parts, the printer displays fast print speeds. Also, it offers a large build volume of 1000 cubic inches on 10 inches * 10 inches print bed.
Metal Plus is flexible. The printer allows users to print with a variety of filaments. Its heated bed and hotend can withstand higher temperatures than various other 3D printers in the same price range. This quality makes the printer compatible with materials having high glass transition temperatures.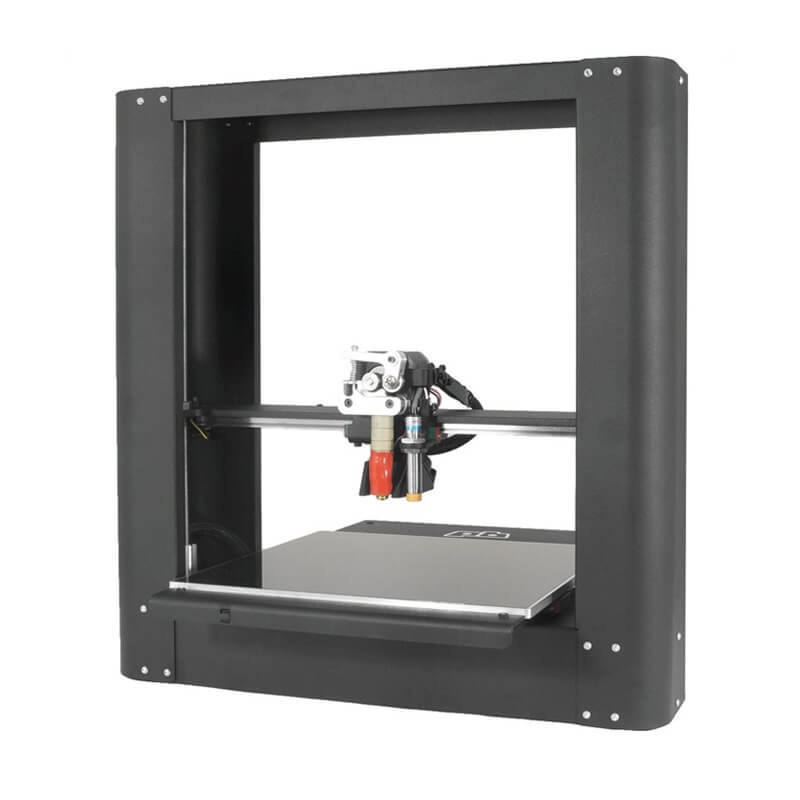 Is Metal Plus worth your attention? Well, here is a detailed review explaining the various perks and limitations of the printer. Read the review before you plan to purchase this 3D Printer.
Features
Offering numerous upgrades, Metal Plus generates excellent parts. Its X and Y-axis runs on linear rails and carts enabling very smooth motion. Accompanying the printer is the ceramic Ubis hot end and Aluminum extruder.
Additionally, there are quickly responsive aluminum build plate and heated bed to ease your 3D printing process. The pre-applied Kapton tape works great with the printer, increasing the overall bed adhesion of parts.
Below mentioned are many such features of Metal Plus.
Huge Build Volume
The printer features an ample printing area. A square bed of 10 inches * 10 inches moves along its Y-axis permitting for a unique design. Apart from aesthetics as well as area, it has another advantage: users can view the object already in print progress.
Sturdy Build
Metal Plus is solid. It does not vibrate or shackle even while printing at maximum speed. The above fact holds true for both; completely assembled 3D printers, as well as the kit.
Adaptable
Metal Plus suits each and every average 3D printing project! By purchasing specific parts compatible with the printer it is all set for its users' particular needs. Also, the printer has got all the components to serve those needs. A heated bed assists its operator to print even with rarely printable PVA filament.
There is an option available to upgrade Metal Plus' print head with dual extruders. After which, users can print simultaneously with two materials or colors.
The hotends of the machine are available in varied ranges, apart from the standard 0.4 mm. Moreover, switching them lets you adjust the print resolution.
Another example of how adaptable Metal Plus is that it was open-source in the beginning, meaning that users could print with their choice of 3D party software.
Accurate
Metal Plus is build using an all-metal frame and accurate manufacturing standards. A result of that combination is a machine that's is pinpoint precise.
An eight-ampere power supply expedites its heating procedure whereas, the minimalistic design lets it flow throughout the printer.
Added to this is the printer's auto-leveling probe present on its head, which makes sure the nozzle is at the exact distance from the print bed.
Accompanied with it is the machined metal bed assuring the user about starting with a square print. They all work in coordination to produce zero errors.
However, the complete outcome of the part is dependent on its software design and user input. Metal Plus manages to surprise its customer with its creatively precise geometries.
Easy Setup
Printrbot ships Metal Plus is a robust double carton! Unboxing the same is simple. The user needs to remove it from the inner carton and plastic wrap until one zip tie is all that remains. Thanks to the manufacturer for keeping power connectors keyed, because of that setup becomes easy.
One can expect to go from box to print in approximately 30 minutes. The complete process includes downloading, installing Cura, and following the Z-probe tutorial.
Specifications
Printrbot Metal Plus offers an adequate build volume of 254 mm * 254 mm * 254 mm. Parts or functional prototypes can have a print resolution of 50+ microns. Hence, offering almost invisible layer differences.
The parts possess a commendable surface finish. Moving on, the printer manufacturer recommends 80 millimeters per second as safe print speed. Thanks to the NEMA 17 stepper motors.
The printer is compatible with the most popular FDM 3D print materials – PLA and ABS. Their filament spools should have a standard diameter of 1.75 mm.
Metal Plus hosts a direct drive Alu extruder with ceramic Ubis hot end featuring a 0.4 mm nozzle. Moreover, an easy-to-use auto-leveling probe works with software to calibrate Z-axis height. So, the overall human intervention with the printer will decrease.
The heated print bed of Metal Plus can withstand a maximum temperature of 80 degrees Celsius. This will expedite the overall rate at which 3D printing happens.
Printrbot has chosen powder-coated steel and aluminum for constructing the body of the machine.
Assisting the nozzle system to reach near the print bed are 12 mm linear rails attached to the support. GT2 belt is laid all over the printer's body while 20 tooth pulley of dual flange GT2 aluminum enhances its rigidity.
The electronics department of Metal Plus is taken care of by Printrbot Rev F Printrboard with a micro-USB connection and micro SD card slot for untethered printing.
The printer requires a 12V 350W ATX power supply, as it draws anywhere from 5 to 9 Amperes.
Price
The base unit of Printrbot costs $999, whereas the Plus option with 24 volts power supply costs $1299.95.
First Impression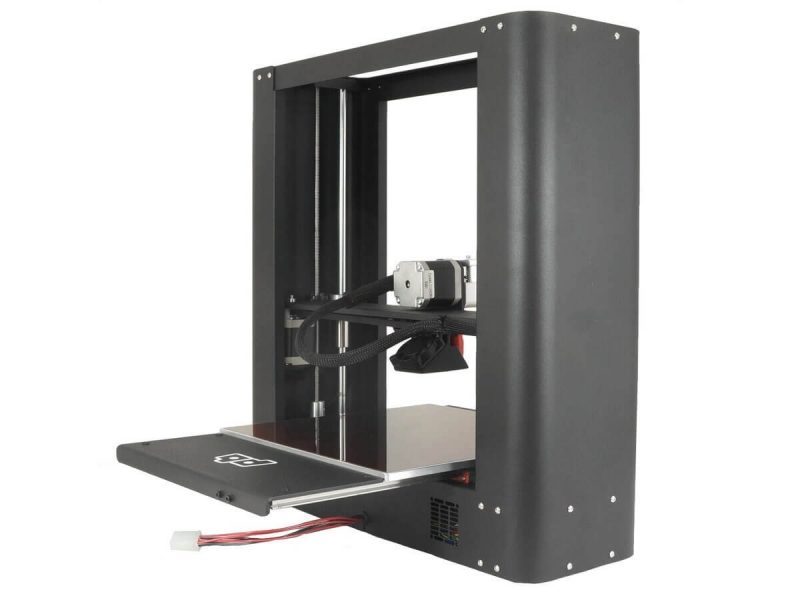 Metal Plus has a simple open-source design. While looking at the printer from the front, one can notice only two things that make up the printer:
The nozzle system.
The print bed.
The printer has a neat design. There are no wirings visible over its body. All of them are tucked well in.
Printrbot has kept the overall shape of Metal Plus rectangular. However, it's not like one of those typical 3D printers: the Z-axis is way too longer than X and Y.
Although a little more than X and Y, the printer's Z-axis is approximately similar. And this is one of the major reasons why the printer manages to stay stable.
Setup
It's up to you to choose whether you wish to buy a plug-and-play Metal Plus or kit. Printrbot has kept both options. Of course, the latter is more costly than the former as it includes much more items. Inside the box, you get:
A Printrbot Metal Plus.
Roll of sample filament.
USB cable.
Power supply.
Printed test cube.
However, do not mistake it for other 3D printers that take a long time to set up. Metal Plus will be ready within 30 minutes.
The time includes downloading and installing 3D modeling software and auto-leveling the printer's print bed. That's it! Then you are all set to print.
Print Type/Cost
FDM 3D printing technology works in a simple manner. It consumes a solid filament material to build an object. The process starts with a heated nozzle that ejects molten plastic onto the print bed of the printer. Note that the deposition happens layer-wise, as fed into the machine via G-codes.
One by one the deposition of layers happens on the print bed, after which the complete part is allowed to cool down, either manually or artificially.
Herein, either of the two, the nozzle or the print bed move while extrusion of plastic is taking place. Obviously, as this is a 3D printing technology, prior to printing, slicing software will determine how the 3D digital model will be built in layers.
The cost of printing any geometry on an FDM 3D printer is lesser compared to other 3D printers. This is because a particular criterion on which the cost of printing a part is dependent is completely absent. That criterion is the use of a particular source for curing parts.
There are various factors that decide the final cost of printing a part. For instance, the geometry of the part, the material used for making it and its cost, the level of infill required, support structures, etc.
Print Quality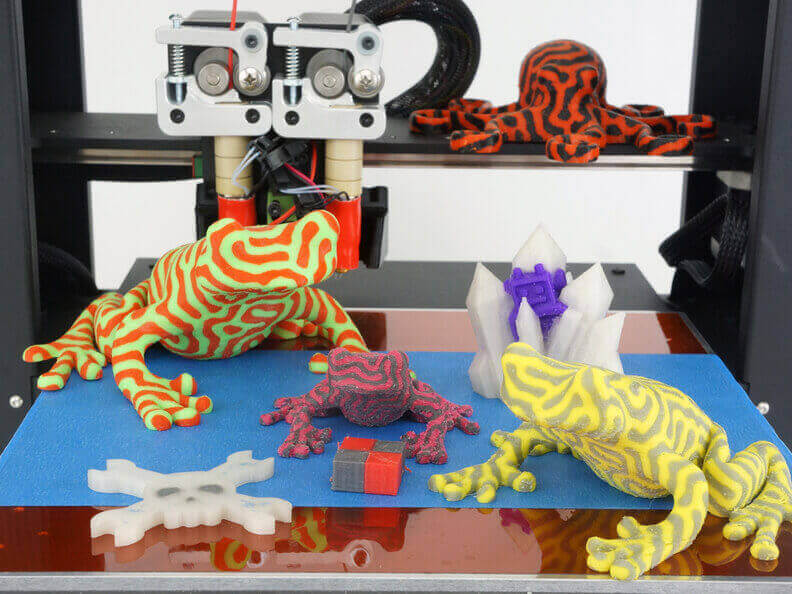 Credit: 3dprintingindustry.com
Features such as automatic probe leveling and rigidity ensure precise printing of objects on Metal Plus' print bed. Parts such as the metal frame helps to achieve a smooth surface finish. Linear rails and carts guarantee stability and smooth movement, taking away all the hiccups coming on their way.
The GT2 belt and aluminum pulley system facilitates a precise movement of the print head and the heated bed. Coming down to numbers, Metal Plus is capable of delivering parts and functional prototypes with 50+ micron resolution.
Software
Although Printrbot does not provide any software with Metal Plus, it recommends Cura and Repetier Host. Both of these are open-source software known for their user-friendliness and are easy to use.
Free downloads of this software are available online. They are compatible with general operation systems and various file formats.
Customer Support
For any sort of technical support for all their products, users can reach out to Printrbot via forums. Moreover, for troubleshooting, one can refer to its FAQs. If none of that works, you can straightway reach out to Printrbot via call or email.
Parameters Influencing Buying Decision
Whether the cost at which Metal Plus is available in the market affordable? Is the printer's speed enough? What about comparing its print quality with others in the same price range? Is Metal Plus capable enough, practical to stand upon its user's expectations?
Answers to all of these questions are mentioned in the brief below.
3D Printer Cost: The most expensive you can get while buying Metal Plus is $1299.95. Taking into account the printer's features while comparing it with others in the same price range, the price seems reasonably understandable.
3D Print Speed: Being a desktop FDM 3D printer, Metal Plus maintains the reputation of creating parts and functional prototypes speedily.
3D Print Quality: Impressive layer resolution and excellent surface finishes will surprise you after the completion of the 3D printing process on the printer. Vibration during 3D printing is not on the list of problems that users encounter with the printer. The complete 3D printing is smooth and stable, thanks to the all-metal frame put in place by Printrbot.
3D Printer Capability: Metal Plus allows you to print with various kinds of 3D printer filaments. It is equipped with a heated bed and hotend capable of withstanding high temperatures.
3D Printer Practicality: Best for professionals.
3D Printer User Expectations: Classifying Metal Plus to a specific user is difficult because it has varying features. The printer is available at an affordable price range which is something that beginners will admire. By hosting an auto-leveling probe the machine will gain popularity in intermediates as well. And lastly because of the advanced improved parts and offering printing with a variety of filaments will let it stay on the list of experts too.
The Verdict
The design of Metal Plus works wonders for producing a phenomenal outcome. It lets the printer stay stable during the prints and produce dimensionally accurate parts. Moreover, the machine's parts are high-tech and capable of producing precise functionality. Added to this are little benefits that it has of being flexible.
it's compatible with a wide range of filaments and features an instantly swappable nozzle. All of which makes the printer most suitable for all classes of individuals.