Monoprice Maker Ultimate
This 3D printer has a rugged construction and is pinpoint precise enough to tempt buyers in the market to go 'wow'! The Maker Ultimate looks great at first glance and lives up to the promises that it's manufacturers make.
PROS
Temperature settings can be nicely done because the printer has an enclosed area.
The print bed is easily removable.
Overall the frame of the printer is sturdy.
CONS
The printer produces more noise than its competitors.
Seeing the price, the build area is small.
Product
Specification
Videos

Here is a printer producing high-quality 3D prints of parts and functional prototypes that are affordable. Monoprice Maker Ultimate needs some setup ...
| | |
| --- | --- |
| Model | Maker Ultimate |
| Manufacturer | Monoprice |
| Price Range | $ 479 |
| Country | United States |
| Availability | Available |
| Classification | Desktop |
| Technology | Extrusion (FFF- FDM…) |
| Material | ABS, Other plastics, PLA |
| Filament diameter | 1.75 mm 0.07 in |
| OS compatibility | Linux, Mac OS, Microsoft Windows |
| Generic material | Yes |
| XY accuracy | 0.0125 mm 0 in |
| Max. build size | 200 × 200 × 175 mm 7.87 × 7.87 × 6.89 in |
| Max. build volume | 7.00 L |
| Max. print speed | 150 mm 5.91 in /s |
| Min. layer thickness | 0.02 mm 0.001 in |
| Dimensions | 360 × 440 × 480 mm 14.17 × 17.32 × 18.9 in |
| Weight | 13.9 kg 30.64 lb |
| Nozzle diameter(s) | 0.4 mm 0.02 in |
| Power input | 221W @ 110-220 V 50-60 Hz AC |
| Heated print bed | Yes |
| Heated build chamber | No |
| Automatic calibration | No |
| Closed frame | No |
| Dual extruder | No |
| Independent Dual Extruder | No |
| Full color | No |
| LCD screen | Yes |
| Touchscreen | No |
| On-board camera | No |
| Mobile app | No |
| 3D scanners | No |
| CNC mill | No |
| Electronics 3D printing | No |
| Laser engraving | No |
| Conveyor belt | No |
| Air filter | No |
| Pellet extruder | No |
| USB | Yes |
| Wifi | No |
| Bluetooth | No |
| SD card | Yes |
| Ethernet | No |

Table of Contents
Firstly known as a brand that produces high-quality accessories for the electronics world at a cheaper price, Monoprice decided to enter the 3D printing market.
The Maker Ultimate 3D printer is priced at $499. The company carries its impression that it earned in the electronics market, to the additive manufacturing market. Overall, the Maker Ultimate has such features that make you check out the price again just to confirm that you've read it correctly.
To give you a little bit about the company, Monoprice offers even a cheaper model than this printer which is named Select Mini and is priced at $199. Yes! You read it correctly. It's for $199. But talking about the Select Mini is some other day's work. Right now, it's about the Maker Ultimate.
This 3D printer has a rugged construction and is pinpoint precise enough to tempt buyers in the market to go," wow!" The Maker Ultimate looks great at first glance and lives up to the promises that it's manufacturers make.
A profound observation in this printer's features and specifications lets you uncover its true merits and flaws and that's exactly what we aim to deliver to you in this in-depth review of the 3D printer.
Let's start by looking at some of the features that the Monoprice Maker Ultimate has, to give you a little more idea about how this printer performs.
Features
Hefty-looking chunk of a printer, the Maker Ultimate's frame showcases an industrial look that's made of heavy, black, anodized metal. This is not to say that the printer is some sort of an award-winning printer or has any chances of winning prices for graceful design, but at least the design is practical.
This overall design of the printer ensures that not only the moving parts are contained, but also, allows users to add covers for the openings i.e. if required. Manufacturers have given special attention to the overall color of The Maker Ultimate by keeping the inside similar to the outside. Both are made of black, anodized metal.
The Maker Ultimate's print bed is in the middle of the complete printer, has a size that is decent for a desktop printer to have and it enables its users to get an average print volume. Its competitors such as LulzBot Mini have similar print volumes, but what makes you choose Monoprice over it, is the printer's other features and design.
The Monoprice Maker Ultimate is very robust and it does not shake even when printing starts and doesn't make a lot of noise. We hope that reading this gives you a little introduction to what overall features of the printer are.
Now let's take a look at some features that should point out to you when you go for buying it, or you should look to compare with other printers.
Design Of This Printer Is Reliable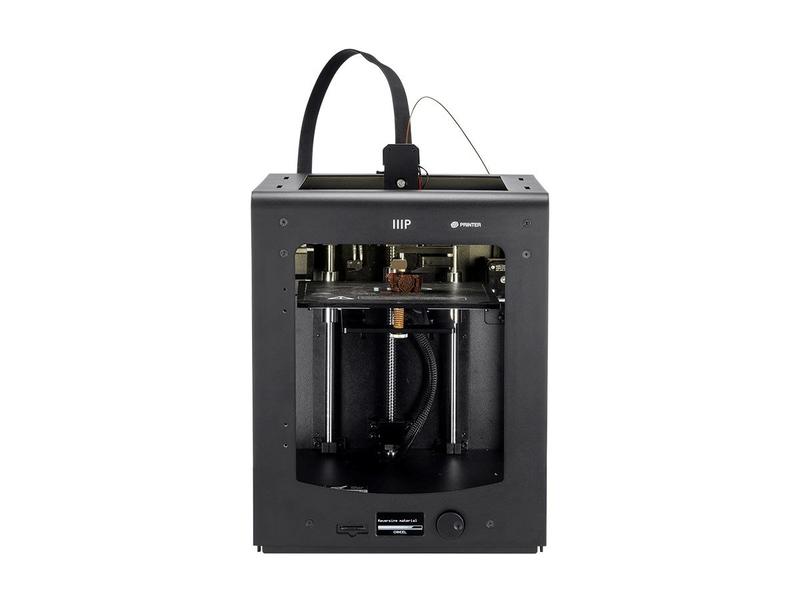 Credit: top3dshop.com
The Monoprice Maker Ultimate has an enclosed design. So, the fear that one usually has with an open desktop 3D printer is not something to have with this one.
If you have kids at your place playing in the same room and there is some printing process going on inside the printer, it's fine, they won't be able to as easily mess around with this printer as easily if it were an open-design printer.
Since it's a fully enclosed 3D printer, it doesn't require much tinkering for starting the printing process. In fact, the Monoprice Maker Ultimate comes with advanced features compared to other printers in the same price range that do not even have as successful build-up as this one.
There is a metal frame that's sturdy, it has a top and front doors with which you can access the printer's inside area. There is a door sensor that automatically pauses the printing process if there are any indications of the door being opened.
And then there are handles on the door design to allow users to operate them easily unlike other printers that only open and close through a user interface.
The Inside Build Up Of This Printer Is User Friendly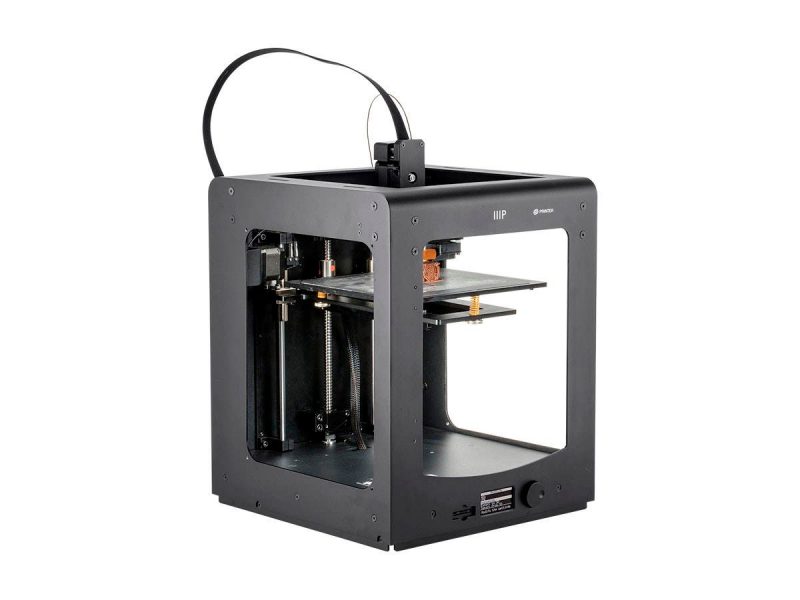 Credit: monoprice.com
Operating this printer is not as difficult as operating other printers is. The Manufacturer of this printer has taken into account difficulties that users generally face with the inside build-up of any desktop 3D printer.
Monoprice has come up with two features in the Maker Ultimate related to the inside build-up of this printer that stands out. Noticing the trouble that users face in removing nozzle while changing a nozzle of a specific diameter to the other, Monoprice has given a quick release nozzle feature in Maker Ultimate.
Although the printer comes with an integrated extruder module, it does allows users to swap out the nozzle in less than a minute by using the quick release nozzle feature inside it.
The other trouble that users generally face with an enclosed design like the one that Maker Ultimate has is visibility. Addressing this issue, Monoprice has provided internal lighting in Maker Ultimate which becomes essential because the printer has enclosed space limits.
There is a complete row of LED lights inside the build-up of this printer to enlighten you while you are monitoring the print job.
Putting On A Different Spool During The Printing Process Isn't A Problem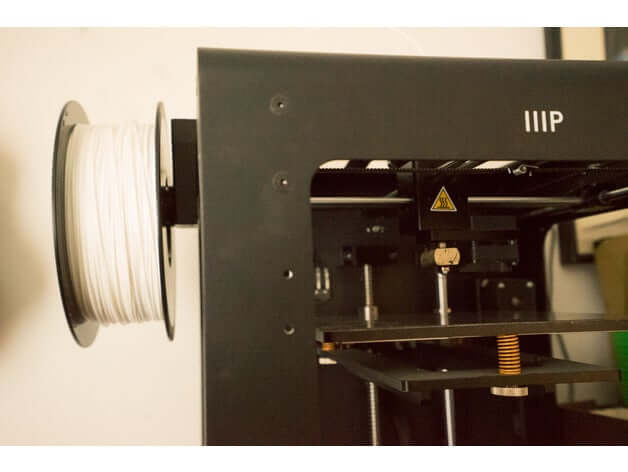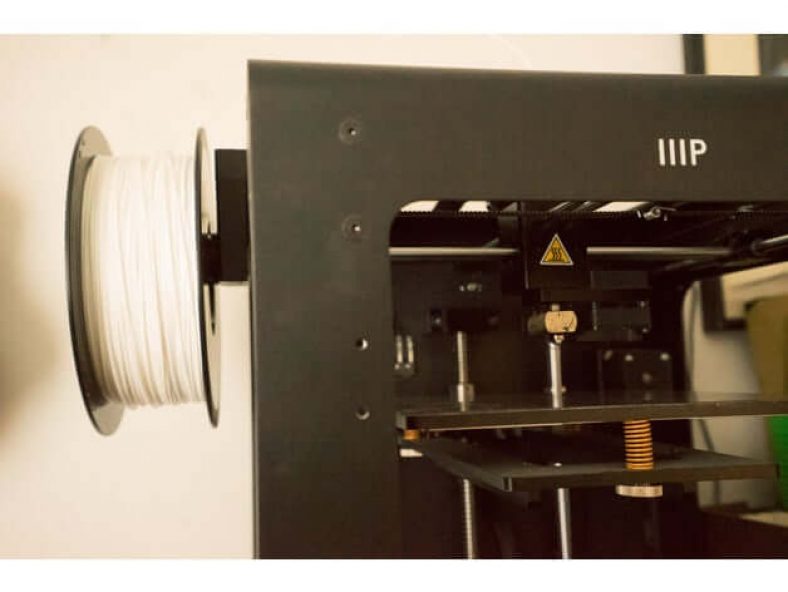 Credit: thingiverse.com
The print process in any 3D printer can run up to hours and you may, may not have the time to sit in front of the printer and watch the complete printing process.
In situations when you do not have the time, you need the printer to disturb you only when it runs out of the material. This is where the filament detector of the printer comes into play. Monoprice Maker Ultimate has this feature that will enable you to put in another spool during the print process.
The 3D printer pauses automatically when the on-going roll is finished and it needs another one to continue with the printing process. Maker Ultimate gives you the time it takes to replace the spool.
Another point to note here is that unlike other 3D printers that also have enclosed design, the Maker Ultimate does have a standard sized filament spool inside it. It doesn't decrease the size of the filament spool just because it has an enclosed design.
Lifting The Part Or Functional Prototype That's Been Made From The Bed Is Easy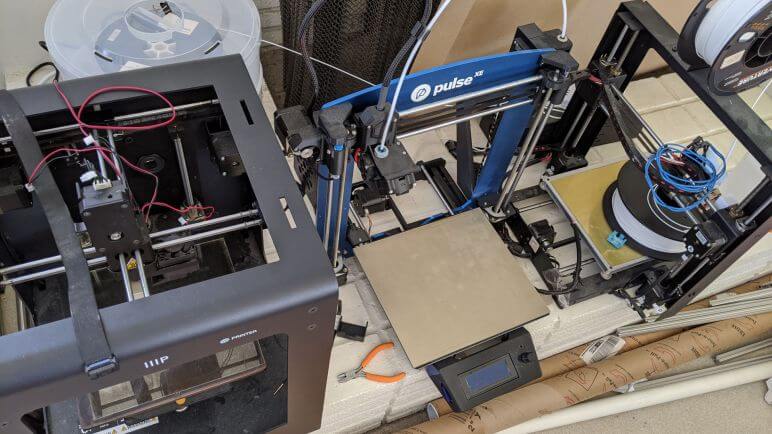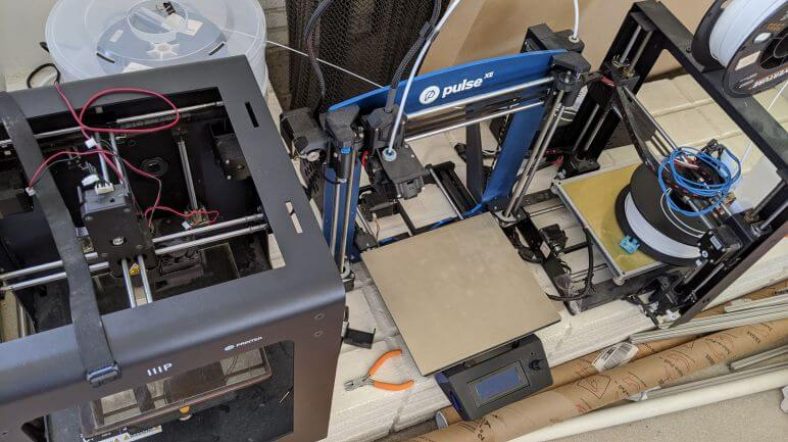 Credit: newscrewdriver.com
Anyone who has worked with a 3D printer in the past knows what headache it is to lift the part or functional prototype that's been made from the print bed.
There is a lot of things that are been done by manufacturers of 3D printers worldwide to ensure that this "taking-out" process becomes a little less hectic. One of the solutions that are currently the most trend is, to keep the print bed removable and flexible.
Monoprice Maker Ultimate has a print bed that's made up of glass which is held at its position with the help of two magnets and is removable.
So once you are done with printing your part or functional prototype, you can first live it with the print bed and then take it to a place that is open enough to separate the print bed from it.
And after doing all this you don't need to worry about the leveling of the print bed. For, Monoprice has given you a feature in Maker Ultimate by using which you can automatically level the print bed. This feature is time-saving because, in the printers that do not have this feature, you would have to turn knobs and fiddle sheets of paper to level the print bed.
Feeding The Extruder And Cooling The Printed Parts Can Be Done Easily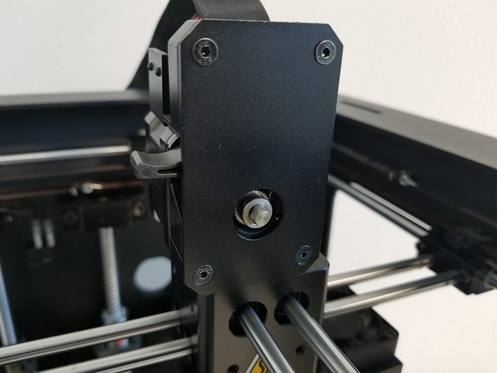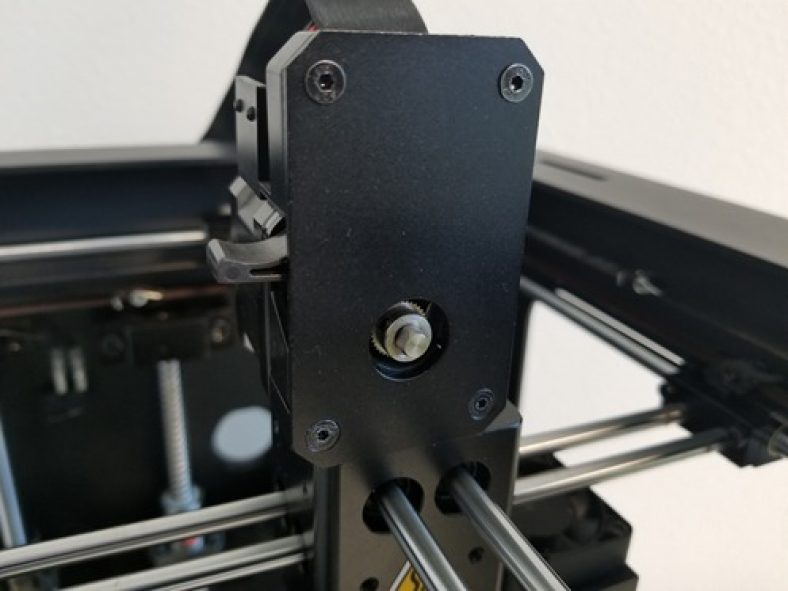 Credit: monoprice.com
A lot of times there are issues reported especially in FDM 3D printers by users after encountering trouble in feeding the extruder with filaments. Taking note of these reported issues, Monoprice has introduced an anti-jam feature in the Maker Ultimate.
This feature is specially designed to feed filament so that you as a user won't have an "already-worked-upon" print job, ruined just because you couldn't feed the extruder with it.
And another impressive feature that the Maker Ultimate has, has got to deal with the cooling of parts that are already printed. Though being an enclosed design, the Maker Ultimate, has an open frame design that will optimize the airflow and ensure that moderate cooling happens at each rate for all the areas of the part or functional prototype that's been printed.
This makes up for a greater print consistency compared to parts that are cooled by paying no attention to how air is allowed to interact with them after printing.
Specifications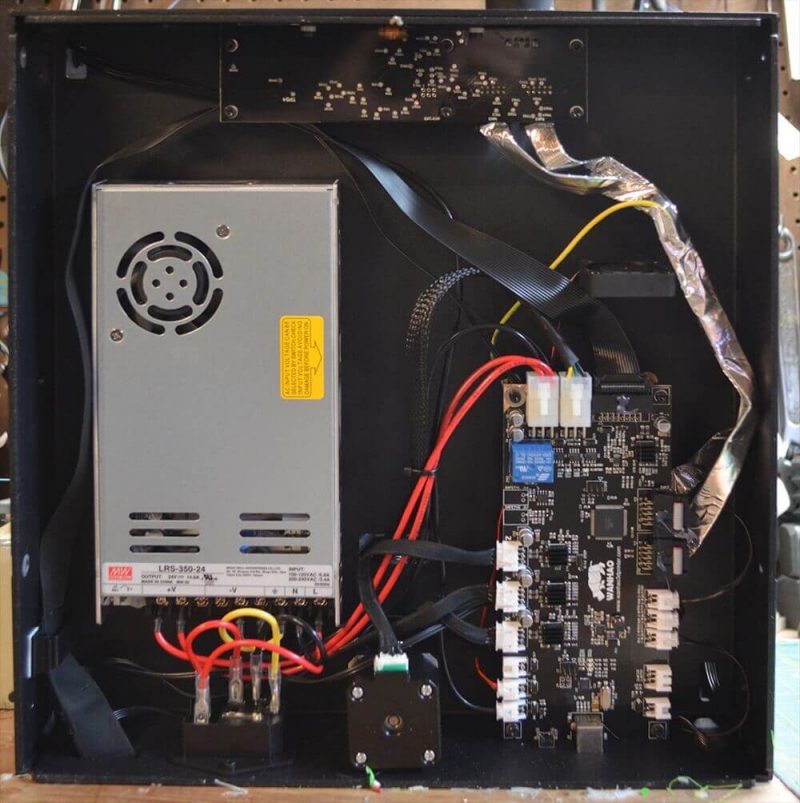 Credit: hackaday.com
The Maker Ultimate's build area is 200 mm * 200 mm * 175 mm and its layer resolution is 20 microns. The filament that can be used in this 3D printer should have a diameter of 1.75 mm which is the industry standard.
Speaking about the specification that isn't standard but exceptional is the printer's print speed which is 55 mm per second and it's exceptional because it's much more than the printer's competitors in the same price range.
The maximum extruder temperature that the Maker Ultimate can withstand is 260 degrees Celsius. You can connect with this 3D printer using a USB cord and an SD card.
The list of software that is compatible with the Maker Ultimate is Cura, Repetier Host, Replicator G, and Simplify 3D. All of this software is easy to use even by someone who isn't much tech-savvy.
The printer is open when it comes to using a variety of different materials to print. The Maker Ultimate gives you the freedom to print with ABS, PLA, XT Copolyester, PET, TPU, TPC, FPE, PVA, HIPS, Jelly, Foam, and Felty.
Lastly, the Maker Ultimate offers a one-year repair warranty for any manufacturing defects.
Price
As mentioned in the introduction section, the price of the printer on Monoprice's website is $499.
First Impression
At first glance, the printer gives you a much higher number in your mind than it's actually priced. Ultimaker 2 Go's look matches this printer to an extent that one who has seen both the printers carefully starts to be skeptical about the inspiration of Maker Ultimate's design been taken from Ultimaker 2!
Setup
To Setup the Maker Ultimate you need to follow three steps i.e.
Remove the packaging.
Install the dial.
Give electricity to the printer that's it.
The print bed comes leveled, so all you have to do is set the filament that you wish to print with and start printing.
Printing Type/Cost
If you are a small business owner you will definitely want to know per print cost that this printer produces and the number of factors on which the cost depends.
The type of material that you are using is one of the factor, layer height that has to be produced in the part of the functional prototype is another factor, the overall geometry that your part has, the infill percentage that it should have, and the electricity that the printer consumes and many more.
A summation of all these factors would give the printing cost. Relatively, the printing cost that has been reported for the Maker Ultimate is low and affordable.
Print Quality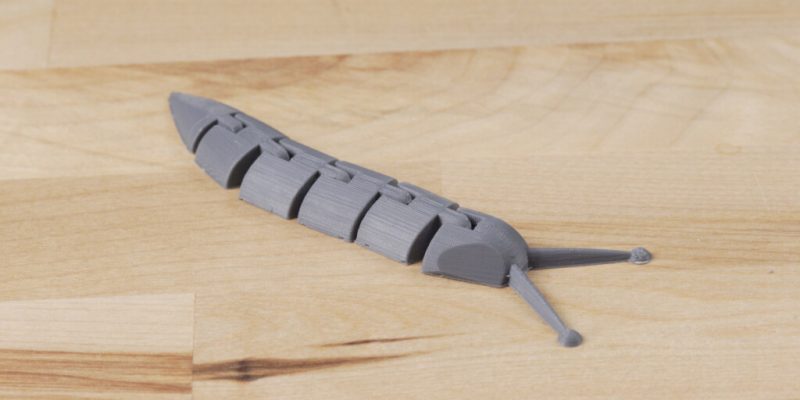 Credit: 9to5toys.com
The overall quality offered by this printer is good, although there are reports of some filament whiskers hanging on the part that's produced.
Software
As mentioned previously in the specifications section, the printer is compatible with Cura, Repetier-Host, Replicator G, and Simplify 3D. Check out some of the best 3D slicing software here.
Customer Service
Monoprice offers support and service through its website and online community, it has a 30-day money-back guarantee, and as mentioned above in the specifications section a year's warranty for covering manufacturing defects is also offered to every customer. Apart from these, there are videos, guides, and FAQs that are answered on the website.
Parameters Influencing Buying Decision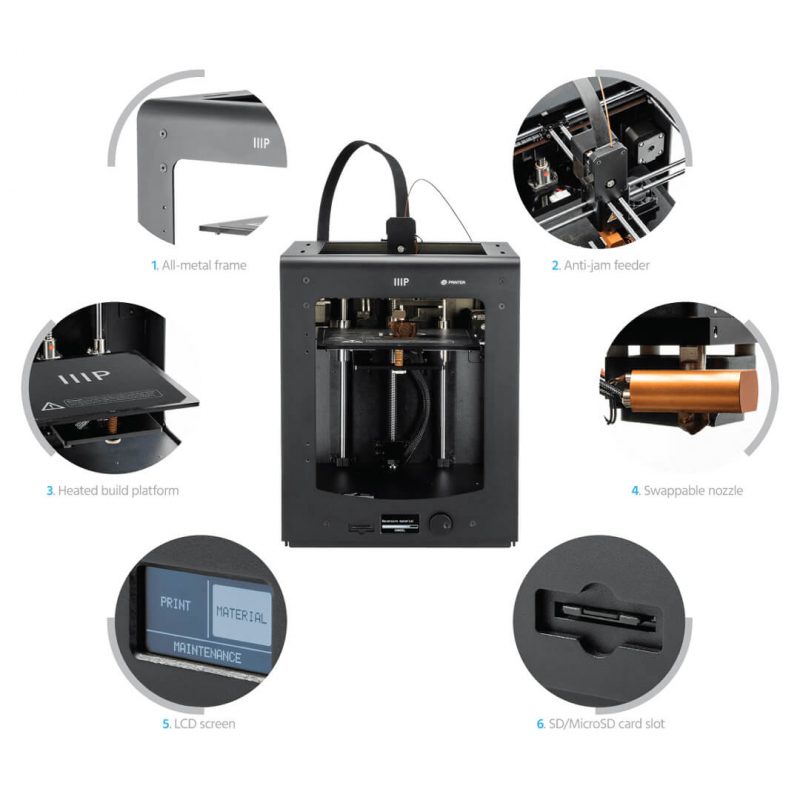 Credit: printer3d.one
Let's have a quick recap of what we have seen in the complete article in brief.
3D Printer Cost: Affordable for small businesses and newbies who wish to experiment with the technology.
3D Print Quality: Average.
3D Print Speed: Impressive.
3D Printer Capability: The Maker Ultimate is capable of continuous 3D printing for hours.
3D Printer Practicality: You can keep the printer in one corner of your house and start printing. All you need is a plug near to the printer.
3D Printer User Expectations: As said in the cost section, small business owners, newbies, and even academic institutions who would like their students to be introduced to this technology can build expectations from this printer that this printer promises to fulfill.
The Verdict
Overall, it's about the price that you spend and whether it's affordable seeing the features that the printer promises to give you.
We have listed down the features so that you can compare them in the amount and quality with that of its competitors and take your call. Lulzbot Mini would be the closest comparison of this printer, another one would be Ultimaker 2 Go, check them out compare and figure out what you wish to go with.