Monoprice Voxel 3D Printer
The Monoprice Voxel 3D printer has a lot to offer to its user base. Monoprice has come up with reliable printers before and holds a great reputation among its users.
PROS
Reliable
Easy to setup
Multi-material support
Heated and removable bed
Product
Specification
Videos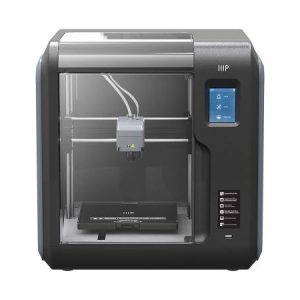 A plug and play 3D printer that lets you work through your designs without needing to spend unnecessary time on settings and assembling. Mostly a ...
| | |
| --- | --- |
| Model | Voxel |
| Manufacturer | Monoprice |
| Price Range | $ 399 |
| Release date | 2018 |
| Country | United States |
| Availability | Available |
| Classification | Desktop |
| Technology | Extrusion (FFF- FDM…) |
| Material | ABS, Other plastics, PLA |
| Filament diameter | 1.75 mm 0.07 in |
| OS compatibility | Linux, Mac OS, Microsoft Windows |
| Generic material | Yes |
| XY accuracy | 0.02 mm 0.001 in |
| Max. build size | 150 × 150 × 150 mm 5.91 × 5.91 × 5.91 in |
| Max. build volume | 3.38 L |
| Max. print speed | 60 mm 2.36 in /s |
| Min. layer thickness | 0.05 mm 0.002 in |
| Dimensions | 400 × 380 × 405 mm 15.75 × 14.96 × 15.94 in |
| Weight | 9 kg 19.84 lb |
| Nozzle diameter(s) | 0.4 mm 0.02 in |
| Power input | 100 ~ 240 VAC | 47 ~ 63 Hz |
| Heated print bed | Yes |
| Heated build chamber | No |
| Automatic calibration | Yes |
| Closed frame | Yes |
| Dual extruder | No |
| Independent Dual Extruder | No |
| Full color | No |
| LCD screen | No |
| Touchscreen | Yes |
| On-board camera | Yes |
| Mobile app | No |
| 3D scanners | No |
| CNC mill | No |
| Electronics 3D printing | No |
| Laser engraving | No |
| Conveyor belt | No |
| Air filter | No |
| Pellet extruder | No |
| USB | Yes |
| Wifi | Yes |
| Bluetooth | No |
| SD card | No |
| Ethernet | Yes |

Table of Contents
Does the Monoprice Voxel design ring any bell? It must as it is very similar to FlashForge finder. You can very much reconnect this 3D printer with the cubic shape of the Finder 3D printer along with the prominent touch screen.
And, it does have similarities to the already popular machine. So, let's check out the Monoprice Voxel review to know what the 3D printer entails.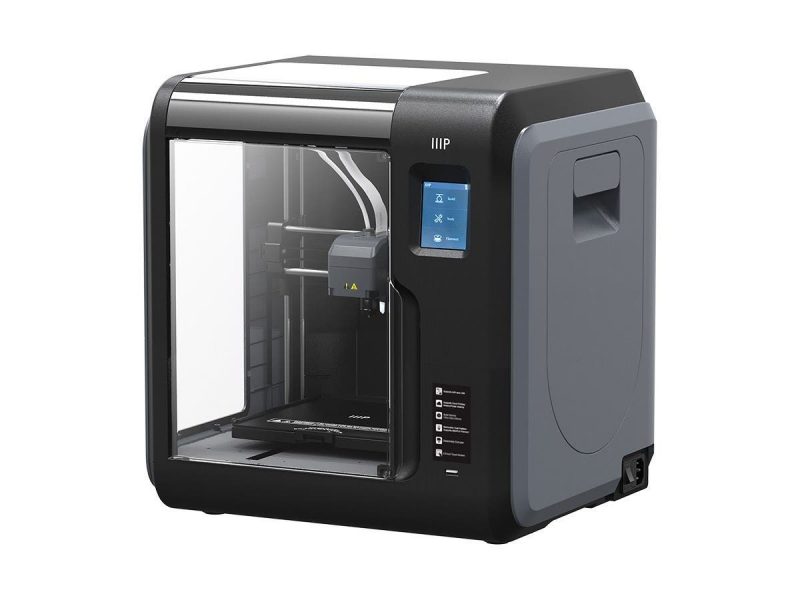 With a compact design, the printer brings with itself nice quality prints at an affordable rate. What makes this machine so desirable is its ease of use.
The setup requirements are minimal and you can use this 3D printer right out of the box with few settings. Providing huge benefits to the beginners with its looks and features, Voxel isn't just an ordinary machine.
The Monoprice Voxel 3D printer has a lot to offer to its user base. Monoprice has come up with reliable printers before and holds a great reputation among its users. The question is: Is this machine able to keep up with the company's already set trust and performance? Why not find out yourself.
Read the complete review to get a brief idea of what you can expect out of Monoprice Voxel. Check out the features and specifications. Know if the 3D Printer is enough for your specific requirements and then make the final decision.
After all, it is your money you are spending. You have the right to go to every depth to find out if this 3D printer fits your job or not.
Features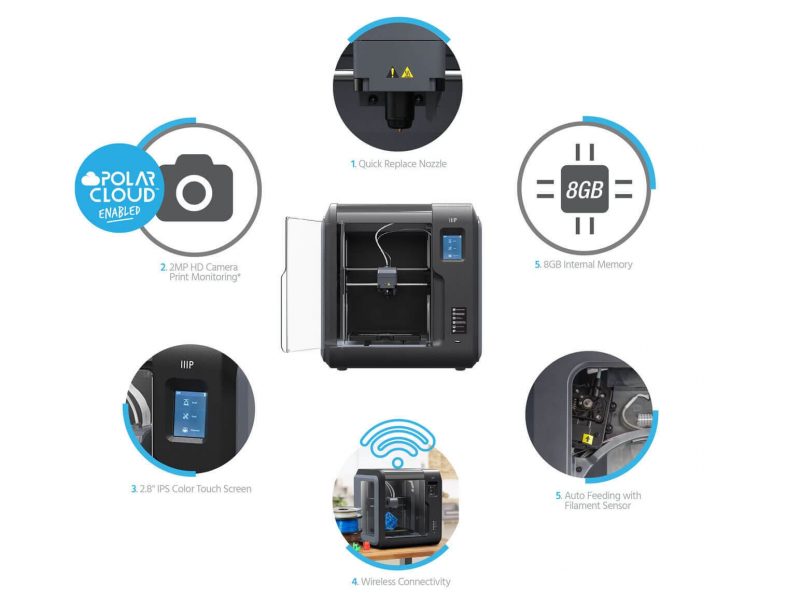 Credit: monoprice.com
So, what can a small machine carry with itself? That's a strong opinion you hold. However, the size could mislead. And, the same goes with this compact looking Voxel 3D printer. You may not realize it.
However, Monoprice Voxel is a very powerful machine, designed especially for beginners. And, it makes no mistake in serving the target group of users with the best results.
It has made sure to bring most of the latest features under the hood to make 3D Printing comfortable for beginners.
Fully Assembled
Voxel comes in one piece. Most of the users, for saving a few bucks, decide to go for the DIY kits. These take time to assemble and aren't just for every user. You may have to pay a little more for this machine. But it does justify the difference with its easy to set up design and smooth printing process.
Fully Enclosed
Can you imagine working with ABS on a semi-enclosed or open design? It's obviously too difficult. However, with this Monoprice Voxel 3D printer, you can rest assured that working with tricky materials isn't a problem at all.
With the enclosed frame, the printer can achieve consistent temperature favorable to print with temperature-sensitive filaments such as ABS.
Quick Nozzle Changing
Nozzle changing is one of the worst nightmares for FDM printer users. This is because it usually takes more than half an hour to accomplish the job. Also, it requires tools to make the replacement possible. However, with Monoprice Voxel, you do not need to worry about the same.
With quick replacement that happens in a blink of an eye, you can carry on your work without a need for long maintenance breaks.
Heated Build Plate
When working with Voxel, nothing can get in the way of the best finished 3D parts. And, it all starts with a heated bed. The first layer makes the job easier later during the printing process.
If not properly set, it could ruin the entire model. Hence, 3D printers offering high first layer adhesion do make things simpler for users. With Monoprice Voxel, you get a heated bed that offers amazing first layer adhesion minimizing the chances for warping and other issues.
Removable and Flexible Bed
Removing models from the print bed is easy and simple with a Voxel 3D printer. You get the removable build plate that is flexible. Hence, to take the model out of the printer's inside, you just need to take the bed out and flex it to get the models separated from its surface. As easy as it sounds.
Assisted Leveling
Although the manufacturer calls it the 'Assisted Leveling', it is very close to the automatic leveling. The printer comes factory calibrated. However, in need of any changes to the nozzle height from the bed, you just have to check the user interface. Using the controls, you can adjust the settings.
Filament Sensor
If you are working with a 3D printer, you must stay alert of the remaining filament in use for the printing process. However, with this machine, you just have to relax and let the printer alert you about the same.
It will pause the process in between if the filament is about to run out. And, won't resume printing until you refill the filament spool.
Auto Feeder for Filament
It cannot get any easier for the beginners to work with a 3D printer with so many automated functions. Monoprice Voxel does sound like a machine for starters. You just need to load the filament spool inside the holder and push it through the guide.
After this, you can select the auto filament feed control from the touchscreen menu. And, the Monoprice Voxel 3D printer will ensure that the filament reaches the hot end.
Remote Monitoring
Voxel has an HD camera inside the build space to provide you the remote view of the prints when you aren't close to the machine. You can just connect using the PolarCloud app. Alternatively, you can also connect to the camera's IP address. This would do the job.
Internal Memory
Not every printer has this feature, 8 GB of internal memory. You can store the 3D files on the internal memory without needing to hold the memory card until the printer completes the work. Also, the printer can run as a standalone device with no connection needed from outside.
Specifications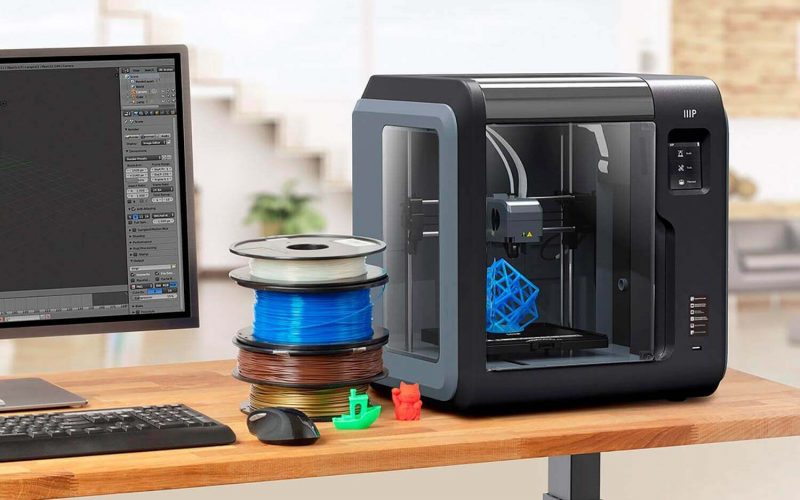 Credit: 3dpprofessor.com
Being compact, the overall space the printer occupies is just 400 x 380 x 405 mm. With such a footprint, the limitation of the build volume is pretty obvious. You get just 150 x 150 x 150 mm to build space. Voxel weighs only 9 kgs and is very convenient to move and manage. With 8 GB internal memory, you can easily upload 3D files to the machine without needing an external connection.
In terms of print quality, you get a layer resolution ranging from 0.05mm to 0.4mm. The printer's speed is also admirable. You can print between a range of 10 mm per second to 100 mm per second. The nozzle diameter is 0.4mm. Moreover, the printer can work with multiple file-formats including STL extension.
It also has a 2.8 inches touch screen embodying various user controls. Hence, you can edit the changes right from the machine itself. Overall, a pretty impressive selection of features and specs for a 3D printer designed for beginners.
Price
You may expect the price to be high. However, it is not that expensive to own. The Monoprice Voxel costs $449. The price may differ depending on the different sellers. However, this is the standard quote. And, the manufacturer often comes with various offers. So, you can get the printer for an even lesser budget.
First Impressions
With so many good things about the Voxel 3D printer, you must be expecting a great impression after you peek inside the box. And, why not? The manufacturer has tried not to provide any room for mistakes, even with packaging.
The Monoprice Voxel 3D printer comes securely packaged inside the box. And, it is easy to take it out of the package as well.
Moreover, the package contains all the necessary equipment to help beginners get started right away. With automated functions, the company adds tools and instruction to make the setup even simpler.
You receive an unclogging tool, Screwdriver, Allen wrench, one packet of grease, sample spool filament, power cord as well as user manual along with the 3D printer. There are no separate components to deal with. You get a fully assembled machine not needing any special setup.
Setup
As already mentioned, a lot of times before, the printer is easy to setup. It is completely assembled, needing no extra efforts from the users' end. Hence, for printing the first model, all you need to do is, take the printer out, initiate bed leveling, and load the filament.
The manufacturer includes an easy to understand guide that helps follow the stepwise procedure for setting the printer for the first time. Unlike budget 3D printers that provide difficult to apprehend language, this one keeps instructions easy to follow.
With the Monoprice Voxel 3D printer, you also receive a few sample models to start your print. You can check the settings on the intuitive user interface. This carries an icon-driven menu style. And, is very easy to follow.
To connect with the 3D printer, you can choose between various options. Starting from wired connections such as Ethernet and USB, you can also make use of wireless connectivity. Just with pressing a few icons, you can set up your connection without any hassle.
With assisted bed leveling, the entire setup won't take anywhere more than a few minutes.
Printing Type/Cost
Monoprice Voxel is an FDM 3D printer. The printer works by melting the filament and depositing it one layer at a time on the build plate. After each layer solidifies, the print bed moves down, to accommodate the next layer.
This process continues until one achieves the complete perfection with the 3D model.
When mentioning the cost of printing, it is important to note that the variable will depend on a lot of factors. From material cost to design and complexity of the 3D models and other parameters.
So, it will keep changing. In case, you wish to keep the cost low, you can choose the cheap filament, PLA, and keep the infill percentage low. There are other ways too to reduce the printing cost. With experimentation, you can understand what settings fit best for your models.
Print Quality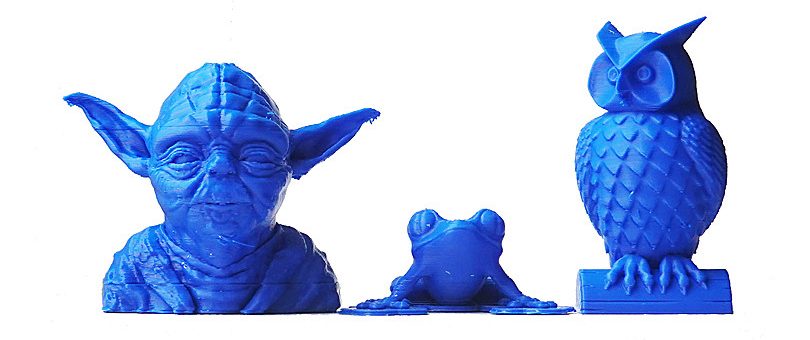 Credit: pcmag.com
With a layer range from 0.05mm to 0.4mm, you can create fine details. However, you cannot compare the same with the results produced by a professional 3D printer. But it does serve the purpose well. With the right settings, you can achieve high print quality. And, it's best for beginners.
Software
Flashpoint is the slicing software that you receive along with the 3D printer. It seems close to the CURA app that is very common among 3D printing users. Hence, it provides an easy learning graph and quite familiar for most of the users with prior experience of working with CURA.
It comprises of various skill level settings. You can work with ease as well as expert mode. So, choose what fits your skill level.
Customer Service
Monoprice is known for its impeccable customer experience. So, you won't be disappointed at any time. It offers great deals at times and is always ready to help users.
Parameters Influencing Buying Decision
Check a glimpse from the Monoprice Voxel review to check if the printer is right for your specific needs.
3D Printer cost: It is an affordable 3D printer costing around $399.
3D Print quality: For beginners, the printer does offer great print quality.
3D Print speed: With a speed up to 100 mm per second, you can create models faster.
3D Printer capability: Voxel can create fine details. It can also be used for complex models.
3D Printer Practicality: Mostly for learning purposes and for those wanting to stir the possibilities of 3D printing.
3D Printer User expectations: For its price, it offers everything one may need as a beginner with a limited budget.
The Verdict
Monoprice Voxel review clarifies that the 3D printer is made for beginners who wish to start 3D Printing without needing to go through tedious efforts. It is also for those users who are looking for a budget-friendly machine, however, not wishing to compromise with the print quality.