Anycubic Mega Zero 2.0
Anycubic Mega Zero 2 has a simple design, is highly functional, available at a low cost, and yet has an amazing set of features.
PROS
Fast heating bed speeds up the entire printing process.
Large leveling knobs for a better user experience.
Large build volume.
Metal frame for stability.
Resume from the power outage.
Double Gear Extrusion.
Quick Assembly.
Magnetic printing bed.
CONS
Open body meaning temperature maintenance would be a problem.
Safety issues while printing from home.
Product
Specification
Videos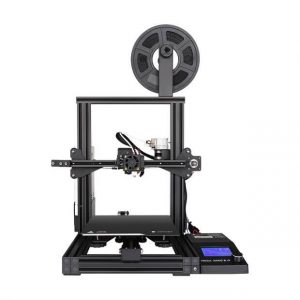 Extending a large build volume of 220 mm * 220 mm * 250 mm, Anycubic mega zero 2.0 is a budget-friendly FDM 3D printer for hobbyists. Its double gear ...
| | |
| --- | --- |
| Model | Mega Zero 2.0 |
| Manufacturer | ANYCUBIC |
| Price Range | $ 199 |
| Release date | 2020 |
| Country | China |
| Availability | Available |
| Classification | Hobbyist |
| Technology | Extrusion (FFF- FDM…) |
| Material | PETG, Standard (PLA, ABS…), TPU, Wood |
| Generic material | Yes |
| Filament diameter | 1.75 mm 0.07 in |
| Nozzle diameter(s) | 0.4 mm 0.02 in |
| Max. build size | 220 × 220 × 250 mm 8.66 × 8.66 × 9.84 in |
| Max. build volume | 12.11 L |
| Power input | 100V/240V AC, 50/60Hz |
| Max. print speed | 100 mm 3.94 in /s |
| Dimensions | 505 x 431 x 607 mm 18.85 x 16.67 x 23.9 in |
| Weight | 7 kg 15.43 lb |
| OS compatibility | Mac OS, Microsoft Windows |
| Heated print bed | Yes |
| Heated build chamber | No |
| Automatic calibration | No |
| Closed frame | No |
| Dual extruder | No |
| Independent Dual Extruder | No |
| Full color | No |
| LCD screen | Yes |
| Touchscreen | Yes |
| On-board camera | No |
| Slicer Software | Cura |
| Mobile app | No |
| 3D scanners | No |
| CNC mill | No |
| Electronics 3D printing | No |
| Laser engraving | No |
| Conveyor belt | No |
| Air filter | No |
| Pellet extruder | No |
| USB | Yes |
| Wifi | No |
| Bluetooth | No |
| SD card | No |
| Ethernet | No |

Table of Contents
Updated versions of former 3D printers usually have one major benefit i.e. the limitations of their former versions are upgraded! That's the same with Mega Zero 2.0.
Anycubic has ensured all your feedbacks regarding Mega Zero is worked upon to create a new improved more efficient 3D printer in approximately the same price range. So, let's dive into various aspects of version 2.0.
Features
Mega Zero 2.0 is way different than Mega Zero. How do we claim that? By comparing their features.
Double Gear Extrusion and Single Y-axis rail
A Bondtech-like dual-gear extruder which was also a part of the initial kit for the first Mega Zero is also the part of Mega Zero 2.0.
Additionally, this one is a little more muscular, powerful, and consistent one. It lessens the likelihood and slippage and should prove reliable overtime dealing with various nozzles.
Potentially, the extruder is also a little better at feeding the more challenging filaments which have more chances of failure if not taken proper care of.
Overall, the result of using this double gear extrusion is a high-quality print result and smoother extruding.
More compatibility with flexible filaments, a stronger torque, a feeding optimization, and printing even with TPU filament!
Because having a single Y-axis rail in the printer's construction, it'll make it a bit easier to get to the knobs that control the height of the bed.
Essentially this will help in bed leveling which is responsible for getting a perfect first layer printed and hence increasing the overall quality of the print.
This enables you to make bed adjustments without squishing your hand into smaller spaces, which means lesser efforts for you and yet the same results in prints.
Heated Print bed and commendable build volume
Unlike former 3D printers by the same manufacturer, the print bed in this is heated. It can withstand temperatures up to 110 degrees Celsius. Meaning that you do not have to worry about prints not sticking well enough to your bed anymore.
Additionally, it also means that you can print with more than one type of filament than you were able to print with on the original Mega Zero, and this is pure bliss if whether you are a learner, an intermediate, or a professional in the field of 3D printing.
It's worth noting how the temperature that the nozzle can be heated up to has not changed at all, and the maximum temperature it can resist is 255 degrees Celsius. This will help you get some ABS, PETG, and Wood prints out with amazing quality.
Stating about quality, the printer retains the same build volume as its forerunner at 220 mm * 220 mm * 250 mm.
Not only the build volume has remained unchanged, but also the layer resolution and positioning accuracy remain the same i.e. as found in the original Mega Zero.
Removable Magnetic print bed
The print bed which was non-magnetic is now magnetic. Meaning that you can peel it off, flex it and get your prints to snap off.
It'll make you get your prints off the production area and into your life or the place where it's meant for application just a little bit easier.
Because of the magnetic print bed, it is possible to expedite the time that goes into post-processing.
Not always these types of beds can be a bit annoying, but that is not the case with this one. Also, the print bed provides excellent bed adhesion with various types of filaments.
The magnetic build plate can be reused. It allows you to remove the prints even without using any kind of tape or glue.
When the printed parts are cooled down to an extent, you can easily bend the plate and snap off the print with ease.
Quick assembly and easy leveling
Mega Zero 2 has a modular design that allows you to have a simple assembly. This saves your time in setting up the printer to get it started quickly.
Unlike other printers in the same price range, the setup of Mega Zero 2 does not take much time; it is almost like any other plug-and-play printer.
Large leveling knobs are added by the printer manufacturer for a better user experience. It helps you quickly locate the corners of the print platform during leveling.
So even though the leveling of the printer is meant to be done manually, it does not take much time. Also, it enables you to do accurate leveling which is the most essential part of the 3D printing process.
If you haven't done your leveling correctly, you are not going to get good quality printed parts or functional prototypes. So, in a way you are quality assured with Mega Zero 2's bed leveling.
Specifications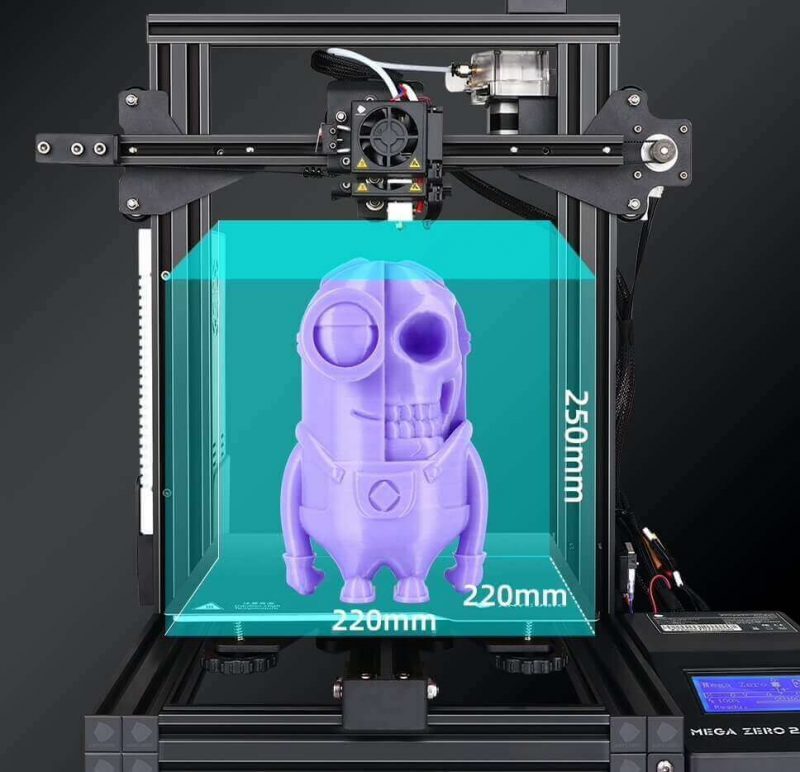 Offering a build volume of 220 mm * 220 mm * 250 mm, Mega Zero 2 allows you to print parts with big volumes in one go.
The printer is based on FDM i.e. Fused Deposition Modeling 3D printing technology and when it arrives at your place, it is already semi-assembled.
The mechanical arrangement of the printer is Cartesian XZ-based. The feeder system used for extruding filaments of various types in the printer is Bowden style.
Mega Zero 2 features a nozzle of a diameter of 0.4 mm. It has a hot end temperature that can withstand a maximum temperature of 255 degrees Celsius, whereas the heated bed temperature of 110 degrees Celsius.
As mentioned in the features section, the print bed of Anycubic Mega Zero 2 is a removable magnetic type. The frame of the printer is made up of sheet metal.
For bed leveling you would not have to press a button to make it happen, instead, you would have to use your hands to rotate the screws present on the body of the machine.
You can connect with Mega Zero 2 using two options i.e. USB and TF card. For printing various parts and functional prototypes on the printer you need to use a filament of diameter 1.75 mm.
Yes! You are allowed to print with third-party filaments. The materials with which you are 3D print on the printer are PLA, ABS, PETG, TPU, and Wood.
The printer weighs 7 kilograms and its frame dimensions are 505 mm * 431 mm * 607 mm.
Every part printed from the printer has a layer height around 0.1 mm and it can be printed with a print speed ranging anywhere between 20 to 100 millimeters per second.
The ambient operating temperature condition for the printer ranges between 8 to 40 degrees Celsius.
Price
At the time of writing the article, the price of Anycubic Mega Zero 2 as mentioned on its website is $199.
First Impressions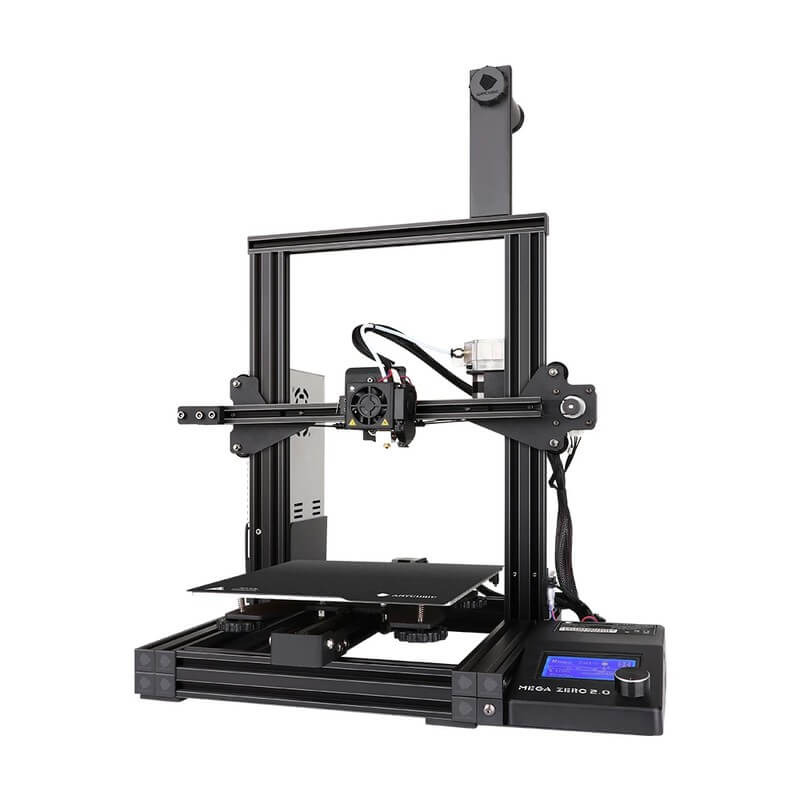 For those who have seen any Cartesian type 3D printer, you'd be able to relate to Mega Zero 2 instantly. It has the typical open body, filament spool holder over the top of the print head of the printer.
A touch screen user interface at the right end of the front face, with a circular button, allows you to control various functions on the printer.
Typical gantry supporting the print bed of the machine, two support pillars connecting which the print head of Mega Zero 2 holds a nozzle system.
The pillars have good quality rails on them allowing for the movement of the print head for letting the nozzle come at a good distance with the print bed to lay the liquid filament over the print bed according to the geometry of the part that's to be 3D printed.
There is a lot of wiring on the back of the 3D printer connecting the filament spool holder with the extruder and the nozzle system, etc.
Setup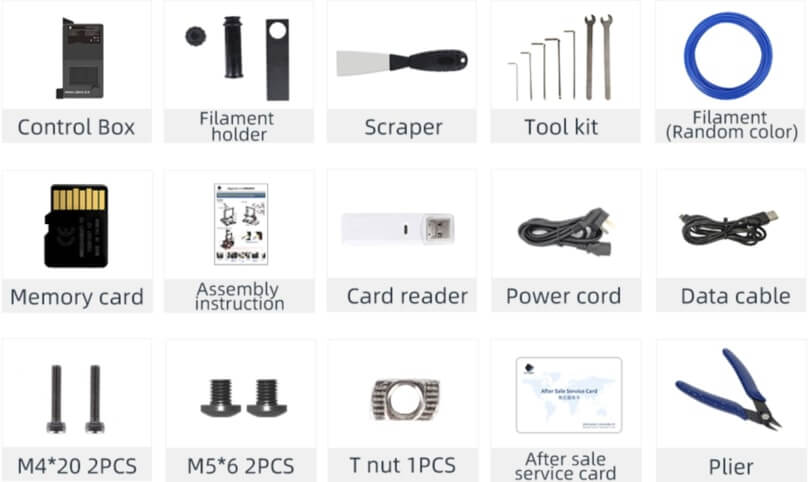 As mentioned in the specification section, Anycubic Mega Zero 2 comes semi-assembled. Meaning that it's not exactly a plug-and-play type 3D printer. You will have to spend some time adjusting the bed leveling of the printer.
And that you need to do manually by adjusting knobs and not by pressing a single button or automatically!
The printer comes with:
Plier
Six M5 screws
Scraper
Tool Set
Card Reader
Filament
SD Card
 User manual
Power Adapter
Power Cord
USB Cable and
Service Card
Also, you are recommended to go through the user manual that comes with Mega Zero 2. Doing so would make you familiar with different parts of the printer, which will be very helpful if this is your first time interacting with a 3D printer.
After doing that you can attach a TF card or USB cord to transfer your sliced file to the printer to start printing.
Printing Type/Cost
In Fused Deposition Modeling 3D printers, a solid filament of various materials is used to print parts and functional prototypes that can be used in various applications.
The solid filament is melted in an extruder where its temperature is brought to the level of its glass transition temperature. The arrangement is connected with a nozzle, which starts flowing as soon as it is melted.
Till then the print head which was at a specific distance has come down, near the print bed and according to the geometry of the part that's to be printed, the first layer is laid down.
After this, the print head moves one layer height above and prints the second layer and there onwards the complete part.
This is exactly how parts are printed on Mega Zero 2. The cost of printing per part depends on many factors, but one can easily claim that printing a part on this printer is cheaper than other printers that depend on SLA, SLS, or other 3D printing technologies.
Print Quality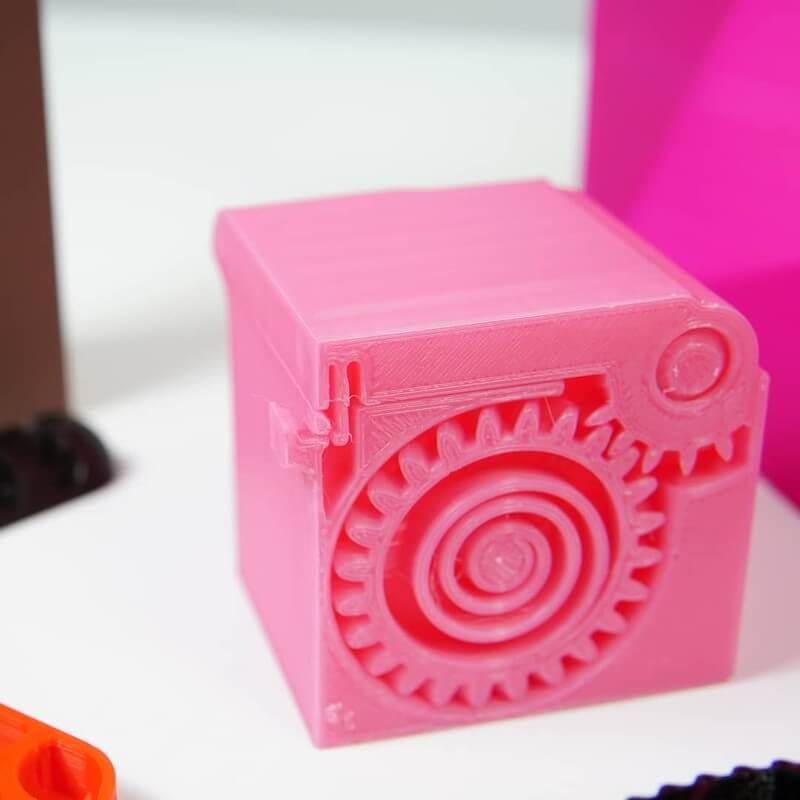 Credit: top3dshop
The test prints on Anycubic Mega Zero 2 runs pretty smoothly. You get good quality parts with a nice surface finish using the printer. Parts possess a layer height around 0.1 mm which is standard for all FDM 3D printers in the same range.
Software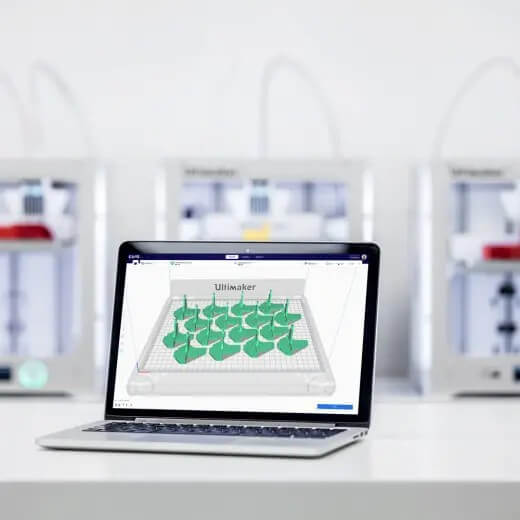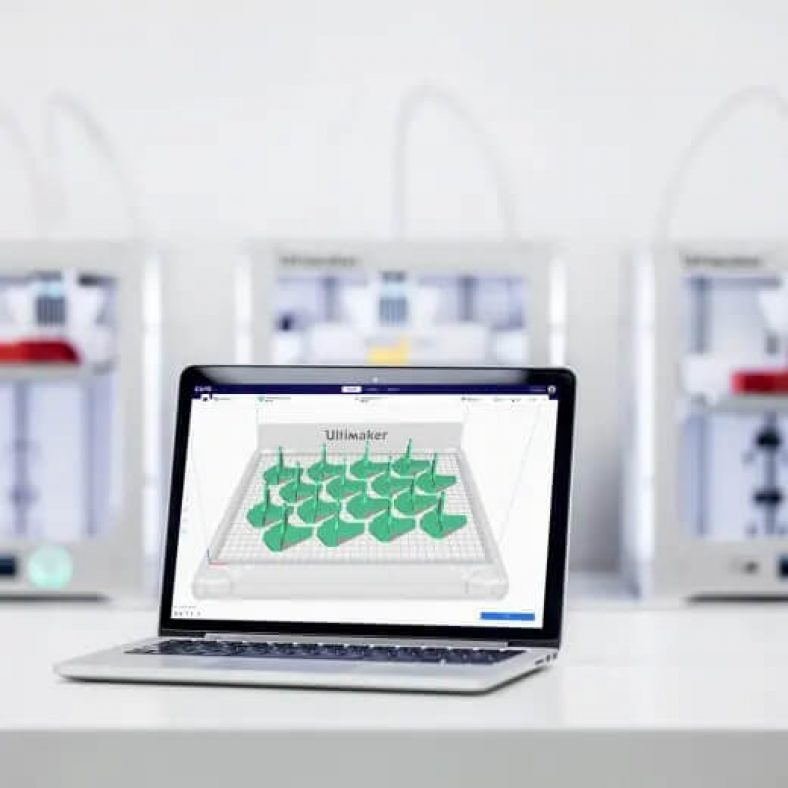 Anycubic recommends Cura for slicing files on the printer. It is a very user-friendly software that is not much technical at the same time highly functional for making various settings necessary for your print.
Customer Support
Anycubic offers world-class support with its technical team that can be reached out in various ways. Apart from that, there is also a separate tab on the printer manufacturer's website which you can go through to download information related to your printer and also watch videos.
Parameters Influencing Buying Decision
Having stated different aspects about the printer in an elaborative fashion, below mentioned are the key criteria on which you can judge whether or not to buy the printer in brief.
3D Printer Cost: Affordable even for beginners in the field of 3D printing.
3D Printer Quality: Although not as good as high-end FDM 3D printers or even low-end SLA 3D printers, it's manageable seeing the price at which the printer is available.
3D Print Speed: Speed is something where the printer steals the show. There'd hardly be 3D printers in the same price range offering print speed range as much as the printer does.
3D Printer Capability: Being a printer that costs under $200, Mega Zero 2 offers you 3D printing with almost all the popular 3D printing filaments.
3D Printer User Expectations: You can expect decent quality prints at a very affordable cost with amazing features such as a removable print bed, huge build volume, amazing print speed, and a lot with the machine.
The Verdict
Anycubic Mega Zero 2 has a simple design, is highly functional, available at a low cost, and yet has an amazing set of features. Agreed that the print quality is a little bit of a concern, but that's not the only thing that is to be looked upon as a 3D printer, yeah?