Wanhao GR1
The combination of prominent features makes Wanhao GR1 capable enough to print parts and functional prototypes in the field of dentistry, jewelry, designing, and specially prototyping.
PROS
Enlarged building chamber.
Available at an affordable price.
Printing accuracy is very high on the entire three axes.
Touch screen display for easy interaction.
Proprietary software.
New Unifortrix technology.
CONS
The printer requires manual calibration before you start printing over it which demands effort and time.
Product
Specification
Videos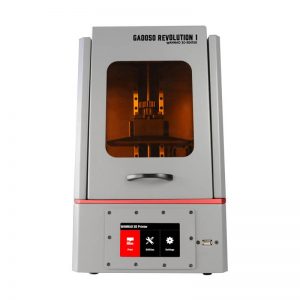 With a 23 percent increased build volume than its predecessor, Wanhao GR1 is able to 3D print parts of commendable sizes in the order of 140 mm * 78 ...
| | |
| --- | --- |
| Model | GR1 |
| Manufacturer | Wanhao |
| Price Range | $ 449 |
| Release date | 2019 |
| Country | China |
| Availability | Available |
| Classification | Desktop |
| Technology | Resin (SLA- DLP…) |
| Material | Liquid resin |
| OS compatibility | Linux, Mac OS, Microsoft Windows |
| Generic material | Yes |
| XY accuracy | 0.055 mm 0.002 in |
| Max. build size | 140 x 78 x 180 mm 5.51 x 3.07 x 7.09 in |
| Max. build volume | 1.97 L |
| Min. layer thickness | 0.035 |
| Weight | 12.5 kg 27.56 lb |
| Power input | 110-250V 50/60Hz |
| Heated print bed | No |
| Heated build chamber | No |
| Automatic calibration | No |
| Closed frame | Yes |
| Dual extruder | No |
| Independent Dual Extruder | No |
| Full color | No |
| LCD screen | Yes |
| Touchscreen | Yes |
| On-board camera | No |
| Mobile app | No |
| 3D scanners | No |
| CNC mill | No |
| Electronics 3D printing | No |
| Laser engraving | No |
| Conveyor belt | No |
| Air filter | No |
| Pellet extruder | No |
| USB | Yes |
| Wifi | Yes |
| Bluetooth | No |
| SD card | No |
| Ethernet | No |

Table of Contents
Wanhao Duplicator 3D printers are quite famous in the 3D printing maker community. The company is one of the most popular 3D printer brands among enthusiasts today especially because of offering cheap but well-functioning 3D printers.
It was, in the summer of 2019 when the China-based company announced a new line of 3D devices for professionals – dentists, jewelers, designers, and constructors, with GR1 being the first device in this series. Let's explore what makes it a 3D printer for more than one set of individuals.
Features
This 3D printer has a whole lot of varying features related to the design, functioning, and various steps of 3D printing. Let's start exploring all of them.
2K HD 6.3 inch LCD Resolution With Super Lighting Curing System
Wanhao GR1 lets you easily achieve a 90 percent higher contrast ratio than its competitors. The resolution offered by the printer along its XY axis is 53 micrometers whereas along the Z-axis is 10 micrometers.
The printer manufacturer has equipped their printer GR1 with 2K HD high-resolution customized LCD screen.
An ultra 150 watts light source and MM optical stop sensor that is three times sensitive than the normal mechanical switch make the printer pretty eccentric.
Because of all these parts, the printer can easily achieve 89% higher than normal LCD printers can.
Whether you were tooth printing, mechanical parts printing, jewelry printing, or anything else, you will be able to achieve incomparable 3D printing quality that will satisfy you like no other.
2K HD means achieving precision in the area range of 1440 pixels * 2560 pixels as opposed to the normal HD which allows you to achieve precision in the area range of 720 pixels * 1280 pixels!
23% Larger Printing Size
Compared to Wanhao D7, GR1 has a 23 percent larger 3D printing size. Meaning that you'd be able to print parts and functional prototypes of a much bigger build volume.
Also, unlike the traditional FDM 3D printers which have single extruders that keep on extruding continuously, or SLA 3D printers that have a single laser beam, GR1 is able to print a full layer in one go.
Simultaneously, the printer manufacturer customizes the array light to have 9 percent extra power than the normal resin 3D printer.
Having stated so, Wanhao continuously keeps on improving their software and mechanical system. At the time of writing this article, the company claims how GR1 can print at a print speed of 40 millimeters per hour.
So, for an object size of 1.3 in x 1.3  x 1.3 in, you can print 14 pieces in one hour. So, with extra printing size, it's also faster speed levels.
UV-LED Array Uniformtrix Technology
GR1 offers 89 percent optical conformity. Normal laser SLA or conventional DLP 3D printers with jerry-built projectors are known to have distortion rates, whereas Wanhao built on Uniformtrix technology has a printing tolerance lesser than 29 micrometers.
This normally means that GR1 can see penetrate and solidify objects in more detailing compared to other 3D printers.
Conventional light sources gathered at the center of the printer can cause the light to be uneven at different spots of LCD panels.
While this issue is completely resolved with Wanhao GR1 in which uniform light goes across the LCD panels without any distortion.
To assure the same, compared to other single-center UV lamps, Wanhao 24 lamps array Uniformtrix is known to provide three times more even UV lighting.
With the help of this, each light beam can penetrate straight through the LCD window thereby providing incomparable sharp light curing. It quickly replaces light board provided which is also the most effective way of reviving your 3D printer after UV light decay.
6.33 Inches 2K LCD Screen and V at The Check Window
Compared to a 5.5-inch LCD screen, the 6.33-inch-long LCD screen increases the printing size by 23 percent. And as mentioned above, it's 2K so it provides more precise printing details than normal HD screens.
To help you check whether the prints are sticking to the printing build plate or not, GR1 has made an arrangement of a window.
This small transparent window-like construction will not only enable resin level checking but also let you see whether the printed object is adhering well to the print bed or not.
In short, you will be able to get an idea of the complete quality of the object before it's completely printed.
Carbon Air Filter And Dual A-Axis Rails
Taking care of the operator of the printer and the environment in which the printer will be placed, the printer manufacturer has equipped the printer with a carbon air filter.
So, you'd stay away from all the harmful fumes generated by the printer during the complete 3D printing process on GR1. Amazing isn't it?
Stating about the accuracy that is offered in parts due to the arrangement of the printer, Wanhao GR1 consists of a double Z-axis linear rail that not only provides more stable Z-axis moving but also smoother print surfaces.
4 Points Bed Leveler
The printer comes equipped with a four points leveler that ensures you before 3D printing a part or functional prototype of whether you are good to go or not.
This is very important for achieving a level of accuracy while 3D printing the first layer of any part. So, half of the care for dimensional accuracy in objects that you are planning to create will be taken care of here only.
Specifications
The Wanhao GR1 is based on DLP i.e., Digital Light Processing 3D printing technology. In this method generally, a UV light source is used for curing or solidifying parts.
In GR1 a UV lamp of wavelength ranging anywhere in between 405 to 410 nanometers is used. The complete 3D printing process takes place inside a tilt hood with a transparent Cover UV safe.
With GR1, Wanhao offers you a maximum printing area of 140 mm * 78 mm * 200 mm that can be printed using a maximum printed speed of 30 millimeters per hour.
The material support can be given by a resin of wavelength ranging anywhere between 405 to 410 nanometers. GR1's case material is made up of steel material. The LCD screen that comes with the printer is 6.33 in long.
The printer's packing size is 34.5 cm * 37 cm * 52 cm. The accuracy level on the X, Y, and Z-axis of GR1 are 0.055 mm, 0.055 mm, and 0.1 mm respectively.
Each and every part that's manufactured on the Wanhao GR1 has a layer thickness ranging from 35 to 100 microns.
The platform holder of the machine is dependent on one bolt adjusting system. Typically, the printer is used for making prototyping, modeling, jewelry, dentistry, gaming, and art.
Price
While writing this article, Wanhao GR1 is priced at the company's store at $449.
First Impressions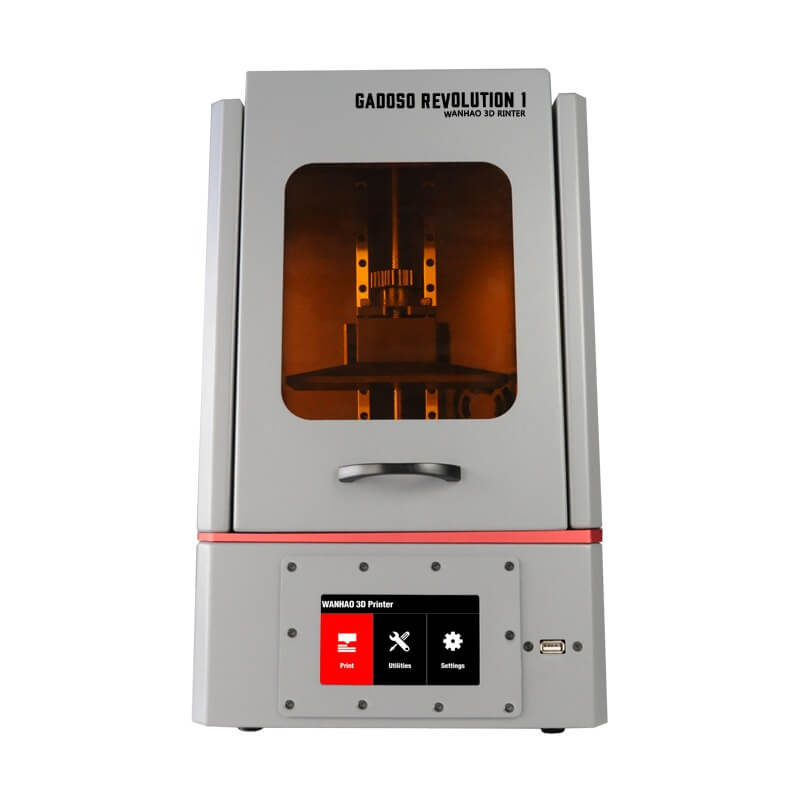 There are nine parts that can be completely visible while having the first glance over GR1. We'll start from the touch screen interface that's present on the bottom body of the printer.
Just beside the interface, you have a USB cord for connecting and transferring files with the printer. Above the base on which the print bed stands, there is a resin vat.
Attached to the base of the resin vat is a Z-axis rail connected to which is the building platform, above which the gantry cap exists.
This is the complete description of the main parts of the printer that are visible by seeing its front face.
The back of the printer contains only three important parts that are visible, they are:
Back Cover
Power Switch
Power Plug
Overall, the complete construction of Wanhao GR1 is simple yet appealing.
Setup
The printer comes fully assembled in a cardboard box. So, when it's received at your place, please check that the package and the back panel of the device have the same serial number.
Of course, you wouldn't only receive the printer itself, there'd be:
The printing platform and the resin vat
Spatula
Hex wrenches
Gloves
USB stick
Replacement resin vat film
250-gram sample of Wanhao resin.
Calibration of the device needs to carried out manually, with the vat removed. Wanhao engineers recommend you use a sheet of paper for a finer leveling.
After you are done with this procedure you are good to go with printing your first object on the printer.
Printing Type/Cost
DLP 3D printing technology is similar to SLA 3D printing technology. After FDM 3D printing technology, SLA is the most used in domestic 3D printers that cost cheaper than big giant industrial 3D printers.
The cost of 3D printing an object using this technology is more than FDM, lesser than other technologies such as SLS, Binder Jetting, and so on.
Although the cost depends on multiple factors, it's obvious to assume it'll be more than FDM 3D printers because of the quality of parts offered in turn.
Print Quality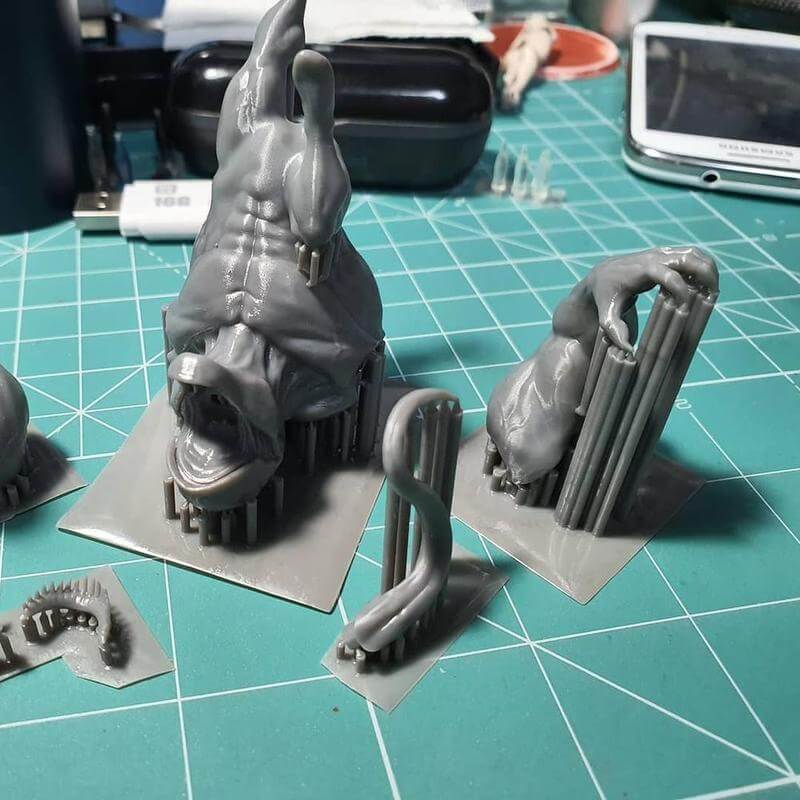 Credit: Instagram
Trustworthy websites report printing a jaw prototype, the head of a dragon, a videogame, and movie character figurines. All of them turn out to have superb quality prints.
They have very smooth finishes and complete detailing is visible without any defects.
Being a DLP 3D printer available at a lower cost, GR1 is able to offer you the part quality that is only available after spending thousands of dollars.
Of course, the print quality is higher than FDM 3D printers. But it's also higher than normal SLA 3D printers and DLP 3D printers in the same price range.
Software
It is important to note how the company has come with new software, specifically for this model. The new slicer is named Wanhao GR1 Workshop and it is quite easy to use.
The slicer allows you to a) download a 3D file (STL, OBJ), b) convert it to G-code, c) set the print speed and d) layer thickness either on your own, or using ready-made profiles.
This proprietary software also has extended functionality apart from the basic tools.
For example, it is able to convert models to hollow objects and permits manual placement of supports.
Transferring the finished g-code to the 3D printer's memory, you can use the prepackaged USB flash drive.
Customer Support
Wanhao store offers extensive technical support for each of the models manufactured by the company.
You can download the files that are available online for clearing your set of doubts. If that doesn't work out, you can also contact the printer manufacturer via call or email.
Parameters Influencing Buying Decision
All the important factors that you must look into in brief before thinking about whether to buy this printer or not are mentioned below!
3D Printer Cost: Buying an FDM 3D printer at such a price would be no news, but Wanhao GR1 is a DLP 3D printer that offers you higher quality parts and functional prototypes at the same price, which is news!
3D Printer Quality: DLP 3D printers are known to possess higher print quality even than SLA 3D printers. So, you'd have smoother finishes and dimensional accuracies in objects.
3D Print Speed: Of course, you will not get the speed of an FDM 3D printer or even normal SLA 3D printers. But then you need to sacrifice something for achieving such a unique quality part, yeah?
3D Printer Capability: The printer does not offer you more choices of materials like normal FDM or SLA ones.
3D Printer User Expectations: GR1 is a printer for all. It satisfies the expectations that a beginner has in terms of cost, an intermediate has in terms of learning exposure as well as an expert has in order to play and achieve the finest quality prints.
The Verdict
The combination of prominent features makes Wanhao GR1 capable enough to print parts and functional prototypes in the field of dentistry, jewelry, designing, and specially prototyping.
Credit:
Cover photo: https://twitter.com/The3DDuck/status/1206749774268907520