Original PRUSA SL1
Not only is Prusa SL1 a well-designed machine, but also it offers high-quality prints with very little effort. Its software is something that you always want to use, be it for this printer or some other.
PROS
Prusa SL1 is not only a printer but a complete ecosystem.
The assembled printer requires minimal setup.
Prusa SL1 comes with a comprehensive build guide.
The printer is compatible with third-party resin as well.
CONS
Prusa SL1 has a relatively small print bed, for this price.
The slicer's estimated time for the print process is inaccurate.
The supports of the printer sometimes lose adhesion.
The bed raising of the printer is not possible at the mid-print.
Product
Specification
Videos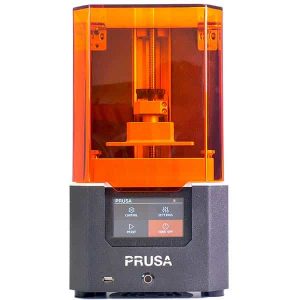 Accuracy in every 3D part or functional prototypes that are manufactured from the printer is core. For achieving accuracy, you have other factors to ...
| | |
| --- | --- |
| Model | Original Prusa SL1 |
| Manufacturer | Prusa Research |
| Price Range | $ 1699 |
| Release date | 2018 |
| Country | Czech Republic |
| Availability | Available |
| Classification | Desktop |
| Technology | Resin (SLA- DLP…) |
| Material | Liquid resin |
| OS compatibility | Linux, Mac OS, Microsoft Windows |
| Generic material | Yes |
| XY accuracy | 0.047 mm0.002 in |
| Max. build size | 120 × 68 × 150 mm4.72 × 2.68 × 5.91 in |
| Max. build volume | 1.22 L |
| Min. layer thickness | 0.01 mm0 in |
| Dimensions | 400 × 237 × 225 mm15.75 × 9.33 × 8.86 in |
| Heated print bed | No |
| Heated build chamber | No |
| Automatic calibration | Yes |
| Closed frame | Yes |
| Dual extruder | No |
| Independent Dual Extruder | No |
| Full color | No |
| LCD screen | No |
| Touchscreen | Yes |
| On-board camera | No |
| Mobile app | No |
| 3D scanners | No |
| CNC mill | No |
| Electronics 3D printing | No |
| Laser engraving | No |
| Conveyor belt | No |
| Air filter | No |
| Pellet extruder | No |
| USB | Yes |
| Wifi | Yes |
| Bluetooth | No |
| SD card | No |
| Ethernet | No |

Table of Contents
If you are looking for a printer that can offer you the quality of prints close to injection molding technology, your search ends here.
Prusa SL1 based on MSLA technology, not only has the magnetic appeal to attract your eyes but also the skillset to ensure that once you use this printer, you feel something or other missing in any and every other printer.
The fact that this printer doesn't compromise on its quality even while taking the same amount of time to print as other printers does, makes it stand apart in a similar price range.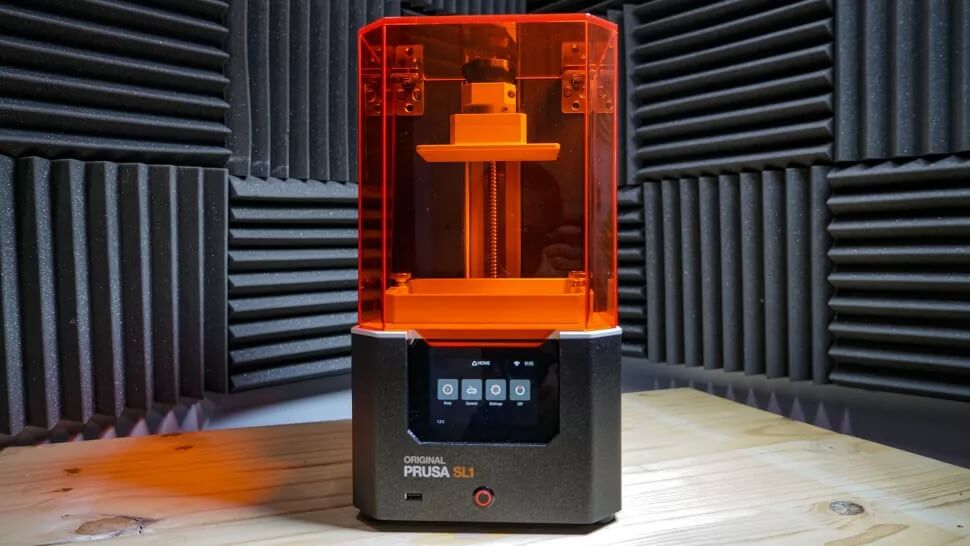 Prusa SL1 has been able to capture a huge amount of market share in a very less amount of time because of its amazing features, excellent technical specifications, and extraordinary print quality.
Features
Although arguably, Prusa SL1 has many more features than the list mentioned below. But, the ones that are hard to find in the similar priced SLA printers are mentioned in the list. Here you go.
Based On MSLA, Not On SLA
MSLA stands for Masked Stereolithography. The other term that you might confuse yourself with, if you are new to 3D printing is Stereolithography. So, get to know the difference correctly.
Generally, SLA printers use UV light to cure/solidify the photosensitive liquid resins. But in the SL1, the solidification or so-called "curing" is done via its built-in high-resolution LCD screen.
This LCD screen acts as a mask, hence it has got this name masked stereolithography. This Ultra-violet LED panel shines UV light through the mask into the resin tank's transparent bottom to be precise.
It is after this step that the single layer is solidified, which then adheres to the printing platform. After one layer is cured, the printing platform moves by a small increment upwards, creating space for another layer to be cured.
Removable Resin Tank
Like a typical LCD resin printer, the SL1 features a removable resin tank. This tank uses a transparent FEP film at its bottom. What is unique with this feature of SL1 though, is how a motor gently tilts the vat after each layer is cured.
This thereby separates the print gently from the FEP film. Unlike other printers in which the print is vertically lifted and the tension remains unreduced significantly. The tank is tilted and the resin is continuously allowed to be stirred. This improves the surface finish and overall quality of the print.
Specifications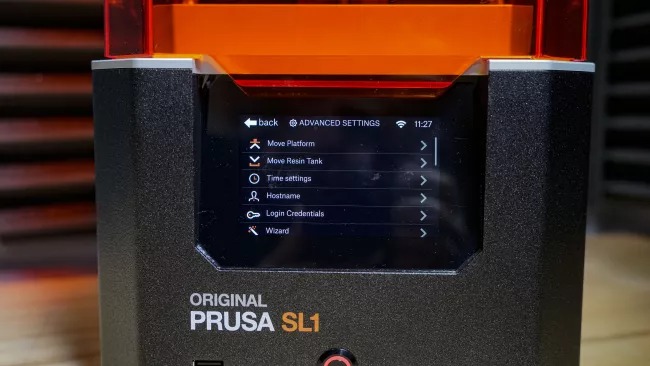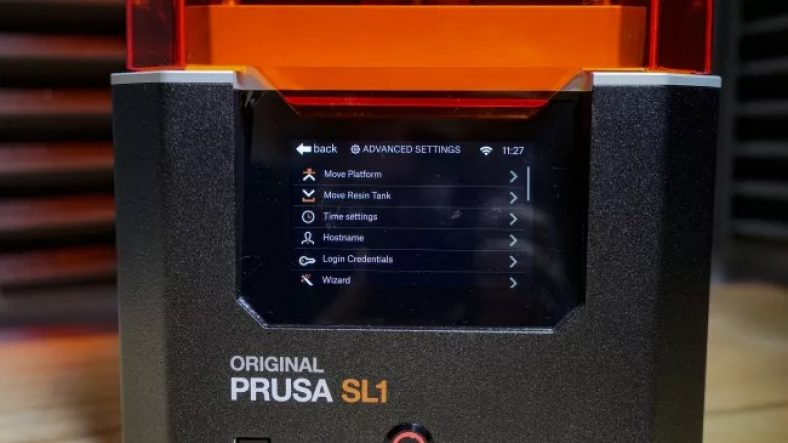 Credit: futurecdn.net
Prusa SL1 works using the Masked Stereolithography technique for 3D printing of parts and functional prototypes. The printer carries an LCD and UV LED panel. The supported resins by these printers are UV sensitive liquids having a wavelength of 405 nanometers.
Prusa SL1 supports third-party resins. The 3D printer's dimensions are 400 mm * 237 mm * 225 mm. And the dimension of the print area of Prusa SL1 is 120 mm * 68 mm * 150 mm. The LCD is 5.5 inches long. Prusa SL1 delivers layer resolution in the range of 0.025 to 0.1 mm.
Users can connect to this printer via USB cable, Wi-fi, LAN, and touchscreen LCD interface. The printer is claimed by its manufacturer to print one layer in six seconds i.e. independent of the layer size.
Price
$1399 is the price of Prusa SL1's kit, whereas you get the assembled Prusa SL1 for $1699 as per the company's website.
First Impression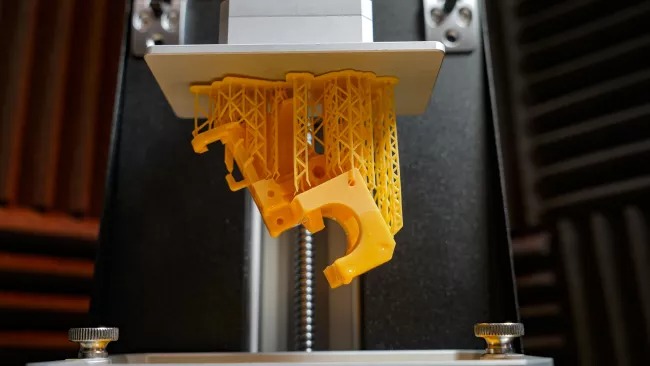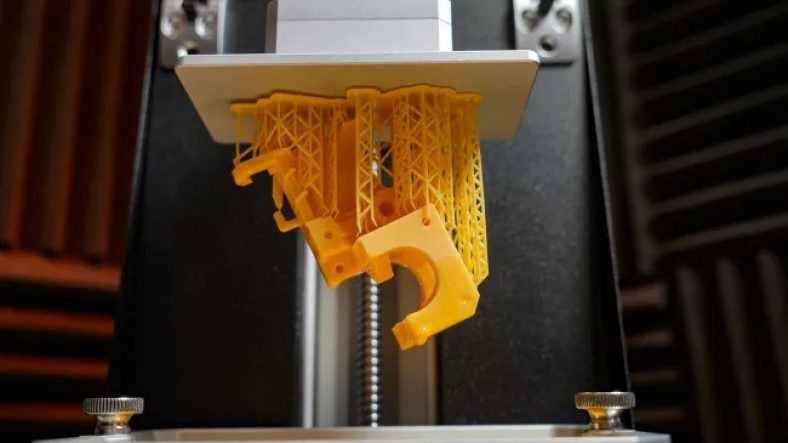 Credit: futurecdn.net
Being black and orange, Prusa SL1 has got what it takes to catch one's eye at the very first sight. Not only you want to look at it if it's present on the table with 10 other boxes, but also you want to go in search of something like this.
Prusa SL1 has a large transparent orange door that flips open as if revealing the build plate and resin tank. On the base of the printer is the large LCD touch screen (probably the largest one in this price range.) The fact that it is large let's navigate through it very quickly.
Every part of SL1, be it the UV protective door, or the lead screw, the solid metal tank, or the build plate, has something or the other to attract you. Which makes you easily land upon the decision that the manufacturer must be given extra credits for making this eye-catchy 3D printer.
The printer is not that big it can be categorized into the list of compact desktop printers, it has a good weight to itself.
The user's ease has been primarily considered by the manufacturer. You can see this is in the door's opening, the easily removable build plate, and the solid tank which makes itself last longer compared to the perishable film bases.
One can go on writing about how impressive is Prusa SL1's first impression, but then we have other sections to write about as well. So, let's move on.
Setup
20 to 30 minutes is the amount of time range that you need to have for setting up the simple and straightforward Prusa SL1. As written in the price section, the printer has two prices when you go to see on the manufacturer's website.
One price is the price of the printer that's assembled and the other is for its kit. Now you know the printer comes unassembled also if you like it to. The time mentioned above is the time needed to set up the assembled version of Prusa SL1.
In case you are going to buy the kit. You are going to take at least 10 hours. Which includes turning screws, plugging wires, and hooking up circuit boards.
But you would have to give all credits to the customer service team of Prusa. Although this printer features highly complex electronics, they are there to make it explain completely, even to a novice.
Once the machine is assembled, you would plugin and try to get the first print, and when you try to do that, you are followed with a setup wizard on the LCD that is especially for the pre-flight check and calibration.
This guides you through the setup wizard Prusa which is a crucial step for calibrating the printer's print bed.
Overall, it is an easy setup because of the instructions that are presented by the company in the manual as well as on the printer's LCD screen with photographs and illustrations.
Printing Type/Cost
Prusa SL1 is compatible with third-party resins. The infill percentage provided by the printer in its parts and functional prototypes is industry standard. The print head of Prusa is big considering the price at which it's offered.
Due to the LCD unit which is more in the printer than in other SLA printers, it will consume more electricity than others and hence would have a little more printing cost than others. But, the quality compensates for this cost.
Print Quality
Credit: shapetool3d.in
Test prints are provided by Prusa. As soon as you start to print those test prints you realize how the printer can print with the finest detail. Websites reports of having printed Perrin Tower, honeycomb, etc.
All of that is printed with extremely fine details. Be it with the resin that Prusa SL1 comes with or the third party resins that the printer claims to be compatible with, it prints with a considerable amount of satisfaction.
As is the case with every bottom-up SLA printers, so is with Prusa SL1 i.e. you'd have to wait to see the print for the time that is required to clear the edge of the resin vat by the print plate so that you can see whether your printing was a success or a failure.
This isn't a downside though, but it's typical. Prusa SL1 doesn't let you pause in between the prints and have a look. Once the print is started, there is no ways of tweaking and checking whether everything is going right or wrong.
Software
If you have used Prusa Slicer 1.0, you'd notice the change in the user interface that Prusa 2.0 has. The limitations and complaints of the Prusa Slicer 1.0 user interface not being accessible and user-friendly are very well taken care of by the manufacturer.
In Prusa Slicer 1.0, the manufacturers had already made ways to accommodate SLA techniques, so with Prusa 2.0, it was the challenge to manage the masked SLA technique's tool in the software.
There is this model context menu that lets you generate support blockers and enforcers. You will use the Support blockers when you're overall fine with the automatic supports. Moreover, you are looking to exclude some areas that don't need supports.
The new PrusaSlicer supports material and printer settings for various resins as this printer allows the option to print with third-party filaments.
Although, PrusaSlicer does not feature 3D model hollowing. So, you'd have to fall back on programs such as MeshMixer or Windows 3DBuilder. But the company has announced how it is looking to implement this feature soon.
Another thing that can be said as an inaccuracy by Prusa is the print time estimation for the SL1 printer. The average time calculation is always more than the actual print time by half an hour at least.
Overall, PrusaSlicer is a great tool that fulfills almost all the requirements that are needed for SLA printing.
Customer Service
As mentioned in the setup section, the assembling of the electronics of this 3D printer can take up to 10 hours. Imagine the audacity that the company must possess to have such complicated electronics in their printer and then explain it to everyone who buys it. Be it a novice, an intermediate, or an expert. You have to credit the customer service team of Prusa for being patient, to the point and extraordinarily explanatory.
Parameters Influencing Buying Decision
Let's look at the cost, quality, speed, capability, and practicality, and user expectation of this printer in a brief to let you judge the printer very shortly.
3D Printer Cost: Small businesses have complained about the printer's cost is higher than what they can afford. But, professionals are very satisfied with the quality of print that Prusa SL1 provides.
3D Printer Quality: Quality of the parts and functional prototypes produced by this printer is far more superior to the printer's falling the same price range.
3D Print Speed: Industry Standard.
3D Printer Capability: Prusa SL1 can print with third party filament, also the printer is open-sourced.
3D Printer Practicality: The amazing features that this printer has, its ability to print more accurately than even SLA printers, makes SL1 as one of the most practical printers for applications that demand more accuracy.
3D User Expectations: Prusa SL1 can be used to make parts and functional prototypes in industries like aerospace, jewelry, medical, etc.
The Verdict
Josef Prusa and his team have a target of perfection in front of them, in pursuit of which they are developing such printer as Prusa SL1. Resin printers are the printers with which you have to compare Prusa when it's based on a little advanced technology than SLA.
SL1 offers features like no other 3D printers and hence the claim by Mr. Prusa that he is not in competition with anyone who comes out to be true.
Not only is Prusa SL1 a well-designed machine, but also it offers high-quality prints with very little effort. Its software is something that you always want to use, be it for this printer or some other.
Some people complain about the price tag being more than what it should deserve. However, this observation can be said completely based on the build volume that the printer offers. If considered the print quality, this observation seems to be wrongly put.