Nothing comes close to the satisfaction of watching the creativity taking shape in reality. Therefore, customized products are gaining huge popularity among individuals. And, what else could offer endless possibilities for creating beautiful designs, if not 3D printing.
Well, the "3D printing service near me" search could lead you nowhere if you aren't sure which one to pick. With so many choices out there, it may seem confusing.
Finding the best suitable service offering accurate and affordable 3D objects is not a piece of cake. Therefore, we have curated a list of some of the most reliable and popular 3D Printing services that could help deliver your designs in your footstep.
Just look through the suggested alternatives and choose the one that suits your requirements.
Some may take a few weeks and others could deliver the designs in a few days. A lot will also depend on your current location.
However, patience always pays back. So, without beating around the bush, let's jump to the list already.
3D Printing Service Near Me – Let's Begin the Search
We have included some of the best picks within the 3D printing industry, working on different 3D printing technologies to serve a wide array of clients and customers.
And, needless to state, these names are some of the most reliable ones in the complete 3D printing industry. You can expect these companies to offer high layer resolution and precise printing.
Excited enough! So, let's dive in.
3D Experience Marketplace Make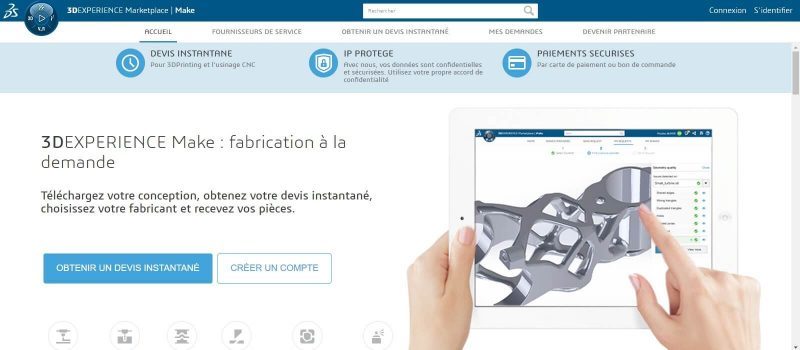 Operated by the French software providing company Dassault Systems, 3D Experience Marketplace Make offers on-demand manufacturing.
For getting a 3D printed product shipped at your place, you need to upload your sliced files and choose from a wide variety of industrial-grade 3D printing materials that they have a provision for.
After you are done choosing the material, you have to choose from the list of global networks of a manufacturer that have and that's it!
You would receive instant quotes based on your location. 3D Experience Marketplace Make has more than two hundred service providers and more than 13,000 manufacturing machines to satisfy worldwide demands of 3D printing services.
Apart from 3D printing, the company also offers services such as CNC machining, injection molding, laser cutting, and a lot more.
Materials offered: PLA, ABS, PC ABS, ASA, PEI, PET, TPC, HIPS, TPU (FDM/MJ/SLS), TPE (FDM/SLS), PETG, Woodlike PLA, PEEK, Nylon (FDM/SLS), PA 12-GF (SLS), Resin, Tough Resin, Polypropylene PP, ULTEM, Steel, Aluminum, Stainless Steel, Nickel, Cobalt, Titanium, Zinc, Copper, Silver, Gold, Platinum, Castable Wax, Synthetic Sand.
File Formats: STL, OBJ, WRL, WRL, SKP, DAE, 3DS, IGS, FBX, PLY, X3D, STP, and PRT.
i.Materialise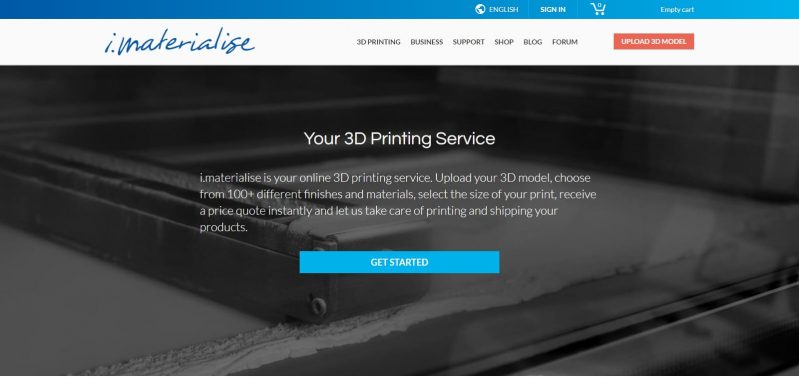 Part of the Materialise, MTLS group, i.Materialise has been a preferred partner of many companies globally for a range of software solutions, engineering, and 3D printing services.
It has an open and flexible platform that enables players in various industries such as healthcare, automobile, aerospace, art and design, and consumer goods.
i.Materialise is an online 3D printing platform that offers different makers, designers, consumers, and entrepreneurs access to professional services and 3D printed parts and functional prototypes.
Large-scale 3D printing and world-class 3D printing software tools are two aspects that this company is generally looked upon for. The company is also into constant research for 3D printing materials.
Working mostly with industrial clients, i.Materialise produces prototypes and 3D printing products that find their application in many types of industries.
Like 3D Experience Marketplace Make, they too will provide you instant quotes after you upload your files on their website.
The company also lets you hire a 3D designer who will help you in creating the 3D design file for you from scratch.
Materials offered: ABS, Alumide, Gray Resin, High-detail resin, Mammoth resin, Polyamide (SLS), Polypropylene (MJF), Polypropylene, Rubber-like (MJF), Standard resin, Transparent resin, Aluminum, High-detail stainless steel, Steel, Titanium, Brass, Bronze, Copper, Gold, and Silver.
File Formats: STL, OBJ, WRL, SKP, Collada (DAE), 3MF, 3DS, IGS, MODEL, 3DM, FBX, PLY, Magics, MGX, X3D, STP, STEP, PRT, MATPART, matAMX, AMF, NDO, ASC, CLI, SLC, MTT, MDCK, CLS, F&S, SSL, SLI, PRJ, SAT, CATproduct, DXF, ZCP, PRT, and ASM.
Shapeways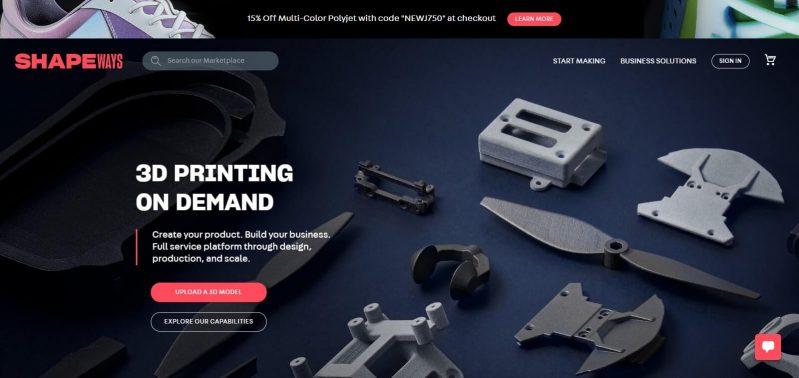 As a consumer, at Shapeways:
You can get instant printability checks on all of the materials they offer.
Opt for professional model creation to optimization.
View tutorials to start your 3D printing adventure.
For getting access to any of these you have to either create a free account, start designing or see tutorials on the website.
Unlike i.Materialse that offers 3D printing services only for industrial clients, Shapeways is into offering scaled manufacturing for large as well as small businesses, prototyping, and product development.
As a customer of Shapeways, you can benefit from its rapid prototyping services from industrial-grade 3D printers such as the ones manufactured from EOS and 3D Systems.
Similarly. The company also hosts storefronts for designers for selling models and printing the sales for them. You can register yourself as a designer with Shapeways and get good sales for the models you design, by selling them online.
Like 3D Experience Marketplace Make, and i.Materialise, Shapeways too offers instant quotes to you anywhere in the world.
Materials offered: Nylon (SLS/MJF), PA 11, PA 12-GB (SLS/MJF), Resin, TPU (SLS), Aluminum, Steel, Plated Metal, Brass, Silver, Gold, Bronze, and Sandstone.
File Formats: STL, Collada, OBJ, X3D(B), and VRML2.
Protolabs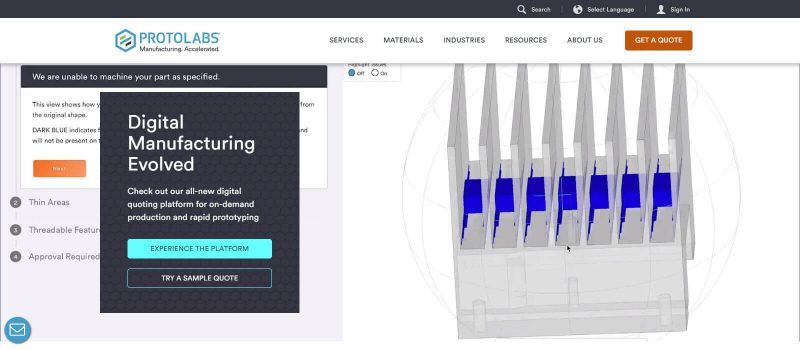 Industrial-grade 3D printing services were launched by Protolabs in the year 2014 for permitting product developers, designers, and engineers an easy path to move from early prototyping to low-volume production.
And seven years after the start, the company claims to be the world's fastest manufacturer of custom prototypes and on-demand production. Its manufacturing facilities are scattered over eight different countries in the world.
Apart from 3D printing, Protolabs is also into Injection Molding and CNC Milling.
As far as 3D printing is concerned the company makes parts and functional prototypes using Stereolithography, Selective Laser Sintering, Direct Metal Laser Sintering, Multi Jet Fusion, and Polyjet and 3D printed Silicone.
You can get instant quotes after uploading your requirement to the company's website. Protolabs' manufacturing facilities home more than 120 3D printing machines that are capable of 3D printing metal and plastic parts.
Materials Offered: ABS, Nylon (SLS/MJF), Polycarbonate PC (SLA), Polypropylene PP (SLA), Digital Photopolymer, Aluminum, Copper, Stainless Steel, Titanium, and Inconel.
File Formats: IGS, STEP, ACIS, X_T, X_B, and STL.
3D Systems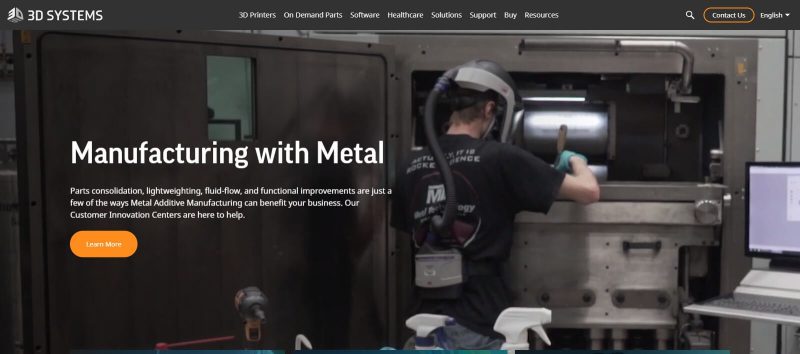 The company's founder invented the revolutionary Stereolithography 3D printing technology in the 1980s.
After which many 3D printing processes came into existence. However, this still remains one of the most renowned ones.
The company has manufactured 3D printers that are able to print with various types of 3D printing materials such as Metal, Plastic, Metal Casting, Dental, and Jewelry.
For on-demand manufacturing, you need to follow a simple process of uploading your model on the company's website, choose from the list of materials, the processes, and the finishes offered by 3D Systems.
The company claims that you will receive your prototype in as little as 24 hours. After completing the formalities, you will receive an instant quote. 3D Systems ships to all the locations in the world.
Materials Offered: ABS, Nylon, PA 11 (SLS/MJP), Polypropylene PP (SLA/MJF/SLS), Resin, Titanium, Stainless Steel, Maraging Steel, Cobalt-Chrome, Aluminum, Nickel, and castable Wax.
File Formats: STL, SLDPRT, PRT, IPT, IGS, STP, STEP, DOC, XLS, PDF, DWG, TXT, IGES, DXF, JPG, X_T, X_B, SAT, EPRT, TIF, WRL, CATPART, and ZIP.
Sculpteo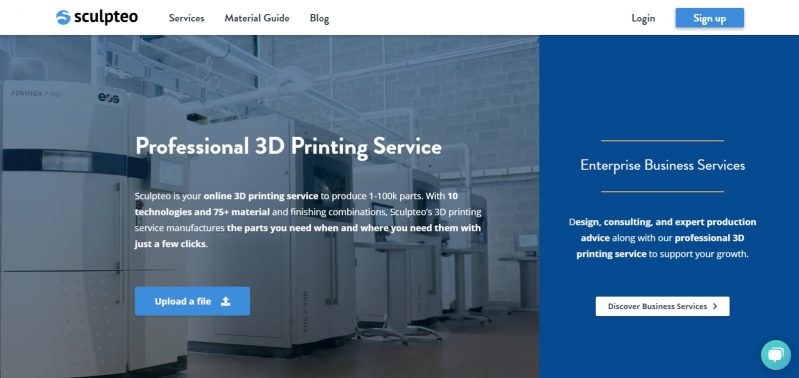 The company has its factories in Paris, Europe, and San Francisco, United States. Sculpteo claims to have a fast turnaround and worldwide delivery of 3D printed parts and functional prototypes.
Apart from 3D printing, the company also offers services of laser cutting, individual products as well as short-run manufacturing.
Sculpteo has been working in the field of on-demand manufacturing since 2011. It offers to design, consulting as well as produce 3D printing services for all its clients.
Sculpteo's Studio is a host to industrial designers and engineers that can create innovative, optimized designs without any constraints of traditional manufacturing.
For material selection, post-processing, Sculpteo offers expert advice from 3D printing specialists.
There are numerous online tools like analysis and repair, including optimization that helps to get the most out of your print.
Once you upload our model, select the material, you will be offered instant quotes to select from, for your 3D printing project.
Materials offered: Nylon (SLS/MJF), PA12-GB, PA12 Carbon, PEBA, TPU, Alumide, Resin, Stainless Steel, Aluminum, Titanium, Brass, Bronze, Silver, and Plated Metal.
File Formats: STL, OBJ, 3DM, 3DS, 3MF, AC3D, ASE, CATPART, CATPRODUCT, CGT, COB, DAE, DXF4, IAM, IPT, IGES, IGS, KMZ, LWO, MD2, MD3, OFF, PLY, PRC, Q3O, RAR, Q3O, RAR, SAT, SCAD, SKP, SLDPRT, SLDASM, STEP, TGZ, U3D, VRML, X_T, and ZIP.
Xometry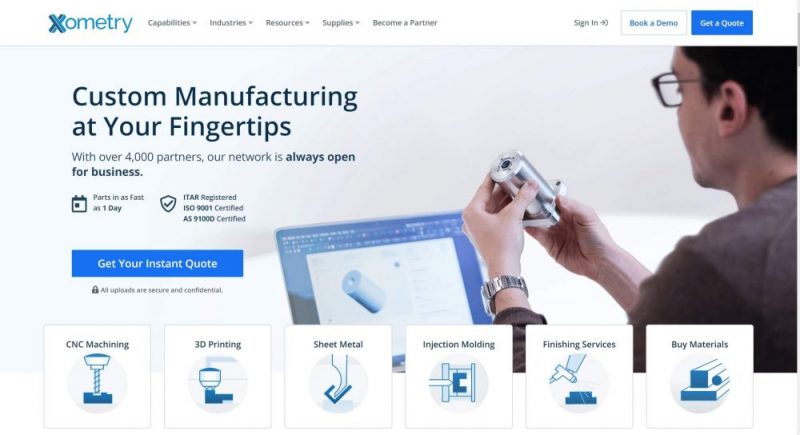 Unlike other 3D printing companies that we have listed on our list, Xometry is specifically into on-demand 3D printing manufacturing service providing.
Its network contains more than 5000 suppliers for the capacity that you need for prototyping and production.
Xometry offers solutions for various industries, starting from Aerospace and Defense, Automotive, Consumer Products, Education, Electronics and Semiconductors, Energy, Hardware Startups, Industrial, Medical and Dental, Robotics, Supply Chain, and Purchasing.
Apart from 3D printing, the company also provides services of CNC, Sheet Metal, Injection Molding, Urethane Casting, Finishing Services, Rapid Prototyping, and High-Volume Production.
In 3D printing, Xometry offers Binder Jetting, Carbon DLS, Direct Metal Laser Sintering, Fused Deposition Modeling, HP Multi Jet Fusion, Polyjet, Selective Laser Sintering, and Stereolithography. You can even book a demo on this website.
Materials Offered: ABS, Nylon (SLS/MJF), PA 12-GF (SLS/MJF), Resin, Polycarbonate PC, Ultem, Stainless Steel, and Aluminum.
File Formats: STL, STEP, STP, SLDPRT, X_T, X_B, IPT, 3DXML, CATPART, PRT, and SAT.
Craftcloud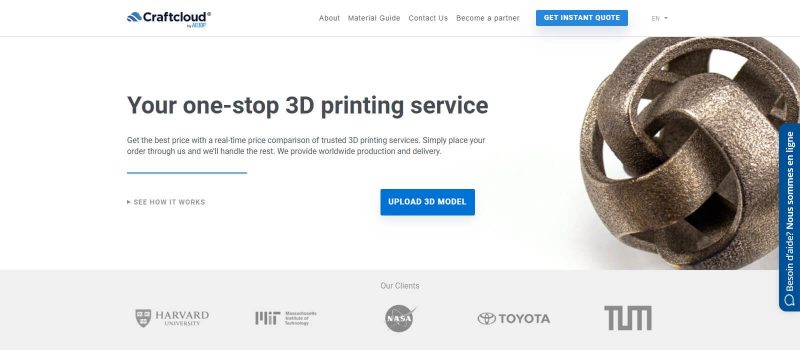 This one's a unique 3D printing service marketplace created by All3DP. It is a one-stop solution where you can place 3D printing orders.
The eccentricity of Craftcloud is, it offers a one-to-one comparison of prices from various manufacturers for your 3D printing model.
It generates instant quotes from companies such as Shapeways, i.Materialise, Sculpteo, Jawstech, Treatstock, Facfox, and a lot more.
You can select from various 3D printing materials, technologies, prices, and shipping options.
They have worldwide production facilities, international delivery options, and end-to-end customer service so that you have to choose no other option after choosing them.
Apart from being an on-demand manufacturing service provider, Cloudcraft is also renowned for hosting a 3D printing online repository that lets you download 3D design files of various types of products for free and by paying a cost.
Materials Offered: PLA, ABS, Nylon (FDM/SLS), PA 12-GF (SLS), Resin, Carbon™ Resin, Tough Resin, PETG (FDM/SLS), TPU (SLS), Polypropylene PP, Woodlike PLA, ULTEM, Steel, Aluminum, Alumide, Brass, Plated Metal, Copper, Silver, Gold, Titanium, Platinum, and Wax.
File Formats: STL, OBJ, STP, 3DXML. CATPART, SLDPRT. IGS, IGES, DXF, and DWG.
The Conclusion
Our list contains the eight best 3D printing services near you. If you have a 3D printing part or functional prototype that you wish to 3D print, there are some factors that you should keep in mind before selecting which one to go with.
You can start by sorting out 3D printing services by choosing from the list of material choices that they offer. And this would depend on the application that you need the final part or functional prototype for.
Then comes the scalability or batch production volume. Say you need one thousand pieces of the part or functional prototype by the end of the week but the question is, "can the 3D printing service near me offer me the volume I need in that time?"
After these two are matched, the final and the most important criteria are Cost. If all these three are fulfilled, you can easily choose that 3D printing service provider compared to other ones. Hope this information helps you find the right 3D printing service for your needs.