PVA is one of the most popular-by-name, but lesser-explored 3D printer filaments. Like every other filament, PVA has its own distinct characteristics that separate it from the rest.
A PVA filament is known to quickly dissolve in water. And in FDM 3D printing the rarest complex geometries cannot be printed with water-soluble supports. So, whenever you'd want to print an object which has a complicated geometry, PVA's utilization would be a must.
PVA is an abbreviation for Polyvinyl Alcohol. Chemically, it is a synthetic polymer that is made by polymerizing vinyl acetate and hydrolyzing the product.
Although not as much as it is used for making support structures, PVA can be utilized independently to make parts and functional prototypes as well. Also, the material is completely sustainable. It is non-toxic in nature and biodegradable thereby not harming the environment at all.
PVA filaments are hygroscopic in nature, therefore they absorb moisture from the air easily. So, you need to take care while storing the filament. If you do not store it in an air-tight container, the filament will start absorbing air and will end up forming bubbles on the final 3D printed part, thereby leading to a part failure.
Because of relatively less knowledge about PVA filament, it is hard to decide which brand is better than the other. And so, often users end up buying a brand that's not reliable.
The other times it's also their fault because they just buy it without reading its specifications: what extruder/print bed temperature range it needs for 3D printing.
To ensure none of that happens, we have come up with some of the best brands that are currently manufacturing reliable PVA filaments in the market. So, let's go through them one after the other.
Top 7 PVA filaments
An ideal PVA filament can only be chosen once the 3D printed part for which it is going to be utilized, is fixed. By reading the characteristics of below mentioned seven PVA filament brands, you can easily match them up with your 3D printer and application to know which one suits you the best. So without wasting any more time, let's get started.
Fused Materials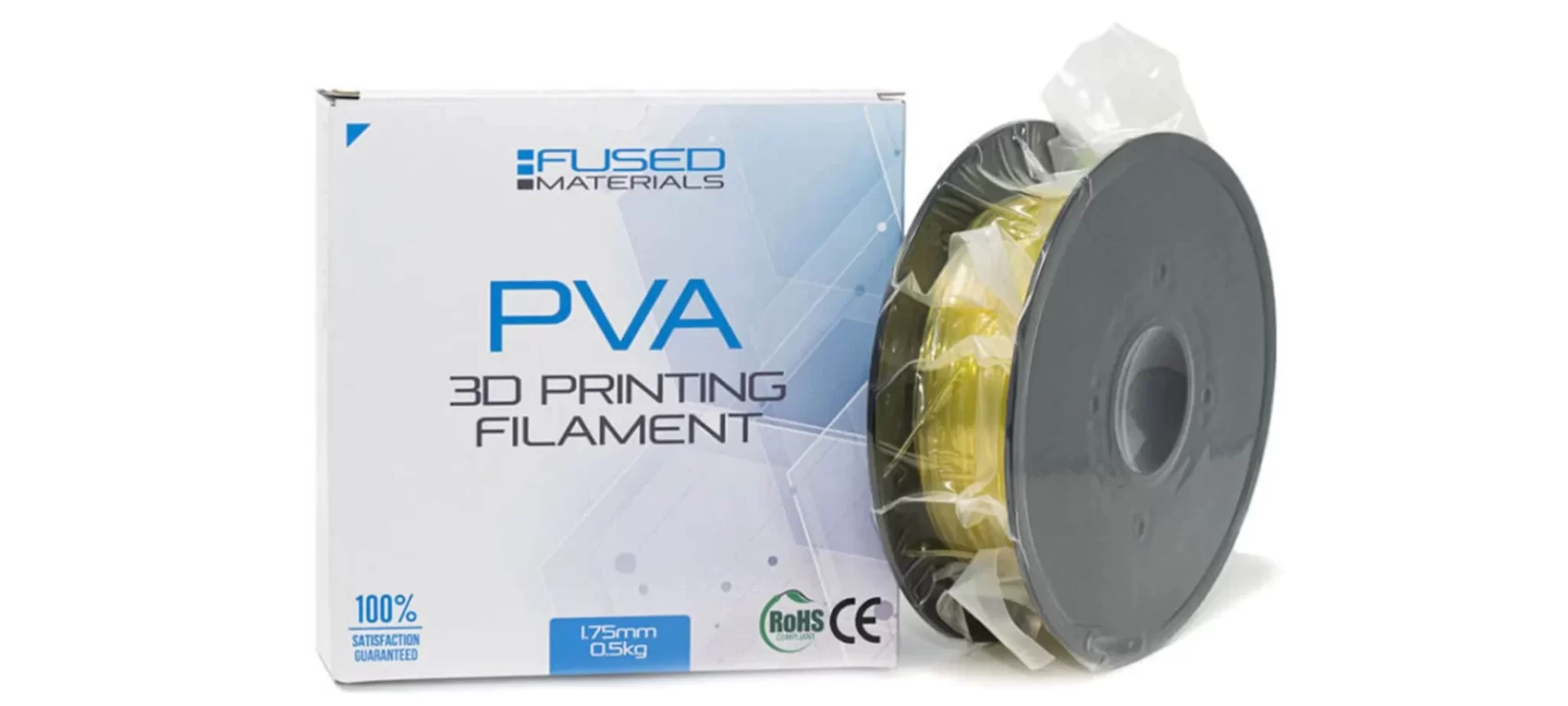 Like most other PVA filament makers, Fused Materials too manufactures a water-soluble filament that's to be used with dual extruder 3D printers in the form of a support material while printing with PLA. The company's PVA is completely biodegradable and comes with a set of instructions on the side of the box that's delivered to you.
Also, it provides extremely useful packaging which is very important with PVA because it reacts very soon with water and dissolves after getting wet quickly. So, the high-quality packaging by Fused Materials lessens the likelihood of PVA filament's contact with humidity which would reduce its effectiveness.
Features:
Fused Material's PVA filament weighs around 1.4 pounds in weight.
It is water-soluble.
The filament provides you a 0.3 mm dimensional accuracy in parts and functional prototypes manufactured using it.
Can be printed at relatively low temperatures.
Compatible working with dual extruder options.
Available in standard 1.75 mm diameter and 0.5 kilograms weight.
Print Settings:
The extruder temperature needed for printing with Fused Material's PVA ranges between 190 to 200 degrees Celsius.
A recommended print base while printing with this PVA brand is either MDF or PVA.
Using rafts with the filament is optional and not compulsory.
Gizmo Dorks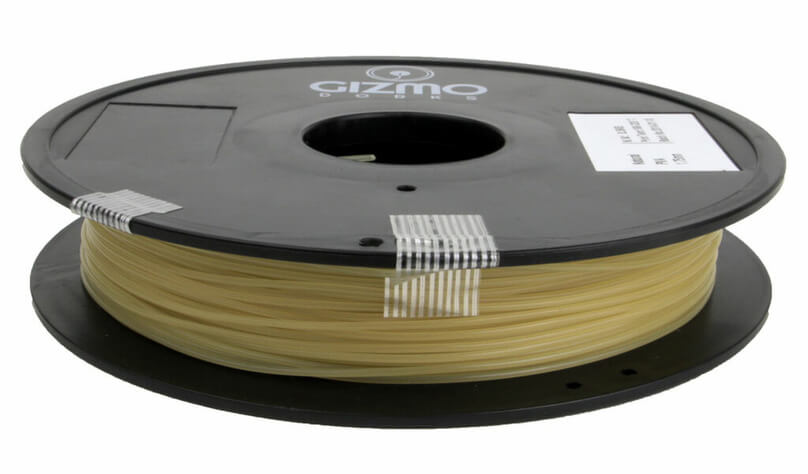 The filament manufacturer's PVA filament has all it takes to become a support filament material, thanks to its dissolvable properties. Generally, Gizmo Dorks' PVA works fine with PLA, it adheres well. It entirely dissolves in water as an ideal support filament. It provides excellent results when stored in optimal conditions that have no scope of absorbing moisture.
Therefore, a lot of care needs to be taken to ensure the filament does not interact with the moisture. Air-tight containers would be needed for letting the filament in a dry state. Also, Gizmo Dorks' PVA can be used with dual extruder FDM 3D printers.
Features:
It dissolves in water completely as well as quickly.
Is available in 2.85 mm external diameter.
Useable with dual extruders for creating support structures that can be utilized for making complex geometries.
It weighs 1.8 pounds.
Comes in white color.
Available in 1.75 as well as 3 mm diameter.
Possesses a diameter of around 0.5 mm and a roundness of around 0.7 mm.
The filament is available in 0.5-kilogram weight.
Print Settings:
Gizmo Dorks' PVA filament can easily print between temperatures ranging from 160 to 190 degrees Celsius.
PolyMaker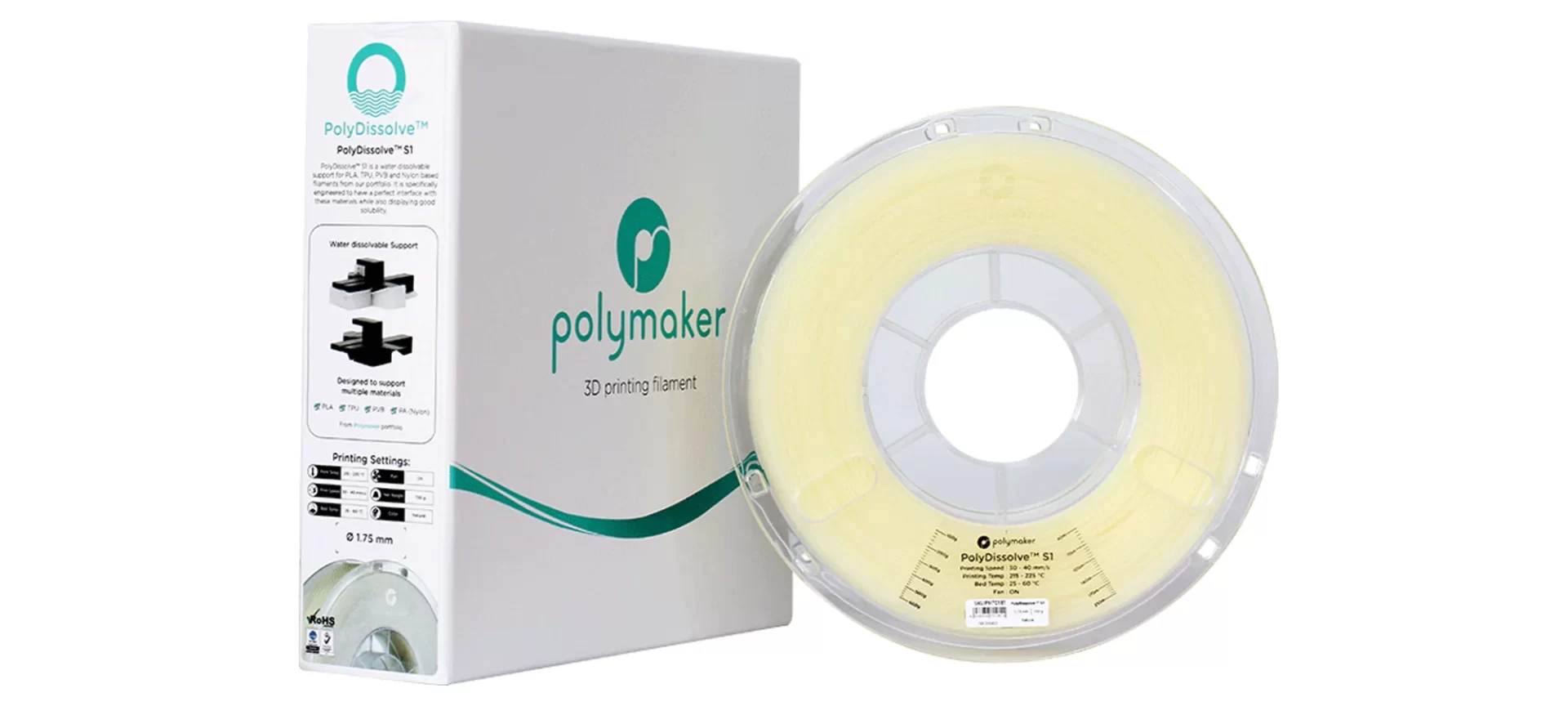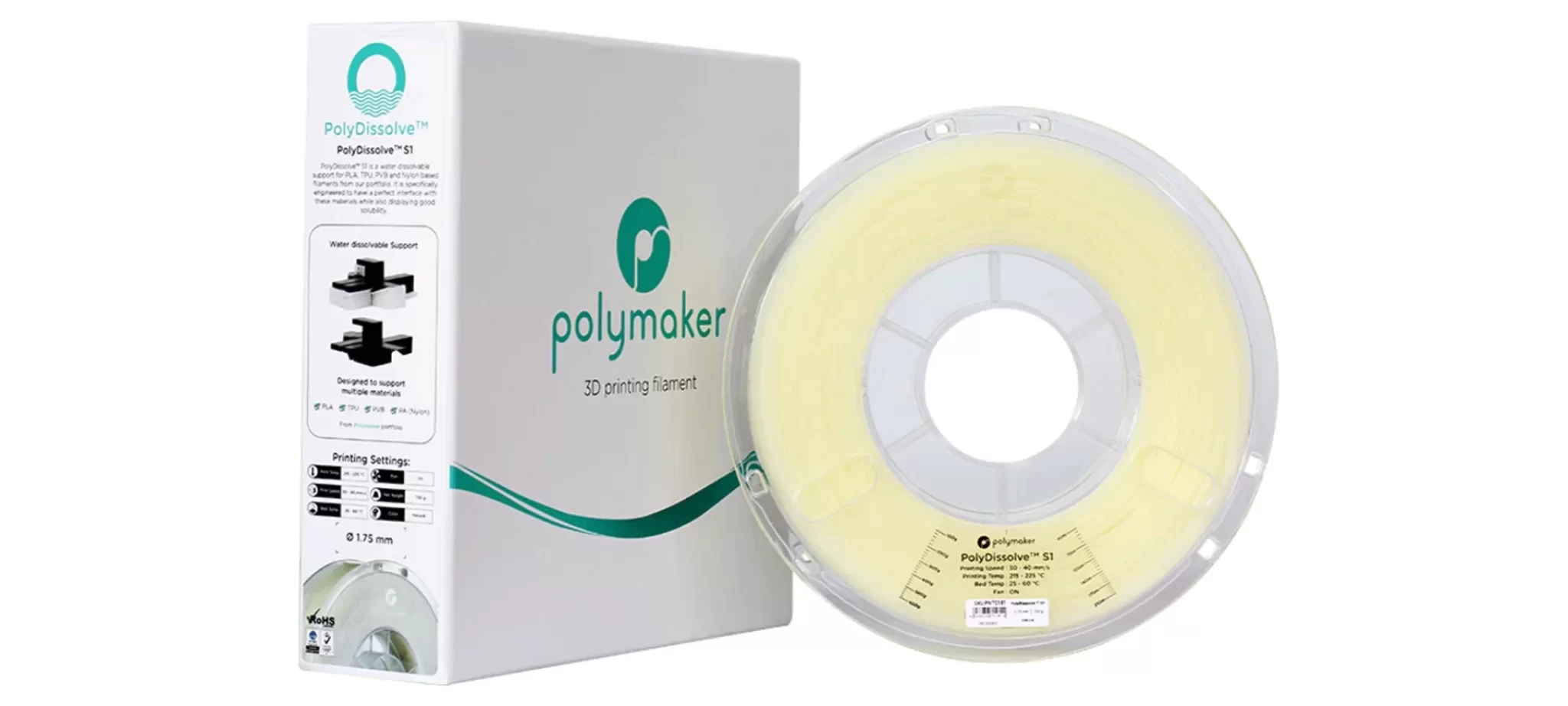 Polydissolve is the name of the brand that PolyMaker sells its PVA filament with. It contains high-quality features for producing superior designs and prints.
Coming in a natural color, the filament provides a traditional look to products and functional prototypes. Moreover, PolyMaker provides an Aluminum bag with the resealable property, therefore, making the filament reusable in the same packaging.
As you already know by now that the most important aspect of printing with PVA filament is its storage. And if there is a brand that has effectively thought about this aspect, it's PolyMaker. Moreover, PolyMakaer's Polydissolve is also super compatible with filaments such as TPU, PVB, and Nylon materials apart from PLA.
Features:
The filament weighs 1.65 lbs.
It comes in a natural color and standard 1.75 mm filament diameter.
Can be utilized with a wide range of filaments.
Can be used for creating parts that can be utilized in casting applications.
Print Settings:
The best nozzle temperature range for printing Polydissolve is 215 to 225 degrees Celsius.
The recommended print speed range for creating parts with Polydissolve is 30 to 40 millimeters per second.
The favored bed temperature range for printing with this filament is 25 to 60 degrees Celsius.
It is compatible with bed surfaces that have a glass with glue and blue tape.
eSUN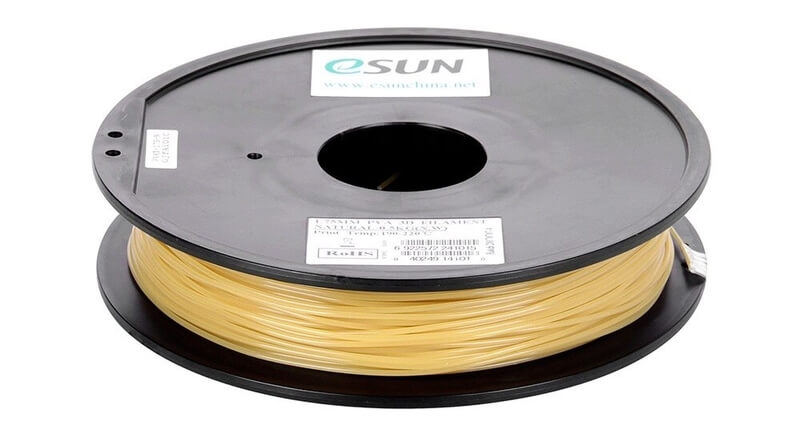 This is a highly reputed name when it comes to printing with any sort of 3D printing filaments. The brand produces excellent print quality in final parts and can be utilized for making intricate geometries using dissolvable support structures.
Removing the PVA filament is an extremely easy procedure as there is no trouble at all in removing the filament from the final part when using eSUN's PVA as a support structure.
Filaments:
It weighs 1.1 pounds and comes in 1.75- and 3-mm diameter.
The filament is available in white color that will provide contrast.
eSUN's PVA performs excellent when kept completely dry.
The filament is non-harmful, non-toxic as well as environment friendly.
The accuracy level of eSUN's PVA ranges between 1.7 to 1.8 mm with 1.75 mm filament. Whereas, the 3 mm filament is able to deliver an accuracy of 2.9 to 3 mm which is fine.
Print Settings:
The recommended print temperature for eSUN PVA ranges from 190 to 200 degrees Celsius.
An MDF or PVA's print base material is recommended.
Ultimaker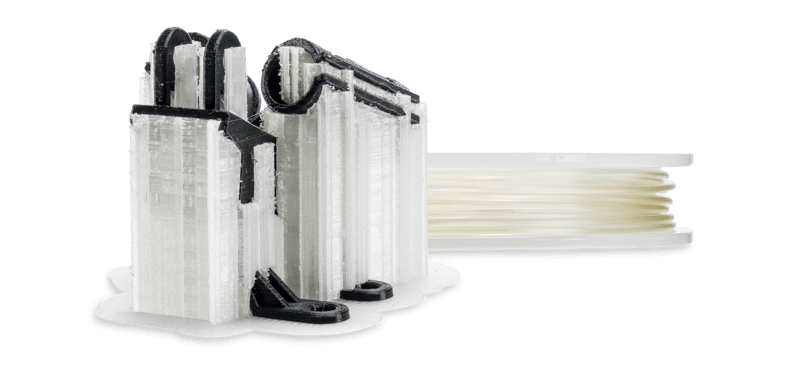 Ultimaker's PVA filament is a top-notch water-soluble support material for dual extrusion FDM 3D printing. Not only does it offer users freedom, but also the convenience to design complex model geometries requiring supports that dissolve way when tried to remove with tap water.
The filament is trusted and proven to print with various materials such as Tough PLA, CPE, and Nylon, apart from PLA. It is 100 percent biodegradable made without any hazardous by-products. Also, the filament provides excellent thermal stability and better degradation resistance compared to its competition in the market.
Features:
Absolutely no trouble while dissolving in water.
A 2.85 mm external diameter assures more support.
The filament weighs about two pounds.
It dissolves in ordinary tap water.
Capable of producing parts with complex geometries and internal cavities by combining with various filaments such as PLA, Tough PLA, PETG, Nylon, and CPE.
Print Settings:
Ultimaker recommends a print temperature ranging from 215 to 225 degrees Celsius and a build plate temperature of about 60 degrees Celsius.
Ultimaker PVA adheres well with a heated glass plate by applying a layer of glue to it.
The recommended default adhesion type with Ultimaker PVA is a brim.
Rigid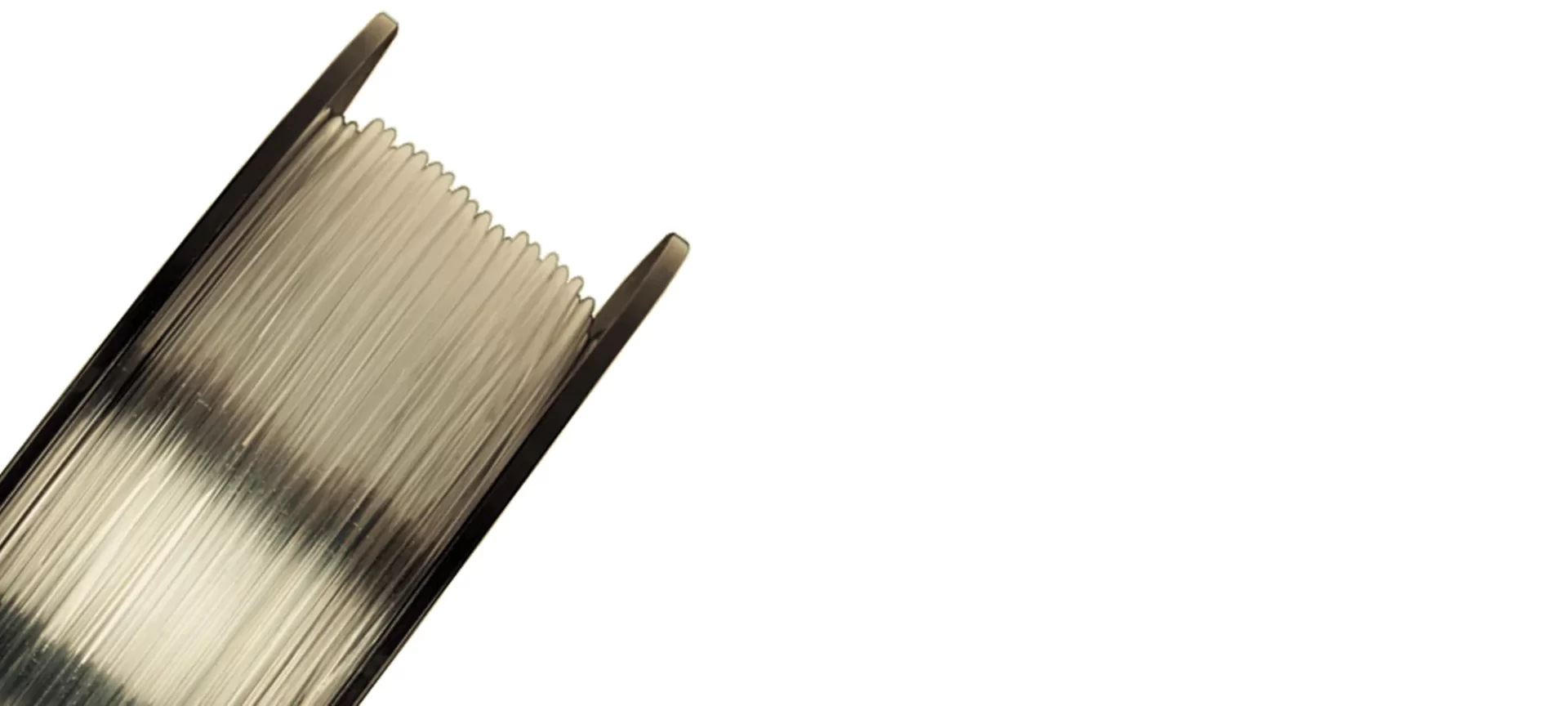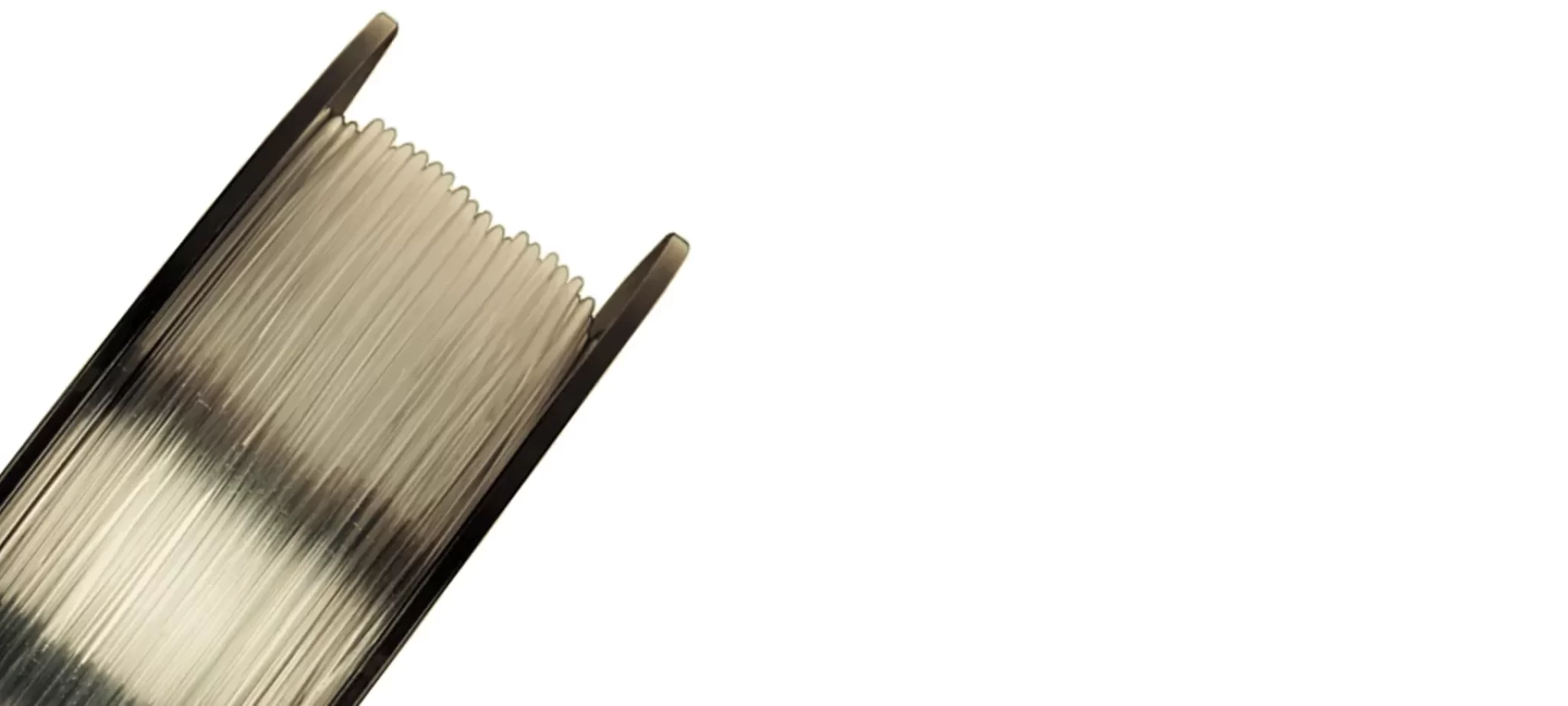 This one sticks better with ABS and PLA than all the other brands mentioned in this list. Also, it bonds well with PLA. Rigid PVA filament is easy to clean up after 3D printing and produces high-quality parts and functional prototypes.
Its manufacturer guarantees excellent water solubility with the filament. Moreover, it is possible to deliver parts or functional prototypes with intricate geometries, thanks to the brand's water solubility.
Features:
The filament is available in two weights i.e., 1 kg and 300 grams.
Highly Hygroscopic.
Easily removable.
Overhands and detailing are achievable using PVA.
No need for any sort of equipment for removing the PVA filament from the list of other materials.
Warping and deforming proof.
Print Settings:
The recommended print temperature range for Rigid PVA filament is 190 to 210 degrees Celsius.
The recommended bed temperature range for Rigid PVA filament is 50 to 60 degrees Celsius.
The advised print speed while printing with this brand is 30 millimeters per second.
It's available in three varying diameters ranging from 1.75, 2.85, 3 mm.
Sainsmart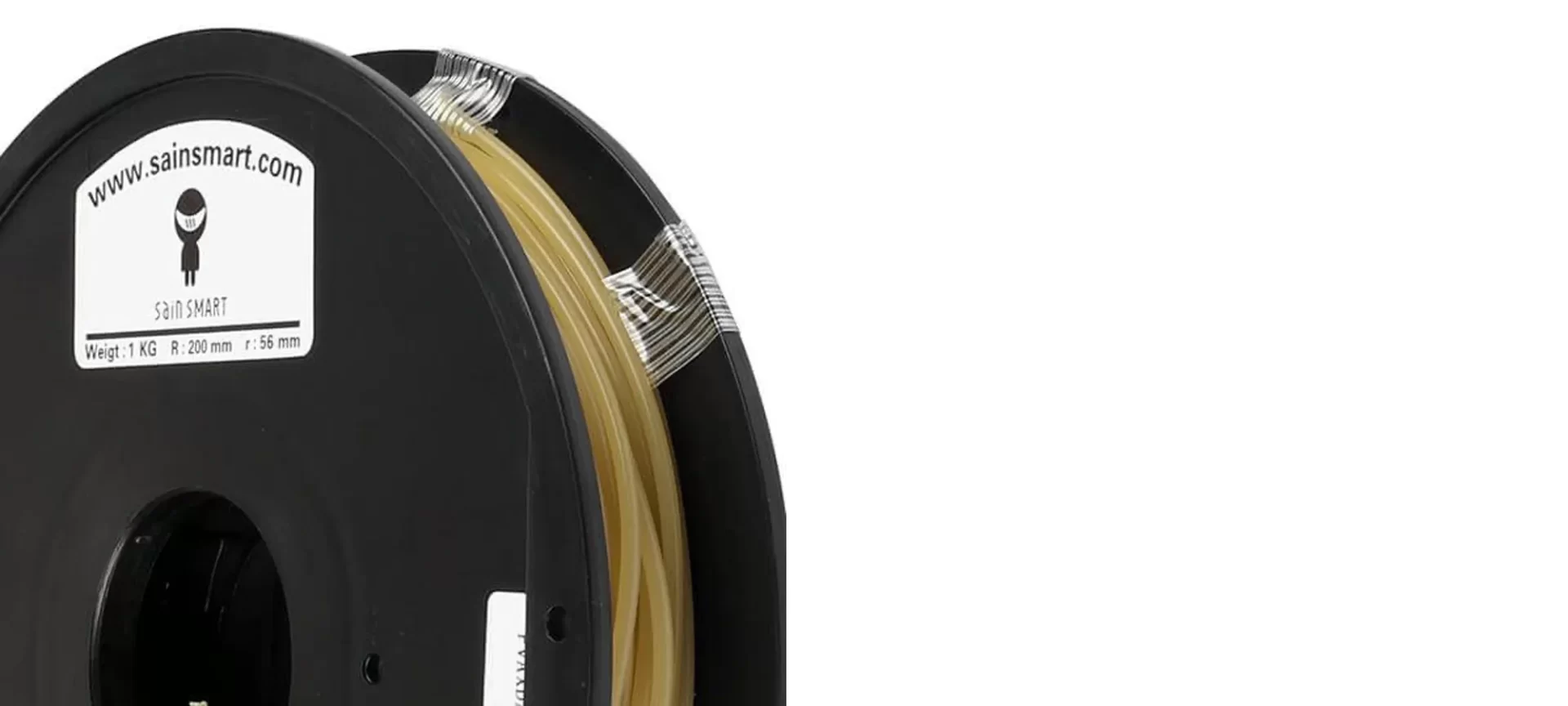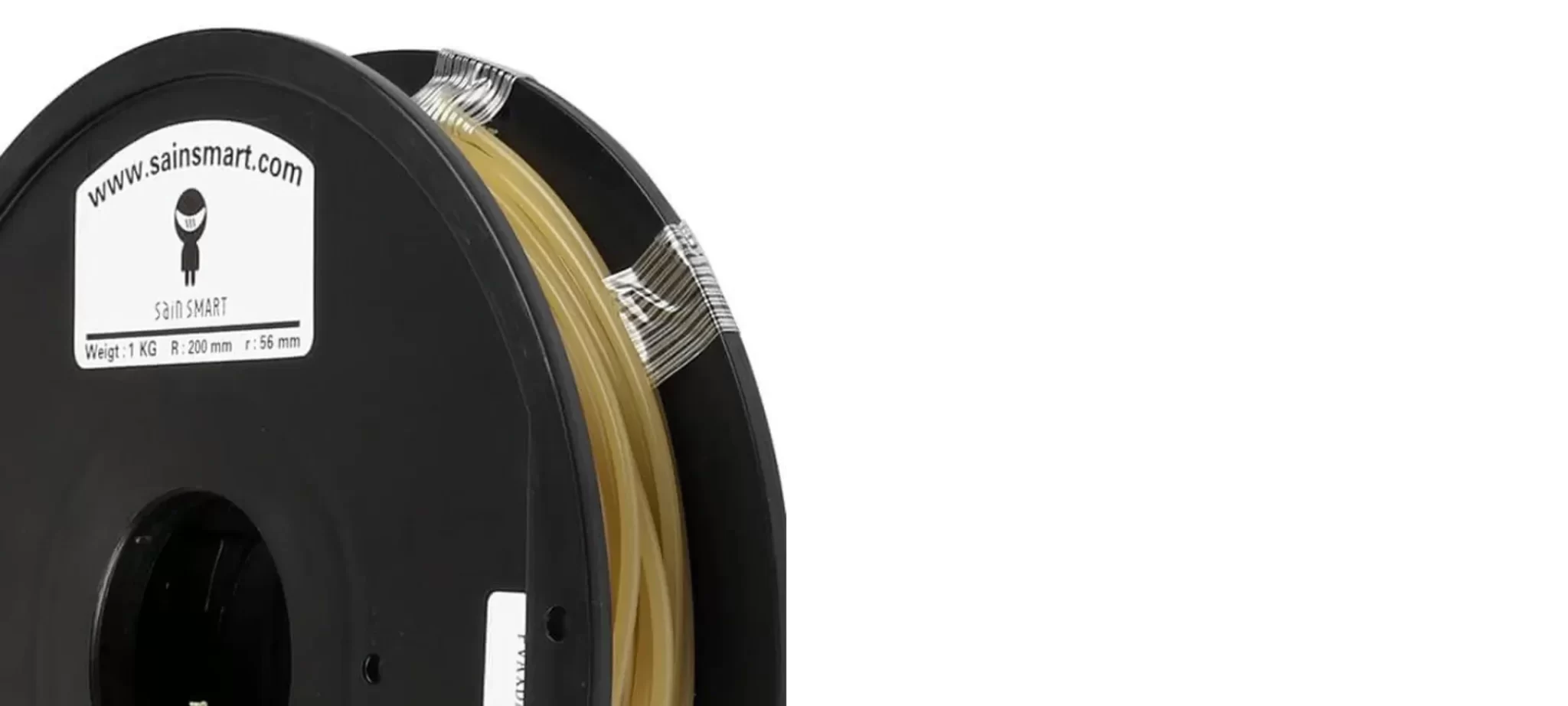 Here's the cheapest PVA filament on the list. Having stated so, the filament has some of the most striking features that are lucrative.
Sainsmart PVA dissolves entirely in warm waters, leaving no residue at all behind. Moreover, the filament leaves no residue behind. Its accurate tolerances and straightforward nature make the work a lot easier for customers who don't know much about such things.
Storing the filament in a simple box with a desiccant for a day or two solves the problem within a day or two, thereby letting you use it again with prints without giving it up from quality.
Features:
Sainsmart's PVA filament comes in 3 mm diameter.
It has a net weight of 0.5 kilograms.
The filament provides a tolerance of 0.7 and 0.05 mm in roundness and diameter respectively.
Sainsmart's PVA is compatible with RepRap, Makerbot, Afinia, solidoodle, or another standard spool-based 3D printer.
Often printed 3D parts with PVA filament require to be re-drilled and replaced for clearing the jam in the printer because it cannot be cleared simply by re-drilling or replacing altogether.
Its spool diameter is 8 inches, spool width is 2.5 inches, and a spool hole diameter is 1.5 inches.
The filament can be sealed with a desiccant to ensure moisture-free 3D printing.
Sainsmart's PVA offers a dimensional accuracy of approximately 0.05 mm.
Print Settings: 
The recommended print temperature while printing with Sainsmart's PVA ranges from 160 to 190 degrees Celsius.
The Conclusion
Choosing one from the above-mentioned seven is not an easy task at all. All of them have a minute variance from the other one and this micromanagement is only possible by matching your part requirement with PVA filament's buying guide.
Typically things to look at within PVA filament are Strength, Flexibility, Durability, Print temperature, bed temperature, and its compatibility with various materials.
More than anything one must check out how quickly the filament melts in water because that's what it does mainly. PVA filament becomes a support structure to 3D printing materials such as PLA and ABS and even rare ones.
No material but PVA assists in the creation of intricate designs and internal cavities. By acting as a support material for the user's design, the filament provides great flexibility.
PVA filament easily pairs with a dual extrusion FDM 3D printer, unlike HIPS 3D printer filament. Also, chiefly it works the most of all with PLA material. It is advised to keep lower temperatures for doing the right print settings.
The filament is completely biodegradable and hence environment-friendly which also makes it separate from the much popular ABS and PLA.
Having stated all of that, you must take immense care of storing the filament in the correct space wherein there is absolutely no scope for air. Because PVA is hygroscopic in nature and will form bubbles and lead to part failure, in case proper care is not taken.