Sindoh 3DWOX 1 3D Printer
Sindoh 3DWOX 1 is designed for those who want to do more than just having fun. It introduces users to many modifications that limited the other 3D printers from the same company to achieve such limelight.
PROS
Reliable
The printer is completely Plug-and-play with few setup requirements
It supports third-party filaments
Post-processing is easy with the inclusion of flexible build plate
It offers remote monitoring and remote print controls
Assisted bed leveling
Good adhesion on the print surface
Automatic loading of filament through its better and enhanced system
Filament run-out sensor
CONS
The 3D Printer is not suitable for those wanting to use it just for fun
The camera positioning is somewhat annoying
Product
Specification
Videos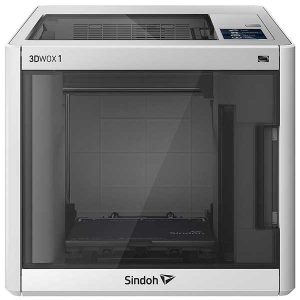 Competing with brands that are known for building the maximum number of 3D printers, Sindoh has a special place in the market for building consistent ...
| | |
| --- | --- |
| Model | 3DWOX 1 |
| Manufacturer | Sindoh |
| Price Range | $ 1499 |
| Release date | 2018 |
| Country | South Korea |
| Availability | Available |
| Classification | Desktop |
| Technology | Extrusion (FFF- FDM…) |
| Material | ABS, Other plastics, PLA |
| Filament diameter | 1.75 mm 0.07 in |
| OS compatibility | Mac OS, Microsoft Windows |
| Generic material | Yes |
| Max. build size | 210 × 200 × 195 mm 8.27 × 7.87 × 7.68 in |
| Max. build volume | 8.19 L |
| Min. layer thickness | 0.05 mm 0.002 in |
| Dimensions | 421 × 433 × 439 mm 16.57 × 17.05 × 17.28 in |
| Nozzle diameter(s) | 0.4 mm 0.02 in |
| Heated print bed | Yes |
| Heated build chamber | No |
| Automatic calibration | No |
| Closed frame | Yes |
| Dual extruder | No |
| Independent Dual Extruder | No |
| Full color | No |
| LCD screen | No |
| Touchscreen | Yes |
| On-board camera | No |
| Mobile app | Yes |
| 3D scanners | No |
| CNC mill | No |
| Electronics 3D printing | No |
| Laser engraving | No |
| Conveyor belt | No |
| Air filter | Yes |
| Pellet extruder | No |
| USB | Yes |
| Wifi | Yes |
| Bluetooth | No |
| SD card | No |
| Ethernet | Yes |

Table of Contents
Before starting to manufacture 3D printers, Sindoh was involved in designing 2D printers. The company was very popular for its paper toning business.
After the advancement in additive manufacturing technology, the company did find the opportunity worthwhile.
Hence, it did find out its way through the already surging competition to find a place among the top most popular 3D printer manufacturers.
The Sindoh 3DWOX 1 review aims at uncovering those little to major details that made this machine value for money.
With its combined strength from the previous releases, DP200 and DP201, 3DWOX 1 has got some of the best features under one roof.
You would be amazed to see the budget 3D printer working through its layers to produce great parts. Among all, reliable customer support is something that makes the company trustworthy and its products far better than others.
The machine is designed for those who want to do more than just having fun. It is not from that price bracket as well. You can count on it for office and professional use.
The 3D printer introduces users to many modifications that limited the other 3D printers from the same company to achieve such limelight. Working on the previous limitations and coming up with a stronger variation is what it seems all about.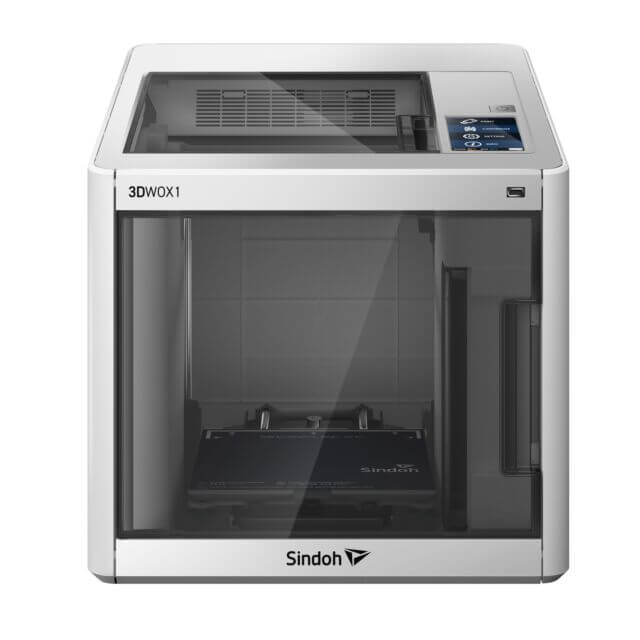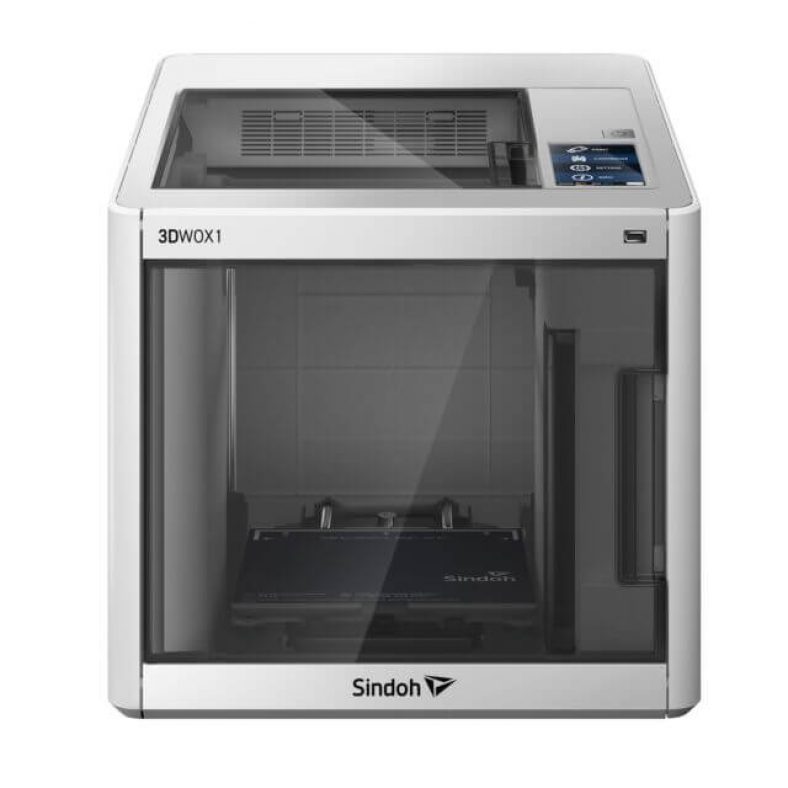 Features
As you must know that the manufacturer has focused highly on what to include and what not to. In order to make the printer accessible while keeping the crucial features in one place, the company has launched this powerful machine.
Looking at the features only you can find out that the 3D printer is not for tinkers. It carries a lot of worth then you can expect to look at the previous releases.
Enclosed Chamber: Right after listening about an enclosed chamber, the first thing that comes to mind is the support for filament other than PLA. But there are various other benefits related to an enclosed design. You will get a constant temperature setting to work with your 3D models when printing. Moreover, it offers safety for users. Touching the heated parts could result in a lifelong scar. But not with Sindoh 3D WOX 1.
Multiple Filament Support: It had to follow through, isn't it? With this machine, you can print with more filaments than PLA and ABS. You can use PETG and ASA and many others. The point is, you do not have to limit your creations to the same mechanical and aesthetic properties.
Filament Out Sensor: Being a machine for specific jobs, it has to have the crucial features for minimizing the loss due to irresponsible handling of the 3D Printer. Hence, here it is with the filament out sensor to ensure that the print progress is saved even if you forget to check the filament holder for the spool. After you refill the filament, the machine resumes from where it stopped.
Assisted Bed Leveling: Although the 3D printer does not have a completely automated bed leveling, it has the assisted one. This one does not make one feel the need for an automated leveling feature. And, this is why it is preferred by beginners as well. You will receive instruction on the interface to turn the thumbscrews to exactly what number of times to level the bed.
Heated Print Bed: The heated bed lets you achieve better first layer adhesion. Ultimately, providing users with a better print result. As you know that first layer adhesion is the first step towards successful printing. So, it becomes an important part of the feature list. You can easily work with tricky filaments when your build plate has your back.
HEPA Filter: That you are working with ABS and other filaments that produce harmful fumes, you may be all conscious about what to do. With Sindoh 3DWOX 1, you receive an inbuilt HEPA filter that lets you print with any filament without worrying about safety. Understanding that ventilation could be an issue, the 3D printer is equipped with a HEPA filter. This filters almost 90 percent of the dust and fumes to keep you safe.
Remote Monitoring: With an inbuilt camera to view the progress of the prints, users can remotely monitor the objects. You just have to use the Sindoh software to control and monitor the prints. It is easy to manage and also lets you upload STL files.
Third-Party Filament Support: Unlike the earlier releases that only worked with the company's proprietary filament, this machine supports all third party materials. This provides users with more options in terms of affordability and quality of the filaments.
Touchscreen Interface: Looking for more. How about the touchscreen interface to ensure that the printer can work as a standalone machine? You can control almost all the settings of the printer using this interface on the printer's body.
Removable Build Plate: The printer exhibits a removable print bed. Hence, once the object is printed, you can pop the plate out and remove the part from the bed. It also is a flexible bed with easy to remove the solution.
These features are well thought and included to make sure that the users can experience the high potential of the 3D printing niche. Also, the features such as assisted bed leveling or remote monitoring is a part of the list to make the printer beginner's friendly.
Specifications
The printer is quite compact and does solve the purpose of office use. You can adjust the 3D printer on the work desk next to your laptop.
The printer weighs just 45.6 lbs. Also, the print volume is 8.2 x 7.9 x 7.7 which is considered fair enough. Not very large, but spacious enough to build a lot of parts and objects.
You can print the parts with a minimum layer height of 50 microns which is way better than most of the specifications other budget printers offer. You can work with different filaments, including the third party materials.
And, for connection, you can utilize WIFI, USB as well as Ethernet. Hence, an amazing combination of features that specs that can get you started right away after unboxing the printer out of the package.
Price
If you want to purchase 3DWOX 1, you must spare $1499 aside. Although this seems like a lot, trust this, you are getting enough features to compensate for the cost.
And, the best part is that the 3D Printer is for entry-level users. This means that a beginner could also use the machine for professional applications.
So, if you have a small office and you are looking for an idea to get into the 3D printing niche, this machine would certainly help you a lot.
First Impressions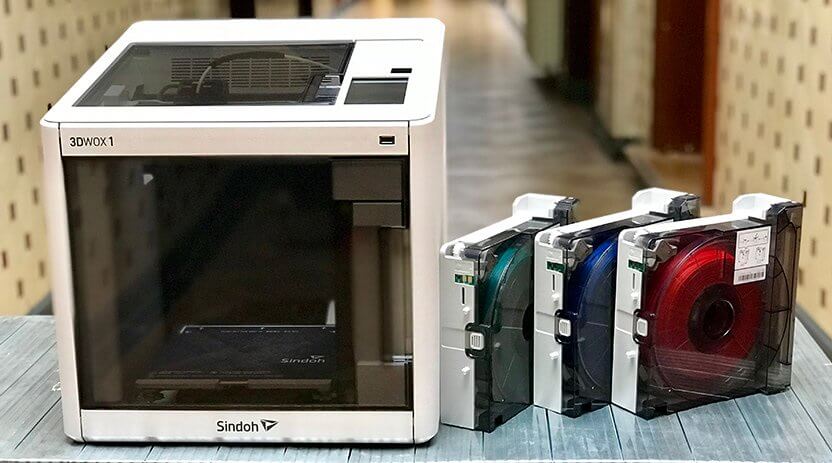 Credit: 3dprinting.com
This is a desktop 3D printer and comes packed inside a safe box. It is to ensure that the 3D printer reaches securely to the delivery address. A lot of use of infills inside helps keep the printer securely packed.
You would be excited to see such a beautifully designed machine. It comes completely assembled. You will receive the instruction guide, filament roll, and a USB stick with the machine. All the parts are safely snuggled inside the box.
Setup
Setup is simple. Once you unbox the printer and load the filament, all you need to do is follow instructions to completed bed leveling.
As already mentioned, the printer comes with the assisted bed leveling feature. By adjusting the three thumbscrews, with proper assistance from the printer, you can start printing right away.
It does not take much effort and the touchscreen provides all the necessary guidance to help users through the entire process.
The leveling does require few inputs from the users. However, it is easy and the printer is there to guide you through.
Printing Type/Cost
The printing cost would much depend on the amount of filament extruded, type of filament, the complexity of the model, and various other parameters.
However, with the FDM printer, you can rest assured that it would be cheaper when compared to other 3D Printing technologies.
Print Quality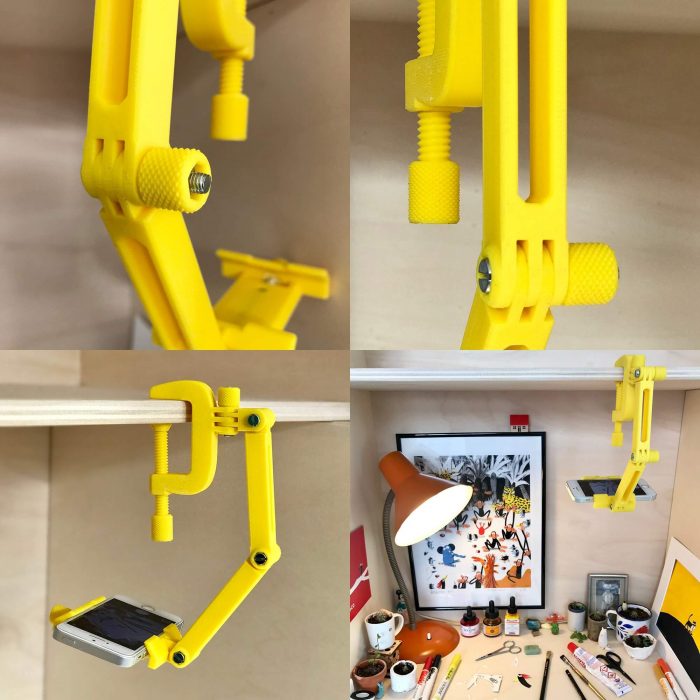 Credit: 3dprinting.com
With 50 microns precision and the reliability of the manufacturer, you get really nice results in terms of print quality.
The printer can work with PLA as well as specialized filaments. Some of the prints could even be used without a need for post-processing.
Hence, you can get the gist of it. This machine is not an ordinary 3D printer, even when it looks like one.
Software
The company includes its proprietary slicing software, the 3DWOX Desktop program. The application is designed to provide it the look and feel of the usual slicing software available in the market.
Hence, it is easy to learn. If you have worked with any other slicing software before, you would easily be able to make out its functions and tools.
It provides users with two-mode of access: simplified and advanced. This is to make sure that the beginners, as well as experts, find it equally useful when working with it.
Customer Service
You can depend on the manufacturer for providing you with a dedicated and well-trained team of experts who can cater to all your requirements without a pinch of doubt.
Moreover, you can also find the guides and manuals on their website to be highly helpful. Because the 3D printer caters to the need of beginners as well as experts, the design reveals the goal too. That is why you may not need assistance with the setup at all.
Parameters Influencing the Buying Decision of Buyers
Have you ever what would go wrong if you select the wrong 3D printer, not perfect for your needs? You would be losing a huge amount of money and may not be able to purchase another one any sooner.
Spending on expensive 3D printers must be worthwhile. Or else, you would be stuck with the one that is of no use for your specific needs.
Hence, look at the different factors and decide accordingly. Make an informed decision instead of just choosing out of the blue.
3D Printer cost: The 3D printer sits in the mid-range with a price of $1499. Created for office use, the price is affordable. However, it won't set the budget for home users.
3D Print quality: You would love the print quality of the machine. With 50 microns layer height, you can create amazing precision with high accuracy.
3D Print speed: The speed of the printer is decent though. It is above average and offers great reliability to users when it comes to balancing speed with quality.
3D Printer capability: It is a capable 3D printer. You can print almost anything out of it. From complex geometries to functional prototypes. You can also print finished products.
3D Printer Practicality: The printer applications extend to a vast array of niche. It supports many material types as well as offers great quality.
3D Printer User expectations: The expectation is well justified. However, dual extruder would have been a welcoming feature.
Verdict
Among all the professional 3D printers, finding the one that fits your need is a difficult task. Reading the Sindoh 3DWOX 1 review would unveil all the sides of this machine.
You can certainly make an informed decision if you need to buy this 3D printer or not. It is easy to set up, offers amazing print quality, includes the most comprehensive feature list, and is very reliable.