Sintratec S1
S1 is an improved innovation by the company putting one more step ahead of its competition in SLS 3D printer manufacturing. Offering consumers and makers a considerably bigger print volume with great precision.
PROS
It is a reliable machine
Fast printing speed
No need for support
Compact and easy to manage
No onsite installation needed
Amazing print quality
CONS
Not suitable for commercial use because of the high price compared to the desktop 3D printers
Product
Specification
Videos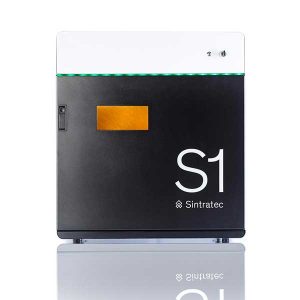 Sintratec S1 is a desktop-sized industrial 3D printer, which was launched in the year 2016.  The printer has an amazingly large build-up chamber and ...
| | |
| --- | --- |
| Model | S1 |
| Manufacturer | Sintratec |
| Price Range | $ 23699 |
| Release date | 2018 |
| Country | Switzerland |
| Availability | Available |
| Classification | Professional |
| Technology | Powder (SLS- SLM…) |
| Material | Other plastics |
| OS compatibility | Linux, Mac OS, Microsoft Windows |
| Max. build size | 130 × 130 × 180 mm 5.12 × 5.12 × 7.09 in |
| Max. build volume | 3.04 L |
| Min. layer thickness | 0.1 mm 0.004 in |
| Dimensions | 757 × 670 × 365 mm 29.8 × 26.38 × 14.37 in |
| Weight | 67 kg 147.71 lb |
| Power input | 230 V |
| Heated print bed | No |
| Heated build chamber | No |
| Automatic calibration | No |
| Closed frame | Yes |
| Dual extruder | No |
| Independent Dual Extruder | No |
| Full color | No |
| LCD screen | No |
| Touchscreen | No |
| On-board camera | No |
| Mobile app | No |
| 3D scanners | No |
| CNC mill | No |
| Electronics 3D printing | No |
| Laser engraving | No |
| Conveyor belt | No |
| Air filter | No |
| Pellet extruder | No |
| USB | Yes |
| Wifi | No |
| Bluetooth | No |
| SD card | No |
| Ethernet | No |

Table of Contents
SLS 3D printing has always been the best choice for those makers who engage in creating complex and functional 3D parts. The 3D printing process not only creates durable designs, however but also offers various other mechanical properties to offer manufacturers the best results.
The reason that the technology was not affordable and manageable for many, for years, it stayed only in few hands.
But with time, and with the introduction of comparatively smaller and affordable 3D printers than before, a lot of industries are leaning forward to try SLS 3D printers. And, one such machine is the Sintratec S1 3D printer.
Sintratec, a Switzerland company is well known for its various laser-based solutions for 3D printing. In the past few years, the company has been able to produce many compact SLS 3D printers.
Adding to the many successful variants is the S1 SLS 3D printer. What makes this company different from others is that it focuses on increasing the accessibility of these pricey printers.
When founded in 2014, it came with a DIY SLS 3D printer kit. Since then, it has never looked back.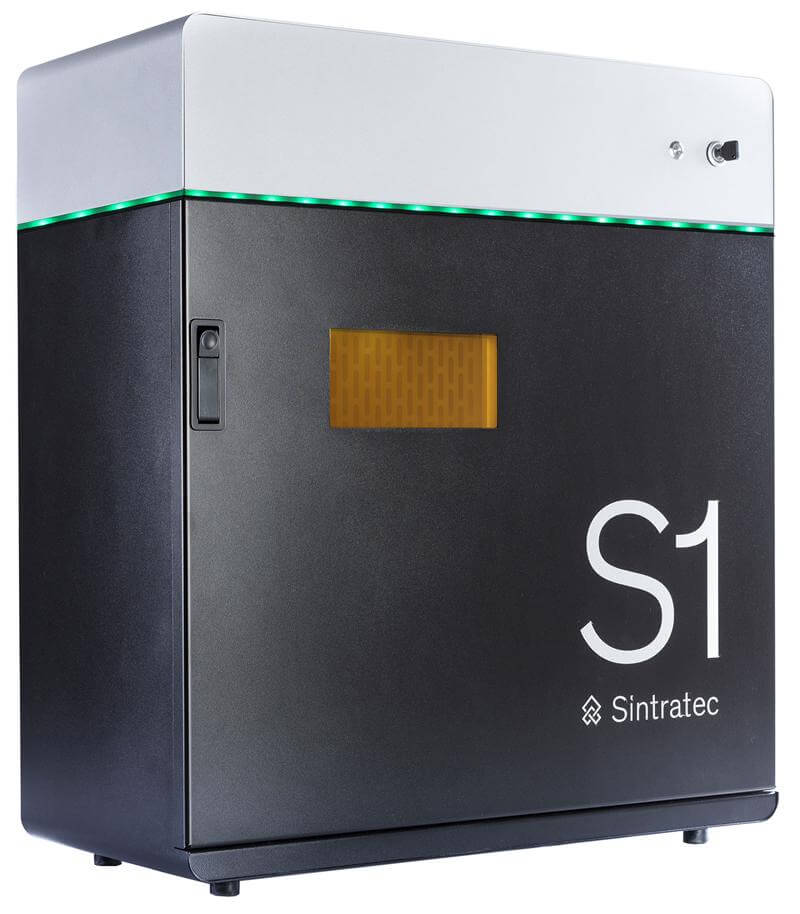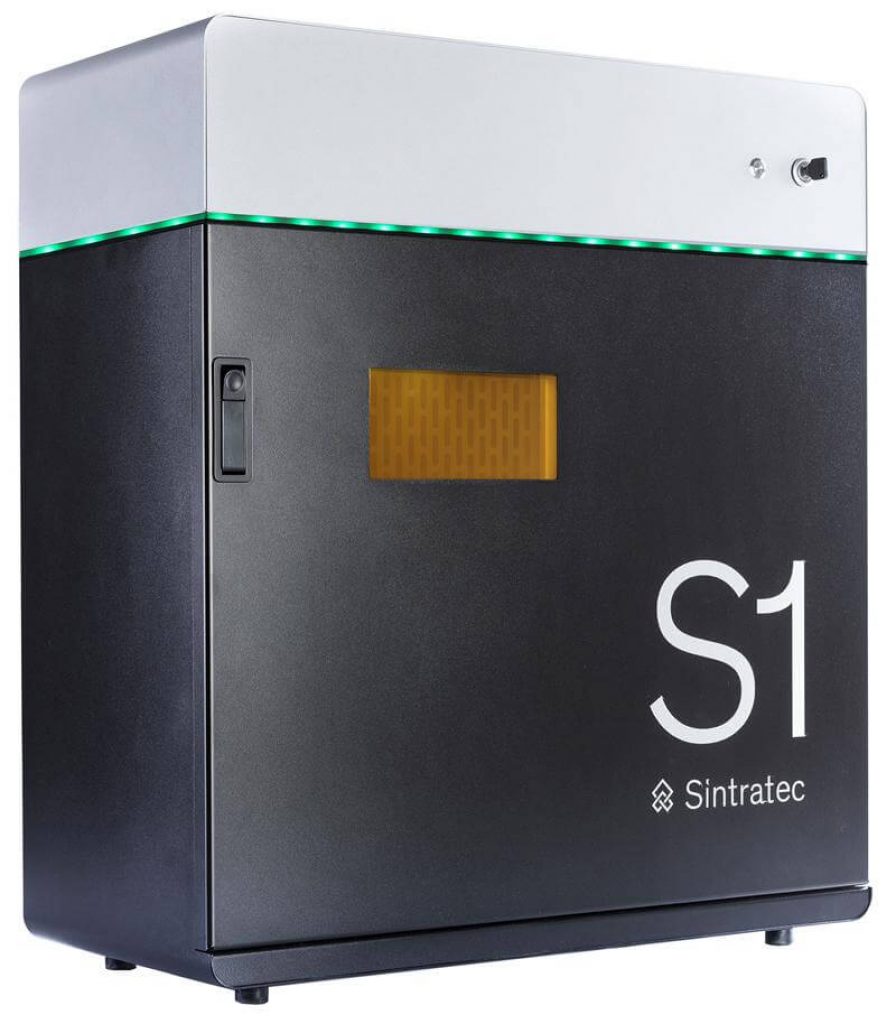 S1 is an improved innovation by the company putting one more step ahead of its competition in SLS 3D printer manufacturing. Offering consumers and makers a considerably bigger print volume with great precision.
The 3D printer is well thought out and offers great benefits to its users. However, does it have any limitations? If you wish to know more about this 3D Printer, do not forget to read the complete S1 3D printer review.
Features
As you know the company has a very intense approach towards finding the most manageable solution for the users, this 3D printer does reflect the same.
Offering makers with high-quality features to enhance their 3D Printing experience, this machine certainly has the exact amount of functionality to woo its customer base.
From amazing accuracy to many other wonderful features assisting users to better their prints, this is a must to try a 3D printer. Below are some of the most interesting features that Sintratec S1 flaunts.
High Power Laser
The accuracy and precision of an SLS 3D printer depend much on the laser it uses to sinter the powder together. And, Sintratec S1 does make sure that it does not stay behind in terms of the strength of its laser power.
Using a very high-powered laser, S1 sinters the powered material for creating complex parts.
Hence, ensuring that the obtained parts are strong and durable, however, not very heavy. This is one of the reasons why this 3D printer is so popular among high-end industrial applications.
Compact Design
As mentioned before, the 3D printer is not like any other SLS 3D printer. Almost every 3D printer based on the SLS 3D printing process is huge in size.
It often becomes difficult for small scale companies to manage such a huge printer. However, unlike those bulky looking 3D printers, this one is really compact. And, can be called the desktop 3D printer.
Galvanometer to Measure Direction of Laser
The next interesting part of the 3D printer is the inclusion of a galvanometer. Using this device, the S1 3D printer controls the direction in which the laser must act to sinter the powdered material together.
In other words, it provides the direction to the high strength diode laser to act. This not only improves accuracy even further but also helps in increasing the speed of the 3D printer. This isn't the case with other SLS 3D printers available out there.
Needs Connection with Computer
If you are scared of ending up finding a dedicated computer for your 3D printer, do not worry. The manufacturer says that once the design slicing completes, one can easily disconnect the connection to the computer using the USB.
You need to connect the computer to your 3D printer as long as slicing is taking place. Later, you can run the 3D printer as a standalone machine-building 3D part.
No Need for Onsite Installation
Whenever hearing about SLS 3D printer, one imagines that time consuming onsite installation process that comes along with the machine.
For instance, installation of power supply or ventilation system or even the pressurized air. You do not need to do any of that. Doesn't that sound easier than any other SLS 3D printers out there?
Automatic Powder Spreading
To further make the job easier for manufacturers, the S1 SLS 3S printer offers automatic powder spreading, making the platform leveling a piece of cake.
Hence, once you have uploaded the design, all you need to do is wait. The 3D printer will take care of almost every difficult task all by itself.
No Need for Support Structure
Although we already know that SLS 3D Printers works without support material, let's say it again. The 3D printer lets you 3D print the most complex designs without needing support material. Users can simply use most of the remaining powdered material back for 3D printing.
Increased Trust
With complete CE certification, the machine comes with complete reliability. You can trust this 3D printer for staying tuned with your goals while offering the best printing quality and ease of use.
The manufacturer is also very popular for its work in the past and aims at bringing SLS technology closer to the masses than ever. All these taken into consideration does offer huge reliability to the users.
Specifications
This isn't a giant 3D printer, however, sleeker than you would expect. It has a footprint of 670 x 365 x 757 mm. The 3D printer weighs around 67 kgs and is very well designed to offer a desktop printer experience to the users.
Although having a smaller built, the print volume still is impressive. Letting users print parts with a maximum volume of 130 x 130 x 180 mm, this 3D printer isn't just for show. However, it can help users create amazing designs and useful functional parts.
S1 offers a powder diameter of 60 microns which enables precise printing. Alongside this, a recommended 0.8mm wall thickness could help users end up with the most efficient results.
The 3D printer makes use of a laser diode as the light source offers greater accuracy and precision. With 100 mm layer thickness, one can achieve finer details without any hassle.
It offers users a 7-liter powder capacity which is enough to carry most of the design around this print volume.
In terms of materials, the 3D printer can help you print with Nylon and TPU. The manufacturer is working for including more types of materials to the list. You also get to enjoy automatic powder spreading.
Print speed is also fascinating. You get to work with 20 cm3/hr speed which is exemplary for this 3D Printing technology.
Price
This is not the cheapest desktop 3D printer available out there. And, the most obvious reason is the 3D printing process on which this machine works, the SLS technology.
Hence, it is not for commercial use. Rather for small scale industries and professional applications. Sintratec S1 3D printer costs $23,699.
If you want to go down with the budget, you can enjoy the Sintratec S1 printer kit available for less than $6000. However, you must be ready to do a lot of hard work to get the components together correctly for making the printer work.
First Impressions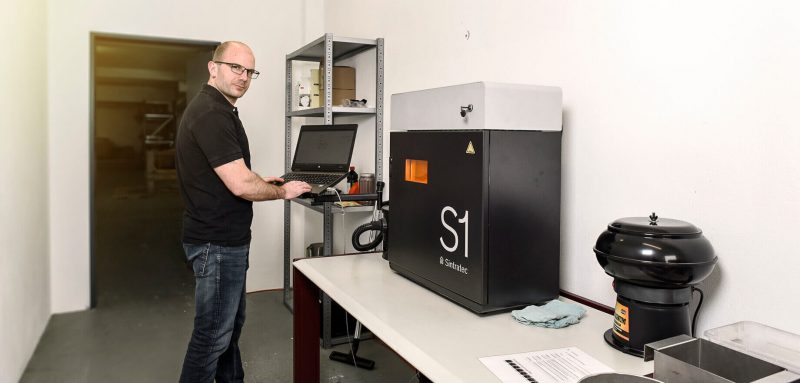 Credit: sintratec.com
At the first look of it, you won't find it anywhere closer to the industrial SLS 3D printers. It is much compact and easy to manage, without needing any onsite installation process.
However, in terms of results, it is no different than any other giant SLS 3D printer. With a small window in the front, it lets users peep through the door to check on the part being printed.
It also has a locking door system to avoid any accidents by mistake. The all-metal body provides a very sturdy look and precision to the printed parts.
Overall, the combination of black and white does the job perfectly to captivate customers to know more about the 3D printer further.
Setup
As mentioned before, unlike any other SLS 3D printer, this one does not require users to wait for the completion of the tedious onsite installation process.
No need for a ventilation system or any other similar steps requires otherwise. However, you do need the 3D file in the STL format to begin the printing process.
To software is available with the machine itself. You must connect the computer through a USB connection to slice the designs before printing. Once that is done, you can simply remove the connection and keep printing parts without any trouble.
The automatic powder spreading is another major reason why this printer is no easy to use. It takes care of leveling the platform and getting ready for the next layer printing.
In short, S1 offers a very easy setup and printing experience, which is difficult for any other SLS 3D printer to beat or compare with.
Printing Type/Cost
S1 is an SLS 3D printer. Hence, it works with the powdered metal to 3D print functional parts. Every time a layer of powdered material is spread on the print platform.
The laser source points to the part need to be sintered together. It melts the metal particles to sinter them together. After a layer completes, another layer of powdered material is spread and the process continues until the part is created completely.
Talking about the cost of printing, a lot of factors come into play. From the design of the material to the choice of material. From layer, height to design size.
Hence, you cannot compare the cost of different parts printed with this particular 3D printer. However, it does account for less power consumption as it is the case with those giant SLS 3D printers.
Print Quality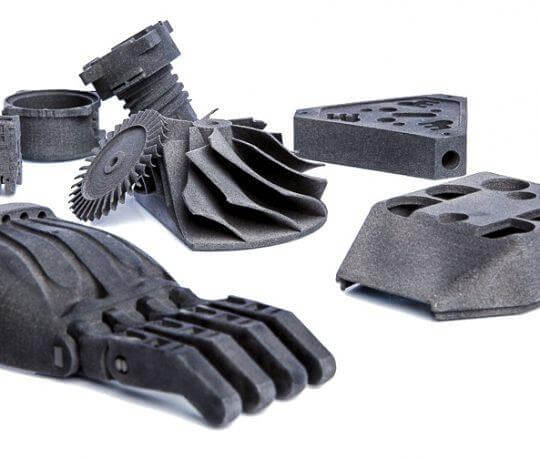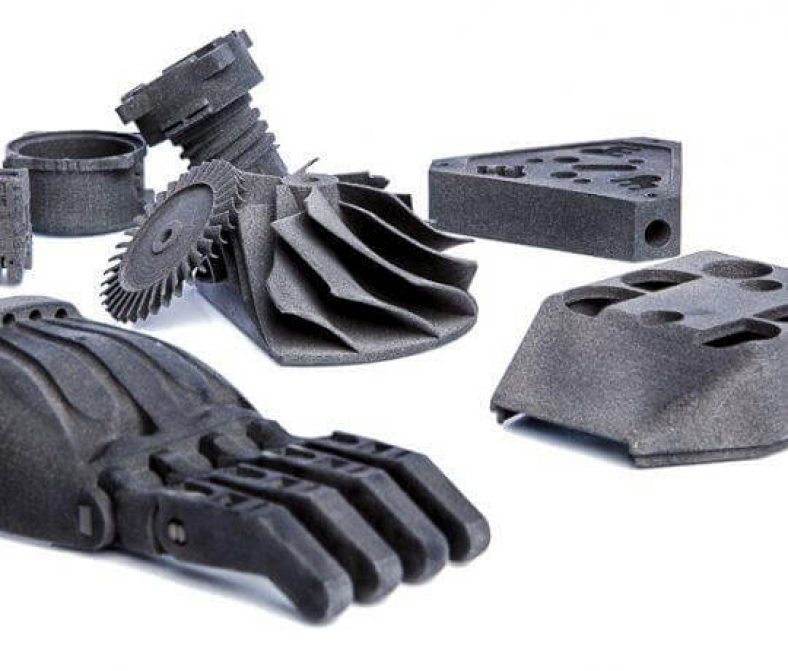 Credit: top3dshop.com
Once again, let's restate this, the print quality is mesmerizing. As it is the case with SLS 3D Printers, S1 also provides high precision and accuracy. Without the need for support, one can achieve a smoother surface.
Because of the strength to weight ratio favoring industrial application, the 3D printer can be used for many niche related tasks. Mostly popular among aerospace and automobile, S1 can be used for many other applications too.
Software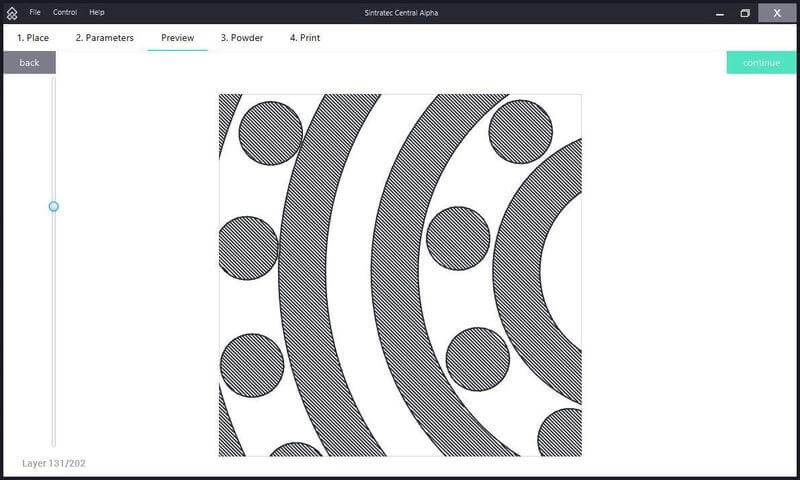 Credit: top3dshop.com
Sintratec provides its own proprietary slicing software, Software Sintratec Central. The slicing app is very impressive and works amazingly. With intuitive software, you also receive a user-friendly interface that lets users work with the app with ease.
You can effortlessly prepare 3D models for printing it later with the best output. Do not forget to set the parameters along with the material settings right before you click on the print button.
Customer Service
The company offers all the help needed to work hassle-free with this amazing 3D printer. You can depend on customer support for prompt replies.
Parameters Influencing Buying Decision
Find out the quick bite from the S1 3D printer review below and make an informed decision before spending a huge amount on this 3D printer.
3D Printer cost: It is expensive and for small scale industries. Not affordable for commercial use.
3D Print quality: One can create precise and accurate parts without any hassle.
3D Print speed: Compared to other SLS 3D printers, it does offer better speed because of the inclusion of the galvanometer for controlling the laser direction.
3D Printer capability: Highly capable of printing functional parts.
3D Printer Practicality: S1 is helpful for industrial applications for different niches including medical, aerospace, etc.
3D Printer User expectations: It does serve customer's expectations very well. Offering a compact SLS 3D printer with such an output is not an easy part. But the manufacturer has done it for good.
The Verdict
Sintratec S1 3D printer review does help us understand what all benefits the machine entails. Apart from the price, which is still way less than those giant SLS 3D printers, one can embrace all the perks the printer offers.