StoneFlower 3.0
The Stone Flower 3.0 is a fully equipped printer that would make your dreams come for real in the area of ceramic 3D printing because it utilizes technology like no other printer in the market.
PROS
Faster printing of parts and functional prototypes is possible using the printer.
Excellent quality of pottery enables its user to do a small business of these parts.
CONS
Temperature generation, while the printing process will start, is an issue that appears in case the fan breaks.
Product
Specification
Videos

A highly strong metal frame ensures that Stoneflower 3.0 undergoes a negligible amount of vibration even while printing parts of the largest build ...
| | |
| --- | --- |
| Model | 3.0 |
| Manufacturer | StoneFlower |
| Price Range | $ 4785 |
| Availability | Available |
| Classification | Professional |
| Technology | Extrusion (FFF- FDM…) |
| Material | Ceramic |
| Dimensions | 780 x 850 x 900 mm 30.7 x 33.46 x 35.4 in |
| Max. build size | 480 × 480 × 500 mm 18.9 × 18.9 × 19.69 in |
| Max. build volume | 115.20 L |
| Max. print speed | 100 mm 3.94 in /s |
| Weight | 35 kg 77.16 lb |
| Generic material | No |
| Closed frame | Yes |
| Automatic calibration | No |
| Full color | No |
| Dual extruder | No |
| Independent Dual Extruder | Yes |
| Conveyor belt | No |
| Heated print bed | No |
| Heated build chamber | No |
| Air filter | No |
| CNC mill | No |
| Laser engraving | No |
| LCD screen | Yes |
| Touchscreen | Yes |
| On-board camera | No |
| Wifi | Yes |
| Bluetooth | No |
| Ethernet | Yes |
| SD card | No |
| USB | Yes |

Table of Contents
StoneFlower is a ceramic 3D printer manufacturing company based in Germany. StoneFlower 3.0 looks like the only 3D printer that the company is offering on its online store.
Other than the printer, they have print heads, ceramic 3D printing kit, and spare parts such as nozzles and augers, micro printing set as well as extruders and control units.
The team of StoneFlower consists of Dr. Anatoly Berezkin and Stanislov Mironov.
In the year 2017, Dr. Anatoly Berezkin developed the Ceramic 3D Printing Kit and launched this startup. Dr. Anatoly Berezkin holds a degree in Diploma Engineering, Ph.D. in Chemistry, Habil, in Physics and Mathematics, CBM. While working as a researcher at the Max-Planck Institute in Dusseldorf, he got acquainted with 3D printing of resins from viscous components.
Stanislov Mironov joined Dr. after completing his project internship from Electro-Optical Systems GmBH. He takes care of the PR, marketing, and supply chain of this startup.
StoneFlower 3.0 utilizes a paste deposition technique for making 3D parts and functional prototypes.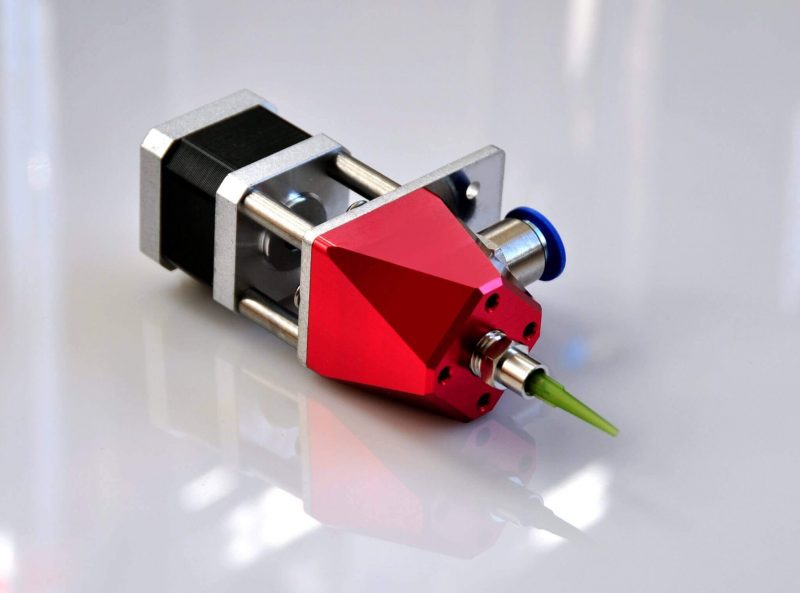 Credit: 3dprintingindustry.com
In this article, we are going to review StoneFlower 3.0 in-depth. Not only will we introduce readers to the printer's features, specifications, and price, but also give an idea about the printer's first impression, setup, printing type/cost, and a lot more.
Towards the end of this article, we will provide the readers with some brief factors that influence buying decisions.
So, read till the end to get a profound understanding of the printer's capabilities. started.
Features
StoneFlower's website lists down fourteen features of StoneFlower 3.0.
Below is a list of features and their elaboration, which we think makes StoneFlower 3.0 different from its competitors.
Metal Frame
StoneFlower 3.0 is primarily going to target desktop 3D printers.
The vibration of the printer during the printing process is one of the key issues in this segment.
StoneFlower recognizes this issue and ensures its clients face no such trouble while using their printer. Therefore, they have built up StoneFlower 3.0's frame with metal.
Doing so gives the printer overall strength during the printing process and does not let it vibrate. Users will be able to use this printer in their workplaces with ease.
Remote Operation
StoneFlower 3.0 responds to Wi-fi/Ethernet or USB. You can upload your file in two ways:
Using the Wi-fi facility on your device.
Using the Ethernet or USB.
Ensuring the uploading and downloading of files happen safely, the printer comes equipped with Duet 3D Wifi/ Ethernet hardware.
In conditions of low-level networking, the printer is handled via a separate module by the hardware.
The printer uses a powerful 32-bit processor named Atmel SAM4E8E: 120MHz ARM Cortex-M4 microcontroller with floating point unit, 512Kb flash memory, 128Kb RAM, and many peripherals.
You can connect to this printer via PC, tablet, or smartphone on the same network, to the Duet Web Control web interface.
There is no need for an app install, internet connectivity, or cloud service to sign up for.
Even without doing all of that, you can control your printer, upload, and start prints from the browser.
Operation Control
The printer comes with a five-inch colorful touchscreen like every other recent printer in the market.
However, StoneFlower 3.0 has a variable orientation of the screen, convenient for installation either on a table or floor.
The colorful touchscreen will let you operate every necessary part of the printer.
Pausing and playing during the printing process will be available with monitoring.
TMC Drivers and Nema 23 stepper motors
The formation of the mechanism in StoneFlower 3.0 is done with the use of TMC Drivers and Nema 23 stepper motors.
TMC stands for Traffic Message Control, which is a technology for delivering traffic and travel information.
It is easy to lose the progress that you have done in 3D printing when the electricity goes off.
But if the 3D printer has such a mechanism, your printing progress would be saved and recorded for you to come back and start the work from where you left it.
You will be able to move the print bed as well as the nozzle very easily after a layer has been printed using the Nema 23 stepper motors.
A free tray placement
The StoneFlower 3.0 comes with a tray that can be freely placed anywhere you wish to.
All along with the frame, if there are areas where you would like to place the tray specifically, you can do that.
IGUS Bearings and Emergency Stop Button
The emergency stop button enables you to safeguard the print process during an emergency.
So, say you have reached the middle of the printing process and because of some uncertainty; you would not be able to continue the printing process anymore.
In such conditions, you can use the emergency stop button. Pressing this button would save your complete progress and enable you to start again from the same condition.
IGUS bearings have a special feature that would not harm them even during dusty and humid conditions.
These bearings do not require any regular lubrication and are service-free till the day you are using them.
Specifications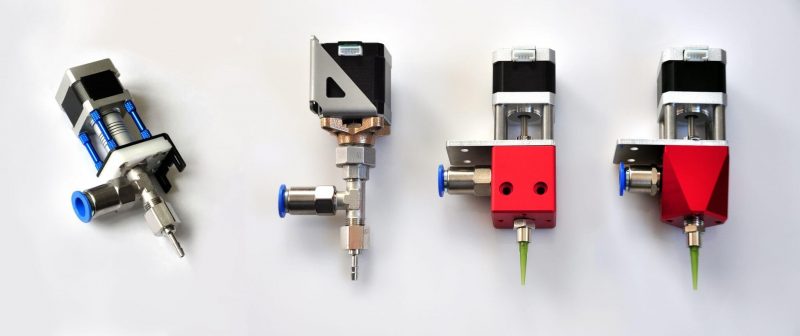 Credit: 3dprintingindustry.com
The printing speed of StoneFlower 3.0 ranges from 30 to 100 mm per second.
The build volume of this printer is 480 mm * 480 mm * 500 mm. StoneFlower gives an option to its users to extend the print size along Z-axis to 800 mm.
The diameter of nozzles used in this printer ranges from 0.5 to 7 mm. StoneFlower 3.0's print head of this printer is made up of all metal.
The extruder of this printer has 1.5 liters of capacity due to which you would not need to stop the printing process while printing small parts and functional prototypes.
The printer comes with a colorful touchscreen from which users can easily interact with the printer.
It is also compatible with almost all the slicing software that is available in the market today.
With 32-bit electronics, the mechanism of StoneFlower 3.0 gets immense power for lifting the nozzle and bringing it back in place.
The complete dimensions of this printer are 780 mm * 850 mm * 900 mm i.e. without tray mount for a ram as well as display.
When vertically mounted with the ram, the printer's height comes around 2100 mm. The weight of the printer is 35 kilograms.
Price
$4500 is the price of this printer on its website. However, it is not necessary that you buy this 3D printer only from the website, you can also buy this printer from other websites.
First Impression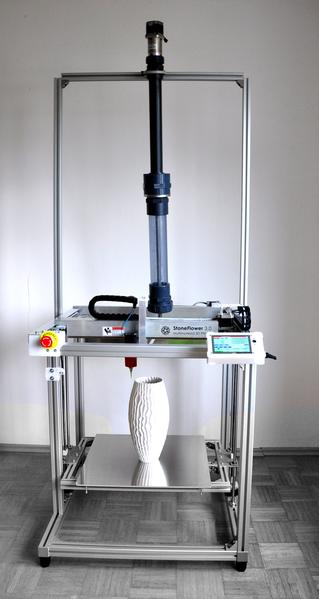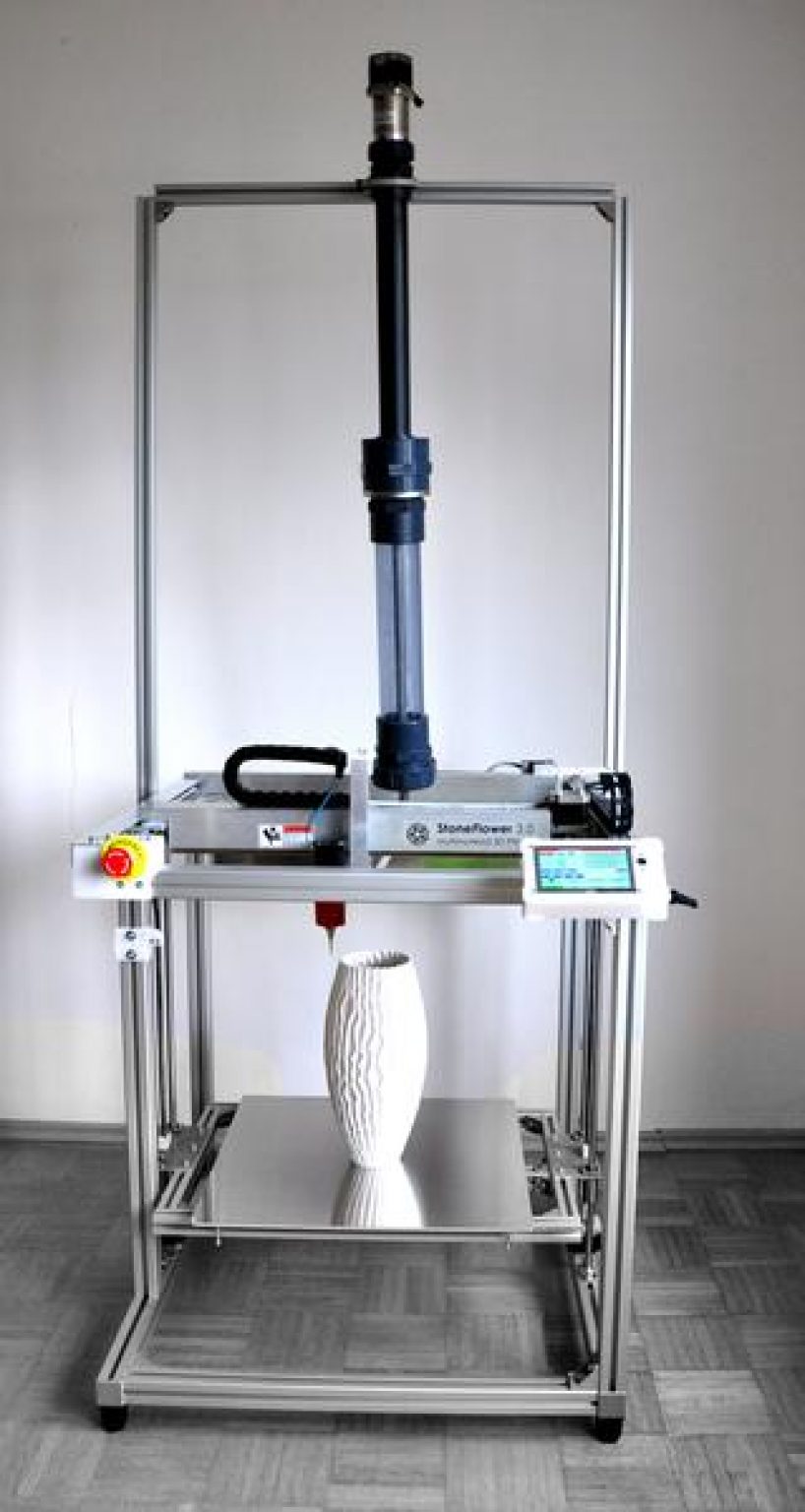 Credit: 3dprms.com
The StoneFlower 3.0 looks square in shape like a cage. There is a print bed that is shown in the picture on the website, exactly in the middle from the top and bottom of this printer.
The nozzle is held by a red-colored holder which prints the part layer by layer and then moves one layer above.
The amount of dispensed material is accurately controlled by the ram extruder, and it by no means does not depends on the viscosity and other factors.
There is this Auger extruder in the print head that removes air-bubbles, provided if there are some in manually prepared material.
The lightweight print head allows high printing speeds while printing without any vibrations.
The square-shaped design also should be given some credits for the printer being able to give out vibration less printing.
Cartesian construction of the printer will let you minimize the length of the pipe between the print head and ram extruder and use materials of very high viscosity, such as natural clay or porcelain.
Setup
The printer comes completely assembled and all you have to do is start giving it some electricity and it will let you start the printing.
So, you do not have to do pretty much anything before getting your first print in hand.
Although it is advisable to read the manual of the printer carefully and contact the company for any issue.
Printing Type/Cost
The printer uses the company made Paste Deposition Modeling (PDM) technology that lets you print at a much higher rate, as compared to desktop FDM printers, which use thermoplastics to print parts and functional prototypes.
You can easily control the process by choosing the nozzle diameter in the range from 0.5 to 7 mm.
Accordingly, the layer thickness may vary from tiny 0.3 mm for precise printing up to 3 mm for maximal performance.
The printing cost will also vary according to the infill percentage that is chosen by you and also the amount of layer thickness that you get to see on the part or functional prototype that you wish to see.
Print Quality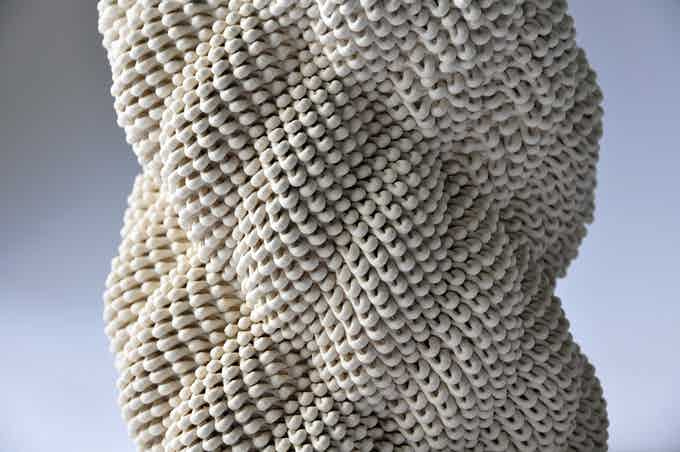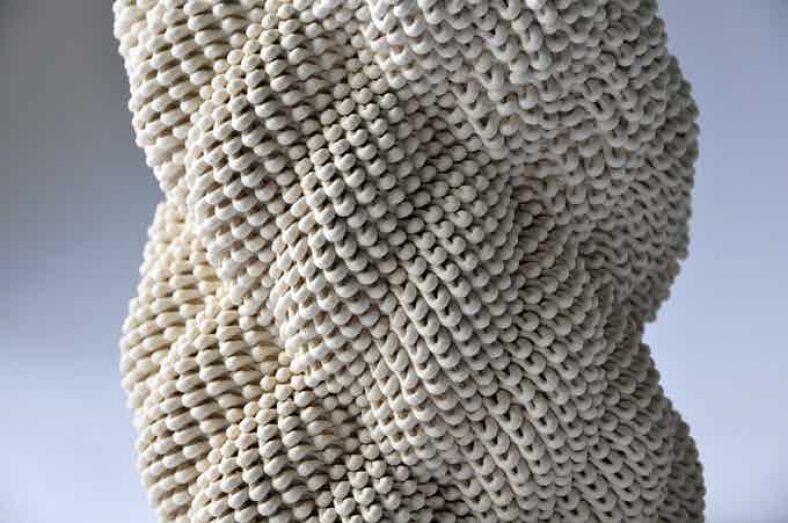 Credit: imgix.net
There are six pictures of different structures that are shown on the same webpage wherein the printer is, on the website.
All of them depict a high-quality surface finish and minimum layer visibility.
So, the print quality of StoneFlower 3.0, if judged from these pictures is excellent.
Small parts with intricate designing will be able to print by gaining dimensional accuracy using this printer with ease.
There is a showcase that has a very small intricate design that is almost impossible to achieve while doing some handwork pottery.
So, if you were always wanting to do some customized pottery with ideas that are waiting to come out to reality from your head, this printer is going to help you do that, doubtlessly.
Software
As mentioned above, there are no restrictions in terms of which software to use and which not to.
The manufacturers of this printer understand the importance of keeping the printer open-sourced. And they have done exactly so.
You can choose the software that you find easy to use with the printer.
Customer Service
There is a Support tab as well as a Contact tab on the website of the printer's manufacturer.
The former gives you some files to download which are named 3D Printer StoneFlower, Slicer Settings for You 3D printer, and manual settings for Ceramic 3D Printing kit and print head.
You can download the one that you need, as you need. Apart from this support, the company makes a lot of accessories that you will need while printing with Stone Flower 3.0.
This, the company does in order to make you not go to any place other than the company for any of your needs.
The Contact tab asks for your name, email, and message that you have for the company.
Once you fill this, the company is going to come to you via email and sort your problem out.
Parameters Influencing Buying Decision
Some of the factors that will matter to you while purchasing this printer are mentioned below in brief.
3D Printer Cost: Compared to its competitors in the field, this printer offers more features, hence the cost is affordable.
3D Print Quality: Above ordinary.
3D Print Speed: Faster than other printers in the same price range.
3D Printer Capability: Printing with paste-like materials is possible using this printer.
3D Printer Practicality: Universities, as well as institutions, are areas where this printer will be used.
3D Printer User Expectations: Users can expect a good quality print in a very short span of time.
The Verdict
Open-sourced software, with the company, made accessories. High-quality print in parts and functional prototypes with the full support of the company's team!
The StoneFlower 3.0 is a fully equipped printer that would make your dreams come for real in the area of ceramic 3D printing because it utilizes technology like no other printer in the market.
Small business owners can benefit a lot from using this printer.