Stratasys F120 3D Printer
If you are willing to not spend much and yet achieve higher investment on your return you can surely consider Stratasys F120. It will offer you a smoother flow than any other 3D printer in a similar price range.
PROS
Industrial-grade 3D printer, yet affordable.
Reliable company.
Detailing about the printer is mentioned on its website.
CONS
Not affordable for home users or makers. Especially designed for businesses.
Product
Specification
Videos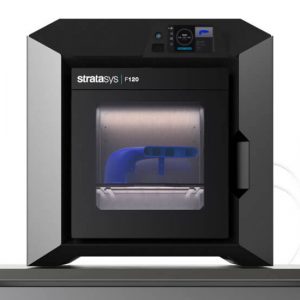 Offering 45 percent faster print time and 97 percent accuracy compared to the closest competitor, Stratasys F120 is an affordable industrial-grade 3D ...
| | |
| --- | --- |
| Model | F120 |
| Manufacturer | Stratasys |
| Price Range | $ 12000 |
| Release date | 2019 |
| Country | United States |
| Availability | Available |
| Classification | Industrial |
| Technology | Extrusion (FFF- FDM…) |
| Material | ABS, Other plastics, PLA |
| OS compatibility | Microsoft Windows |
| Generic material | Yes |
| XY accuracy | 0.2 mm 0.008 in |
| Max. build size | 254 × 254 × 254 mm 10 × 10 × 10 in |
| Max. build volume | 16.39 L |
| Min. layer thickness | 0.127 |
| Dimensions | 889 × 870 × 721 mm 35 × 34.25 × 28.39 in |
| Weight | 124 kg 273.37 lb |
| Heated print bed | Yes |
| Heated build chamber | Yes |
| Automatic calibration | Yes |
| Closed frame | Yes |
| Dual extruder | Yes |
| Independent Dual Extruder | No |
| Full color | No |
| LCD screen | No |
| Touchscreen | Yes |
| On-board camera | No |
| Mobile app | No |
| 3D scanners | No |
| CNC mill | No |
| Electronics 3D printing | No |
| Laser engraving | No |
| Conveyor belt | No |
| Air filter | No |
| Pellet extruder | No |
| USB | No |
| Wifi | Yes |
| Bluetooth | No |
| SD card | No |
| Ethernet | Yes |

Table of Contents
Primarily targeting professionals in the field of 3D printing, F120 is an attempt by Stratasys to offer an industrial 3D printer at a low price.
This printer belongs to the F123 series that also includes F170, F270, and F370. All of them are based on the Fused Deposition Melting 3D printing technology.
F120 creates parts and functional prototypes using the same kinds of raw material found in injection molding.
If you are out there in the market and searching for a 3D printer that works best with Solidworks, F120 is what you are looking for.
Before starting with the in-depth review of this printer, let's give you some reasons why we make that claim.
F120 3D printer can be used for all the phases of your design process, which contradicts the notion that "a consumer 3D printer cannot be used in applications beyond the concept phase".
You can print 3D plastic parts that can be used for many applications whether it is concept modeling via product development or manufacturing.
All the parts built by this printer are mechanically strong and stable. Their layer bonding is immensely stronger for a durable part.
So, if you take a durable part manufactured from another printer and compare it with the part made from F120, you'd feel the difference.
Based on Stratasys' patented Fused Deposition Modeling technique, you can design and create stronger and more robust models than other consumer 3D printers.
Models built by F120 stand the test of time. If you are a professional in the field who loves to build efficient models in quick time and inexpensive amounts, F120 is your go-to.
You can use this printer for building tools; jigs, fixtures, templates, and gauges for maintaining the quality of your manufacturing.
It is because of all these reasons why the market claims Stratasys F120 as the best 3D printer working with Solidworks.
Excited to know how the printer does all of that? Well, look at the features of the printer mentioned below to find out.
Features
For creating its F123 series of printers, Stratasys has worked with industrial company Designworks, which is a part of the BMW Group.
F120 is a printer in which the printer manufacturer claims to offer a reliable system that can be simply controlled.
It also has higher accuracy to ensure that you can design even the most complicated parts and functional prototypes with dimensional accuracy.
Along with the accuracy of a higher level, you are offered repeatability of the same amount.
But a point where the printer truly steals the show is its ability to print three times faster than the competing printers in the same price range.
Although primarily targeted towards professionals in the field, the Director of Education Gina Scala at Stratasys believes that this printer meets the demands of designers, engineers, and educators of the next generation.
She also claims how small to medium design firms are looking for something like F120 to drive their business. And these two are the primary reasons, she believes, on the basis of which F120 will be able to stand the test of time.
F120 has it all to be classified into a modern industrial 3D printer. It has the GradCAD Print software that guarantees smooth workflow; there is a user-friendly touch screen interface.
You can easily set the printer up, it supports multiple uses and can print parts and functional prototypes that can find applications in rapid prototyping as well as complete manufacturing.
We guess that'd be enough to give you an introduction to what all this 3D printer carries in it. Now we'd start with the specific features and their explanations.
Steel Frame & Linear Profile Rail
According to the claims made by the company, they are able to provide rigidity that is needed for speed and accuracy as well as they can handle higher load capacity.
Kevlar Belt
This provides the right tension without wearing out and stretching over time allowing the print up time instead of calibration and replacement.
So, for the movement of the printer's print head, if there is anything that can assure smooth mobility, it's the Kevlar belt.
Closed-Loop Servo Motors
The motors provide precise head positioning speed as well as motion control for superior part quality.
Double Wall Oven with high-quality Insulation
The inside of the oven is kept hot for accurate parts and the outside is cool so that it is tangible.
Insulating Accordion and Textured and Flexible Build Tray
The former maintains the correct temperature while build heads are moving in the X-Y plane.
While the latter ensures strong part adhesion during printing and easy part removal when part's printing is completed.
Patented Airflow
The print box of the printer maintains consistent temperature across the build platform for perfect extrusion and adhesion of materials, which results in better Z-strength.
Meets Global Compliance Standards
The printer limits emission, interference with other powered equipment, and meets CE & UL certifications.
Double Wall
For safety, the printer maintains consistent build chamber temperature while keeping the exterior cool to the touch.
Safety Features
There are built-in sensors present in the printer which detects the monitor heating, power, and print success. While the door and hood are locked.
Interesting is the fact that though being an industrial-grade 3D printer, F120 can be accommodated on your desk.
And this is the fact that the company is trying to focus on the start of the video by saying Sometimes bigger does mean better.
After having had a look into the main feature points of this printer, we'd like you to have a look at its specifications.
Specifications
The printer weighs 124 kilograms. Its system size is 889 mm * 869.95 mm * 720.59 mm.
While the printer is undergoing the printing process the noise that comes from the printer is 46 decibels, whereas when ideal the level is 35 decibels.
The accuracy of the parts that are produced is in the order of 200 mm above or below in size.
Combining all that information would mean you will be able to produce a part of a huge build size, with stability and lesser noise.
There are wired as well as wireless as well as Encryption options to connect with this printer.
In the wired category you have TCP/IP protocols at 100 Mbps minimum 100 bases, T Ethernet protocol, RJ45 connector.
In the wireless category you have IEEE 802.11n, g, or b; Encryption: CCMP, RKIP. So, you'd be able to operate the printer according to your convenience.
The operating environment recommended by the company is 15-30 degrees Celsius, humidity is 30 to 70 percent.
Whereas the storage temperature of this printer is 0-35 degrees Celsius, humidity is 20 to 90 percent.
The power requirements of this printer are 100-132 Volt/15 Ampere or 200-240 Volt/7Ampere, 50-60 Hertz.
The printer is able to provide a build volume of 254 mm * 254 mm * 254 mm with model materials ABS-M30, ASA, SR-30 support material.
Stratasys has designed F120 keeping in mind offices, schools as well as workplaces. Now, let's have a look at the most important criteria, that is, the price of the printer.
Price
The price of this printer is around $12,000. But the cost may differ depending on which distributor you go with.
First Impression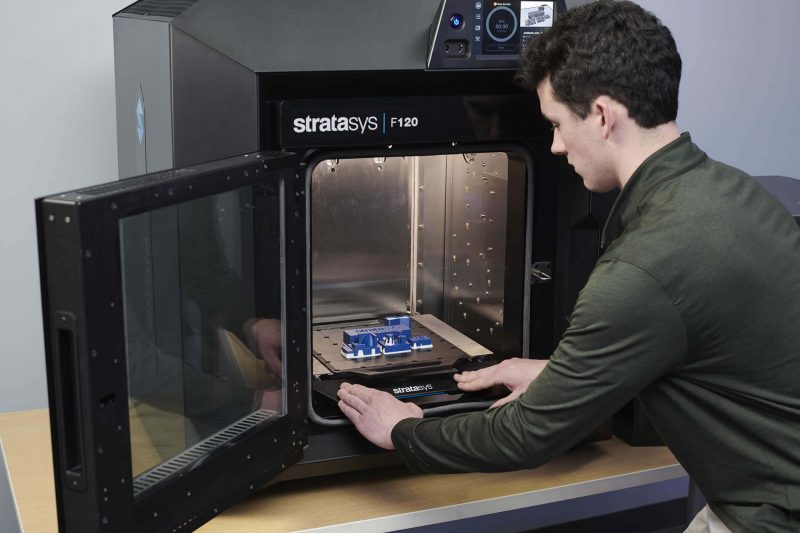 Credit: javelin-tech.com
As far as the talk about outside of the printer or having a first glance on the printer is concerned, the printer has got an attractive color.
There is a display on the head of the printer, coolers which throw the air out of the printer on its sides.
And there is the print bed, the body on the front which is kept transparent so you can monitor the printing process of the printer.
You can monitor the complete printing process by the display that is present on the head of the printer.
As mentioned above, the design team which is a part of BMW has collaborated with Stratasys for developing the printer.
So, there is no stone unturned to make the printer look attractive enough that it catches the eye of anyone around it.
Setup
This is an industrial 3D printer, so the printer manufacturer is there to help you with the on-site assistance if you need it.
But you can easily understand the basics of setting up this printer for the simple reason that they are easy. The printer would not let you wait to start your printing procedure.
It is easy to install and use this printer because it is not as complex as others. Even for those who are new to 3D printing or are upgrading from a desktop 3D printer to an industrial-grade 3D printer.
Also, the software that this printer comes with has a seamless workflow. There is no specialized training that is required to operate this 3D printer and no dedicated technician is required for making you understand the basics of this 3D printer.
After having gone through the Price, First Impression, and Setup of Stratasys F120, let's have a look at the printing type this printer is based on. Ready to read about the system on which this printer operates?
Printing Type/Cost
FDM 3D printing technology prints layer by layer wherein the filament of the material is melted in an extrusion chamber.
This melted material is then laid on the print bed layer after the layer and then the part or functional prototype is cooled.
The printing cost of printers based on this technique is generally low when compared to technologies that were invented after this technique.
FDM is the most ancient 3D printing technology.
Although the printing cost depends on very many things and might change if only the infill of the parts or functional prototype is higher in the requirement.
Mostly it will be on a lower end when compared with other printing technologies.
Print Quality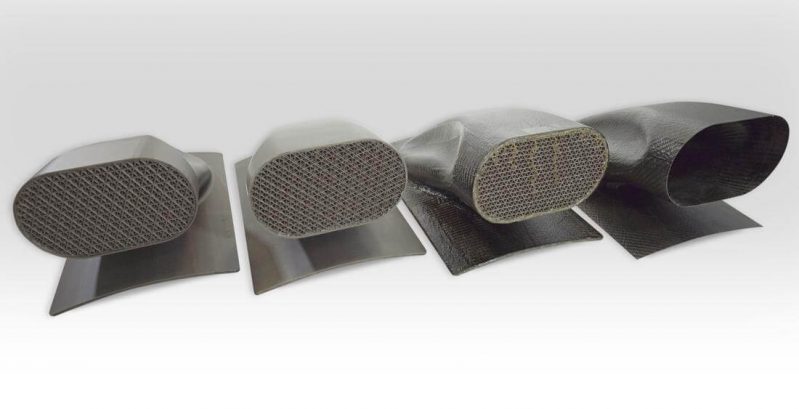 Credit: 3dprint.com
The company claims that this printer holds 97 percent accuracy in the parts and functional prototypes.
This is when the part is compared to its 57 percent of the closest competitors, which seems highly improvised.
In short, you can expect to create amazing finishes with accurate finer details with this printer.
Software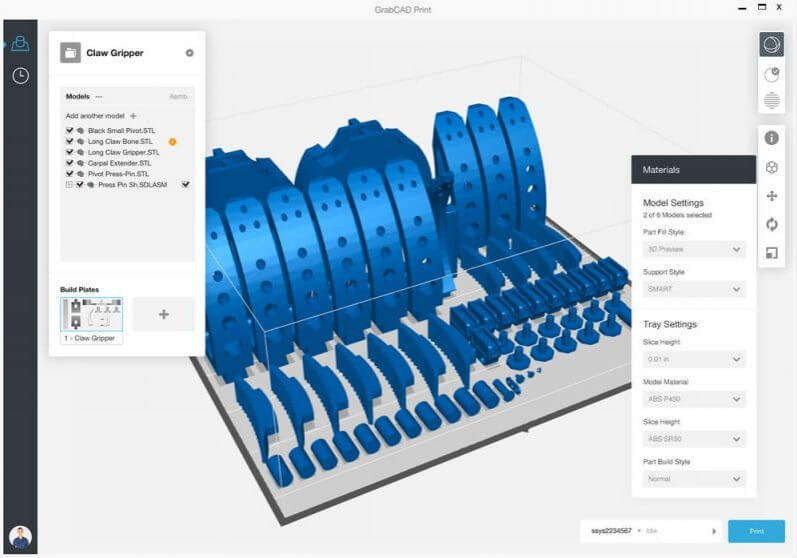 Credit: javelin-tech.com
GrabCAD Print is slicing software. You would have to use this for slicing the parts and functional prototypes and as per the claims of the company; it is easy to use.
So, you would require no technician help from the company in case you have worked with a 3D printing software before this.
Plus, it is highly intuitive, offering a variety of ways to correct and make your 3D files better and accurate.
Customer Service
Being a reliable name in the 3D printing market, Stratasys has earned the reputation of being very helpful and entertaining when it comes to solving your printer related problems.
You can reach out to the company's technical team via phone, email, or Skype.
Parameters Influencing Buying Decision
Below is a quick recap of the important factors that we have been talking about in this article.
3D Printer Cost: You will have to Get a Quote for this printer. However, you can expect it to be higher than the usual desktop 3D printer because it's made for printing industrial-grade models.
3D Print Quality: High-quality surface finish as well as layer resolution in the parts and functional prototypes manufactured by this printer is claimed by the company.
3D Print Speed: Industry-average.
3D Printer Capability: Seeing the applications tab on the website the printer can print parts related to many industries.
3D Printer Practicality: Defense, daily fashion wear, automotive are some of the areas in which products are manufactured by this printer.
3D Printer User Expectations: With less complexity to handle this industrial-grade 3D printer, it does set the expectation right among small as well as large businesses.
The Verdict
If you are willing to not spend much and yet achieve higher investment on your return you can surely consider Stratasys F120.
It will offer you a smoother flow than any other 3D printer in a similar price range.
Also, it is based on the simplest technology that one can find in the world of 3D printing.