Stratasys J700 Dental 3D Printer
If you are willing to see your long-term future in the Dental Industry, this printer is something you can consider.
PROS
Excellent print speed.
Capable of batch production of quality aligner parts.
CONS
Specifically used for the dental industry.
Product
Specification
Videos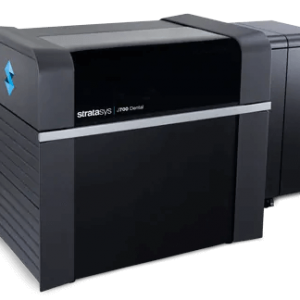 A first of its kind, manufactured for mass production of clear aligner production, Stratasys J700 Dental enables you to capitalize on this growing ...
| | |
| --- | --- |
| Model | J700 Dental |
| Manufacturer | Stratasys |
| Price Range | > $ 250000 |
| Availability | Available |
| Classification | Industrial |
| Technology | Material Jetting |
| Material | Other plastics |
| OS compatibility | Microsoft Windows |
| XY accuracy | 0.02 mm0.001 in |
| Max. build size | 490 × 390 × 200 mm19.29 × 15.35 × 7.87 in |
| Max. build volume | 38.22 L |
| Min. layer thickness | 0.01 mm0 in |
| Heated print bed | No |
| Heated build chamber | No |
| Automatic calibration | No |
| Closed frame | Yes |
| Dual extruder | No |
| Independent Dual Extruder | No |
| Full color | Yes |
| LCD screen | No |
| Touchscreen | No |
| On-board camera | No |
| Mobile app | No |
| 3D scanners | No |
| CNC mill | No |
| Electronics 3D printing | No |
| Laser engraving | No |
| Conveyor belt | No |
| Air filter | No |
| Pellet extruder | No |
| USB | No |
| Wifi | No |
| Bluetooth | No |
| SD card | No |
| Ethernet | Yes |

Table of Contents
Among the very many 3D printers in the collection of Stratasys, this one is based on Polyjet 3D printing technology. The printer precedes J720 Dental and J750 Digital Academy. "
Optimized for Clear Aligner Production Right Out of the Box," is the first claiming text on the webpage dedicated to this printer on the printer manufacturer website.
Like other printers, this one too has its explanation divided into four sections, namely, Overview, Materials, Specifications, and Software.
The Stratasys J700 Dental uses the PolyJet 3D printing method, which is similar to inkjet printing.
The only difference being, instead of jetting drops of ink onto paper, PolyJet professional 3D Printers jet layers of curable liquid photopolymer onto a build tray.
The material used for 3D printing of parts and functional prototypes is liquid photopolymer which is, after jetting, directly UV cured to create a solid layer.
With that, the PolyJet professional 3D printers also jet a removable gel-like support material that is called FullCure 705. The support material is a non-toxic gel-like photopolymer.
As the name suggests, the Stratasys J700 Dental 3D Printer is specially designed for orthodontic labs. So, they can benefit from achieving high throughput in the production of clear aligners.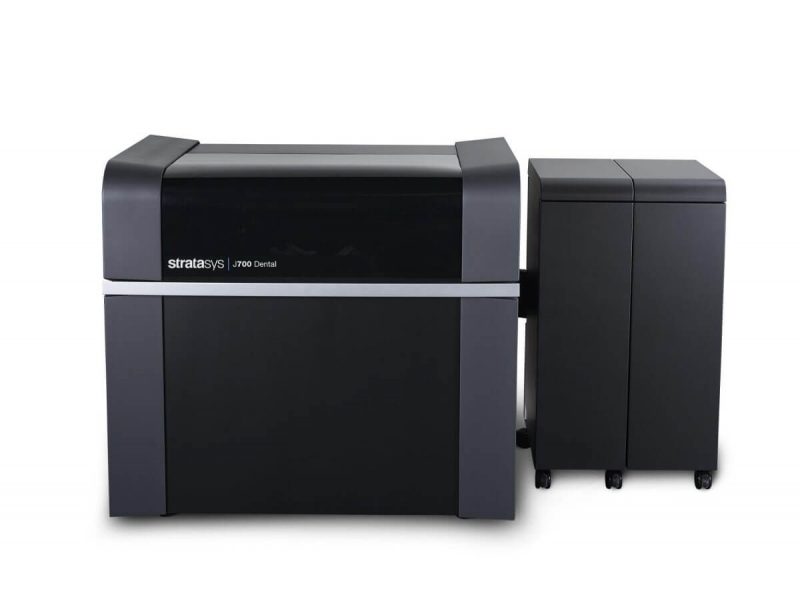 The printer is custom-built in a way to address the demand for large-scale capacity and effectively keeping pace with growing segment requirements.
The printer is designed in a way in which it can 3D print with the full range of PolyJet dental materials. It is specifically engineered for demanding dental applications.
The materials that it can 3D print using come in convenient sealed cartridges and their name and identifications are as follows:
VeroDent (MED670): A natural peach-tone having material that offers high-quality detail, strength, and durability.
VeroDentPlus (MED690): A dark beige colored material that creates amazingly fine features and finishes in every of its part and functional prototypes, as well as it offers excellent strength, accuracy, and durability.
VeroGlaze (MED620): An opaque material with A2 shading. This material is designed to provide the best color match in the industry. It is ideal for veneer try-ins and diagnostic wax-ups, also medically approved for temporary in-mouth placement, up to 24 hours.
Clear Bio-compatible (MED610): A material that can produce orthodontic appliances, delivery, and positioning trays and surgical guides for temporary in-mouth placement.
Let's look at some of the features that are offered in this printer.
Features
Dedicated to the high-volume production of clear aligners, this printer is the first mass-produced 3D printing solution that is engineered for clear aligner production.
It is designed for the dental industry in specific so that people inside the industry can cope up with the market demands as well as the printer can help them take advantage of this growth market.
This printer claims to simplify your workflow with its fully integrated system. All you have to do is get a 3D printing design file of your part and feed it into this 3D printer.
The model accuracy of this printer is in an order that exceeds industry standards.
So, you do not need to worry whether the parts manufactured by the printer would be accepted in the industry or not.
The printer comes with a streamlined plug-and-play setup and the capacity for 400 clear aligners per day.
Using this printer, you can get to full production in just hours – meaning quicker delivery, higher patient satisfaction, and lower costs.
Let's take a look at the features of this printer in specifics.
Fully scalable
The printer has immense capabilities for manufacturing parts that are small as well as big in size.
All the files that you send to the printer are stored in the cloud-based source from which it gets its orders.
Because the printer is integrated with its cloud, the production capabilities of the machine are fully scalable according to the time it takes for making a single part and when you wish to manufacture in a lot.
It is smart enough to work on a mass production project as well as on a single customized project. The printer is completely scalable.
So, you as a manufacturer do not need to worry about the running cost of the printer in any of the situations.
No secondary curing
PolyJet, the technology that this printer is based on, is a 3D printing technology that builds parts by jetting thousands of photopolymer droplets onto a build platform and solidifying them with a UV light.
Technology is one of the fastest and most accurate 3D printing technologies which is currently available. Another name for this technology is material jetting.
Here the curing of parts happens by a wavelength of the laser and the more concentrated the laser is, the more developed the part of the functional prototype becomes.
The printer takes into account complete factors that the molds that are used for 3D printing of your parts are not compromised by handling or contamination.
Plug and Play
We will be talking about this in the setup section of this review article also. You do not need to assemble parts of this printer to start it. The company gives it to you completely assembled.
So there is no engineering or customization required on your part. As soon as you get it all you have to give to this 3D printer is the power supply and that's it.
To achieve any aligner quality that you are seeking all you have to do is plug the printer in the power supply that it demands.
Capable of 24*7 production
The printer is a full-fledged industrial printer. So, like you have the traditional machines, Stratasys has engineered this printer too, for the same requirement.
If you have mass production, this printer would not leave you halfway out for any reason. It will go on until you complete your lot and will be ready for the other, in no time.
Even during the condition of lights out, there is a specific facility that the company provides for this printer.
All of your work would be saved and in case of light out, you can regain again from the same place where you had stopped.
You would not have to start all over again. In the case of batch production too, this printer is extremely helpful.
Increased speed levels
A case study by a company explains how this printer was able to increase its delivery times by 1.8 times. The build tray size is capable of handling about 55 arches, nested.
That is something the printer can print in about three hours which is much faster than when the company was printing with Stratasys Objet500 series printers.
Specifications
The printer has 1400 mm * 1260 mm * 1100 mm in size and 948 lbs in weight. The material cabinet of this printer is 670 mm * 1170 mm * 640 mm and 152 kilograms in weight.
The build size of the printer is 490 mm * 390 mm. The parts that are built by the printer has a layer thickness of 55 microns. And build resolution is 100-micron plus or minus inaccuracy.
The Stratasys J700 Dental features single material printing, in which you can use MED670 or MED690.
In short, this means the highest quality arches can be produced with the cost savings and ease-of-use of truly hands-off manufacturing.
SUP705 is the support material that will be used in streamlined cleaning to enable your arches to move quickly from print to thermoforming and shipment.
Faster, lower cost, quality arches mean more satisfied customers.
Price
For knowing the price of this printer, you need to ask for a quote from the company, by clicking on the Get A Quote tab which is present on the website.
Fill in your details and submit them to the company. You can also contact the company if you have any doubts regarding the printer.
First Impression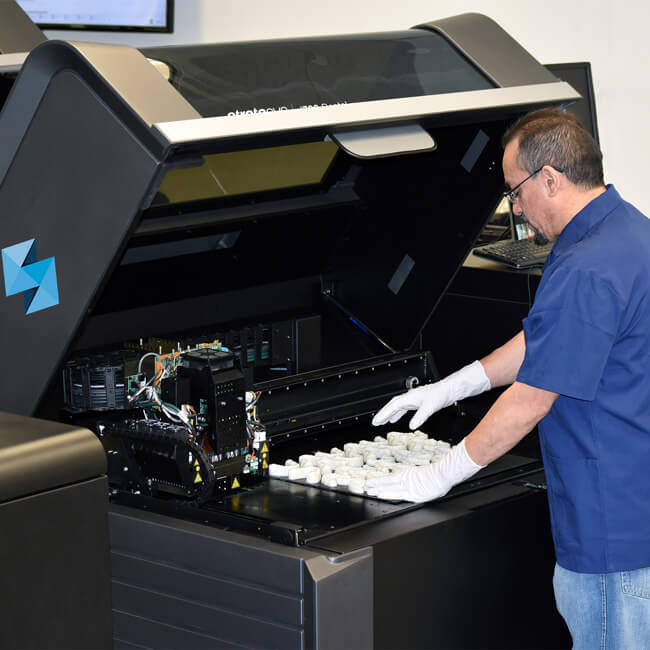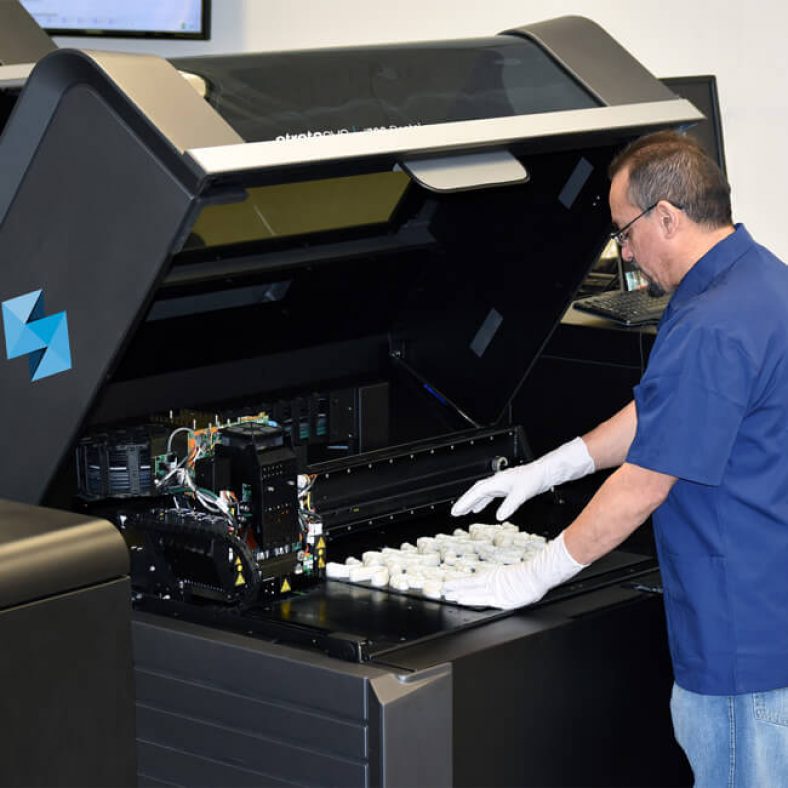 Credit: 3dprintingindustry.com
From a photograph available on the website of this printer's manufacturer, you get to know the printer looks like a traditional machine of greater height.
There is a transparent body on the part where one needs to peek through to know whether the print process is going as per the plan and how much has it been completed.
There is no touchscreen that you can get to see in the photograph on the body of this printer.
There are some blogs written on this printer and there is of course the option of Stratasys Academy to know more.
Setup
The printer comes completely assembled, the only thing you have to do is read about all the parts from the informative manual that should come along with the printer.
For knowing more about this printer more there is an option on the website to download the product guide as well as learn from the blogs.
Apart from the download, you can always contact the company in case of the questions you have, there are some FAQs on the FAQs page on the website, that page may have the answers that you are looking for, maybe somebody else has asked it and the answer is already mentioned on the website. That's all.
Printing Type/Cost
In polyjet 3D printers, before printing begins, photopolymer resin must be poured into the material container and heated. This allows the material to reach the desired viscosity.
The start of the printing process happens with the carriage moving across the X-axis, across the build platform and the print heads selectively jetting the resin, in the form of droplets, onto the build platform.
After this is done. The UV lights cure them into an ever-growing solid because there are multiple print heads, different materials can be printed at once.
An instance of the application of this functionality is a part requiring supports, where the support material builds up at the same time as the main material.
As you can see and differentiate for yourself, there is more movement of parts as well as the use of laser, makes this process expensive than the techniques which were invented before this one for 3D printing.
Print Quality
Credit: dentalreview.news
Generally, Polyjet 3D printed parts and prototypes are of higher quality than FDM 3D printed parts. So, you can expect the same quality or a little more because the printer is well upgraded.
Software
GrabCAD is the name of the software the printer comes with. This software is easy to work with software that also has its community, you can go on the website and click on the Support tab to find out more.
Customer Service
Stratasys backs the printer with the end-to-end, on-demand service, and world-class support that is guaranteed.
Field issues that you get while working with this printer will be fixed fast, and Stratasys' 30 years' experience in 3D printing will enable them to help you make the most of your 3D printing investment.
Parameters Influencing Buying Decision
A quick recap of the important factors that we have been talking about in this article is mentioned below.
3D Printer Cost: You have to get a quote from the company for knowing the printer's cost.
3D Print Quality: High-quality aligners are guaranteed.
3D Print Speed: Extraordinary.
3D Printer Capability: Printing with the best materials for aligners is possible using the printer.
3D Printer Practicality: Dental industry is where the printer has to be used.
3D Printer User Expectations: On-going and increasing demands of aligners can be completely satisfied by this printer.
The Verdict
Since the printer is specifically targeting the Dental industry, the scope of the audience is also limited.
But do not forget that this industry is growing and the growth of the industry is what's leading to the making of this printer.
So, if you lay trust in the growth of this printer and are willing to see your long-term future in this industry, this printer is something you can consider.