XYZprinting Nobel 1.0 A
Nobel 1.0 A has a fantastic eye-catching design and footprint that makes itself sit comfortably on most work surfaces.It produces prints with less visible signs of layers and ribboning as in FDM printers.
PROS
Ready to use soon after some procedure.
Produces high-quality prints.
Even complex models are easily printed.
CONS
The printer has a slow printing speed.
Models printed using this printer require cleaning.
The resins in this printer have a strong smell.
Product
Specification
Videos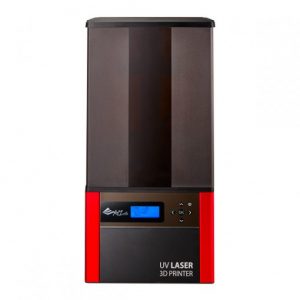 For achieving a high quality of parts and functional prototypes, you have a high-quality laser strength that is used to cure parts and functional ...
| | |
| --- | --- |
| Model | Nobel 1.0A |
| Manufacturer | XYZprinting |
| Price Range | $ 1099 |
| Release date | 2017 |
| Country | Taiwan |
| Availability | Available |
| Classification | Desktop |
| Technology | Resin (SLA- DLP…) |
| Material | Liquid resin |
| OS compatibility | Mac OS, Microsoft Windows |
| XY accuracy | 0.13 mm 0.005 in |
| Max. build size | 128 × 128 × 200 mm 5.04 × 5.04 × 7.87 in |
| Max. build volume | 3.28 L |
| Min. layer thickness | 0.03 mm 0.001 in |
| Dimensions | 280 × 345 × 590 mm 11.02 × 13.58 × 23.23 in |
| Weight | 9.6 kg 21.16 lb |
| Heated print bed | No |
| Heated build chamber | No |
| Automatic calibration | Yes |
| Closed frame | Yes |
| Dual extruder | No |
| Independent Dual Extruder | No |
| Full color | No |
| LCD screen | Yes |
| Touchscreen | No |
| On-board camera | No |
| Mobile app | No |
| 3D scanners | No |
| CNC mill | No |
| Electronics 3D printing | No |
| Laser engraving | No |
| Conveyor belt | No |
| Air filter | No |
| Pellet extruder | No |
| USB | Yes |
| Wifi | No |
| Bluetooth | No |
| SD card | No |
| Ethernet | No |

Table of Contents
In case you haven't noticed the A after Nobel 1.0 (like many others) please do! The A in Nobel 1.0 stands for Advanced. So, now you know how Nobel 1.0 and Nobel 1.0 A are different from each other. The latter has some features that the former doesn't have. List of those features include:
An enhanced Laser Scanning Unit that improves the precision with an X/Y axis resolution of 130 microns, as well as 25-micron layer thickness.
An auto-filling resin system.
Monitoring the printing process and the amount of material remaining in the chamber.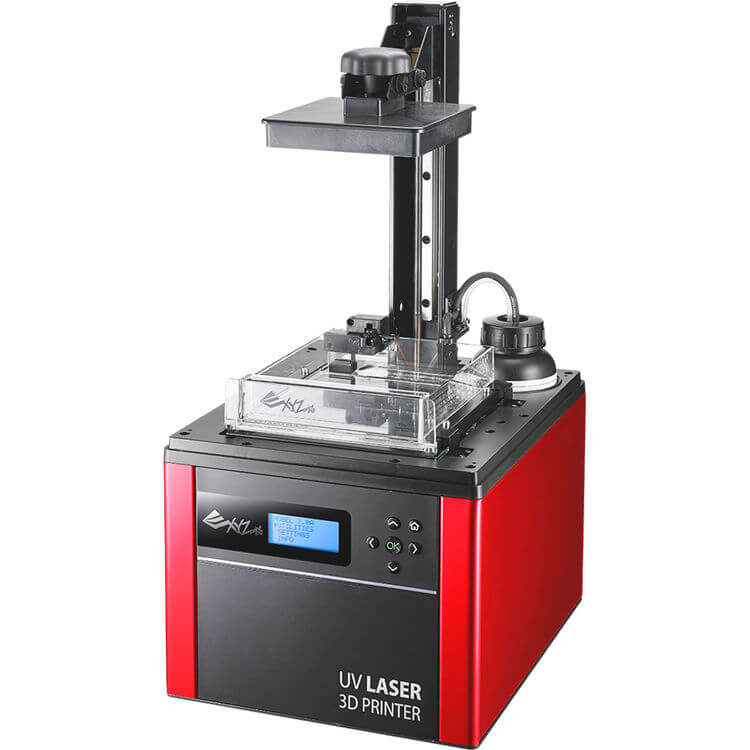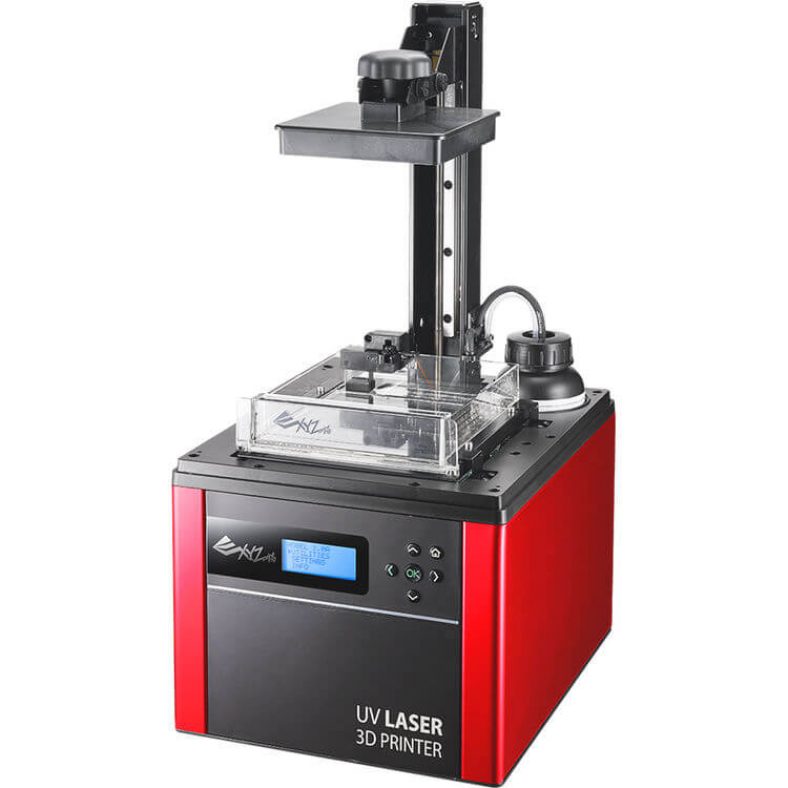 Nobel 1.0 A is compatible with a variety of XYZ materials, the list of which includes multi-colored acrylic resins, castable resins, and also flexible resin.
Features
XYZ Printing, the manufacturer of the Nobel 1.0 A, has provided an automatic mechanism for pumping the resin into the tray even when the printing process is on.
Switching from one resin to the other is not that easy because if you wish to switch, you need to first drain out the autofill system, which means in short that you need the printer to switch off its printing process.
Despite the difficulties that you face during switching of resins, some very advanced features have been kept by the manufacturers to set it apart from other open designed SLA printers in the same price range. Let's look at those.
Black Plastic Hood
The top of Nobel 1.0 A has a large black plastic hood that looks more like an optional thing which can be/ cannot be utilized. But, the company has designed it to protect the print platform and the resin tank from the outside world of the room in which the printer is kept.
In case you do not have anything to disturb in the room where the printer has been kept and are trying to print without the hood, it won't!
The manufacturers of this printer have instructed the printer strictly to work only with the hood on and not otherwise.
According to sources, this is done to keep the printer away mostly from other light sources and dust from that interferes with its laser beam.
It is obvious now that when the printer is not running, you can remove this hood to add more resin or to remove the printed object, or to clean it up.
Laser Scanning Unit
For improving the precision of the engine's laser to 130 microns for the X/Y axis and the laser resolution to as low as 25 microns, Nobel 1.0 A comes with a Laser Scanning Unit. As the name explains one's mind, to expect laser to be scanned in this unit, so it does.
It is the boon of this "rare to be found in other printers of similar price range" Laser Scanning Unit that one can print parts and functional prototypes with higher accuracy even if they involve complex and intricate details.
Monitoring, Auto Filling Of Resin System, And Ability To Print Using More Materials
Not only can you keep an eye over the printing process of the Nobel 1.0A through its user interface, but also see how much resin has been utilized and how much remains.
There is an auto-filling resin system that has been designed by the printer's manufacturer to let the printing process of the printer remain uninterrupted.
The website of the manufacturer claims that the Nobel 1.0A is compatible with various resin materials like multi-colored acrylic resins, flexible resin, and castable resin. Each of these resins has its unique application which ranges from creating durable prototypes to creating castable jewelry.
Specifications
Nobel 1.0 works on Stereolithography. The printer's dimensions are 280 mm * 345 mm * 594 mm. It weighs 21.3 pounds. As a user interface, the printer has a 2.6-inch touchscreen which is multilingual.
The light source which cures the liquid resin is an ultraviolet laser with a wavelength of 405 nanometers. Users can connect with this printer using a USB cable 2.0 and USB Flash Drive. The build size of Noble 1.0 is 128 mm * 128 mm * 200 mm.
The power requirements for this printer are 100-240 Volts, 50/60 Hertz, and 60 Watts. Nobel 1.0 has an X/Y axis resolution of 0.3mm and a Z-axis resolution of 0.025 mm.
Users of this printer can use any photopolymer resin to print 3D parts or functional prototypes. The resin bottle capacity of this printer is 500 ml. The printer works on Software named XYZ Ware Nobel.
This software can work on operating systems like Windows 7, 8, 8.1, 10, Mac 10.10, 10.11, 10.12, 10.13. As per the note on the manufacturer's website 32 bit is no longer supported by the software. And as per advances in the materials, the system needs to be upgraded to 64 bit.
The software can print files with extensions.STL, XYZ format, and GCODE. The standard operating temperature recommended by the manufacturer is 18 to 28 degrees Celsius. Nobel 1.0 claims to give layer resolution in the range of 25/50/100 microns.
Price
Available in the market at $1995.95, the Nobel 1.0 A could potentially be a steal for those willing to work flexibly with resins. Comparing it to other FDM printers in the market would bring you to the conclusion that it's not too cheap.
But, when you will compare it with the printer's that use Stereo Lithography for printing, that's when you would know its worth.
Users all over the world that print with printers using Fused Deposition Melting would find, not just this, but any printer based on Stereolithography technology, expensive.
But makers of these printers have made sure that their primary target is not hobbyists who are trying out 3D printing as a new hobby.
Neither are the makers in search of small businesses that wish to earn more by buying a printer that costs cheaper than most of the other printers.
They are looking for someone willing to go long term in the 3D printing market. And even if he/she wants to do business with it, it's more qualitative than quantitative.
First Impression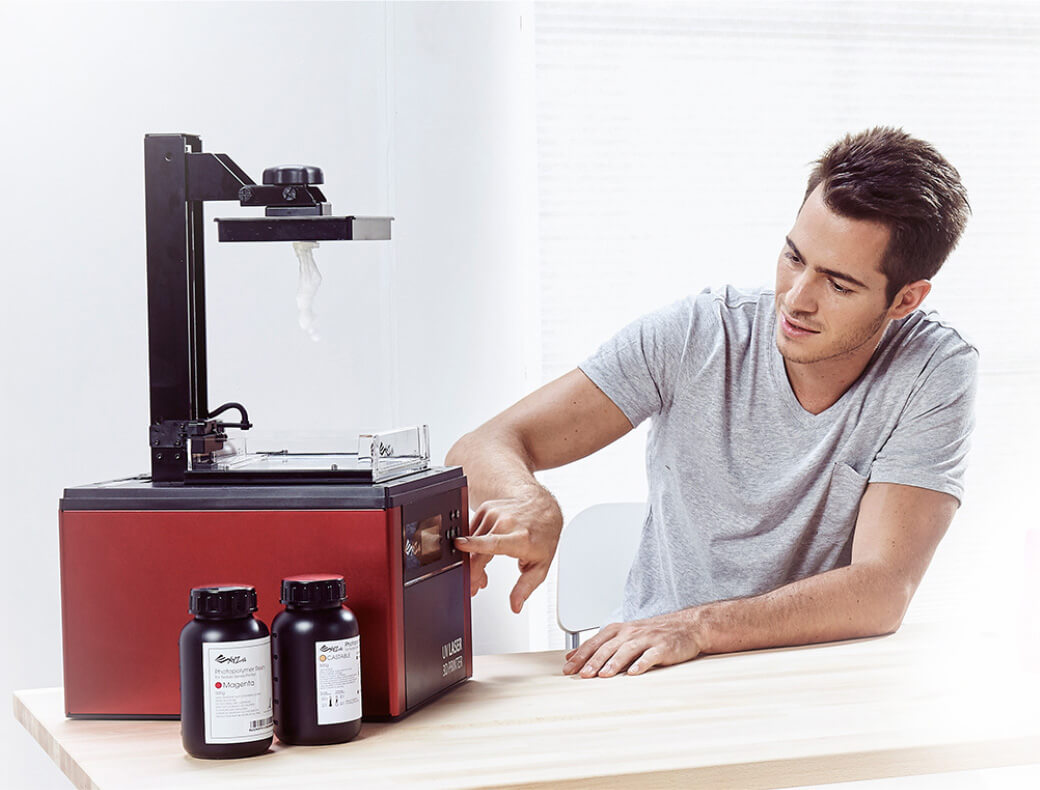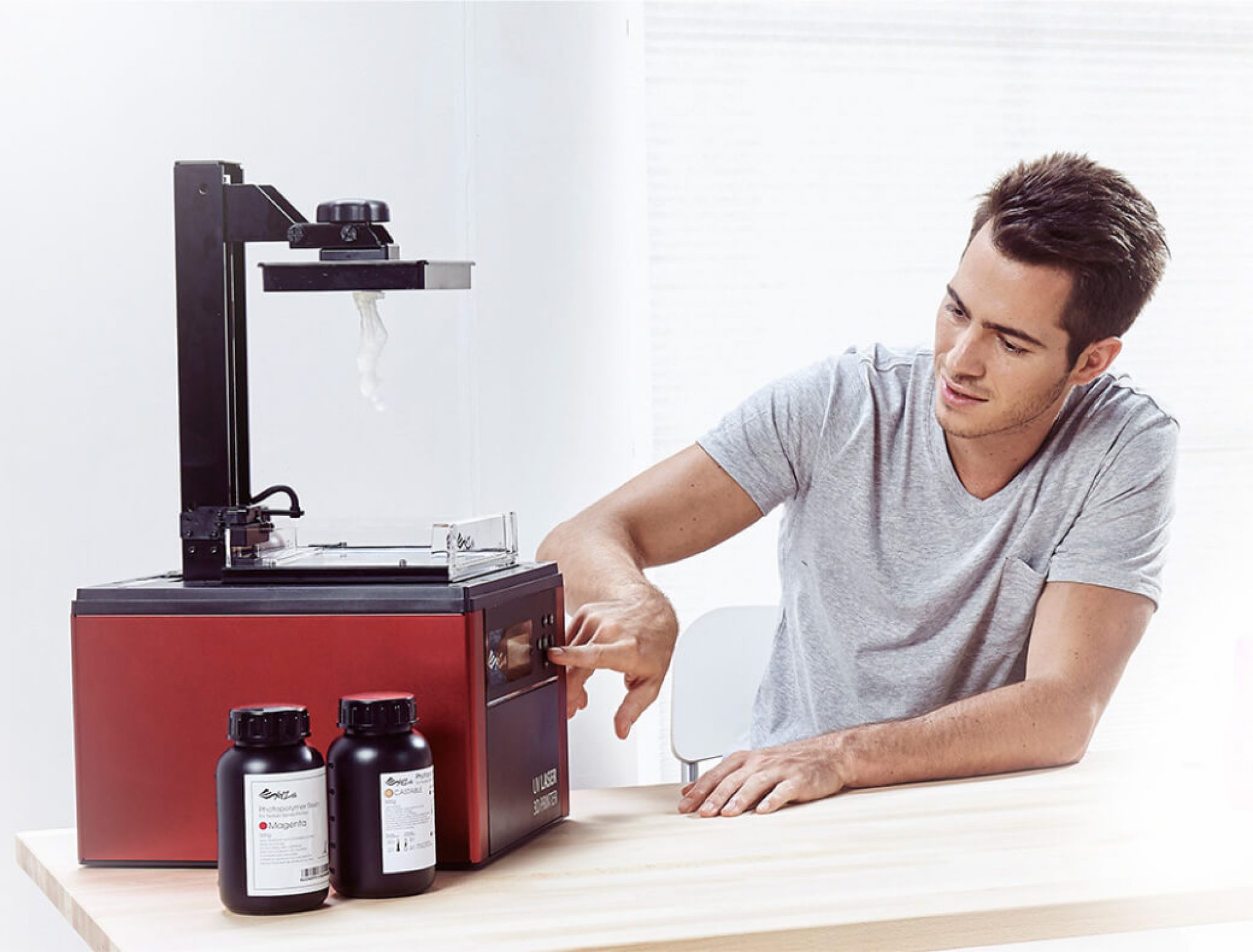 Credit: xyzprinting.com
The overall design of this printer is simple, yet it attracts your eyes because the finish chosen by the manufacturer is smooth and glossy.
The fact that the Nobel 1.0 A is made of plastic will be realized by you when you require very little effort in transporting it from one place to the other that compared to all the SLA printers in the same price range with metal bodies.
The hood, about which we have already mentioned above in the article is an orange plastic that strikes out to your eyes and is a translucent material.
This plastic is kept to block the UV rays during the printing process and also allows users to monitor.
Support beneath this hood helps the print bed, to the base of which a motor is attached, allowing it to move up and down during the 3D printing process. Whilst the material with which you wish to print is kept underneath the print head in the tray.
Setup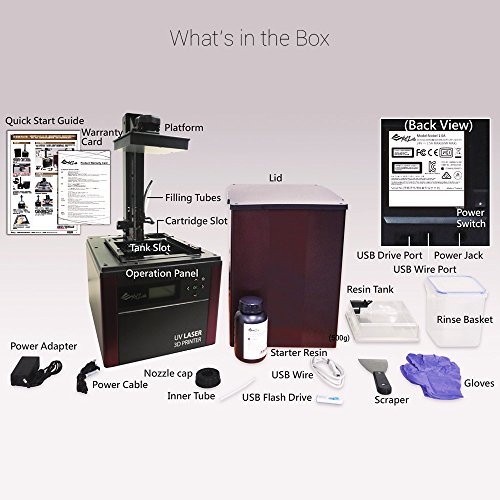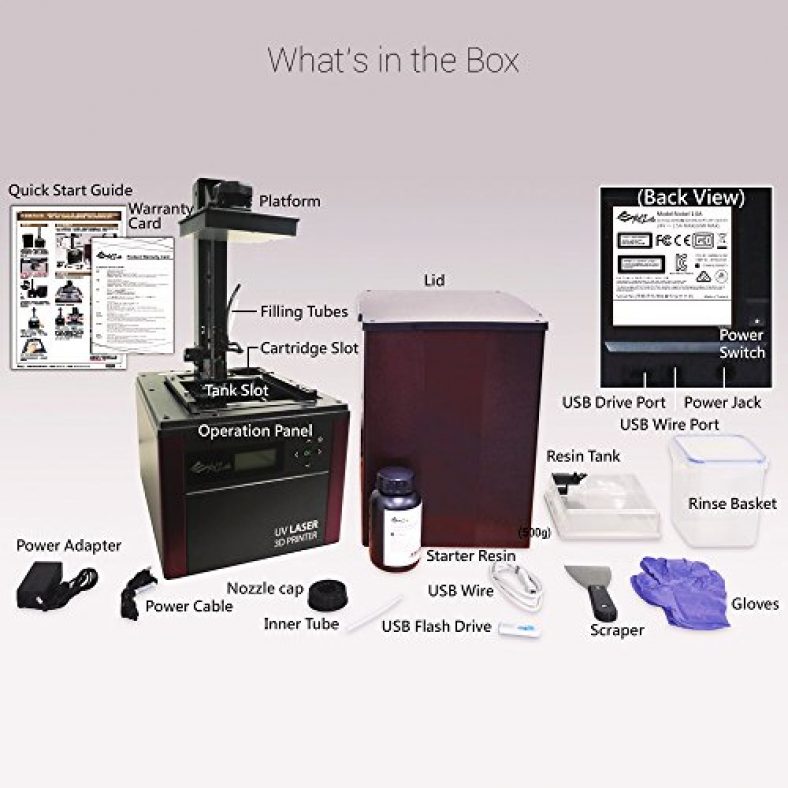 Credit: 3dprintnerd.com
As soon as Nobel 1.0 A is lifted out of the box there are a few procedures to go through before the first print can be processed on the printer. The first one of which is to install the resin bottle which simply fits into a purpose-made slot.
The next step is to connect the two tubes to the printer. The other end of the tubes is then clipped in place to feed the resin into the tank. After doing this you need to run a diagnostic test that would take around 10 minutes of your time.
Later you need to adjust the print bed with the four screws that are provided with the printer.
After this is done the machine can be switched on and configured. On completing that you can use the Nobel 1.0 A's simple interface and select the initialize option, then pop the lid back on leaving the printer to fill its tank and prepare for the first print.
Printing Type/Cost
Before purchasing this printer, get one thing straight in your mind that this printer is not now for providing prints in faster times. It takes longer to print than printers that use Fused Deposition Melting.
Also, to add on, the resins used for printing with this printer are expensive than most filaments with which you can FDM 3D print.
Nobel 1.0 A is known to produce parts and functional prototypes with dimensional accuracy like no other in a similar price range.
The infill percentage of prints is very high. But the printer utilizes more amount of electricity than its competitors so, the overall printing cost of this printer will be higher than others.
Print Quality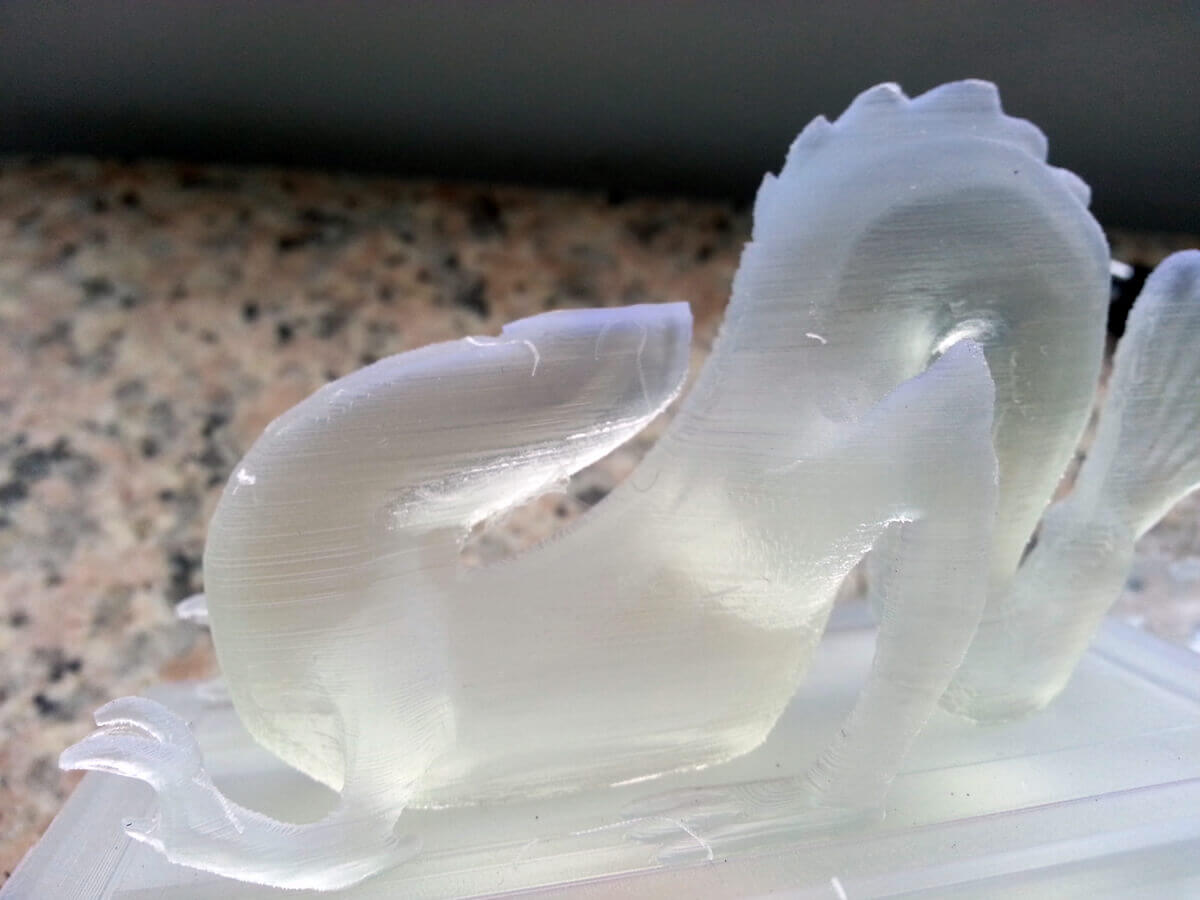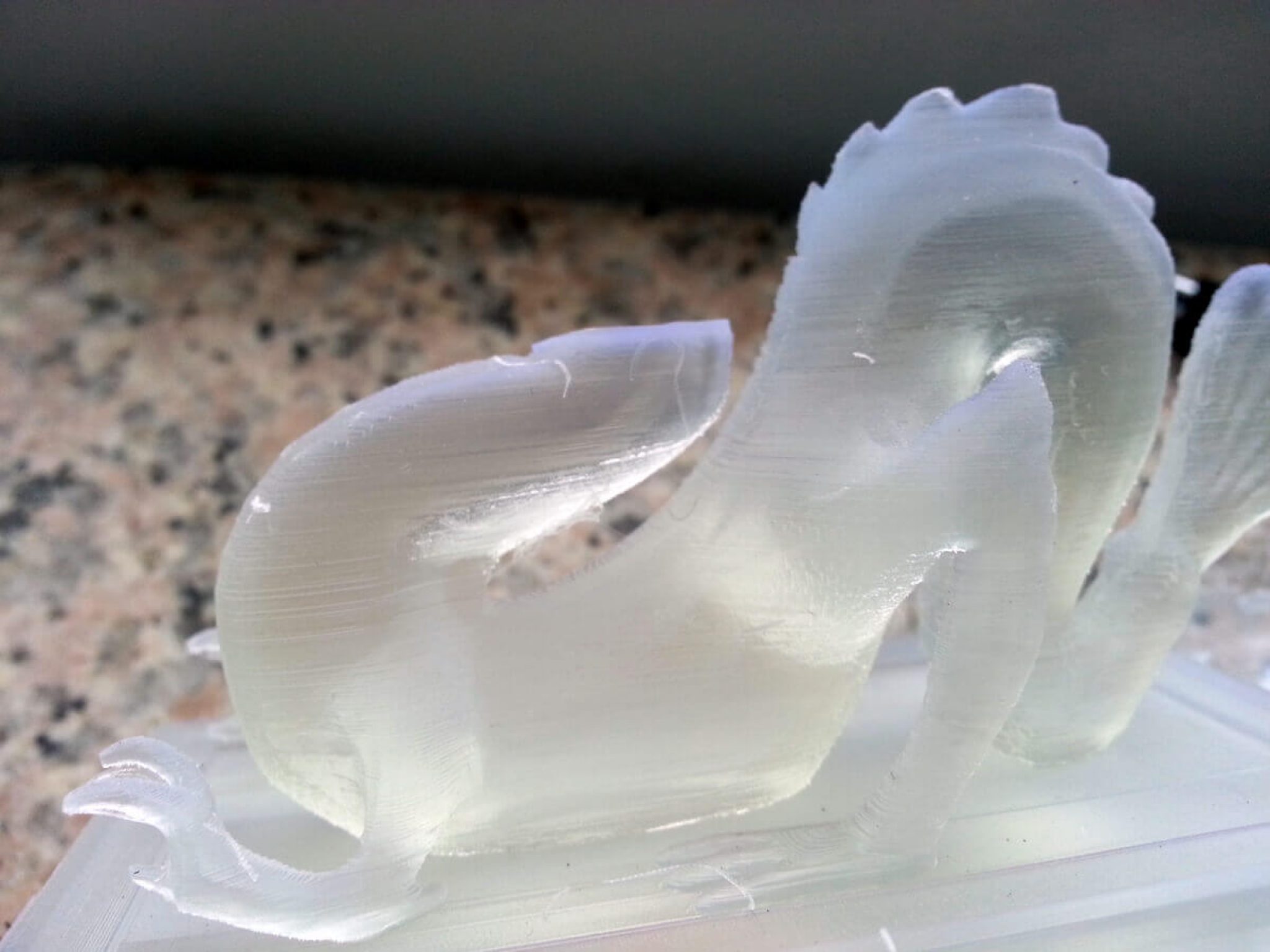 Credit: 3dprintingindustry.com
The first test print when downloaded from XYZ printing's website takes almost an hour, when running the same model through Cura for Luzbot Mini takes just 15 minutes.
However, the quality difference between the two was very different, with the former being much higher than later. Then you realize why the makers of these printers have stayed on using its software rather than making the printer open-sourced.
The fact that the standard STL file is supported on XYZ software, makes it easy for the user to adjust the position and print quality easily after importing it to the printer.
Nobel 1.0 A uses Stereolithography (SLA) 3D printing technology which is known to produce higher quality prints than Fused Deposition Melting (FDM) 3D printing.
In the quick print settings of the printer, there are three quality options, one setting that you do is essential in the sense that you realize if there are misprints, what fault are you doing in the settings.
It is only after a few days of experimenting that you find a slight tweak that means the majority of models would print cleanly.
Software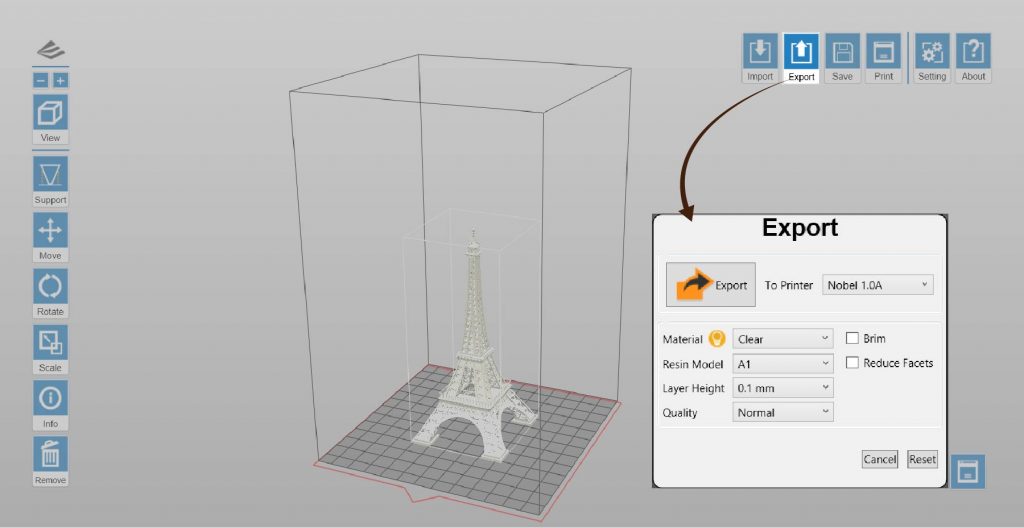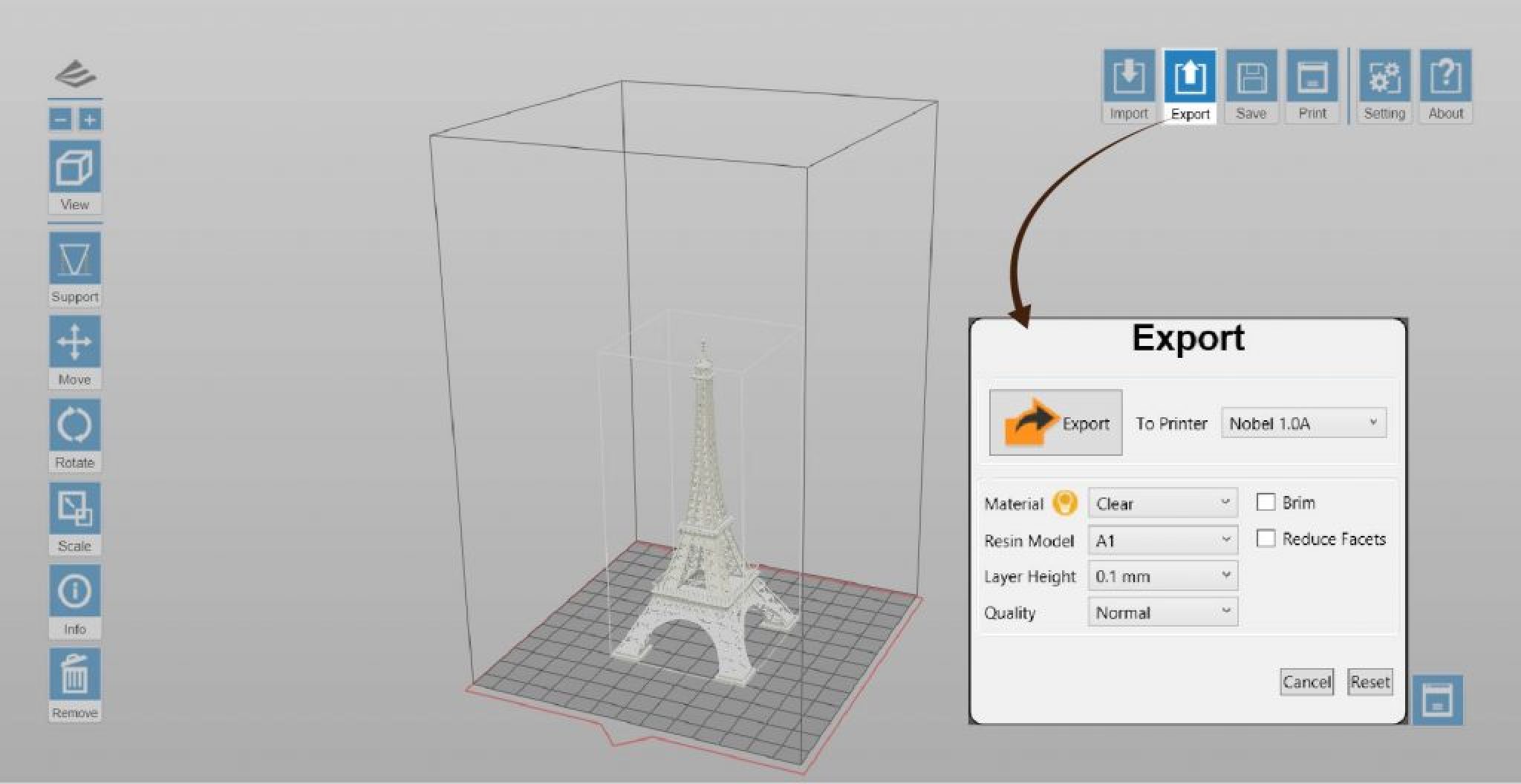 XYZ Nobel Ware software works well with the designs. It entertains all the STL files and allows users to move and scale using the software. You can even export the file for printing using this software.
The software is user-friendly enough to give you basic information about the printing process. It would tell you the time remaining for completion of the print and even the amount of resin left in the tank.
Once the print is completed you would need very little time for the post-processing and getting the final print.
Customer Service
FAQs on the website are there to guide you and chat support with online help to make sure you have them just whenever you need them.
Parameters Influencing Buying Decision
Find out if the 3D printer is the one for you. Look for the various parameters that help you make the right decision.
3D Printer Cost: Affordable compared to SLA printers.
3D Print Quality: Higher than FDM printers.
3D Printer Speed: Lower than FDM printers.
3D Printer Capability: Can print with multiple resins.
3D Printer Practicality: Professionals can find the quality that they search for in this printer.
3D Printer User Expectations: Stands on, as per the claims made by the company.
The Verdict
Overall, the printer has a fantastic eye-catching design and footprint that makes itself sit comfortably on most work surfaces.
Although setting up Nobel 1.0 A takes a bit of time compared and has relatively slow print speeds, if you're willing to see the quality of prints that this SLA printer produces, it's worth buying at this price.
Comparing it with other SLA printers such as Form One+, you would say that extra money buys higher clarity prints. But comparing Nobel 1.0 A with the Ultimaker 2 would tell you that it has the edge because of being a printer that uses SLA technology.
It produces prints with less visible signs of layers and ribboning as in FDM printers.