3D Systems NextDent 5100
NextDent 5100 is one of 3D Systems' finest offerings. With an affordable price tag and featuring various astonishing features, the printer is the perfect solution for dental applications.
PROS
Easy to operate
Highly accurate and precise parts
Affordable
Compatible with almost 30 different resins
4 times faster than its competitors
CONS
Small build space
Closed material system
Product
Specification
Videos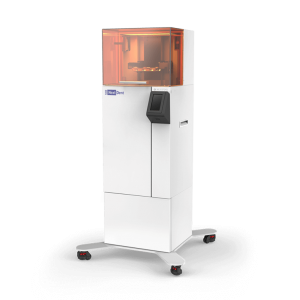 Designed to save 80 percent of the production time, 3D Systems NextDent 5100 is the best choice for dental professionals. Created by the US leading ...
| | |
| --- | --- |
| Model | NextDent 5100 |
| Manufacturer | 3D Systems |
| Price Range | $ 5000 – $ 10000 |
| Country | United States |
| Availability | Available |
| Classification | Professional |
| Technology | Resin (SLA- DLP…) |
| Material | Liquid resin |
| Dimensions | 70 × 68 × 135 mm 2.76 × 2.68 × 5.31 in |
| Weight | 35 kg 77.16 lb |
| Heated print bed | No |
| Heated build chamber | No |
| Automatic calibration | No |
| Closed frame | No |
| Dual extruder | No |
| Independent Dual Extruder | No |
| Full color | No |
| LCD screen | No |
| Touchscreen | No |
| On-board camera | No |
| Mobile app | No |
| 3D scanners | No |
| CNC mill | No |
| Electronics 3D printing | No |
| Laser engraving | No |
| Conveyor belt | No |
| Air filter | No |
| Pellet extruder | No |
| USB | No |
| Wifi | No |
| Bluetooth | No |
| SD card | No |
| Ethernet | No |

Table of Contents
3D Systems has come up with various dental 3D printers and this one is another amazing release by the company. NextDent 5100, as the name suggests is specially designed for dental application.
With its fast-speed operation and compatibility with a variety of different materials, the printer leaves no stone unturned to create quality parts.
NextDent 5100 allows for the preparation of different dental models in the fastest time possible. For instance, users can print surgical guides, orthodontic splints, trays, dentures, crowns, and bridges with the highest accuracy and precision.
Not just that, it's cheaper to create parts using this machine when compared to the systems available with competitors.
Offering a 4 times faster speed than most of the other solutions, NextDent 5100 3D printer helps complete the printing procedure with higher efficiency.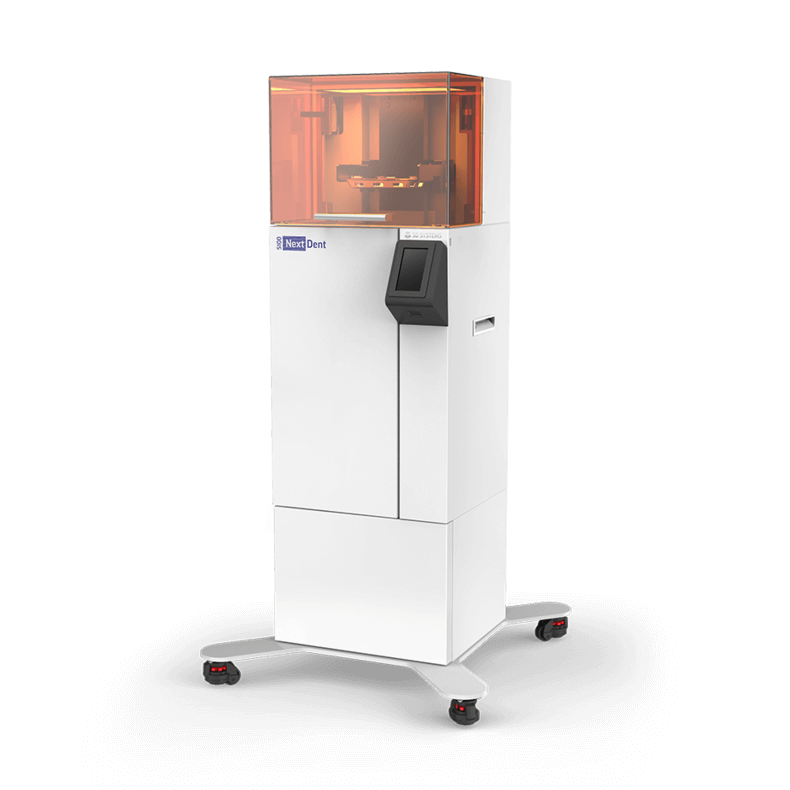 At the same time, it enables limiting material waste. Users do not have to invest huge capital in equipment or rely on milling centers.
And, with a faster turnaround time, the printer significantly reduces patients' visits by printing orthodontics and prosthodontics equipment faster than traditional methods.
Features
Unlike many other 3D Printers that fail at fulfilling their promises, NextDent 5100 works as expected. With many advanced features, the printer performs better than its competitors. It brings some of the unique offerings for the users to ensure that there is no room for inefficiency.
Here are some of the amazing that make NextDent 5100 a desirable solution for dental labs and clinics.
Compact Design
Most of the industrial 3D printers are bulky and occupy large space while offering little space for part production. However, NextDent 5100 is different. It is compact and sits in smaller spaces, inside laboratories. Not just that, it has four wheels in the bottom. This helps in the easy movement of the printer from one place to another.
Enclosed Design
Like other SLA 3D printers, this one also possesses an enclosed frame. Hence, the heated components stay inside the printer's body. Making it safer for users to work with NextDent 5100.
On the other hand, it features a see-through compartment for printing. Hence, allowing users to keep an eye on the 3D models while printing.
Compatible with Dental Software Solutions
For easy integration with the prevailing solution, the manufacturer ensures that the 3D printer stays compatible with popular intra-oral scanning as well as dental software solutions. Therefore, allowing users to achieve precise results when compared to the traditional manual production techniques.
In turn, creating a complete digital workflow offering predictable uptime. On top of that, significantly minimizing the probable risks and challenges for the operator.
Carbon and Air Filters
3D Systems' 3D printer is safe to use and features an air filter and carbon filter. This ensures that the harmful fumes do not irritate users when they print using NextDent 5100.
Print with Biocompatible Resins
Making sure that the parts are safe for oral applications, the printer utilizes 3D Systems developed industry-specific resins. These are biocompatible as well as CE certified.
When talking precisely about the number of materials available for printing with this 3D printer, users can work with around 30 different choices of resins.
Not just that. These resins are capable of addressing multiple dental applications. Also, the resins come in an array of different aesthetic colors. Hence, easily matching the needs of patients' teeth and gums.
High-Speed Printing
As mentioned, the printer is fast and very efficient. It can produce parts 4 times faster than other SLA 3D printers falling in the same price range and above. Therefore, accomplishing print jobs for as little as 28 minutes.
Because of the speedier production rate, the labs are able to save around 80 percent of their production time. Offering a higher uptime, NextDent 5100 surely aims at helping dental labs with a faster solution.
Assembled Design
For those who haven't worked with a 3D printer before, this option is a really attractive choice. Mostly because it is easy to set up.
Users do not need to connect different components together to start the machine. On the other hand, it comes completely assembled. Letting users start printing in a matter of time after receiving NextDent 5100.
Accurate Prints
When it comes to dental application, it becomes imperative to offer highly precise parts. Therefore, the manufacturer makes sure the quality of prints created on NextDent 5100 surpasses users' expectations all the time.
Parts printed using the machine possess a smoother surface finish. In addition, it is completely hassle-free to complete printing with intricate details. All these perks combined together make this printer a really attractive choice for the dental industry.
Touch Screen Interface
The printer also has a touch screen interface to ensure that the users do not have any trouble working with the settings of the prints. It is easy to access and very user-friendly. Letting customers create highly accurate designs and control most of the operation from the touch screen itself.
Highly Affordable
It is fascinating to note that the printer is very affordable. Given its speed and efficiency, the price for the printer isn't too much.
Especially professionals from the dental niche would not have much problem switching from traditional methods to additive manufacturing due to price concerns.
Closed Material System
3D Systems, the manufacturer offers proprietary materials for printing. Users must not use the resins available with other brands.
While this may seem like a limitation to some. However, with so many choices under its hood, 3D Systems ensure that the users do not fall short of material variety.
This certainly speaks about the dedication of the company and its goal to provide dental niche a more efficient and simple way to create dental parts.
Specifications
NextDent 5100 3D printer has a footprint of 426 x 489 x 971 mm. Hence, you can expect it to be sleek with a little extended height.
Using its unique Non-contact membrane Figure 4 technology, the printer does an exemplary job of creating prints with safer design.
It offers users a print space of 124 x 70 x 196 mm. Which is not too much, but sufficient for models required for dental applications.
Operating on the power source of 100-240 VAC, 50/60 Hz, Single Phase, 4.0A, NextDent 5100 is the perfect fit for offices and small industries as well.
In addition, the printer enables highly accurate designs. It can create parts with 1920 x 1080 pixels resolution.
Operating with materials such as NextDent SG for Surgical Guides, NextDent Denture 3D+, NextDent Try-In, and more, the printer enables the production of different parts featuring varying print results.
Although being an industrial 3D printer, NextDent 5100 is lightweight and easy to move. It weighs only 34.5 kgs.
In addition, it has four wheels in the bottom to help carry the printer whenever needed. At a faster speed more than 4 times its competition, the printer sums up its performance with astounding results.
Price
NextDent 5100 is an affordable option for dental applications. It costs around $ 10,999. However, the prices may differ a little depending on the distributor you contact for buying the printer.
First Impressions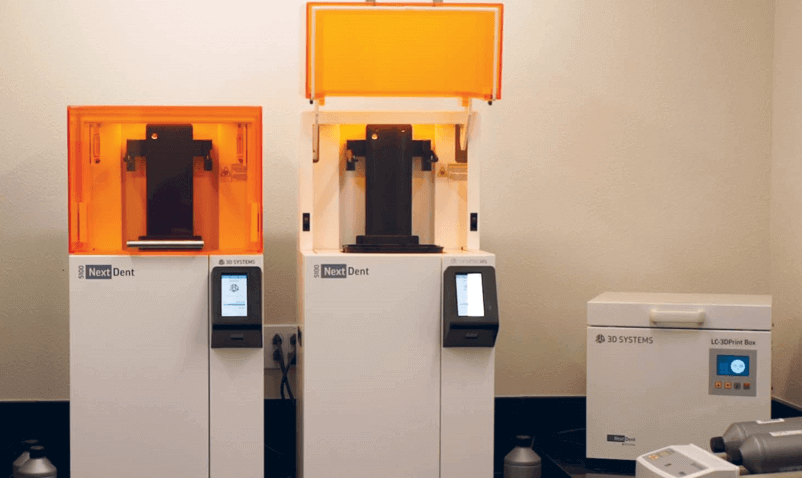 Credit: cloudfront.net
Neatly designed, the printer will not disappoint you at all. Featuring an attractive and sleek body, the machine comes assembled. Users do not need to go through the hectic assembling process before starting their first print.
Alongside, the packaging of the company is very secure. The 3D printer comes snuggled inside a safe box firmly fixed with wrapping aids. With NextDent 5100, you receive all the necessary tools to complete the setup.
Overall, the printer won't cease to impress users right from the beginning.
Setup
Being an industrial 3D printer, based on SLA technology, it may not start working right away, as is the case with desktop 3D printers. However, 3D Systems have put every help in place to ensure that the users do not struggle with the setup.
Using the touchscreen, you can operate the different functions of the machine. For instance, you must prepare and install the resin tray and the build platform before starting the print. Do not forget to load the 3D file before you start the printer's operation.
You get all the tools required for the process as well as a detailed manual explaining every step to complete the setup. In addition, you can also access the various FAQs and material available online.
If nothing works, connect with the company's support to seek any help you need.
Printing Type/Cost
This 3D printer is based on SLA 3D printing technology. It works with resins that are photosensitive. Hence, when the light source falls on the selected resin cross-section, it hardens. Using this technology, the printer creates one layer at a time. The process continues until the complete part is printed.
The cost of printing usually depends on a number of factors including material cost, part design, infill density, and a lot more. Therefore, the price of parts will widely differ depending on the change in any of the response parameters.
Print Quality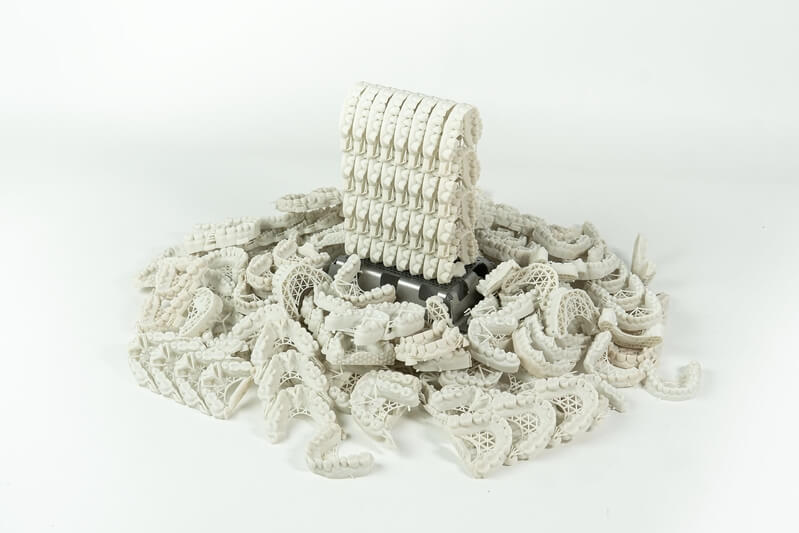 Credit: makepartsfast.com
Without a doubt, it is obvious that the print quality of the machine is amazing. Offering users, a resolution of 1920 x 1080 pixels, the printer is able to create highly isotropic models. Hence, making it simpler to create dental fixtures and other tools with ease.
Software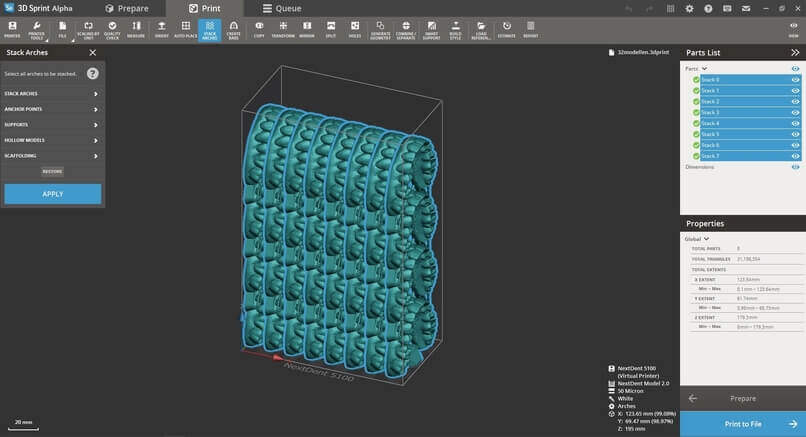 Credit: netdna-ssl.com
NextDent 5100 makes use of the 3D Sprint™ software. It is a proprietary software offered by 3D Systems. When talking about this application, you can expect it to be highly robust and very intuitive.
3D Sprint can easily handle parts that aren't possible using other printers with similar offerings. Not just that, the software is very user-friendly.
Customer Service
3D Systems are known for offering prompt responses. They have got a huge database featuring all kinds of guides and FAQs. This is to ensure that the users do not have to struggle when working with the printer.
In addition, when the support team is very helpful and makes sure that the queries are answered at the earliest.
Parameters Influencing Buying Decision
It is no brainer to understand that the printer can solve great purposes for dental applications. From reducing the cost of production to faster uptime, it can benefit users in many ways.
However, how about a quick analysis of the machine before you plan to invest in this 3D printer?
3D Printer Cost: The printer costs $ 10,999. Hence, it is affordable for dental professionals and labs.
3D Print Quality: Undoubtably, it offers high-resolution printing with isotropic print quality. The parts are smoother. Using this printer, one can easily create parts with intricate and fine geometry with ease.
3D Print Speed: It offers four times faster speed than any other SLA 3D Printer in the market. And, if you trust the company claim, the machine is very fast and can produce parts by reducing 80 percent of production time. You can create parts being as quickly as 28 minutes.
3D Printer Capability: Suitable for printing dental equipment, trays, surgical guides, models, dentures, crowns, orthodontic splints, bridges, and more.
3D Printer Practicality: NextDent 5100 is a dental 3D printer. Hence, suitable for applications within dental labs and clinics.
3D Printer User expectations: This certainly is a very attractive 3D printer with a huge efficiency to reduce dental production time and cost. Hence, fitting right within users' expectations. An overall complete solution for the dental niche.
The Verdict
With recent developments, 3D Systems have added some of the best machines for dental applications. And, NextDent 5100 is one of their finest offerings. With an affordable price tag and featuring various astonishing features, the printer is the perfect solution for dental applications.
Hence, Dentists and labs looking to reduce the wait time for patients and ease their pain with faster solutions must consider this 3D printer.