Anet ET4
Anet ET4 is a very affordable FDM 3D printer with neatly tucked wires, an all-metal frame, amazing features, and a manageable print quality.
PROS
Automatic bed leveling frees you from time-consuming and labor-intensive leveling tasks.
Power outage recovery lets you resume printing and recover from exactly where it left off. No worries about unexpected power outages.
Automatic filament assignment permits you to automatically load and unload the filament with just a click.
An all-metal frame is built to last with high strength aluminum frame. Enclosed metal unibody design enables a more stable and rigid structure with compact size.
CONS
The print quality of Anet ET4 is not reported up to the mark and can be a lot better considering the price range at which it is offered in the market.
The printer's open body is a little bit of an issue when it comes to 3D printing with filaments that require it to withstand higher temperatures.
Product
Specification
Videos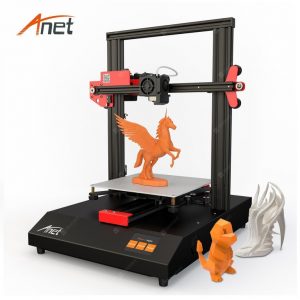 Armed with an integrated, modular design, Anet ET4 is an affordable 3D printer with an industrial-grade chipset. The machine comes with an ...
| | |
| --- | --- |
| Model | ET4 |
| Manufacturer | Anet |
| Price Range | $ 199 |
| Release date | 2019 |
| Country | China |
| Availability | Available |
| Classification | Desktop |
| Technology | Extrusion (FFF- FDM…) |
| Material | ABS, Other plastics, PLA |
| Filament diameter | 1.75 mm0.07 in |
| OS compatibility | Mac OS, Microsoft Windows |
| Generic material | Yes |
| XY accuracy | 0.012 mm0 in |
| Max. build size | 220 × 220 × 250 mm8.66 × 8.66 × 9.84 in |
| Max. build volume | 12.10 L |
| Max. print speed | 120 mm4.72 in/s |
| Min. layer thickness | 0.1 |
| Dimensions | 440 × 340 × 480 mm17.32 × 13.39 × 18.9 in |
| Weight | 7.5 kg16.53 lb |
| Nozzle diameter(s) | 0.4 mm0.02 in |
| Heated print bed | No |
| Heated build chamber | No |
| Automatic calibration | Yes |
| Closed frame | No |
| Dual extruder | No |
| Independent Dual Extruder | No |
| Full color | No |
| LCD screen | No |
| Touchscreen | Yes |
| On-board camera | No |
| Mobile app | No |
| 3D scanners | No |
| CNC mill | No |
| Electronics 3D printing | No |
| Laser engraving | No |
| Conveyor belt | No |
| Air filter | No |
| Pellet extruder | No |
| USB | Yes |
| Wifi | No |
| Bluetooth | No |
| SD card | No |
| Ethernet | No |

Table of Contents
Anet's newest printer in the 3D printing race is the Anet ET4. This machine is not only modern but also features a tidy all-metal construction and a 2.8-inch touchscreen interface.
Retailing for around $279, the ET4 is fully packed with amazing features. This 3D printer manufacturer has an interesting history, let's check it out before starting to review the printer in-depth.
Shenzhen-based 3D printer manufacturer Anet made its first mark in the 3D printing community with its tremendously popular A8 FDM printer.
The printer was a sub-$200 kit and had a decent price-to-performance ratio that, at the time, made it the most popular printer of its reign.
But with the passage of time, easier to assemble and better 3D printers became even more affordable which resulted in the A8's shining star fading out.
We are going to take you on a fascinating tour of Anet ET4 which will give you an idea about every tiny little part that makes up the printer, its design, setup, print quality, and lots more.
Features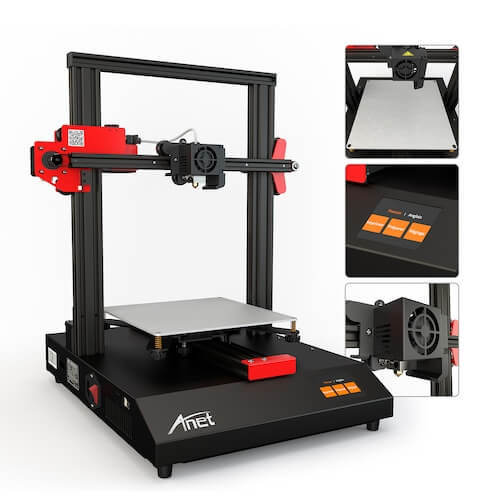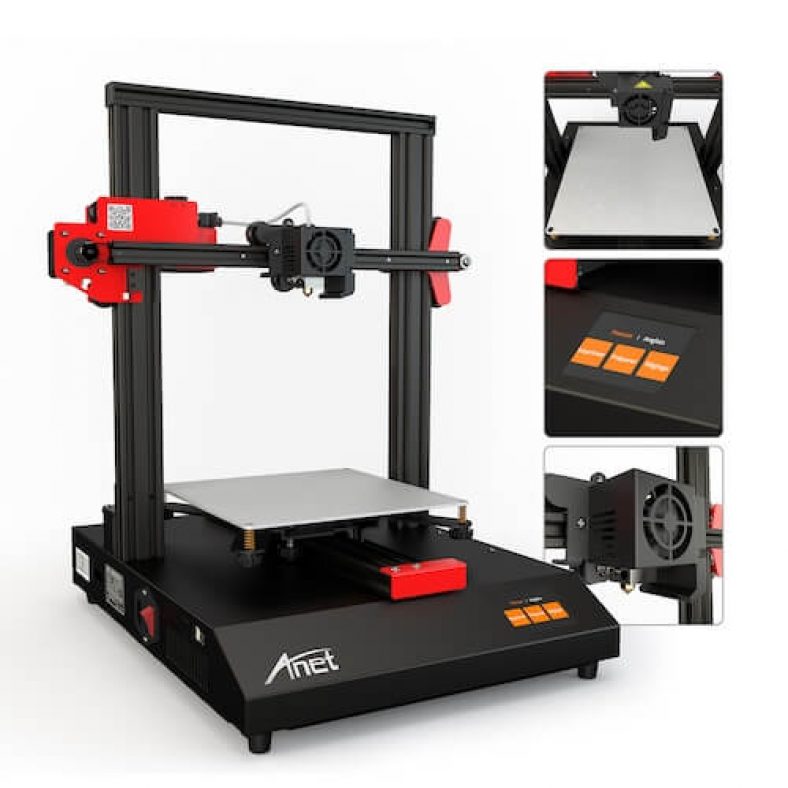 Credit: gbtcdn
So, to answer your question i.e., what makes this budget 3D printer worth your money? The Anet ET4 is present in a more accessible entry market, where the price should certainly not be the only card.
The printer is an all-metal FDM 3D printer made of an industrial-grade 32bit motherboard and comes mostly assembled.
It supports auto-leveling, resume printing, and filament detection and comes with a more stable and compact construction design.
ET4 is the professional 3D printing solution that you can afford. And here is the list of few features that make the Anet E4 special.
Automatic Filament Assignment And Integrated Modular Design
Unlike other 3D printers wherein for loading and unloading a filament you need to do a lot of manual labor, Anet ET4 allows you to do all of that with just a click.
That's right! By clicking on the touchscreen interface, you can easily load and unload the filament without having to do much hassle. Isn't that wonderful?
The complete design of ET4 is not only appealing but also integrated. Meaning that it will attract your eyes as well as it is optimized according to the construction and arrangement.
The modular design with terminal pinboard has connection ports, covered wires, and a sleeker appearance.
Optional trinamic motor drivers and 2.8 inches touch screen interface
Anet markets some 256-microstepping Trinamic Drivers which you can buy apart from the 3D printer for approximately $15.
Using these drivers, the printer manufacturer claims the ET4 will be "almost silent", even while 3D printing at full speed. This is something very unique compared to other printers in a similar price range.
The other feature is something that is in trends these days with a 3D printer. It is because of the frustration that you as a user feel while to fine-tuning your settings with a fiddly plastic knob.
You will find many 3D printers costing a huge budget that are accompanied by a knob. However, that's not the case with the E4.
It offers a responsive touch screen, permitting you to manipulate variables such as printing temperature and fan speed fairly easily with one click.
Filament Detection Sensor and Power Outage Recovery
Before reaching the Bowden-type extruder, the filament of Anet ET4 enters two systems:
A filament runout sensor, displaying an on-screen message asking for new material.
Transporter of the filament to the extruder.
The Anet ET4 knows when you run out of filament, and also saves your print progress in case of a power failure — both features worked well as the company markets them.
Filament detection detects the filament end and sends reminders to avoid air-printing.
The printer lets you resume printing and recover from exactly where it left off. So, you do not have to worry about unexpected power outages.
Your work progress would be saved in the Anet ET4 even if the electricity goes down right when you are in the middle of 3D printing a part or functional prototype.
All metal construction
At first glance, the Anet ET4 looks as if there are no wires used for connecting various parts of the printer.
This is because the printer manufacturer has made sure that the electronics are tucked neatly inside a sturdy sheet-metal control box beneath the print bed.
And doing so makes the printer easy to assemble, overall, making the printer have a pleasant setup experience especially for beginners.
Auto-leveling
Auto-leveling is something that's becoming more and more common in budget FDM machines these days, and keeping in mind the same thing, Anet has got in ET4 too.
The machine measures in total 25 points across the area of the print bed along with a probe mounted beside the extruder and it theoretically compensates for deviations.
This arrangement will assist you every time you have an uneven bed and ensure you have better first-layer performance across the 220 x 220 mm print area.
Using the printer's automatic bed leveler, you will surely have precise first-layer prints thereby improving the overall quality of the final print.
Also, auto-leveling decreases the overall amount of human-level intervention. This in turn results in increasing the printer's efficiency.
Specifications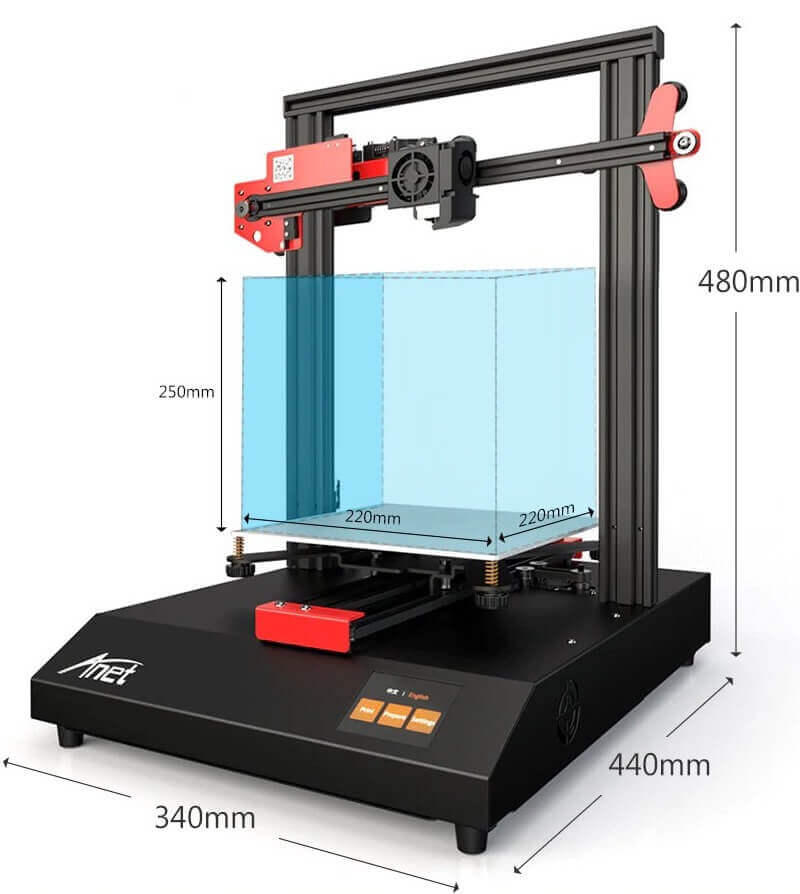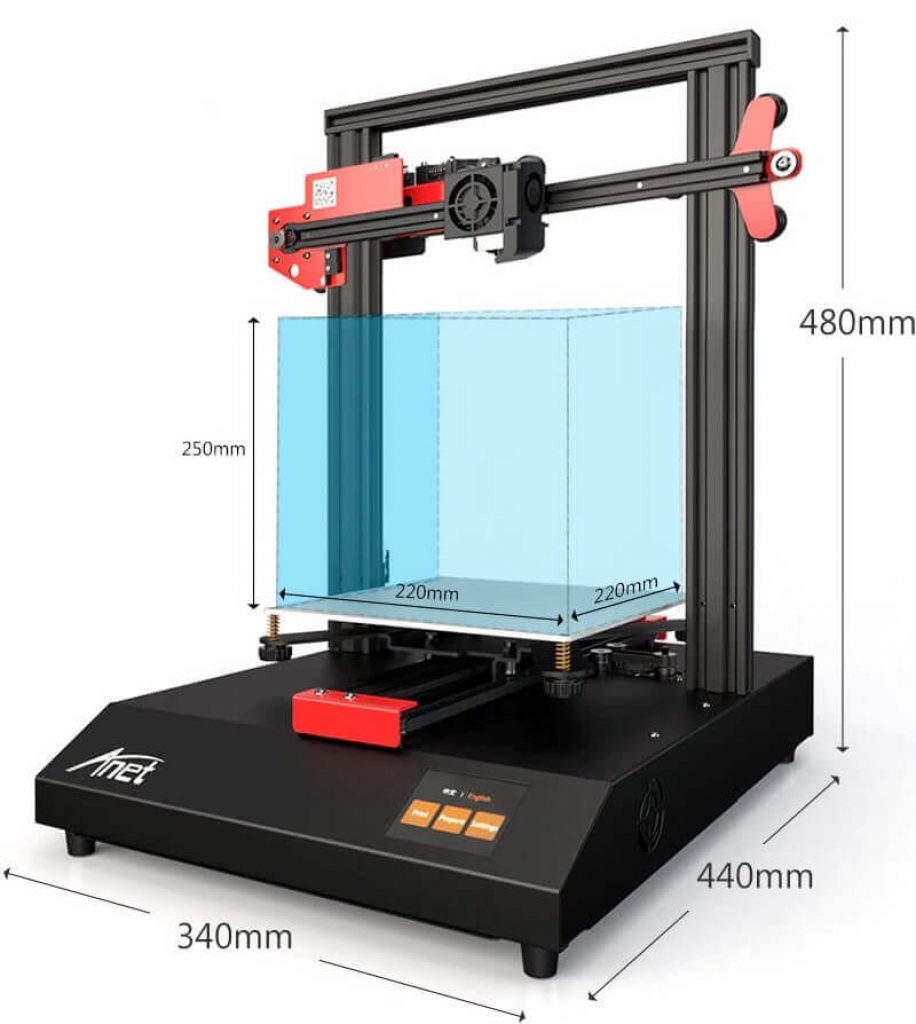 Credit: alicdn
Based on FDM 3D printing technology, Anet ET4 comes semi-assembled when it reaches your place. So, you need to spend some time before starting to print with the printer. It is of Cartesian XY-type arrangement.
The build volume offered by this 3D printer is 220 mm * 220 mm * 250 mm. It features a single nozzle print head of a diameter of 0.4 mm.
The printer's hot end can withstand a maximum temperature of 250 degrees Celsius whereas its heated bed can resist up to 100 degrees Celsius.
The printer's print bed is made of glass material and its frame is made of Aluminum. To connect with the printer, you can either use a USB, SD card, or Ethernet.
The printer is equipped with a print recovery and filament sensor. You can print with filaments having a diameter of 1.75 mm.
You are also allowed to print with 3D party filaments and consumer materials such as PLA, ABS, PETG, and flexibles.
The printing precision of the printer hovers around 0.1 mm. Anet ET4 lets you print at a maximum speed of 150 millimeters per second.
Each and every part that's printed with the printer has a layer thickness ranging between 0.1 to 0.3 mm.
Price
As mentioned in the introduction of the article, the Anet ET4 is available at $279.
First Impressions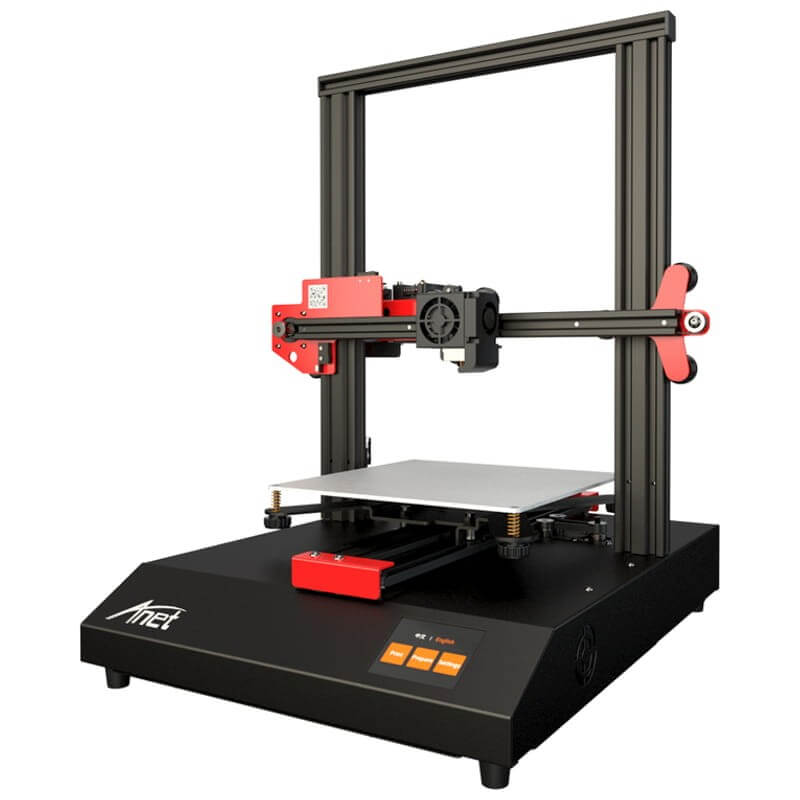 Anet ET4 manages to look exactly like most Cartesian-type 3D printers. It has an open body with a gantry at the base of the print bed. There is a touch screen interface present on the right bottom of the front face of the gantry.
The right and left top of the gantry features two pillars that have rails over them that enable the print head to move up and down.
On the head of the print head, there is the filament spool holder that holds different filament materials used for printing various types of parts and functional prototypes.
Connecting the two pillars is the print head and the nozzle system. The print bed of the printer is supported by four leveled springs on all of its four corners.
Setup
The gantry, the pillars, and the print head with the filament spool holder are to be connected in a specific manner.
Doing this would take approximately 20-30 minutes depending on your understanding of each one of those.
You will be provided with a user manual that'll guide you in completing the setup of the Anet ET4. After you'll be done with the setup you can easily start printing with the printer.
Printing Type/Cost
FDM 3D printing technology starts from an extruder wherein the filament spools of different materials are heated up to their glass transition temperatures.
As soon as they start melting, they are allowed to flow from the extruder to the print bed in the specified geometry.
After printing one layer, the print head moves a layer upwards and starts printing the other layer. This is how the 3D printing of the complete part takes place in general FDM 3D printers like Anet ET4.
The cost of 3D printing a part on Anet ET4 is usually lower than that of 3D printing it on any other 3D printer based on other 3D printing technologies such as SLA, SLS, Binder Jetting, or any other.
The reason for the same is the use of different types of laser sources and hence more consumption of energy.
However, the cost of 3D printing a part depends on lots of parameters like the geometry of the part, power consumption, use of support structures, the amount of infill, the cost of the filament material, and a lot more.
Print Quality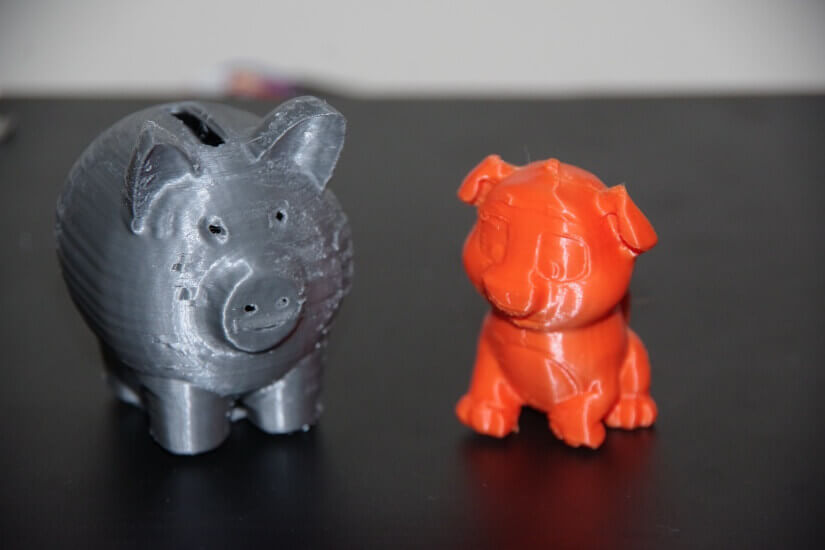 Credit: electromaker
There are not too good reviews about the print quality of parts and functional prototypes printed using Anet ET4. It is said that in terms of the physical dimension tests and visual inspection, Anet ET4's performance is not up to the mark.
Reports on the trustworthy websites are that after approximately 10-hours of printing with the Anet ET4, the results of the first prints start to make an impression.
So, the call is clear only if you are willing to spend some time with the machine to get prints up to scratch, you do benefit from a sturdy printer with a decent feature set.
But then there are other companies as well, offering similar features for less. So, it becomes a little hazy coming to the print quality section.
Software
For slicing software, the printer manufacturer recommends Cura, Repetier, and Simplify3D. All three of them are highly user-friendly software that is very less technical and are easy to understand even for first-time 3D printers.
Customer Support
Anet ET4 comes with a 12 monthly hardware warranty. So, if there is any sort of manufacturing defect Anet takes complete responsibility for the same.
Apart from this, if there is ever any sort of part complaint or anything else for which you wish to reach out to the manufacturer, you can call them or email them.
Their technical support team will also be happy to entertain your doubts and queries regarding the printer.
Parameters Influencing Buying Decision
Below mentioned is a kind of summary of the main points that we have elaborated in the complete article.
3D Printer Cost: Considering the features offered by the printer, the cost is very much affordable.
3D Printer Quality: In terms of the print quality the Anet ET4 disappoints. You will get other printers offering much better quality at the same price as this 3D printer.
3D Print Speed: Allowing you to print with a maximum speed of 150 millimeters per second, Anet ET4 offers above-average speeds.
3D Printer Capability: You get enough to play with the printer in terms of the materials ET4 allows you to 3D print with.
3D Printer User Expectations: The printer is almost able to offer you everything that you need as a beginner in the field of 3D printing.
The Verdict
Anet ET4 is a very affordable FDM 3D printer with neatly tucked wires, an all-metal frame, amazing features, and a manageable print quality.