BIQU Kossel Pro
Kossel Pro is fast yet accurate. It's quiet in operation and lets you experiment with various 3D printer filaments. Above all, the machine is available on a budget that most users can afford.
PROS
BIQU Kossel Pro features liner rails enabling smooth movement of print head to the bed and back.
TMC 2100 stepper motors make the overall 3D printing process possible with negligible amount of voice.
The printer displays very fast print speed. Objects that will hours to print on other printers, will take only an hour on Kossel Pro.
It offers a large print area.
CONS
There are complains about the printer's stock print cooler.
PTFE tube way has problems of clogging.
Stock firmware of the printer should be updated to the community firmware for betterment.
Product
Specification
Videos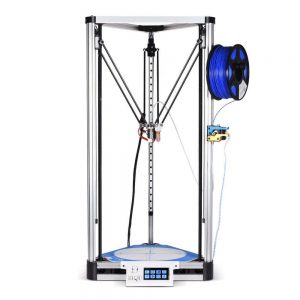 With a footprint of 220mm*250mm*470mm, BIQU Kossel Pro weighs just around 4 kgs. Hence, it is a compact and very sleek 3D printer that could easily ...
| | |
| --- | --- |
| Model | Kossel Pro |
| Manufacturer | BIQU |
| Price Range | $ 390 |
| Availability | Available |
| Classification | Desktop |
| Technology | Extrusion (FFF- FDM…) |
| Material | Consumer materials (PLA, ABS, PETG) |
| Filament diameter | 1.75 mm 0.07 in |
| OS compatibility | Mac OS, Microsoft Windows |
| Generic material | Yes |
| XY accuracy | 0.001 mm 0 in |
| Max. build size | 220 x 250 x 470 mm 8.66 x 9.84 x 18.5 in |
| Max. build volume | 25.85 L |
| Min. layer thickness | 0.2 mm 0.008 in |
| Max. print speed | 100 mm 3.94 in /s |
| Heated print bed | Yes |
| Weight | 4 kg 8.82 lb |
| Nozzle diameter(s) | 0.4 mm 0.02 in |
| Heated build chamber | No |
| Automatic calibration | Yes |
| Closed frame | No |
| Dual extruder | No |
| Independent Dual Extruder | No |
| Full color | No |
| LCD screen | Yes |
| Touchscreen | Yes |
| On-board camera | No |
| Mobile app | No |
| 3D scanners | No |
| CNC mill | No |
| Electronics 3D printing | No |
| Laser engraving | No |
| Conveyor belt | No |
| Air filter | No |
| Pellet extruder | No |
| USB | Yes |
| Wifi | No |
| Bluetooth | No |
| SD card | Yes |
| Ethernet | No |

Table of Contents
Kossel Pro is a large delta-style 3D printer enabling users to print parts in one go. Its base is 250 mm long and its Z-axis height is 350 mm.
To ease the movement of its print head, the printer manufacturer has put into place industry-standard linear rails. Whereas, TMC 2100 steppers are all ready to boost your 3D printing speed with the machine!
The printer's heating department is handled by an E3D V5/6 hotend with an all-metal extruder. These parts are capable of withstanding high print temperatures which makes it possible for the user to print with a variety of filaments.
The extruder comes with tried and tested authentic BL Touch. Moreover, the controller board is fundamentally a BIQU version of an MKS Gen board.
Having stated so, let's find out how reliable BIQU Kossel Pro is. Check out our detailed review of the printer and decide if it's worth your attention.
Features
Most of the parts used in the printer are either made of metal or injection molded thereby guaranteeing you overall reliability.
The hotend/print cooler and the LCD cover are two exception parts that are understandably not made from metal or injection molding.
Kossel Pro is equipped with a color touch screen and SD card support. Additionally, the removable glass bed makes the part removal process simple. Let's look at more such amazing features of the printer.
Well Arranged DIY Kit
Kossel Pro is delivered to you in a very well-packed manner. Everything is labeled neatly and the instructions given to assemble are available in a professional fashion in a nice booklet printed on nice shiny thick paper.
Moreover, there are also single printed sheets that come along for updated bits to the printer's construction. Straightway as you will open it, the kit will give you a professional feel.
Additionally, you will get a lot to learn while assembling Kossel Pro as it comes in a DIY kit and not as a plug-and-play 3D printer.
While putting the parts together, you will get to learn about the functionality of each and every part. Also, the functionality of the same would be revealed to the user.
Large Printing Volume and Ultra Quiet Operation
The printer allows its users to build parts with high volume in one go. This feature will satisfy your demand to print bigger sizes.
Although it is said that printers offering small build volume too can manufacture parts of high build volume, the assembling part of it always leaves some of the other flaws in it.
Which, when put into the application has higher chances of failure! Thanks to BIQU, you have the option of printing complete objects, without assembling them in parts.
Kossel Pro makes use of upgraded version TMC 2100 stepper motor driver and BIQU Gen v1 control board. Together, they make up for a noiseless operation.
And this is what makes the printer an ideal one for home use. Users do not need to worry about the decibels of sound produced by it.
Automatic Leveling
It's important to adjust the height of the nozzle with respect to the print head of the printer. This is done according to the geometry of the part fed into the printer in the form of GCODES.
If this process is done manually there are high chances of minute level flaws that cause a huge difference in creating the first fundamental layer of the part that you are manufacturing. Keeping the same in mind, the printer manufacturer allows Kossel Pro's users for automatic leveling.
Additionally, the printer utilizes a BL Touch auto leveling sensor that is typically used for delta Rostock 3D printers. It permits simpler, smarter, and high-precision 3D printing.
Impressive Print Quality
The results of test prints done by various trustworthy 3D printing websites turn out to be excellent. Kossel Pro fantastically prints Boon Dino which is a toy print normally done to check the print quality of various printers.
Every piece of it fits great! You can stretch till 0.2 mm layer height. For printing speed, you can reach up to 80 millimeters per second.
Such a quality to speed ratio is hard to find in printers available in the same price range. Moreover, one must note how flexible the printer is. In terms of 3D printer filaments, the machine permits you to use PLA, PETG, APLA materials.
Printing with all these materials is hassle-free which is surprising as Kossle Pro has a Bowden extrusion system that isn't well-known to offer such flexibility.
Specifications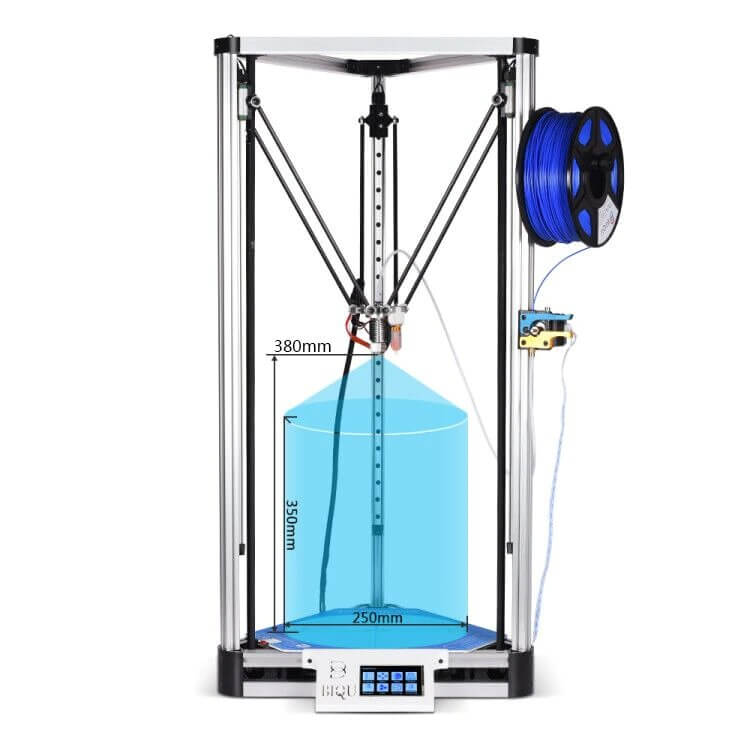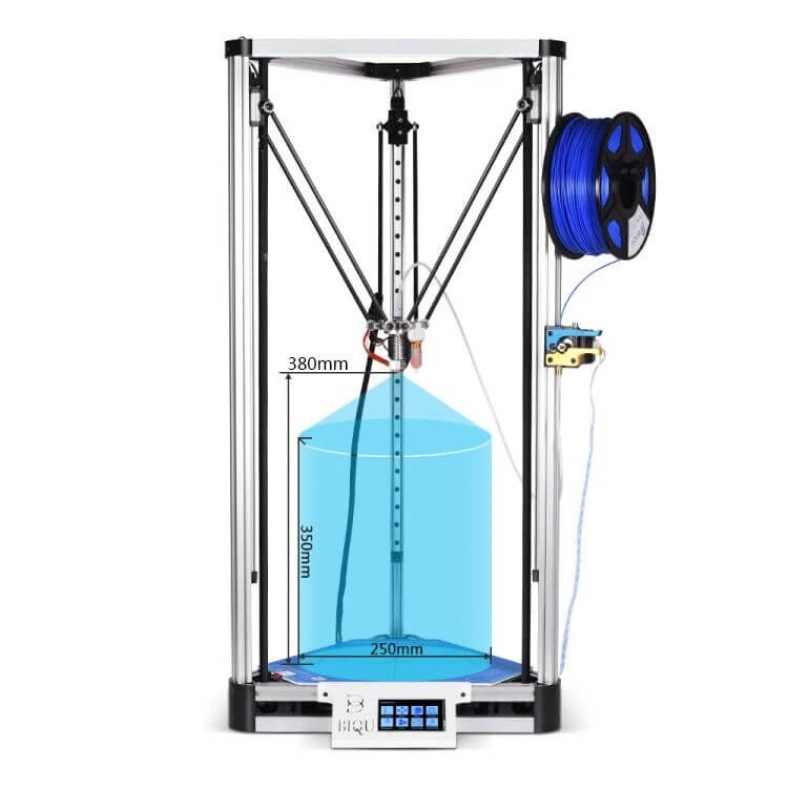 Credit: alicdn.com
BIQU Kossel Pro prints parts and functional prototypes using FDM 3D printing technology. The printer's dimensions are 400 mm * 420 mm * 860 mm.
It comes in a packing size of 915 mm * 415 mm * 110 mm and weighs 8.5 kilograms, meaning that it's an easily transportable device.
The machine offers a maximum printing size of 250 mm * 250 mm * 400 mm. It has one printer head and location accuracy of 1 mm.
Objects that you print with Kossel Pro will have layer height ranging from 0.05 mm to 0.04 mm. It is compatible with 1.75 mm filament diameters and can be controlled via online and offline printing mode.
Price
BIQU Kossel Pro is available at a market price of $390.
First Impression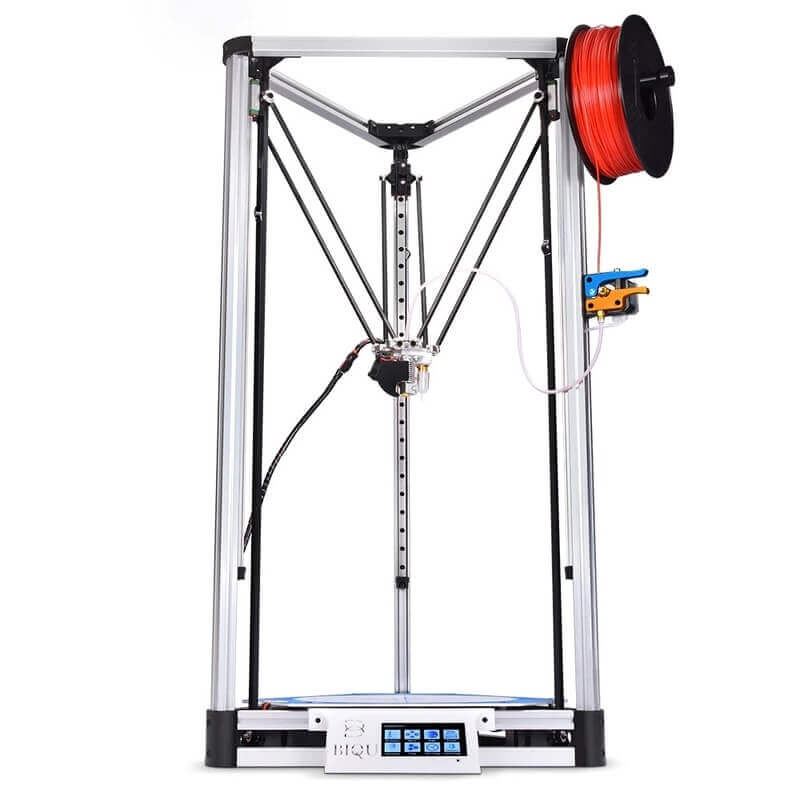 Kossel Pro is a Delta 3D printer and has typical construction consisting of three supports in a triangular shape. Interesting fact that you are most likely to notice while having your first glance over the printer is the location of the spool holder.
It's exactly at the top-right position when the printer is viewed from the front. The machine has a transparent print chamber – like most Delta 3D printers. This feature will allow for complete monitoring of the print process.
There a touch screen interfaces present at the bottom center of the body of Kossel Pro. One wire that typically will come to your notice is attached to the nozzle system of the printer. Also to mention, the print head of the machine is able to move up and down because of the rails attached to the three supports.
Setup
Kossel Pro is available in a DIY kit with other accessories such as:
A Perching Knife.
A Double Screwdriver.
A USB Cable.
A Combination Cut Pliers.
A Power Connector.
Two Connectors.
An SD Card.
An SD Card Reader.
A Printed Fan.
A 500g PLA Filament.
Six M6 Nozzles.
A Set of Allen Key.
A Heated Bed Sticker.
A Heated Bed Power Module Expansion.
The assembly of BIQU Kossel Pro will take a good amount of time. Users will have to connect these parts as mentioned in their user manual.
The setup process may be difficult for beginners. But the detailed manual certainly acts as a great aid. Just follow the instruction and you can connect the components perfectly.
Print Type/Cost
FDM 3D printing is a method of additive manufacturing wherein layers of materials are fused together in geometry to create an object.
The material used for doing so is normally melted somewhere above the glass transition temperature. After which, it is extruded in a pattern beside or on top of the already extruded layer. Therefore, creating an object layer-wise.
Colloquially, an FDM 3D printer makes use of a plastic filament, squeezes it via a hot end, melts it, and lastly deposits it in layers on the print bed. The layers are fused with each other, thereby building up throughout the print, finally forming a finished part.
Note that FDM 3D printing is also another name of FFF 3D printing. It is majorly accepted as the simplest way for achieving 3D printing.
Normally, the cost of 3D printing a part or functional prototype via FDM is lower compared to other 3D printing technologies such as SLA, SLS, and other powder bed fusion methods.
However, one can only accurately comment about the cost after considering various factors. Such as design of the part, the material used, cost of the material, the amount of infill, support structures, and more.
Print Quality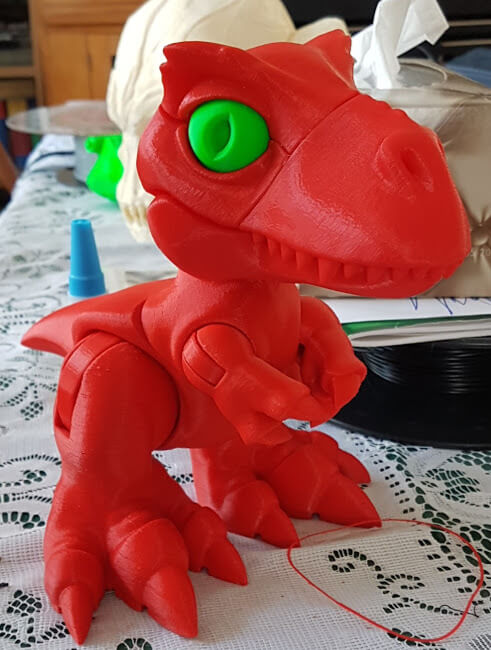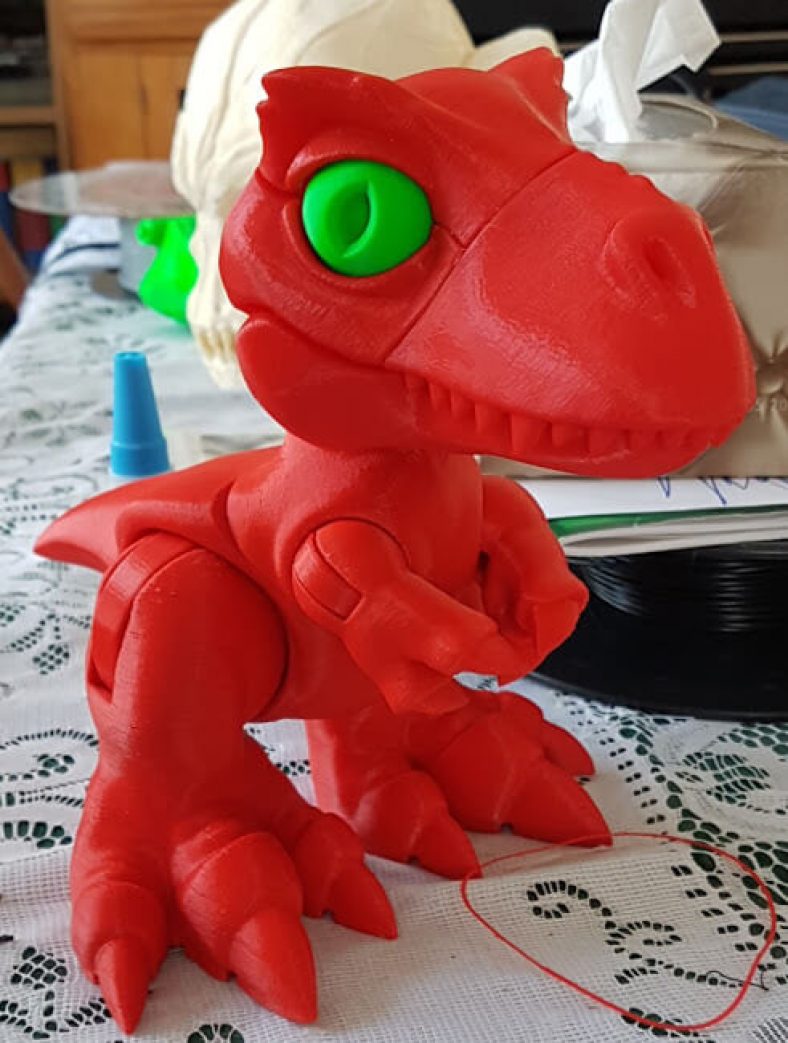 Thanks to the BL Touch sensor, every first layer that the user prints on Kossel Pro are pitch-perfect. This is why, if you are a beginner, you'll benefit the most because it does not demand manual leveling.
Not only is the printer consistent, but also manages to produce prints with layer height as small as 0.2 mm. Hence, the layers will not be visible unless noticed purposefully, thereby producing excellent surface finishes.
Overall Kossel Pro is capable of producing dimensionally accurate parts. This goes even for objects with intricate geometries.
Printing with support structures will let you manufacture hollow parts as well. Although being an FDM 3D printer, Kossel Pro can surprise you with wonderful quality prints.
Software
BIQU recommends three software with Kossel Pro, they are:
Simplify3D
Slic3r
Note that all of them are open-source 3D printers that are available for free downloads. They are extremely supportive to beginners in the field and are capable of dealing with STL and OBJ file formats.
The above-mentioned applications are compatible with Windows, MacOs as well as Linux operating systems.
Their output format is G-Code. Cura, Simplify3D, and Slic3r are renowned for being highly user-friendly yet offering advanced functionality.
Even experts can use these applications to make advanced settings for their complex geometries.
Customer Support
BIQU is very active at listening to what their customers say and state, especially when it's a feedback.
You will find a lot of reviews available online claiming how the printer manufacturer has not only heard but also responded to their users' problems.
However, if you can also contact them via call or email for technical assistance. Their technical team will be ready to help you with the best possible solution possible.
Parameters Influencing Buying Decision
A summary of the complete article with chief points about Kossel Pro is mentioned below.
3D Printer Cost: Kossel Pro is available at a very affordable price that will suit even beginners who are not willing to spend much.
3D Print Speed: Super-fast printing is one of the main highlights of this Delta 3D printer.
3D Print Quality: Although Kossel Pro is an FDM 3D printer, it is able to manifest decent print quality in parts and functional prototypes.
3D Printer Capability: You'd be able to play with numerous printer filaments with this machine.
3D Printer Practicality: Designed for beginners and home users.
3D Printer User Expectations: Kossel Pro is able to satisfy the expectations of intermediate users more ideally than that of beginners or experts.
The Verdict
Kossel Pro is fast yet accurate. It's quiet in operation and lets you experiment with various 3D printer filaments. Above all, the machine is available on a budget that most users can afford.
Packed with amazing features like automatic bed leveling, and BL Touch sensing, the printer manufacturer has ensured to reach out to beginners by providing ease of use.
Yes, it has its own set of cons, but overall, the printer proves to be great value for the money. Also, you will get to learn a lot because it comes in a DIY kit.