CraftBot 3 3D Printer
This 3D printer is enriched with high-end features and continues to make its own fan base as it reaches more users around the globe.
PROS
It operates quietly, hence making a great option for home users
Saves the print operation during power outage
Comes with Wifi connectivity and remote print control features
You can switch between mirror and parallel printing modes
Filament monitoring saves user from failed prints
CONS
Complex slicing software
Bed leveling is manual and requires skilled hands
The wider metal panel at the top makes it difficult to gaze at the earliest stages of the prints
Product
Specification
Videos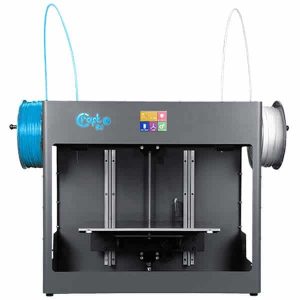 Utilizing an independent dual extrusion system, using Craftbot 3 users can print two objects at once. The printer comes with silicone discs in which ...
| | |
| --- | --- |
| Model | CraftBot 3 |
| Manufacturer | CraftUnique |
| Price Range | $ 1999 |
| Release date | 2018 |
| Country | Hungary |
| Availability | Available |
| Classification | Desktop |
| Technology | Extrusion (FFF- FDM…) |
| Material | ABS, Other plastics, PLA |
| Filament diameter | 1.75 mm0.07 in |
| OS compatibility | Microsoft Windows |
| Generic material | Yes |
| XY accuracy | 0.004 mm0 in |
| Max. build size | 374 × 250 × 250 mm14.72 × 9.84 × 9.84 in |
| Max. build volume | 23.38 L |
| Max. print speed | 200 mm7.87 in/s |
| Min. layer thickness | 0.1 mm0.004 in |
| Dimensions | 490 × 460 × 640 mm19.29 × 18.11 × 25.2 in |
| Weight | 32 kg70.55 lb |
| Nozzle diameter(s) | 0.4 mm0.02 in |
| Heated print bed | Yes |
| Heated build chamber | No |
| Automatic calibration | No |
| Closed frame | No |
| Dual extruder | Yes |
| Independent Dual Extruder | Yes |
| Full color | No |
| LCD screen | No |
| Touchscreen | Yes |
| On-board camera | No |
| Mobile app | No |
| 3D scanners | No |
| CNC mill | No |
| Electronics 3D printing | No |
| Laser engraving | No |
| Conveyor belt | No |
| Air filter | No |
| Pellet extruder | No |
| USB | Yes |
| Wifi | Yes |
| Bluetooth | No |
| SD card | No |
| Ethernet | No |

Table of Contents
CraftUnique, the manufacturer of CraftBot 3 is from Hungry and is already popular for its reliable 3D printers.
Offering its users ease of use and accessibility, the company has been able to create a great reputation among its customer base.
Its flagship 3D printer, CraftBot Plus, did a great job and was awarded the title of 'Best Plug and Play 3D Printer' for three consecutive years, starting from 2016.
With CraftBot 3, the manufacturer wishes to enter the dual extruder trend, calling the machine 'Supervisor'.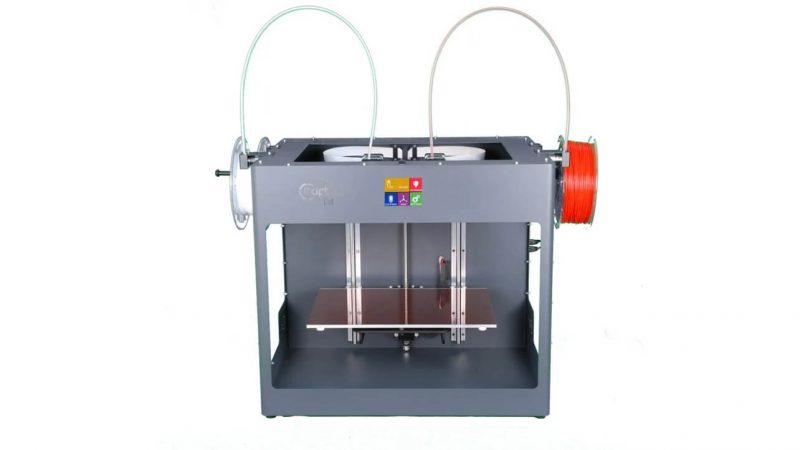 This 3D printer is enriched with high-end features and continues to make its own fan base as it reaches more users around the globe.
With lots of advanced features, the 3D Printer also offers friendly user involvement and an intuitive 3D slicing software to work with.
You can easily find out the various perks that come in handy along with this large-format 3D Printer that comes in a compact size. It is obvious to fall in love with the looks of it.
However, the question is: Is it all show or it works too? To answer the same question, we have come up with the comprehensive CraftBot 3 review that would help understand the different sides of this 3D printer.
Here is a complete review on CraftBot 3 highlighting the various aspects that make this machine a worthy companion.
Also, we would like to draw your attention to the limitations this 3D printer carries with itself.
Features
At such a reputation that precedes the manufacturer, it is obvious to expect more. CraftUnique is popular for its simple design with lots of crazy features.
And, it remembers to include some of the most fascinating features to its latest release, CraftBot 3. The Supervisor helps users embark on a new journey with feature lashed 3D printer.
So, let us check out the exciting features that the machine flaunts.
Independent Dual Extruders
We do know about dual extruders, however, what is an independent dual extruder? A lot of users aren't aware of what wonderful things independent dual extrusion (IDEX) can accomplish.
Starting with the printing of two different models, the independent extruders can make the work lot easier and faster.
You can even use one nozzle for extruding the printing material and another extruder for creating support with water-soluble PVA. Hence, allowing printing of the most intricate and complex 3D parts.
Different Printing Modes
This comes along with the independent dual extrusion itself. Users can either choose to print the two different objects at a single instance.
Or, one can also print two identical objects using mirror printing. The mirror printing is also helpful in creating two sides of one object that are mirror images of one another.
Hence, offering users huge capabilities right from the beginning. And, not to mention, printing with two different colors isn't that difficult as well.
Filament Monitoring
Calling it as FMS (Filament monitoring system), the machine can help you work along with unexpected situations.
In case, the user's intervention is needed in the middle of the 3D printing, FMS highlights the same and messages the user to act immediately.
For instance, while supervising the filament consumption, if the filament jam occurs, the Filament monitoring system starts the initial troubleshooting.
If the jam unclogs, the 3D printer continues to operate. Or else, it sends a message to the user for quick action.
The manufacturer calls FMS, the eye of the machine. Hence, claiming it to be the perfect partner of the 3D printing users.
All Metal Hot End
Can you guess the temperature the 3D printer can withstand? The all-metal hot end can let you print at a temperature up to 300 degrees Celsius. This is why users can print with flexible and special filaments without any trouble.
Multiple Material Support
CraftBot 3 is compatible with a variety of filaments. It supports basic to special filaments being able to work at a higher temperature.
Hence, you can print using PLA, ABS, Nylon, and other filaments. You can also work with two different filaments simultaneously. It also supports PVA, the water-soluble filament.
LED Indicator
To help users with the current status of the printing process, CraftBot 3 provides an LED light indicator.
The different LED colors signify the different status of print. And, the feature is completely customizable for offering users unmatched customer experience.
Heated Print Bed
To help printing with untamed filaments, the 3D printer offers a heated bed that can reach a temperature of 110 degrees Celsius.
Hence, it allows for better first layer adhesion for the trickiest of the filaments. Letting users print with different materials without any hassle.
Removable Print Bed
With a removable print bed, the processing of printed models is a breeze. Users can take out the prints without worrying about breaking them while doing so.
Also, the 3D printer flaunts a removable XY unit. This enables easy maintenance and cleaning. Overall, the entire design is prepared to keep users' ease in mind.
Easy to operate, the 3D printer is very simple to use. The designs talk a lot about their user-friendly interface and work attributes.
WIFI Connectivity
Along with WIFI connectivity, the manufacturer offers apps for iOS and Android for the management of prints remotely.
Hence, users can upload the 3D files, start and stop the models' printing process as well as play around with heat settings right from their mobile phones.
Lockable Doors with Dome Cover
For consistent temperature and high-quality printing, CraftBot 3 comes with a lockable door made of plexiglass.
The home cover is of PETG material and also includes carbon and HEPA filter.
This enables the safe printing of 3D models and skims away all the harmful gases.
The safe locking ensures that the 3D printer is left alone when processing, keeping children safe from touching the inside of the machine accidentally.
Colorful Touchscreen
For standalone printing, the manufacturer has included a colorful touchscreen for setting the printing process.
It is intuitive and easy to apprehend. Once you know what the different buttons are purposed for, you can easily set up each print.
Specifications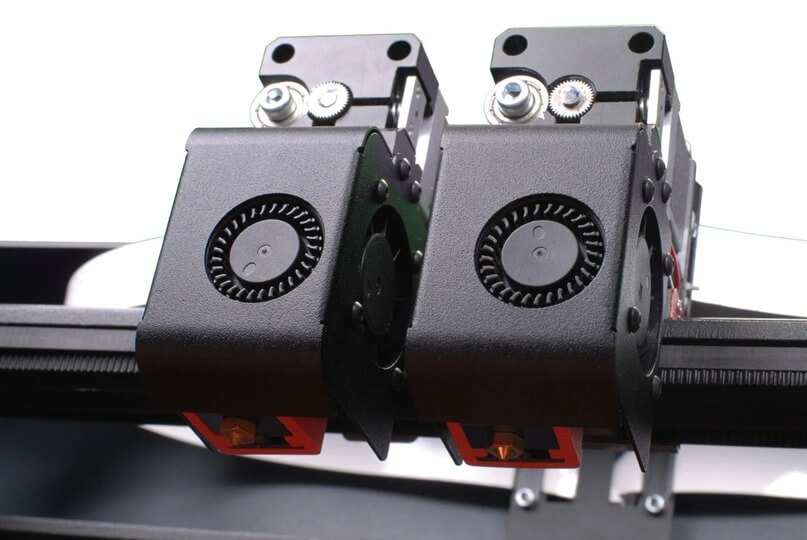 Credit: all3dp.com
Aimed at offering high volume printing, the 3D printer is created as a large-format machine with a build volume of 374 x 250 x 250 mm.
It has a footprint of 57 x 44 x 48.8 cm and weighs 36 kgs which are manageable enough.
Hence, shifting machine from one place to another is not a huge challenge for those who keep shifting their workplace a lot often.
The printer offers a layer resolution of 100 microns in the Ultra mode.
With high mode, the resolution drops to 200 microns, and with medium, it is 300 microns.
When talking about the speed, you can expect it to run between 50 to 200 mm per second. Hence, letting users print at the highest possible speed.
Along with WIFI connectivity, CraftBot 3 has a USB cable and USB pen drive connection.
The nozzle operating temperature ranges between 180 to 300 degrees Celsius while the print bed can be heated between 50 to 110 degrees Celsius.
Overall, the entire setup is well thought and constructed for optimum results.
To provide amazing print quality and working conditions for basic materials, the company has also made sure that the ambient temperature is adjusted for the same.
It ranges between 15 degrees to 32 degrees Celsius.
Price
The CraftBot 3 costs $1999 as per the manufacturer's rate. However, the cost can differ a little bit here and there, depending on the dealers you buy this 3D printer from.
First Impressions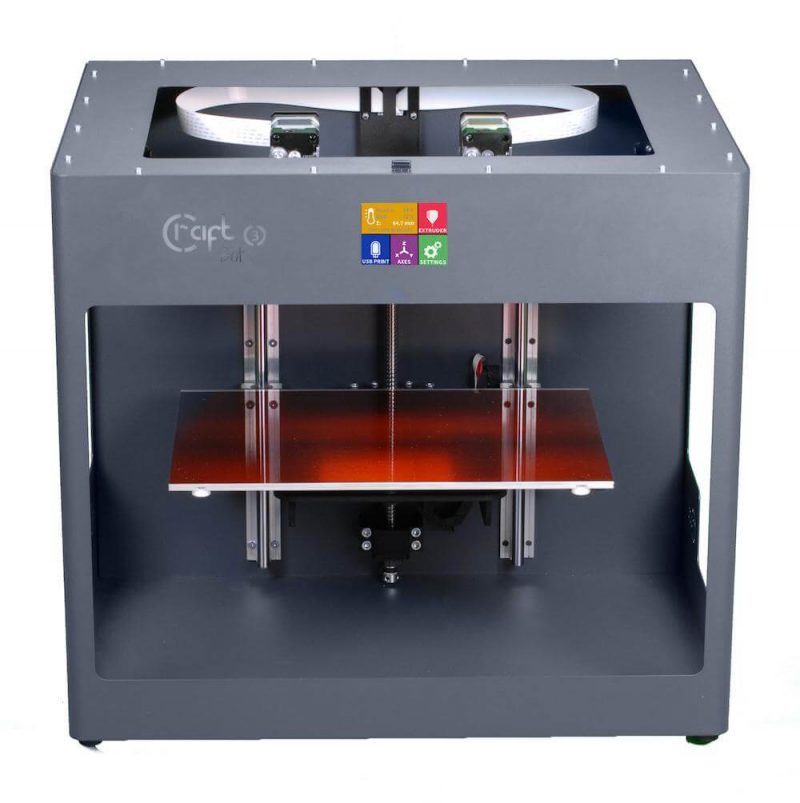 CraftBot 3 is a very impressive 3D printer and comes in a properly secured box that measures 70 x 58 x 66 cm.
The printer is almost completely assembled and need not much setup from the user's end. In short, you can simply put in a few components inside of the 3D printer and start operating.
Said that the package also includes different sizes of nozzles. The kit has 0.25mm, 0.4 mm, 0.6mm, 0.8mm nozzles. Hence, you can design 3D models of different surface finish and strength.
Setup
As mentioned before, setting up this printer for first use won't be a tough job.
With assembled components, all you need to do is, load the filament and calibrate the 3D printer to start printing. Make sure that the print bed is properly inserted.
Calibration is also easy. And, the 3D printer comes with a detailed manual for ensuring easy setup. Just follow the same and complete the setup without any hassle.
Printing Type/Cost
The 3D printer is based on FDM 3D Printing technology. This means that the machine is easy to work with and is economical too when compared with machines based on other technologies.
Once the nozzle is heated, the material is extruded, layer by layer to complete the 3D model. Once that completes, the printer stops its operation.
When calculating the cost of printing, you must take into account a few factors that govern the same.
For instance, the material cost, the complexity of the design, the layer width, and a lot more.
Hence, the cost of printing would vary from one design to another.
However, by choosing PLA, the cheapest FDM material, you can cut the cost considerably. Do not forget to consider the 3D model print results.
Print Quality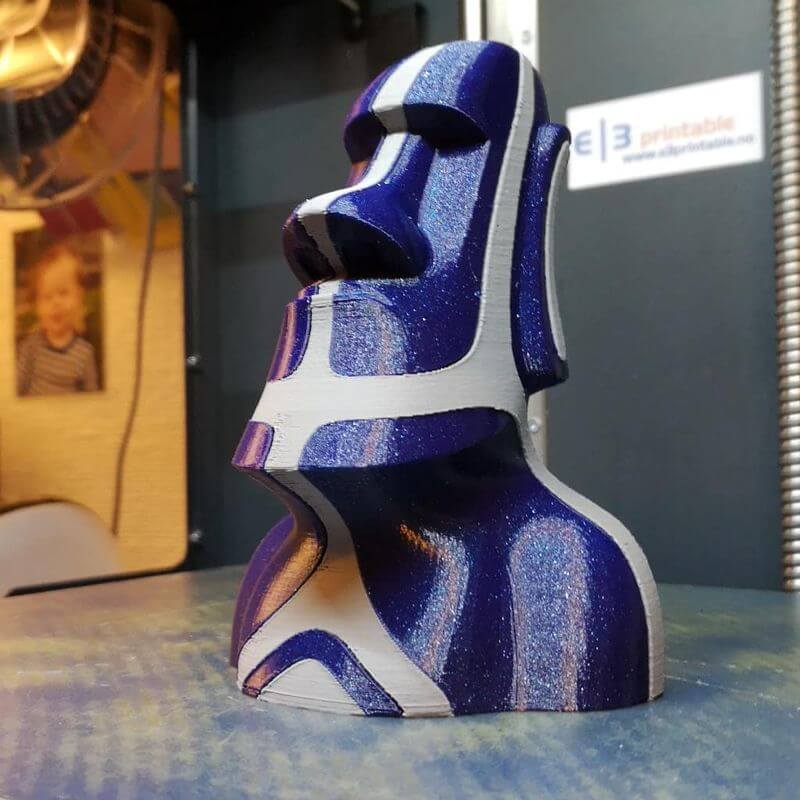 Credit: top3dshop.com
As there are different modes for setting the print quality of the models, you must choose the one with a higher resolution for finer details. Likewise, for faster prints, you may go with high or medium resolution.
Overall, the print quality is satisfactory. We won't say that the 3D Printer is the best in the market.
However, it does offer a plethora of options for users with diversified needs. Offering considerable print results, the machine is certainly one of a kind in the market when a judge on its various features counted together.
Software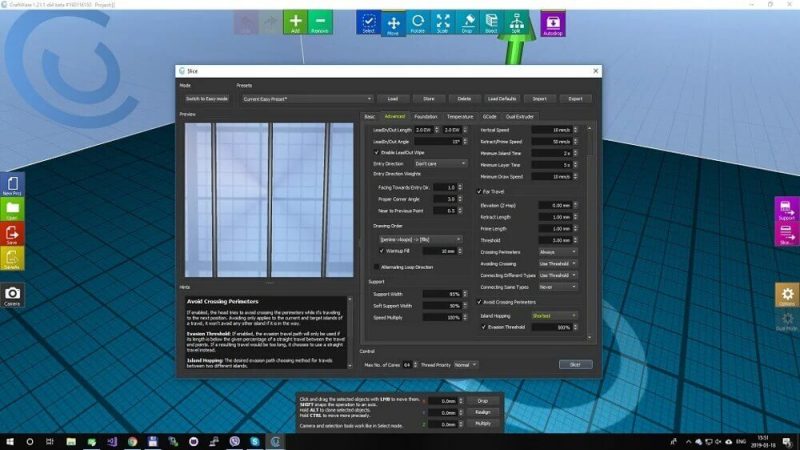 Credit: all3dp.com
CraftBot 3 comes along with its free slicing software, CraftWare. A lot of users feel that the software isn't the simplest choice, but does allow for the highest customization of print designs.
Plus, it is not only compatible with this particular printer but supports almost every 3D printer within the RepRap community operating using Gcode.
In terms of user-friendly features, the machine does seem to lack some hooks. However, once you get to know this expert and professional software, it would help create wonderful designs with ease.
Customer Service
The technical support and customer service teams are very friendly and easily accessible.
You just have to follow the link provided on their website to submit the ticket and the team reaches you at the earliest.
You can also make use of plenty of support material and instructions available on their website.
Parameters Influencing Buying Decision
When considering buying CraftBot 3, you must take care of the following factors to make an informed decision.
3D Printer cost: It falls in the mid-range and is designed for professionals.
3D Print quality: Caters to fair and reliable print quality. Isn't the best in the market.
3D Print speed: You can expect high-speed printing when working with CraftBot 3.
3D Printer capability: Possible to design intricate models and high customization is allowed.
3D Printer Practicality: Created for enthusiasts and professionals with a limited budget.
3D Printer User expectations: The printer still needs some work if needing the best reviews from different levels of users. However, it does serve the purpose at its price tag.
The Verdict
Looking for a professional 3D printer that lets you create detailed designs, you can depend on CraftBot 3.
However, this may not be the easiest printer to work with. Although it does offer high-quality printing. So, take a decision if you love to test and learn.