I-SLM 100 3D Printer
This printer can be bought by all those who are looking for a long-term future in the field of 3D printing technology and are looking to satisfy their client with good quality products and functional prototypes in various fields.
PROS
Direct metal parts and functional prototypes can be produced.
Parts have high mechanical properties and high relative density in which post-processing is necessary.
A wide range of materials to choose from.
Parts that otherwise take days to complete can be made in hours using this printer.
CONS
Post-processing of parts or functional prototypes is a very hectic process and that might increase the overall printing time while you are having a batch production.
Product
Specification
Videos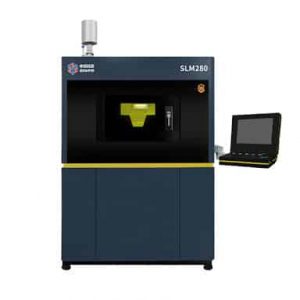 Printing high-quality parts and functional prototypes using a laser system of fiber laser having a wavelength of 1064 nm, iSLM 100 is an industrial ...
| | |
| --- | --- |
| Model | iSLM 100 |
| Manufacturer | ZRapid Tech |
| Price Range | $ 100,000 – $ 250,000 |
| Country | China |
| Availability | Available |
| Classification | Industrial |
| Technology | Powder (SLS- SLM…) |
| Material | Metal |
| XY accuracy | 0.025 mm 0.001 in |
| Max. build size | 110 × 110 × 100 mm4.33 × 4.33 × 3.94 in |
| Max. build volume | 1.21 L |
| Min. layer thickness | 0.02 mm 0.001 in |
| Weight | 10 kg 22.05 lb |
| Power input | 200-240 VAC I 50/60Hz I single phase I 10A |
| Heated print bed | No |
| Heated build chamber | No |
| Automatic calibration | No |
| Closed frame | Yes |
| Dual extruder | No |
| Independent Dual Extruder | No |
| Full color | No |
| LCD screen | Yes |
| Touchscreen | No |
| On-board camera | No |
| Mobile app | No |
| 3D scanners | No |
| CNC mill | No |
| Electronics 3D printing | No |
| Laser engraving | No |
| Conveyor belt | No |
| Air filter | No |
| Pellet extruder | No |
| USB | No |
| Wifi | No |
| Bluetooth | No |
| SD card | No |
| Ethernet | Yes |

Table of Contents
iSLM 100 uses selective laser melting technology which melts metal powders and solidifies layer by layer until a three-dimensional part is built.
During the printing process, the ruler in the build chamber will pave one layer of the metal powder, which will then be selectively fused by a high powered laser by tracing a cross-section of the part on the surface of a powder bed and then a new coat of material is applied for the next layer.
The whole process is in a high vacuum chamber or full of the protective gas chamber to avoid the metal powder reacts with oxygen at high temperatures.
ZRapid is using high energy and fine spot laser, the equipment can complete complex parts in a very short period of time while using conventional methods that will take several weeks or even months to complete in comparison.
These parts don't only have precise dimension, high tensile, and high density but also excellent in mechanical properties.
Mainly used for rapid production of high-precision, high-quality metal parts.
Features
High-quality surface before polishing and high accuracy for precision samples
iSLM 100 operates with a high-power fiber laser which makes sure that the solidification process is completely uniform.
Many printers you would come across in the field of SLM 3D printing, would not have the process of solidification to be uniform.
The dimensional accuracy of the complete part or functional prototype essentially depends on the uniformity in the process of solidification, like we have the cooling process in FDM 3D printing.
And this uniformity in laser depends on the amount of wattage the laser carries.
So, if you wish to compare printers in the same price range you can do that by comparing the wattage of the lasers they use and their type.
Print speed is amazing
Claims on the webpage dedicated to the printer on the company's website state this printer to have a print speed that prints parts or functional prototype that otherwise take days to print, in hours.
Based on the simplicity they can even be printed within minutes.
Also because of the mechanism used in the printer, the parts or functional prototypes' printing is a lot easier and systematic.
The printing process starts with spreading the powders of the material that we wish to 3D print with and then the laser scanning under a fixed temperature in the presence of the gas and then the curing of the part or functional prototype layer by layer.
So overall the print speed of this printer is amazing.
Widely chosen material available for 3D printing
Being eccentric to other industrial 3D printers, iSLM 100 offers a varied range of metals for the production of functional prototypes or parts.
The materials which are rare can be printed easily using this printer and also the ones that are popular can be transformed into functional complex geometries.
So parts like snap-fit loose joint hinge can be printed within hours.
Also worth noting is when you drag your mouse to the Industry tab of the company's website the number of names that see of the industries in which parts and functional prototypes made by the company's printers are put into application.
Starting with Aerospace, followed by automotive, electronics, jewelry, construction, medical, entertainment, as well as manufacturing is where the list ends.
So, it is but natural for parts to be made of a wide range of 3D printing materials as well as to have a high quality of surface finish as well as detailing.
Specifications
The printer uses a Fiber laser for the curing of parts and functional prototypes that has a wavelength of 1064 nanometers with a power of 200 Watts.
The recoating system of the printer works on the process of scraper paving, which has a normal build of 0.03mm, the quick build range of 0.03 mm to 0.05 mm whereas the precision build of 0.02 mm to 0.03 mm.
The beam diameter of iSLM 100 ranges from 0.025 to 0.1 mm.
The scanning galvanometer of this printer features a high-speed scanning wherein parts and functional prototype are scanned within a speed range of 1 to 2 meters per second.
The blank jumping speed of this printer is 10 meters per second wherein the reference building speed range of this printer is one cubic centimeter per hour.
The shield gas used for protection of the complete build chamber is either Nitrogen or Argon.
The printer has a flow control of zero to three L per minute intelligent adjustment and the dust extraction control has a high-efficiency protection recycling system. iSLM 100 has a volume of 1.4 liters approximately.
The build size offered by this printer is 110 mm * 110 mm * 100 mm and the maximum weight of the same is 10 kilograms.
The build vat is made of a precision resistor heater wherein you can print using materials such as Stainless Steel, Die Steel, Titanium Alloy, Aluminum Alloy, Co-Cr Alloy, Nickel Alloy, as well as Cuprum, etc.
The printer can be connected with Ethernet, TCP/IP, IEEE802.3.
The input power that needs to be given to this printer is 200 to 240 Volts AC current 50/60Hz, single phase, 10Amps.
iSLM 100 can operate in an ambient temperature range of 20 to 26 degrees Celsius and relative humidity of less than 40 percent which is non-condensing.
The complete installation of this printer is 0.9 meters * 1 meter * 1.85 meters and the weight is 500 kilograms.
The laser used in the printer has a life of 5000 hours or 12 months, whichever comes first.
Price
The price of the printer is not explicitly mentioned on the webpage of the printer that is dedicated to it on the printer manufacturer's website.
So, you will have to contact the manufacturer and Get a quote for this printer, just like most of the industrial 3D printer manufacturers prefer you to do.
First Impression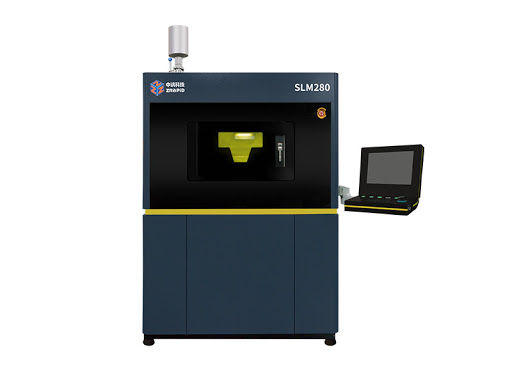 There are three pictures of the printer uploaded on the website of this printer manufacturer, the printer seems to have a bulky construction just like other industrial 3D printers.
The complete printer is divided into two parts, the upper and the lower.
Wherein the upper part of the printer has two sections which you can see when you zoom in to any of these photos.
Setup
Just like any other industrial 3D printer, this one too comes completely assembled all you can do is attend the online consulting program offered by the company on their website as well as contact the company for any douts.
Printing Type/Cost
An SLM machine has a printing chamber like the one seen in the transparent part of the body of this printer.
This is generally filled with metal powder which is then spread across the substrate or build plate in very thin layers by a coater blade.
A high power laser, in this case, the fiber laser then fuses a 2D slice of the part by selectively melting the powdered material.
The build plate of the printer then drops down by the height of one layer with the help of rails with which it is connected, and the coater spreads another layer of fresh powder finely across the build surface.
The process is repeated until you have the finished part or functional prototype.
This whole process is performed in a controlled atmosphere under the presence of Nitrogen or Argon gases inside the machine.
Once the part or functional prototype is completely built, it can be removed from the machine.
SLM part or functional prototypes need to be removed from the build plate of the printer using a bandsaw.
Then you need to remove the support structures used in this entire process.
One thing to remove regarding the support structure is due to the constraints of the SLM process and the weight of the material, SLM requires support structures to be added to any overhanging features.
And it is this point that makes this process differ from SLS 3D printing technology, where the surrounding powder material can provide enough support, allowing freeform shapes and features to be realized.
So the support material is the same as the part material, and this can be difficult and a time-consuming process.
The surface finish of the sintered parts in SLM 3D printing is rough and, depending on your requirements, may need some post-processing which generally takes time and cost.
It is also common for machine parts to achieve fine tolerances and finish fine features, surfaces, and holes if they are printed using SLM 3D printing technology.
So, the cost of printing one part using this 3D printer will be more than others build on 3D printing technologies such as FDM 3D printing.
Print Quality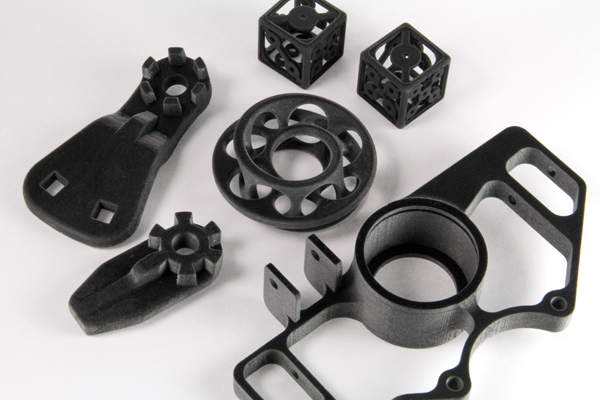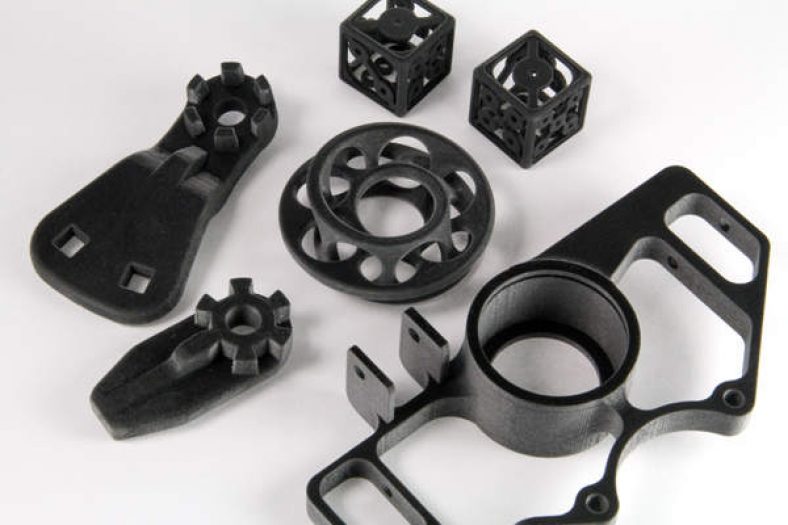 Credit: aixihardware.com
The parts and functional prototypes printed with this 3D printer are claimed to possess excellent surface finishes.
When compared with parts or functional prototypes manufactured from other 3D printing technologies, SLM 3D printed parts stand out because of the uniformity that they possess, not only while sintering of the powdered material but also the curing of the part or functional prototype by high powered laser.
Software
The information about the software that this printer comes with is mentioned in the specifications section of the webpage dedicated to this 3D printer.
For controlling this 3D printer, the software's name iSLM is used, whereas for data preparation the software named 3dlayer is used.
The file formats that are compatible with the software are CLI, SLC, and STL.
Customer Service
The company does not have a Support tab like you expect huge manufacturers to generally have, instead the company has a simple Contact us page, clicking on which, you get to see the phone number with which you can contact the printer manufacturer as well as the email id and the Skype ids which you can contact to get information about anything related to this 3D printer.
Parameters Influencing Buying Decision
Below mentioned points like the cost, quality, speed, capability, and practicality of the printer are some points that are summarized from the complete article which are also the main ones when you are out there buying a 3D printer in actual and not just researching for the sake of increasing your information about 3D printing technology.
3D Printer cost: You will have to Get A Quote to know the exact price of the printer. When you search with the keywords "i-SLM 100 3D printer price" on Google you are shown that the price of the printer is $ 100,000 – $ 250,000.
3D Print quality: High than the industry standard.
3D Print speed: Extraordinary.
3D Printer capability: The printer is not only capable of printing parts and functional prototypes with various 3D printing materials but also find their application in various industries.
3D Printer Practicality: The printer can build small as well as big parts, as easily as it can build simple as well as complex parts.
3D Printer User expectations: The iSLM 100 can produce excellent quality parts so if you are rooting up for that, your expectations will be fully satisfied.
The Verdict
Amongst the three printers that the manufacturer offers in its industrial 3D printer segment, this one has the smallest build volume, the other two are named iSLM 280 and 150 which are also worth checking out depending on your budget.
This printer can be bought by all those who are looking for a long-term future in the field of 3D printing technology and are looking to satisfy their client with good quality products and functional prototypes in various fields.