Longer LK5 Pro
Longer LK5 Pro has a decent design, an amazing list of features, two of the standard ways to connect to it, and commendable performance. You can use it to learn the technology, print domestic parts, and a lot more.
PROS
4.3 inch touch screen interface to ease out the interaction.
Auxiliary leveling and humanized design.
High-quality lattice glass easing bed adhesion.
Top-quality blue Teflon tube resisting high temperatures.
TMC ultra-quiet drive for silent, noise-proof operations.
CONS
Not only LK5 Pro but in general every open-bodied 3D printer has the problem of generating temperature as opposed to printers that host a print chamber.
Setup is an issue if you are not used to many manual adjustments.
Product
Specification
Videos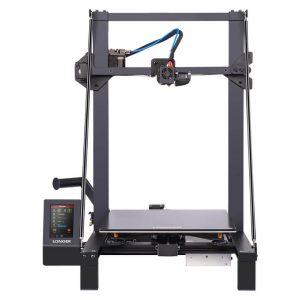 Housing a triangular stable structure, Longer3D LK5 Pro – an affordable desktop FDM 3D printer comes 90 percent pre-assembled thereby making it ...
| | |
| --- | --- |
| Model | LK5 Pro |
| Manufacturer | Longer3D |
| Price Range | $ 335 |
| Release date | 2020 |
| Country | China |
| Availability | Available |
| Classification | Desktop |
| Technology | Extrusion (FFF- FDM…) |
| Material | ABS, PETG, PLA |
| Filament diameter | 1.75 mm 0.07 in |
| OS compatibility | Linux, Mac OS, Microsoft Windows |
| Generic material | Yes |
| Max. build size | 300 × 300 × 400 mm 11.8 × 11.8 × 0.16 in |
| Max. build volume | 36 L |
| Max. print speed | 180 mm 7.09 in /s |
| Dimensions | 580 x 540 x 663 mm 22.83 x 21.26 x 26.10 in |
| Weight | 13.5 kg 29.76 lb |
| Nozzle diameter(s) | 0.4 mm 0.02 in |
| Heated print bed | Yes |
| Heated build chamber | No |
| Automatic calibration | No |
| Closed frame | No |
| Dual extruder | No |
| Independent Dual Extruder | No |
| Full color | No |
| LCD screen | Yes |
| Touchscreen | Yes |
| On-board camera | No |
| Mobile app | No |
| 3D scanners | No |
| CNC mill | No |
| Electronics 3D printing | No |
| Laser engraving | No |
| Conveyor belt | No |
| Air filter | No |
| Pellet extruder | No |
| USB | Yes |
| Wifi | No |
| Bluetooth | No |
| SD card | Yes |
| Ethernet | No |

Table of Contents
The LONGER LK5 Pro is the perfect 3D printer for you to buy. The machine is a middle-ground between the pre-constructed, high-end, brand-name 3D printers that are expensive when it comes to budget and the DIY 3D printers that are extremely cheap.
It lays exactly in the middle of the former high feature offering, completely automatic, able to print extra high parts, and the latter that offers no good quality prints. Intriguing isn't it? Let's explore various aspects of this interesting-sounding 3D printer in-depth.
Features
90 percent pre-assembled with stable triangular structure, LK5 Pro is equipped with an upgraded lattice glass. The Teflon tubes used in the printer can resist high temperatures that you easily play with various filament materials.
To ease your interaction with the printer, the manufacturer has put into place a 4.3-inch color touch screen. And a silent and open-source motherboard makes the printer producing almost negligible noise. That's not all, but these are only a few of the very popular features that help LK5 Pro stand out.
Extra-large build volume and triangle structure
Measuring at 11.8 inches *11.8 inches *15.75 inches, the size of the LK5 Pro build plate is nearly unrivaled in similar printers available at the same price. This enables you to print large parts and functional prototypes in one go.
So you would have to build most objects in more than one part and then assemble them, which decreases the overall quality of the object when put into application.
Also, the LK5 PRO 3D printer is built with innovative diagonal pull bars that form a firm triangular structure effectively reducing errors caused by vibrations.
One of the major issues faced during the 3D printing process is the vibration of the complete frame of the 3D printer.
And this is not only while fabricating parts that are equivalent to the maximum build volume the printer can offer, but even parts of smaller build volumes.
So what you need in a 3D printer is stability. And that's exactly what the printer manufacturer Longer has kept in mind while designing LK5 Pro.
This triangular structure gives you more stability making the printer less vibrating than any other 3D printer in the same price range without such a structure.
4.3-inch large touch screen and upgraded lattice glass
Longer seems to have kept the construction of the printer LK5 Pro very solid. To ease the complete operation of the printer, the brand new friendly user interface allowing you to control many functions on the printer via a single touch.
It will also let you preview the printing process on the screen. This beautiful color touch screen lets you say goodbye to manual operation knobs that you have to otherwise on 3D printers wherein automatic bed leveling is not available.
To enable excellent adhesion of the printed parts to its print bed, the printer manufacturer has put into place an upgraded lattice glass. And if you think, it will be complicated to handle it, you are wrong.
On the contrary, it's easy to take off the 3D printed models with your hands simply. Moreover, the bed's super flat structure conducts heat evenly across the build surface to ensure a better printing effect. So, there'll be uniformity in your parts as well.
High-temperature resistant Teflon and open-sourced
A higher temperature resisting Teflon tubes ensures they do not easily soften out. Additionally, this helps in reducing nozzle clogging which is a very common problem encountered in lower budget FDM 3D printers.
Teflon is a material that can withstand temperatures in the range of 250-280 degrees Celsius. This also means that you will be able to print with materials that have a glass transition temperature in the same range. All of which in turn will be improving the printing quality.
LK5 Pro 3D printer is open source. Meaning that it allows users to improve printers with codes and share the changes within the complete 3D printing community.
A result of the same will be an improvement in imagination and innovation, resulting in improved experience.
Silent and Open source Motherboard
Backed by a TMC2208 ultra-silent driver, LK5 Pro demonstrates firm properties as well as reduces noise. With open-source firmware, you can try your fantastic ideas on LK5 Pro by changing the G code.
Also, BL touch installation is provided which leads to sound absorption. Overall all the products provide after-sale quality assurance giving you a sense of reliability for the lesser cost of maintenance.
Specifications
LK5 Pro is based on FDM 3D printing technology. It offers a printed size of 300 mm * 300 mm * 400 mm. The printer features a single extruder and has a nozzle of diameter 0.4 mm.
The printing temperature ranges anywhere from 190 to 250 degrees Celsius. To take care of your filament levels, the printer is equipped with a filament detector.
Moreover, there is a resume printing option that keeps you prepared for uncertain power outages.
Parts and functional prototypes on the printer can be printed at a maximum speed of 180 millimeters per second. Every object that you manufacture on the printer has a layer height ranging from 0.1 to 0.4 mm.
The printer's gross weight is 13.5 kilograms and has a printer dimension of 580 mm * 540 mm * 663 mm. The filament material that you can print with LK5 Pro is PLA, ABS, and Wood.
Each of the filaments should have a diameter of 1.75 mm. You can connect with the printer using a TF card or a USB cable.
Price
While writing this article, Longer LK5 Pro is marketed at $359 on Amazon.
First Impressions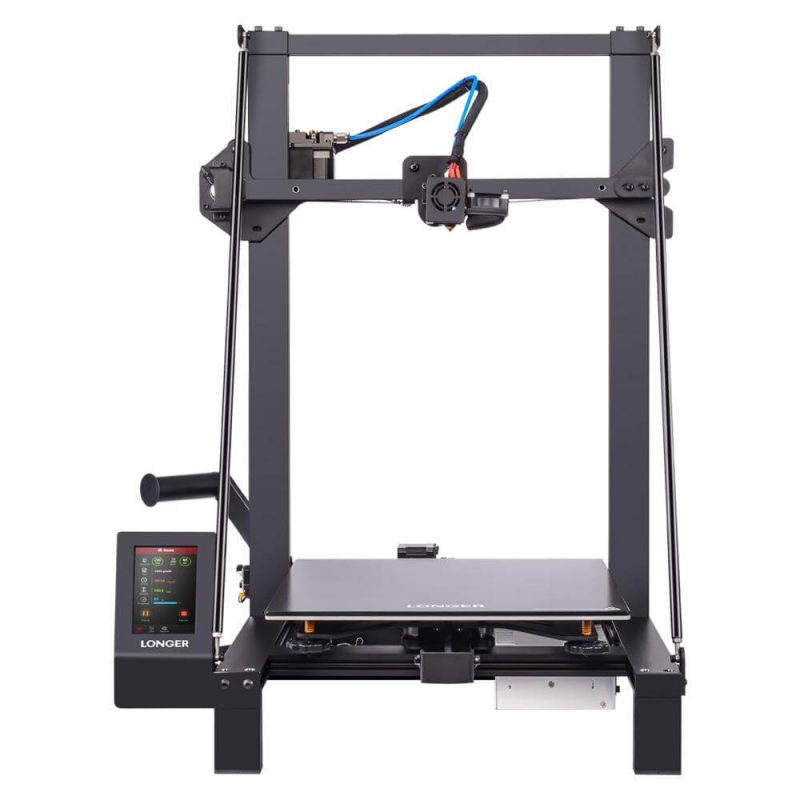 Not exactly like the general Cartesian style 3D printers, Longer LK5 Pro is a little more advanced. In the sense that in its construction the printer manufacturer has offered a triangular structure to ensure more stability during the 3D printing process.
This difference is directly visible when you see the printer from one of its two rear views.
The touch screen interface of the printer is on the left-hand side and is not completely standing, and is rather inclined.
But overall it looks very stylish and manages to catch your eye at least for few moments when you have the first glance over the printer.
The rest of the construction is almost the same as it is with any Cartesian-type 3D printer. A gantry supporting the print bed above which two pillars stand tall.
Connecting the supports is the print head which is holding the nozzle system. The pillars have rails over them to allow for a smooth movement of the print head from up to down and vice versa for laying down melted filament according to the geometry that's fed into the printer.
Setup
As claimed by the printer manufacturer Longer, the printer comes to your place in a 90 percent assembled condition. Setting up the printer requires you to place the print extruder bar, the arms, and the supports.
You'll need to fit using a screw each of these components together in a specific order.
After that, you'll need to plug-in connectors between the powered components and if you're uncomfortable with replacing memory sticks in your PC, experts claim that this is not the 3D printer for you.
You got to do the normal bed leveling before starting the print. Additionally, you are recommended to read the manual to make yourselves familiar with all the parts of LK5 Pro.
For bed leveling, you need to turn on the printer and let the touch screen interface load its complete information. As the bed leveling is automatic, you need to give a gentle tap on the touch screen to make it happen.
Once that is done, you can start 3D printing by loading the sliced part on the printer. This can be done in two ways, either via the TF card or the USB cord. That's it!
Printing Type/Cost
The Longer LK5 Pro belongs to the club that has the most 3D printers in it i.e. FDM 3D printer club. So, for printing parts with it you've got to load the filament spool holder with a solid filament of ABS, PLA, or Wood.
After starting the printing process, the filament would be brought to its glass transition temperature in the extruder.
Once that will be done and the filament would start melting, the print head would have slid down using the rails and would be close enough to the print bed.
The filament would be allowed to flow from the nozzle to the print bed and a structure according to the geometry of the part would be laid on the print bed.
This process would be repeated until the last layer of the part. And then it will be allowed to solidify.
Generally, the cost of manufacturing a single part via this process depends on:
The geometry of the part.
The material used for printing.
The amount of infill, d) the support structures needed.
The power consumption, and a lot more.
Print Quality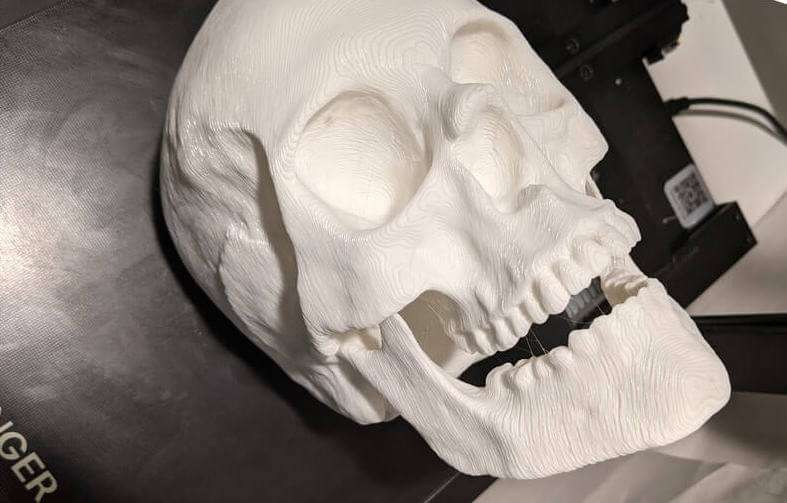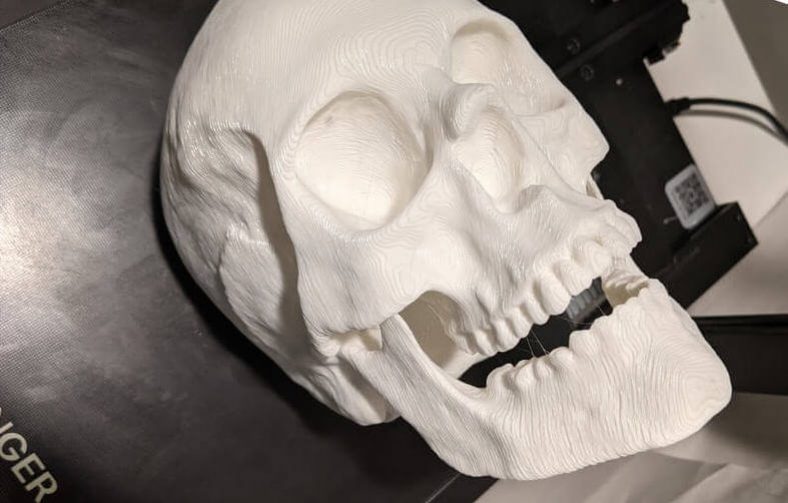 Credit: slashgear
Almost in any 3D printer, the print quality is a direct reflection of the quality of the files used to print and the technical know-how of the user.
After you finish leveling the print bed and correctly setting up the software the 3D print files that you print on LK5 Pro turn out to have a fine quality.
You manage to get precise and sharp details but you need to ensure that the software and hardware details are perfect.
Software
The Longer LK5 Pro makes use of Ultimaker's Cura software for slicing and staging. So, you'll need to follow a few simple instructions for loading settings and that's it!
You'll be able to adjust the said settings at will once you've given it a go. It's that simple.
Customer Support
Complete Download guidelines, BL Touch guidelines, and how to add Longer to Cura is available online. So you can easily download the literature and follow the steps which will lead to solving your doubts regarding the same.
Apart from this, if there is something specific, you can fill the support form which will reach the technical team of Longer. You can always call, WhatsApp or email the printer manufacturer for your queries.
Parameters Influencing Buying Decision
The cost of the printer, its print quality, speed of printing, capability, practicality, and user expectations are six important parameters that'll help you judge whether to buy it or not. We've listed them down in brief.
3D Printer Cost: Beginners may find it a little more than usual but LK5 Pro has more features than $200 printers. So you'll only realize the value as opposed to cost, after buying it.
3D Printer Quality: Being an FDM 3D printer, the printer is able to produce decent quality prints.
3D Print Speed: LK5 Pro stands out by letting you print even at 150 millimeters per second speed.
3D Printer Capability: Longer has made its printer capable of printing with ABS, Wood as well as PLA. So you almost have all the popular filaments to play with.
3D Printer User Expectations: In terms of offering more than regular $200 FDM 3D printers, LK5 Pro has a lot. But you will only realize how nicely does this printer stands upon your expectations when you use it.
The Verdict
The Longer LK5 Pro has a decent design, an amazing list of features, two of the standard ways to connect to it, and commendable performance. You can use it to learn the technology, print domestic parts, and a lot more.