Makerbot Replicator Z18
MakerBot Replicator Z18 is a professional 3D printer that comes with a lot of surprises. It has been designed to change your perspective on 3D printing. This printer is not only large but also features smart software to handle it all.
PROS
Build volume area is perhaps, one of the strongest advantages of buying this 3D printer. This spacious area has been mentioned a couple of times above too because it leverages a better advantage to the customers in the long run. This big space enables customers to print bigger items and offers a competitive advantage over other printers. It breaks barriers of normal limitations associated with 3D printers and exceeds their limits, especially in the case of consumer-focused printers.
This 3D printer comes with a sophisticated design that has a 3.5" liquid crystal display, stronger connectivity options, inbuilt camera. Such a comprehensive design allows users to make better use of the technology available at their hands and deliver simple functionalities to them. Even though it has a bigger build area, it features a compact look. This compact look is encased in dimensions of 19.4" x 22.2" x 33.9".
This print is controlled through the use of either mobile or cloud applications. Such flexibility makes way for better accessibility to the end-users through all the printing stages and enables users to control features, power, and print types right from the comfort of their desk. The inbuilt camera allows users to continuously monitor different printing as well as connectivity phases. Such a comprehensive utility ensures that the customers are in true control of what goes behind during the printing process.
CONS
Forcefully making use of a 3rd party filament for printing purposes automatically voids a customer's printer's warranty.
It only supports PLA.
Product
Specification
Videos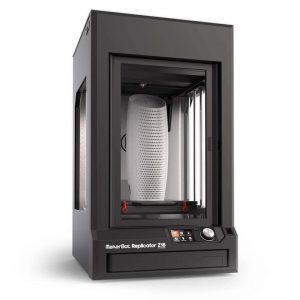 Claiming to have best price-to-performance ratio in the extra-large, professional category, Makerbot Replicator Z18 is manufactured to think and ...
| | |
| --- | --- |
| Model | Replicator Z18 |
| Manufacturer | MakerBot |
| Price Range | $ 6499 |
| Availability | Available |
| Classification | Professional |
| Technology | Extrusion (FFF- FDM…) |
| Material | PLA |
| Filament diameter | 1.75 mm 0.07 in |
| OS compatibility | Linux, Mac OS, Microsoft Windows |
| XY accuracy | 0.011 mm 0 in |
| Max. build size | 300 × 305 × 457 mm 11.81 × 12.01 × 17.99 in |
| Max. build volume | 41.82 L |
| Min. layer thickness | 0.1 mm 0.004 in |
| Dimensions | 493 × 565 × 861 mm 19.41 × 22.24 × 33.9 in |
| Weight | 41 kg 90.39 lb |
| Nozzle diameter(s) | 0.4 mm 0.02 in |
| Power input | 100-240 V; 5.4-2.2 A; 50/60 HZ; 350 W |
| Heated print bed | No |
| Heated build chamber | No |
| Automatic calibration | Yes |
| Closed frame | Yes |
| Dual extruder | No |
| Independent Dual Extruder | No |
| Full color | No |
| LCD screen | Yes |
| Touchscreen | No |
| On-board camera | Yes |
| Mobile app | Yes |
| 3D scanners | No |
| CNC mill | No |
| Electronics 3D printing | No |
| Laser engraving | No |
| Conveyor belt | No |
| Air filter | No |
| Pellet extruder | No |
| USB | Yes |
| Wifi | Yes |
| Bluetooth | No |
| SD card | No |
| Ethernet | Yes |

Table of Contents
If you ever thought of owning an industrial-grade general 3D printer, here is a machine too attractive to ignore. MakerBot's Replicator Z18 is a consumer-focused 3D printer.
Replicator Z18 3D printer has been designed to change your perspective on 3D printing. This printer is not only large but also features smart software to handle it all.
All of this comes with a MakerBot functionality that features utilities like multi-connectivity, smart extruder, live print inspection, and many more.
Its large area makes users worry less about what they need to print and offers freedom of what they wish to print. This 3D printer is aiming to print all that you can dream of.
Features
This section inlines some features of Makerbot Replicator Z18. This section describes some of its salient features in detail.
Bigger building area
Makerbot Replicator Z18 features a massive volume area. This build volume area's dimensions are 11.8" x 12.0" x 18.0". All in all, this paves way for just about anything you can think of.
This makes it pretty capable of handling small models up to full-fledged production prototypes. Such capabilities enable any home user to get access to a powerful industry-level printer.
Makerbot Smart Extruder plus
Makerbot Replicator Z18 features a class-leading extruder produced by the brand. This extrusion system has been developed after 160,000 hours of in-house testing and paves way for dependable and consistent performance. Combining this feature with Makerbot's PLA filament produces excellent high-quality print results.
Better connectivity
Replicator Z18 offers a wider range of connectivity options ranging from wired USB and drive connections to wireless Bluetooth and WiFi bands.
This significantly reduces the hassle involved in transferring and managing different kinds of files and allows users to get right back to work after an electricity failure.
Once connected with the help of any of these mediums, the Makerbot Replicator Z18 can be easily configured with MakerBot Print or MakerBot mobile for controlling and monitoring purposes. Such connectivity enables a user to gain full control of different print job aspects.
Sophisticated software
MakerBot Replicator Z18 is bundled with the MakerBot print software. This software is compatible with Mac OS as well as Windows operating systems.
Once installed, it enables users to gain access to a personal cloud library and manage it effortlessly. It enables functionalities like data storage and file printing.
Hot building chamber
3D models need a lot of precision work before they are produced. This is where MakerBot's replicator Z18 shines. It features a heated chamber.
This is heated build chamber makes way for fine model and prototype productions. It has been scientifically designed to work procedurally.
Once a model is fed to the printer, the printer PLA filament cools at a slower rate since the chamber heats up for the building process only.
This slower cooling benefits customers by offering them less cracked printing layers. Moreover, this feature can be controlled by the user, allowing it to be turned on/off, depending on the kind of end product a user is looking for.
Such a utility is largely considered ideal for large print jobs as opposed to small ones. Keeping this utility turned off during jobs also ensures that a user ends up saving energy and finishes print jobs quicker.
Dedicated support
MakerCare plans enable owners of this 3D printer to get rapid support in form of quick answering modes from an expert support team.
This team helps users resolve any kind of issues they face while using this printer.
Apart from this, MakerBot's website hosts a plethora of documentation, knowledge bases, contacts, and user guide that one can workaround to get their issue resolved.
Specifications
MakerBot's Replicator Z18 makes use of FDM printing technology and features a spacious build volume of 30.0 L x 30.5 W x 45.7 H CM (2549 cubic inches) over a layer resolution of 100 microns.
It has a material diameter of 1.75 mm. Coming to its material compatibility, the MakerBot Replicator Z18 is suited for MakerBot's PLA and tough materials for Large Spool.
It is also compatible with additional materials such as bronze fill, copper fill, and wood fill. Apart from Smart Extruder plus, Replicator Z18 is also compatible with Tough smart extruder plus and experimental extruder.
Such flexibility allows this 3D printer to offer a continuous printing speed of 100 mm/s.
It accepts ABS and PLA filament types. It features a single extruder with a nozzle diameter of 0.4 mm.
It operates under ambient temperatures of 15-24 degrees Celsius and storing temperature of 0-38 degrees Celsius.
All of this is crafted within a closed system. This 3D printer weighs around 41 KG; however, the product packaging comes in at around 52 kg.
The entire machine is coated with powdered steel with PC-ABS and composite aluminum material. It's a build surface injection-molded PC ABS. Its stepper motors have a micro-stepping with 1.8 degrees Celsius.
This motor offers XY positioning precision of 11 microns and Z positioning precision of 2.5 microns.
MakerBot Print Software that is bundled with this 3D printer supports STL and OBJ file types. This printer comes with a warranty of 1 year for the moving parts.
Price
MakerBot's Replicator Z18 is priced at $6500 including taxes.
First Impressions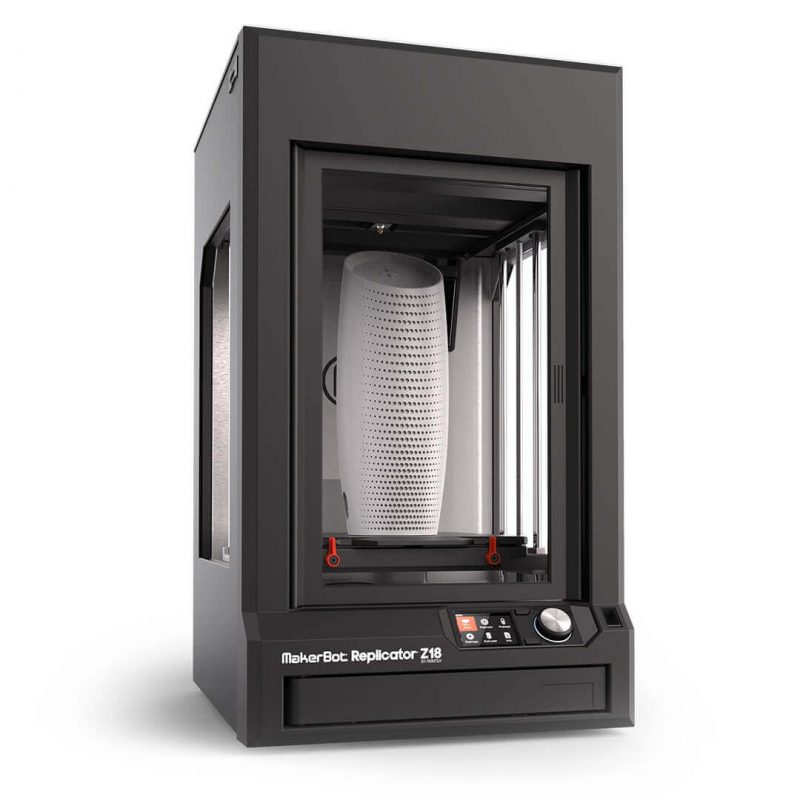 MakerBot's Replicator Z18 features a block-like rectangular design. One look at this printer would instantly give you an idea of build quality.
It features sturdy frames. Such a strong construction enables it to perform seamlessly even if tried to be disturbed during the printing process.
It also comes with little display on its assembly. Located in the bottom right corner, this display makes way for easier user-printer interaction.
Just like all other 5th generation printers in MakerBot's product line-up, the Replicator Z18 to features a camera and smart extruder that makes up for this machine's key selling points.
This printer's controls can be accessed after connecting either via wireless modes like WIFI or wired modes like USB.
Features like the auto-leveling build platform offer a smart raft detection so that one doesn't have to manually override the z offset.
All of this is showcased with two lights installed in its interior, adding to the elegance of this marvelous machine.
Setup
MakerBot's Replicator Z18 features a whopping build volume of 30.5 x 30.5 x 45.7 cm and weighs around 80 pounds.
Hence, moving the printer itself will also be one of the most challenging tasks of the setup process. However, its setup process is fairly easy and takes around 20 minutes to complete.
All one needs to do is to either install the mobile app or configure the cloud platform as per their requirements once the machine's setup has been completed and has been plugged in.
Once plugged in, loaded up, and configured with the software, this 3D printer becomes ready to use.
Printing Type/Cost
Most kinds of 3D printers make use of the Fused Deposition Modeling (FDM) printing technique.
In this 3D printing technology, the material with which you wish to 3D print is heated and melted until it reaches its transitional temperature.
This melted material is then extruded in a pattern or on top of them, creating an object by using the layer-by-layer principle.
In simple terms, MakerBot's Replicator Z18 makes use of the FDM technique by taking in plastic filament from one end. Once taken, this filament is squeezed through a piping hot section.
Once this hot section melts the filament, the molten plastic gets deposited on the print bed.
This molten material is in form of layers. These layers are fused and built up together, forming the final print.
Print Quality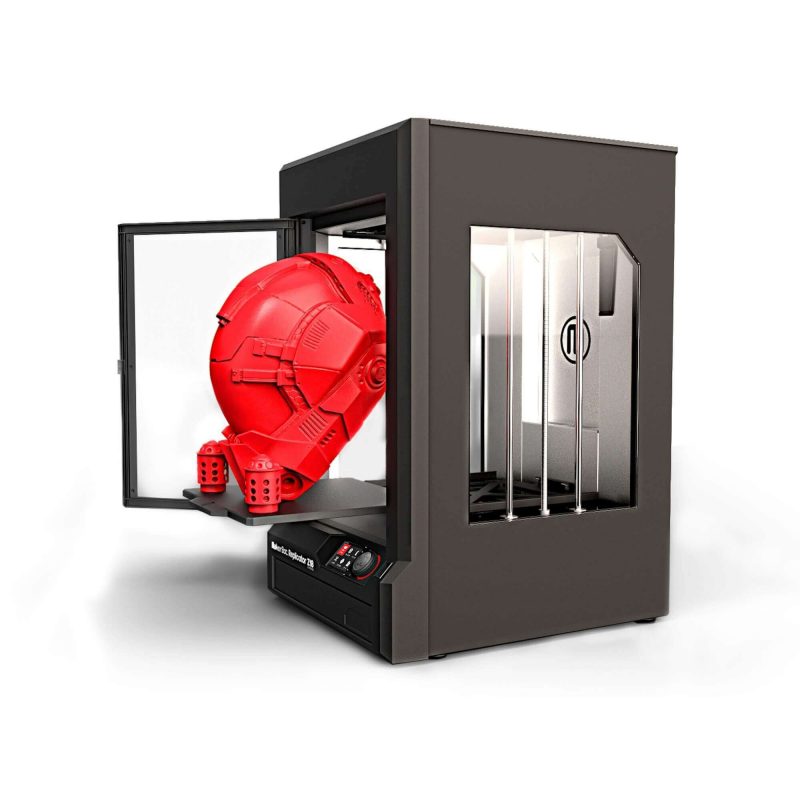 Credit: robosavvy.com
Producing a sample of test objects with the help of MakerBot Replicator Z18 gives an idea of its production capabilities. The printer delivers consistent results the most times.
Its moving parts are coupled with mature software that allows this 3D printer to deliver fair results.
Stringing and dripping of materials are witnessed while using this printer. However, such issues can be reduced by modifying printing temperatures or raising the shrinkage value.
Barring some general printing inconsistencies, it delivers quality results for whatever you are willing to print.
Software
Replicator Z18 is compatible with the MakerBot mobile or MakerBot Print cloud platform.
Once the machine is connected to controlling devices via USB, WiFi, or Bluetooth, one can easily start configuring the printing process by launching the configuration platform in the app or cloud platform.
Customer support
MakerBot has offered a variety of customer support options to choose from. If a person happens to face difficulties or encounters an error while using Replicator Z18, then they can go to the support online and find multiple guides and manuals to get assistance from.
You may also find training topics, error logging, and software updates to better assist a customer in resolving their issues.
However, they don't offer 24*7 support. To get in-person technician support, one needs to contact them from 9 AM to 6 PM E.T. on Monday-Friday.
The brand also offers an assured service provision through next-day service on emailing the issues or questions.
Parameters Influencing Buying Decision
Below mentioned factors summarize the complete article's main points:
3D Printer Cost: Considering the build volume and print quality offered by this printer, its cost is extremely affordable for the likes of professionals and industries.
3D Print Quality: Every part and functional prototype printed with MakerBot Replicator Z18 has average 3D print quality.
3D Print Speed: The speed of 3D printing a part or functional prototype on MarketBot Replicator Z18 will be a pleasing surprise for you.
3D Printer Capability: It is a proprietary printer capable of uploading your designs on MakerBot print cloud software directly and tracking the 3D printing process via a smartphone app.
3D Printer Practicality: When in operation, the printer makes noise in a negligible amount.
3D Printer User Expectations: If you are a hobbyist or a beginner who is looking to build industrial-grade prototypes in the field of 3D printing you are going to fall in love with this 3D printer that offers a wide variety of connectivity modes, live monitoring, and freedom to print what you desire.
The verdict
MakerBot Replicator Z18 is a professional 3D printer that comes with a lot of surprises.
Things like an intuitive user interface, better connectivity, and the right design choices make it one of the most attractive choices available in the 3D printer market.
Additionally, things like size and build area add more to buying reasons for this printer.
However, this printer is ideally suited for people who prefer to wait. People buying this are likely to face some headaches resolving the issues associated with this machine.
Its price is also too high, considering its limited use cases due to its painful negatives.
However, going for a cheaper alternative will result in losing out on features like larger build area and industrial-grade printing.