Planmeca Creo C5
Creo C5 is an essential choice for reliable printing of dental parts. It offers a considerable amount of build volume and resolution along all the axes. So, if you are a dental part manufacturer or clinician Creo C5 is worth considering as a buying option.
PROS
The printer lets its user print precise parts speedily.
Creo C5 has an easy workflow that let you go from scanning to printing in minimal time.
Efficient material handling process.
Specifically dedicated to printing high quality orthodontic parts and functional prototypes.
Plug to print.
CONS
Starting with the printer is a little bit complicated, therefore needs assistance.
Product
Specification
Videos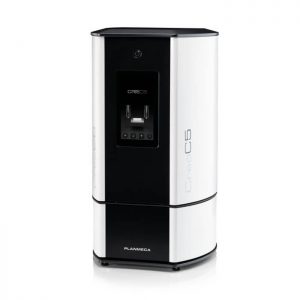 Planmeca Creo C5, based on LCD technology, is a high-speed 3D printer offering a complete workflow for dental application. The printer helps in the ...
| | |
| --- | --- |
| Model | Creo C5 |
| Manufacturer | Planmeca |
| Availability | Available |
| Classification | Desktop |
| Technology | LCD |
| Material | Liquid resin |
| OS compatibility | Microsoft Windows |
| Generic material | Yes |
| XY accuracy | 0.05 mm 0.002 in |
| Max. build size | 128 x 78 x 100 mm 5.0 x 3.1 x 4.0 in |
| Max. build volume | 1.00 L |
| Min. layer thickness | 0.01 mm 0 in |
| Dimensions | 300 x 500 mm 11.8 x 19.7 in |
| Weight | 32 kg 70.55 lb |
| Heated print bed | No |
| Heated build chamber | No |
| Closed frame | Yes |
| Dual extruder | No |
| Independent Dual Extruder | No |
| Full color | No |
| LCD screen | Yes |
| Touchscreen | Yes |
| On-board camera | No |
| Mobile app | No |
| 3D scanners | No |
| CNC mill | No |
| Electronics 3D printing | No |
| Laser engraving | No |
| Conveyor belt | No |
| Air filter | No |
| Pellet extruder | No |
| USB | Yes |
| Wifi | No |
| Bluetooth | No |
| SD card | No |
| Ethernet | No |

Table of Contents
Custom-engineered for dental professionals, the Planmeca Creo C5 can create surgical guides and dental models. As per claims, the printer can create 50 to 60 temporary crowns in less than 10 minutes or approximately five full arch dental models in a single print.
All thanks to the LCD Photomask technology which projects a uniform light source virtually eliminating imperfections.
Planmeca Creo C5 does not require calibration. Its features are straightforward enough to fit people from non-technical backgrounds. A touch display with pre-programmed settings lets users interact with it seamlessly. STL and PLY file formats are compatible with the printer.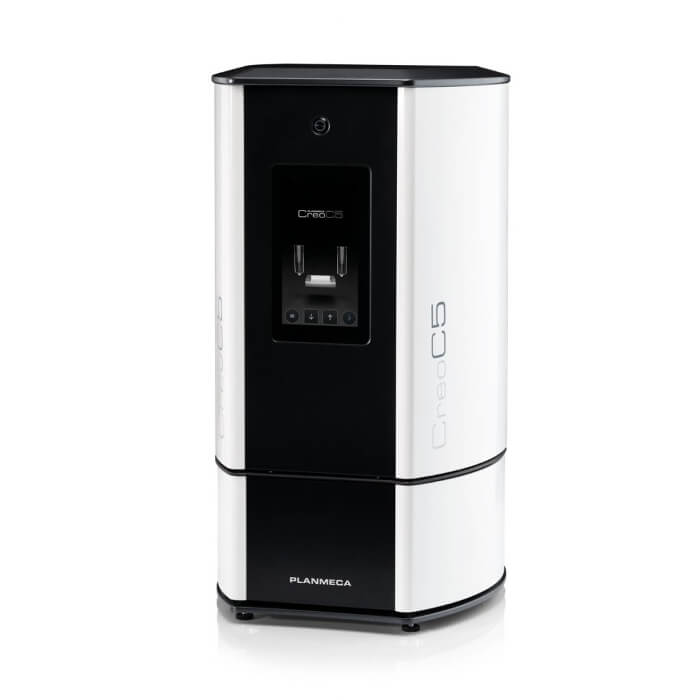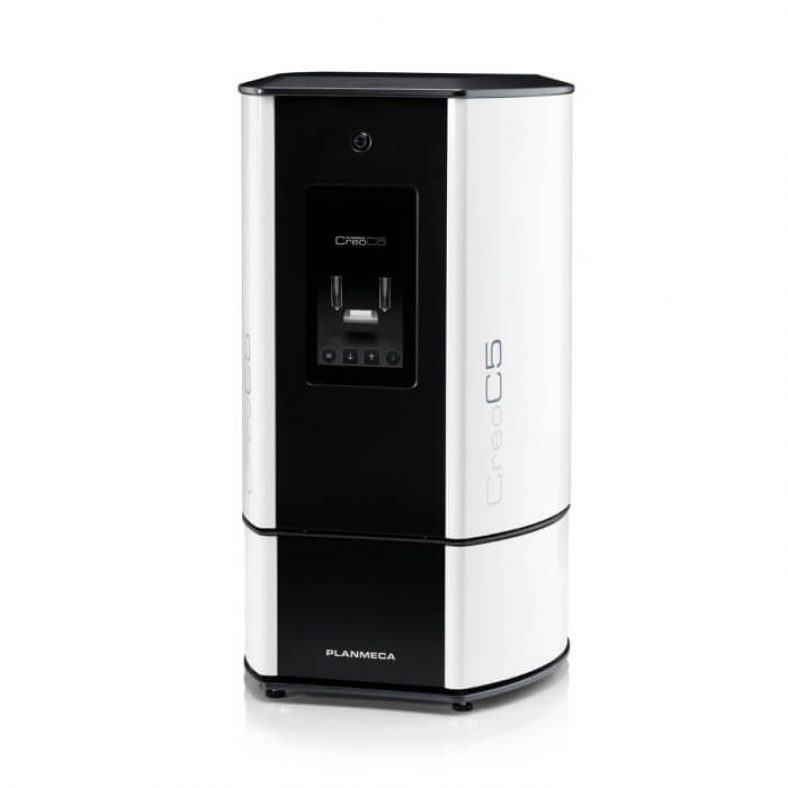 Materials for Planmeca Creo C5 come in convenient capsules, which is a unique way to supply high-quality 3D printing materials without any waste.
Overall, Creo C5 is aimed to help clinicians to advance the care they provide and ease their workflows. Additionally, clinicians can utilize software to leverage their workflow for imaging.
So, go through various details about Creo C5 to know whether it provides enough value to the users.
Features
Planmeca Creo C5 has a robust and compact body from Aluminum. It is designed to withstand the daily workloads of even the busiest dental clinics and labs.
The machine's optimized materials guarantee reliable and high-quality results consistently. Creo C5 is packed with such features. Let's go through them one after the other to know more.
Speedily Precise
Creo C5's distortion-free monochrome LCD technology and impactful light source permit strikingly fast printing times. On the other hand, the printer's robust mechanics ensures stable 3D printing and accurate part results.
So, if you are looking for amazing speed with industry-grade precision, Creo C5 is definitely something to look out for.
Easy Workflow
Planmeca offers a complete digital workflow starting from the scanning procedure, continuing with design, and ending with printing. Also, the printer manufacturer provides all the needful tools for planning and completing implant treatments. Users can design the surgical guide they need in Planmeca Romexis Software and then print it using the printer. It's that simple.
Neat and Cost-effective Material Handling
Creo C5 is equipped with a unique resin handling system, decreasing the chances of spilling it over onboard. The system has pre-programmed material parameters ensuring a smooth, clutter-free printing experience.
It avoids cross-contamination between two resins. The innovative material capsules help do easy dosing and storage. All of which lets you make the best use of valuable printing materials.
Plug to Print
The best part about Planmeca Creo C5 is its simple installation process. It is a calibration-free dental 3D printer, ready to print straight out of the box.
Planmeca Creo C5 Studio software easily generates print jobs from the 3D models in STL or PLY format. After which you can proceed to print with a single click.
Large Printing Area
Creo C5's printing area can fit up to six dental models or twenty-five surgical guides at the same time. Its dimensions are 300 mm * 300 mm * 500 mm.
From which, the printer offers 128 mm * 78 mm * 100 mm build volume to create dental parts and surgical guides.
It's extremely useful while doing projects including mass production. The printer's large printing area parts used in dentistry, at one go.
Compatible with Many Materials
Creo C5 is well suited with a FotoDent guide specifically for customizing surgical guides. For printing dental and study models, Planmeca offers a high-quality FotoDent model/model 2. Particularly for creating gingiva segments in dental models, users can make use of FotoDent gingiva.
Aligner bases that can be used with thermoforming can be printed using the FotoDent setup. Whereas, FotoDent tray is a Class I biocompatible resin printing individual dental impression trays. And lastly, FotoDent IBT prints excellent quality transparent indirect bonding trays.
Monochrome LCD 3D Printing Technology
The printer utilizes an LCD screen for curing resins. Because of a considerable area of an LCD screen, the resins are exposed more in amount than they are in SLA 3D printing technology. This process leads to the development of objects with a high-quality surface finish.
The precision achieved by building parts using Creo C5 is incomparable with that of other printers in the same price range. Real parts made using the printer are able to match imaginations closely.
Dedicated Software
Creo C5 Studio is an easy-to-use application committed to Creo C5. Its content display approach is non-technical. Hence, even if users do not hold any experience of dealing with 3D software, they will feel comfortable.
Having stated so, Creo C5 Studio enables expert orthodontists to make advanced settings. It is pretty intuitive in its approach and is compatible with various STL and PLY file formats.
Capsule Dosing of Resins
Planmeca's approach to present its resins is different from other printer manufacturers. All the materials are available in a uniquely packed capsule. Such packaging ensures that the resins are stored safely before their usage.
This will ensure that there is no failure while 3D printing a part with the corresponding resin. Also, such storage guarantees a high-quality surface finish in each part that's printed using the resin.
Calibration-free Printing
Calibration is the process of arranging the print head of any printer with its build plate. It ensures the accurate printing of any part's first layer. It demands a considerable amount of time before starting the actual 3D printing process.
Planmeca Creo C5 has kept its design in such a way that its users do not have to undergo the calibration process and directly start with 3D printing. This leads to saving a lot of time and effort.
Touch Screen Interface
Users can start and pause the 3D printing process using the touch screen interface present on Creo C5's body. Moreover, you can also change almost all the settings like print speed. Also, the touch screen interface notifies you about the print status and much more.
Specifications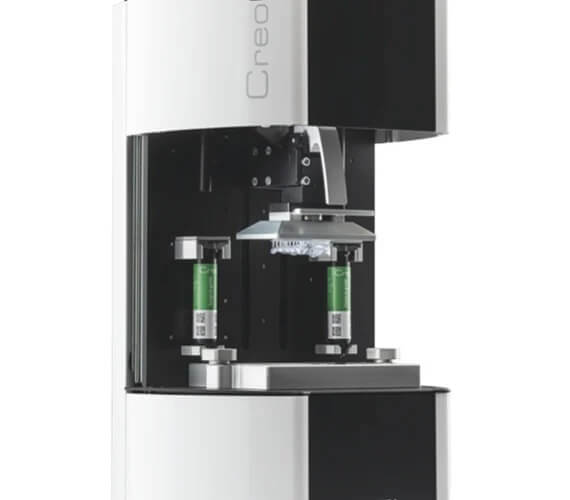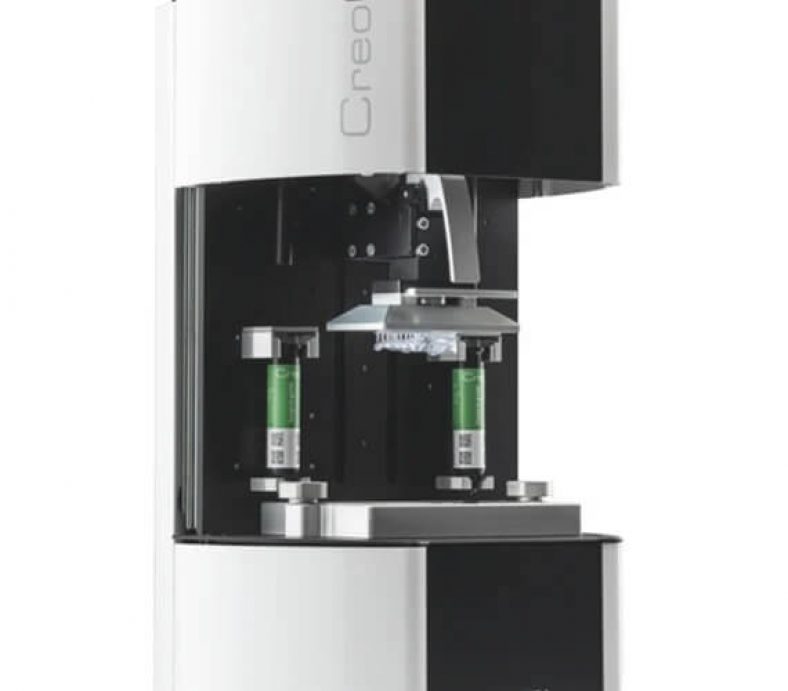 Based on monochrome LCD 3D printing technology, Creo C5 offers a considerable build area of 128 mm * 78 mm * 100 mm.
The printer provides XY resolution of 50 micrometers and Z-axis resolution ranges between 25 to 100 micrometers. Therefore, the parts printed using the printer will have an excellent surface finish.
Creo C5 weighs 32 kilograms, hence it stays stable during the 3D printing process. Its hardware requirements are Intel or AMD processor with RAM 4 to 8 GB and Nvidia Ge Force GT/GTX graphics card. The printer is compatible with Windows 7 and 10.
Price
Please contact the manufacturer for finding the exact quote for the 3D printer. However, you may expect it to be expensive, it is an industrial 3D Printer.
First Impression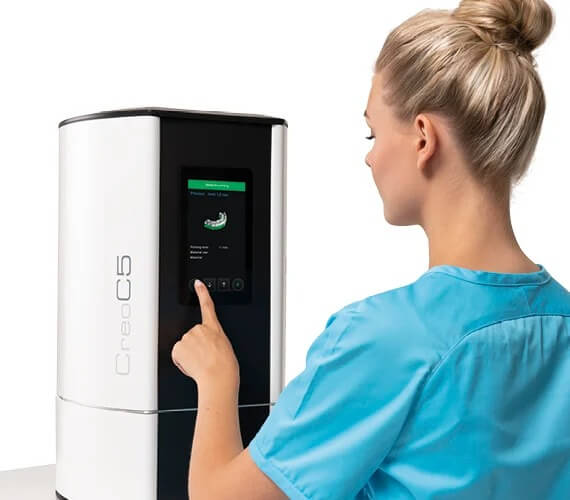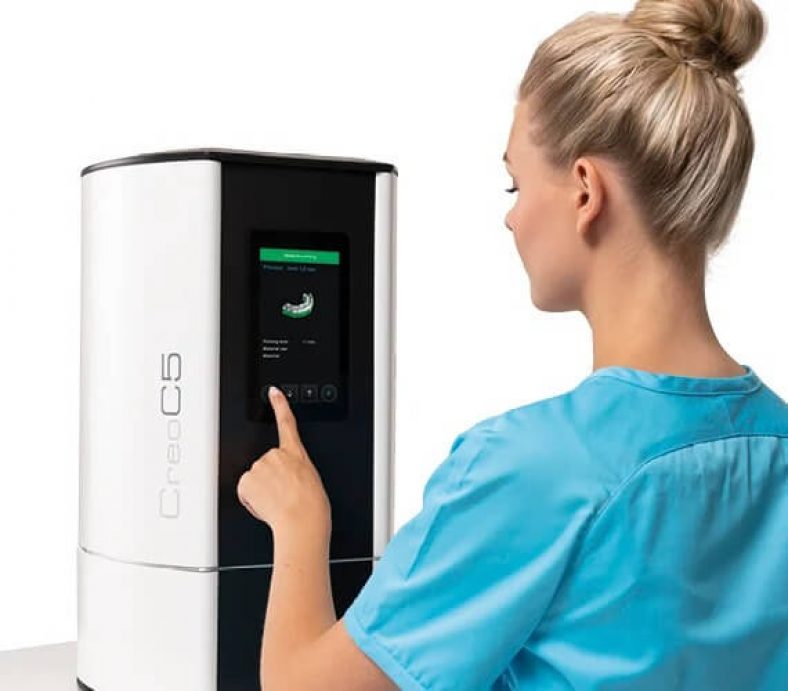 Credit: planmeca.com
Planmeca Creo C5 has a robust and compact look. Its body is made of Aluminum and contains a touch screen interface for starting, pausing, and controlling prints. The printer is available in black and white color.
Setup
Creo C5 is a plug-and-play 3D printer. Hence, all you need to do after receiving it is unbox it, place it near a power supply, and connect the power cable to turn it on.
After which, you can start uploading the 3D print file on it using different connection modes. And once that is done, users can start 3D printing. Simple, yeah?
Print Type/Cost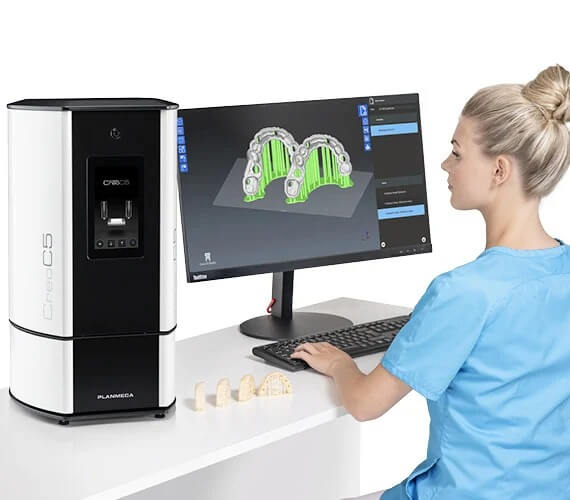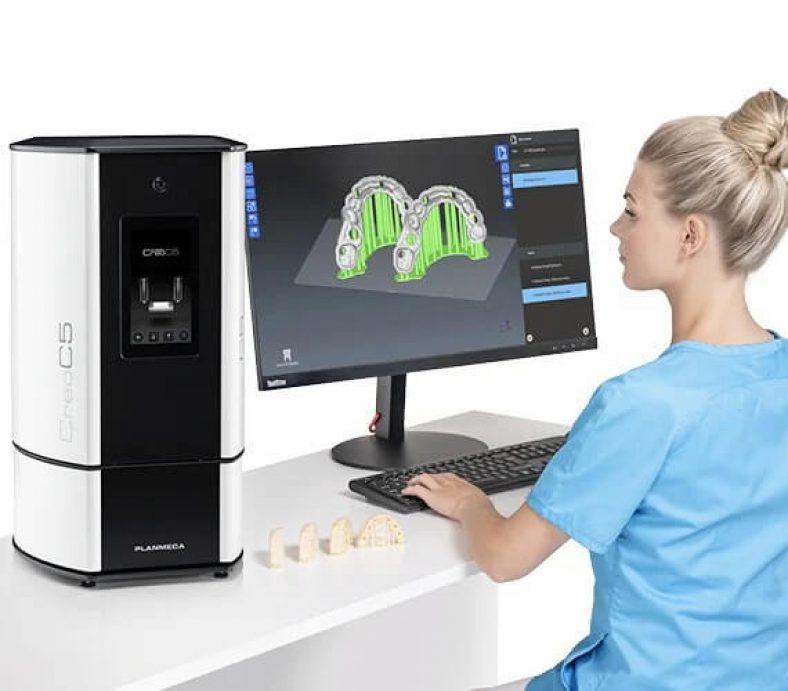 Credit: planmeca.com
Planmeca Creo C5 prints dental parts using DLP 3D printing technology. Herein, a monochrome LCD screen cures the liquid resin using a light source of a specific wavelength.
Excellent quality parts can be developed in a reasonable time using this technology. The printing process is faster than SLA 3D printers and yet the print quality is just equal or even better.
The cost of 3D printing a part or functional prototype using any 3D printer depends on a lot of factors like price and quantity of resin, support structures, part geometry, etc.
Print Quality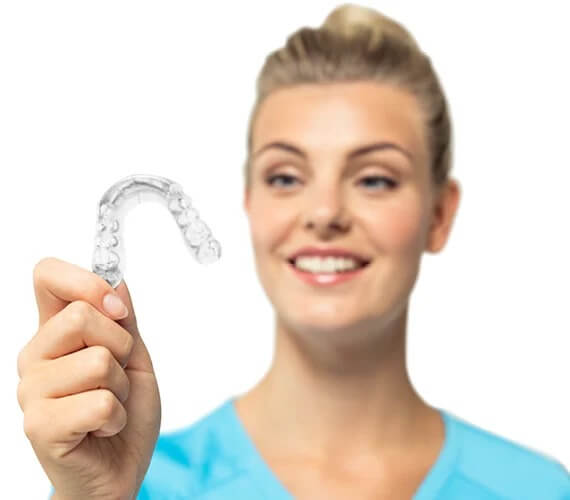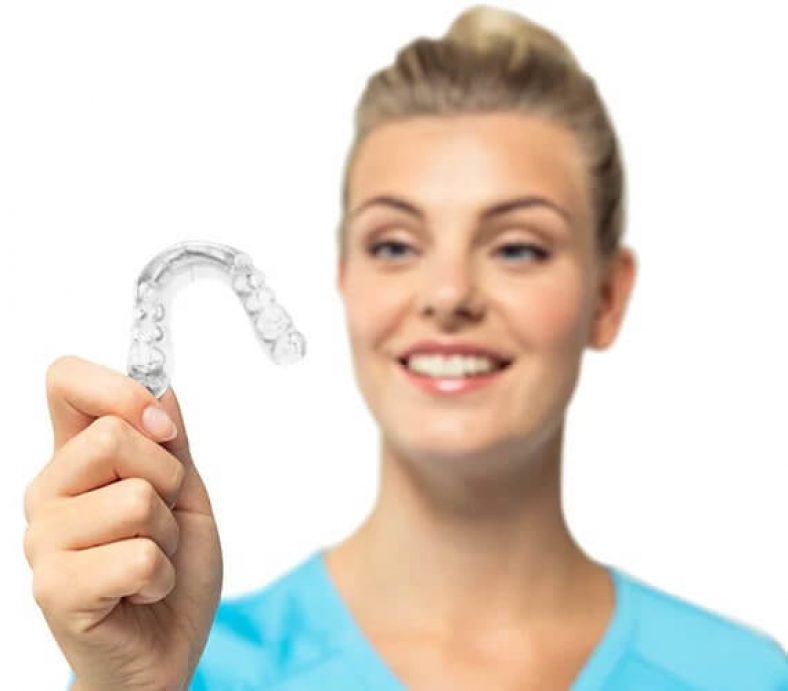 Credit: planmeca.com
Creo C5 is able to manifest striking surface finishes in dental parts. It is capable of producing surgical guides with utmost precision. The printed parts have X, Y resolution of 50 micrometers and Z resolution ranging anywhere between 25 to 100 micrometers.
All thanks to the monochrome LCD screen which gives enough exposure to complete the resin layer at once. Such a process leads to curing dental parts with intricate detailing.
Software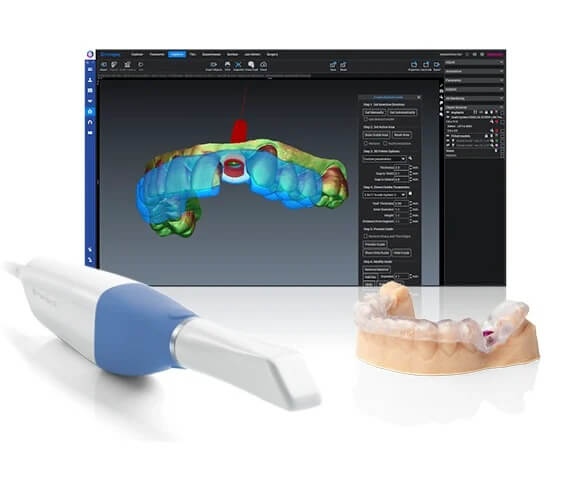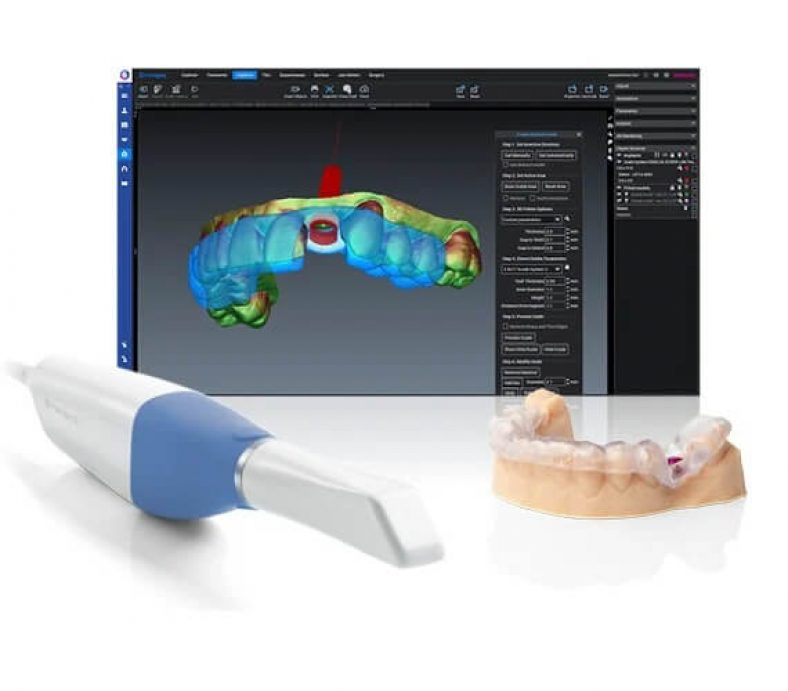 Credit: planmeca.com
Creo C5 Studio is extremely user-friendly software. It enables users to design complicated parts rapidly. Planmeca has made this software specifically keeping in mind the dental needs of clinicians.
Hence, designing surgical guides and dental models and aligner bases will not take much time. Also, it lets users do in-depth designing of parts for extra complex geometries.
Customer Support
Planmeca offers technical support on call as well as via email. The printer manufacturer's technical team is full of avid listeners who solve your doubts in minimal time.
Parameters Influencing Buying Decision
A summary of Creo C5 chief points is mentioned below.
3D Printer Cost: Although the price isn't available directly, it is obvious that the printer is expensive. It's an industrial 3D printer created for professional use. And, it won't be as cheap as those FDM 3D Printers easily accessible for a few hundred dollars.
3D Print Speed: Creo C5 is a DLP 3D printer that cures complete layers of parts in one go with the help of its monochrome LCD screen. Such a process increases the overall print speed by lessening the time required for curing each layer. So, the print speed of the printer is remarkable. The printer creates dental parts that can be made with blisteringly fast speeds.
3D Print Quality: The printer's robust mechanics guarantees accurate results while printing surgical guides, dental models, aligner bases, and other orthodontic objects. Thanks to the printer's monochrome LCD technology and the powerful light source that permits users for distortion-free curing.
3D Printer Capability: Dreve has fabricated six different resins that are compatible with Creo C5. Each one of these six resins is capable of printing six different types of orthodontic parts such as; surgical guides, study and dental models, gingiva segments, aligner bases, individual impression trays, and transparent indirect bonding trays.
3D Printer Practicality: Creo C5 is specifically meant for dental clinicians and manufacturers of orthodontic parts for customized 3D printing on-demand.
3D Printer User Expectations: Because there is no need of calibrating Creo C5, users can utilize their efforts and time on other steps such as designing. Also, the printer manages to build complex geometries in minimal time, hence dental part manufacturers can increase their production.
The Verdict
Creo C5 is an essential choice for reliable printing of dental parts. It offers a considerable amount of build volume and resolution along all the axes.
Additionally, the printer builds intricate parts with excellent surface finishes in a reasonable time. Moreover, there is a lot that one can print with this machine, like surgical guides, dental models, dental crowns, aligners, etc.
The printer is compatible with six different types of resin materials that come packed in safely stored capsule form.
It features a touch screen interface and has robust mechanisms in place for high-quality 3D printing. So, if you are a dental part manufacturer or clinician Creo C5 is worth considering as a buying option.