TRUMPF TruPrint 5000
The industries looking for advanced 3D printing technology for producing high-quality parts must consider the TruPrint 5000 3D system. It offers users support for multiple metal materials with access to the complete workflow.
PROS
Creates accurate metal parts
Supports multiple metals
Involves three different lasers of 500 watt each, helping increase the productivity
Partially automated
Works with minimal to no support structure
Great for series production
Fast printing
CONS
Huge in size
Need to pay extra for optional preheating
Very expensive
Table of Contents
The TruPrint 5000 is designed by TRUMPF, the machine tool, and laser manufacturer. This 3D system is based on the company's latest Laser Metal Fusion (LMF) printing technology. And, the printer is one of the best among its competition. Being highly productive, TruPrint 5000 3D printing system offers the best solution for industrial series production.
Choosing from the various optional features such as the fullfield multilaser with three 500-watt TRUMPF fiber lasers, users can carry the most demanding industrial applications with ease. Being able to handle the manufacturing of high-quality components while supporting a wider range of different materials, the printing system does an exemplary job.
The 3D printed parts easily meet the strict quality specification for multiple niches including aerospace, automotive, medical, and aviation industry. Not just that, users can also choose to carry the entire workflow chain in a shielding gas atmosphere.
Starting from sieving to printing to cooling to depowdering. When coupled with other external components such as powder management or the monitoring solutions from the manufacturer, the printing system provides unprecedented results for series production.
Read the complete TruPrint 5000 3D printer review to find out if the 3D system is efficient for your particular needs.
Features
In order to offer its users a seamless experience, the manufacturer has included many amazing and premium features. From offering maximum productivity to faster printing, users enjoy a lot of perks when working with TruPrint 5000 3D Printer.
Three Fibre Lasers with 500 W Power Each
TRUMPF TruPrint 5000 3D system includes a fullfield multilaser to increase overall productivity. Using its three 500-watt fiber lasers that work simultaneously to scan the entire build area with 100% overlap, the printer helps achieve the best build rates.
What's best is that it's very flexible and hassle-free to allocate these lasers in the build area. Therefore, ensuring an optimal surface quality for the 3D prints, without any unnecessary marks.
Optional Preheating Allowed Up to 500 Degrees Celsius
The printer comes with the optional preheating of up to 500 degrees Celsius. Hence, users can easily create better part quality and utilize the same for various applications.
Suitable for such high-temperature printing also allows a wider selection of materials. Users can work with H11 (1.2343) and H13 (1.2344) which can only be processed at 500°C temperature.
Using this 3D printing system, one can create parts for a huge array of niches. Such as aerospace, medical, automobile, toolmaking, and more. Also, you will require fewer support structures as well as experience fewer stress cracks when printing with titanium (Ti6AI4V).
Quickly Change Build and Supply Cylinders
TRUMPF, the manufacturer of this 3D system has come up with an interchangeable cylinder principle. Hence, users can exchange the build and supply cylinders quickly. Therefore, allowing the faster set up of cylinder, powder removal as well as cooling of hot 3D parts.
To be precise, these jobs are easy to perform parallel to the LMF process. Further, the entire construction helps in reducing idle time while increasing the productivity of the machine.
Enhanced Part and Powder Management
The company allows usage of setup and powder removal for more than one machine, each of which working parallel to the production process. In the case of large powder volumes, users can enjoy short throughput times. In addition, a closed powder circuit helps in further enhancing productivity along with the operator's safety.
Moreover, the central components that include the sieving station, powder removal station, along powder silo offer users help with series production. That too, on an industrial scale. As mentioned, it is possible to choose to run the entire process chain under a shielding gas atmosphere.
Intuitive Touchpoint Print Interface
Including the Touchpoint Print interface, the manufacturer has made it simpler for users to work with the settings of the machine. With an intuitive and user-friendly interface, users can operate the entire 3D printing system with ease.
Navigation is easy and includes common touch gestures such as swiping. In order to simplify the 3D visualization, the interface limits the views to the essential items. Overall, it is very convenient to process the print jobs using Touchpoint Print.
Highly Powerful TRUMPF Lasers
The machine utilizes 500-watt fiber lasers operating at a wavelength of around 1,070 nm. In addition, users can also adjust the focal diameter of these lasers individually between 100 and 500 μm. Therefore, offering higher flexibility when dealing with different components seeking varying settings for best print results.
Real-Time Monitoring
Using the detailed quality check and documentation, layer-by-layer, one can keep an eye on the areas of the component that are critical and detect process deviations in advance.
Moreover, users can also analyze the data automatically against different reference parts. Not to forget, monitoring of weld pools is possible in parallel without any hassle.
Automatic Workflow Start
For providing users the fast setup times, the printer brings with itself the automatic process start feature. Not only it expedites the overall process but also provides a high degree of reliability.
Specifications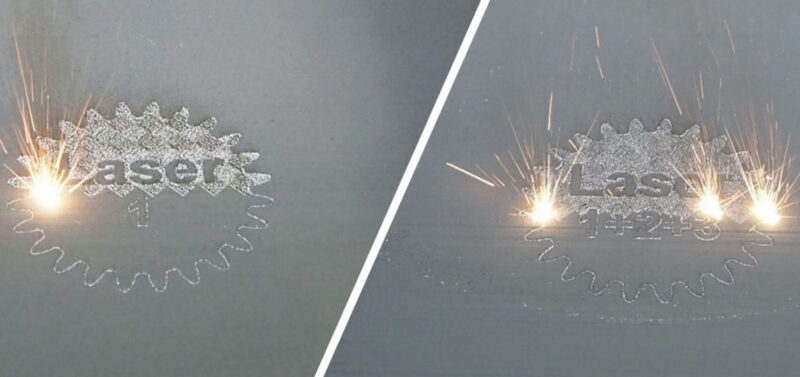 Credit: trumpf.com
TruPrint 5000 3D printer is a huge machine with a footprint of 4616 mm x 1645 mm x 2038 mm. This includes the printer along with the filter and its electric cabinet. However, users can also choose for the optional preheating. This will increase the overall size of the 3D printing system to 5266 mm x 1645 mm x 2038 mm.
With such a large size, the printer allows for the production of large parts as well. It has a build volume of 300 mm x 300 mm x 400 mm. In case the preheating is less than 290 degrees Celsius, the effective build space limits to 290 mm x 290 mm x 400 mm.
The printer offers an adjustable beam diameter ranging between 100 – 500 μm. Using its TRUMPF lasers, the manufacturer enables printing with 500-watt power. While the standard heating is limited to 200 degrees Celsius, the optional preheating increases the temperature resistance to 500 degrees Celsius.
When talking about layer thickness, the printing system can create really intricate designs with ease. It allows layer thickness ranging between 30 to 150 μm. Also, the print speed is pretty amazing too. One can create parts at a build rate of 5 – 180 cm³/h * 1.
Just remember, the printer is quite heavy and weighs around 7058 kgs.
Price
TRUMPF TruPrint 5000 3D printing system is very expensive and comes for a price tag of $1M. Working as per the multi-layer principle using three different beam sources, the printer caters to a variety of industrial applications. Therefore, it comes at a hefty cost.
First Impressions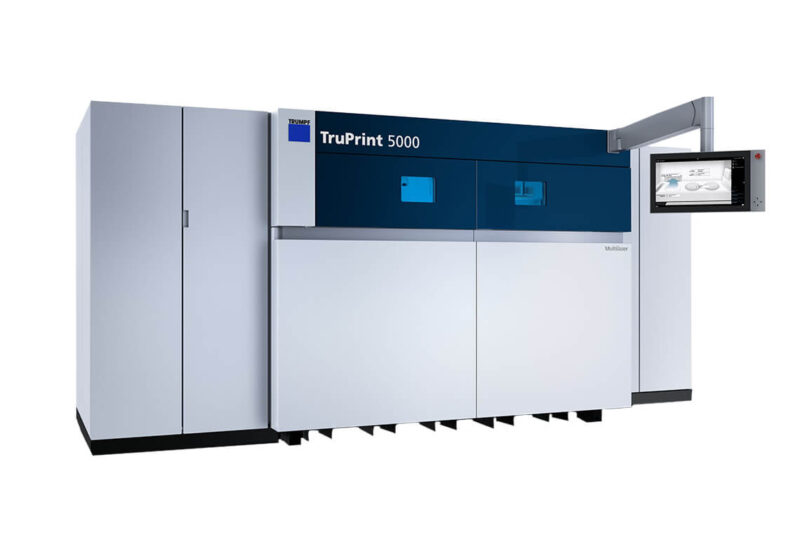 It is a huge 3D printer that comes along with various other components to complete the entire production workflow with ease. Along with a filter, and electric cabinet, the printer occupies huge space.
Therefore, you must make enough room for adjusting this printer before it arrives. The company ensures safe delivery of the machine with the majority of the components assembled and intact in place.
Setup
Setting this 3D printing system for the first time is comparatively easy as the printer is partially automated. However, you must need someone skilled to work with the printer. In case you need help, you can opt for onsite technical support from the company.
Printing Type/Cost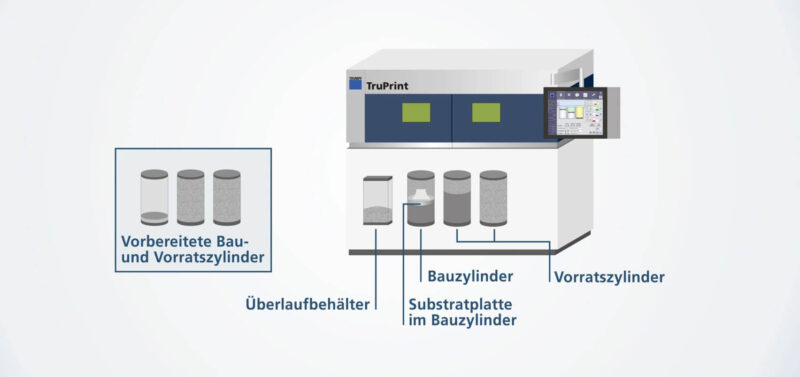 Credit: trumpf.com
The printer is based on laser powder bed fusion 3D printing technology. Here, the layer of metal powder is exposed to lasers for melting and fusing the particles together. Each time the layer completes, another coat of material is deposited. And, the same process continues. Layer by layer, the 3D printing process creates components of the required geometry.
The cost of printing parts using this 3D printing system depends on a variety of factors. For instance, the cost of material used, layer height, infill density, and more. Plus, you must consider the indirect variables such as electricity and labor cost.
Print Quality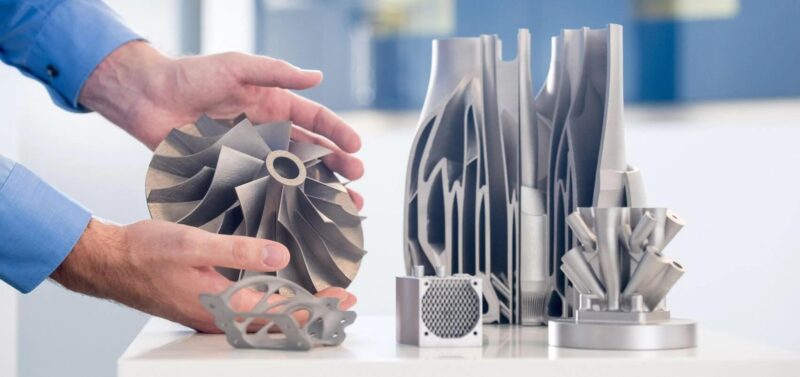 Credit: trumpf.com
Undoubtedly, the TruPrint 5000 3D printer can create amazing prints with finer details and smoother surfaces. Offering industrial print quality, the machine enables series part production. Users can achieve a layer thickness ranging between 30 to 150 μm.
The parts are suitable for plenty of applications within various niches. From lighter metal objects to tiny details, the machine can enable quality production at a faster rate.
Software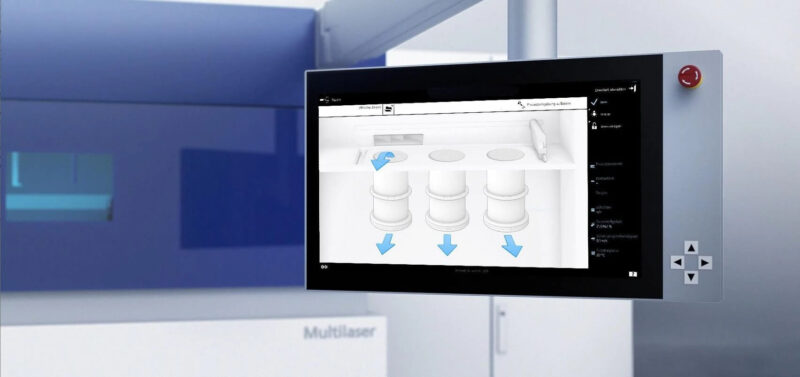 Credit: trumpf.com
The printer works with TruTops Print with Siemens NX software package. This application supports helps in the preparation of data for 3D printing.
Offering easy tools for generating support structures and arranging the three lasers in the build area, the application makes it easy to complete the printing job without hassle. Along with the integrated build processor, the 3D data converts into the readable format to process through the 3D printing system.
This software not only simplifies the slicing process but supplies amazing support when configuring the individual exposure strategies for the different components. Overall, helping users save a lot of time as well as a cost during the entire workflow.
Again, TRUMPF also provides Intelligent and flexible control options with its TruTops Print Multilaser Assistant. The application is useful in making optimal use of the three TruPrint 5000 fullfield multilasers.
Users can easily configure the laser allocation for optimizing the build job to attain high-quality production. Last but not the least, it is also possible to view the process sequence as well as predict the production time.
Customer Service
As expected, the company offers amazing support. Both for sales as well as technical know-how. Either you can fill in the contact form, available on the manufacturer's website, or call the direct number. The team reaches the earliest for resolving your queries.
Parameters Influencing Buying Decision
There are many factors that influence buying decision of the user. And, before you go ahead and invest in this expensive machine, make sure that it meets your needs completely.
3D Printer cost: Being an industrial large-format 3D printing system, the machine is very expensive, costing $1M.
3D Print quality: Seamless part quality with smoother surface finish. With layer thicknesses of 30 to 150 μm, users can optimize the parts as per the needed smoothness. Easy to create metal parts with isotropic properties.
3D Print speed: The printer is fast when compared to its competition. Also, the multi-layer design further enhances the print speed and helps in increased productivity.
3D Printer capability: TruPrint 5000 is a reliable 3D printing system, capable of accomplishing complex geometries with ease. It can print with a variety of metal materials, those needing 500 degrees Celsius to fuse as well.
3D Printer Practicality: Best for series production as well as functional prototyping. Different niches can take advantage of this machine. Suitable for aerospace, medical, and various other industries needing precise and intricate part production.
3D Printer User expectations: TruPrint 5000 is certainly a great machine. Offering advanced features and high-quality printing with enhanced production workflow, it has everything manufacturers need for accurate designs.
The Verdict
The industries looking for advanced 3D printing technology for producing high-quality parts must consider the TruPrint 5000 3D system. It offers users support for multiple metal materials with access to the complete workflow. Hence, the printer has gained huge popularity within the AM niche.
Apart from its high cost, TRUMPF TruPrint 5000 could become a great companion for industries involved in series production.