Sainsmart x Creality Ender 3
This printer is a great entry-level offering the best match of quality and affordability. Apart from being highly budget-friendly, the printer works exceptionally. In short, the printer has everything you may expect from a high-end FDM 3D printer, but for a cheaper cost.
PROS
Large Build Volume.
Fast Heating.
Negligible clogging and warping.
Resume Print function.
Top-quality control features.
Compatibility with Multiple filaments.
CONS
Open body 3D printing causes uneven heating, which if not monitored, leads to a rough surface finish in the printed parts.
Product
Specification
Videos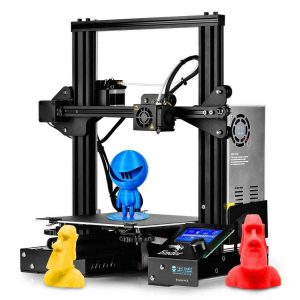 Mounted with a CNC-machined Y-axis slot, Sainsmart
Creality Ender 3
ensures precise positioning of the printer head. Its V-slot POM allows the ...
| | |
| --- | --- |
| Model | SainSmart x Creality Ender-3 |
| Manufacturer | SainSmart |
| Price Range | $ 169 |
| Availability | Available |
| Classification | DIY/Kit |
| Technology | Extrusion (FFF- FDM…) |
| Material | ABS, PETG, PLA, TPU |
| Filament diameter | 1.75 mm 0.07 in |
| OS compatibility | Linux, Mac OS, Microsoft Windows |
| Generic material | Yes |
| XY accuracy | 0.1 mm 0.004 in |
| Max. build size | 220 × 220 × 250 mm 8.66 × 8.66 × 9.84 in |
| Max. build volume | 12.10 L |
| Max. print speed | 180 mm 7.09 in /s |
| Min. layer thickness | 0.1 mm 0.004 in |
| Weight | 8 kg 17.64 lb |
| Nozzle diameter(s) | 0.4 mm 0.02 in |
| Power input | AC 100-265V 50-60Hz |
| Heated print bed | Yes |
| Heated build chamber | No |
| Automatic calibration | No |
| Closed frame | No |
| Dual extruder | No |
| Independent Dual Extruder | No |
| Full color | No |
| LCD screen | Yes |
| Touchscreen | No |
| On-board camera | No |
| Compatible Formats | .stl, .obj, .mpt, .mpf, .nc |
| Compatible Software | Pro/E, Solidworks, Siemens UX, 3DS Max, Rhinoceros 3D |
| Mobile app | No |
| 3D scanners | No |
| CNC mill | No |
| Electronics 3D printing | No |
| Laser engraving | No |
| Conveyor belt | No |
| Air filter | No |
| Pellet extruder | No |
| USB | Yes |
| Wifi | No |
| Bluetooth | No |
| SD card | Yes |
| Ethernet | No |

Table of Contents
Primarily designed for hobbyists with limited budgets, the Sainsmart Creality Ender 3 allows individuals to attain the highest printing performance at an affordable rate.
According to Sainsmart, Ender 3 is their most affordable 3D printer, which boasts the same outstanding performance as the CR-10 in a much more compact package.
Ender 3 is Sainsmart's latest edition in its Creality series of printers. It is specifically designed for hobbyists, tinkerers, and curious users who like to experiment with new ways of printing things. Despite being categorized as a basic entry-level 3D printer, the Ender-3 has enough features to help users create amazing designs.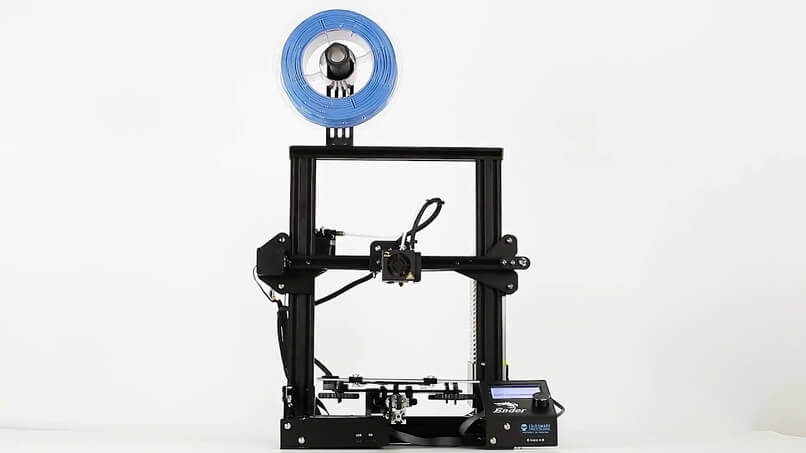 Offering high precision printing with advanced functionalities, this 3D printer has already proved its capabilities to the users. Without failing to impress users with its astounding features, Ender 3 provides quality prints accompanied by seamless operation.
So, let's dive into the benefits and limitations of this printer to decide whether buying the Sainsmart Creality Ender 3 is a wise decision or not.
Features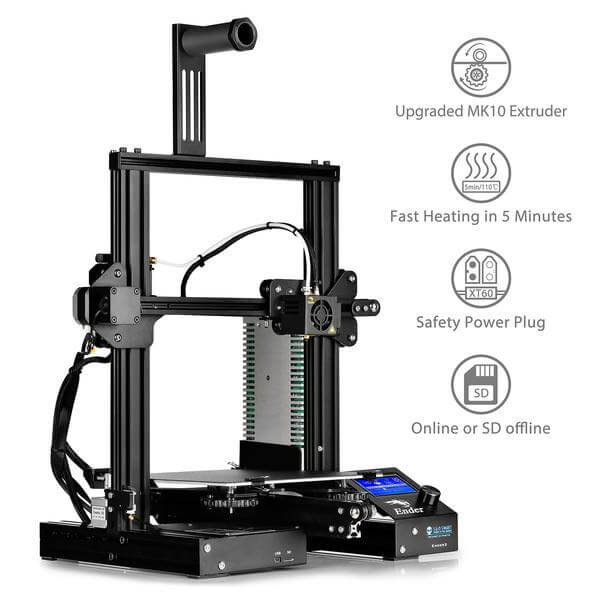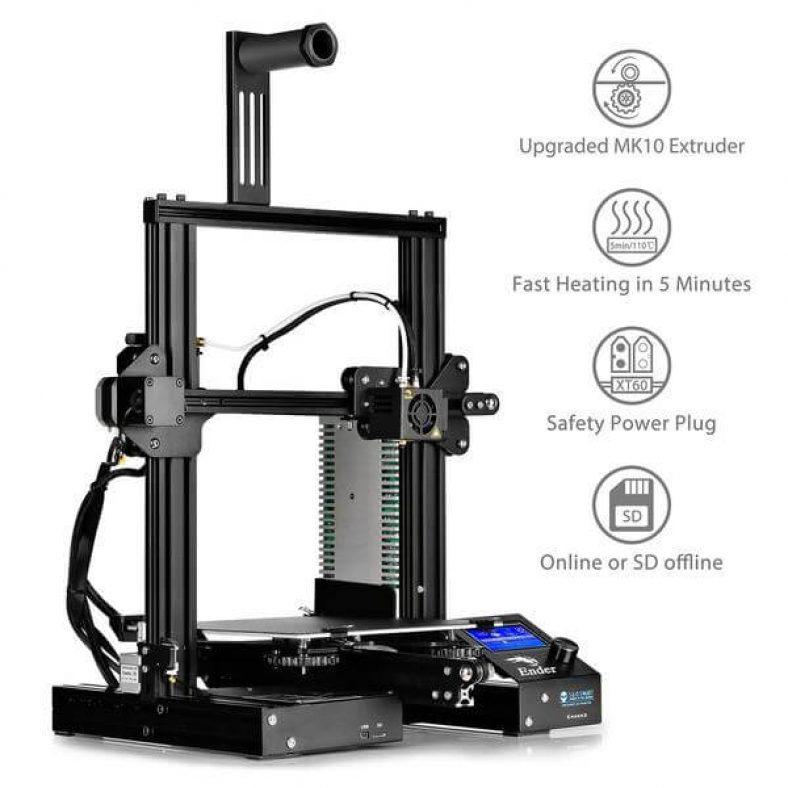 Although the Sainsmart Ender-3 is an entry-level 3D printer, its premium features are often unavailable with machines falling in a similar price range. It is no surprise the printer is popular among users.
With many benefits, Ender 3 seems to be the most attractive option for users with a limited budget, however, seeking great print results.
So, let's check out some of the crucial features that help Ender 3 stay as one of the most desirable options.
High Precision Printing
The Ender-3 is equipped with a CNC-machined Y-axis mounting slot that guarantees precise positioning of the printer's head.
If the positioning of the printer head is fixed, then the rest of the work becomes easier. Users can achieve dimensional accuracy for parts without any hassle.
During 3D printing, it is necessary to get the first layer right. With a CNC-machined Y-axis mounting slot, the Ender-3 gets the work done effortlessly. In addition, the V-slot POM wheel permits the nozzle to glide across smoothly and silently while 3D printing is in progress.
Noiseless Operation
Most 3D printers make noise when the wheels slide during layer deposition. With a clever design and high-quality wheels, the Sainsmart Ender-3 ensures that the whole operation is quiet. Therefore, the users can work with their designs without worrying about unnecessary noise disturbances.
Fast Heating
With slow heating, the print speed is usually compromised during the additive manufacturing process. Especially, when projects include mass production of parts.
However, the printer's manufacturer, Sainsmart, has come up with faster heating beds that enable speedier printing.
This printer's heated bed is capable of reaching its operating temperature in just five minutes. This means that you can begin the printing without long delays.
Resume Print Feature
When working with the Ender 3, you do not have to worry about power outages during the printing process. The Sainsmart Ender-3 printer is even safe from unstable voltage crests.
During the power outage, the printer saves the progress and begins from where it stopped after the power resumes. This saves time and avoids failed prints.
Multiple Filament Compatibility
It is astonishing how the Sainsmart Ender-3 can print with multiple filaments despite being available for such a pocket-friendly price.
Its standard brass nozzle is capable of accommodating 1.75 mm filament diameters. So, you can print with the most popular 3D printing filaments such as PLA, ABS, and PETG without hassle.
Additionally, the printer also allows users to create parts with Sainsmart's flexible TPU filament. This material allows rubber-like 3D printed models. Hence, offering more room for experimenting with diverse designs and print results.
Home as Well as School Use
Although primarily meant for hobbyists and tinkerers, the Sainsmart Creality Ender 3 offers a great opportunity for students to learn about 3D Printing. Its affordability is a huge perk. Hence, the printer suits school as well as home settings.
Also, the ease of FDM printing technology makes Ender 3 a beginners' friendly machine. As stated earlier, this printer is fully equipped to provide users with high-quality prints that are not usually found in other low-cost 3D printers.
No Clogging or Warping
Sainsmart's patented extruder design reduces the risk of two of the most general 3D printing problems: clogging of the nozzle and warping.
With a robust and powerful extruder and easy maintenance mechanism, it's hassle-free to keep the nozzle clean.
In addition, users do not need any painting tape or glue because the printer's manufacturer has smartly incorporated a new viscous platform sticker that helps increase the adhesion between parts and the print bed.
Specifications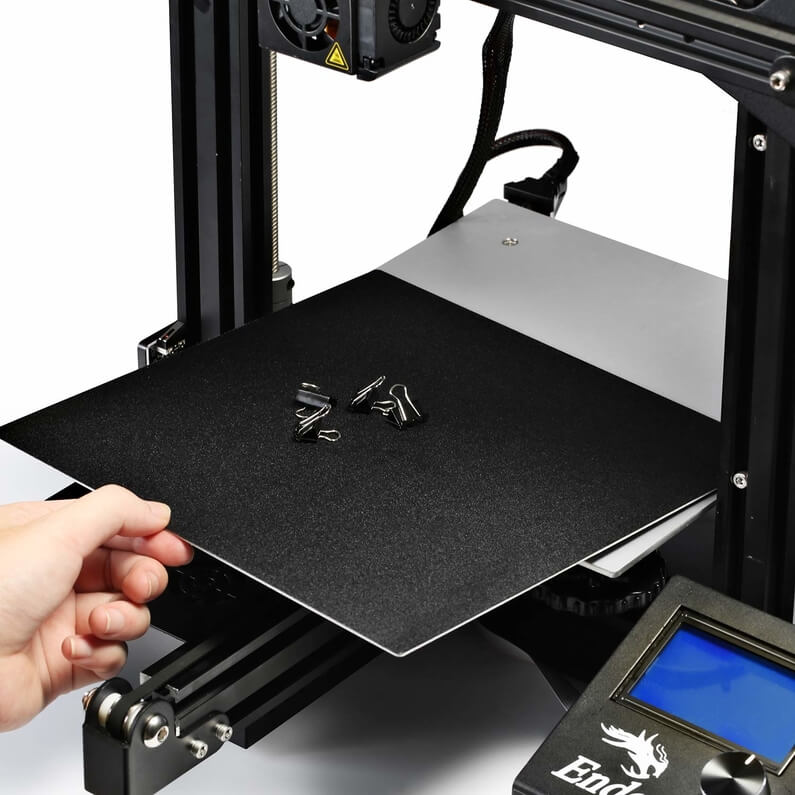 Sainsmart's Creality Ender-3 prints object based on FDM 3D printing technology. It provides great printing accuracy.
Users can achieve a minimum layer height of 0.1 mm for creating beautiful models, exhibiting a smoother finish.
The maximum build size offered by the printer is 220 mm * 220 mm * 250 mm. On the other hand, it supports nozzles with a diameter of 0.4 mm.
In order to offer decent print speed, the Creality Ender-3 runs at a maximum rate of 180 millimeters per second.
It is compatible with 3D printer filaments such as PLA, TPU, ABS, and PETG. Users must ensure a filament diameter of 1.75 mm for seamless extrusion.
The recommended ambient operating temperature for this printer ranges between 5 to 40 degrees Celsius. In addition, the nozzle of the printer is able to withstand a temperature of 255 degrees Celsius, whereas the heated bed can reach up to 110 degrees Celsius.
You can connect to the printer using a USB 2.0 connection or SD Flash drive. The overall size of the Ender-3 is 440 mm * 410 mm * 465 mm with its shipping weight being 8 kilograms.
Price
The Sainsmart Creality Ender-3 is available at a market price of $165.
First Impression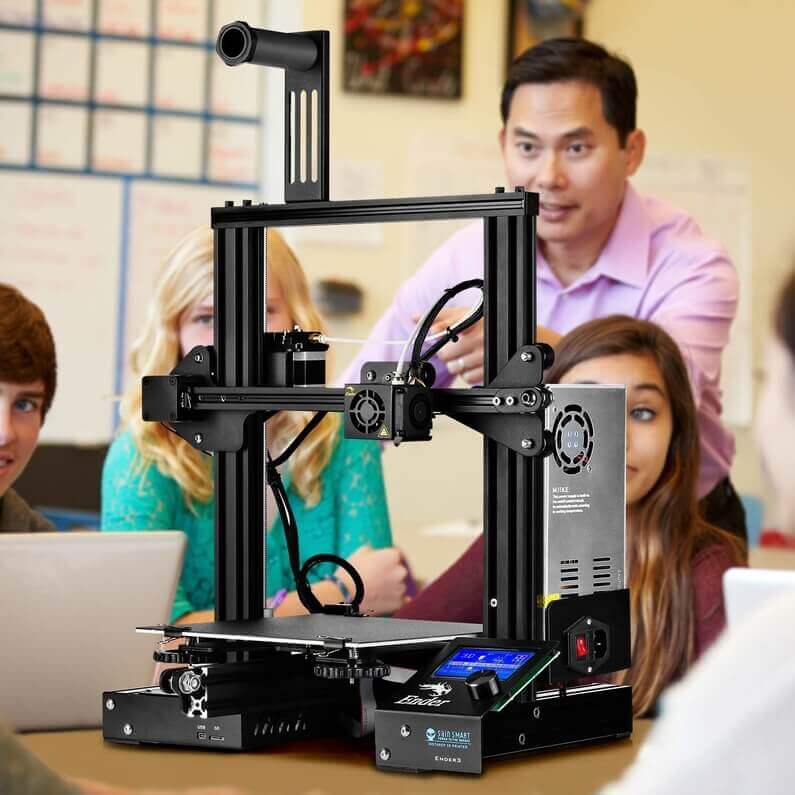 With an open body design, this 3D printer features a Cartesian construction. The gantry with the supports on both sides provides Ender 3 with a robust and compact structure.
Alongside, the rails present on these supports facilitate the movement of the print head upwards and downwards during the printing process.
In addition, the machine hosts a filament spool holder on its top for loading the materials. The filament spool holder is connected to the print head, which, in turn, is connected to the extruder of the system. Ender 3 also features a user interface that sits just next to the print bed.
The wires are visible but neatly arranged, ensuring a tangle-free printing experience. Overall, the design is neat.
Setup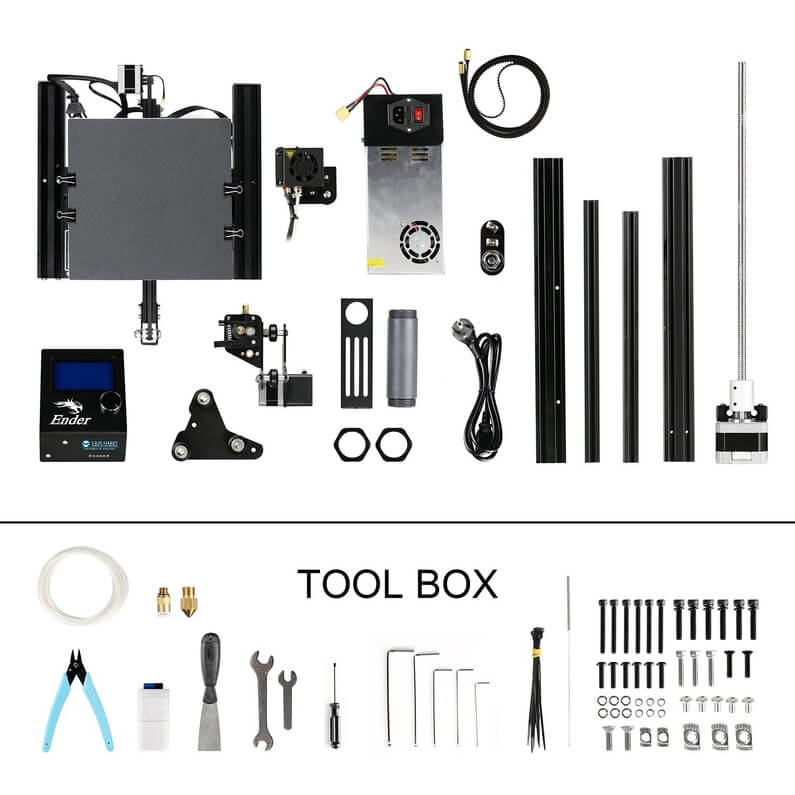 The Sainsmart Creality Ender-3 arrives at your place in a protected package. It is neatly secured with lots of Thermocol sheets. Inside the package, you can find a Sainsmart Creality Ender-3 3D printer and a Toolbox.
If you choose to buy the complete kit, the package will include additional items. Apart from the printer and the toolbox, you will also receive the Simplify 3D License Bundle. The toolbox will also include a testing filament with it.
To set up the printer, you must follow the instructions provided in the manual received with the package.
The manual is detailed and easy to understand. Hence,  the manufacturer ensures that the users do not find any difficulty when assembling and setting the printer for the first time.
Print Type/Cost
Ender-3 is based on the simplest 3D printing technology: Fused Deposition Modelling (FDM). The FDM technology works by melting the filament and depositing layers, one at a time. Each time the layer solidifies, the build plate moves down. Hence, letting the extruder create the next layer.
To create the complete part, this entire process is repeated multiple times. Once the printing completes, users can remove the part from the build plate and process the same through different post-processing steps.
In order to calculate the cost of a part printed using FDM 3D printing technology, one must consider various factors such as the level of infill, the type of filament you are using, the filament cost, and various other parameters.
Print Quality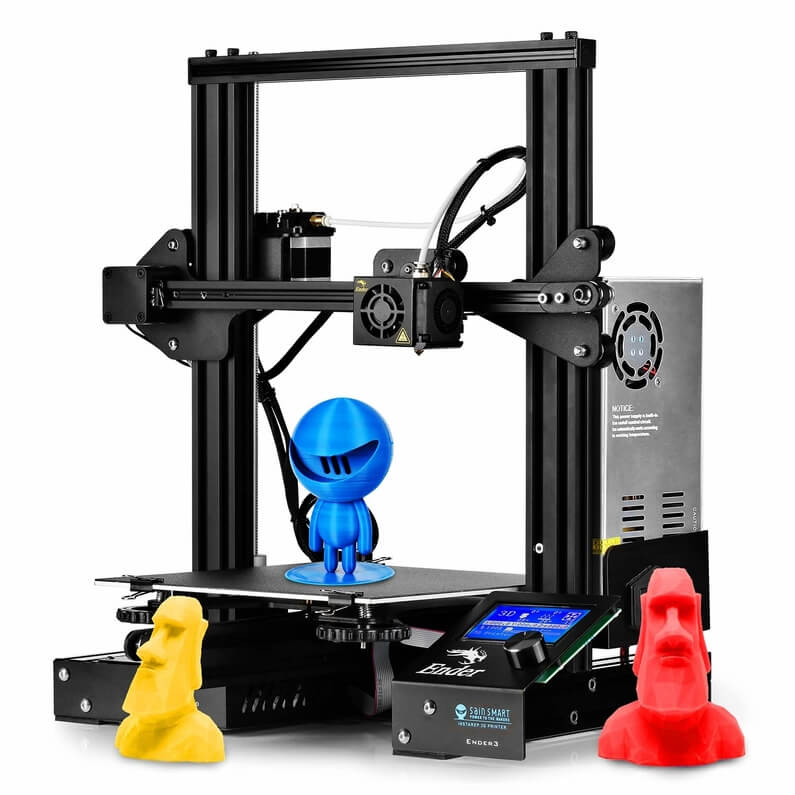 As mentioned above, the precise positioning of the print head in Ender-3 due to its CNC machined Y-axis allows an excellent first layer. Hence, users can create parts without worrying about warping and similar issues.
Although this printer uses the popular FDM technique that isn't as accurate as other AM processes, the printed parts exhibit a decent surface finish. Users can achieve layer thickness ranging between 0.1 to 0.4 mm.
The entire assembly is a Cartesian design based on the CR-10. It provides the eloquent, robust, and precision construction that's ready for DIY assembly.
The Ender-3's entire assembly comprises injection molding, CNC machined, and extrusion manufactured parts which ensure reliability and consistent operation matching the quality expected by every FDM printer user.
Software
There is not just one but various applications that are compatible with the Sainsmart Creality Ender-3.
For instance, the printer can work in tandem with Pro—E, Solidworks, Siemens UX, 3DS Max, and Rhinoceros 3D. Almost all of these applications are easy to use and offer a great working experience for users.
Users can work with different formats such as STL and OBJ. In addition, these applications run on multiple operating systems such as Windows, Linux, and macOS.
Customer Support
The company offers the Resource Center to the users to access various support material related to the Ender 3. For instance, the assembly guides, CNC information, laser engraving steps, and troubleshooting information.
Apart from the data source, users can also contact the company by raising a support ticket through its website. Moreover, for technical support, the manufacturer provides its email address for direct reach.
For the highest level of reliability, the manufacturer offers one year warranty on its 3D printer. Therefore, users can stay rest assured while working on the Ender 3.
Parameters Influencing Buying Decision
To better understand the worth of the Sainsmart Creality Ender 3, it is imperative to analyze the machine based on different parameters. So, let's get a closer look at what the printer has to offer.
3D Printer Cost: The Sainsmart Creality Ender 3 is highly affordable, even for beginners and students.
3D Printer Quality: This printer offers an amazing print quality comparable to that of high-end FDM 3D printers.
3D Print Speed: Like every other FDM 3D printer, the Ender-3 is able to print large parts quickly and efficiently.
3D Printer Capability: The Sainsmart Creality Ender-3 is capable of mass customization and also allows you to print with three different filaments.
3D Printer Practicality: Created for beginners and usual applications. Hence, the machine is suitable for home users. However, with the added benefit of offering high print quality, enthusiasts and hobbyists with limited budgets can also opt for this machine.
3D Printer User Expectations: Hobbyists, tinkerers, and beginners will find this printer very useful as it meets all the expectations with the highest user satisfaction.
The Verdict
The Sainsmart Creality Ender-3 is a great entry-level offering the best match of quality and affordability. Apart from being highly budget-friendly, the printer works exceptionally. In short, the printer has everything you may expect from a high-end FDM 3D printer, but for a cheaper cost.
Of course, it has its own limitations like many other 3D printers do. However, it's still a great tool for those wishing to learn about 3D printing technology. It can certainly help create wonderful parts at a faster speed.