Sharebot SnowWhite
Sharebot SnowWhite is best for industrial applications offering small to medium size businesses, a great aid for producing precise and accurate parts.
PROS
It is reliable
ShaowWhite offers great print quality
Print speed is also considerably fast
Pre-set profiles are available for the powdered materials
No need for frequent calibration
The support structure is not needed for printing 3D parts
CONS
Expensive and not affordable for commercial use
Bulkier than desktop 3D Printers
Product
Specification
Videos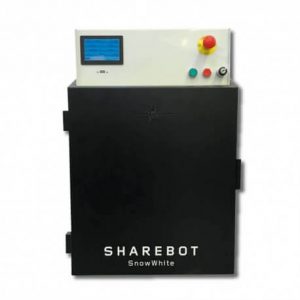 Sharebot SnowWhite is a professional desktop 3D printer based on Selective laser Sintering 3D technology. This printer uses a system of thermoplastic ...
| | |
| --- | --- |
| Model | SnowWhite |
| Manufacturer | Sharebot |
| Price Range | $ 38500 |
| Availability | Available |
| Classification | Professional |
| Technology | Powder (SLS- SLM…) |
| Material | Other plastics |
| OS compatibility | Linux, Mac OS, Microsoft Windows |
| Generic material | Yes |
| Max. build size | 100 × 100 × 100 mm 3.94 × 3.94 × 3.94 in |
| Max. build volume | 1.00 L |
| Min. layer thickness | 0.05 mm 0.002 in |
| Dimensions | 500 × 500 × 800 mm 19.69 × 19.69 × 31.5 in |
| Weight | 70 kg 154.32 lb |
| Heated print bed | No |
| Heated build chamber | No |
| Automatic calibration | No |
| Closed frame | Yes |
| Dual extruder | No |
| Independent Dual Extruder | No |
| Full color | No |
| LCD screen | Yes |
| Touchscreen | Yes |
| On-board camera | No |
| Mobile app | No |
| 3D scanners | No |
| CNC mill | No |
| Electronics 3D printing | No |
| Laser engraving | No |
| Conveyor belt | No |
| Air filter | No |
| Pellet extruder | No |
| USB | Yes |
| Wifi | No |
| Bluetooth | No |
| SD card | No |
| Ethernet | No |

Table of Contents
There are many 3D printing processes starting from SLA, FDM to various others. With time, experts have come a long way, defeating the different challenges that the additive manufacturing faced during its early application.
From size to cost to too many other factors, it is actually now possible for even the small-scale industries and professionals to own their 3D printers. That is true for the SLS based 3D printers as well.
Sharebot SnowWhite is one such 3D printer, based on the laser sintering process has been able to provide great benefits to its users. Find out the Sharebot SnowWhite review to find out more about this 3D printer.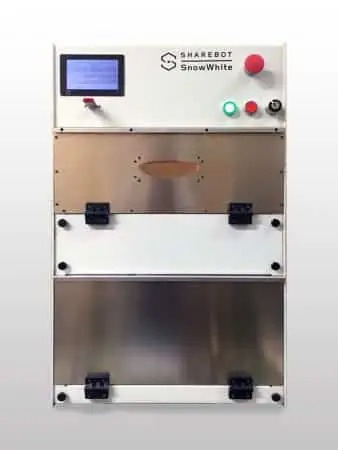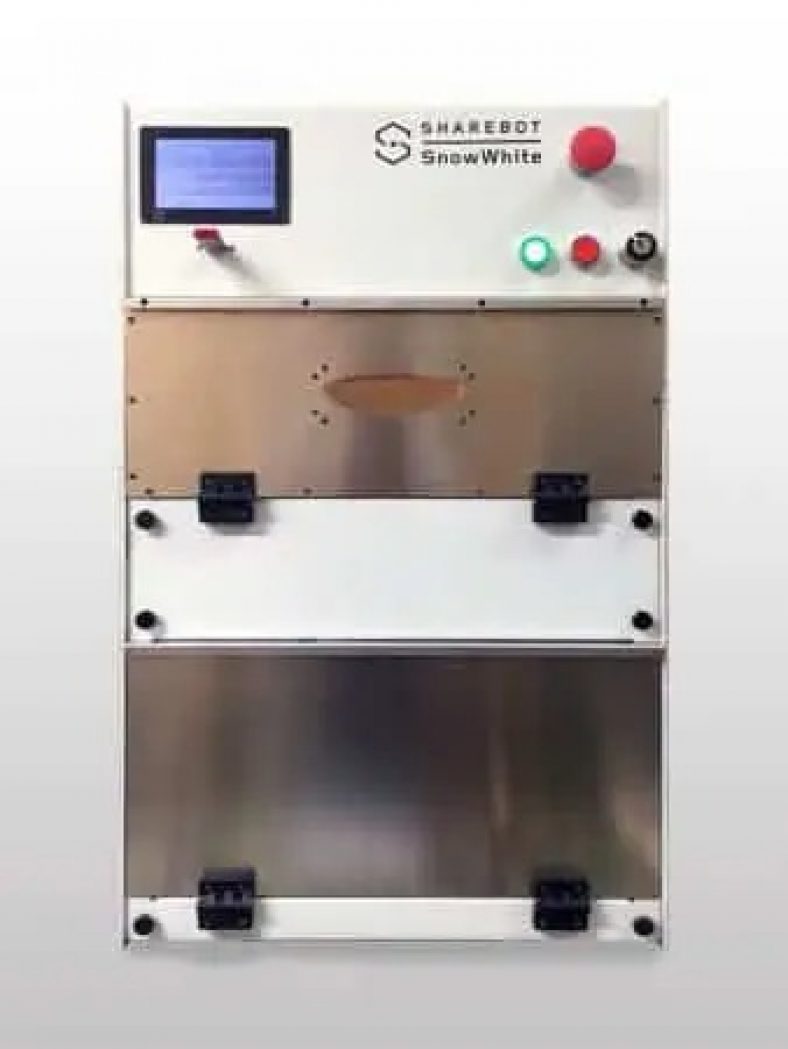 Credit: aniwaa.com
This one is a professional 3D printer, as mentioned before, based on the laser sintering process. Using the layer by layer sintering of powdered material, users can bind various kinds of polymer powder together to create stunning parts.
Available for a range of materials, the machine does provide users the flexibility to create 3D parts with differentiating mechanical properties.
What makes this 3D printer apart from those based on other additive manufacturing processes is that it does not need support material for printing.
On the contrary, you can create complex designs without any need for adding support to your design.
With the release of this 3D printer, the manufacturer targets to offer assistance to small and medium-sized companies.
It is affordable than most of the SLS 3D Printers available yet highly efficient. Hence, if you are also looking for similar solutions, you must not miss the Sharebot SnowWhite review.
Features
When talking about industrial 3D printers, we often have a picture of a huge machine with loads of extra bucks to maintain the same at your premises.
However, a lot has changed since the 1980s. Today, manufacturers focus on offering consumers and users an easy to access 3D printer which does not demand much in terms of its care. And, Sharebot SnowWhite is no different.
Although it is not just another desktop 3D printer with compact size, it still is considerably slimmer than most of its counterparts.
Most of all, it is loaded with amazing features to ensure the best experience for its users. So, what are those features that make this 3D printer so desirable? Here is a list of some of the noteworthy features that one cannot ignore when talking about SnowWhite.
Plug and Play
Starting with the ease of use, here is what makes this 3D printer so much convenient to work with. Unlike most of the 3D printers that need assembly, this one is a complete plug and play device.
You do not have to worry about the hard part, just install the machine at your warehouse and you can start creating complex designs with just a little help.
Compatible with Multiple Polymer
SnowWhite is a very versatile machine. One can 3D print with multiple materials in order to achieve an array of different results. Not just that, apart from TPU, PA 11, and a few others, the machine also works with charged powders.
So, what are these charged powders? These powders are obtained after combining other materials apart from plastic such as glass, aluminum, etc for offering varying mechanical and physical properties.
Control Screen
Yes, the 3D printer has a touch interface on the top to offer users ease of controlling the settings of the different print. Because the printer uses different materials for printing, the settings would differ from time to time.
And, to ensure that the users do not have to go through the tedious connection and other hassles, the printer embodies a touchscreen display. Making it effortless for the users to make changes to the settings of the prints.
10 Minutes of First Startup
Unlike other giant 3D printers, this one is very fast in terms of starting the print. The first startup refers to the time takes from filling of the material to the creation of the first layer.
And, SnowWhite only takes 10 minutes starting from the loading of material to creating the first layer. The best part is that the machine is completely automatic. You do not need to raise even a finger when the job is going on.
The print is carried without any help once the material is stuffed inside the 3D printer.
CO2 Laser with Galvanometer
To further enhance the accuracy of the machine, the printer uses a CO2 laser with Galvanometer. Hence, making it best for complex geometrical parts with high precision.
One can use different materials because of the introduction of CO2 and at the same time can achieve great accuracy with the involvement of a galvanometer.
Support-Less Print
What is something that often makes our 3D Parts rough and even difficult to work with after it's printed? The answer is the support needed to create the parts as one piece.
For instance, FDM 3D Printers need support where there are overhangs to support the angles. And later, when post-processing, one may end up breaking the parts when trying to remove support.
There could be endless other issues when using support. However, the best part about the laser sintering technology is that it lets one print without a need for the support structure. So, you do not have to worry about any problem that comes along with planning or removal of support.
Recover Unused Powder
If you are worried about the powder wastage after the print is complete, don't be. Sharebot SnowWhite is one of the most sustainable solutions out there. You can actually recover all the unused powder and can use it for the next 3D prints.
Pre-set Profiles for Different Powders
The 3D Printer has already set profiles for the usual powder used in the machine. So, you do not have to do much, however, with a click of a button, you can start the printing job. Also, STL to GCODE conversion will also take a click of a button.
No Frequent Calibration Needed
Unlike most of the 3D Printers that need calibration before every next print, this one is pretty easy to manage. You do not need frequent calibration. Hence, 3D printing job becomes easier and simple, making the overall working effortless.
Specifications
Starting with the printer size, the footprint stays at 500 X 500 X 800 mm. This isn't a very huge printer, hence, is compact enough for small and mid-size businesses.
Without needing much space, it helps users easily make room for a new device inside the already occupied workplace. Offering a print volume of 100 X 100 X 100 mm, the 3D printer provides sufficient room for small functional parts.
It has the Z resolution of 50 microns and XY resolution of 100 microns. The CO2 laser strength is 14 watt which is sufficient enough for achieving a high level of details for the functional parts. Talking about the speed, you can print with a 35mm/hr print rate.
The scan speed is very impressive as well. It is 3500 mm/sec. So, you will not even know when the parts would become ready for printing after bring uploaded to the machine.
SnowWhite has a hot chamber with a consistent temperature of 190 degrees Celsius. Hence, allowing for precise and accurate prints.
Price
Well, as you would guess, the price is not affordable for commercial use. Being an industrial 3D printer, it costs pretty high for those willing to buy desktop 3D Printers for home use.
However, comparing the cost with other industrial SLS or DLS 3D printers, this one still seems cheaper. Sharebot SnowWhite costs $38,500.
First Impressions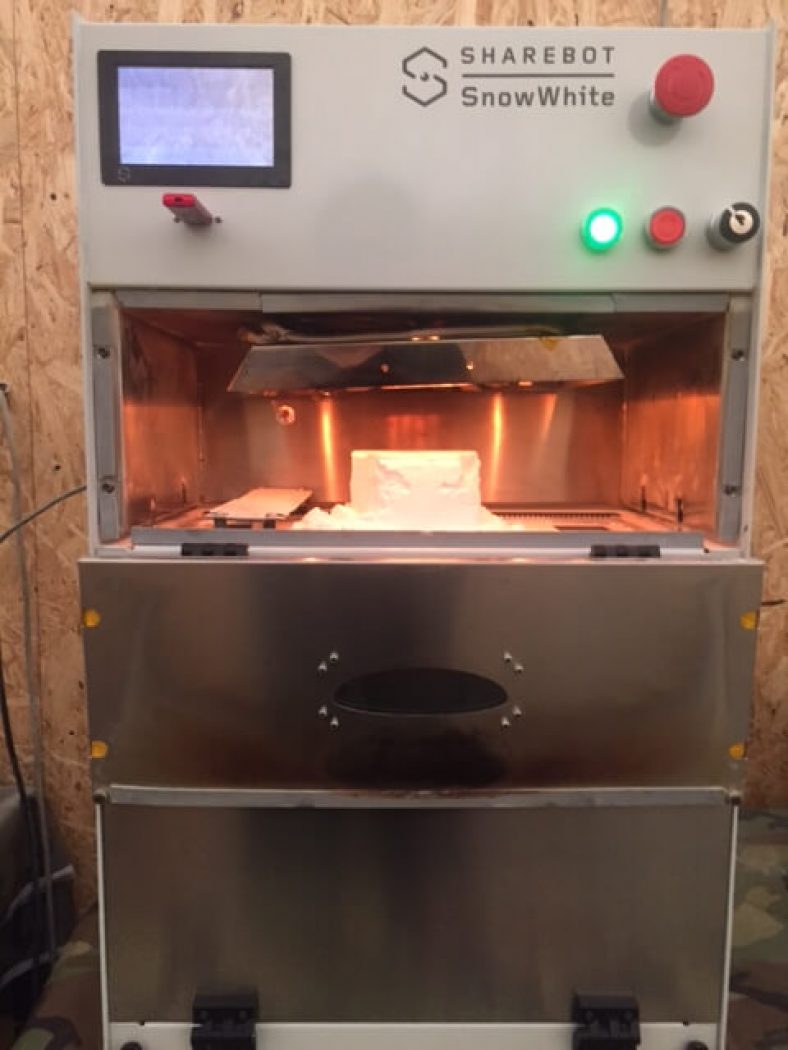 Credit: sharebot.it
SnowWhite is a comparatively compact 3D Printer when assessed side by side with other industrial 3D printers. Hence, you would find it pretty easy to manage. With 800 mm of height, it appears tall.
However, with less ground space coverage, it is easy to arrange space for SnowWhite. The design is well thought. The all-metal body seems sturdy and reliable. Overall, it presents a great design and print results.
Setup
As mentioned before, this 3D printer is much of a plug and play design. You do not need much effort to start the printer at all. It comes assembled. Hence, you can skip that part and move directly to the uploading of the 3D design.
The company sends a pre-calibrated machine. And, there are pre-set profiles for the powder material. This means that you do not have to manually change the settings for the different materials.
By just choosing the correct profile, you can continue printing your 3D parts. Also, frequent calibration isn't needed. This further eases the entire setup process, not during the initial setup, however, whenever you start a new print.
Printing Type/Cost
The 3D printer is based on DLS (Direct Laser Sintering) 3D printing process. This is one of the laser sintering technologies used in additive manufacturing.
Using the CO2 laser source, the machine melts the powdered materials and sinter them together to form layers. One layer is printed at once. After the layer completes, the second layer of powder is spread.
Again, using the CO2 laser source, the particular cross-section is sintered together forming the next layer. This process continues until the part completes. Hence, creating the design layer by layer.
As claimed by the manufacturer, the 3D printer does not need a very high maintenance cost. This certainly brings it down in terms of cost when compared to other industrial printers.
However, there are many other parameters that come into play. For instance, the 3D part design, complexity, size, and whatnot. So, the cost of printing different designs would vary widely.
However, the fact that it uses less power consumption, makes it a sustainable choice among many other industrial 3D printers.
Print Quality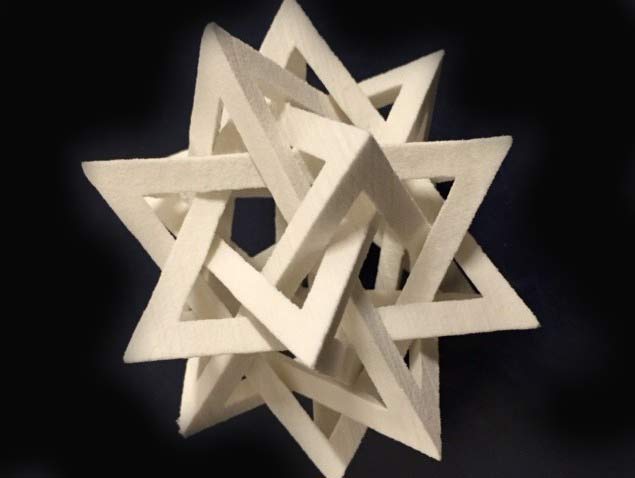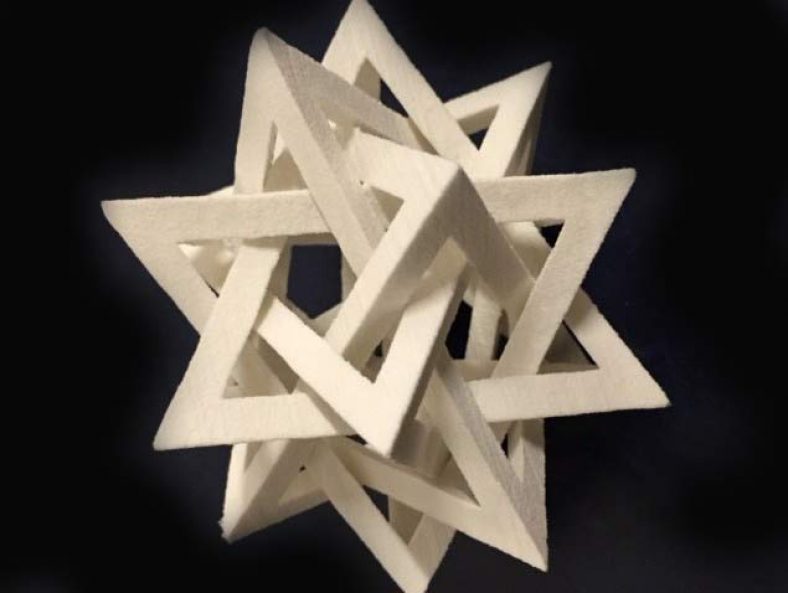 Credit: solvelight.com
Laser-based 3D printing technology has its own perks pertaining to the print quality of the 3D Parts. For instance, it does not need a support structure. This helps achieve a smoother surface. Also, the weight of the 3D parts is much lighter when compared to the models created using any other conventional manufacturing method.
Software
The 3D printer is compatible with Simplify3D and SLIC3R. Both these apps are very intuitive and allow users to make the most of this amazing 3D printer. You can also download the pre-existing profiles for the materials from the official website of the manufacturer as well.
Customer Service
Sharebot believes in offering the best service experience to its users. Hence, you get a prompt reply from the customer support team. You can also find the phone number and emails on their website to reach out to them in times of need.
Parameters Influencing Buying Decision
Whenever planning to buy a 3D Printer, you must consider the important factors that are responsible for influencing the buying decisions of users. Here are a few things you must go through multiple times to understand what you can expect from SnowWhite.
3D Printer cost: It is an expensive 3D printer costing around $38,500. Hence, not affordable for commercial users. It is solely for industrial use for small and mid-scale businesses.
3D Print quality: Awesome. Without a pinch of doubt, you can achieve amazing print quality.
3D Print speed: This is again impressive and not too slow.
3D Printer capability: You can achieve the finest of details without any trouble. From complex designs to lighter parts, you can depend on this machine for the best results.
3D Printer Practicality: Specially designed for helping industries that need parts with high precision and quality. From jewelry to medical to automobile, a lot of industries can take benefit from this machine.
3D Printer User expectations: From start to end, it offers great results, hence, satisfying users completely with its stunning performance.
The Verdict
As you can derive from the above Sharebot SnowWhite review, the printer is best for industrial applications offering small to medium size businesses, a great aid for producing precise and accurate parts.
And, it is a must-try, if you are looking to switch from conventional processes to 3D printing technology.