Sinterit Lisa Pro 3D Printer
Sinterit Lisa Pro has a number of attractive features to catch one's eye such as the front paneling, as well as a seven-inch touchscreen interface that enables one to operate and monitor the 3D printer.
PROS
The all-new Nitrogen chamber.
Unprecedented huge build volume by the printer manufacturer.
Based on SLS 3D printing technology, the Sinterit Lisa Pro is able to produce parts and functional prototypes of high resolution.
CONS
The cost of the printer when compared on the basis of build volume with the printers based on FDM 3D printing technology, is higher.
Product
Specification
Videos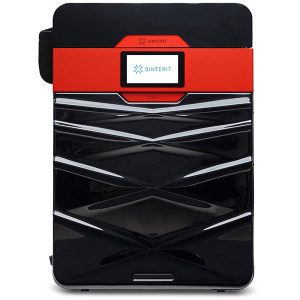 Offering the users, a desktop SLS 3D printer at a very affordable rate, Sinterit Lisa Pro helps create very accurate designs with ease. Talking about ...
| | |
| --- | --- |
| Model | Lisa Pro |
| Manufacturer | Sinterit |
| Price Range | $ 15995 |
| Release date | 2017 |
| Country | Poland |
| Availability | Available |
| Classification | Professional |
| Technology | Powder (SLS- SLM…) |
| Material | Other plastics |
| OS compatibility | Microsoft Windows |
| Generic material | Yes |
| XY accuracy | 0.05 mm 0.002 in |
| Max. build size | 150 × 200 × 260 mm 5.91 × 7.87 × 10.24 in |
| Max. build volume | 7.80 L |
| Min. layer thickness | 0.08 mm 0.003 in |
| Dimensions | 690 × 500 × 880 mm 27.17 × 19.69 × 34.65 in |
| Weight | 90 kg 198.42 lb |
| Power input | 220-240 V AC 50-60 Hz |
| Heated print bed | Yes |
| Heated build chamber | No |
| Automatic calibration | No |
| Closed frame | Yes |
| Dual extruder | No |
| Independent Dual Extruder | No |
| Full color | No |
| LCD screen | No |
| Touchscreen | Yes |
| On-board camera | Yes |
| Mobile app | No |
| 3D scanners | No |
| CNC mill | No |
| Electronics 3D printing | No |
| Laser engraving | No |
| Conveyor belt | No |
| Air filter | No |
| Pellet extruder | No |
| USB | Yes |
| Wifi | Yes |
| Bluetooth | No |
| SD card | No |
| Ethernet | No |

Table of Contents
Before pointing out to you the insights about the Sinterit Lisa Pro, let's talk a little bit about the 3D printing technology it is based on.
Selective Laser Sintering was not as popular as Fused Deposition Modeling until the mid-1980s.
There are two main reasons for this:
long-standing patents.
high price tag.
Sinterit Lisa Pro was revealed in the market in 2014 by a Polish 3D manufacturer named Sinterit.
The printer is a desktop-sized 3D printer that in itself is an eccentricity considering the reputation of SLS 3D printing technology.
Also to note is the competition in this class of 3D printers, especially from Formlabs.
But overall, no company has been able to match up the fulfillment that was provided with this printer to its users.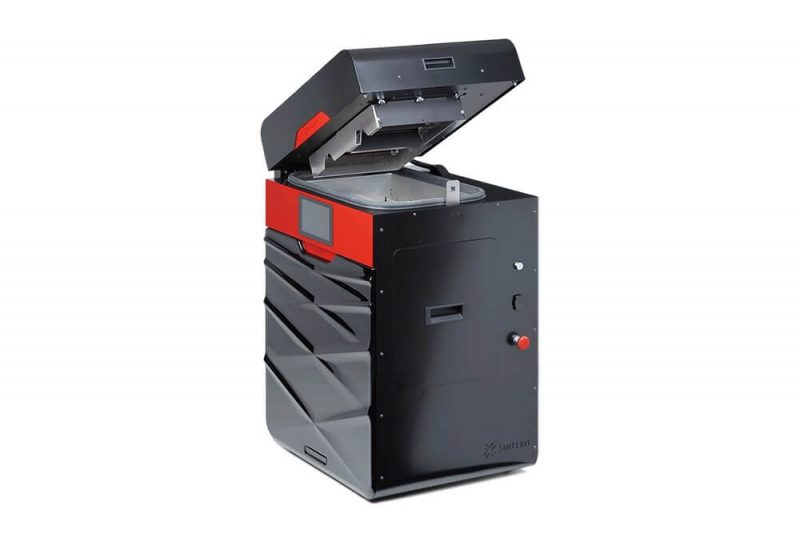 There have been iterations of Sinterit Lisa Pro, the first one of those being, a plug-and-play SLS 3D printer capable to produce functional parts and prototypes.
One who knows both the 3D printing technologies i.e. SLS as well as FDM would understand how the former does not use laser, whereas the latter does.
Also in SLS 3D printing technology sintering of powdered form of a material is converted into a 3D model, offering higher surface finishes than FDM.
Compared to the printer's first version, the updated one has a larger build volume, a nitrogen chamber, and other premium features that the company might have felt to be added, after getting reviews about the first version.
In this article, you will be able to read and hopefully understand the aspects of printers such as their features, specifications, print quality, and others.
We also wish that this article can be a guide to you while comparing Sinterit Lisa Pro and another printer in the same price range.
Features
The overall aim served by Sinterit Lisa Pro is to offer major improvements over the previously offered one.
This goes in hand with the ongoing aim of the company to ensure that the SLS 3D printing technology is easy and more affordable to use, it reaches out to the people so much so that their preference about FDM 3D printing technology can be again thought of!
For doing so, the company has introduced primary features such as increasing the build volume as well as introducing the nitrogen chamber.
Having added these two to their list, the printer manufacturer can expand on its range of desktop ready SLS materials, converting them into a wider range of industrial-grade 3D powders.
No Need for support structures
For those who are willing to shift from FDM 3D printing technology to SLS 3D printing technology, a huge relief would be gifted to you in terms of not having to build any support structures.
So, rafts, brims, and overhangs are three headaches that you can freedom from while using the Sinterit Lisa Pro 3D printer.
This difference comes from the process used for making a part or functional prototype using SLS 3D printing technology as opposed to FDM 3D printing technology.
In addition to this, one can make a lot of multiple parts in a single powder bed, so an expert can essentially comment on SLS to be more efficient than FDM or SLA 3D printing technology.
Touchscreen Interface
To walk you through the entire process of 3D printing a part or functional prototype, there is this touchscreen interface.
So you can start from the initial setup of the printer, following up till the end when the cleaning process of the machine has been completed.
Apart from this interface, one can also play with the Wi-fi connectivity feature of the printer as well as an onboard camera.
This is to view the print process remotely and act to either pause or stop the process whenever needed.
Printing with more than one material
The nitrogen chamber which makes this 3D printer more unique than others enables the user to print with many different materials.
At the time of writing this article, Sinterit offers PA 12 Smooth, PA 11 Onyx, Flexa Grey, Flexa Bright, Flexa Soft, as well as TPE and more materials are in progress.
Because of such variability in materials, more manufacturers would be attracted in preferring this over FDM 3D printers because the same amount of variability can be found in SLS 3D printers as well.
This also lights up new hope for this developing technology.
An easy to use and setup software
Sinterit Studio 2019 is a dedicated desktop software that lets you prepare 3D models that you have in your imagination in an easy manner.
Their user interface of this software is not at all difficult to operate.
Once designed, the 3D models can be settled in the printing area, you can check the collisions and also track the print status in a comfortable and intuitive fashion.
This is the latest version of the software and has undergone many updates according to the review of previous software and hence is more advanced in understanding your needs and serving accordingly.
Specifications
The powder diameter of the 3D printing material that is to be used with Sinterit Lisa Pro needs to be in the range of 20 to 100 microns.
Whereas the recommended minimum wall thickness is 0.8 mm.
The build volume of the printer is 90 mm * 130 mm * 230 mm while printing with PA powder and 110 mm * 150 mm * 245 mm while printing with TPU and TPE. 690 mm * 500 mm * 880 mm is the size of Sinterit Lisa Pro whereas its weight is 90 kilograms.
As mentioned above, the printer prints using SLS 3D printing technology. A laser diode of five watts and a wavelength of 808 nanometers is used for curing powdered particles into parts or functional prototypes. The XY accuracy of Sinterit Lisa Pro is 50 microns wherein the Z-axis accuracy lies in the range of 0.075 to 0.175 millimeters.
For communicating with the printer, there is a colored LCD screen which is seven inches long. For monitoring the printer, there is an on-board built-in camera. And the devices can be connected with the printer using Wi-Fi as well as a USB port.
Price
You need to find a distributor near you or request the company to get a quote for buying Sinterit Lisa Pro.
Both the options can be availed from Sinterit's website.
First Impressions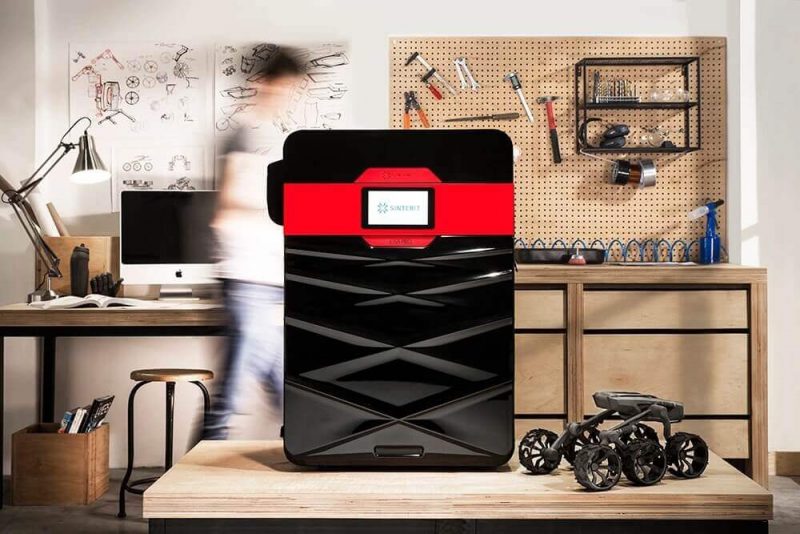 Credit: sinterit.com
Anyone who would have a first glance over the 3D printer will see how well constructed the printer is, according to the industrial standard.
It has a number of attractive features to catch one's eye such as the front paneling, as well as a seven-inch touchscreen interface that enables one to operate and monitor the 3D printer.
The rest of the features such as robust look, the sturdy build-up are for the one who understands how these characteristics would transform into lower vibration during the 3D printing process.
Anyone who has seen Sinterit Lisa would come to know about the difference in the built volume of both the 3D printers.
But the earlier design for which Sinterit received a lot of appreciation has been carry forwarded to this one as well.
So you have the XY gantry, the print bed construction, as well as the source bed, recoater, reflectors, and the protective glass are all ready to serve you with world-class service.
The belt of this printer has a different design than the older one, whereas the nitrogen gas' input is simple in design and labeled on the left-hand side.
Setup
The Sinterit Lisa Pro comes completely assembled, ready to plug and play.
All you have to do is read the manual and search online or offline for your doubts before starting the first print.
With many ways to reach out to the printer manufacturer and with the videos available about the printer combined with the touch screen interface that lets one set up the printer, that should not be a task.
Print Type/Cost
As we have mentioned in detail in the introduction of this article about SLS 3D printing, we would not stress it again.
But an important observation to note is that because SLS 3D printers use Lasers and produce high-quality surface finishes on the parts and functional prototypes, the printing cost of SLS 3D printers is generally believed to be higher than FDM or even SLA 3D printers.
Also, there is more than one factor involved in calculating printing costs.
So, it depends on the 3D printing material that you are using, the amount of infill required, electricity consumption, and what not!
Print Quality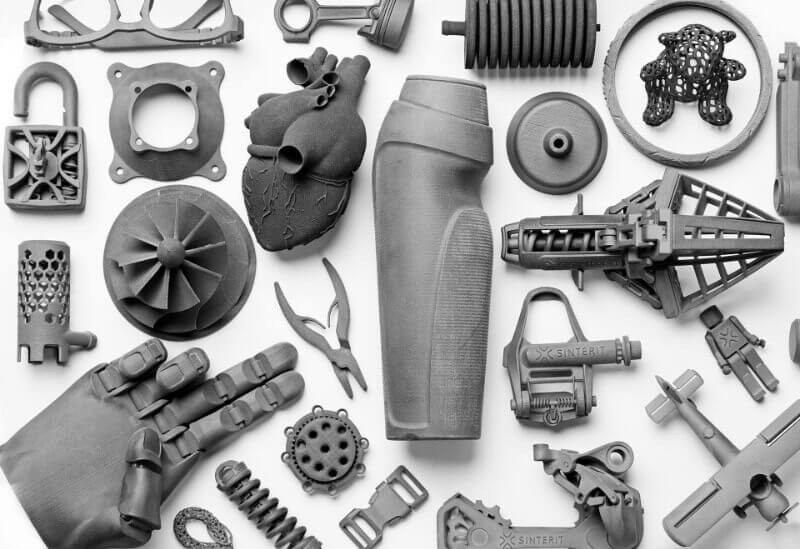 Credit: filament2print.com
Sinterit Lisa Pro works with a different range of 3D printing materials from high strength and chemically resistant Nylon PA 12 and Flex Black, to rubber-like TPU material.
If you have experience working with FDM and SLA 3D printing quality, you are going to be shocked by the stunning prints that can be produced with SLS 3D printing technology.
And this might also probe you to not opt for FDM or SLA 3D printers in the same price range as SLS 3D printers.
If you are a small business owner, Sinterit Lisa Pro would let you earn well by offering your clients stunning quality prints over the surface of their parts or functional prototypes.
Software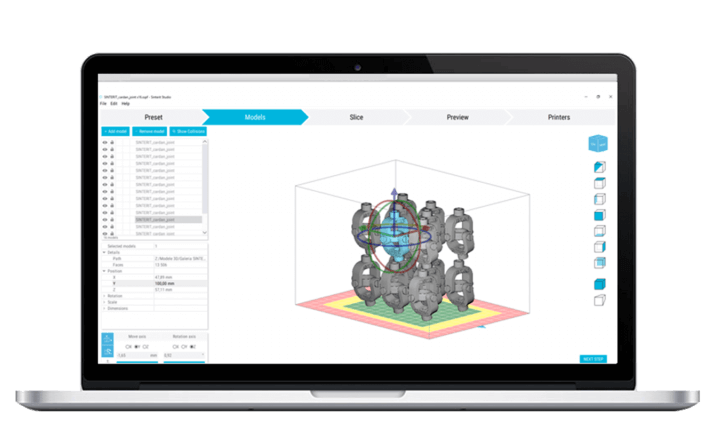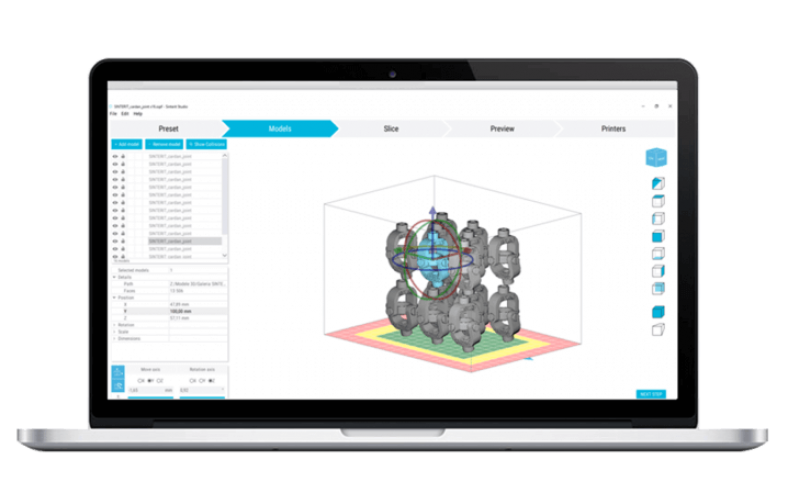 Sinterit Studio Open 2019 is the software recommended by the printer manufacturer for working with the printer.
This software is known to support file formats such as STL, OBJ, 3DS, FBX, DAE, and 3MF. It is compatible with the Microsoft operating system.
Customer Support
Sinterit offers 12 months warranty on various parts of the printer except for the hot end.
Apart from this, for Sinterit Lisa Pro's technical support one can get a lot of material to read online.
If that does not cure the doubt that you have in your mind about the printer, you can also contact the printer manufacturer via email, phone, or Skype.
The company's technical staff is always ready to serve you with solutions regarding the printer.
Parameters influencing the buying decision
Certain parameters are standard ones while comparing two 3D printers for deciding which one to buy. Such parameters are mentioned below.
3D Printer Cost: Can only be compared after knowing the quote from the manufacturer.
3D Print Quality: Extraordinary.
3D Print Speed: Industry-standard.
3D Printer Capability: The fact that more than one material 3D printing is possible on Sinterit Lisa Pro catches the eyes and attention of many manufacturers and small business owners that preferred FDM over SLS for that reason.
3D Printer Practicality: Small business owners and professionals in the field of 3D printing are the two main class of audience this printer aims to cater to.
3D Printer User Expectations: The printer would not disappoint all those who can afford to spend a little more on getting good quality.
The Verdict
Overall, Sinterit Lisa Pro is more advanced than its previous iterations.
The new Nitrogen chamber is bliss for all the 3D printing enthusiasts who love to play with different printing materials.
And were not opting for SLS 3D printing technology over SLA and FDM 3D printing technology for the same reason.
The other add-on is the huge build volume which will let one print industrial-grade parts and functional prototypes of a quality that is unmatched in the complete market of 3D printing.
So, the call is clear for the one who wishes to have higher quality objects, should opt for it.