Tronxy X5SA
Tronxy X5SA is one of the best desktop 3D printers available under the price tag of $400. Although being extremely cheap, it manages to offer some of the best in class features that astonish you. So, if you are looking to being with 3D printing and experiment to learn how imagination actually manifests into reality, X5SA is worth a go.
PROS
Massive build volume.
Auto leveling.
DIY kit makes you learn the complete backend of the printer.
CONS
Users need to constantly level the print bed.
The cable chains rub on belts.
A glue-like build plate makes it difficult to manage prints on it.
Table of Contents
Offering a maximum build volume of 330 mm * 330 mm * 400 mm, X5SA is a desktop 3D printer manufactured by Tronxy. The printer creates parts using extrusion 3D printing technology and is available at an extremely affordable price. In fact, there are only a few 3D printers that strike the correct balance between price and quality and Tronxy X5SA is one among those.
The machine occupies a sweet spot especially with enthusiasts in the field of 3D printing and is a decent choice for beginners as well as intermediate users that are looking for decent quality prints. X5SA is an upgraded version of its predecessor X5S.
In this article, we will go through the strengths as well as weaknesses of the printer to come to conclude whether it is worth the cost at which it is offered in the market or not. So, without further ado, let's get started.
Features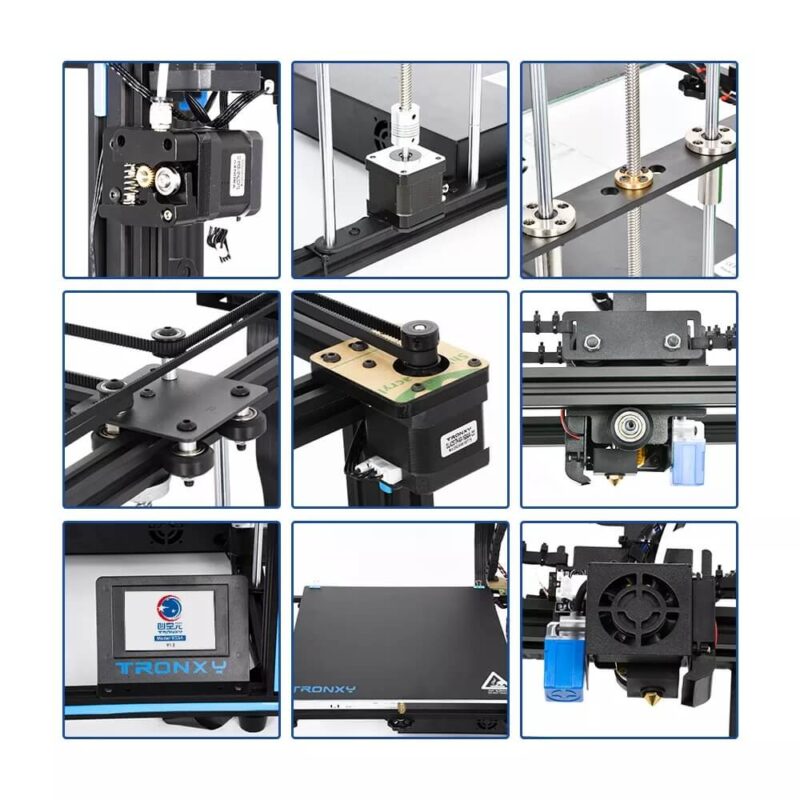 To differentiate between X5SA and its predecessors, one has to ignore the looks and dive deep into the features of the machines. Although X5SA has the same core frame design, it features a generous 330 mm * 330 mm * 400 mm build volume.
The machine is filled with user-friendly features that make its management easier for beginners in the field of 3D printing. Moreover, improved hardware makes it possible to increase the overall print performance.
Below mentioned and explained are some of the most striking features of Tronxy X5SA that make it stand out from the list of other 3D printers offered in the same price range.
Filament run-out detection
Tronxy has kept in mind the ongoing trend, especially in modern desktop 3D printers. By availing filament run-out detection in X5SA, the manufacturer has made working with the device much simpler than otherwise.
In case you end up running out of the filament while the 3D printing process is on, the printer will automatically pause the print and indicate it to you. So, users can immediately change their filament spool and get back to 3D printing. Although this feature seems simple, it is extremely handy when in operation.
Resume print function
This is perhaps the second most trending feature in current desktop 3D printers. In case of any power outage especially when you are almost halfway past the complete 3D printing procedure, you do not wish to go back doing all the work again, yeah?
So, Tronxy has put in place a system that saves all your print progress before power outage safely. Because of which you can start working on your print exactly from the point you stopped at the time of facing electricity downtime.
Auto bed leveling
Bed leveling is very important to ensure good quality 3D prints. A correct bed leveling is defined as the perfect adjustment of nozzle height and print bed according to the part geometry. Not all the 3D printers available in the same price range offer such a feature. So, if you are new to 3D printing and do not know how to level the bed, it gets difficult for you, right?
But to ensure things do not get much complicated, Tronxy provides X5SA with an automatic bed leveling feature using which users can simply click on the printer and the machine will make all the adjustments. Simple!
Your prints, especially their first layers would be precisely printed because of minimal to negligible human intervention. Moreover, you do not need to go through the hassle of adjusting the bed before printing which will grant you more time to focus on other important stuff to manage.
Interactive Touch screen interface
X5SA's body hosts a 3.5-inch long touch screen interface which is the most basic difference between the printer and its predecessor. The X5S featured an old LCD screen that did not offer much control to users. As opposed to the same, X5SA makes it a lot easier for the users to navigate as well as control basic printer functions as well as make some necessary print changes.
This feature makes the overall interaction of the user engagement. Also, it assists first users to grasp various functions of the printer on the very first go.
Upgraded components
Another most significant difference between X5SA and its predecessor is the extruder. The former features a Titan extruder, a tighter filament path of which allows users to print using different materials like flexible products such as TPU.
Also, X5SA has an integrated wiring design that keeps the users away from facing problems such as a messy web. Moreover, it ensures that the operators have a neat as well as direct connection in the printer that is uninterrupted via any other component.
X5SA comes with a 24Volts power supply that solves any issue related to the length of time for heating the printing bed which was one of the major problems with X5S.
Lastly, the printer offers two options for connecting as well as uploading 3D models on the printer. Additionally, users can also connect using their place's network and easily transfer files in one go.
Improved stepper motors
One of the main aspects of any FDM 3D printer is its print head and its movement. A stepper motor is typically held responsible for the movement. So, it is sensible to state that the print speed of any printer directly or indirectly depends on the quality of stepper motors used in it.
By offering an improved quality of stepper motors, Tronxy guarantees smoother movement of the print head and hence faster print speeds.
Specifications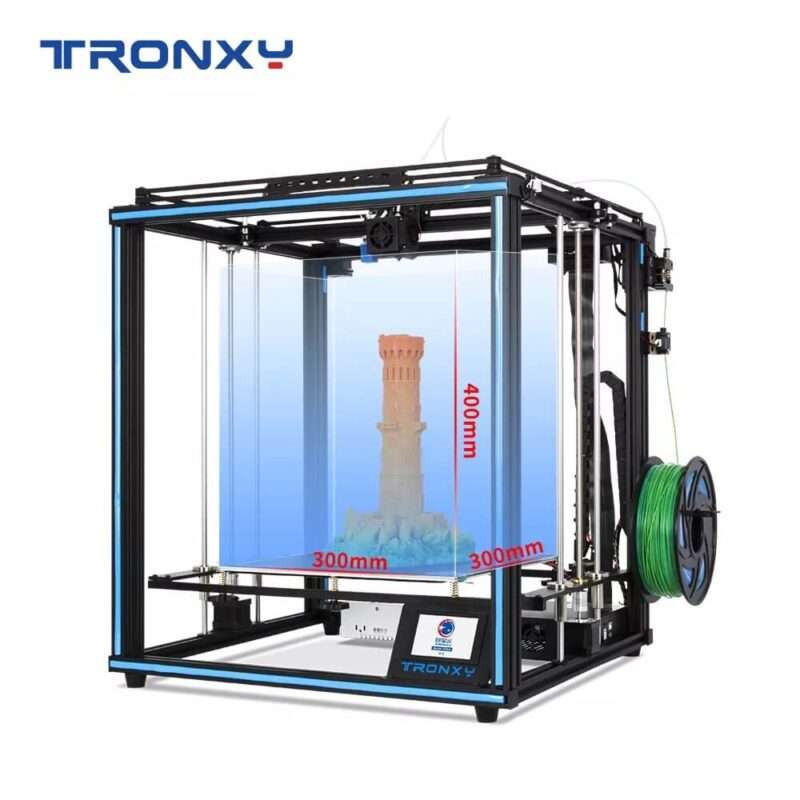 Tronxy X5SA is based on FDM 3D printing technology and has a Core XY structure which we get to see in most FDM 3D printers. It offers a maximum build volume of 330 mm * 330 mm * 400 mm that allows 3D printing of large parts in one go. The machine features a Bowden feeder system that makes the melting of filament an easy process.
The printer features a single print head and has a standard nozzle size of 0.4 mm which ensures there is minimum to the point of being negligible clogging while depositing the filament overprint bed. Its hot bed can withstand a maximum temperature of 275 degrees Celsius.
X5SA's frame is made from Aluminum, sheet metal, because of which the printing process will be almost vibration-free. Also, an auto bed leveling system assists first-time users to get to the start of the print quickly without any hassle. Operators can connect with the printer using a USB as well as a TF memory card for exchanging files.
The printer is compatible with various filaments such as ABS, PLA, TPU, nylon, carbon fiber, PVC, and HIPS of 1.75 mm in diameter. It can also allow printing with third-party filaments.
Price
Tronxy X5SA is available for $350.
First Impression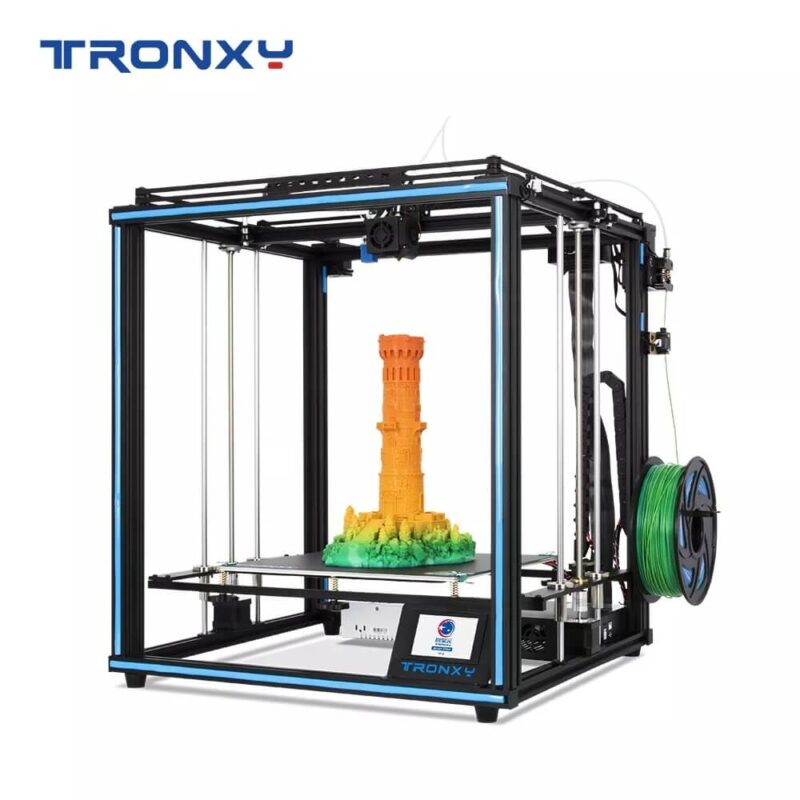 X5SA is delivered with a charming design starring a larger than usual build area. The machine has a smooth platform providing a nice surface for printing the model. Also, users do not require gluing the print bed while setting it up.
The machine's body comprises an Aluminum double framing that provides a very stable structure. An Aluminum frame is far more reliable than acrylic framed printers therefore it is compatible with printing large-sized models.
Also, the overall design structure eliminates the vibrations that are typically caused during the 3D printing of parts and functional prototypes. Thanks to both the stepper motors that manage to stay in the state of inertia – a quality that results in high precision printing.
Setup
Tronxy X5SA is delivered as a kit; therefore you get the bits of the printer and not the completely assembled plug-and-play 3D printer.
The rods that make up the printer, other pieces, and numerous other washers, as well as nuts, are made available to you in parts. So, if it's your first time assembling any 3D printer it will take you long but then the process will be enlightening.
It will make you learn about the entire 3D printing mechanism that makes up the printer. Also, to make your setup process easier, the printer manufacturer has put in place a manual inside the package. Additionally, you can also watch the setup video on YouTube.
Print Type/Cost
The printer is based on the simplest process for 3D printing i.e. Fused Deposition Modeling. The method starts by loading a solid filament on the spool holder and heating it to a temperature just above its glass transition. Once that is achieved, the melted filament is allowed to flow through the nozzle on the print bed, according to the part geometry.
Layer by layer deposition of melted filament takes place on the print bed, after which it is allowed to solidify either via natural airflow or artificial. Normally, the cost of 3D printing a part via FDM 3D printing technology is lower compared to other 3D printing technologies. However, it depends on many factors like part geometry, support structures, the materials used for 3D printing that part, etc.
Print Quality
Credit: top3dshop.com
X5SA manages to deliver good surface quality that is surprisingly well for an FDM 3D printer in this price range. The layer lines are hardly visible and the curves and edges are well printed.
Overall, the printer can be used for printing toys, showpieces, and other prototypes with complex geometries provided you need to use support structures for printing some of those.
Software
The printer comes with a Tronxy Slicer that is very similar to Cura – arguably the most popular open-source slicer. The main point to take care of while using Tronxy Slicer is while doing the retraction settings. However, the software has extremely user-friendly navigation and lets you have greater control over your prints.
Customer Support
As far as customer support is concerned, the printer manufacturer has a technical team that can be contacted for any sort of problem that you face while using it. Tronxy also offers a 100 percent money-back guarantee in case you happen to buy an incorrect product because of incomplete information.
Parameters Influencing Buying Decision
The key points that are to be considered while buying Tronxy X5SA are mentioned in brief below.
3D Printer Cost: Available under $400, X5SA proves to be an extremely affordable FDM 3D printer especially when its build volume is taken into consideration.
3D Print Speed: The improved stepper motors offer increased speed to users when compared with its predecessor.
3D Print Quality: Although X5SA is an entry-level FDM 3D printer, it manages to offer print quality that is usually only available in higher-end FDM 3D printers.
3D Printer Capability: The machine allows users to print with various filaments. So, beginners, as well as professionals, can experiment with various materials on X5SA that are hard to print with other printers in the same price range.
3D Printer Practicality: Thanks to the Aluminum frame build-up by X5SA that ensures that the printer does not vibrate even while printing parts with maximum build volume. Also to mention how features such as resume print, filament detection, touch screen interface make the operation of the printer much easier especially for beginners in the field of 3D printing.
3D Printer User Expectations: Primarily, X5SA is for those users who wish to print huge build volumes at a low cost. So, home, as well as typical office users as well as educationists, can get their preferred quality as well a quantity of print with the machine.
The Verdict
Tronxy X5SA is one of the best desktop 3D printers available under the price tag of $400. Although being extremely cheap, it manages to offer some of the best in class features that astonish you. So, if you are looking to being with 3D printing and experiment to learn how imagination actually manifests into reality, X5SA is worth a go.