Stratasys V650 Flex 3D Printer
Compare this printer with other industrial printers to know exactly how the V650 Flex 3D printer could be better than others. Either in terms of cost, or quality, or speed, you will find this particular option worthy of attention worthy.
PROS
In giving out the complete details about the printer, the company excels.
The limitation material is lifted and you as a user, can print with more materials using this printer than others.
CONS
Heavy. But what else can you expect from an industrial 3D printer with high print volume?
Expensive
Product
Specification
Videos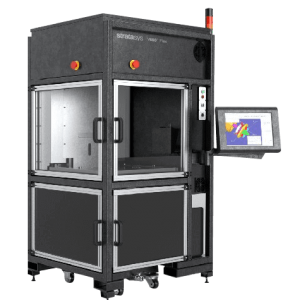 Offering a maximum build envelope at a full vat of 508 mm * 508 mm * 584 mm, V650 Flex is based on state-of-the-art Stereolithography 3D printing ...
| | |
| --- | --- |
| Model | V650 Flex |
| Manufacturer | Stratasys |
| Price Range | $ 100000 – $ 250000 |
| Release date | 2019 |
| Country | United States |
| Availability | Available |
| Classification | Industrial |
| Technology | Resin (SLA- DLP…) |
| Material | Liquid resin |
| Generic material | Yes |
| Max. build size | 508 × 508 × 585 mm 20 × 20 × 23.03 in |
| Max. build volume | 150.97 L |
| Heated print bed | No |
| Heated build chamber | No |
| Automatic calibration | No |
| Closed frame | No |
| Dual extruder | No |
| Independent Dual Extruder | No |
| Full color | No |
| LCD screen | No |
| Touchscreen | No |
| On-board camera | No |
| Mobile app | No |
| 3D scanners | No |
| CNC mill | No |
| Electronics 3D printing | No |
| Laser engraving | No |
| Conveyor belt | No |
| Air filter | No |
| Pellet extruder | No |
| USB | No |
| Wifi | No |
| Bluetooth | No |
| SD card | No |
| Ethernet | No |

Table of Contents
Stratasys manufactures printers based on various technologies that include FDM 3D printing technology, Polyjet 3D printing technology, and Stereolithography.
There are nine 3D printers based on FDM 3D printing technology and thirteen 3D printers based on Polyjet 3D printing technology.
But, at the time of writing, V650 Flex is the only one from Stratasys that is based on Stereolithography.
Hence, you can expect it to perform better than most of the alternatives from a similar price range.
V650 Flex is made in such a way that it's not meant for catching someone's eye, but it's meant to catch the attention of anyone who is in search of an efficient operating printer.
Instead of working much on the looks, the manufacturer has given extra stress on its ease and results.
V650 Flex will offer you a generous build volume with interchangeable resin trays.
So, the makers have not only taken care of your desire to print huge parts and functional prototypes but also to ease the entire post-processing chore.
For offering you diversity in printing materials, Stratasys partnered with DSM.
To date, four different types of resins had been developed with which a very huge number of parts and functional prototypes have been printed.
If Omer Kreiger, the Executive Vice President at Stratasys is to be believed, V650 Flex is mainly manufactured to cater to customer's demand for developing large-scale parts.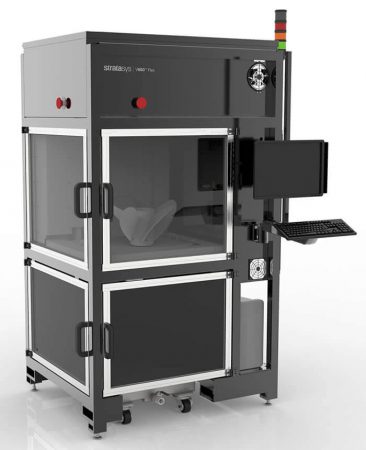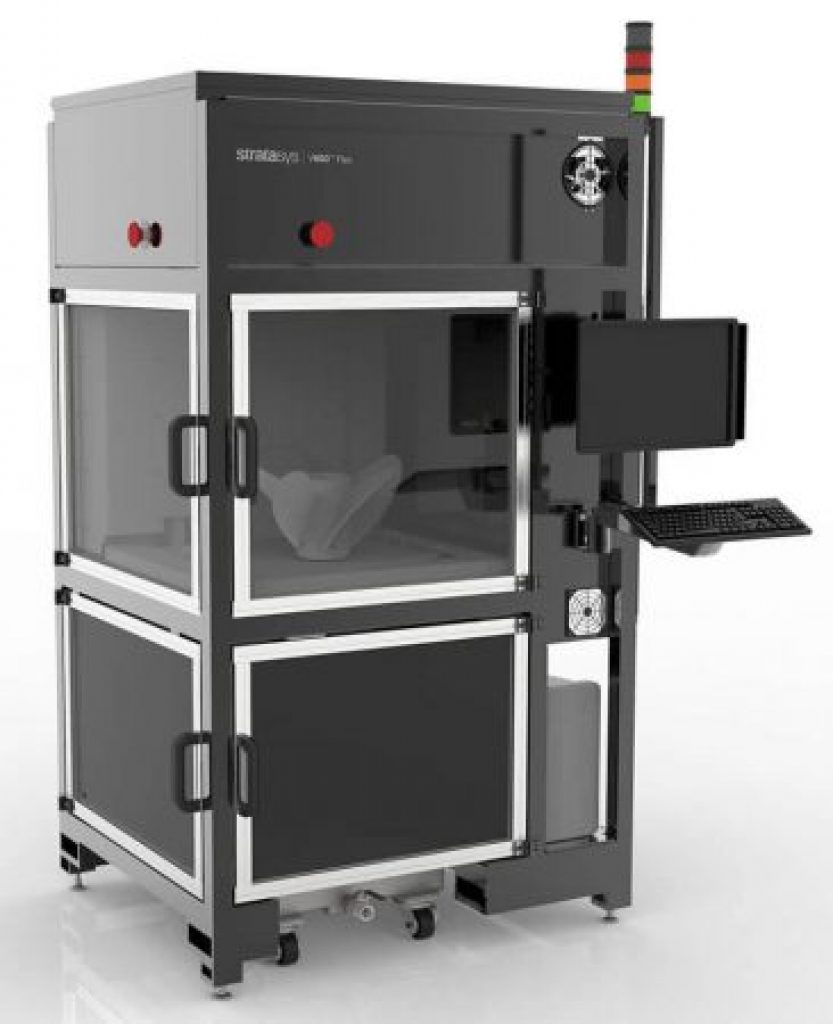 That can be reliable at the same time being high in quality. Mr. Kreiger's statement spotlights the needs of people to be able to manufacture 3D parts that can compete with those made using investment casting, tooling, and injection molding technologies.
Now that you have a little introduction about the printer, let's jump to the various aspects that make this 3D printer a real gem for users.
Features
If you would read about this printer and the story about how and why the makers made it, you'd get to know that it is a manifestation of the urge to make a flexible 3D printer.
And that's some area from where the Flex in its name, we are guessing, came from.
V650 Flex's ability to build parts and functional prototypes of huge volume, interchangeable vats, and being fully configurable, as well as flexible, is too much in terms of flexibility, don't you feel so?
Stereolithography, the 3D printing technology that it's based upon is known to not give a tougher competition to others because it's not able to offer huge build volumes.
And we hope that with printers such as V650 Flex, this concern is being taken care of. Moving on, let's state to you the unique selling points of this flexible machine.
2X the Print Capacity of the Competition
As we did hint you in the introduction, one of the main reasons why this printer will attract you is because of its huge build print volume. And, there are plenty of benefits with large build space.
With more room for bigger models, you can also enjoy completing the parts in one go. Yes, you do not need to split the 3D file and print parts one by one to complete the model.
With large build space, you get to experience different models that aren't possible or complex with smaller print volumes. In short, it does add more air for creativity.
Uninterrupted Printing Achieved through Backup Power Supply
Apart from all the important things to run your 3D printer, starting from the printer itself, you do need electricity.
To carry an uninterrupted operation of the 3D printer, you must be able to provide your machine with a continuous power supply.
In case, the electricity goes off in between, you may lose your print midway. This can cost you filament, time, and effort.
So, how about a little power backup to ensure your 3D printing operation isn't disturbed with sudden power loss?
Keeping the criticality of 3D printing work in mind, Stratasys has kept the tolerance factor in mind.
It stores all your progress of the work as a backup, so anytime you encounter a complete run over of electricity, your progress would be safe. And you recover that progress after the electricity pops up again.
Streamlined workflow with scalable fabrication at unprecedented speeds
As mentioned in the early part of this article, the makers of this printer have kept flexibility as the epicenter of their design.
They've ensured that you as a user should not face any sort of trouble dealing with the printer during its entire 3D printing process.
The software and the printer are user-friendly. The printer features a touch screen interface that'd guide you through the setup process.
After promising you to offer a huge build volume, the printer does not compromise on the print speed at all.
A specific layer resolution that V650 Flex offers can be printed using faster print speeds that are unmatched in the industry at the same price range.
Now that we've made you go through the features of this printer, allow us to share the second most important aspect of this printer.
Specifications

Credit: stratasys.com
V650 Flex has a Q-switched harmonic diode-pumped solid-state UV Laser with wavelength 354.7 nanometers.
It utilizes 700 megawatts at the source which is at a 100-kilohertz pulse rate.
The beam diameter of this printer is 0.008 to 0.027 inches. The maximum part drawing speed of this printer is 700 ips.
Its XY resolution is 0.0005 inches, its vertical resolution is 1.6 micrometer, position repeatability is also the same.
The maximum part weight that this printer can manufacture is 54.4 kilograms.
The maximum build envelope of this printer at quarter vat is 508 mm * 508 mm * 114 mm, at half vat is, 508 mm * 508 mm * 241 mm whereas at full vat it is 508 mm * 508 mm * 584 mm.
The ambient temperature range of this printer is 20 to 26 degrees Celsius and the maximum change rate is 1.8-degree Fahrenheit per hour.
This printer has the open-source material capability, and the ability to configure the printer for different materials gives operators the flexibility of using any 355nm resin.
Preset profiles are available for the following DSM Somos resins:
Somos Element – Dimensionally stable, antimony-free resin with superior finish and low residual ash designed specifically for investment casting patterns.
Somos NeXt – A tough, durable resin with the look, feel, and performance of traditional thermoplastics.
Somos PerFORM – Heat-tolerant, high-stiffness material with an exceptional resolution for demanding applications such as tooling, housings, and wind tunnel test models.
Somos Watershed XC 11122 – This clear material offers unparalleled clarity and water resistance with ABS and PBT-like properties.
The V650 Flex combines high resolution and fine build layers with a generous build capacity capable of producing highly detailed parts, prototypes, and casting patterns on large scale.
Material changes are simplified with interchangeable vats. The uninterrupted power supply allows continued operation during power outages.
Price
For knowing the price of this printer, you need to ask for a quote from the company. You can connect with the manufacturer through their website for an instant quote.
First Impression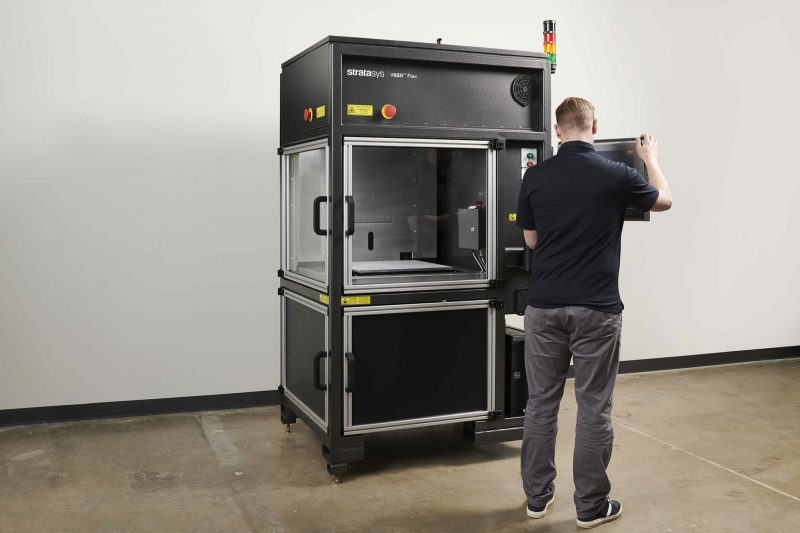 Credit: javelin-tech.com
Our first impression, as we said, was to discover this magic box, which looks like the printer's transparent print bed.
This is transparent because you can monitor the print process and stop it when you feel something spooky is going on.
There is a compartment beneath this transparent magic box and a compartment above it.
There are two coolers that throw the gas out, besides the top compartment, the other at the bottom.
A touch screen is present besides the middle compartment which we also like to call the magic box compartment.
In short, it is a complete machine with all the features selected with precise thinking.
To offer customers the apt solution for 3D printing quality models, the company has ensured to make this printer highly advanced and rich with benefits.
Setup
The printer comes completely assembled. All you have to do is read about all the parts from the manual that come along with the printer. V650 Flex is carefully packed and shipped.
There is no way one can claim even a little bit of negligence done by the company in ensuring that this printer reaches every one of its customers without any damage. The setup of this printer is easy.
You do not need to invest hours figuring out how to put the different components together. With a little nudge, you can start printing your first model.
Printing Type/Cost
This 3D printer is based on the Stereolithography 3D printing technology. It is used for the production of parts and functional prototypes with utmost precision.
Resins of different 3D printing materials are used for printing different parts or functional prototypes.
The liquid resin is cured. The curing or solidifying happens through a laser source.
The more concentrated the laser source, the more accuracy you get in parts or functional prototypes.
So, there is a huge proportionality between the quality of laser and the quality of parts that you see in printers using this technology.
The printing cost of such printers will obviously be more than the printing cost of printers based on FDM 3D printing technology because of the inclusion of laser sources.
However, printing costs would also depend on a lot of other factors. You must consider the resin cost, part design, wall thickness, and a lot of other parameters.
So, you can expect a difference in printing cost, if any of the responsible factor changes.
Print Quality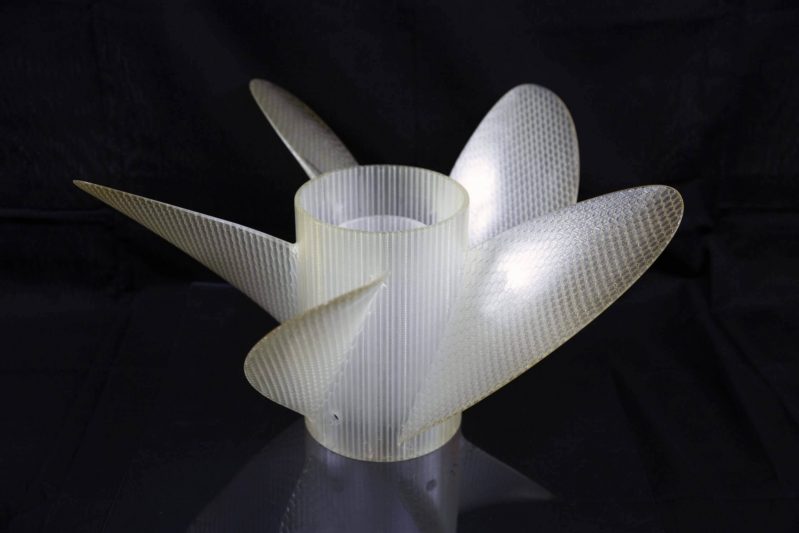 Credit:  purpleplatypus.com
Generally, SLA printed parts and prototypes are of higher quality than FDM 3D printed parts.
So, you can expect the same quality or a little more because it is, as the makers claim, SLA upgraded.
So, the quality of parts and functional prototypes printed using this printer would be even higher than other SLA 3D printers in the market.
They'd be offering you dimensional accuracy, regardless of the print volume that you plan to 3D print.
Software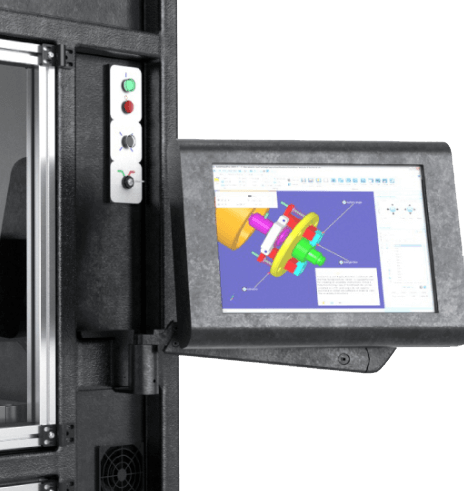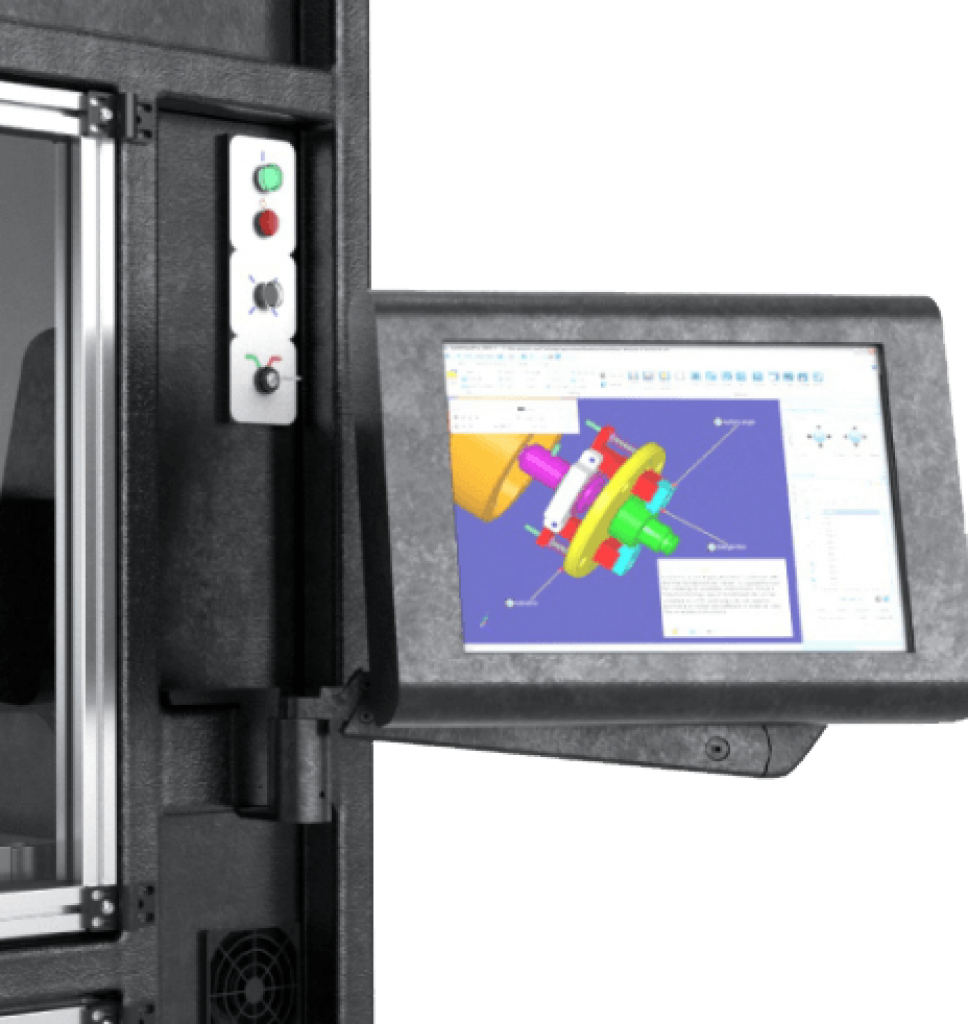 Credit: goengineer.com
Solid view build preparation is the name of the software the printer comes with.
The touch screen interface is integrated with this software which is easy to work with.
Plus, it is highly intuitive and advanced, letting users make useful changes hassle-free. Moreover, it is highly user-friendly.
So, if you have already worked with other similar slicing applications, this one won't be difficult to tame.
Customer Service
The printer is backed by the end-to-end, on-demand service and world-class support that is guaranteed by its makers i.e. Stratasys. Any field issues that you get will be fixed fast, and Stratasys' 30 years' experience in 3D printing will enable them to help you make the most of your 3D printing investment.
Parameters Influencing Buying Decision
Here is a quick recap of the important factors that we have been talking about in this article.
3D Printer Cost: It won't come cheap. However, for an exact quote, please contact the manufacturer.
3D Print Quality: Somewhere above industry standard.
3D Print Speed: Industry-standard.
3D Printer Capability: You are able to print with a variety of materials. Moreover, the print quality is high and very precise.
3D Printer Practicality: Making manufacturing parts, jigs and fixtures, production parts, and a lot more.
3D Printer User Expectations: The 3D printer does raise the bar for perfection and ensures that the customers feel confident when working with this 3D printer.
The Verdict
Compare this printer with other industrial printers to know exactly how the V650 Flex 3D printer could be better than others.
Either in terms of cost, or quality, or speed, you will find this particular option worthy of attention-worthy.