Tronxy X1
Tronxy X1 performs very well. The great print quality for this price tag is a wonderful deal for those looking for an affordable option, while not ready to compromise with the quality of the parts.
PROS
Very affordable
Sufficient build space
Easy to assemble
Compact and sturdy
CONS
Only supports printing with PLA
No heated bed and cooling fan
Table of Contents
Requiring a straightforward setup process, Tronxy X1 is an affordable DIY 3D printer designed by a China-based manufacturer.
X1 is made up of an Aluminum frame that gives the printer more solidity and a handling capacity to facilitate transport. Also, it supports offline 3D printing with an SD card which is a convenient way to transfer files when you do not have a computer around.
Its structure seems to be inspired by the famous Printrbot 3D printer's single-arm design. The machine is primarily meant for beginners in the field of 3D printing as well as educationists.
Users can build parts and functional prototypes on the printer's 150 mm * 150 mm * 150 mm build volume using a nozzle size of 0.4 mm which gives out a decent flow rate for accurate prints.
Having stated all that, it's important to know whether Tronxy X1 proves to have enough value for money. And for finding the evidence of the same, let's cut to the heart of the matter in-depth.
Features
Tronxy X1 is upgraded with a control board that delivers high performance and stability like no other in a similar price range.
Its innovative X-axis V-shape design coupled with a leather belt makes the environment less noisy than it generally gets with FDM 3D printers of entry-level. An Aluminum frame makes the printer light in weight and very convenient to handle.
The machine is equipped with more such features that make it stand out in the list of other printers falling under the same price range. Let's look at them one after the other.
Available at Exceptionally Low Price
Often when you read an advertisement for an extremely low-budget FDM 3D printer, it's available for under $200! But Tronxy X1 has taken it to the next level by decreasing $50 more on that note.
It's one of those very rare 3D printers available for less than $150. Because of this reason, beginners who are looking to search for prospects in the field of 3D printing can use the printer to explore the basics of it.
The machine is based on the simplest of all 3D printing technologies available in the market i.e. the FDM 3D printing. So, there are overall fewer complexities involved in understanding and working with the Tronxy X1 3D printer.
Simplistic Design
Tronxy has kept a simple single-arm design for X1. It's even more basic than the typical Cartesian XY or XZ head designs that you generally get to encounter a lot while exploring low-budget 3D printers.
The simple nature of the 3D printer's design typically helps during the assembly part. Since the printer is primarily targeted towards beginner-level users who have little to no exposure to 3D printing if the design were complex their work would be full of hassle.
The main construction of Tronxy X1 is the solid extruded Aluminum tube. Its base and other structural parts are made from thick acrylic or metal that promises not only rigidity but also strength. The arm design makes the printer overall a compact one.
Its print head has a standard extrusion with a hotend and the fan present on the X-axis. Although the filament is fed through the extruder that is mounted on the X-axis, it's in line with the Z column which provides better support and cuts down on vibration that is transmitted from the steppers to the print head.
Decent Layer Resolution
At a very affordable rate, users can enjoy decent layer resolution. Offering amazing ease of work, the machine can produce complex designs with commendable precision.
Open Frame
Being a budget-friendly printer, there are a few limitations that the machine brings with it. And, one such compromise is done with its frame. Unlike the enclosed frame, Tronxy X1 does not cover the build platform from any of the sides. On the contrary, anyone can reach the printing area while working.
This is a bit dangerous when you have kids around. But that is not it. The same feature limits the use of filaments other than PLA.
No Heated Bed
As you would expect, only supporting PLA, the printer does not boast a heated bed. It comes with a non-heated build plate that has sufficient adhesion to allow users a hassle-free experience when printing with PLA.
DIY Kit
The 3D printer comes unassembled. Hence, users require to connect the different components together to complete the setup. The best part is that the design is very simple. And, it just has one arm. When compared with other unassembled DIY kits, Tronxy X1 takes a lot less time for putting the parts together.
In addition, the printer comes with very descriptive documentation which is rarely found with other cheap machines. Hence, users can simply follow the direction and take care of the setup on their own. Tronxy X1 is even one of the best choices for beginners with no experience of working with DIY kits.
Sturdy Body
The all-metal frame of this inexpensive machine turns out to be the best trade-off for a few limitations the printer exhibits. Because of its sturdy body, Tronxy X1 is capable of producing accurate parts and work its wonders even at high printing speed.
Specifications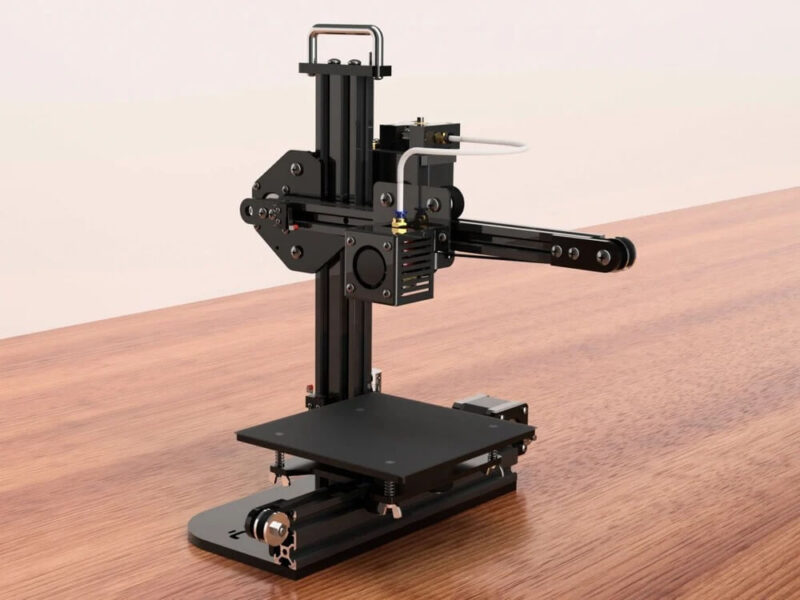 Tronxy X1 is based on FDM 3D printing technology. The printer offers a maximum build volume of 150 mm * 150 mm * 150 mm which allows users to build household parts of considerable size in one go.
It can print parts and functional prototypes with a maximum print speed of 130 millimeters per second. The machine provides a minimum layer thickness of 0.1 mm on objects it manufactures.
A single nozzle of 0.4 mm takes care of the deposition rate which creates the part geometry according to the 3D sliced file. The file transfer takes place using the SD card slot present on the body of the printer.
An LCD screen embedded on the body of X1 displays information needed regarding the printing during the process is on.
Users are allowed to use PLA as the supporting material provided its filament has 1.75 mm diameter. The machine has an XY axis positioning accuracy of 0.012 mm and a Z axis positioning accuracy of 0.004 mm.
Price
One of the cheapest 3D printers, the Tronxy X1 is available for $150. The prices may vary among distributors. However, it certainly is inexpensive and very much affordable for those having strict budget.
First Impression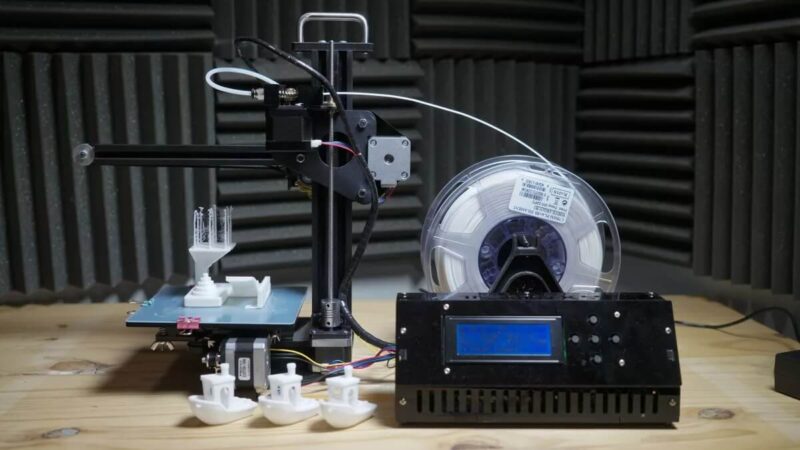 Credit: techradar.com
When unwrapping the box, you can expect the printer's components packaged separately. This is because Tronxy X1 comes as a DIT Kit. Thankfully, apart from taking care of the safety of these components, manufacturer has ensured to label these precisely for hassle free setup experience.
Securely snuggled inside the box, the parts are protected with enough infills. You just simply take out the parts and screws and start building the machine as per the instructions available in the manual.
Its one of the simplest DIY Kits and does not require a complete day for setup. If you are an experienced user, you may be able to complete the assembly in less than an hour. For beginners, depending on their technical expertise, it may take a little longer.
Setup
As mentioned, the setup process for Tronxy X1 is a lot simpler. And, you will find the complete detailed user manual saved on the SD card that comes along with the package. It has proper pictures with steps to complete the assembly with ease.
To start with, you must assemble the base frame. Once done, move on to the installation of the Z slide rail. Make sure it's perfectly fixed on the aluminum profile. Later, assemble the Y Axis motor and the bed frame.
After these steps are complete, securely assemble the Y-Axis belt pulley and install the Y-axis timing belt. Then, it's turned for the Z carriage. Assemble and install it properly. Next, it's time for inserting the extruder assembly.
Later, ensure that the X-Axis Endstop & Pulley is securely assembled. And, move forward with the installation of an X-axis timing belt. After the X and Y assembly is done, assemble the Z motor followed by installation of filament feeder. Progress with the setup with handle and, Z Endstop installation.
Now, it's time for the print bed assembly. After you secure it properly, install the Teflon hose. And, finally, assemble the electronic box.
Make sure you follow each step as described in the manual for successful assembly of your Tronxy X1 in the first go itself.
Print Type/Cost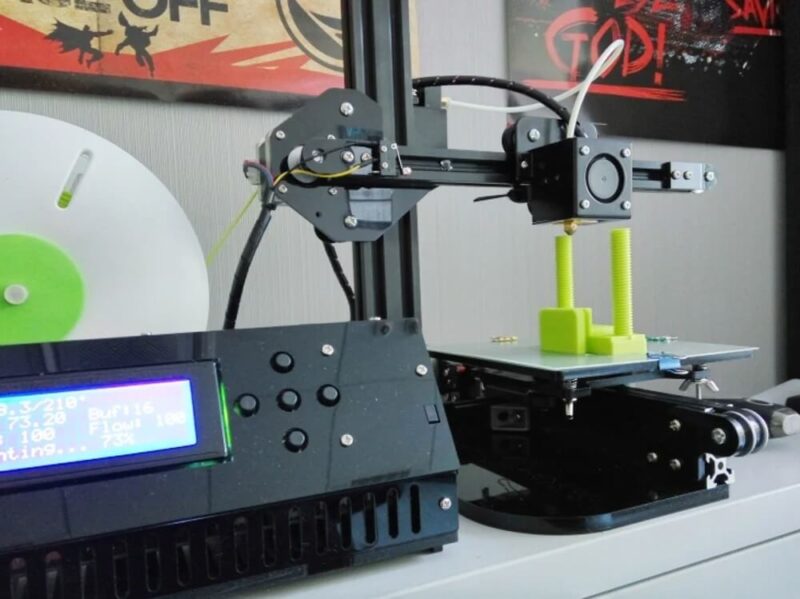 Credit: all3dp.com
Tronxy X1 is based on FDM 3D printing technology. In this 3D Printing process, the plastic filament is heated inside the extruder to melt the material for deposition over the print bed. Each time, the nozzle extruders a single layer of the model.
After it sets partially, the printer deposits the second layer. In addition, after each layer completes, the print bed moves a little, making room for the next layer. This entire process continues until the 3D model is printed successfully.
When talking about the price of printing, you must consider a few factors. For instance, the printing price depends on the material used, the geometry of the 3D design, infill percentage, layer height, and more.
Print Quality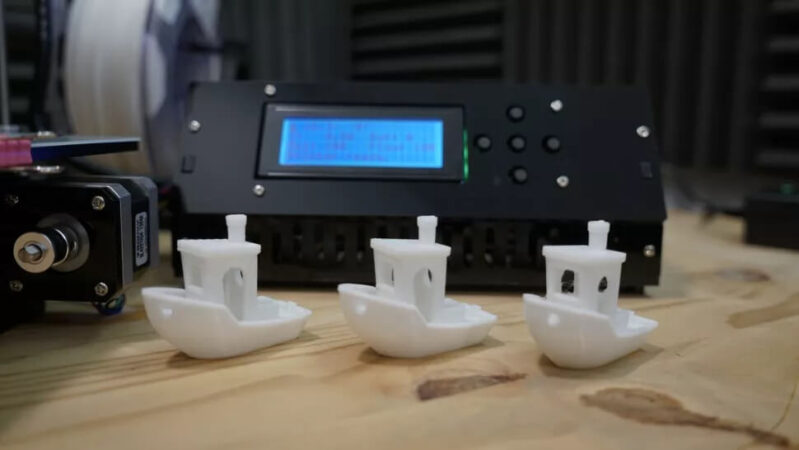 Credit: techradar.com
This is a budget 3D Printer. Hence, it would be unjustified to compare it with professional machines. However, at its cost, the printer performs really well. Offering a layer thickness of 0.1 mm, Tronxy X1 can create intricate parts with ease. Also, the layer smoothness is pretty commendable.
Overall, you can easily learn to 3D Print accurate designs with the help of this affordable and sturdy 3D printer.
Software
The recommended applications are Repetier Host, Cura, Slic3r. All of these softwares are user-friendly and offer great control over the 3D designs. With an intuitive interface and friendly workflow, even beginners can start printing with these applications in no time.
Customer Support
Tronxy X1 enjoys a huge community. Therefore, it won't be any problem discussing your issues on forums and seeking solutions. In addition, the company is also very prompt when replying to its users. The dedicated support makes it a hassle-free experience for users when working on this printer.
Parameters Influencing Buying Decision
Every user has their own set of needs when wanting to buy a 3D printer. Some are looking for professional print results and others seek budget-friendly machines to learn about the technology.
Hence, here are some of the factors that would help you decide if Tronxy X1 is the machine for your specific requirements.
3D Printer Cost: A very affordable 3D printer, available for only $150. Anyone wanting to learn about 3D printing can easily buy this machine without investing thousands of dollars.
3D Print Speed: The printer offers industry-standard print speed. Being an FDM 3D printer, it certainly is faster when compared to various other technologies.
3D Print Quality: With a layer thickness of 0.1 mm, users can attain great print quality. It is possible to print intricate designs with accuracy.
3D Printer Capability: Tronxy X1 can create smooth parts with accurate designs.
3D Printer Practicality: Best for home users and those wanting to learn about 3D printing.
3D Printer User Expectations: At this price, seeking premium features won't be justified. Hence, if you are looking for a heated bed or automatic leveling, you must be ready to pay more. Otherwise, it certainly is an amazing choice for this price tag.
The Verdict
Overall, Tronxy X1 performs very well. The great print quality for this price tag is a wonderful deal for those looking for an affordable option, while not ready to compromise with the quality of the parts. However, it certainly has its limit and isn't appropriate for professional applications.
In short, The Tronxy X1 is best suited for beginners and educational purposes. For more information, check out this list of Best 3D Printers for Schools & Education.