Tronxy XY-2 Pro
Tronxy XY-2 Pro has some of the most appealing features that you must consider while buying. Apart from a very affordable price, the printer comes along with many advanced features. Even advanced users can use the printer for various applications.
PROS
Quickly assembled.
Considerable build volume.
Filament runout sensor.
Resume print function.
CONS
The bed-holding binder clips will get in the way of the extruder moving along the plate for measuring the outer rim.
Product
Specification
Videos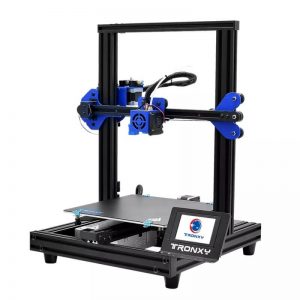 Allow rapid heating of the heated bed, Tronxy XY-2 Pro takes only five minutes to reach 110 degrees Celsius temperature. The machine allows the ...
| | |
| --- | --- |
| Model | XY-2 Pro |
| Manufacturer | Tronxy |
| Price Range | $ 165 |
| Release date | 2019 |
| Availability | Available |
| Classification | DIY/Kit |
| Technology | Extrusion (FFF- FDM…) |
| Material | Consumer materials (PLA, ABS, PETG), Flexible filament |
| Filament diameter | 1.75 mm 0.07 in |
| OS compatibility | Mac OS, Microsoft Windows |
| XY accuracy | 0.006 mm 0 in |
| Max. build size | 255 x 255 x 260 mm 10.04 x 10.04 x 10.24 in |
| Max. build volume | 16.93 L |
| Max. print speed | 100 mm 3.94 in /s |
| Min. layer thickness | 0.1 mm 0.004 in |
| Dimensions | 460 x 455 x 520 mm 18.11 x 17.91 x 20.47 in |
| Weight | 8.5 kg 18.74 lb |
| Nozzle diameter(s) | 0.4 mm 0.02 in |
| Power input | 110/220 Volts AC, 50/60 Hz |
| Heated print bed | Yes |
| Heated build chamber | No |
| Automatic calibration | No |
| Closed frame | No |
| Dual extruder | No |
| Independent Dual Extruder | No |
| Full color | No |
| LCD screen | Yes |
| Touchscreen | Yes |
| On-board camera | No |
| Mobile app | No |
| 3D scanners | No |
| CNC mill | No |
| Electronics 3D printing | No |
| Laser engraving | No |
| Conveyor belt | No |
| Air filter | No |
| Pellet extruder | No |
| USB | Yes |
| Wifi | No |
| Bluetooth | No |
| SD card | Yes |
| Ethernet | No |

Table of Contents
If building huge build volumes is your aim, Tronxy XY-2 Pro is the most budget-friendly printer available in the market currently. Based on FDM 3D printing technology, the printer is extremely easy to use.
It features a rapidly heating build plate that'll make sure the overall print time is fast. Due to which users are able to create a greater number of parts in minimal time.
The printer is equipped with a 3.5-inch touch screen which allows users to pause, stop or resume 3D printing.
Most importantly, Tronxy XY-2 Pro is a DIY assembly machine. Meaning that it's a great opportunity for beginners to learn the basics of 3D printing. If you plan to buy this 3D printer, make sure you are ready to invest some extra time in setting the machine.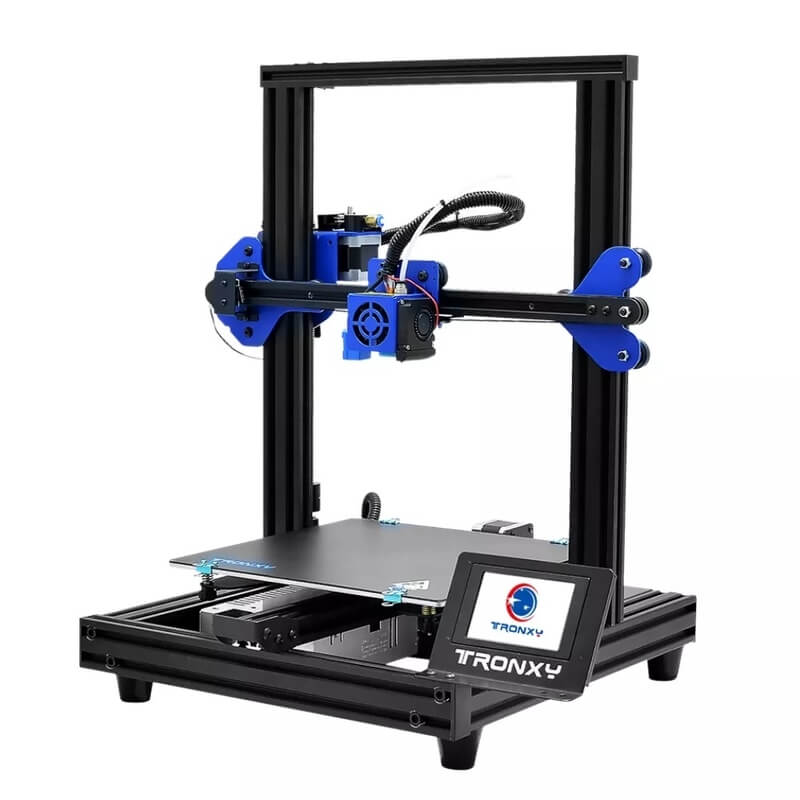 Although being an entry-level 3D printer, XY-2 Pro is a host to some of the most lucrative aspects that are rare to find at such an affordable price.
So, why not discuss a little bit in detail about the Tronxy XY-2 Pro 3D printer?
Features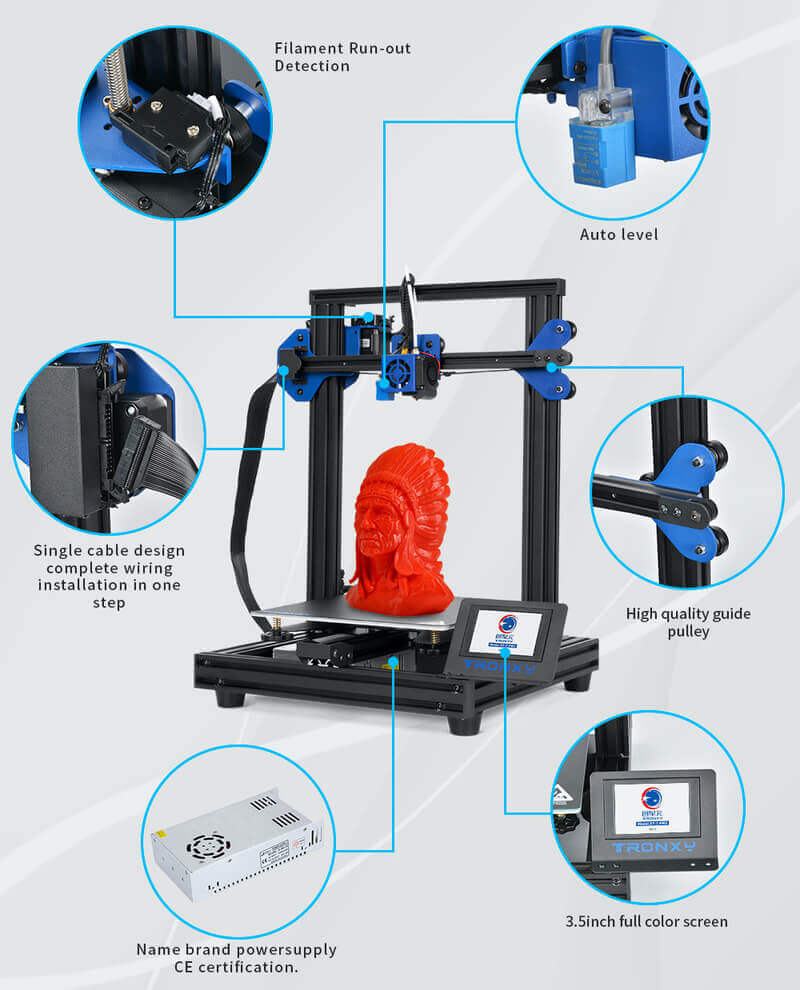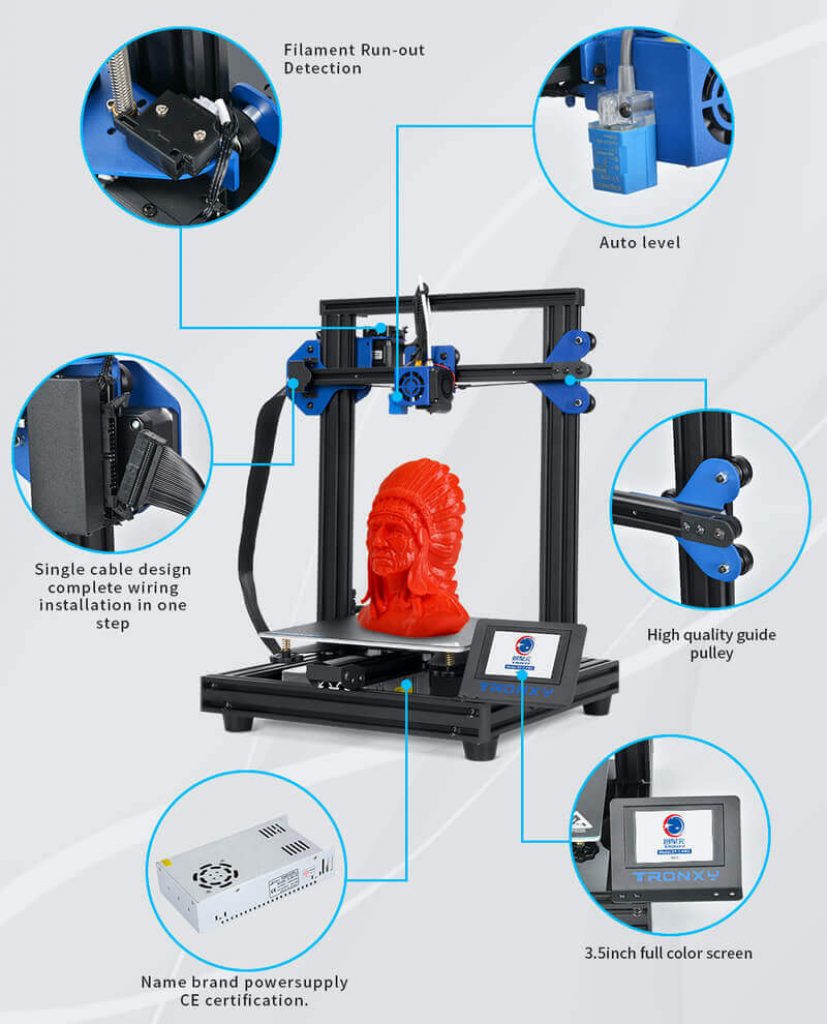 Credit: tronxyonline.com
As you might have understood with the printer's name that it's a successor of XY-2, it carries some additional features. It offers the facility of automatically leveling the printer's bed as well.
Currently an in-trend feature, filament run-out detection is put well into place by the printer manufacturer. Overall, Tronxy has made sure you cannot complain about the machine when working on your favorite prints.
Fast assembly
As mentioned above, XY-2 Pro is a DIY 3D printer and not a plug-and-play one. But, it's not like those typical DIY 3D printers wherein you need to make a lot of effort for assembling.
The setup process will not take hours and hours of your time. This means you can start printing your first model within minutes after unwrapping.
All you will have to do is unbox the printer's parts like the gantry, supports, etc. And join them with the instructions that are mentioned in the manual.
Moreover, you can also look for setup videos that are easily available online. Accomplishing the assembly task should take an hour at max.
Rapid Heating
One more beautiful aspect of Tronxy XY-2 Pro is its fast heating. Although XY-2 Pro is an open-body 3D printer, filament spool heating isn't a challenge.
Thanks to the construction put in place by Tronxy, the printer manages to overcome the limitations often found in printers without a closed frame. Hence, being able to deliver rapid speeds while heating the filament material.
This quality of the printer makes it a comfortable option that can be used for making parts and functional prototypes on short notice.
Aluminum Frame
Although Tronxy offers this printer for a very affordable price, it has made no compromise on the quality of the parts. And that can be constructed from the material with which it has manufactured XY-2 Pro's frame.
Aluminum is a standard material for making a 3D printer's frame. It's tried, tested, and proven material that ensures the printer does not vibrate while it's processing. This goes even while printing a part that's equal to the largest build volume the machine can build.
3.5 Inch Touch Screen Interface
Tronxy offers a touch screen interface with which you can control various functions on XY-2 Pro. It lets you change the settings of your prints.
In addition, users can also pause, and stop and print after loading the 3D model on the printer. The touch screen interface will make you feel familiar with the printer even if you have not worked with similar machines before.
Singl Cable Design
If there is one feature that sets Tronxy XY-2 Pro apart from others in the same price range, it's the printer's single cable design. The conceptualization of the manufacturer to make you feel hassle-free is depicted via this ideology.
XY-2 Pro's overall wiring installation can be completed in one step. So, there are no complex meshes and wirings that you'd have to deal with. Even if you do not have much experience with electronics and all, it's fine.
The importance of single cable design is something that you'd realize when you observe other printers in the same price range carefully.
You'll find a lot of the printers having complicated messy cabling. That's why the single cable design is much safer as well as convenient especially for beginners.
Mute Motherboard and Considerable Build Volume
Tronxy has made use of German imported TMC ultra-quiet motor drive chips. This part guarantees an ultra-quiet motor drive so that the machine always runs at low decibels. It keeps the complete motherboard silent.
XY-2 Pro's dimensions are 478 mm * 455 mm * 520 mm, in which it manages to offer 255 mm * 255 mm * 260 mm build volume.
This means you'd be able to manufacture parts such as medical props, garage kit models, DIY furniture designs, film and television props as well as toys in one go.
Filament Run-out Detection and Resume Print
These two are features that can be called the latest add-ons due to the development of technology. The former notifies you when your filament spool is completely over.
Whilst, the latter lets you start exactly from where you stopped while receiving a power outage. Both of them are meant to facilitate your complete 3D printing process without any confusion or hurdles.
Removable Panel
Once you've printed the complete model, you can remove the panel that's present above the printer's build plate. This will give you enough freedom to bend and remove the part that's above.
Tronxy XY-2 Pro is not like some rigid 3D printer that does not let you remove the top of the build plate thereby putting you at risk of damaging the part during its removal.
Specifications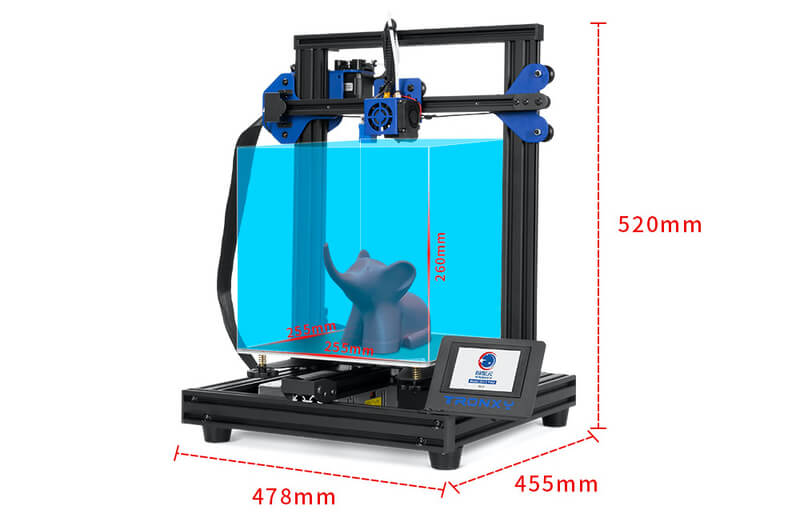 Credit: tronxyonline.com
When talking about the build volume, Tronxy XY-2 Pro offers a print size of 255 mm * 255 mm * 260 mm. In addition, it has a positioning accuracy of 0.00625 mm on the X and Y axis and 0.00125 mm on the Z-axis.
Not just that, the printer is fast in operation. its print speed ranges between 20 to 100 millimeters per second.
As the standard size goes, XY-2 Pro has a nozzle diameter of 0.4 mm and monochrome print color. The printer supports 3D printing with filaments such as PLA, ABS, HIPS, and Wood.
For convenience, the company has added a 3.5-inch full-color touch screen interface. This assists users in controlling a variety of functions directly. When printing with this machine, you can achieve a layer thickness between 0.1 to 0.3 mm.
The machine is made up of Aluminum profile and sheet metal. It weighs about 8.5 kilograms. It requires an input power of 110/220 Volts AC, 50/60 Hz. You can connect to the printer using a USB interface or TF card.
Moreover, the hotbed of XY-2 Pro can withstand 120 degrees Celsius temperature. Whereas the nozzle can resist 275 degrees Celsius.
Its ambient operating temperature range is from 8 to 40 degrees Celsius. The environment humidity can be around 20 to 80 percent.
Price
Tronxy XY-2 Pro is available at $165.10.
First Impression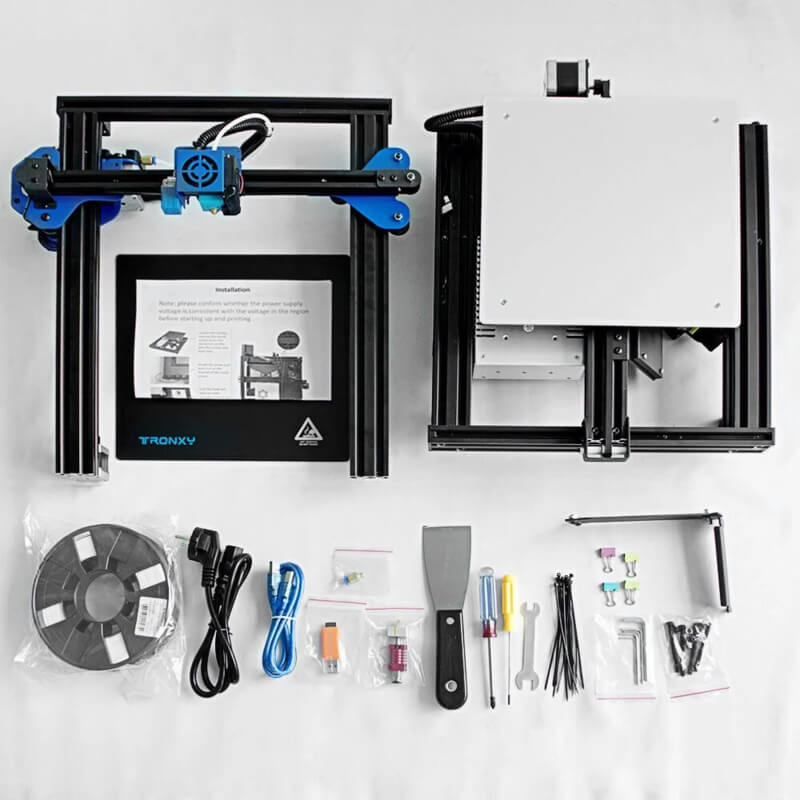 Credit: pinimg.com
XY-2 Pro design reminds me of any other Cartesian type 3D printers you might probably have seen before. A typical gantry that's supporting the print bed, two support pillars over the left and right of the printer, and a touch screen interface at the bottom right.
The blue-colored nozzle system, filament run-out detection, and auto-leveling mechanism will also strike out right away.
So will the single cable design with complete wiring installation and high-quality guide pulley! Overall, XY-2 Pro has a neat and simple construction that is efficient and minimal.
Setup
As per the printer manufacturer, the installation procedure of XY-2 Pro can be completed in six steps:
Taking off the screen from the printer.
Getting a hold over the upper bracket and matching the four holes into other four holes of the base. Using M5*50 screws for locking the upper bracket to the base.
Remove the boat nut that's present on the screen and install it under it.
Fixing the screen on the machine.
Doing its wire connection.
Placing the sticker on the hotbed and fixing it with clips.
You can install the support pillars in the holes given in the gantry after or before conducting the six steps that are mentioned above. Also, before you start 3D printing, do the following settings using its touch screen interface.
Select tool options.
Click on leveling and then select "Auto."
In case the absolute value of the difference is greater than 0.8 adjust the screw and do it again.
Enter the Z offset.
According to the actual situation, use 10 mm, 1 mm, 0.1 mm for adjusting the distance between the nozzle and the platform. Then adjust it to the thickness of A4 paper.
Lastly click to set Z as zero.
Print Type/Cost
XY-2 Pro builds models and figurines based on FDM 3D printing technology. Herein, the printer works by heating a filament spool of your choice while it reaches its glass transition.
Thereafter, when it's melted, the filament flows through the cables via a nozzle to the print bed. The complete phenomenon happens as per the geometry of the part that's fed to the printer.
If you wish to calculate the cost of every single part, you must consider various factors. Such as the print geometry, wall thickness, filament cost, and more.
In addition, do not forget to add indirect charges such as electricity, labor cost, and others. Just remember, that the cost of printing may differ for the same design in case you make changes to any said parameter.
Print Quality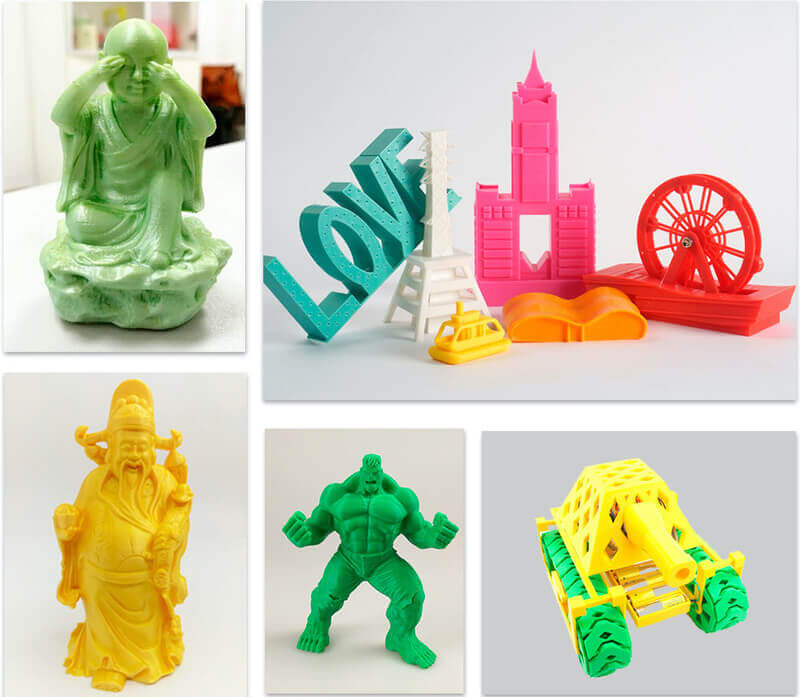 Credit: tronxyonline.com
Unlike other 3D Printers falling in this range which aren't suitable for difficult jobs, this one is pretty impressive.
Users can create objects like garage kits, medical props, DIY furniture designs, and film and television props of decent quality. Offering a print thickness of 0.1 to 0.3 mm, XY-2 Pro certainly steals the show.
Software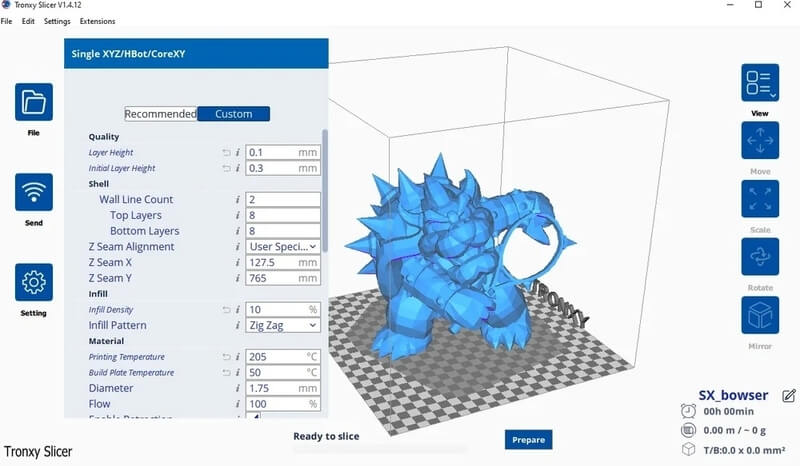 Credit: all3dp.com
Tronxy slicing software is compatible with STL, OBJ, G-CODES. The printer manufacturer recommends Cura as operating software. These are compatible with Windows XP as well 7 and + versions. They are less technical.
Customer Support
The Support center present on the website of Tronxy contains printer-related videos, frequently asked questions, product manuals, 3D printer firmware, and STL files download. You can also contact Tronxy's technical team via phone or email for any other queries.
Parameters influencing the buying decision
It's good to consider the chief factors mentioned below while making your buying decision.
3D Printer Cost: Extremely affordable.
3D Printer Speed: Tronxy XY-2 Pro is full of features that help you print a part with considerable volume rapidly.
3D Print Quality: Average.
3D Printer Capability: The printer allows you to play with four 3D printer filaments.
3D Printer Practicality: Because of the utilization of the German chip on the motherboard, XY-2 Pro makes negligible noise.
3D Printer User Expectations: XY-2 Pro will easily satisfy the demands of beginners, enthusiasts, and hobbyists in the field of 3D printing.
The Verdict
Tronxy XY-2 Pro has some of the most appealing features that you must consider while buying. Apart from a very affordable price, the printer comes along with many advanced features. Surely, it's a jackpot for beginners.
Even advanced users can use the printer for various applications. The printer manufacturer has done a commendable job in creating such a machine that is full of wonderful features and yet so budget-friendly. So, do not forget to add the printer to your sorted list before making the final decision.