Creality CR-10
Creality CR-10 has a lot of exciting features, the most highlighted one being its enormous build volume. Apart from that, its improved Z-axis construction, decent print quality, excellent print speed contribute to making it more sellable in the price range that it's offered.
PROS
Huge print volume.
Straightforward assembling.
Decent print quality.
Exquisite design.
Easy navigation.
Removable glass print bed.
CONS
Extruder's placement is inconvenient.
Print preparation demands a lot of effort.
Heating consumes a considerable amount of time.
Table of Contents
CR-10 is a Cartesian-style 3D printer by Creality – the Chinese 3D printer manufacturer that's well-known for making entry-level machines. The printer features a noteworthy build volume of 300 mm * 300 mm * 400 mm. Although that's not the machine's entire footprint, it does come with a separate control box.
The printer manufacturer has updated CR-10 and improved the limitations that its predecessor had. A classic example of this improvement is the X-axis which was a bit unwieldy and insecure in CR-8 and has been securely attached to the frame in CR-10 for excellent stability.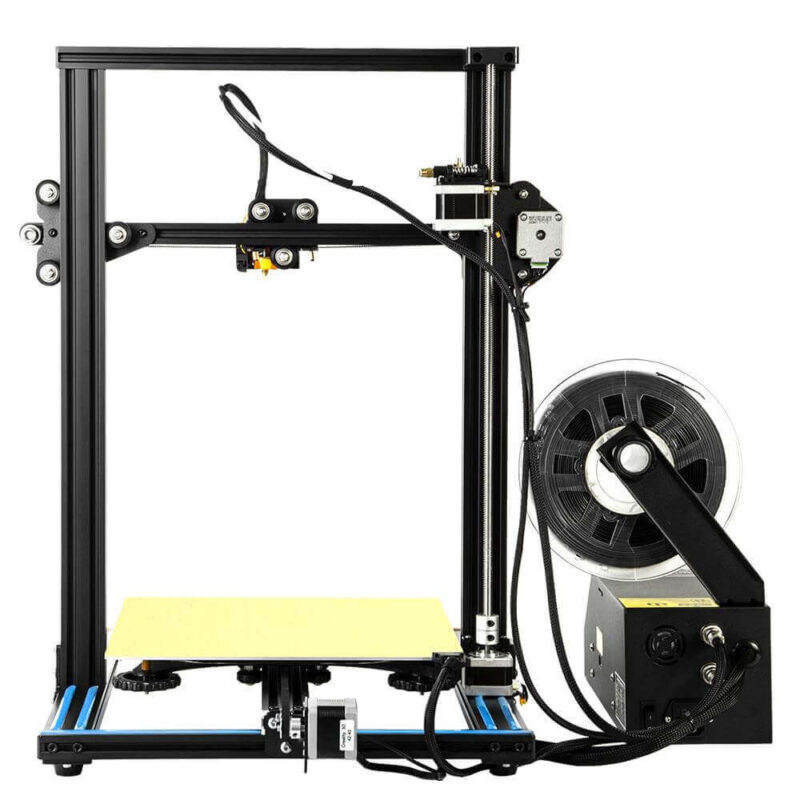 Also, CR-10 comes with a reliable and flat glass bed ensuring perfect layer lines in every print. Moreover, the printer is open-source, thereby supporting all kinds of improvements. Precisely, it has many features that are worth appreciating. But is it worth its ultimate value? Well, let's find that out by reading the complete review of Creality CR 10.
Features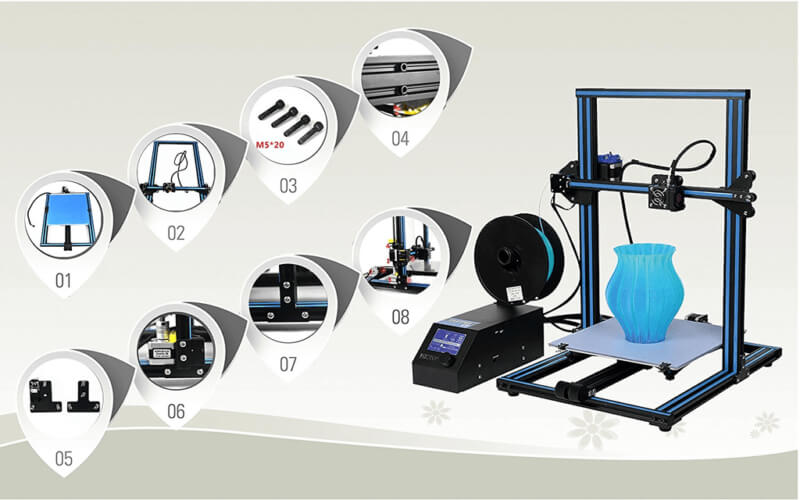 Credit: creality3d.shop
CR-10 is armed with an all-Aluminum frame providing a sturdy base that's guaranteed to last for years to come. Teamed up with the printer's frame are the top-quality hardware components such as the Bowden-style extruder.
So, be assured that printing with filaments with high glass transition is possible on the machine. Also, a one-port hot end cooling fan confirms faster cooling of 3D printed parts. There are many more outstanding features of the printer that are mentioned and explained below.
Colossal build volume
Customers majorly prefer CR-10 because of its enormous print volume. And why not? After all, at the price this printer is available, it's hard to find an option that provides the freedom to print a part 300 mm * 300 mm * 400 mm in volume.
Just to pinpoint, CR-10's build volume is even larger than the closest competitors in the same price range, Lulzbot TAZ 6, Makerbot Replicator+, and Zortrax M300.
In short, the machine extends larger than the build volumes available in the same budget 3D printers. Also to note, in case the users want, even more, they can opt for CR-10's variations that offer up to 500 mm.
Appropriate layer resolution
CR-10 is fitted with a standard nozzle of 0.4 mm diameter capable of producing a layer resolution of 100 microns. Being a desktop FDM 3D printer of entry-level, 100 microns is considered a very commendable quality layer resolution. Not many printers in the same price range offer the same.
Added to the standard nozzle system is the printer's stability gifting an all-Aluminum frame. This provides it a sturdy base that's meant to last for years to come. Also, the POM engineering thermo-plastic V-slot wheels offer the machine amazing dimensional stability when using it extendedly.
Above all, the elimination of metal-on-metal steel rods dramatically cuts down the noise. Moreover, the unique Bowden extruder design reduces the weight on X-axis, thereby delivering better performance even with large prints.
Industrial mainboard
Creality claims how CR-10 hosts an industrial mainboard that makes it capable of high workloads such as 200 hours of continuous printing. Moreover, the printing is stable, smooth, and consistent.
The layer lines on one part are not completely random than the other. Also, the industrial mainboard ensures that there is less noise while 3D printing than typical entry-level FDM 3D printers.
Heated print bed
CR-10 features a heated bed that does a precise job of spreading the heat across its surface. There are hardly any issues with heat propagation. The print bed made of glass is reliable as well as flat. Creality guarantees that because of such a characteristic, users won't face any issues of uneven printing or warping.
The glass bed warrants a 100 percent usable as well as a flat surface for almost any print be it the smallest test file or a large model. It lets you print from one corner to the other without any imperfect layer lines.
Straightforward print management
Two of the most standard options for connecting with the 3D printer are SD card and USB. So, as a user, you can use them to exchange files with CR-10.
Along with the easy-to-use connectivity options, the printer is also equipped with an LCD screen and control wheel that is easily navigable for preparing to print and fine-tuning the machine for calibration.
Open-source
Creality has kept CR-10 open in terms of the spirit of innovation and progress. Their firmware and design plans are available and open to modifications and improvements. By doing so, the printer manufacturer aims to create a product that can contribute to 3D printing better parts of commendable quality in a considerable time.
For slicing software, the company recommends Cura, Simplify 3D, and Repetier Host, all of which are also open-source software.
In terms of the 3D printer filaments, CR-10 is compatible with all the popular ones like PLA, ABS, TPU, wood, carbon fiber, as well as Copper. So, in a nutshell, as a user of the machine, you will have a lot of options to experiment with your skills and create amazing parts and functional prototypes on the printer.
Specifications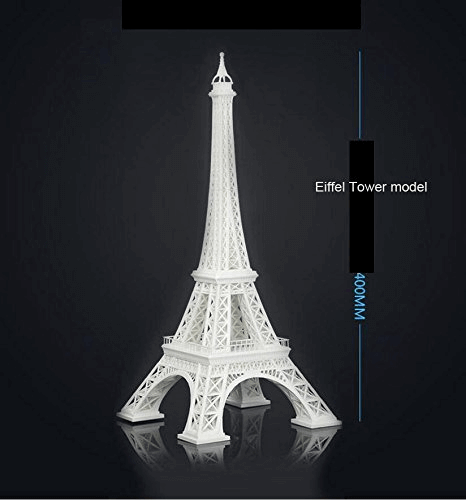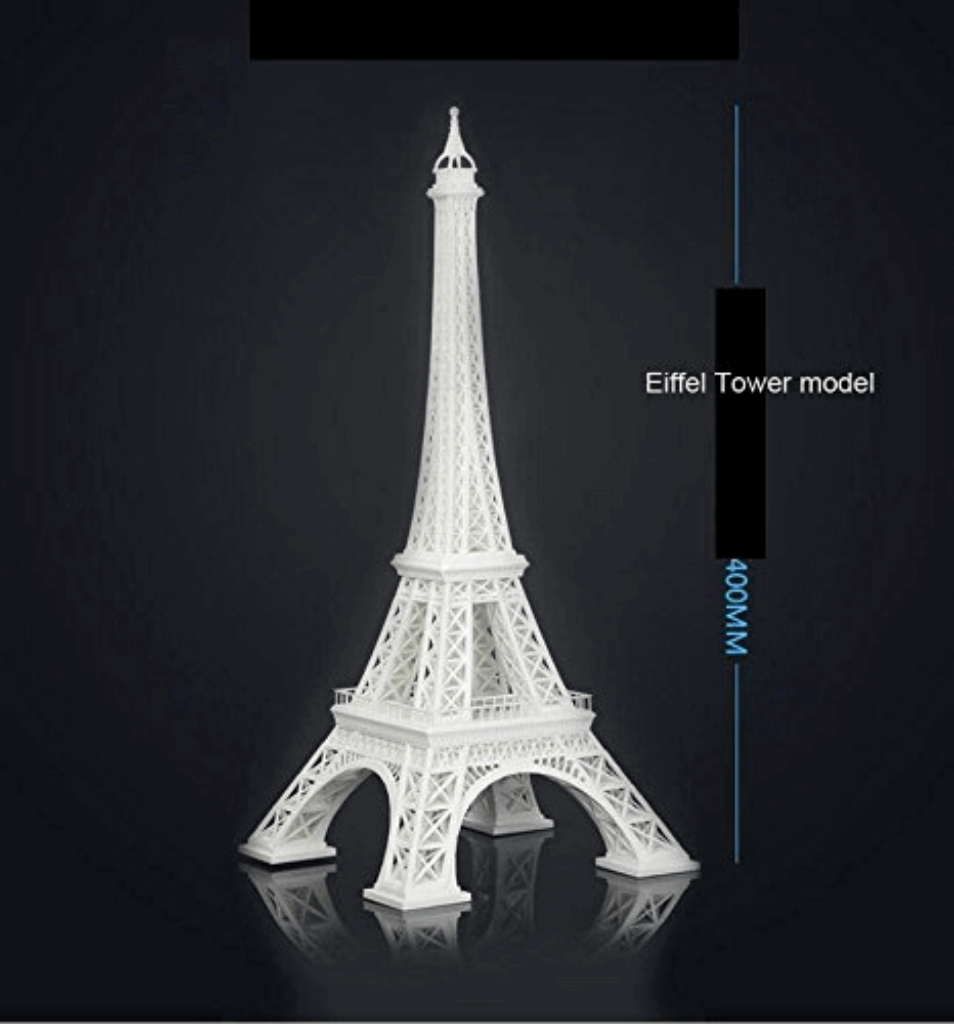 Credit: creality3d.shop
CR-10 prints objects based on FDM i.e. Fused Deposition Modeling. The machine offers its users a huge build volume of 300 mm * 300 mm * 400 mm. For printing, it uses a standard 0.4 mm nozzle. The machine is compatible with various 3D printer filaments such as PLA, ABS, TPU, Wood, Carbon Fiber, and Copper of 1.75 mm diameter.
The printer is capable of printing parts and functional prototypes with a minimum layer thickness of 0.1 mm. It provides a printing precision of approximately 0.1 mm. Also, users can print with a maximum print speed of 200 millimeters per second. CR-10 weighs 8.7 kilograms and requires an input power supply ranging between 110 to 200 Volts, Output 12 Volts, and power 270 Watts.
Price
Creality CR-10 is available for $299.
First Impression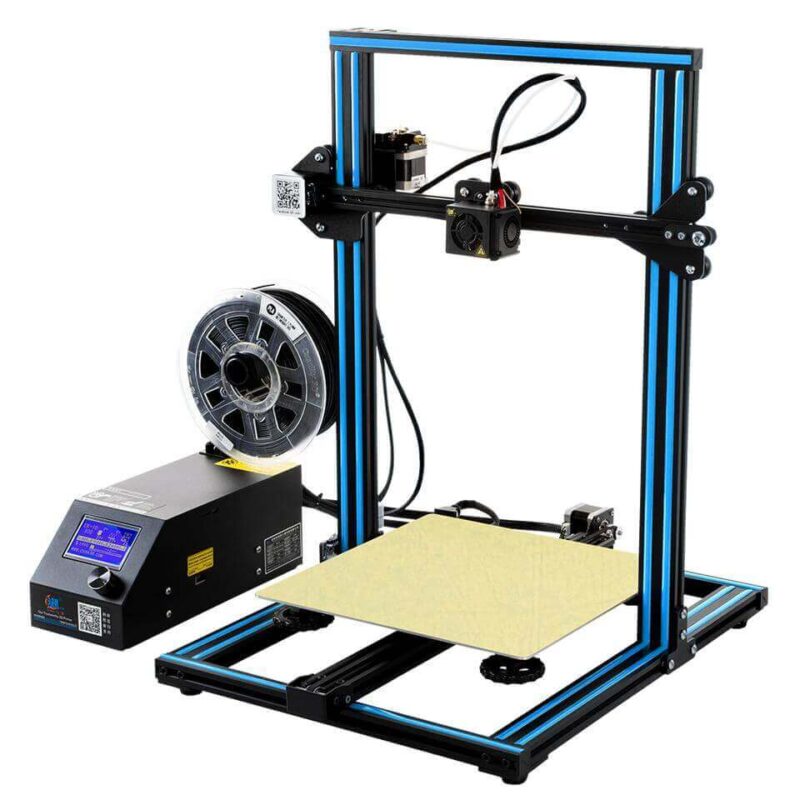 CR-10 has an appealing figure. The machine's simplicity strikes out to all the users who witness it. Its clean black-coated aluminum rails are present almost everywhere on its frame. That, combined with the neat glass print bed of 300 mm * 300 mm paired with a control box and mounted filament holder makes it's an intriguing machine.
The printer is slim, big, and has a mustard color with stripes. Despite its slender frame, CR-10 is a huge printer. Its control box and filament holder sit at a comfortable height and position from the frame, most importantly – unhindered from the extruder.
A rail held in place on both sides is operated via a single lead screw present on the printer's left-hand side. While the other end is stabilized on the opposite frame via fixed V wheels as well as a pulley secured in the track!
Setup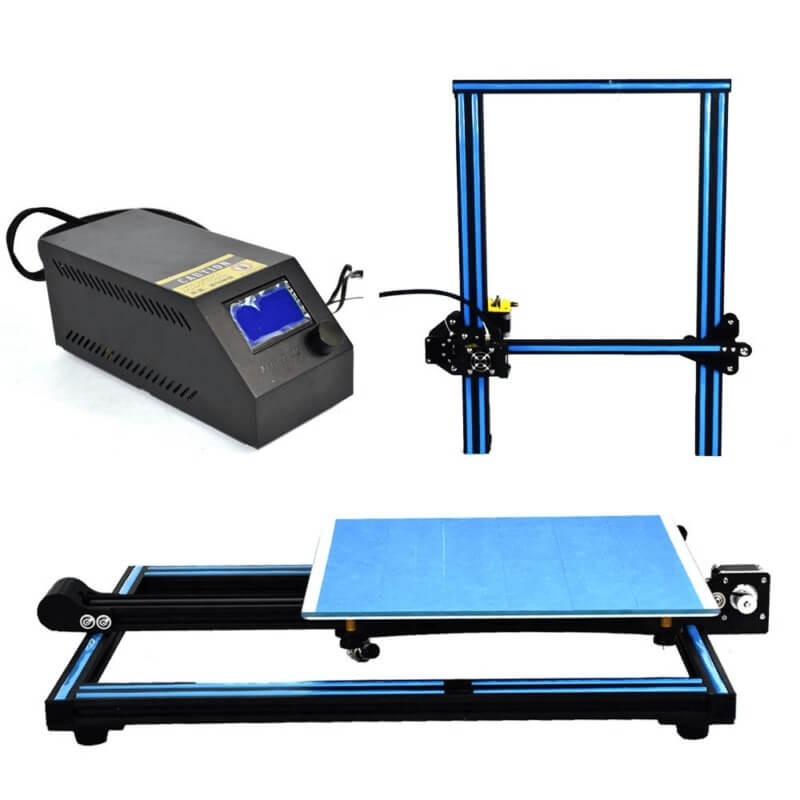 Creality CR-10 arrives in a plain cardboard box packed in foam for securing its main parts while in transit. Unboxing all the parts present inside the box and assembling them is an uncomplicated process. Instructions for setting up the printer are mentioned on the manual that comes with the box, as well as online.
Also, the printer is accompanied by a lot of tools and accessories that users need to build it up and start printing with. The control box cables come in a well pre-shouldered manner with neat male and female connectors. Moreover, the complete wiring of CR-10 is pretty simple, even the connectors are labeled guaranteeing easy assembly.
Print Type/Cost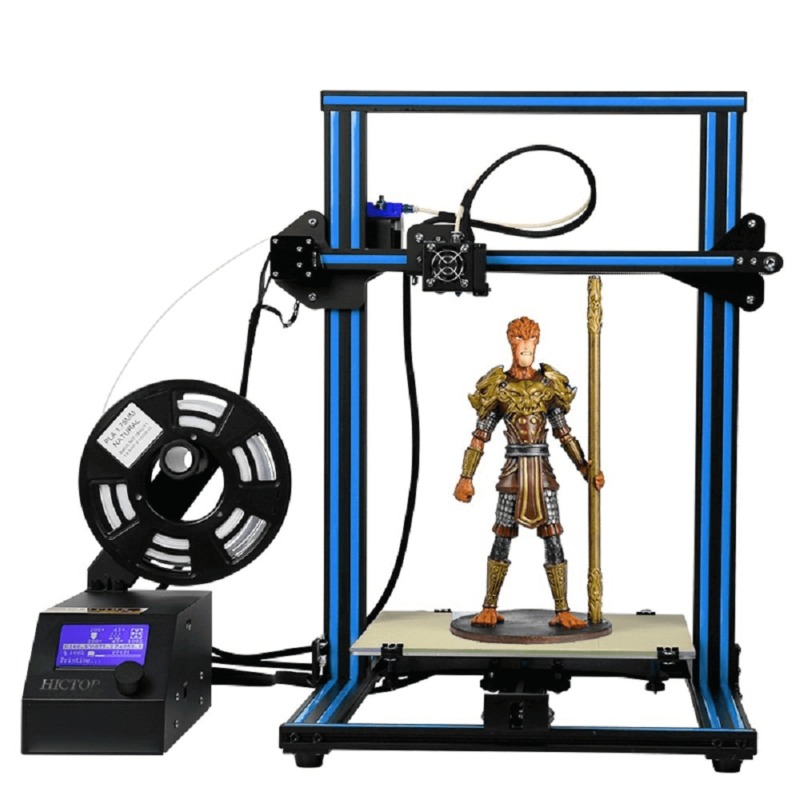 Credit: creality3d.shop
Fused Deposition Modeling is the simplest option available for 3D printing a part or functional prototype among the many technologies present at the user's disposal.
Herein, a plastic 3D printer filament made from thermoplastic is used for producing parts and functional prototypes. The printing process typically starts by heating the filament in an extruder, just above its glass transition temperature.
After which, it is allowed to flow through the nozzle over the print bed. One after the other, the nozzle system starts laying the layers as per fed to the machine. The last step to this procedure is cooling which can be manual or natural.
Generally, the cost of 3D printing a part with Creality CR-10 is relatively on a lower end compared to other 3D printing technologies. However, the cost depends on various factors such as the part geometry, cost of filament used for printing, support structures, etc.
Print Quality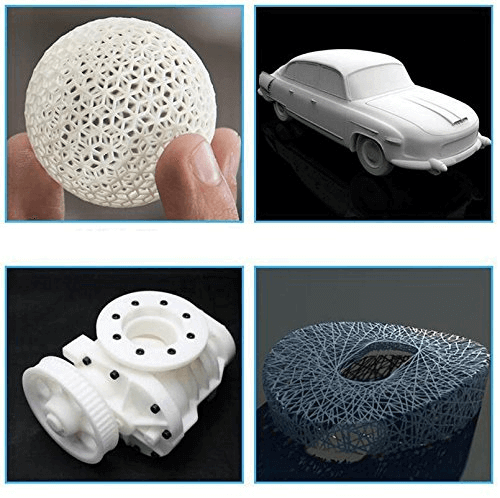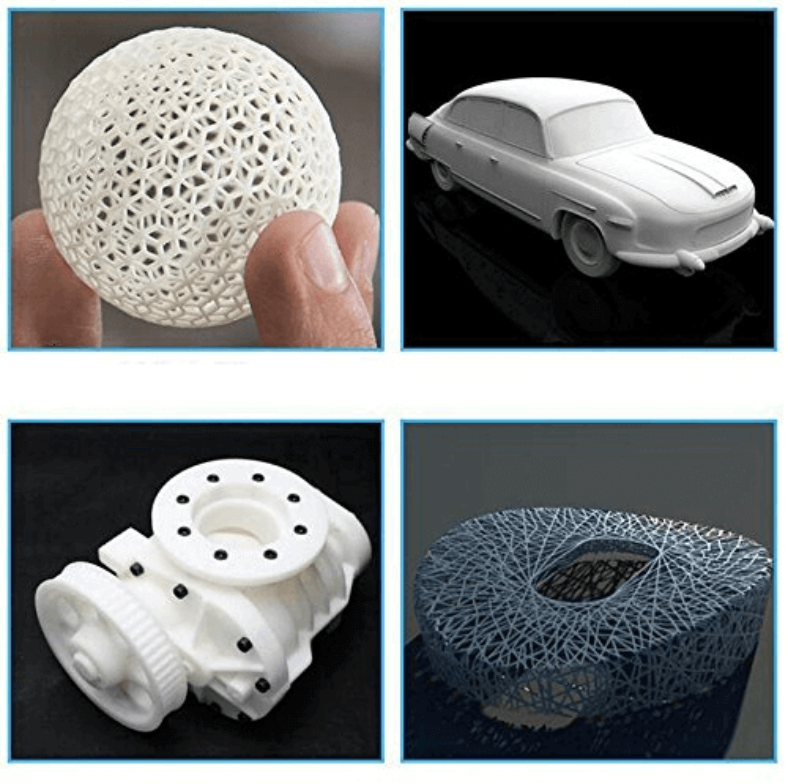 Credit: creality3d.shop
Creality CR-10's glass bed offers more adhesion enabling flawless sticking of 3D prints. The machine prints parts with a minimum layer thickness of 0.1 mm.
Its initial prints do exhibit a little bit of ringing or layer skipping as all other semi-assembled 3D printers do. But with some more practice here and there flawless 3D printing without any layer skipping will be the norm.
Also, it is advised to heat the extruder to a slightly higher temperature than normal to maintain the temperature required for printing with rare 3D printer filaments. Setting CR-10 to such a variable will guarantee excellent prints.
Software
There is no restriction on using some specified software with CR-10. On the contrary, you can use the one that you desire.
The machine is open-source and offers much more flexibility than other 3D printers in the same price range. Having stated so, the printer manufacturer recommends the top three easiest open-source 3D printing software i.e.
Cura
Repetier-Host
Simplify 3D
All three applications are known for being extremely straightforward when it comes to modifying print settings or designing a model from scratch.
Customer Support
Creality is open to reaching out using multiple modes. First of all, if users have any confusion regarding the firmware, there is a lot of material online which they can go through. Secondly, if there is any troubleshooting they feel like undergoing, Creality's technical team can be contacted via email or call.
Apart from this, the information regarding Warranty and returns on CR-10 is also available on their website.
Parameters Influencing Buying Decision
Below mentioned are the key factors of CR-10 that one must consider before buying.
3D Printer Cost: Being available at under $300, CR-10 is an extremely affordable entry-level 3D printer, especially when taking into account the build volume it offers.
3D Print Speed: CR-10's normal printing speed is around 60 millimeters per second which is above average when compared to others in the same price range.
3D Print Quality: Although being an entry-level FDM 3D printer, the machine can build precise parts with dimensional accuracy.
3D Printer Capability: CR-10 is an open-source 3D printer thereby making 3D printing much simple especially for beginners in the field of 3D printing.
3D Printer Practicality: When in operation, the printer can deliver almost noise-free 3D printing thanks to its industrial mainboard. Also, its compatibility with various 3D printer filaments gives enough options for users to print their parts. A great choice for beginners and enthusiasts.
3D Printer User Expectations: CR-10 is primarily targeted towards entry-level users who are looking for 3D printers offering huge build volume at a low cost. It's also for educationists who are willing to teach their students the concept of 3D printing.
The Verdict
Overall, CR-10 has a lot of exciting features, the most highlighted one being its enormous build volume. That's where it becomes a deal closure for most of the customers.
Apart from that, its improved Z-axis construction, decent print quality, excellent print speed contribute to making it more sellable in the price range that it's offered. Having stated so, it has its flaws which do not manage to outshine the printer's advantages.