VormVrij Lutum 5
Lutum 5 is able to deliver its users the confidence to print complex geometries using ceramics. And there are many features responsible for delivering such a solution.
PROS
High precision stainless steel auger screw and extruder.
Robust metal and PET cartridge clay delivery system.
Preinstalled second air valve for optional second extruder.
All CNC milled metal parts and fully anodized powder coated for easy cleaning.
Huge build envelope.
Faster printing using adjustable acceleration and extrusion.
CONS
The printer needs to be assembled exactly like it's mentioned in the instruction manual. So, if you are someone who is used to working with plug and play 3D printers, the setup may seem a little difficult.
Buying Lutum 5 demands a large sum of one time investment. It is expensive for hobbyists and home users.
Product
Specification
Videos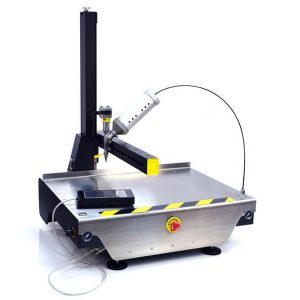 Assembled with the highest quality parts, Lutum 5 is a professional ceramic 3D printer that can be operated via a seven-inch-long Aluminum control ...
| | |
| --- | --- |
| Model | Lutum 5 |
| Manufacturer | VormVrij |
| Release date | 2020 |
| Price Range | $ 9999 |
| Country | Netherlands |
| Availability | Available |
| Classification | Professional |
| Technology | Extrusion (FFF- FDM…) |
| Material | Ceramic |
| Generic material | Yes |
| Max. build size | 430 × 450 × 500 mm 16.93 x 17.72 x 19.69 in |
| Max. build volume | 96.75 L |
| Max. print speed | 150 mm 5.91 in /s |
| Min. layer thickness | 0.4 mm 0.02 in |
| Nozzle diameter(s) | 0.6 mm 0.02 in, 1.2 mm 0.05 in, 1.6 mm 0.06 in, 5 mm 0.2 in, 7 mm 0.28 in |
| Dimensions | 750 × 750 × 1100 mm 29.53 × 29.53 × 43.31 in |
| Weight | 85 kg 187.39 lb |
| Heated print bed | No |
| Heated build chamber | No |
| Automatic calibration | No |
| Closed frame | No |
| Dual extruder | No |
| Independent Dual Extruder | No |
| Full color | No |
| LCD screen | Yes |
| Touchscreen | Yes |
| On-board camera | No |
| Mobile app | No |
| 3D scanners | No |
| CNC mill | No |
| Electronics 3D printing | No |
| Laser engraving | No |
| Conveyor belt | No |
| Air filter | No |
| Pellet extruder | No |
| USB | Yes |
| Wifi | Yes |
| Bluetooth | No |
| SD card | No |
| Ethernet | No |

Table of Contents
Lutum 5 is the most advanced clay 3D printer. It is designed by Brutum – a Dutch-based manufacturer. The printer comes with an upgraded Z and Y-axis drive, gears, and belts.
A stainless-steel worktop ensures stable 3D printing of parts as well as functional prototypes. The use of 32-bit electronics on the printer's motherboard makes it better than its competitors.
To ease the user interaction, Brutum has put in place a seven inches long touch screen display. Moreover, the printer features industry-grade linear rails enabling smooth and fast movement of its print head.
In addition, Lutum 5's automated bed leveling makes it a beginner-friendly 3D printer. Its flexibility can be sensed from its optional 3rd stepper motor.
Overall, it is a great experience working with this amazing machine. Users can create wonderful parts and enjoy the seamless operation. In short, the printer really has a lot of perks for its users.
So, if you are excited to learn about this clay 3D printer, here is an in-depth review of Lutum 5. Read along to understand if the printer suits your needs.
Features
Equipped with an easy-access interior for custom adjustments, Lutum 5 has heavy-duty motors that assist users in smooth and fast motion. Each axis of the printer has high precision HWIN rails known for providing a reliable 3D printing experience.
Both of these features combined with 32 bits electronics board, Wi-fi accessibility, and a seven-inch touch screen interface make Lutum 5 a rare and unique choice. Below mentioned are some attributes of the printer that set it apart from its competitors falling in the same price range.
Super-Modern Clay Extruder and Flexible Air Management System
Lutum 5 hosts a powerful Extruder for ensuring amazing print results. The component is capable of handling some very long 3D sessions without any risk of getting stalled.
The extruder is made of tested and proven Stainless Steel 306 material and comes with the most reliable auger screws.
Along with the extruder, Brutum ships to its users enough cartridges as well as refillable PET tubes to ensure uninterrupted printing.
In addition, the manufacturer ensures moisture-free compressed air at a pressure level of six-bar for smooth printing operation.
Lutum 5 is equipped with a male DN5.5 air coupling for receiving compressed air. So, users must install a pressure regulator and a Demoisturizer at their end for proper air supply to the machine.
Seven Inches Long Touch Screen Interface and 32 Bits Hardware
The printer needs to be operated via the uniquely attached control box. By keeping it as a separate wired unit, Vormvrij intends to increase the user's mobility.
The touch screen's neat design provides users with easy navigation. Also, the touch screen is made up of Aluminum material guaranteeing longer life.
32-bit hardware electronics are very rare to find in a clay 3D printer falling in this budget range. It lifts up the complete efficiency of the 3D printer by letting users print with extraordinary speed without compromising on quality.
Specifications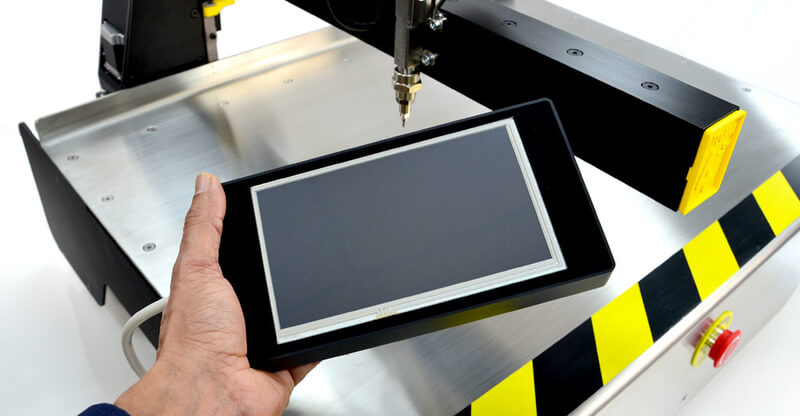 Credit; vormvrij.nl
Lutum 5 is based on Liquid Deposition Modeling 3D printing technology. It offers a maximum printing volume of 430 mm * 450 mm * 500 mm.
The printer allows printing with variable nozzles that operators can change as per the flow rate required.
The printer comes with a nozzle diameter of 3 mm. In addition, users also receive 0.6 mm, 1.2 mm, 1.6 mm, 5 mm, and 7mm nozzles with the printer.
One can achieve a layer resolution ranging between 0.4 to 0.5 mm while working with this machine. The printer can print at a maximum speed of 150 millimeters per second with accelerated velocity printing.
For better results, users must adjust the first layer to 0.3 mm height while the subsequent layers to 0.4mm height. The extrusion output of Lutum 5 depends on clay and it does need manual intervention from point to point.
Users can connect with the printer using Wi-fi as well as USB. The physical dimension of the printer is 75 cm * 75 cm * 105 cm and it weighs 85 kilograms.
A seven inches LCD screen further helps in improving the customer experience. The interface is very intuitive and allows its users to control various operations of the printer via a single click.
Price
Vormvrij Lutum 5 is available for a price of $ 9900.
First Impression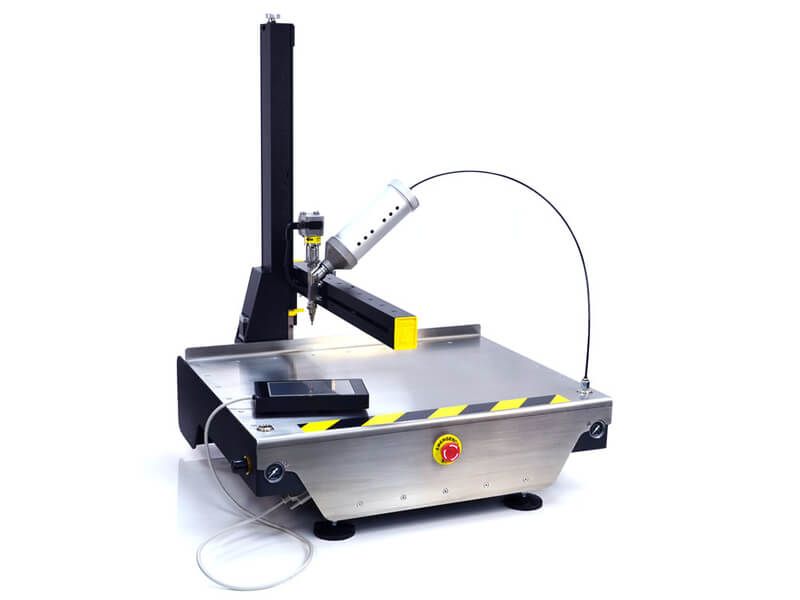 Like most other ceramic 3D printers, Lutum 5 too does not feature an enclosed print chamber. Its gantry supports one pillar type arrangement on its right side.
There are two wires visible in the entire construction. The first one is connected with the touch screen interface and the second one is attached to the nozzle.
Lutum 5 is a tidy 3D printer made of reliable components constructed using stainless steel and aluminum. And this is what makes its appearance solid.
Overall, the printer is compact and can be arranged in a room's corner. Moreover, the manufacturer takes extra care of the printer's packaging.
The components inside the printer are neatly labeled and securely packed. Unboxing won't take long.
Setup
Lutum 5 comes with the necessary tools and accessories to ensure that the setup process is effortless.
Users receive an instruction manual, a standard nozzle pack, all the necessary tools, a power cable, an external control unit, a seven inches touch screen and browser interface, a plaster print bed, a metal cartridge's small and large set, an extra metal cartridge sleeve, an extra metal polycarbonate sleeve and 9 Spare seals for Auger and motor.
The users must follow the guidelines available in the instruction manual to complete the setup. It may take a few minutes to connect each component to the printer and start printing. However, the easy-to-follow steps in the manual make the entire process simple and fast.
Print Type/Cost
Most ceramic 3D printers use Liquid Deposition Modeling for 3D printing parts and functional prototypes. The LDM Extruder is based on a pneumatic system.
Herein a pump sends the paste ceramic materials to the deposition arm. The printer helps achieve parts' precision very close to that of plastic polymer extruders.
Thanks to the combination of a screw extruder and a pressure extruder. It is possible not only to accurately control the flow of material but also to use retraction to interrupt deposition.
The company includes many updated features to make the technology perfect for printing with clay. For instance, the printer features systems that eliminate air bubbles in the mixture.
The cost of 3D printing with this technique is generally low. It's almost equivalent to that of parts printed using FDM 3D printing.
This is so because it does not use any separate light source for curing objects that are usually expensive.  However, the overall cost depends on many factors such as the part's geometry, the cost of ceramic material used, support structures design, etc.
Print Quality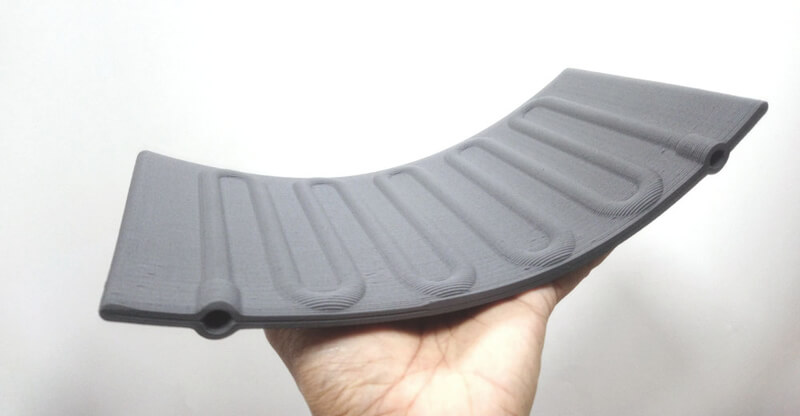 Credit: vormvrij.nl
Lutum 5 produces excellent quality finished ceramic parts. With nozzle diameters ranging anywhere from 0.8 to 8 mm, varying flow rates can be used for manufacturing different geometries of parts.
The range of layer thicknesses offered by the printer is 0.5 to 0.4 mm. The layer deviation is 0.025 mm, whereas the print bed layer deviation is 0.3 mm. Overall, the printer can produce ceramic parts with high accuracy.
Customer Support
Users can reach Brutum's technical team via phone as well as email. The company's support team is very responsive and reaches out to customers with quick solutions.
In addition, users can find enough FAQs and guidelines on the manufacturer's website offering real-time support to the users.
The printer comes with a one-year warranty. Hence, users can enjoy its reliable service and support. Unlike the companies that do not perform as promised, Brutum never ceases to impress users with its quick and efficient support.
Parameters Influencing Buying Decision
Before you plan to buy this printer, do not forget to revisit the important factors that influence the buying decision of the users. Find out if Lutum 5 offers the similar features that you are looking for.
3D Printer Cost: As mentioned above, Lutum 5 is among those printers that are expensive and demands high initial investment. Although the printer turns out to be excellent value for money in the longer run, the price tag could become a big concern for many users.
3D Print Speed: Although being a ceramic 3D printer, it can print at enormous speed. Hence, offering users fast production and high throughput.
3D Print Quality: Ceramic parts with excellent surface finishes can be printed on Lutum 5. With precise rails and 32-bit electronics, it's possible to print dimensionally accurate objects using this printer.
3D Printer Capability: Equipped with a unique clay extruder, Lutum 5 is capable of printing with various kinds of ceramic materials. It is upgraded with linear bearings that allow for smooth movement of the print head to the bed and back. Vormvrij uses powder-coated steel to give its printer excellent quality and an updated assembly system. Overall, the printer is very impressive in terms of performance and reliability.
3D Printer Practicality: Small scale manufacturers will love to experiment with varieties of ceramic possible to print using Lutum 5. One can create precise parts with a considerate surface finish to achieve desired results. Professionals who can invest a little more can also opt for this machine if budget is not a concern.
3D Printer User Expectations: Undoubtedly, the machine is one of the finest choices out there. With very limited options available to create ceramic parts using 3D printers, Lutum 5 happens to be a much-needed solution. Offering users with premium features, the printer does fulfill user expectations by par.
The Verdict
Lutum 5 is able to deliver its users the confidence to print complex geometries using ceramics. And there are many features responsible for delivering such a solution. But to start with, it's the 32-bit electronics design that ensures such great print results.
Not only does the machine let users print with amazing speed and flow, but also helps achieve the desired level of accuracy. Its stainless steel extruder provides operators with stability like never before. Long manufacturing sessions can easily be completed without the risk of stalling.
Moreover, because of the upgraded motors and professional quality linear bearings in place, Lutum 5 delivers industrial-grade quality. To further the ease of printing, the machine includes many direct settings such as automated bed leveling for faster setup.
The main benefit of Lutum 5 is its flexibility. A unique control box featuring a seven-inches long touch screen interface lets users control various operations on the printer via a single click.
Additionally, operators can carry file transfers over the Wi-fi network and store them on the printer's internal 32 GB memory card.
Overall, the printer is a great choice if you are willing to spend over $10000. In the long run, it will turn out to be a great investment decision.