Xinkebot Orca 2 Cygnus 3D Printer
If you are a small business owner, you cannot ask for something better. This printer has a reputed name with it, some achievements like printing the huge life-sized statues of Six Flags and is cheaper in cost.
PROS
Automatic bed leveling
Filament run-out sensor
Fully color display
Newly designed electronics
Removable magnetic extruders
Multi filaments compatible
CONS
The open body of the printer would not let it accumulate a lot of temperature in a short span of time as closed body printers would.
Product
Specification
Videos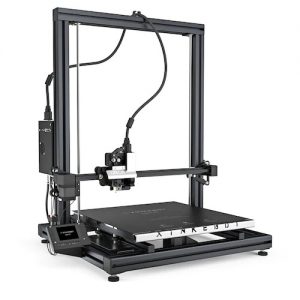 Enabling you to print a single job using two filaments, Xinkebot Orca2 Cynus gives you the option of Direct Drive single/dual extruder. The printer ...
| | |
| --- | --- |
| Model | Orca2 Cygnus |
| Manufacturer | Xinkebot |
| Price Range | $ 1699 |
| Country | China |
| Availability | Available |
| Classification | DIY/Kit |
| Technology | Extrusion (FFF- FDM…) |
| Material | ABS, Other plastics, PETG, PLA |
| Filament diameter | 1.75 mm 0.07 in |
| OS compatibility | Mac OS, Microsoft Windows |
| Generic material | Yes |
| XY accuracy | 0.1 mm 0.004 in |
| Max. build size | 400 x 400 x 500 mm 15.7 x 15.7 x 19.69 in |
| Max. build volume | 80.00 L |
| Max. print speed | 150 mm 5.91 in /s |
| Min. layer thickness | 0.05 mm 0.001 in |
| Weight | 22 Kg 48.50 Ib |
| Nozzle diameter(s) | 0.4 mm 0.02 in |
| Dimensions | 540 x 660 x 760 mm 21.26 x 25.98 x 29.92 in |
| Power input | 100 – 120 V AC (7.0 A) I 200 – 240 V AC (4.0 A) |
| Heated print bed | Yes |
| Heated build chamber | No |
| Automatic calibration | Yes |
| Closed frame | No |
| Dual extruder | Yes |
| Independent Dual Extruder | No |
| Full color | Dual Color |
| LCD screen | Yes |
| Touchscreen | Yes |
| On-board camera | No |
| Mobile app | No |
| 3D scanners | No |
| CNC mill | No |
| Electronics 3D printing | No |
| Laser engraving | No |
| Conveyor belt | No |
| Air filter | No |
| Pellet extruder | No |
| USB | Yes |
| Wifi | No |
| Bluetooth | No |
| SD card | Yes |
| Ethernet | No |

Table of Contents
When introduced in the market, this printer did not have the same capacity as it does now. A bigger build volume, increased print speed, newer and hence more capable electronics, have taken this printer from being an underdog in its competition to a runner-up or even a leader.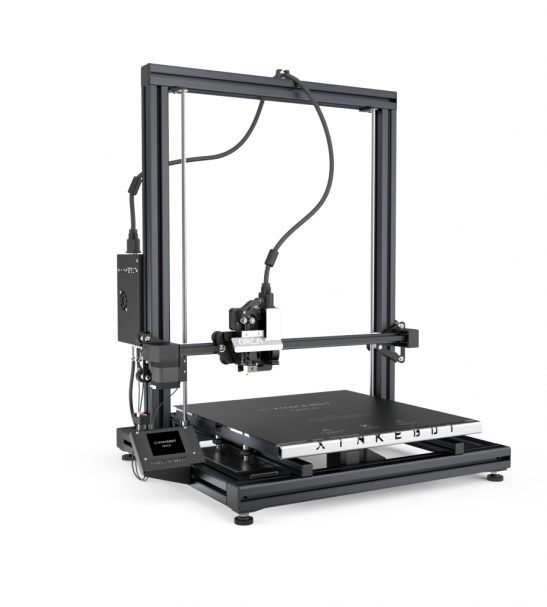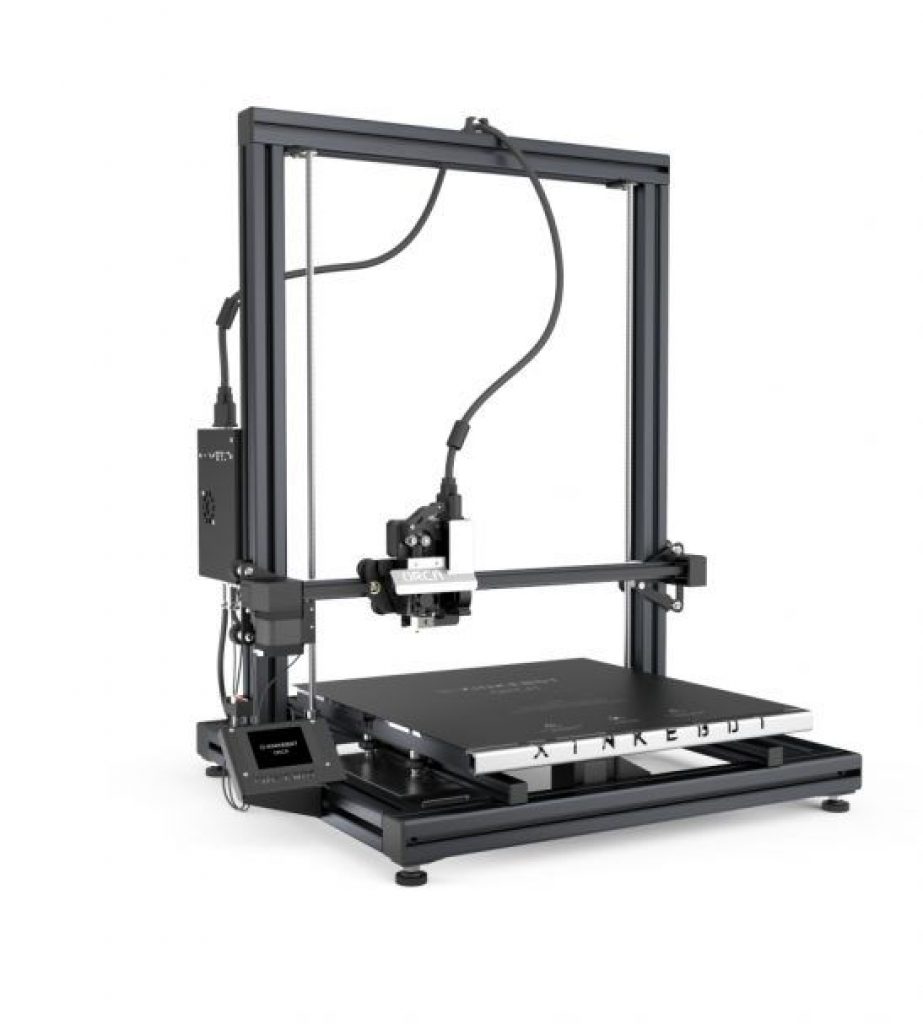 In this article, we'll try to cover all those points that we think transformed the printer from what it was, to what it currently is.
Features
There are many amazing sets of features that the printer offers every one of its users.
And those features will be explored, stated, and explained in this section.
Starting from the large build volume, ending with borosilicate glass bed and auto-leveling, get ready to have a dive into what's in it, and what does it account for straightway. Here we go!
Large Build Volume
Xinkebot Orca 2 Cygnus has a large build volume of 400 mm * 400 mm * 500 mm for making 3D parts or functional prototypes.
It is because of this large build volume that you can manufacture 3D parts and functional prototypes that can find application in various industries.
And these parts and functional prototypes can be made in a single go.
Because if it were in a printer that has a build-volume lower than this printer, manufacturing the same part or functional prototype in one go would have been impossible.
Which would also mean that the 3D design file had to be split into parts.
And when you manufacture parts and functional prototypes by disassembling them, the accuracy needed in its manufacturing is also put at risk.
So, thanks to the manufacturer of this printer who has made sure the user of the printer does not have to compromise on the quality or size of the part or functional prototype.
Minimum layer resolution
The print quality of any part or functional prototype printed using a 3D printer is measured by its layer resolution range.
So lower the layer resolution range, the higher the quality of parts and functional prototypes printed by your 3D printer.
3D printing is an additive manufacturing technique wherein the printing of parts or functional prototype happens layer by layer.
And taking that into consideration the manufacturers of Xinkebot Orca 2 Cygnus have kept an optimal structure of their printer which allows them to go as high as 50 micrometers in layer resolution.
Direct Drive Single/Dual Extruder
To ensure your prints take less printing and processing time, the printer comes equipped with a direct drive extruder.
This also helps in the two most commonly faced problems by the printer which leads it to ooze and jamming.
The overall design of this printer is made keeping in mind the various kinds of filaments that are used in 3D printing, especially some difficult filaments such as TPU and TPE.
For the parts that need support structure when 3D printed, the Xinkebot Orca 2 Cygnus comes with a direct drive dual extruder wherein a single job can be printed using two filaments.
It depends on your use, whether you are willing to print with this printer some complicated parts and functional prototypes that need support structures.
Or, in the case of batch production are you willing to print two parts or functional prototypes at the same time. In such cases, you can opt for a printer with a direct dual extruder.
The extruder of the printer is designed in such a way that it can withstand high temperatures that allow 3D printing with filaments that require so.
Able to work constantly with ease
When used in batch production, the Orca 2 Ognus never disappoints. As it is capable of working for weeks without any breakdown.
This also makes the printer very reliable for large projects that involve the manufacturing of many parts or functional prototypes.
It is to be noted how this printer was chosen for printing life-size statues of superheroes for Six Flags theme parks in the USA.
Having said that about the ability to work constantly the printer does not lose the connection with the user by making working difficult for them.
Assisting you (the user) with an integrated operating system and a responsive LCD touch screen, the Orca Cygnus is extremely easy to use.
You can pause, play, or stop the 3D printing by merely pressing a few buttons on this interface.
Moreover, for changing the filament, all you need to do is find the appropriate button on the interface that will let you change it when you wish to.
In addition to that, if you wish to change the printing speed or temperature at which the melting of the filament is taking place, you can do so. A
bove all these, you can also manage the extrusion flow at which the filament is getting extruded in the printer.
Borosilicate Glass Heated bed and Auto bed leveling
The heating bed of Orca 2 Cygnus is completely flat in shape and can reach a maximum of up to 100 degrees Celsius.
This heated glass bed is known in the industry to stick better with the bed compared to other glass beds.
Also, this glass bed is very compatible with filaments like ABS, and PETG which are the most famous filaments that one can print with.
Apart from offering a compatible heated glass bed, the company also offers the feature of auto bed leveling in the printer.
So, there is a sensor in the electronic board of the printer that can detect the correct leveling needed for the print bed and adjust accordingly.
Bed leveling is defined as the adjustment needed for the extruder as well as the print bed throughout the print job for printing a part of a functional prototype.
Specifications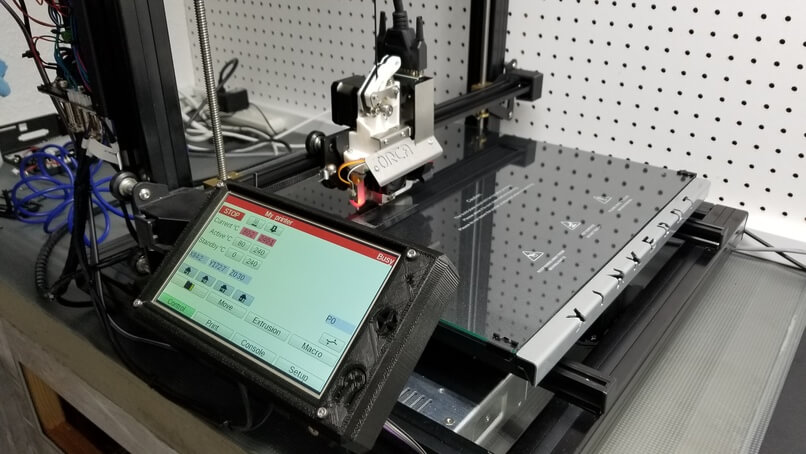 Credit: duet3d.com
The printer uses FDM 3D printing technology for manufacturing parts that have layer resolution range anywhere from 0.05 millimeters to 0.25 millimeters.
Manufacturers of this printer have made sure that the build volume offered by the printer is 400 mm * 400 mm * 500 mm.
As mentioned in the section above this one, the print bed used in the printer is made of borosilicate glass.
The extruder of this printer can be single or dual according to your demand. The nozzle diameter of this printer is 0.4 mm.
The maximum temperature that the extruder can reach is 260 degrees Celsius, whereas stating about the maximum temperature that the print bed can withstand, it's 100 degrees Celsius.
The name of filaments that are compatible with the printer is PLA, ABS, Wood, TPU Carbon Fiber Reinforced, and PVA. Industry-standard filament diameter i.e. 1.75 mm is supported with the printer.
The power requirements of this printer are 24 V DC at 14.6 Ampere. The complete size of this printer is 67 centimeters * 53 centimeters * 76 centimeters, while the net weight of the printer is 24 kilograms.
You can connect with the printer using a USB cable or an SD card. The maximum print speed that can be achieved on the printer is 150 millimeters per second.
Price
We could not find a website of this printer manufacturer so we had to rely on other websites for the price of the printer.
As mentioned on the 3D printers online store website, the price of this printer is $1699.
First Impression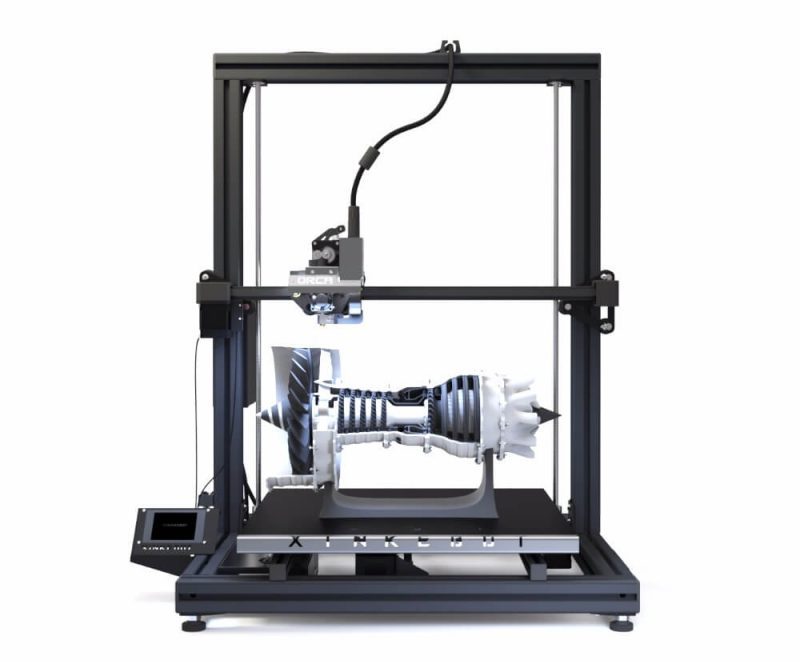 Credit: 3dprintersonlinestore.com
When seen from the front, the printer looks like a half-made cage. Whereas if seen from the side, the printer looks L-shaped.
The printer's display interface is visible to one at the bottom left side of the printer.
The nozzle system is connected to the rails. For ensuring these rails move up layer after layer as the nozzle system prints the part, there are support ends that are connected to it.
At the bottom, you have the borosilicate print bed, beneath which there is a stand that supports it.
Setup
Unboxing the printer would mean you would have
Spool Holder.
Glue Stick.
8GB SD card.
Hex Keys.
Filament and cable clamps in front of you.
If the design file that you wish to 3D print is ready you can fix the filament that you wish to 3D print, by fixing the spool holder, and the cable clamps that will connect it with the nozzle system and start printing.
It is advisable to go through the information available online regarding various parts of the printer to not get confused in your journey of 3D printing.
Printing Type/Cost
As mentioned in the specifications section, the printer is based on FDM 3D printing technology wherein unlike some other 3D printing technologies, the laser is not used for curing parts or functional prototypes.
Arguably the quality of the part printed with FDM 3D printing is lower than that technology but then the printing cost per part is also low because curing of part is done by the ambient atmosphere or in some cases cooling fans.
Although the printing cost also depends on various other factors such as electricity, the amount of infill required in the part, etc. It is mostly lower in printers operating on FDM 3D printing technology.
Print Quality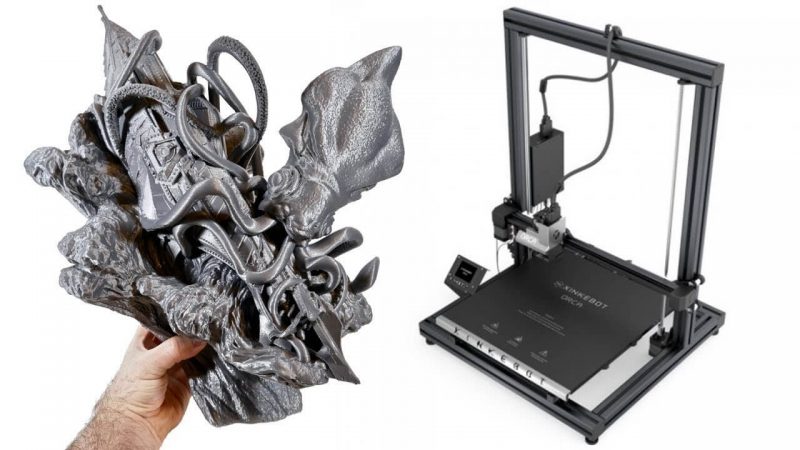 The printer is able to provide a maximum laser resolution of 100 micrometers, whereas the minimum laser resolution provided by it is 50 micrometers.
So, while printing life-size statues as well as parts as small as a showpiece there are not many issues with the quality.
The reality that the par printed with the printer will depict, will closely be related to the order of your imagination.
Software
Recommended software with the Xinkebot Orca 2 Cygnus are Cura, Slic3r, or Simplify 3D.
All of them are known in the market to have the best order of user-friendliness. Here is other Best Slicer 3D Printing Softwares.
They support both the operating systems i.e. Windows XP+, Mac OS X 10.6+.
The CAD input data file format required in the software are STL, Gcode, and OBJ.
Customer Service
The company guarantees lifelong technical support via email to each of its customers.
The warranty on this 3D printer is three months long for any fault in the part of the printer related to the manufacturing side of it.
Parameters Influencing Buying Decision
Those factors that can help you judge, whether or not to buy the printer, are mentioned in the brief below.
3D Printer cost: Affordable for beginners and small business owners.
3D Print quality: All the parts printed using the printer have a layer resolution range of 50 to 100 microns.
3D Print speed: Above most of the competitors that fall in the same price range.
3D Printer capability: The printer is capable of printing with many materials including popular ones like ABS, TPU, PETG, etc.
3D Printer Practicality: An interesting point about the printer is the option of a single/dual extruder that is given by the company. This enables the user to manufacture complex as well as simple designs on the printer.
3D Printer User expectations: When you are a beginner your expectations are to find a printer that can help you learn the practicality of the printing technology for a lower cost. This printer does exactly that. Although there are printers available even lower in cost than this one, then they do not let you print the same sized parts.
The Verdict
If you are a small business owner, you cannot ask for something better.
This printer has a reputed name with it, some achievements like printing the huge life-sized statues of Six Flags and is cheaper in cost.
As well as, if you a teacher at an institution who wants to teach 3D printing technology to students, here is your go-to 3D printer.