B9Creations B9 Core 530
If you are a professional willing to deploy additive manufacturing solutions at scale, this printer assures you operational efficiency with top quality parts.
PROS
Extremely straightforward user interface.
Extraordinary print speed.
Unparalleled precision.
Parts made from the printer are used in many industries.
Compatible with multiple resins.
CONS
Small build volume offering.
Table of Contents
Designed for a better user experience, B9 Core 530 is an attempt by the printer manufacturer to make the part production easier as well as intuitive. Not only is the machine affordable, but also easy to maintain for a longer life. It is an effective solution that helps reduce costs and manufacturing time to a considerable extent.
B9 Core 530 uses an industrial UV LED light source for curing a light-sensitive resin. The printer is also compatible with third-party resins because of which users get plenty of material to create different geometries. The machine is primarily used for making jewelry parts, high precision prototyping, engineering, and medical applications.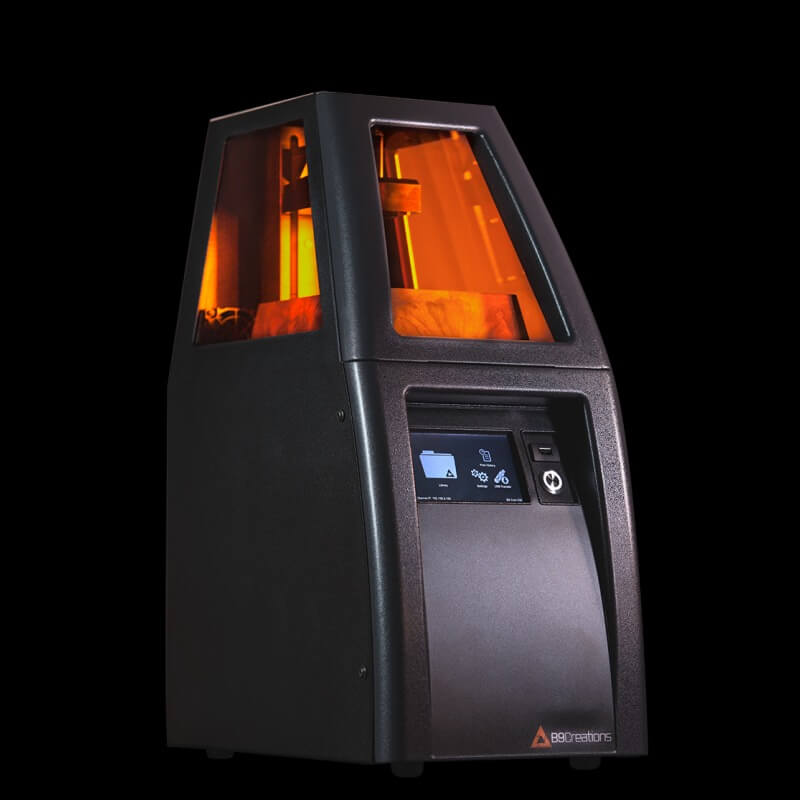 The printer manufacturer claims how its patent-pending technology is four times faster than the industry's average. But is the printer worth buying given the cost at which it is priced? Well, let's find out by knowing more about the machine.
Features
Core 530 is manufactured to bring the most detailed design which involves a lot of intricacies to real life. The machine's speed and simplicity attract users and make it a dependable tool for their business.
The all-new user interface reduces all the difficulties faced with not only calibration but also general alignment and print settings. Because of which the complete printing process becomes extremely easy, even for those who have no exposure to 3D printing.
Some of the very prominent features of the printer that helps users achieve the maximum out of it are mentioned and explained below.
Touchscreen Interface
B9 Core 530's body is embedded with a touch screen interface that lets users manage various functions on the 3D printer with one tap.
You can pause, play or stop the 3D printing process at any time using this touch screen interface. Also, the interface lets you make changes in various 3D printing settings that are essential in determining the print quality of the object.
This feature is especially advantageous to beginner users who do not know how to calibrate their printer or level their print bed. Moreover, professional users can decrease the overall human intervention thereby increasing the print efficiency.
Multiple Modes of Connectivity
The printer manufacturer has given three options to its users for connecting with the printer for file transfer:
Over wi-fi.
Using Ethernet.
Via USB connectivity.
This provides flexibility to users as it lets them do the design file transfer via more than one option. For example, when operators are not nearby to the printer and yet they wish to conduct the file transfer, it can be done using Wi-fi of that place. So, it's not necessary to be near the printer for exchanging design files.
Excellent print speed
The printer manufacturer claims that B9 Core 530 is the fastest DLP 3D printer with unparalleled precision.
It requires no calibrations like other DLP 3D printers do, thereby giving users a head start right at the beginning of the 3D printing process. Even while the 3D printing process is on, the push button allows operators to automate the workflow, clean without doing any sort of mess as well as cure resin in minutes.
Integrating the machine enables your business to function more efficiently and in a profitable manner than before. The print speed of B9 Core 530 is claimed to be around 100 mm per hour which is the general print speed of FDM 3D printers.
Built-in fume and odor filtration
A risk involved in resin 3D printing is the interaction of the operator with the fumes produced during the process. Keeping the same in mind, B9Creations has put in place a filtration process that takes away all the harmful fumes and odors that are produced during the printing process and purifies it.
The printer manufacturer ensures that the interaction is completely free of any danger. So, there is no risk involved at all while 3D printing a part or functional prototype using any sort of resin with B9 Core 530, be it a third-party resin or any other.
Compatible with multiple resins
Core 530 allows users to experiment with various resins. It permits 3D printing not only with the proprietary resin material but also with most of the third-party resin.
Such a feature increases the scope of making objects for multiple industries. A wide range of selection from design, engineering, and castable resins increases the variability for making objects related to various applications.
Users can easily juggle with more than one material for designing a part for industries varying from Jewelry and casting, to model making and entertainment; from prototyping and manufacturing to research and education as well as aerospace and defense.
Automated post-processing
There is no separate attention that the user needs to pay to the part after the 3D printing process is completed. Thanks to the printer manufacturer's special attention paid to the post-processing by making it automated.
The design team of B9 Core 530 should be credited as they have paid special attention not only to the pre-3D printing phase by eliminating the calibrations completely, but also by keeping the post-processing automated. This feature helps a lot to the user who is newly exposed to the basics of 3D printing in learning which post-processing is needed when!
Intuitive print preparation software
The printer manufacturer's proprietary B9 Create 2.0 is an easy-to-use software that takes care of the user's minute design needs.
Its interface is purposely kept straightforward to make sure that every operator reaches the particular design setting in minimal time. Also, the application creates supports according to the part geometry automatically.
Minute design flaws are highlighted in the geometry so the user can make last-minute changes to ensure there is no print failure.
Specifications
| | |
| --- | --- |
| | |
| Technology | DLP |
| Price | 9955 $ |
| Build Envelope | 57.6 x 32.4 x 127 mm |
| Min/Max Build Speed | 40 -120+ mm/hr |
| Z Resolution | 10 μm* |
| Power | 12VDC 5A |
| Connectivity | Wi-Fi, Ethernet & USB drive |
B9 Core 530 prints using DLP i.e., Digital Light Processing 3D printing technology. The machine allows its users to print parts and functional prototypes with a maximum build volume of 58 mm * 32 mm * 127 mm.
Every object printed using the machine has a minimum layer thickness of 0.01 mm, and an XY accuracy of 0.003 mm, whereas the Z-axis resolution is around 10 micrometers.
The print speed range provided by the printer is anywhere between 40 to 120 mm per hour. This means that normally if you take four hours to print an object with another DLP 3D printer, you'd only need an hour to print the same using B9 Core 530.
Curing of the objects is done using a standard industrial HD UV LED Light Engine of wavelength 405 nanometers which ensures that parts and functional prototypes of high surface finish make it to the final application.
B9 Core 530 weighs 17 kilograms and has dimensions of 597 mm * 419 mm * 267 mm. It utilizes a power source of 12VDC 5 Amperes. Users get a warranty of one year on the printer starting from the date of purchase.
Price
B9Creations B9 Core 530 is available for $9955 without the curing, cleaning unit, and extended warranty.
First Impression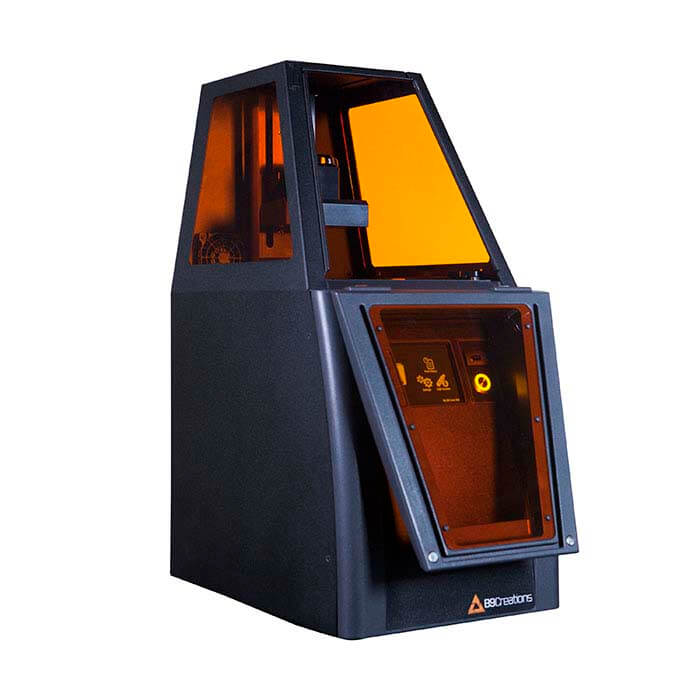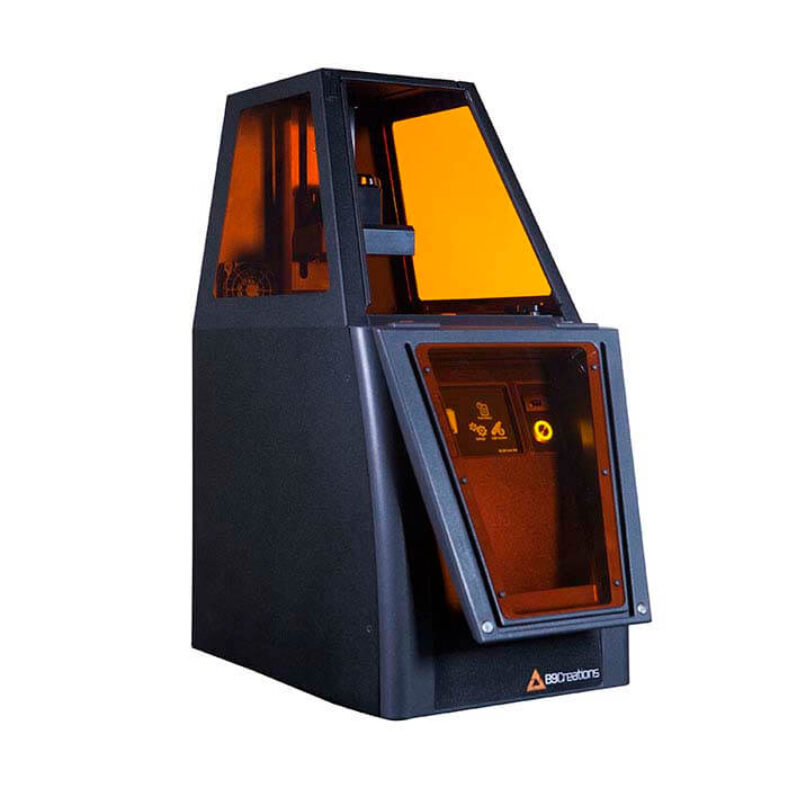 The printer is shipped to you in neat packaging because of which none of its parts are even slightly damaged during the transportation. B9 Core 530 comes along with the following things in the box:
One kilogram of resin – the one that's chosen by you during the time of purchase.
Two DuraVats
B9Creations Finishing Kit
Remote Factory Startup
One year warranty
The body, look and feel of Core 530 is eccentric to most other DLP 3D printers in the market. It manages to catch your eye instantly. It's slightly curvy from the front and straightens from the back.
Unlike other DLP 3D printers, it does not come with a cover that can be lifted from above, instead, the printer comes with a door that can be opened to gain access to the printer chamber for removal of parts and functional prototypes.
A touch screen interface is present on the bottom body of the machine, with the push button and the USB slot.
Setup
B9 Core 530 is a plug-and-play 3D printer that allows users to start with the 3D printing process right on the go without any need to set up or assemble. All that the operators need to do is find an appropriate space for the printer and give it a needed power supply and that's it! You are good to go.
Print Type/Cost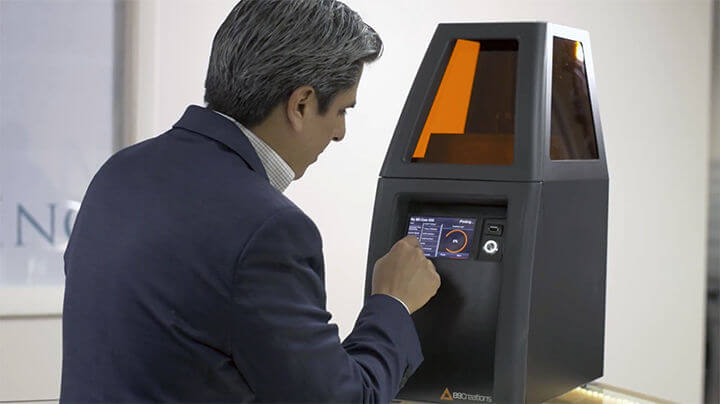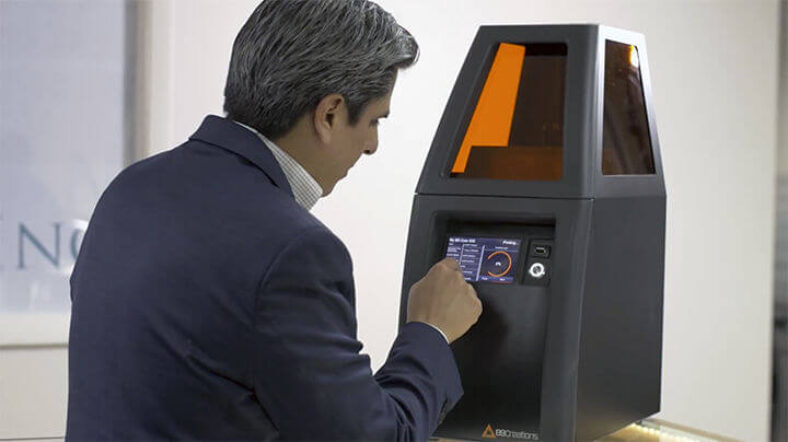 Credit: directindustry
DLP 3D printing technology makes use of liquid resin material rather than the standard plastic filament as in the case of FDM 3D printing technology.
It is pretty similar to SLA 3D printing technology except for the use of a galvanometer and laser source. Herein, a typical UV LED source of high wavelength is used for curing the liquid resin into the desired geometry. The technology is considered to be faster than SLA 3D printing because of the use of an LCD screen.
Normally the cost of 3D printing with this technology is similar to that of SLA 3D printing i.e., more than FDM 3D printing. However, the cost of printing a part with DLP 3D printing depends on many factors starting from the part geometry, the type of resin employed for making the object, the cost of that resin, support structures, etc.
Print Quality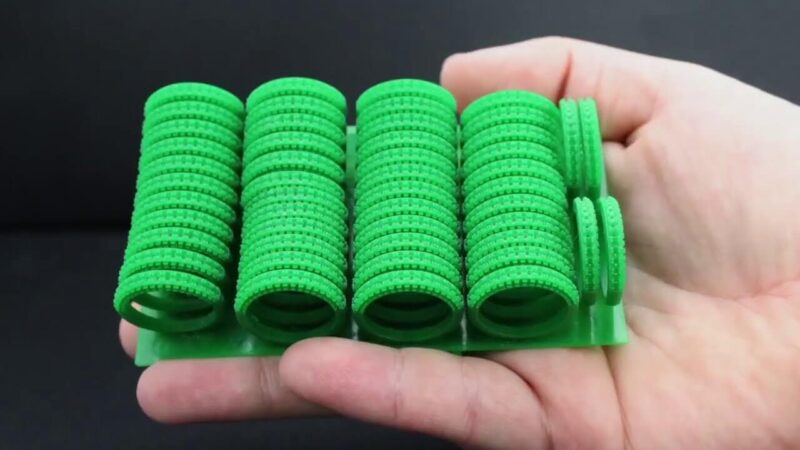 Using an industrial HD LED light of 405 nanometers for curing, Core 530 can produce excellent parts with top-notch surface finishes.
Objects with an effective resolution of fewer than 15 microns are possible to create using the printer. And such a print resolution makes the created objects eligible to be used in fields such as Jewelry and Casting, Model making and entertainment, prototyping, and manufacturing, research, and education as well as Aerospace and Defense.
Software
B9 Create 2.0 is integrated with Core 530. The application allows intuitive print preparation with multiple aspects concerned with designing.
It permits users to queue the job in advance which is extremely helpful during mass customization of different objects. Moreover, the extremely helpful user interface makes things easier even for non-technical operators.
Customer Support
Customers of the printer can get technical assistance via phone from Monday to Friday 8 am to 5 pm. Also, the Frequently Asked Questions displayed online help users to catch the basics regarding the printer.
Moreover, there is a community forum on which the operators can ask any question, B9 has a huge community of active users who are willing to do their best to answer doubts.
Parameters Influencing Buying Decision
Below mentioned are the principal factors that'll assist you in making a buying decision.
3D Printer Cost: Considering the build volume offered by the printer, Core 530 is a little bit on the higher end.
3D Print Speed: The printer displays exceptional speeds which are claimed to be four times more than normal DLP 3D printers.
3D Print Quality: Although it manifests extraordinary print speeds, the printer does not compromise on quality.
3D Printer Capability: B9 Core 530 allows users to juggle multiple resins, not just proprietary, but also third-party ones.
3D Printer Practicality: A touch screen user interface makes user interaction with the printer very straightforward. Also, the machine needs no calibration and provides automated post-processing so operators' work is pretty much hassle-free.
3D Printer User Expectations: The printer can easily assist professional users willing to manufacture parts and functional prototypes in various fields by providing them with parts of high quality in minimal time.
The Verdict
Although build volume is a little area of concern, it can be overlooked in long term, considering the print speed and quality provided by B9 Core 530. Also, to notice is how it has been a great tool in designing parts for a multitude of applications in vivid industries.
So, if you are a professional user willing to deploy additive manufacturing solutions at scale the printer assures you operational efficiency with top quality parts at rapid print speed using DLP 3D printing.