BigRep Pro
BigRep Pro 3d printer is preferred for producing objects of varying geometries, huge build volume, with a decent amount of precision in a short span of time.
PROS
Easy Slicing.
Sealed filament chamber.
Highly responsive CNC control system.
A fiber-ready ACE extruder delivering speed and precision.
Robust built up.
Large format industrial printing of parts and functional prototypes that can be put into application in various areas.
CONS
Cooling 3D printed parts is a very time-consuming process. Also if not done uniformly, it leads to some of the other deformities in manufactured parts which can lead to print failure.
Table of Contents
Featuring a build size of 1020 mm * 970 mm * 980 mm, BigRep Pro is a large volume industrial 3D printer by BgRep – a 3D printer manufacturer based in Germany. The machine is a part of a new range of 3D printers by BigRep all of which hosts a proprietary extruder called MXT i.e. Metering Extruder Technology.
This upgrade permits users to have advanced control over the speed of the extruders as well as the amount of filament used. The printer's head is equipped with two MXT extrusion heads that allow operators to do quicker and more efficient 3D printing. BigRep Pro is capable of producing full-scale functional prototypes, factory tooling, patterns, and molds as well as end-use parts.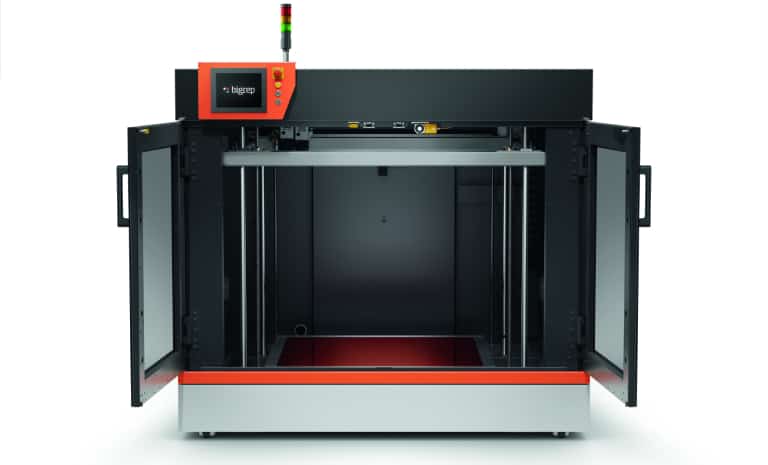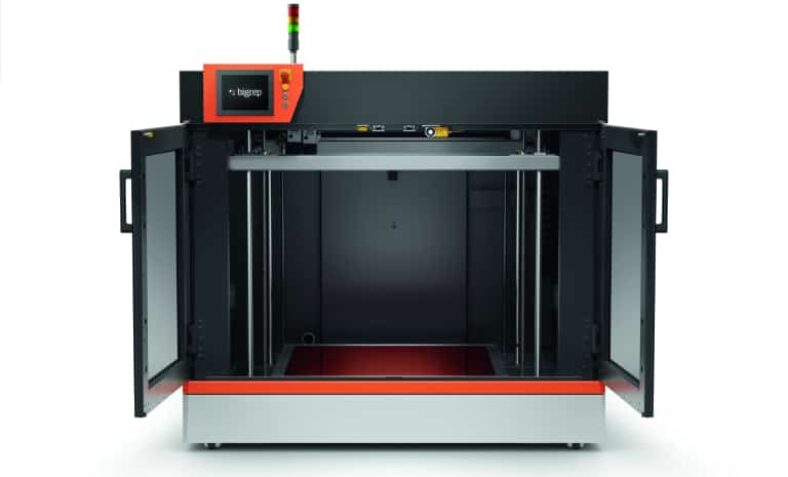 BigRep Pro delivers precision and quality with speed. It is powered by an advanced Bosch Rexroth CNC Control System and BigRep's Precision Motions Portal. Also, the printer avails agile manufacturing to enhance automated machining methods.
To find out if the printer is suitable for your specific needs, read the complete review of BigRep Pro.
Features
Starring an insulated, fully enclosed metal frame providing temperature control, Pro grants extraordinary thermal management.
Its insulated filament cabinet protects up to four spools of filaments in an eccentric humidity-controlled environment that has air circulation fans for keeping the temperature even. Also, the printer is armed with a heated print bed mounted with polyimide foil that aims to improve the overall bed adhesion.
So, with any further ado, let's begin to look at the intriguing features that BigRep Pro hosts, one after the other.
Enormous build volume
Pro continues to highlight the factor that BigRep 3D printers are generally known for i.e. build volume. It features a massive volume of 1080 mm * 980 mm * 960 mm that enables users to print a part in one go.
The printer provides its users with the facility of printing objects of any size under the mentioned one. With that, it also allows you to print many small-sized prints at the same time.
Enclosed Frame
The machine houses an insulated, completely enclosed metal frame. This feature supports the printer's thermal management. It allows users to stably control their temperature thereby improving the part quality. Random ups and downs in temperature calls for uneven layers which leads to improper surface finishes!
But, thanks to Pro's glass doors that permit its owners to not only monitor the 3D printing process but also ensure that the process happens without any interruption. Moreover, this arrangement safeguards the filaments involved in the process from any outside influences. Otherwise, there is a possibility of print failure.
Saves production cost
BigRep claims how Pro assists users in replacing expensive and time-consuming traditional techniques with modern automated lesser time and effort-consuming steps. This transformation leads to a saving of up to 85 percent on any part production. So, if you are a small or large-scale manufacturer, Pro will help you save hugely on your production costs.
Precision on all stages of production
Apart from providing large-scale quantity, Pro is also able to deliver fine-quality prints and that too in an optimal timeframe. Its extruder offers excellent control over the thermal management of different part geometries.
Moreover, the concept of agile manufacturing and rethinking your prototyping and production process with smart technology is so flexible and error-free that accurate parts with dimensional precision become possible as well as easy.
Insulated filament storage
In an arrangement wherein every minute factor is taken care of, you naturally want the most fundamental part of the 3D printing process i.e. filament, to be looked after. And that's exactly what BigRep Pro offers. Its special, humidity-controlled filament chamber can protect up to four precious spools.
The filament storage chamber also hosts circulation fans that keep the overall temperature even. So, that all the four precious spools present inside neither experience higher temperature which makes them loose, nor lower-than-needed temperature.
MXT Extruder
Apart from housing a gigantic build volume, the second most appealing feature about BigRep Pro is its Metering Extruder Technology. This sets it apart from other industrial 3D printers in the same price range. It is designed for giving a clear separation between three processes:
Filament feeding.
Melting
Extrusion.
By giving such a separation it allows users to have complete control over the amount of filament to be used, as well as the speed of the extruder. Pro is a host to two such extrusion heads also known as one MXT and one ACE i.e. Advanced Capability Extruder capable of printing almost 60 percent faster than standard extruders.
CNC control system
An extremely technologically advanced CNC-controlled system and drives manufactured by Bosch Rexroth are coupled in BigRep Pro with its proprietary MXT technology. A combination of both these highly technical parts leads to increased print speed, precision as well as quality for industrial applications.
Semi-automatic bed leveling
Apart from housing a polyimide foil that offers users excellent bed adhesion, Pro's print bed also features an inductive sensor that guarantees precise first-layer 3D printing.
The sensor makes possible semi-automatic bed leveling thereby decreasing the overall human intervention with the machine. This in combination with a built-in temperature-controlled spool chamber ensures that the resulting print quality of parts, whether small or big, is dimensionally accurate.
Specifications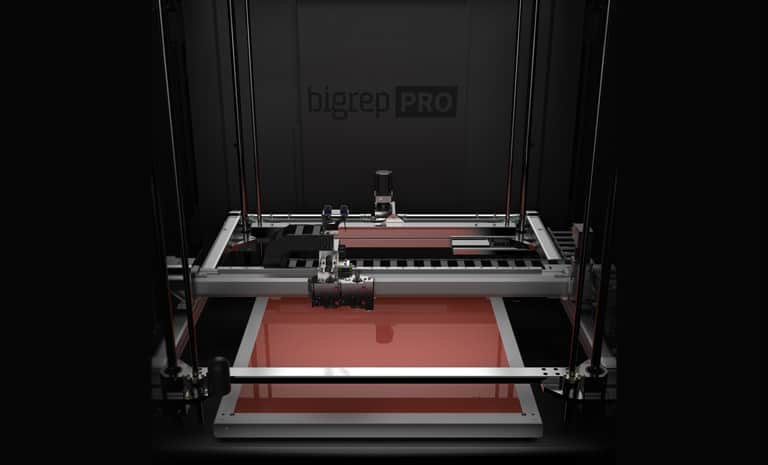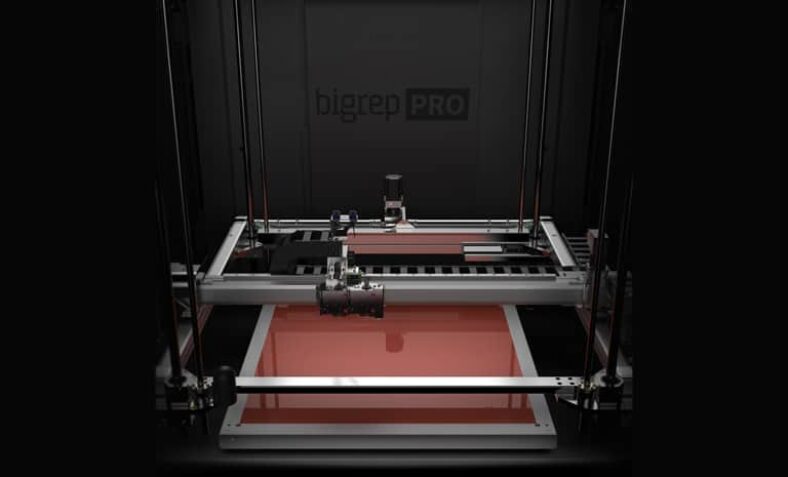 Credit: bigrep.com
BigRep Pro provides a whopping build volume of 1080 mm * 980 mm * 960 mm. So, it's possible to make large parts in one go or numerous small parts with decent accuracy. The object's extrusion is taken care of by two extruder heads ACE and MXT that permit nozzle with diameters 0.6 mm and 1 mm.
The machine provides printing with many types of 3D printer filaments and support structures ranging from bio-plastics to fiber-reinforced, whereas from soluble to 3D party materials respectively.
Pro is based on FDM/FFF 3D printing technology. Its print bed can withstand 99 degrees Celsius. The printer can be connected for file transfer using two modes: LAN and USB.
Price
BigRep Pro's price is available while quoting on request.
First Impression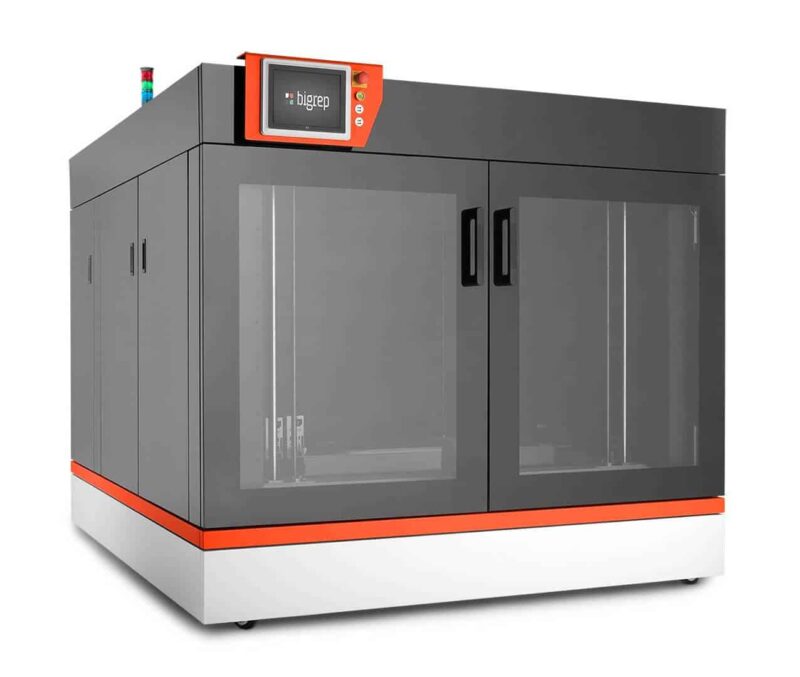 Pro features a large frame of 1950 mm * 2500 mm * 2105 mm volume. The printer's huge build volume is supported by its custom-built heavy-duty gantry that is engineered for producing high speed, super-fast acceleration as well as heavy payloads.
The machine's welded frame lessens all the vibrations that are produced during the FFF 3D printing process. This assures the extremely smooth movement of extruders that slide along a reinforced double rail system.
Whereas, sturdy Bosch servo motors power the precise movement of print bed with internal encoders that are able to calculate the real-time location of the head as well as self-monitor for delivering position accuracy.
Setup
Being an industrial 3D printer, BigRep Pro comes completely assembled with on-site assistance. Hence, it is not difficult to set up the printer.
Overall, the entire process of BigRep Pro is very easy and does not take much time. The huge touch screen interface facilitates simple pre-printing settings and keeps it straightforward.
Print Type/Cost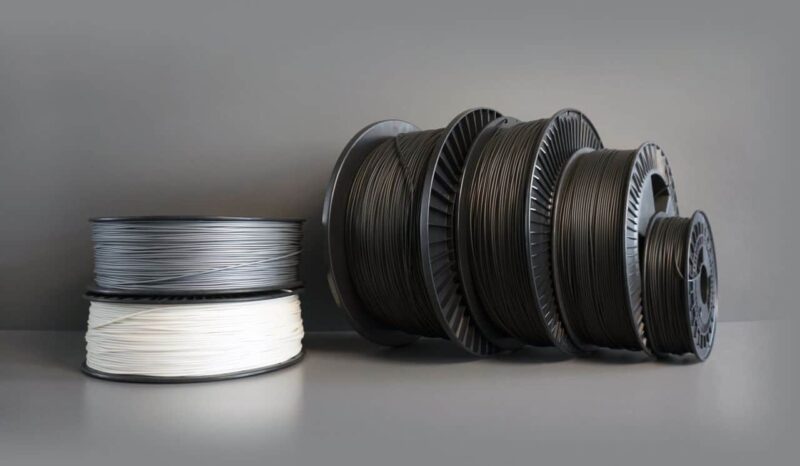 Credit: bigrep.com
A typical FFF 3D printer's working starts with a heated nozzle's ejection of molten plastic which leads to deposition of thin layers on the print bed. The laid-down layers of plastic filament eventually cool down and form a part of desired geometry. FFF 3D printing is the simplest 3D printing technology available.
Apart from being the simplest 3D printing technology, it wouldn't be wrong to state that FDM is also the cheapest 3D printing technology compared to others.
The cost of 3D printing a part with FDM 3D printers is the lowest compared to that with highly advanced technologies such as SLS, SLA, MJF, EBAM, or any other.
Print Quality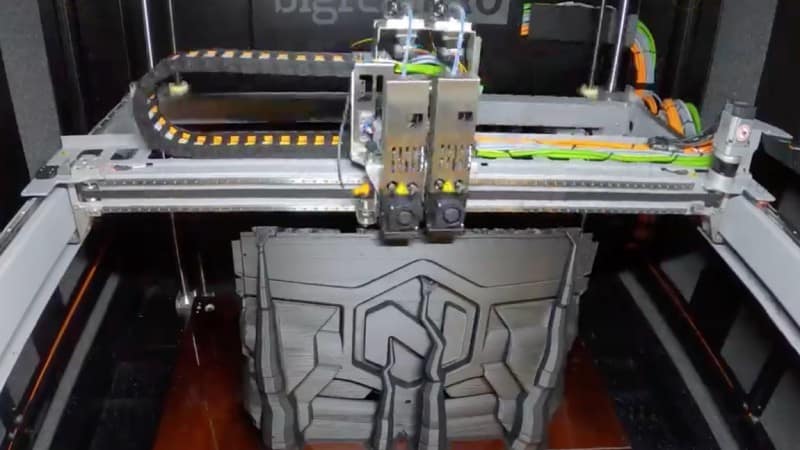 Credit: bigrep.com
The maximum achievable part accuracy offered by BigRep Pro ranges 0.2 mm to 0.002 mm which is a lot for an industrial-grade 3D printer. Although the perfect part accuracy depends on the type of geometry you are printing, the printer guarantees a decent surface finish.
Being compatible with a variety of 3D printer filaments ranging from bio-plastics to reinforced fiber, BigRep Pro also lets users printing with water-soluble supports like BVOH.
Overall, the machine lets you print even the smallest details with complex structures and intricacies with ease.
Software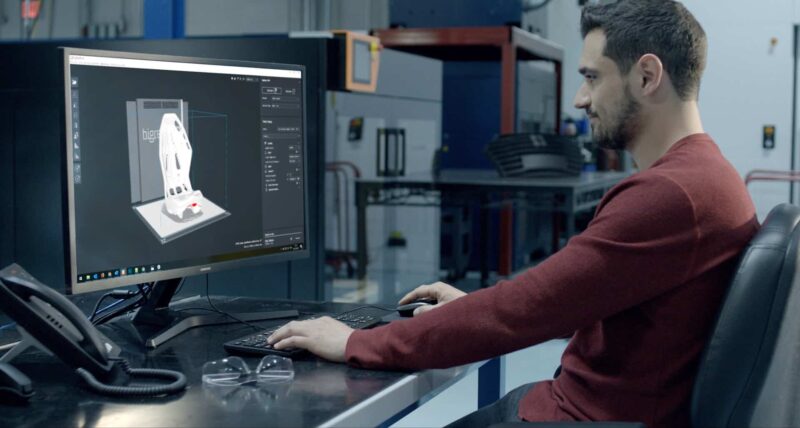 Credit: bigrep.com
BigRep Pro comes compatible with the company's proprietary BLADE software that offers users greater control of printing parameters like managing printing time as well as material usage.
Customer Support
BigRep lets you download all the documentation needed for operating Pro from its website for free. Apart from that, the company offers detailed FAQs and guides on their website. It is also easy to reach the technical support via email or phone.
Parameters Influencing Buying Decision
Below mentioned are the chief factors concerning BigRep Pro.
3D Printer Cost: To know the cost of the printer you'd have to request a quote from the manufacturer. But, as it is an industrial-grade 3D printer, its cost would relatively be on a higher end.
3D Print Speed: BigRep Pro's extruder can produce a throughput of up to 130 g/h. Thanks to its MXT extruder technology, the printer enables fast 3D printing of patterns and molds, end-use parts, prototypes, tooling jigs, and fixtures very rapidly.
3D Print Quality: Although Pro is an FFF 3D printer, it's able to deliver excellent quality objects and a large credit of this should be given to the manufacturer's excellent thermal management system. Components like a sealed filament chamber enable you to manage the printer's temperature at each step during the printing process.
3D Printer Capability: Experts in the field of 3D printing will love working with the printer, not only because of the huge build volume it offers but also because of its capability to print with various kinds of filaments and support structures.
3D Printer Practicality: BigRep Pro is equipped with a highly advanced motion-control system that delivers great speed with repeatability. An industrial-grade Bosch safe Logic-2 channel has a failsafe system that safeguards users to make immediate changes during the printing process.
3D Printer User Expectations: The printer manages to stand upon expectations of small and large parts bulk manufacturers. It allows users to mass customize various kinds of industrial parts that have a huge build volume and intricate geometries. BigRep Pro is able to deliver objects of varying geometries that can be put into various kinds of applications with ease.
The Verdict
It's astonishing how BigRep Pro is compatible with a wide range of 3D printer filaments and water-soluble support structures that allows users to play around with many possibilities. The main highlights of this printer are its huge build volume offering, MXT extruder technology, highly controlled and reliable motion system by Bosch.
BigRep Pro is an industrial-grade 3D printer and hence requires a little more care with high maintenance. But apart from that, there is almost nothing that the machine demands. Its thermal management system is best in class and permits making high-quality parts with extraordinary layer resolutions.
Overall, the printer is preferred for producing objects of varying geometries, huge build volume, with a decent amount of precision in a short span of time. Pro's robust and stable 3D printing has managed to gain the attention of professionals in the field of 3D printing who likes experimenting with their designs to bring never-before-explored geometries into reality.