CeraFab S 230
The CeraFab S230 has many such amazing features and most importantly it can be a part of a very productive system that CeraFab has developed by research for developing parts and functional prototypes based on ceramic materials.
PROS
Has modular design which gives four production units.
Huge build volume.
Minimal layer resolution.
CONS
Price is a huge concern for the users of technology inferior to DLP.
Product
Specification
Videos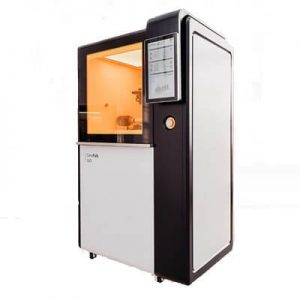 A printer that is industrial and attractive is hard to find? Here is one that will catch your eyes from very far. CeraFab S230 is not just an ...
| | |
| --- | --- |
| Model | CeraFab S230 |
| Manufacturer | Lithoz |
| Price Range | $ 585000 |
| Release date | 2019 |
| Country | Austria |
| Availability | Available |
| Classification | Professional |
| Technology | Resin (SLA- DLP…) |
| Material | Ceramic, Liquid resin |
| Generic material | Yes |
| Max. build size | 192 x 120 x 320 mm 7.5 x 4.7 x 12.6 in |
| Max. build volume | 7.4 L |
| Min. layer thickness | 0.025 mm 0.0001 in |
| Weight | 400 kg 881.8 lb |
| Heated print bed | No |
| Heated build chamber | No |
| Automatic calibration | No |
| Closed frame | Yes |
| Dual extruder | No |
| Independent Dual Extruder | No |
| Full color | No |
| LCD screen | Yes |
| Touchscreen | Yes |
| On-board camera | No |
| Mobile app | No |
| 3D scanners | No |
| CNC mill | No |
| Electronics 3D printing | No |
| Laser engraving | No |
| Conveyor belt | No |
| Air filter | No |
| Pellet extruder | No |
| USB | Yes |
| Wifi | Yes |
| Bluetooth | No |
| SD card | Yes |
| Ethernet | No |

Table of Contents
The company that has manufactures CeraFab S series 3D printers is called Lithoz. This company makes products and offers services to customers related to their demands for high-performance ceramics.
The reason why people prefer products made by this company compared to others is their guarantee to produce high-quality parts and functional prototypes directly from the CAD files.
Additionally, the portfolio of this company also has different ceramic materials and software products that are optimized not only for 3D printing specifically but also for customer-specific solutions, when they come with complex problems.
CeraFab S Series has three printers i.e. S25, S65, and S230. In this article, we are going to be reviewing Cera S230. We will go into depth about its features and specifications that are offered by the manufacturer.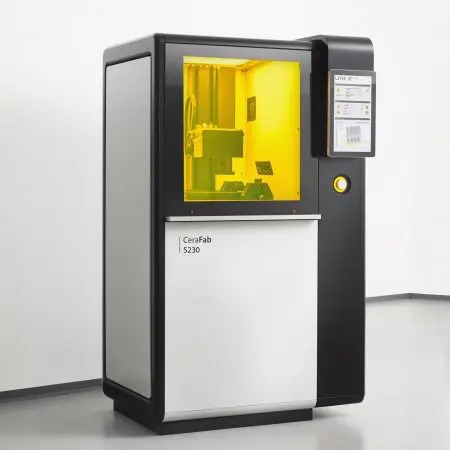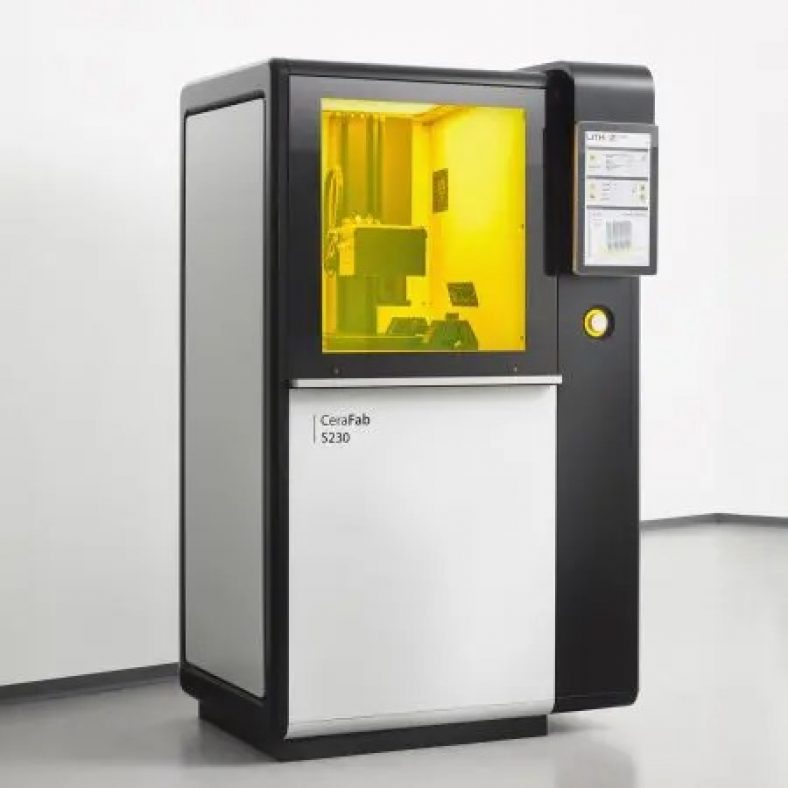 We would also like to touch upon the print quality, setup, and first impressions of this printer. Lithoz claims the CeraFab system to be equipped with state-of-the-art electronics that are used in industries.
Such a system can give you the monitoring of real-time control which enables its users to fast and dynamic movements. Spare parts used in the making of these printers also come with a long term guarantee.
Features


The system that Lithoz uses, is said to provide users with answers to their questions about how industrial series of production should happen!
Specifically when you are additively manufacturing high-performance providing parts and functional prototypes made from ceramics.
The manufacturers of the system have kept the design of their printer's modular which permits them to come up with a combination of four production units, creating a very big production system compared to a single machine.
Not only is this an assurance to the increased productivity, but also to lessen the risk of failures. Another attractive and arguable the most key element with this system is the data handling capacity of it.
You can store and handle processed data that facilitates the seamless documentation of print jobs.
The process monitoring of the complete system is done in real-time so you can react exactly when you should, and not after the damage has occurred, and to use the learning as safeguarding for the future.
The CeraFab S230 has many such amazing features and most importantly it can be a part of a very productive system that CeraFab has developed by research for developing parts and functional prototypes based on ceramic materials. Let's look at them one by one.
Ergonomically Advanced Design
Often you see printers have to be put on a working table to be operated. There are desktop printers available in the market that do not have a sufficient amount of height that is needed and comfortable for the user to operate.
Paying special attention to "what exactly the height should be for the user to be able to comfortably operate it?" Lithoz has designed every printer of it, especially CeraFab 230 with a height that gives the printer the correct amount of comfort while operating it.
To increase accessibility with the inner end of the machine, the front doors of the machine can be swiveled. Depending upon where you wish to reach out to on the inner side of the machine, you can open the front door and swivel it.
This would give you barrier-free access to the inner end of the machine. The other important aspect that makes CeraFab 230's design an ergonomically advanced one is the fact that you can have an unobstructed view of the inner end for complete observation.
This enables you to monitor the complete printing process by your eye and nothing is coming in between your eyes and the mechanism.
Online Documentation And Server-based database
This is something that makes CeraFab 230 as well as the complete system very technically advanced. What you get to see in other 3D printers in terms of technological advancement is that you would have more options to connect with the printer, with a say USB cord, Wi-fi, memory card, etc.
You won't see manufacturers taking care of the documentation that goes around this complete process of 3D printing. Whilst what Lithoz has done is, it has taken care of the basic material.
Understanding that the whole printing of parts and functional prototypes are dependent on the CAD files, it has given utmost importance to those files.
You have online documentation of the file with which you plan to make a part or functional prototype and also, you have a server-based database of all those files.
What this also means is that you can get online, real-time monitoring and complete documentation of print jobs that have been completed, they would be completed, when that would be completed and what not!
Another access that users get by this feature is the ability to change parameters whenever they wish to Imagine a scenario wherein there has been an error made by you in say entering the layer height or something else.
You can change it while noticing that error and edit it without stopping the complete print process.
The cascade system
One of the gifts of modular designs is that you can have more than one production unit. And in the CeraFab S series, you have four. So, say, you wish to manufacture four different parts or functional prototypes simultaneously, you can do it.
All of these production units are protected and enough care has been given by partitioning each one of them. What this would do is, in some cases, it would mean that your production times are four times more than that of any desktop printer.
So the overall print time that is taken would be reduced as the print speed is has gotten four times more. And remember all of them are well partitioned so there is no chance of any part's printing process breaking into any other.
Higher resolution
WQXGA is one of the best projectors that is used for getting high resolution of parts and functional prototypes. No matter how fine the geometry of the part or functional prototype is, you will get a high resolution as per Lithoz's promise.
The DLP state-of-the-art chips and lens would make sure this happens. Also, you get a better performance due to an optional water-cooled LED light source.
This is optional for you to use it, in some parts over the other according to the need. What these results at your end are that you get to see cleaner visuals of the installation that has been made on the inner part.
Specifications
Starting from the layer resolution that is produced by different CeraFab S series printers, they range from 25 micrometers to 75 micrometers, with S25 being the lowest and S230 being able to generate the highest.
The building envelope for S25 is 64 mm * 40 mm * 320 mm, while for S65 it is 102 mm * 64 mm * 320 mm and lastly for S230 it is 192 mm * 120 mm * 320 mm. Slice thickness varies from 10-100 micrometers for S25 and S65, whereas for S230 it is in the range of 25 to 200 micrometers.
The number of pixels that are produced by WQXGA projectors is 2560 * 1600. The build speed of the printer is 150 layers per hour. The weight of the printer is 400 kg.
Price
The price for S230 as mentioned on one of the websites is $585,000. However, you can contact the manufacture to know the exact quote of the price. The phone number of them is available on their website.
First impressions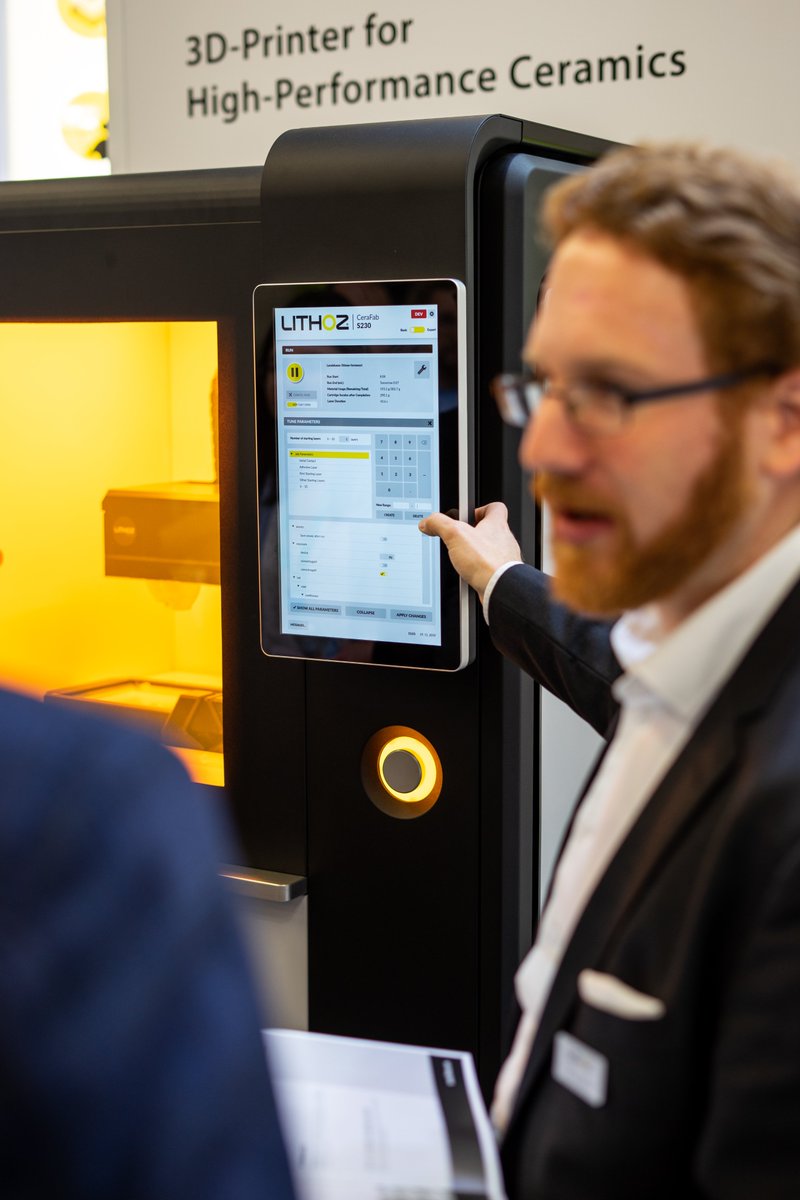 Credit: twimg.com
S230 looks like a refrigerator. Your mind divides the printer into three parts as soon as you see it i.e. the upper, the lower, and the right. The upper part seems the most interesting of all three because it is the one that has transparency.
So, you immediately want to peep into it. For you to be able to peep into it, there is this swiveling up option which is given. On doing that you notice how the mechanism of this printer works.
The second interesting part is the right side of the printer. There you have the touch screen interface which is going to let you operate the complete printer. And below it, there is a button. In the front view of this printer everything else apart from the lower part is colored black.
Setup
The printer comes completely assembled, all you have to do is to plug the printer and start printing. But before that, you are recommended to read the user manual that is provided by the company and watch some tutorials online.
If you are new to using DLP technology, you must research the mechanism. All of this is something you can get from the company's website and the Internet.
Printing Type/Cost
Unlike filament or resin, you have a powdered form of ceramics that is to be spread on the print bed of the printer. As melting or source of light is used in FDM and SLA technologies to cure or solidify the powder, here the high powered laser source is used to do the same work. Because of this, the printing cost of this printer is higher than that of FDM or SLA printers.
Print Quality
Because the powdered form of ceramics is spread over the print bed, every part and functional prototype that is made has excellent layer thickness.
Meaning that the layer thickness is very small, you cannot see it as easily as you see in technologies producing parts and prototypes of lower quality.
In terms of generating prints that involve intricate designs at the ends and edges and curves, S230 delivers because it uses a light source that does not spread that easily and is very much focused.
So, you see the parts and functional prototypes produced by this printer being used in industries like microturbines, chip manufacturing, casting cores, etc.
Customer Service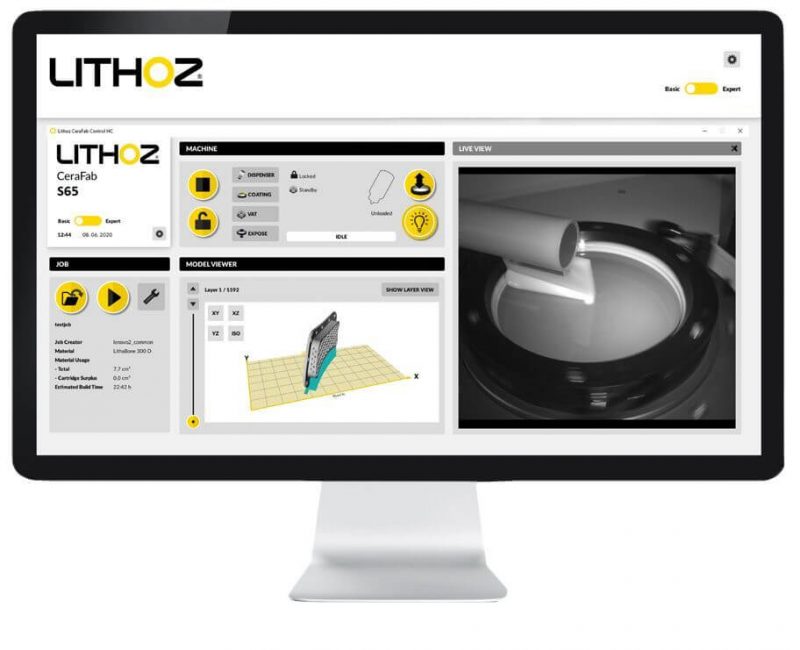 The manufacturers of this printer offer you various types of training courses. What this does is that it permits you to know about different types of additive manufacturing process and your product.
It also helps you gain an understanding of the principle operating of the Lithoz 3D printer. And also let you gain the knowledge that it takes for producing parts that are of high-quality at an industrial level.
Lithoz is a leading technology provider in the field of additive manufacturing systems, especially dealing with high-performance producing parts and functional prototypes made of ceramics.
The company has its team of experts that have tremendous years of experience in the field of ceramics engineering and technology, polymer chemistry, and software engineering.
And they are always ready to impart and share the knowledge that they possess and help you out in the best manner they can. There are also some courses that the company offers which are tailor-made according to your need.
So, in terms of customer support, you are in the safest hands as far as the additive manufacturing of ceramics is concerned.
Parameters influencing buying Decision
The article's summary, in brief, is given below.
3D Printer Cost: Estimated around $585,000.
3D Print Quality: Exceptional.
3D Print Speed: Above average.
3D Printer capability: Printing with various materials is possible.
3D Printer practicality: Parts and prototypes manufactured by this printer are used in many fields including dentistry.
3D Printer User expectations: Ceramic additive manufacturing expectations have stirred up to the next level because of CeraFab S230 usage.
The Verdict
Cera Fab S series on a whole is very well known in the market of ceramic 3D printing for the kind of quality it caters to different users in a different industry.