Cerambot
The Cerambot is an extremely affordable printer that will let you make parts and functional prototypes of ceramics with ease, less technicality, and at a much lesser cost.
PROS
Print Speed.
Build volume.
Print Quality.
CONS
Open Frame.
Withstanding Temperature.
Product
Specification
Videos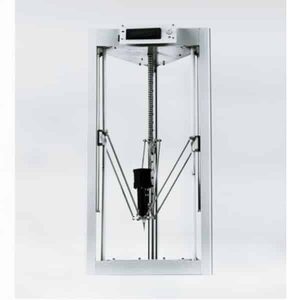 Industrial linear guideways used in the construction of Cerambot make it 20 percent faster than other competitors in the same price range. The ...
| | |
| --- | --- |
| Model | CERAMBOT |
| Manufacturer | Cerambot |
| Price Range | $ 299 |
| Release date | 2018 |
| Country | China |
| Availability | Coming soon |
| Classification | Desktop |
| Technology | Extrusion (FFF- FDM…) |
| Material | Ceramic |
| OS compatibility | Linux, Mac OS, Microsoft Windows |
| Generic material | Yes |
| XY accuracy | 0.1 mm 0.004 in |
| Max. build size | 170 × 170 × 285 mm 6.69 × 6.69 × 11.22 in |
| Max. build volume | 8.24 L |
| Max. print speed | 50 mm 1.97 in /s |
| Min. layer thickness | 0.8 mm 0.03 in |
| Heated print bed | No |
| Heated build chamber | No |
| Automatic calibration | No |
| Closed frame | No |
| Dual extruder | No |
| Independent Dual Extruder | No |
| Full color | No |
| LCD screen | Yes |
| Touchscreen | No |
| On-board camera | No |
| Mobile app | No |
| 3D scanners | No |
| CNC mill | No |
| Electronics 3D printing | No |
| Laser engraving | No |
| Conveyor belt | No |
| Air filter | No |
| Pellet extruder | No |
| USB | Yes |
| Wifi | No |
| Bluetooth | No |
| SD card | Yes |
| Ethernet | No |

Table of Contents
You will get to see pictures of flower vases, sculptors, face models, etc. made by the Cerambot when you land on its website.
The center of your device's screen would show a picture of the Cerambot with some of the models that can be 3D printed by it.
The model's color is some kind of white, so is the color of the models that are placed beside it, as well as the text in which," CERAMBOT The Most Affordable 3D Printer," is written.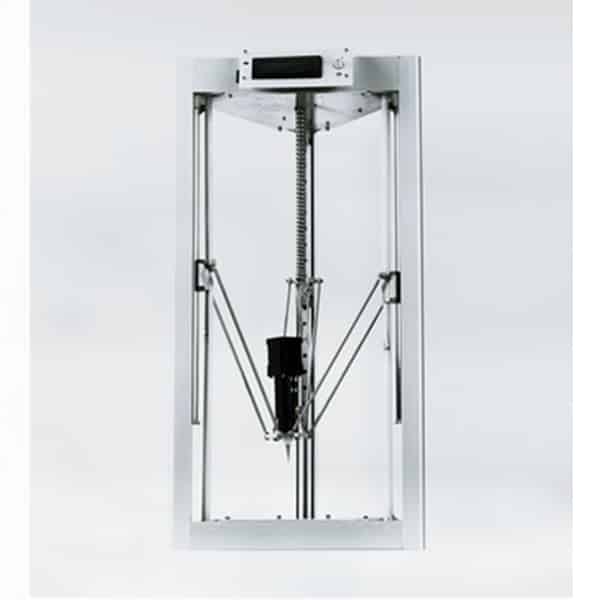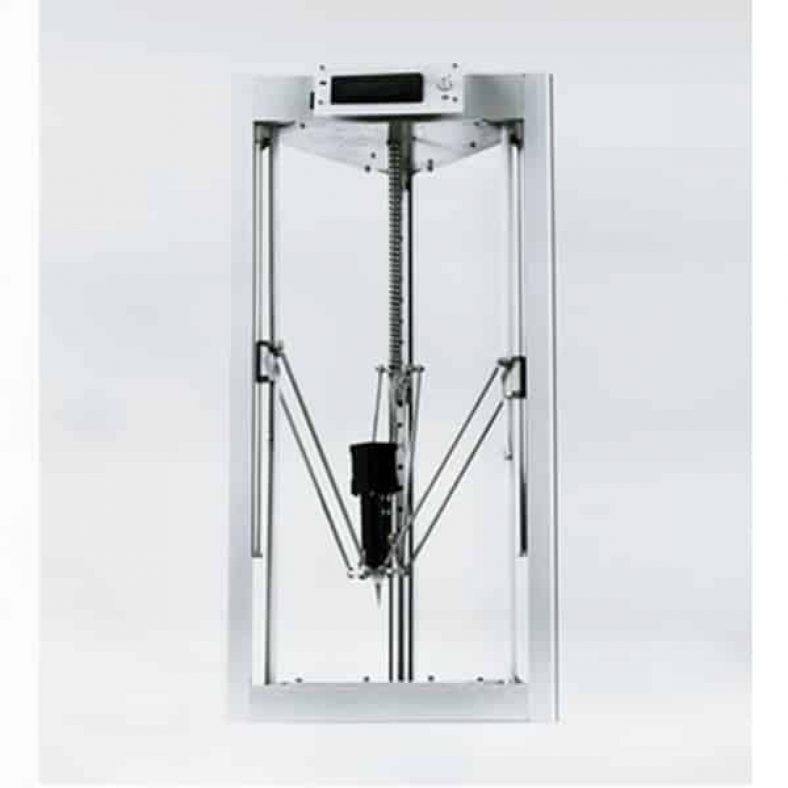 The end of this webpage would tell you how, if you buy this printer you would join the list of 1000+ satisfied customers of the company.
Cerambot 3D printer is believed to be a product that has smashed all the crowdfunding goals that it had on Kickstarter and, as you can see from the above, claims itself to be a highly affordable and accessible option in ceramic 3D printing currently.
In this article, we are going to tell you about its specifications, features, and a lot more detailing in-depth.
Features
On its, website the Cerambot boasts about how the key to artistic expression is the ability to turn ideas into reality.
Informing us about the knowledge that we didn't quite know well enough says how Ceramics have been used as the basis for fine art since the dawn of time.
Continuing, it goes on to say how that important heritage continues by adding the power of 3D printing technology.
Ceramic 3D printing provides the ultimate way to design and create sculptures, art, and architecture with ceramics.
Until now, ceramic 3D printing has been prohibitively expensive and difficult to use, making it a challenge for personal users.
But we believe that imagination should be set free with a simple and affordable way to unleash ideas.
That's why we created the CERAMBOT 3D printer. It's fast, accurate, easy to use and it's the most affordable printer of its kind.
With CERAMBOT, your ideas, creativity, and passion can finally take shape.
Affordable and powerful
Cerambot claims itself to be 20 percent faster than other printers and how exactly it calculates this percentage is something that is not revealed to any user.
Although, the company does not refrain from coming up with a speeded-up video of a Buddha's face, just above the text putting the readers in a confusion of whether such a thing happens in real, is the Buddha face of such a dimension going to appear before us for real in say, some seconds?
Secondly, we are shown with industrial linear grade rail prints that not only print faster but retain incredible accuracy. Something that retains mechanical precision to 0.1 mm!
Game-Changing Motor Design
Traditional ceramic 3D printers use an air solution that requires an air compressor.
For making this printer more user-friendly for beginners, the company has developed this printer to be used right out of the box with no air compressor.
This printer was specially designed with a worm gear speed reducer, as well as a 57 stepper motor (Nema 23) and a TB6600 driver.
The former is patented and customized and the output shaft is internally threaded.
In an upgraded version, they've designed the control module separately.
There are two modes in which it can accept signals, one from the control board (GND, DIR, STP, EN), or you can control it manually.
The patented worm gear speed reducer guarantees outstanding printing quality and stability for complex prints also eliminating air bubbles in the mixture.
Easy to Use
This 3D printer is compatible with most of the open-sourced slicing software.
So, you do not necessarily have to use software that the manufacturing company recommends.
Instead, you can use software that you think is easy for you to slice the object with.
Slicing an object is like editing the complete 3D file that you have made and telling the printer what exactly it has to print.
So, that is all in terms of the input that you are giving out to the printer.
It is based on this file that your printer will understand what to do and what not to. So, you have to be pretty compatible with the slicing software.
If you are not that compatible with the slicing software, the object is probably
going to represent the same.
So, the company has given you complete authority to use the slicing software that you wish to.
And it is because of this that the company has completely made things easier for you.
But not restricting itself only to the software that it recommends.
Material Availability
This is something that is not, in general, a benefit of printing with this printer but printing with any printer that is based on ceramic materials.
Because ceramic materials are the most easily available materials. More easily available than complex thermoplastics as well as metals.
So, what this does is, it makes you less dependent on the source. As well as the price.
Clay print material is available almost anywhere, it is not something that is grown at a specific place and hence available only at that place.
It is easy to use, also recyclable and you can mix it with water to reuse it.
Also if you are printing a small part and say because of some mistake you didn't like it, you can re-manufacture it easily.
Specifications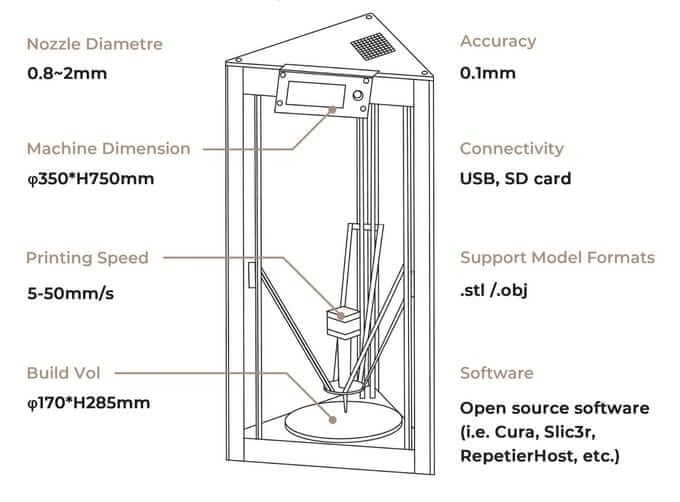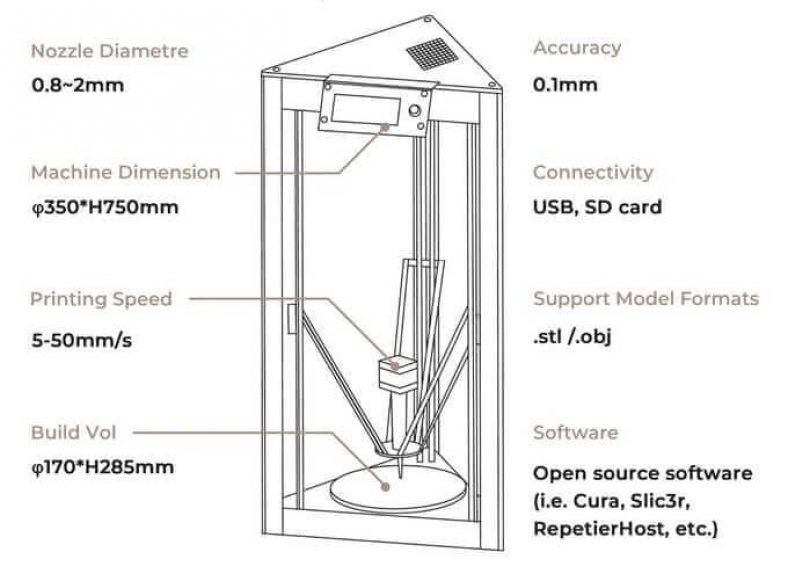 Credit: fabbaloo.com
The build volume offered by this printer is 170 mm * 285 mm. The nozzle Diameter used by this printer ranges anywhere between 0.8 to 2 mm. The machine dimension is 350 mm * 750 mm.
The printing Speed that the printer is able to generate is between 5 to 50 mm per second depending upon the infill that you choose and the part of the functional prototype that you are planning to 3D print.
You can connect to this 3D printer using a USB card as well as there is an SD card slot.
The support model formats that this printer allows you are .stl and .obj.
The layer thickness offered by this printer is in the range of 0.1 to 2 mm.
Supported consumables with this 3D printer are Kaolinite HAP and other pastes.
The power input that you need for this printer is 100 to 240 Volt, 50 to 60 Hertz.
Price
The price of this printer is very affordable and you might get some shock to see how this machine that has so many features is priced only at $299.
Yes! That's it. You can also buy it from the website apart from the manufacturers.
First Impression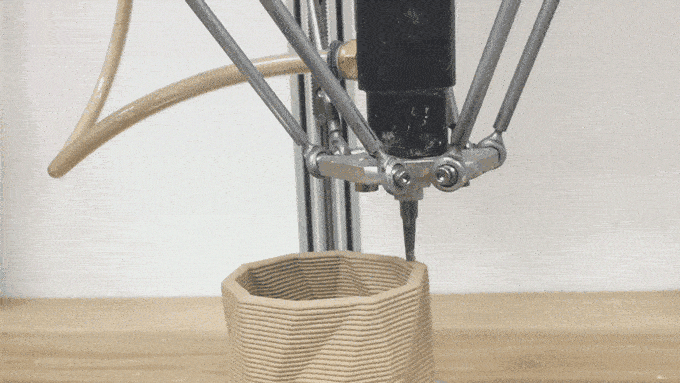 Credit: fabbaloo.com
The Cerambot is a delta-style 3D printer that will function as a plug-and-play machine.
And for doing so, won't utilize much of your time, just a few minutes to get up and running.
As a user, all you got to do is attach the extruder to a 3D printer, fill the cartridge with clay, slice the 3D model, and start printing your sculpture.
Something that sets this machine apart from the pack that has similar to this is that, in this machine, you have a patented worm gear that is ultimately more user-friendly than the traditional machines that utilize an air compressor.
The manufacturer of this printer is based in China, claims that its worm gear mechanism leads to exceptional print quality and increased stability, while also eliminating air bubbles from the mixture.
The printer is a delta style printer you really have three pillars placed making a triangle shape and driving the nozzle from its first layer of the print to above and complete printing of the 3D part or functional prototype.
The pillars are made up of steel and have rails all along to drive the nozzle holder against gravity.
There is also a short LCD screen that is at the head of this 3D printer and a button is there to start and stop the printer.
That's pretty much for the first impression of this printer from the photograph that we see on its website.
Setup
The manufacturer of this Delta type 3D printer has provided you with varying different nozzle sizes, from 0.8mm to 2mm.
So, essentially, once the ceramic object is printed, the material remains pliable, which means you can modify and customize the sculptures as you see fit.
The setup guide of this 3D printer pretty much has everything that you need to set up the printer. There are all sorts of information that are going to help you.
What is interesting is how an aspect that makes the company's product launch unique is that while doing so they weren't selling this printer on their own.
The complete team offered an Air Extruder Kit that is compatible with almost all basic FDM 3D printers. So, you might get one when you buy this 3D printer.
Printing Type/Cost
The printer uses FFM/FDM technology for printing 3D parts and functional prototypes.
In it, you need to take some ceramic material of your choice and put that into filament.
The extruder in which this filament is placed is going to raise its temperature which is enough to melt the material inside and that's when the printer is going to get orders to start printing the first layer that is going to act as a base for the coming layers.
The printing cost of parts and functional prototypes are going to be lower than other techniques which have already shown, how better result producing than FDM they are.
Print Quality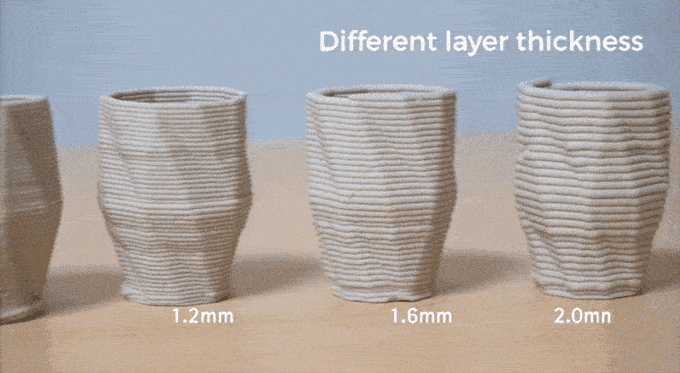 Credit: fabbaloo.com
There are pictures of products 3D printed by this printer shown online on the homepage of their website and they are really good.
If you wish to print a Buddha for yourself. A laughing Buddha, a showpiece that you typically love potters doing, you can do that by using this printer.
There are amazing curves on these objects, some intricate patterning that you have going, as well as fantastic layer finishes. So, the print quality overall is nice.
Software
As far as recommendations from the company go, you can use any software that you wish to.
The manufacturers of this printer understand the importance of keeping the printer open-sourced.
And they have done exactly so. You can choose the software that you find easy to use with the printer.
Customer Service
When you drag the cursor of your mouse to the Support tab that the company has on its website you have two options
Download Center
Video Center
When you click on the Download Center, you have the User Manual that you can download, then you have the Pro Instruction Manual, Air Instruction Manual, and many other such manuals that you can imagine.
On the Video Center, you have eight different videos that explain you to do eight different things on this 3D printer.
And if that too does not work for you, you can obviously get to the printer's support team via email.
Parameters Influencing Buying Decision
The factors that will matter to you while purchasing this printer are mentioned below in brief.
3D Printer Cost: Extremely affordable.
3D Print Quality: Extraordinary.
3D Print Speed: Faster than other printers in the same price range.
3D Printer Capability: Printing with different materials is something this printer can do with ease.
3D Printer Practicality: Universities, as well as institutions, are areas where this printer will be primarily used.
3D Printer User Expectations: If you are into the business of pottery this printer is the one that will stand on your expectations like no other.
The Verdict
The Cerambot is an extremely affordable printer that you can get in today's world.
It will let you make parts and functional prototypes of ceramics with ease, less technicality, and at a much lesser cost.
The main benefit is the software which is open-sourced as well as the general affordability for any newbie.