Creality CR-6 Max
Creality CR-6 Max manages to outdo its competitors by offering a massive build volume that allows its users to print large parts and functional prototypes in one go. Although being an open-frame FDM desktop 3D printer, CR-6 Max delivers decent print quality and low-layer resolution.
PROS
Equipped with filament run-out detection.
Features a resume print function.
A 32-bit motherboard ensures the smooth movement of components.
TMC2209 motor drivers take care of the print speed.
Modular nozzle.
Touch screen interface.
Unique automatic bed leveling system.
CONS
The open frame makes it difficult to achieve uniform heating due to which, if special thermal management is not put into place, it leads to failure of the print.
Table of Contents
CR-6 Max is a result of the feedback that Creality got after putting CR-6 SE into the market. Customers demanded a 3D printer with more build volume than CR-6 SE and so CR-6 Max is in a way Creality's reply to the same. It offers almost the same features that the predecessor does but a different build volume.
The maximum build volume offered by the printer is 400 mm * 400 mm * 400 mm which makes it immensely popular as an entry-level 3D printer in the eyes of beginners. It allows users to build large parts in one go. So, you no longer have to create and then assemble parts separately.
CR-6 Max also hosts more exciting features apart from the massive build volume. What are they? And how do they help make CR-6 Max dynamically more functional than other printers in the same price range? Well, let's find out.
Features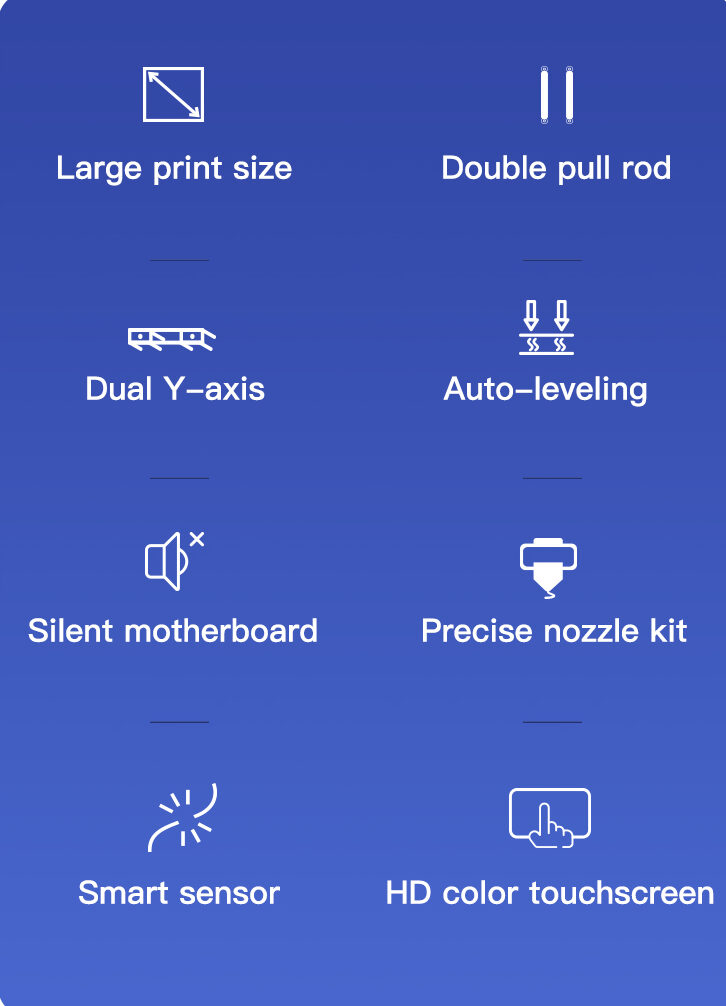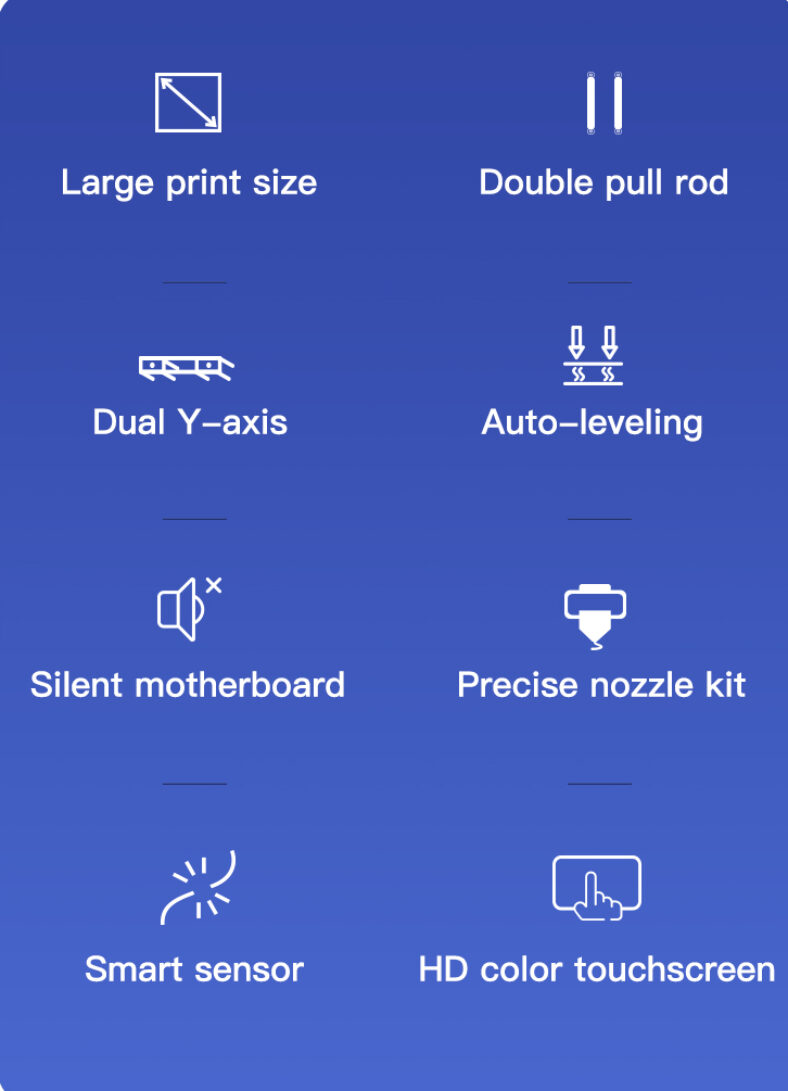 Other than hosting a huge build volume, the machine starts a reinforced vertical axis that gives it proper stability. It is equipped with an automatic leveling system that ensures precise printing of the first layer of the prints.
A touch screen interface makes the overall interaction very engaging for the users and allows complete control over many functions via one click.
Below mentioned and explained are some of the very striking features of Creality CR-6 Max that make the printer stand out from other printers in the same price range. So, let's have a look at them.
Enormous build area
The key difference between its predecessor and CR-6 Max is the build volume. As mentioned above, CR-6 Max features a 400 mm * 400 mm * 400 mm build volume which is very larger than CR-6 SE. And this is seeing demands of people to manufacture parts of large build envelope which implies huge parts can be printed in one go without any cuts.
The printer manufacturer advises printing parts and functional prototypes using a 24 Volt power supply because of which the heated bed will likely be able to reach higher temperatures quickly. Moreover, the complete printing procedure becomes very easy.
Strengthened vertical axis
The heightened Z-axis is held with the supporting rods that the printer manufacturer calls The Golden Triangle. These are rods made from metal that are supported to reduce vibrations while the bed moves back and forth.
They not only add to the functional beauty of the printer, but also to its aesthetic beauty. The inclusion of this component ensures that users will be able to print taller objects without having to worry about any excessive Z-wobble because you'd be able to reach the upper limits of its build volume.
Automatic bed leveler
CR-6 Max is equipped with a force-based sensor that senses as well as adjusts the nozzle height and the build plate according to the geometry of the part.
The printer will simply touch the nozzle to its print bed at specific points as programmed by the manufacturer, as well as a strain sensor on the hot end will detect the exact point at which the nozzle is tangible to the glass.
This system fulfills many purposes eccentrically that other automatic bed levelers do not. They are:
It does not use any extra sensor probe. Hence users do not need to calibrate any offsets apart from the initial Z height for getting the right squish in the first layer of the part.
The system takes away the knobs present on the underside of the bed that becomes much of a relief to anyone who holds experience in an attempt to level such large-format machines.
Touch screen interface
CR-6 Max's body is embedded with a 4.3-inch long portrait-oriented color touch screen interface. It allows users to quickly and easily navigate through menus functions related to printing at a glance.
Also, it permits operators to control various operations with just a click. It is a great tool that comes into use for beginners in the field of 3D printing. Moreover, the interface decreases human intervention in the 3D printing process, thereby increasing its overall efficiency.
Efficient design
CR-6 Max features a built-in tool drawer as well as a folding filament holder that appears included on the printer and is handy for storing the machine and its tools. In addition to this, the machine still has a silicon carbide coated glass build plate which can withstand a considerable amount of temperature thereby allowing the user to play with numerous 3D printing materials.
Also, it offers a good amount of adhesion that makes every product printed on it stick to the base nicely. Moreover, the build plate is removable so in case you have a print that's difficult to remove keeping the build plate as it is, do not worry! Simply remove the build plate and remove the print.
Modular Nozzle
Creality's design team needs to be credited for designing the nozzle with utmost modularity. This feature benefits the user because they can then easily disable the nozzle and change the heat block, heat sink, Teflon tube, or the nozzle tip with included spares.
High performance delivering motherboard
CR-6 SE has a standard 32-bit motherboard that allows for a smooth performance with easy movement of the print head.
This is important especially in the first part of the 3D printing process which assists the nozzle system to reach a specific point near the print bed, according to the geometry of the part. Also, it keeps the complete operation silent. Moreover, Creality has put in place a TMC 2209 motor driver for precise 3D printing.
And the latest update in the printer's components is the Mean Well power supply which ensures long hardware life.
Specifications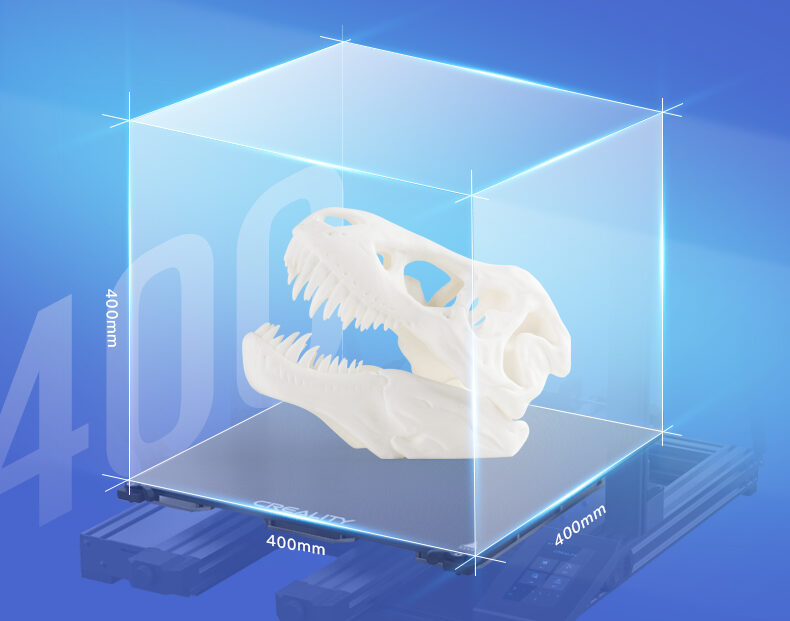 Creality CR-6 Max prints parts and functional prototypes using Fused Deposition Modeling 3D printing technology. The maximum build volume of the object that users can print on the machine is 400 mm * 400 mm * 400. Cr-6 Max features a Bowden-type feeder with a single nozzle of 0.4 mm.
The printer has a standard Cartesian XZ-head type mechanical arrangement and comes partially assembled. Its hot end can withstand 260 degrees Celsius whereas the heated bed can resist up to 100 degrees Celsius. CR-6 Max's print bed is made up of Glass with silicon carbide coating and its frame is made up of Aluminum material.
The former takes care that the printed materials adhere, whereas the latter enables the printer to withstand higher temperatures. Thanks to both these components, the printer can print with consumer materials such as PLA, ABS, PETG, and flexible with a filament diameter of 1.75 mm as well as third-party filament.
Users can connect with the printer using either an SD card or USB. Lastly, it has an automatic bed leveling system that takes care of the alignment of nozzle height with respect to the print bed according to the part geometry.
Price
Creality CR-6 Max is available for $800.
First Impression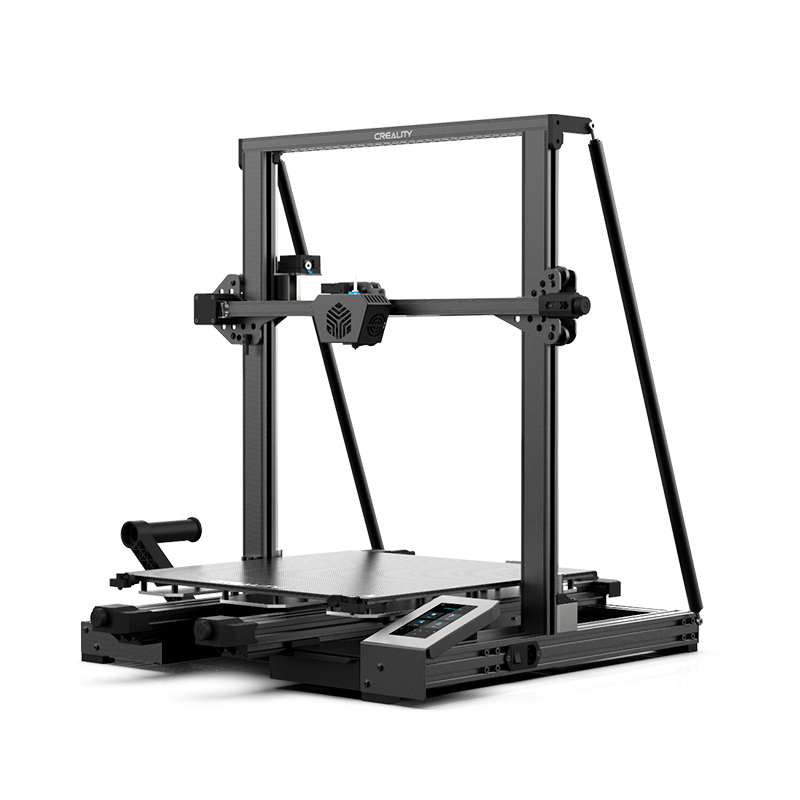 The printer is delivered to you safely in a stray foam packaging covered in cardboard. Such packaging ensures that it is able to withstand all the hassles of traveling before it reaches your place.
Setup
CR-6 Max is delivered in a partially assembled condition. So, you'd have to spend some time assembling the parts that are delivered individually. Connect the golden triangle with the gantry to form the complete Cartesian XZ arrangement. Make use of the user manual that comes in the box to get familiar with the components of the printer as well as the mechanism.
Print Type/Cost
The machine prints using FDM 3D printing technology. Here in the process of printing starts with a solid filament material that is heated enough to make sure it reaches somewhere beyond the glass transition.
The melted filament is then allowed to flow through the nozzle and deposited on the print bed according to the part geometry. The complete part is then laid down layer after the other and allowed to cool down either naturally or artificially.
Lastly, if post-processing is needed, the printed part is sent for it. Normally, the cost of 3D printing a part or functional prototype using FDM 3D printing costs is lower compared to other 3D printing technologies! However, it depends on the part geometry, the type of filament used for printing it, support structures, the level of infill, etc.
Print Quality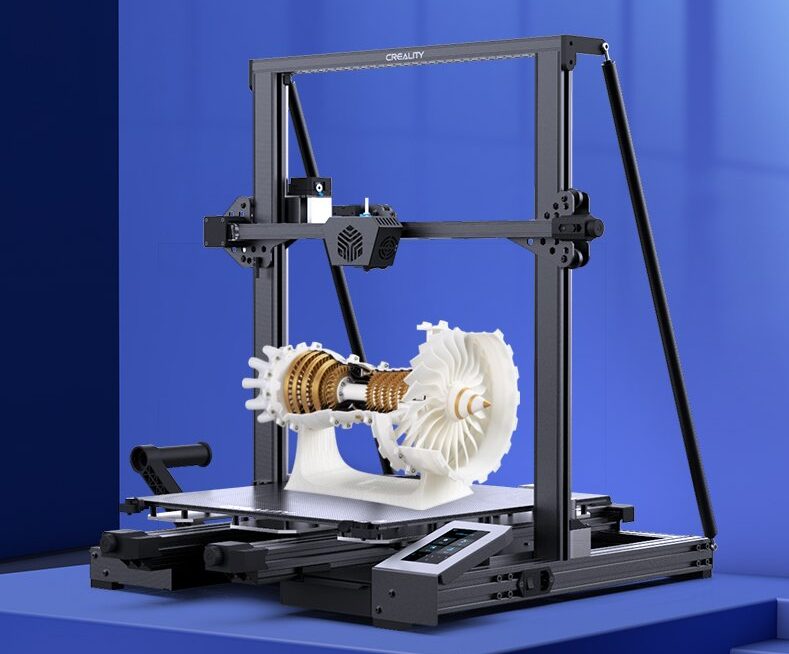 CR-6 Max manages to deliver decent quality surface finishes that you'd expect from an FDM desktop 3D printer costing $800 to produce. The layer height is hardly visible.
Thanks to the automatic bed leveling system of the printer, users do not need to take the trouble of adjusting the nozzle height according to the print bed. The first layer on which the complete part deposition stands is precisely printed and so are the other layers.
Software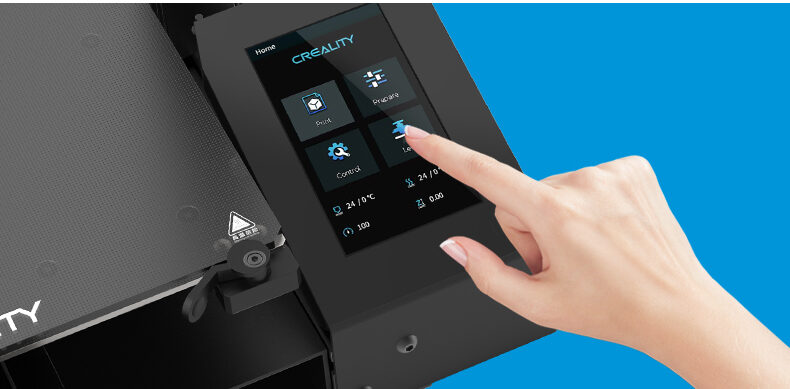 Creality recommends three slicers apart from Creality Slicer, they are:
Cura
Simplify3D
Repetier Host
All three are open-source slicing software available for free and popular for their functionalities. Even if you are new to 3D printing and slicing, they'd help you make the necessary print and design settings without any kind of trouble.
Customer Support
Creality displays a separate FAQs section on its website which answers the most basic troubleshooting questions about the printer.
Apart from this, there is a Download section that offers fundamental files that you need on your printer. You can also request service as well as go through your after-service policy online. But if you still need to contact the technical team of the company, you can do that via call or email.
Parameters Influencing Buying Decision
Below mentioned are the chief aspects that are good to know before buying.
3D Printer Cost: Considering the build volume and print quality that CR-6 Max offers, it is extremely affordable.
3D Print Speed: CR-6 Max is equipped with the latest hardware that ensures its users get blistering fast print speed which enables operators to print large parts within minimal time.
3D Print Quality: Although it is an FDM 3D printer, CR-6 Max manages to deliver good quality surface finishes and low layer heights.
3D Printer Capability: The machine allows intermediate as well as beginner-level users to deal with various filaments that have high glass transition temperature because of which they can make parts and functional prototypes that find application in various industries.
3D Printer Practicality: CR-6 Max stars an innovative leveling system that is based on a force-sensor, so be assured that your first layer of the print will be accurate, and hence complete part will be closest to your imagination.
3D Printer User Expectations: The printer has it all that a beginner level user is searching for in an affordable 3D printer: A silent motherboard, large print size, double pull rod, dual Y-axis, auto-leveling, precise nozzle kit, smart sensor, and an HD touch color screen.
The Verdict
CR-6 Max manages to outdo its competitors by offering a massive build volume that allows its users to print large parts and functional prototypes in one go. Apart from this, the printer also has striking features that are rare to find in a printer available at $800. Although being an open-frame FDM desktop 3D printer, CR-6 Max delivers decent print quality and low-layer resolution.
So, overall there is enough that you manage to get in terms of the investment that the printer demands. Especially if you are a beginner in the field, the machine can be a great tool for you to learn about this amazing technology.