Da Vinci 2.0 A Duo 3D printer
This desktop 3D printer is equipped with dual extruders that allow you to print with two materials at the same time or simply mixing your printing materials. You can play with this feature of the printer is many different ways you wish.
PROS
The da Vinci 2.0 A Duo is a dual extrusion printer, so adding more color to your prints would mean no problem at all. In addition to this, both cartridges fit comfortably inside the printer's external shell so the complete printer's aesthetics won't be compromised.
Another perk of the printer is its Cloud storage wherein your design files are stored virtually, so you won't have to worry about misplacing your computer files or USB storage device. There is also something called the Members' Gallery. This is a great place to share, discover, rate, and collect designs that interests you.
Automatic maintenance features such as print bed detection, which sets the ideal distance between the da Vinci 2.0 A Duo's printing platform and extrusion nozzle. Additionally, there is an automatic nozzle cleaning that helps prevent clogging. All the software upgrades of this printer also happen automatically.
You can choose to view menus and prompts using the da Vinci 2.0 A Duo, which will display on the 2.6," 4×16 FSTN LCM display, in either English or Japanese.
CONS
All the technological add ons in this desktop 3D printer all adds up to the weight of the 3D printer which makes it in total weighing about 60 pounds. This could be a challenge if the printer must be frequently relocated according to your working need.
Product
Specification
Videos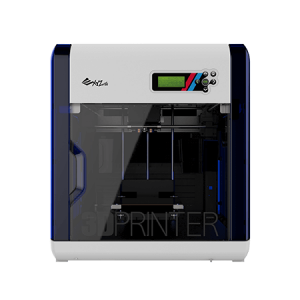 The dual nozzle of the Da Vinci 2.0A Duo lets you print with two different 3D printing materials or colors in the same print job. An online model ...
| | |
| --- | --- |
| Model | Da Vinci 2.0A Duo |
| Manufacturer | XYZprinting |
| Price Range | $ 590 |
| Availability | Available |
| Classification | Desktop |
| Technology | Extrusion (FFF- FDM…) |
| Material | ABS, PLA, Tough PLA |
| Filament diameter | 1.75 mm 0.07 in |
| OS compatibility | Mac OS, Microsoft Windows |
| Max. build size | 150 × 200 × 200 mm 5.91 × 7.87 × 7.87 in |
| Max. build volume | 6.00 L |
| Min. layer thickness | 0.1 mm 0.004 in |
| Dimensions | 468 × 508 × 558 mm 18.43 × 20 × 21.97 in |
| Weight | 28 kg 61.73 lb |
| Nozzle diameter(s) | 0.4 mm 0.02 in |
| XY accuracy | 0.0125 mm 0 in |
| Max. print speed | 120 mm 4.72 in /s |
| Power input | 100V ~ 240V I 200W |
| Heated print bed | Yes |
| Heated build chamber | No |
| Automatic calibration | No |
| Closed frame | Yes |
| Dual extruder | Yes |
| Independent Dual Extruder | No |
| Full color | Dual Color |
| LCD screen | Yes |
| Touchscreen | No |
| On-board camera | No |
| Mobile app | No |
| 3D scanners | No |
| CNC mill | No |
| Electronics 3D printing | No |
| Laser engraving | No |
| Conveyor belt | No |
| Air filter | No |
| Pellet extruder | No |
| USB | Yes |
| Wifi | No |
| Bluetooth | No |
| SD card | No |
| Ethernet | No |

Table of Contents
Here is a printer that has enough aspects to attract all sorts of users. It cannot be categorized into just one sort of category considering the price at which it is offered or the features or technicality.
Let's start having a look at it in-depth by having a glance at its features.
Features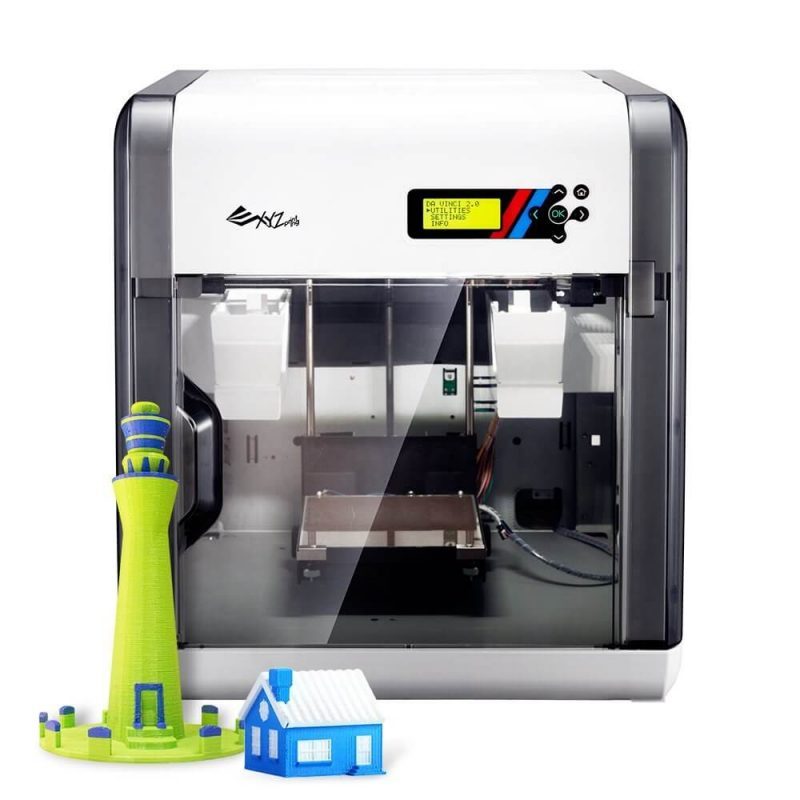 Credit: hd3dprinters.com
The complete list of it would take us an article, reading which would take lots of your time.
So, we have collected and hand-picked those that stand out and which you can compare with other 3D printers in the same price range and make a decision when you are out in the market for buying.
So, let's start our journey of exploring the printer's aspect with a very interesting feature of the printer.
Dual materials increasing your creativity
The printer is equipped with dual extruders that allow you to print with two materials at the same time or simply mixing your printing materials. You can play with this feature of the printer is many different ways you wish.
If you wish to increase the overall print speed and can afford to disassemble the complete part or functional prototype that you are printing, you can even print that in two separate ways and they assemble it when it's printed.
If that is not possible, you can simply keep two different filament spools in two different extruders and then start printing.
Another interesting idea here is to use the water offered by the company as a soluble filament for the support that is needed in complex parts that have intricate designs.
The trick here is after printing completes, the part would simply drop the complete model in water and will wash away the support and offer you a cleaner finish.
EEPROM Chip for optimized material profiles
The Da Vinci 2.0 A Duo comes with its first-generation chip that the company attaches to the bottom of the filament cartridge.
As this arrangement makes contact with the chip reader, it allows the data to be read by the 3D printer. So, complete monitoring of the filament is possible using this feature.
When you are into batch production of parts or simply into producing any other functional prototype, you can have a view of the remaining filament spool using this feature. On the basis of this, you can replace the filament if needed.
This arrangement automatically sets up the optimized profile of the material you are 3D printing with and lets you know how much filament is left exactly.
Online Model Gallery
This printer is perhaps the only one in the same price range to offer the feature of uploading and sharing your models online.
In fact, if you find a model online that you wish to 3D print, you can buy, download that design.
Its online model gallery contains thousands of models that are created by creators and professional designers, which you can buy for free.
By doing this the company has ensured you that for getting inspired you need to go nowhere else but on its online model gallery.
Specifications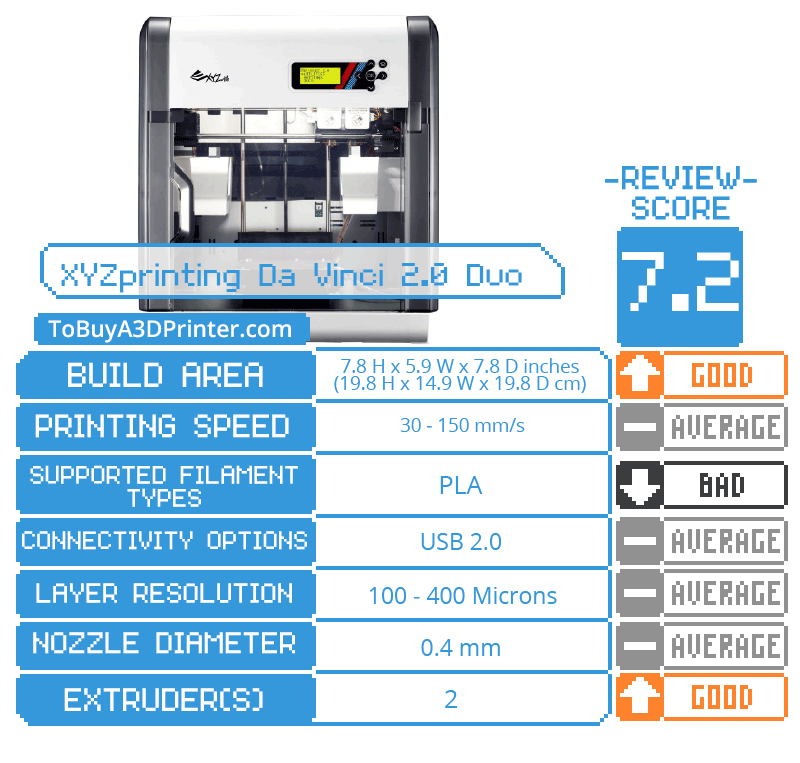 Credit: tobuya3dprinter.com
The printer uses FFF 3D printing technology for printing parts and functional prototypes.
It has an X/Y positioning precision of 12.5 microns, whereas the Z-axis positioning precision of 0.0004 mm.
The maximum build area of this 3D printer is 200 mm * 200 mm * 150 mm and layer resolution range of 100 to 400 microns.
The maximum moving speed as per the claims made by the company is 120 millimeters per second.
The Da Vinci 2.0 A Duo is compatible while printing with PLA, ABS, and Tough PLA, as well as Water-soluble materials, provided that the filament diameters of these filaments are 1.75 mm.
The nozzle diameter of this printer is 0.4 mm and as the printer comes with two extruders, it does come with two nozzles that are capable of reaching the temperature of 210 degrees Celsius.
Print Bed of the Da Vinci 2.0 A Duo is made of non-removable glass and is capable of reaching a temperature range of 40 to 70 degrees Celsius.
The nozzle system of this printer is operated using 1.8 degrees HB stepper motors.
For increasing the level of interaction which this 3D printer, there is a 2.6-inch LCM user interface installed on the printer's body which is available in multiple languages.
For its operation, the printer requires 100 V to 240 V 200 Watts power input.
The recommended operating temperature of this printer is 15 to 32 degrees Celsius whereas the humidity recommended is 30 to 60 percent.
The filaments of this printer are to be stored at 10 to 40 degrees Celsius.
The overall weight of the printer is 25 kilograms, and the dimensions are 468 mm * 558 mm * 510 mm. The printer is compatible with Windows as well as Mac operating systems.
Price
We could not find the price of the printer on its manufacturer's website so we had to make reference to another website which shows the price of this printer to be $590.
First Impression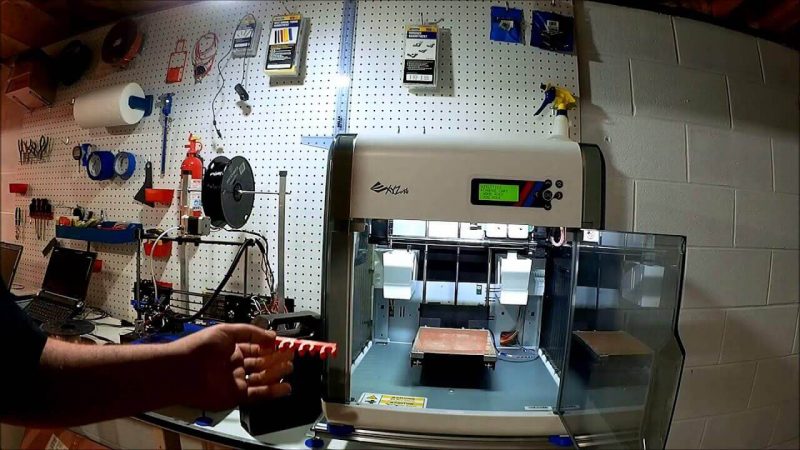 Credit: DIY3DTECH.com
The picture posted on the webpage dedicated to the printer on its manufacturer's website looks like a 2D printer box that we have, except for the closed body.
The body material of the printer is carefully not kept opaque near the printer chamber.
This is taken into consideration the curiosity in the minds of the 3D part of functional prototype creators.
Giving them an option to monitor the 3D printing process from the outside.
There is a display screen on the head of the printer which comes beside a few buttons that let you operate some functions of the printer without manually operating it.
The transparent part kept satisfying the curiosity of creators can be opened with the door opening given by the manufacturer.
This is all you can make out by having a glance at the printer's picture on its website.
Setup
We are assuming that because this is a desktop 3D printer it would come fully assembled when delivered to your door place.
Also, because there is specific material available on the website regarding parts of the printer and their functionalities you can easily refer to those and assemble one or two things that you need.
However, like the traditions of operating any printer for the first time goes, you should check the bed leveling of the printer.
And refer to the functionality of each of its parts before starting to work with it. Once that is done, you can start to play with the printer.
Printing Type/Cost
The printer is based on FFF 3D printing technology which is another name of FDM 3D printing technology.
This is the most commonly used 3D printing technology as far as desktop 3D printing is concerned.
The reason lies in the flexibility offered by this technique. As well as it avoids a lot of technicalities like other laser-based 3D printing technologies.
Having stated that, it is also the technology that does not let you scale up in terms of high-quality resolution of parts and functional prototypes.
But in the long term, if you are looking for a printer that does not offer you too much printing cost, depending on the infill and the electricity it consumes, printers based on FDM 3D printing technology like the Da Vinci 2.0 A Duo are favorable.
Click here for more about 3D printing technologies.
Print Quality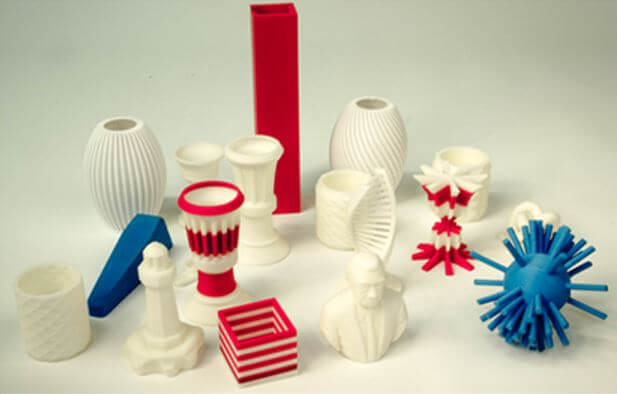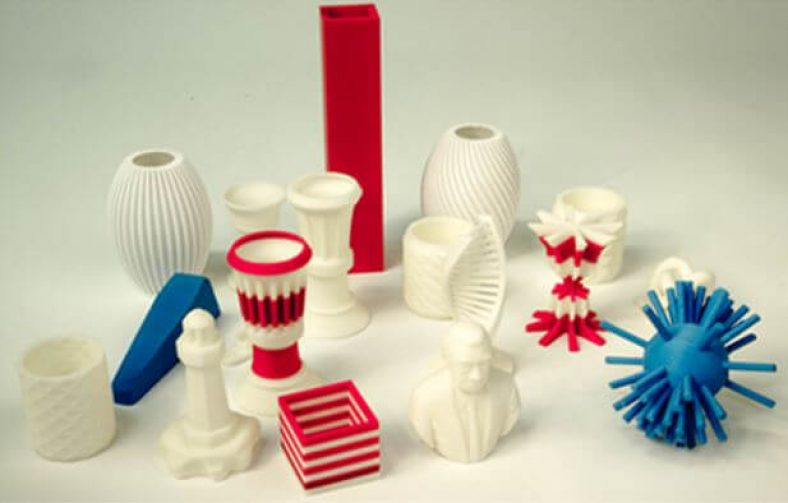 Credit: treatstock.com
Apart from the layer resolution range mentioned in the specifications section of the printer, pictures of toys and showpieces are posted on the webpage.
By seeing them you can say that the print quality of this printer is average. Not too good, not too bad.
Software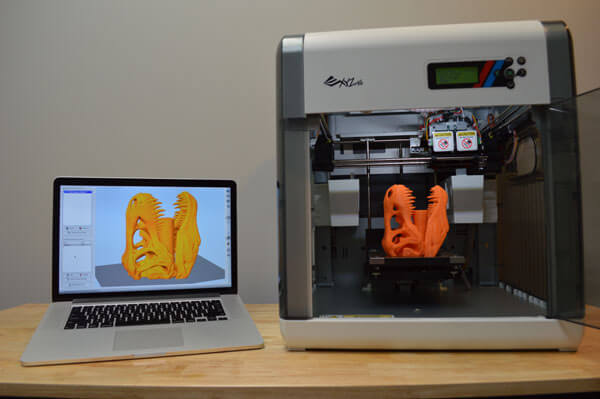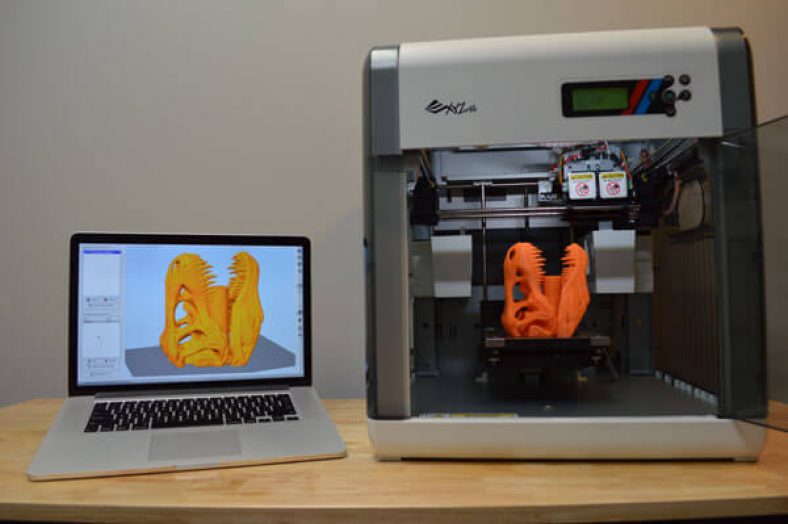 Credit: blogspot.com
The company recommends its standard XYZware for print file preparation. This, it goes on to claim is packed with a ton of settings that are ready to improve the quality of your print.
Whether it's a part of a functional prototype, the company claims, their software has the capability to auto repair the flaws in your design.
So, all you have to do is upload your design or import it into the software and the rest is for you to sit back and see.
Customer Service
Be it the 3D gallery or the free 3D modeling software, the company has got plenty of things to support you as a user. It claims to make your overall journey of 3D printing more fun than ever. Also, the company has a very reliable name in the market that is undisputed.
So, by buying this printer you are associating yourself with a name that is always ready to support its customer with plenty of resources online.
There is a separate Support tab on the company's website which you can click to know more about.
As soon as you would click on it, it would open up a new webpage wherein you can access all the FAQs, tutorial videos, documents to download, the product warranty, register your product, as well as contact support.
Another tab on the company's website is titled Education. This part specially deals with STEAM education. Which has its own Curriculum, education kit, and membership.
Opting for it would mean getting covered with your kids' complete education regarding 3D printing technology.
And of course, apart from this, the company has normal ways in which you can reach out to them using phone, email, or by filling the contact form.
Parameters Influencing Buying Decision
Here are some of the points that we want you to not miss out on. And catch some time to have a glance at, before making your buying decision.
3D Printer cost: You can judge whether it's affordable or not considering the features it offers compared to the others in the same price range.
3D Print quality: Average.
3D Print speed: Extraordinary.
3D Printer capability: You can print with Tough PLA, which is the material that many 3D printers in the same price range do not offer 3D printing with.
3D Printer Practicality: The printer's name contains the word Duo for a reason because it allows you to print in style.
3D Printer User expectations: This printer satisfies almost all classes of users' expectations.
The Verdict
If you are a beginner, you are going to fall for the price. If you are a small business owner, you are going to fall for the printer's Duo extruders. And if you are professional, you are going to fall for the online modeling gallery feature.