Scan Dimension Sol
Sol is an extremely affordable 3D scanner capable of replicating small to medium-sized parts and functional prototypes.
PROS
Creates accurate replicas of objects.
Error-free software.
Free cloud storage.
Affordable.
CONS
Does not allow scanning of large-size parts and functional prototypes.
Table of Contents
Sol is an affordable and user-friendly 3D scanner manufactured by Scan Dimension – a subsidiary of Global Scanning A/S Group based in Denmark. It is appropriate for the varied class of individuals like everyday makers, tech enthusiasts, and hobbyists in the field of 3D scanning.
The scanner is light in weight therefore easily movable from one place to the other without much of a hassle. It notifies users of the next steps either with sound notifications or text messages with the help of an application. So, even if you are not physically near the scanner, you can still monitor it.
Features
Sol scans use a mixture of laser triangulation and structured light technology which allows operators a maximum resolution of 0.1 mm. It is equipped with a rotating turntable that makes the process of scanning easier for the end-user.
An application permits you to directly export the scans in the most common file formats. Most importantly, the three most important steps i.e. 1) Complex calibration, 2) Software manipulation, and 3) Manual mesh alignment are completely eliminated guaranteeing the necessary ease of use.
Below are some of the most striking features of the machine.
Straightforward setup
The scanner manufacturer has designed the setup procedure of Sol to be flexible, intuitive, and most importantly accessible to experts as well as a novice in the field. And it does not take much time, but can be executed in minutes.
The complete setup of the scanner merely requires the tightening of four screws along with a connection of the USB cable. This makes the assembly, dismantling, and transportation a five-finger experience. Also, an optional transportation case is available for Sol on Scan Dimension's website.
Rotating table
This is another user-friendly feature of Scan Dimension Sol. Because the scanner features a completely 360 degrees turning table, objects are scanned from every possible angle. Also, it frees the user from giving efforts to scan the objects manually from all the angles.
All that one needs to do is put the object on a table and let the machine do the heavy lifting of up to 2 kilograms. As per the claims from the manufacturer, users can also rescan the objects from three different angles for collecting the geometry as well as the textures. This collection is then helpful as it allows the software to align pictures in one mesh automatically.
Two scan modes
The scanner permits users to have two different scanning modes equipped with structured light that picks up the texture as well as laser technology for collecting the geometry. You can easily switch from one mode to the other or back and forth.
There is a near mode that provides a resolution accuracy of up to 0.1 mm with a scanning area of 100 mm * 100 mm. Whereas, the far scanning mode that offers a maximum scan area of 170 mm * 170 mm.
Straightforward software
Scan Dimension has simplified the calibration and the scanning process by putting in place software that does the time-consuming and tricky tasks like manual mesh assignments.
The application not only provides an estimated time preview but also another useful feature such as informing you when the scan is completed.
Note that, a complete scan can take up to 15 minutes. Also, output formats of the software include OBJ, STL, and many more that allow you to incorporate files into rendering software like Blender or other slicers such as Cura.
Specifications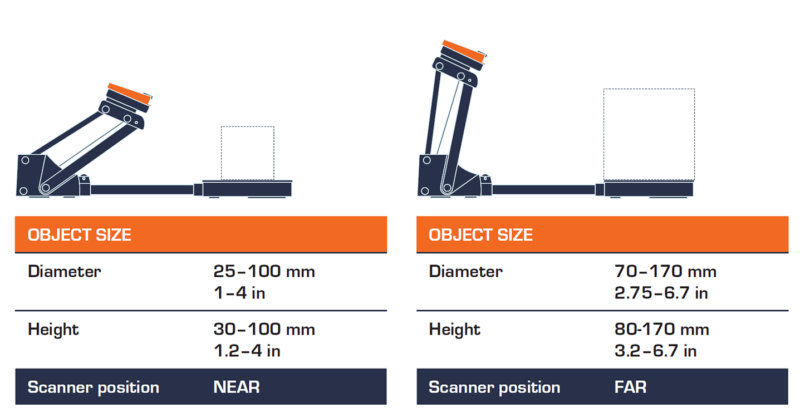 The 3D resolution and point accuracy offered by SOL is 0.1 mm. The camera resolution of the scanner is 5 megapixels and it can work across a distance ranging from 210 mm to 360 mm. Two modes on which it is capable of working are:
Near wherein users can scan a maximum area of 100 mm * 100 mm.
Far in which operators can scan a maximum area of 170 mm * 170 mm.
The minimum size that can be scanned is 25 mm * 25 mm. The scanner offers automatic calibration. Also, it features a rotating table and gives coloring results in file formats such as OBJ, STL, PLY, XYZ, and DAE with a data acquisition speed of 17 minutes per scan pass.
The 360 degrees scanning time from start to finish is 20 minutes when the scanner operates in normal mode, and 10 minutes while operating in turbo mode depending on the object complexity and computer hardware.
Price
SOL is available for $799.
First Impression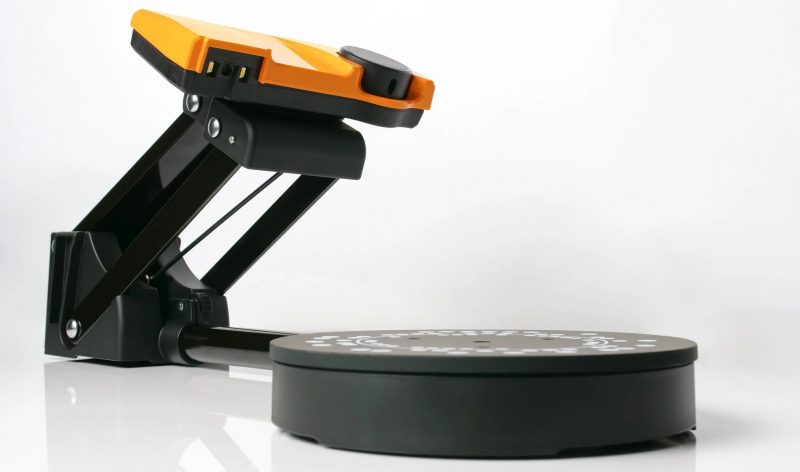 The box that is delivered to you contains:
An SOL 3D scanner.
Black-out tent for placing your scanner inside.
A Black-out cover for covering the tent while scanning it.
Two USB cables for connecting to USB 3.0 ports.
A duck that becomes a scan target for your first scan.
Setup
Because the complete process of Sol is automated, just one click starts the process of:
Calibration
Scanning
Meshing
The approximate time taken for this process is 25 minutes. Meanwhile, all the user needs to do is sit back and enjoy the system.
Scan Type/Cost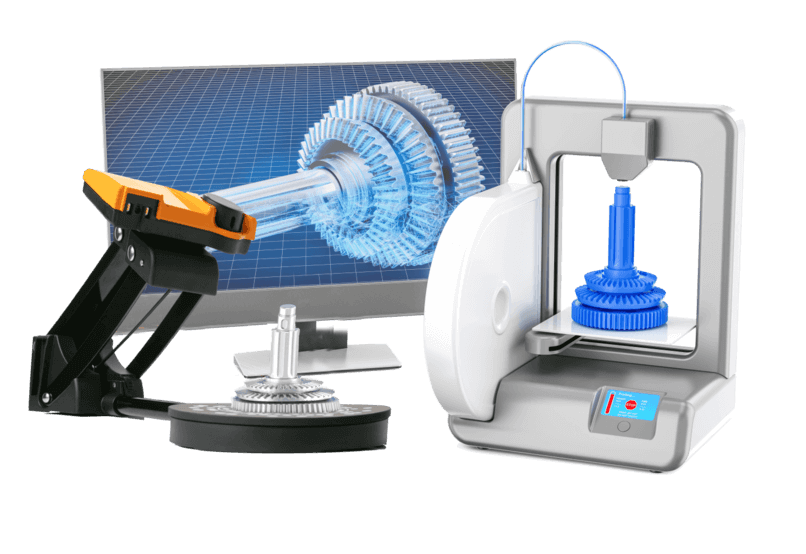 Credit: scandimension
Laser triangulation technology accurately captures a 3D shape in millions of points. Scanners based on this method works on projecting a laser line or more than one line onto an object.
After this step, it captures the reflection by utilizing single or multiple sensors located at a known distance from the laser source. Herein, accurate point measurements are made by calculating the reflection angle of the laser light.
Scanners based on this technology are often easier to use and lower in cost compared to other lasers. They allow for scanning of tough surfaces, both, shiny as well as dark finishes. These machines are less sensitive to the changing light conditions as well as ambient light.
Scan Quality
Incredibly small models heads with minute detailing can be scanned using Sol. Parts such as clef chin are then visible in zoom. Every scan comes out ideally with a watertight STL file that's ready to print. Compared to other scanners in the same price range, Sol offers a perfect replica of objects very easily.
Software
Sol comes integrated with one-touch simplicity and intuitive software that delivers extraordinary scans. It assists users by completing all the time-consuming and tricky tasks like manual mesh assignments. Also, the application provides an estimated time preview, another useful feature that takes the entire scan in up to 15 minutes.
Moreover, it informs operators of the task completion either by an audio signal or using a text message in file formats such as OBJ, STL, and many more. This benefits you during the rendering phase while dealing with software such as Blender or Cura.
Customer Support
SOL Dimension's Support center consists of quick start guide reading which you can get help in stepwise setting up the scanner. Also, before starting your first scan you can read about various scanning positions online.
Users can also access the knowledge bank that's available online that can complete information regarding the after scanning process as well as software, hardware, and support.
Parameters Influencing Buying Decision
Below mentioned are the key factors that are good to know before buying Sol 3D scanner.
3D Scanner Cost: Considering the features and scan size that SOL allows, it is a very affordable 3D scanner.
3D Scan Speed: The complete scan of an object takes 20 minutes with higher accuracy and only 10 minutes in turbo mode which is quite an impressive speed compared to other scanners in the same price range.
3D Scan Quality: SOL permits a scan accuracy of 0.1 mm in near mode. The flexibility of scanning in two separate modes allows users to easily create accurate replicas of objects.
3D Scanner Capability: The scanner is capable of working in a huge range starting from 210 mm to 360 mm.
3D Scanner Practicality: This versatile machine can be used by engineers, crafters, designers, inventors, collectors, artists, as well as creators in the field of 3D scanning.
3D Scanner User Expectations: Being a small to medium size scanner of objects, Sol is a great tool for educators of STEM/STEAM as well as designers, and start-ups to invent something completely unique.
The Verdict
Overall, Sol is an extremely affordable 3D scanner capable of replicating small to medium-sized parts and functional prototypes. It is equipped with user-friendly features such as a rotating table, two different scan modes, operation via Sol viewer application, etc.
Although it is not able to scan large-sized objects, the scanner works great for hobbyists, everyday makers, and entrepreneurs. It can easily handle a variety of parts and replicate them with ease. Above all, an extremely straightforward setup and software make the job completely seamless even for a novice in the field of 3D scanning.